Trusted by leading brands and 200,000+ customers

Most popular event spaces in Dallas
+ more
Celebrate the holidays in Dallas' star-studded venues
Experience the Lone Star State's holiday spirit in Dallas' premier event spaces.
Book the best party venues in Dallas
Celebrate with a bang or host an intimate party - whatever venue you are looking for, you are sure to find it in Dallas!
Discover first-rate dinner party venues in Dallas
Gather your friends and family for the next dinner party. From the fanciest restaurants to casual eateries - Dallas has it all!
Browse through the best production venues of Dallas
Lights, camera, action - make Dallas the next backdrop for your hit production. Search for the best studios and locations this city has to offer!
Discover top event spaces across the USA
Planning an event in the near future but not sure where to start?
Check our tips and ideas!
Our guide to event space rental in Dallas
Dallas is a vibrant commercial and cultural hub in North Texas. It is the ninth largest city in the US and is growing fast. A modern metropolis, the Big D is home to a diverse and international community that makes it an amazing place to be. By day, Dallas is the city of entrepreneurship and innovation, but as soon as the sun goes down, it comes alive with some of the hottest nightlife spots in Texas. With all of its green spaces, as well as mild winters and hot summers, it is a great location for outdoor events. Whether you're in town to do some serious business or let loose and party like never before, the city's remarkable venues are ready to host all manners of events – and they're waiting for you to discover them on Tagvenue.
If you need a little bit of help with finding what you want, keep reading for some tips and inspiration!
Planning an event in Dallas? Here's what you need to know
Let's start with the basics. Here's our checklist of five key things to consider before booking an event venue in Dallas.
Settle your budget.

One of the major details to think about in the early stages of planning the event is the budget. The largest portion of your funds will most likely cover the space rental fee; however, don't forget to factor in any additional costs, e.g. catering, decorations, equipment rentals, etc. The good news is that it shouldn't be too difficult to organize an event on a budget in Dallas – even the downtown area has some affordable venues for rent. Once you're clear on the money, use Tagvenue's filters to browse Dallas venues that fall within your price range.
Estimate the number of guests.

The next important thing to know when planning any type of event is the expected number of guests. So figure out your guest list, send out the invitations and ask people to RSVP. If you're organizing a large-scale ticketed event, try to estimate the turnout. This will help you figure out how much space you need and narrow your search to venues that offer the perfect capacity.
Figure out the transportation.

Dallas is a huge city designed for cars, with many major interstate highways running through it. However, when picking a location for your event, beware of two things: 1) the traffic can get extreme, and 2) finding a parking spot downtown can be a pain. As an alternative, the city offers quite decent public transit options. There's the DART, a combined bus and light rail system that connects downtown to the surrounding suburbs. There are also railway links between Dallas Union Station, Fort Worth and several other towns. Oak Cliff is operated by the Dallas Streetcar and there's also the famous McKinney Avenue Trolley (the M-Line). Dallas is served by two major airports: Dallas Love Field and Dallas/Fort Worth International Airport, both of which have convenient DART and SuperShuttle connections to downtown.
Do your guests need accommodation?

Are you expecting guests from outside of Dallas? If so, definitely check whether the location you've chosen for your event offers any accommodation options nearby. As you would expect from a metropolis such as Dallas, the city boasts a wide array of great hotels located all over its neighborhoods. Whether you're looking for budget, boutique or luxury accommodation, you'll surely find something that suits your needs. Speaking of hotels, some of them feature amazing event spaces as well! From bars and restaurants to boardrooms and conference spaces, there are plenty of great options for a variety of events.
Decide what to eat!

And be prepared that it won't be an easy decision, as the rich and diverse dining scene in Dallas can surely make your heart rate speed up! All across the city, you'll find countless exciting and unique dining spots. Award-winning restaurants, casual eateries, cozy cafes, extravagant bistros and so much more are ready to host your event and take you on a culinary adventure. When you choose a venue with on-site catering, all you have to do is pick the menu and you're all set. However, if you prefer to bring your own food and beverages, make sure your venue allows external catering and BYOB.
Which areas of Dallas have the best event venues?
If you're planning an event in Dallas, but don't know where exactly to host it, we've prepared a brief guide to some of the city's best neighborhoods and the types of venues they offer.
Downtown

– Let's start with the very heart of the city. Downtown Dallas is always growing and always bustling with activity. A place of business by day, the neighborhood turns into a nightlife hotspot when the sun goes down. The area's walkable streets boast a plethora of dining options, from quiet spots to the most vibrant bars and high-end restaurants. There are casual cafes and extravagant clubs. The sprawling

Arts District

is the city's creative core with some of the best performing arts venues, award-winning museums and other creative spaces.

The West End District

is rich in history, with museums and memorials, and is known for its former warehouses and railroad stations which are now home to unique restaurants with patios. If you get tired of the hustle and bustle, there are plenty of urban parks where you can catch a breather.
Uptown

– Just north of downtown is its equally energetic neighbor, Uptown. Its tree lined streets are very pedestrian-friendly and it's easy to move around the area thanks to the McKinney Avenue Trolley (or the M-Line). The restored, vintage streetcars can take you from McKinney Plaza all the way to the Art District downtown. If you're looking for vibrant nightlife, Uptown is the perfect choice, offering a myriad of restaurants, bars and other venues ready to rock your world.

West Village

is sometimes described as "Uptown's Downtown" – apart from being a retail paradise, it's home to a number of great cafes and eateries. Exciting

Knox/Henderson

district offers two in one: a buzzing central location with an intimate vibe. It's filled with trendy dining spots: whether you're into sushi, burgers or French cuisine, you'll easily find the perfect spot. There's a fair share of clubs and cocktail bars, too.
Bishop Arts

– 10 minutes south of downtown lies one of the coolest and most unique districts in Dallas. Located in the

Oak Cliffs

neighborhood and covered in colorful murals, the lively Bishops Arts District is a premier destination for all sorts of entertainment. If you're looking for unique venues, this is the right place. From high end bistros and quirky restaurants serving global cuisine to sports bars and soul food cafes, there are countless options to choose from. Besides its culinary delights and buzzing nightlife, the district also boasts a strong cultural scene, with numerous art galleries and performing arts centers, such as the Kessler Theater, the Bishop Arts Theatre Center or the Texas Theatre.
Design District

– If you're into eclectic, artsy, industrial-chic vibes, Design District is the place for you. Apart from upscale art galleries on Dragon Street and interior design showrooms, this part of Dallas is filled with fantastic dining spots: from gastro pubs and award-winning restaurants led by their inventive chefs to casual cafes and traditional diners serving southern classics. The drinks scene is just as diverse, with plenty of bars and breweries (such as Peticolas Brewing Company or Community Beer) to discover. If you're looking for unique party activities, check out Bowlounge with its retro bowling lanes.
Trinity Groves

– Perhaps you're looking for something in West Dallas? Situated across the Margaret Hunt Hill Bridge that spans the Trinity River, Trinity Groves is a trendy neighborhood that continues to draw more and more people with its selection of restaurants and event spaces. There are fab lunch spots, international restaurants, breweries and more! If you're planning an outdoor event, pick a charming patio or a rooftop lounge. Whether you're here to celebrate an important occasion or participate in a networking event, you'll be amazed at the number of options. Apart from the new developments, the area's industrial past is reflected in the former warehouses that remain part of the landscape.
Deep Ellum

– Located east of downtown, Deep Ellum was historically a warehouse district. Over the years, it's become one of Dallas's most exciting neighborhoods. It's a fabulous destination for a night out, with a plethora of thriving nightlife hotspots. There's a little bit of everything: from casual eateries to hipster cocktail bars, speakeasies and vibrant dance clubs. The cultural scene is just as rich: there are arts centers and famous spots such as the Dallas Comedy House or the Undermain Theatre. A known hub for jazz and blues in the 1920s, the area still boasts some great live music venues and bars, such as Trees or The Bomb Factory.
Oak Lawn

– Located just a few minutes from downtown, vibrant Oak Lawn is home to a prominent LGBTQIA+ community and is known for hosting events that celebrate diversity. This is where Dallas Pride takes place every September, along with a number of accompanying parties. Purple Party Weekend and Halloween Block Party are two more events that attract thousands of people to Oak Lawn. Yes, there's always a party going on somewhere in this fun part of town! When it's happy hour time, be sure to visit one of the many lively gay bars lined along Cedar Springs Road. And if you're ready to hit the dance floor or sing your heart out, there's an abundance of clubs and karaoke venues, too!
Lake and Garden

– If you're looking for some peace and quiet, you'll definitely find it in this East Dallas neighborhood. Home to the picturesque White Rock Lake, Dallas Arboretum and Botanical Garden, this green part of town is perfect for summer parties, romantic picnics and other outdoor events. There's also a range of restaurants, coffee bars and beer gardens to choose from.
Greenville Avenue

– Stretching from Garrett Park to Richardson in East Dallas, Greenville Avenue is a buzzing area with an amazing nightlife scene. There is no shortage of clubs, bars and restaurants in this corner of the city. You'll find anything from casual patios for hangouts with friends to romantic spots for special occasions. And if you enjoy live music, you're in the right place. Fantastic venues such as Granada Theater will get you grooving.
Cedars/Southside

– A great destination for entertainment and culinary experiences. There's a growing number of contemporary art galleries, so if you're a creative person, you'll quickly find your crowd in this part of town. There are many fantastic restaurants, craft breweries and hip cocktail bars ready to host all manner of events. If you're looking for places to have a fun night out, the area boasts some amazing live music venues as well.
Fair Park

– A huge, 277-acre recreational complex located in South Dallas. Registered as a National Historic Landmark and a Dallas Landmark, the area boasts a number of art deco buildings that were built for the Texas Centennial Exposition in 1936. But Fair Park is more than a pretty sight to see, it's bustling with activity all year round! From sporting events to festivals and concerts, there's always something happening in this part of Dallas. And if you're looking for a spot to continue the fun and party well into the night, neighboring Exposition and Parry Avenues come alive with a selection of fabulous bars and restaurants.
Highland Park

– Have a taste of luxury in this fancy area. Highland Park's pretty streets reveal many dining options, including Italian cafes and Tex-Mex restaurants. On top of that, the neighborhood features plenty of beautiful outdoor spaces, such as Lakeside Park. Its close proximity to downtown, North Dallas business center and the Love Field and DFW International airports also makes it a convenient location.
Want to dig even deeper? Have a look at these frequently asked questions:
How much does it cost to rent an event space in Dallas?
The costs of renting an event space in Dallas will depend on a number of factors, such as the size of your event and the venue standard. Typically, the prices range from around $30 to $1500 per hour. Alternatively, many venues will also offer attractive package deals that start at $15 and go up to around $70 per person.
How can I host an event in Dallas on a tight budget?
Yes! Dallas is a relatively affordable city and cheap event venues are not that hard to find. Apart from that, we've got a few additional budget-friendly tips! Catering can take up a large portion of your budget – to minimize those costs, look for affordable external vendors or commit to preparing the food yourself. Similarly, it may be cheaper to buy alcohol in bulk rather than opting for what the venue has to offer. Before you do any of this, however, get a green light from the venue manager! Another tip is to keep decorations to a minimum. Instead of buying stuff you'll probably only use once, focus on booking a venue with a unique ambiance.
What's typically included in the venue rental fee?
A space rental fee is charged for using the space for the purposes of hosting your event. Depending on the venue, the price may also include the use of equipment (e.g. in photo studios or conference rooms), decorations, event coordination, etc. Catering usually comes at a separate price. Many event venues operate on the basis of a food and beverage minimum, which means that, on top of the rental fee, you agree to spend a certain amount of money on food and drinks during your event. Some spaces, such as wedding venues, may offer all-inclusive event packages that will include venue rental, catering, and other options. To be on the safe side, always ask the venue manager about what's included in the price and read the terms and conditions carefully.
Do all event venues in Dallas offer catering services?
In-house catering is typically offered by venues such as restaurants, pubs, bistros, hotels, etc. They'll often have dedicated menus and food and drinks packages to choose from (many of them will be customizable, too). Some venues, on the other hand, will only offer space rental and leave the catering up to you. They may provide you with a list of preferred vendors that they typically cooperate with. You can use Tagvenue's filters to easily find venues that offer the option that works best for you.
+ more
–
Discover spaces for hire near you
Popular spaces for events of all types in Dallas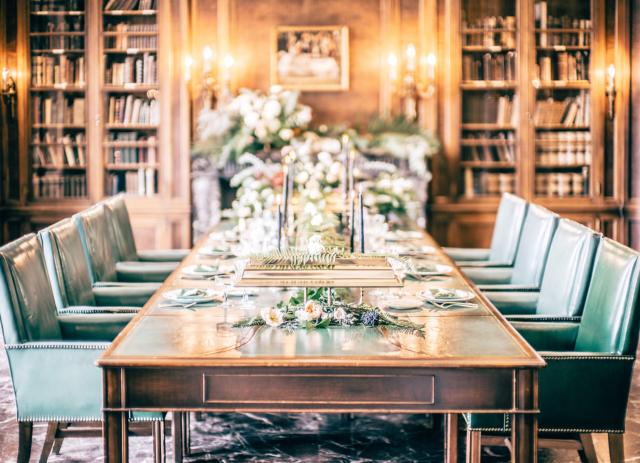 Small Wedding Venues in Dallas
Perfect spots for your intimate wedding!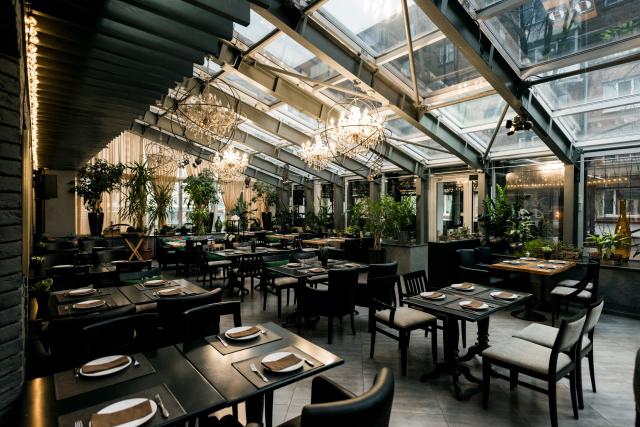 Unique Event Spaces in Dallas
Explore original locations all over the city!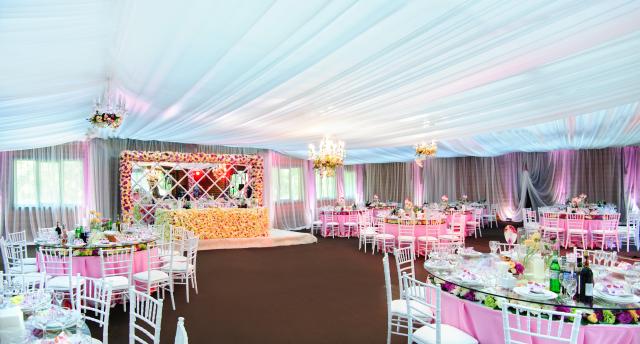 Unique Wedding Venues in Dallas
Organize a wedding reception that stands out