Dream of getting hitched in London but are worried about the price? Don't be overwhelmed by wedding budget dread. With the average UK wedding now ringing in at £30,000 (according to Brides magazine), all-inclusive wedding packages offer great value for cost-conscious couples. Wedding packages come in all shapes and sizes and most can be personalised or upgraded. Even better, you'll get a pro team working tirelessly behind the scenes to make sure everything goes to plan, leaving you to relax and enjoy your big day. The first step? Check out our insider's guide to London's most affordable wedding packages.

For weddings on a budget: The Wedding Menu at Patch Bar
At centrally located Patch Bar, you can duck out for photo ops at nearby St Paul's while your guests tuck into tasty canapés, like smoked salmon blini with crème fraîche or filo-wrapped prawns with sweet chili sauce. A popular cocktail bar with a contemporary vibe, their three-course wedding menu is great value at just £34.95 per person.
What's included:
£34.95 per guest
What we love:
The special discounts Patch Bar can arrange at hotels within the St Paul's area, so you can enjoy your celebration right up until the very last moment

For Rock 'n' Roll Brides: The House Package at St Bart's Brewery
Overlooking London's iconic Smithfield Market, this classy gastropub makes an offbeat wedding venue for up to 120 guests. Tasty dishes, like shredded barbecue pork belly served with a quail's egg, piccalilli and crispy pancetta, promise to be a big hit on your special day.
What's included:

2 glasses of Jake's Champagne-style cider
3-course menu
½ bottle of Vermentino or Montepulciano per guest
1 glass of Leslie's Reserve for the toast
£59.50 per guest
What we love:
The £4 midnight butties you can surprise your friends and family with after hours spent tearing up the dance floor

For a modern wedding with a twist: Package One at Cinnamon Kitchen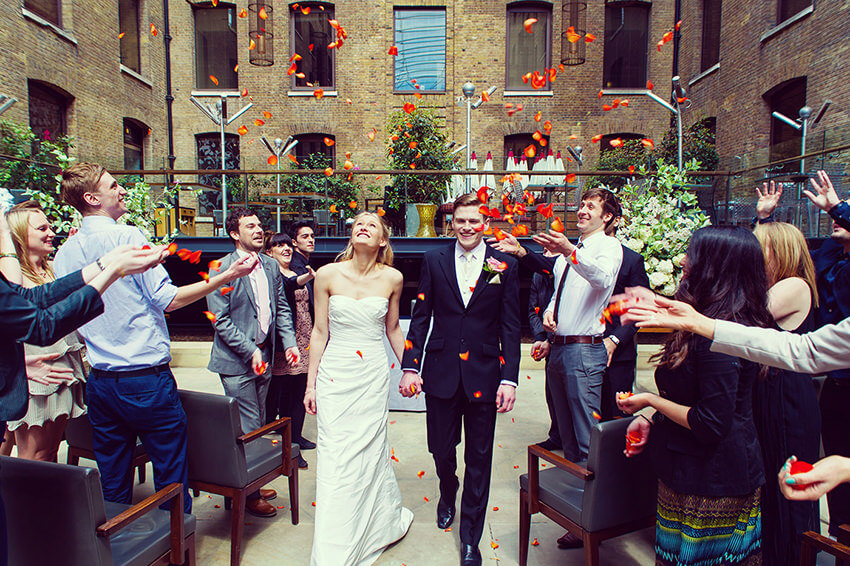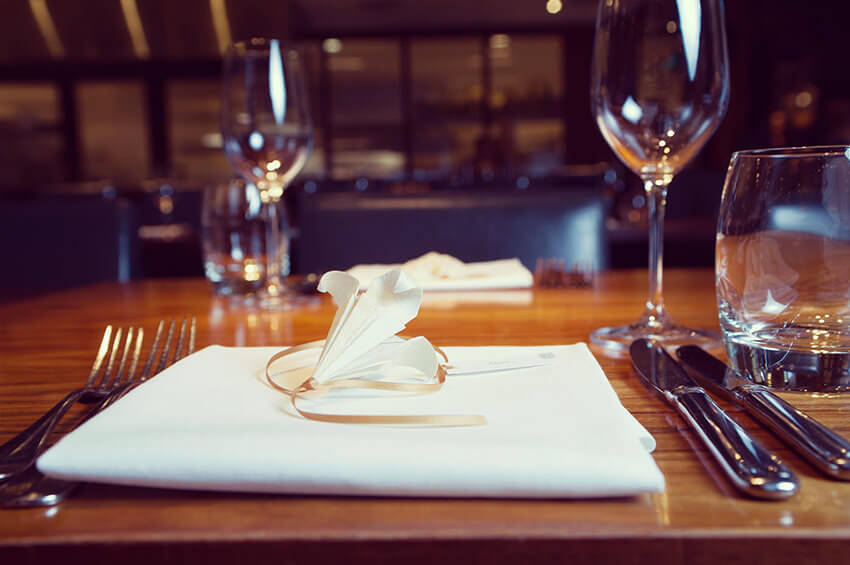 Bring all the flavours of India to your wedding day without leaving London at this innovative restaurant in Devonshire Square. Situated in the historic East India Company spice houses, you can begin your celebration by exchanging vows in a glam Indian-inspired tent on Cinnamon Kitchen's beautiful outdoor terrace.
What's included:

3-course meal
Venue hire
Restaurant service
£75 per guest
What we love:
Cinnamon Kitchen's award-winning range of canapés, which are perfect with a cinnamon Bellini or two!

For a classic hotel wedding: The Satin Package at the Rembrandt Hotel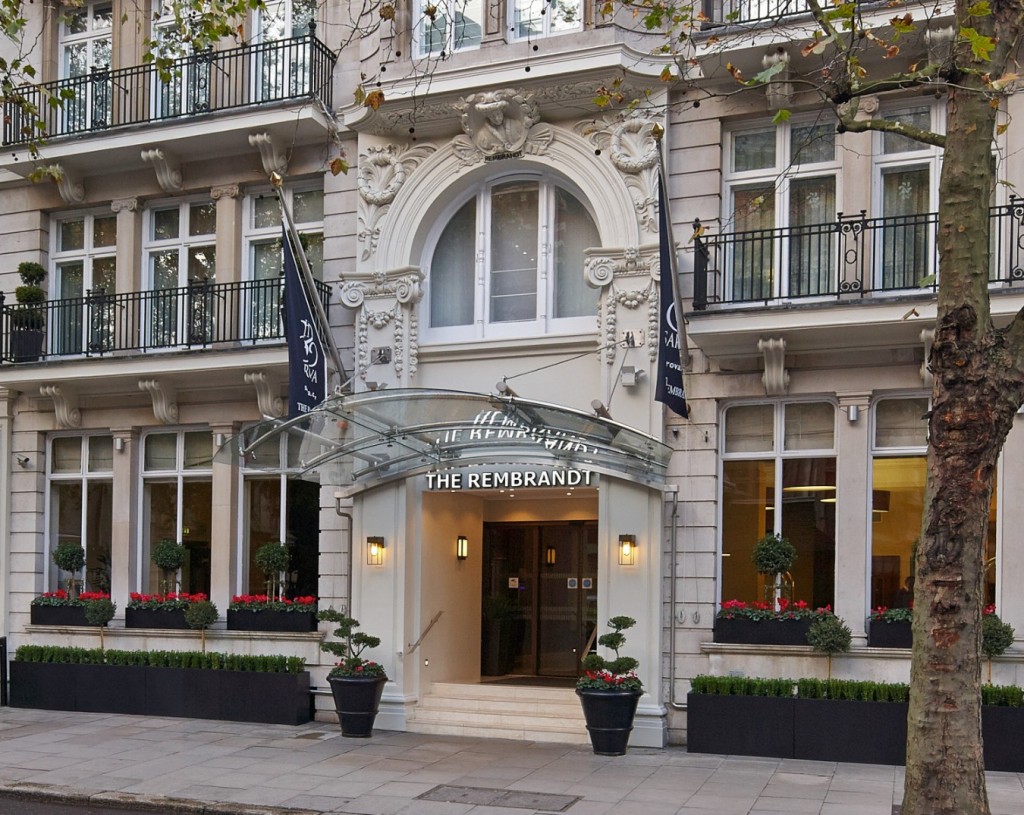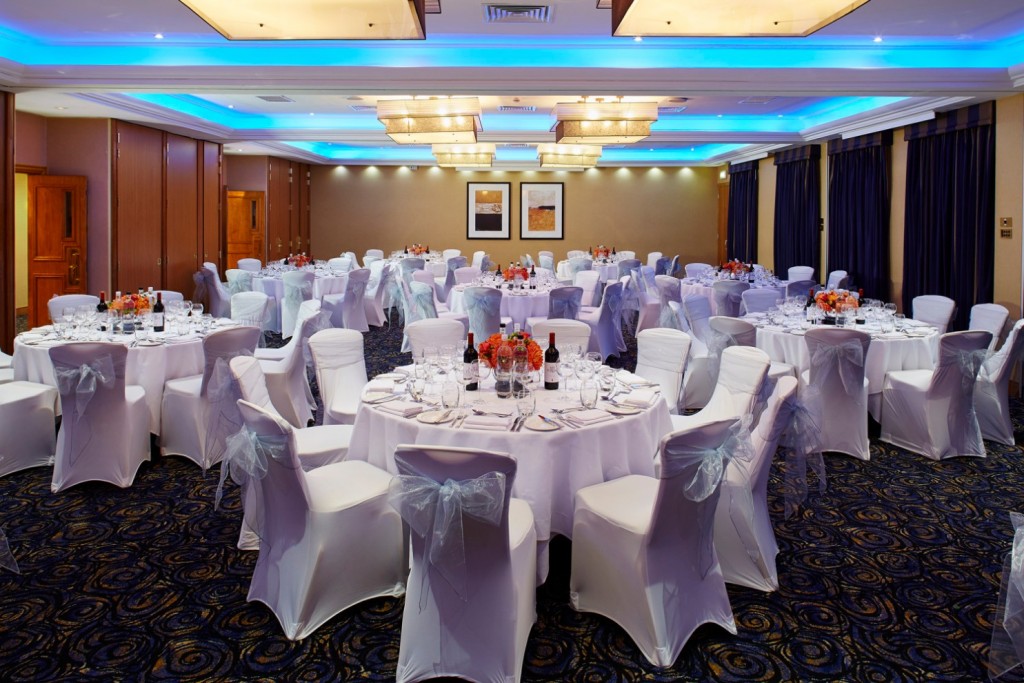 Located in elegant Kensington, the historic Rembrandt Hotel is perfect for a traditional London wedding. Beautifully renovated reception rooms make this Edwardian building a popular choice for wedding banquets of up to 180 guests.
What's included:

Welcome drink
3-course menu
½ bottle of house wine per guest
1 glass of sparkling wine for the toast
Tea and coffee
1 night complimentary accommodation in a classic room for the wedding couple (including breakfast)
Gift for the wedding couple
Dedicated event manager
£60 per guest
What we love:
The option to upgrade your wedding night accommodation to a honeymoon suite overlooking the V&A, with breakfast in bed the next day

For city-chic brides: The Silk Package at Devonshire Terrace
Located in the heart of London, Devonshire Terrace boasts picture-perfect views of the Gherkin, one of the city's most iconic landmarks. This light-filled space photographs beautifully and makes a stylish setting for civil ceremonies and wedding receptions for up to 350 guests.
What's included:

Drinks and canapé reception (Vedett Blond lager with personalised photo label, Liefmans Fruitesse fruit beer and 4 canapés per guest)
3-course wedding breakfast
½ bottle of Santa Florentina Pinot Gris 2013 or La Jonction Syrah 2013 per guest
1 glass of Wiston Estate Brut 2010 for the toast
½ bottle of water per guest
Tea and coffee
£80 per guest
What we love:
The gorgeous glass roof that means you don't have to worry about bad weather ruining your special day