Over the last six years, a new entrepreneurial spirit and a sense of local pride have seen Brixton undergo an exciting transformation. The neighbourhood now has one of the UK's hottest food scenes, with Pop Brixton, a cool shipping-container food and events space, leading the way. Read on to learn more about its runaway success, and why you should check it out while you can still get a seat.
The new kid on the block
Pop Brixton is a hot foodie destination. It's buzzing with new eateries like The Bell & Brisket, where you can satisfy that meat craving with a beef-busting bagel, and Baba G's, the place to tuck into an Indian-style lamb jalfrezi burger – voted by Time Out as one of London's 100 best dishes. But Pop Brixton is much more than a cooler-than-cool hipster hangout. Born out of an unloved car park just over 12 months ago, their aim is to make it easier for people to start and grow the businesses they're passionate about.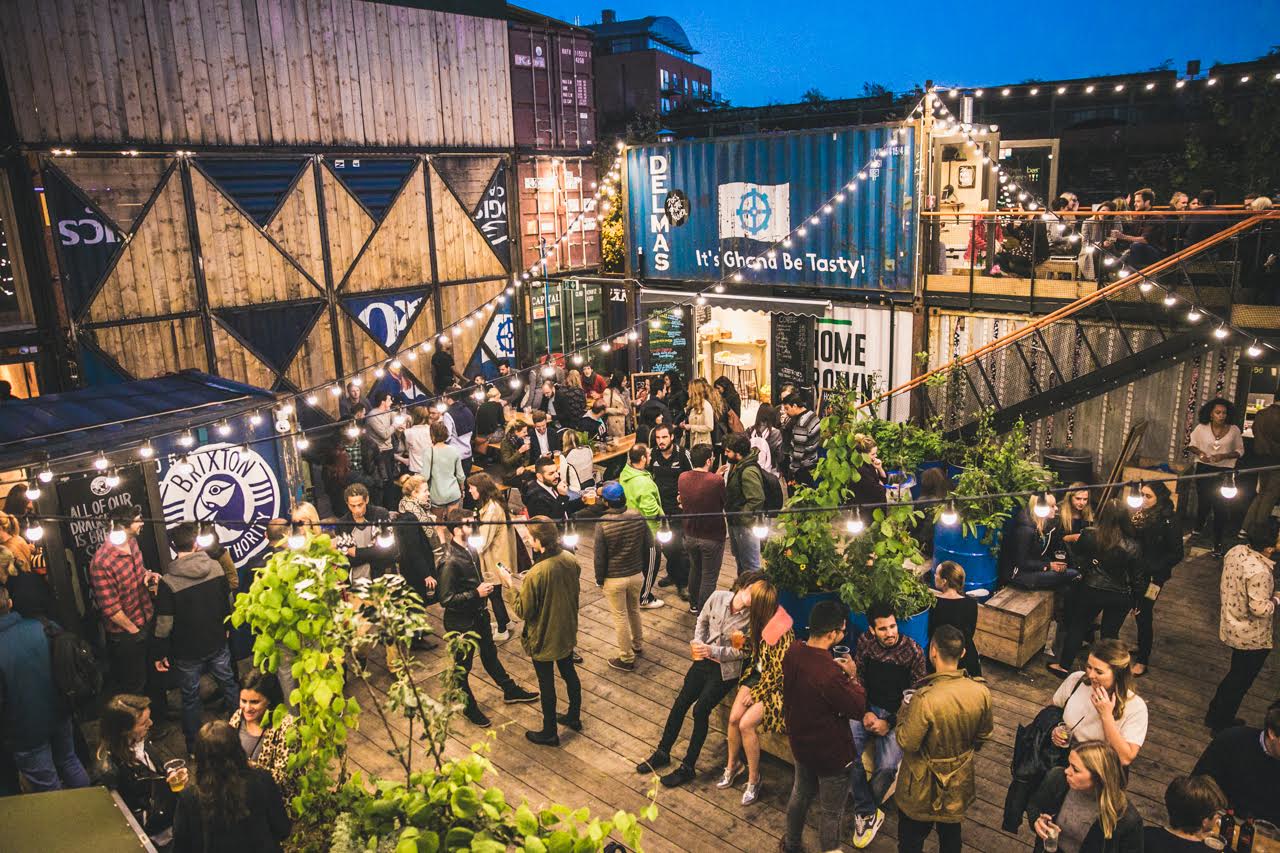 A container community with a conscience
Built from Instagrammable upcycled shipping containers, and jam-packed with new eateries and ultra-hip retail outlets, Pop Brixton is a hive of creativity and community. This pioneering urban space is giving the next generation of food and retail traders, independent start-ups, entrepreneurs and artists a vibrant space to showcase their work and build their businesses.
The best of Brixton's foodie offerings
One of London's newest foodie hotspots, Pop Brixton is home to over 20 mouth-watering food and drink vendors. Standouts include Don Luigi (Italian street food traders serving up freshly caught calamari) and the Brixton Port Authority (a bar offering draught beer brewed strictly within south London). Pop Brixton also boasts a bunch of cool retailers like Brixton's Baddest (a skate shop supporting and developing the local skateboard community in south London) and Container Records (a vinyl music shop opened by a small group of DJs, promoters and record collectors).
An urban hub with a neighbourhood vibe
Pop Brixton champions all things local, with 70 per cent of their members from Brixton and Lambeth. Their initiatives include Pop Farm (an urban farm bringing a community garden to the heart of Brixton), Free Music Fridays (live music showcasing the best London talent), sushi-making workshops, Disco Barre classes and jumble sales. Pop Brixton is also home to a community barbershop, youth radio station and a number of social enterprises like Bounce Back (a training charity focused on supporting ex-offenders into work) and Impact Hub Brixton (a shared workspace for start-ups that's fostering enterprise and innovation).
A dynamic food and events space
Looking to join a community that includes everything from a smoothie start-up and a music press to an award-winning design studio and a vintage fashion company? Pop Brixton has a range of spaces for hire, all just a short walk from Brixton Tube station on Popes Road. Pop Box is a multi-use arts and events space that's available for both closed door and open-air events. It's able to host live music events, cinema screenings, theatre performances, photo shoots, workshops and fitness classes, as well as corporate events, parties and private dining events.
On the hunt for a more central pop-up event venue? Check out our top picks.