Ugly Christmas sweaters, White Elephant gift exchanges and Secret Santa are just a few popular Christmas party ideas. They're not exactly anything memorable though, right? Are you tired of repeating the same theme every single year and hoping to come up with something more unique for your office party? Innovative ideas can be tricky to come up with but don't worry!
The good news is that you don't have to wrack your brains over your plans. Some classic ideas may just need a little spin and you can book extra entertainment or take your party to an unexpected place. You don't need to go wild to make it a party to remember.
So, read on to find unique work Christmas party ideas that will leave your team feeling merry and bright!
Work Christmas Party Ideas
This year, why not try something different? Here are some great ideas for hosting a Christmas party that your team members will love!
Unique Theme
Forget traditional Winter Wonderlands, Grinches and gingerbread houses. This year, go for a theme that will go down in history. Here are a few ideas that will ring that jingle bell for you this year:
Red (and Green) Carpet
Ever thought about how it would feel to walk the red carpet? Well, this could be a theme for this year's office party. Ask your colleagues to dress up in their most extravagant clothes, but make them Christmassy! Set a colour code (green and red, for example) or ask everyone to incorporate a Christmas accessory into their outfits. Since red carpets usually appear at award ceremonies, this can be a great way to celebrate your team's achievements of the past year.
To make the party even more memorable, set up a photo booth or hire a professional photographer to capture the night. If you like the idea of an elegant celebration, but the red carpet is not quite it, check out a few other ideas for an elegant holiday soirée.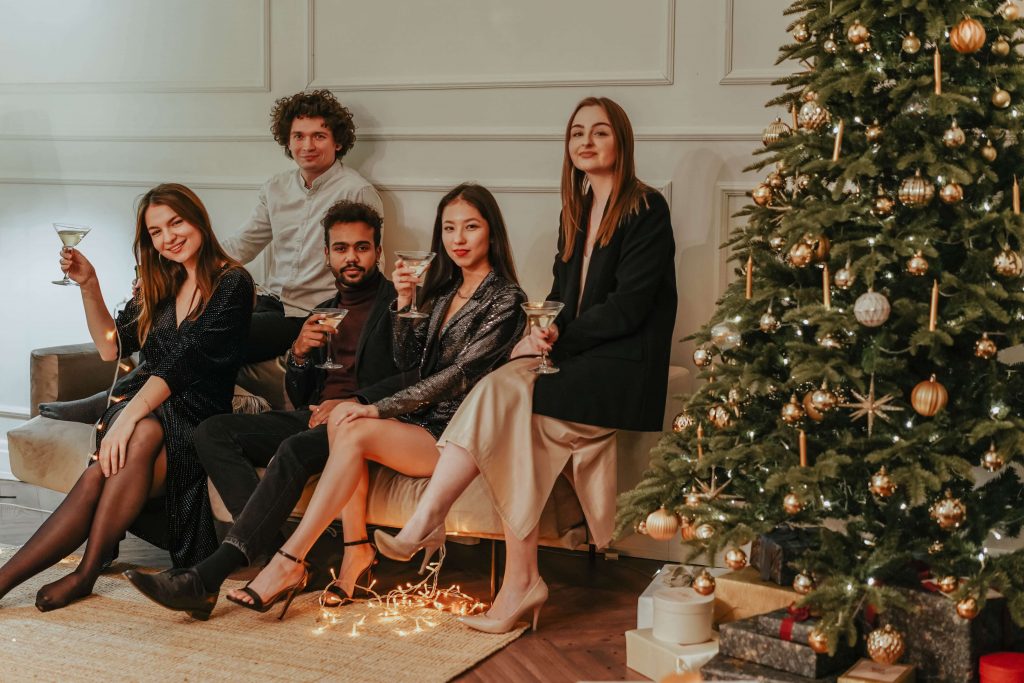 Superhero Christmas
If you're looking for something more exciting than just classic Christmas decorations, consider hosting a superhero-themed Christmas party. This theme is perfect if you're looking for something festive without making it too formal. Ask your employees to come dressed as their favourite character or ask them to come up with their own superpower. You can organise a contest to find out which of the superheroes would make for the best Santa's helper.
To celebrate the season in a big way, instead of buying party favours or organising a gift exchange, find out how your team can help local charities and become real-life superheroes. This way, you and your team will also be able to feel like real Santas!
Yer a Wizard!
Although the wizarding world of Harry Potter seems more likely to be a Halloween theme, the beloved series does offer up some iconic Christmas scenes that are perfect for recreating for your office party. Let your coworkers dress up for each of the houses, or even better – make the Christmas party into a Sorting Ceremony. Remember to offer some butter beer and chocolate frogs on the buffet table!
For employees who grew up with Harry Potter, this will be a great occasion to recall some childhood memories. For those not familiar with the series, it can be an interesting experience and the start of a new journey!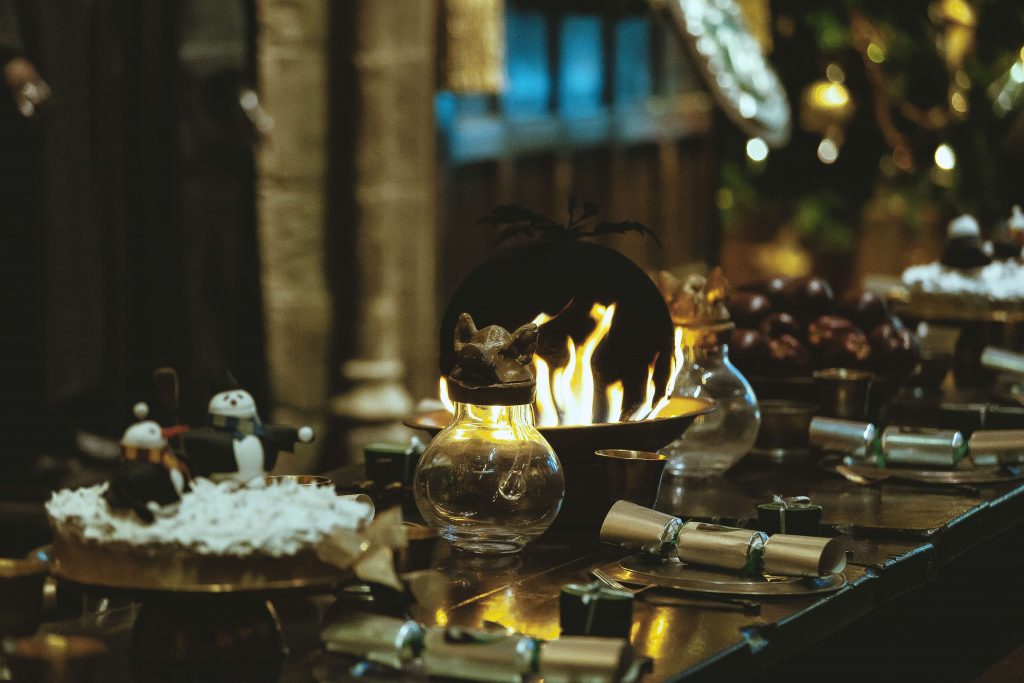 Christmas Down Under
Are you tired of the cold, rain and snow, and the greyness all around? Well, for this year's office party why not bring in the sun and fun of the summer break. After all, that's what the season looks like in the Southern Hemisphere! So instead of a flannel, dig out your Hawaiian shirt, exchange the Santa hat to your straw fedora, and sip on a cocktail with a little umbrella instead of mulled wine.
To celebrate the season, you can also plan some Christmas games or organise a gift exchange!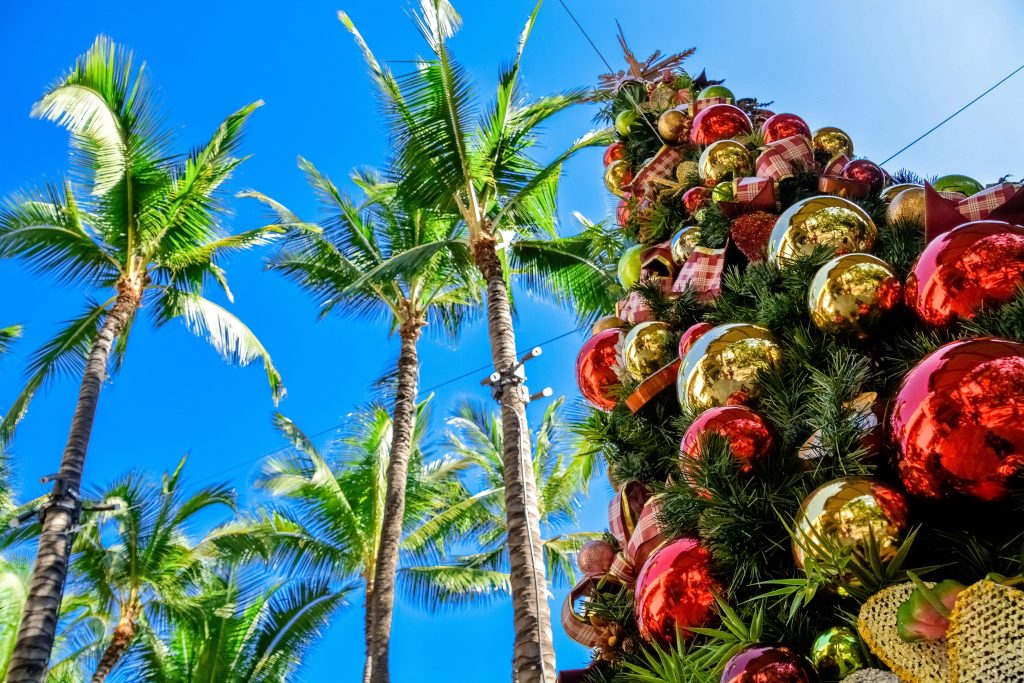 Unique Experiences
If you're looking for some innovative ways to organise a Christmas party for your office this year, then we've got a few ideas for you.
Sleigh Races
Well, maybe not sleigh races exactly, but have you ever wondered how it would feel to sit in Santa's sleigh and travel around the world in one night to deliver gifts to kids all over the world? That sure sounds like a race to us! So get your imaginative side to work on the F1 simulator track or race your coworkers on a go-kart to try and see how you would do on Santa's sleigh. For this one, you have to dress up as reindeer. So don't forget the red nose!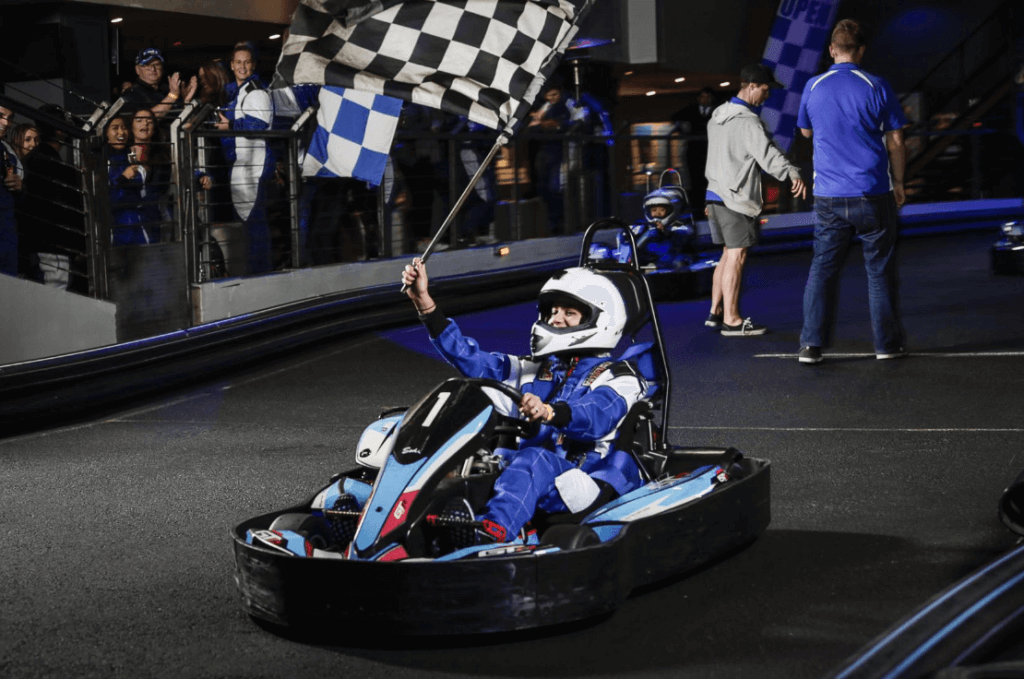 Do It Yule-self
Turn your office into Santa's workshop this year. Organising DIY workshops is not only a chance to escape the usual holiday drinking bash, but they also help build camaraderie and strengthen your company culture. For Christmas workshops, you can choose to make ornaments or greeting cards, build gingerbread houses, or decorate cookies.
The good news is that the workshop can be a virtual activity, so if you're working in a remote or hybrid office, this might be the idea for you. Reach out to our virtual team to help you choose what's best for your team. If you're looking for more inspiration, check out our list of virtual Christmas games and ideas.
Arcade Games
If you're looking for something different, consider a visit to the arcade. It's a great way to bring everyone together and enjoy some unique fun with your coworkers. Since there are many games to choose from, everyone will find something enjoyable to do. Look for arcades that have a bar for drinks and snacks or ones where you can hire your own catering.
For the perfect holiday touch, consider organising a Christmas scavenger hunt. The colourful venue you hire can be a great place to hide a few clues and objects to be found by your colleagues. Make sure the winner gets the biggest gift from under the Christmas tree, so the competition stays fierce!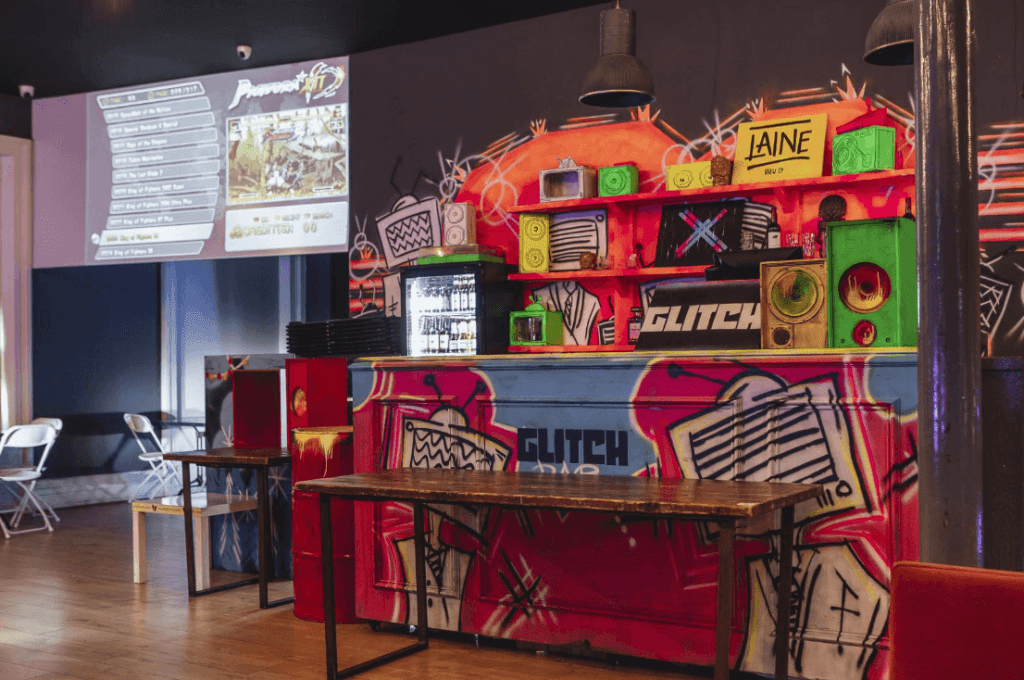 Jingle Bowls
Bowling is a favourite activity for office outings. It can be enjoyed by people of all ages, and it doesn't require a high skill level to play, so anyone in the office can participate. It's also a good idea for diverse offices, where you want to focus more on bringing the team together rather than on Christmas itself.
If you would still like to give your party a seasonal theme, maybe one of these winter themes will be a hit for your team!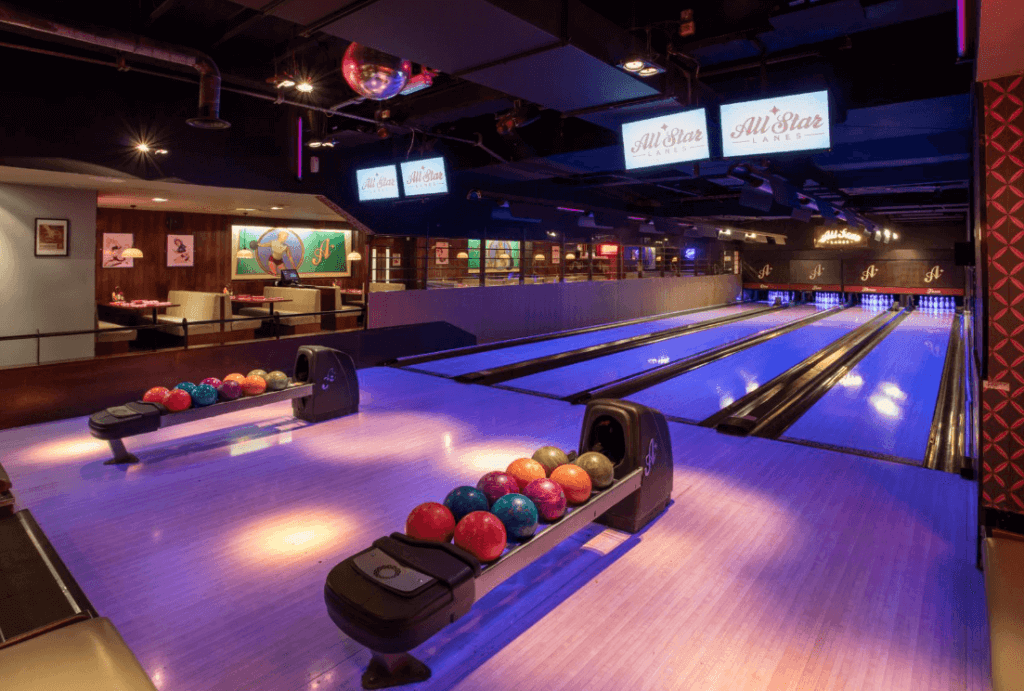 Unique Venues
Another way to make this year's holiday celebration one to remember is to take it out of the office and organise it in a unique location. Here at Tagvenue, you will find many interesting places from fancy restaurants to crazy nightclubs. But we've prepared some recommendations for unique spots that will elevate your festive celebrations this year:
Boats
Why not get an all-in-one package with a boat hire? This option has it all: amazing views, unique experiences and a memorable party. Don't fret, you won't have to sit on the deck and freeze. Boats offer covered and heated spaces where you can mingle with your coworkers and celebrate the festive season.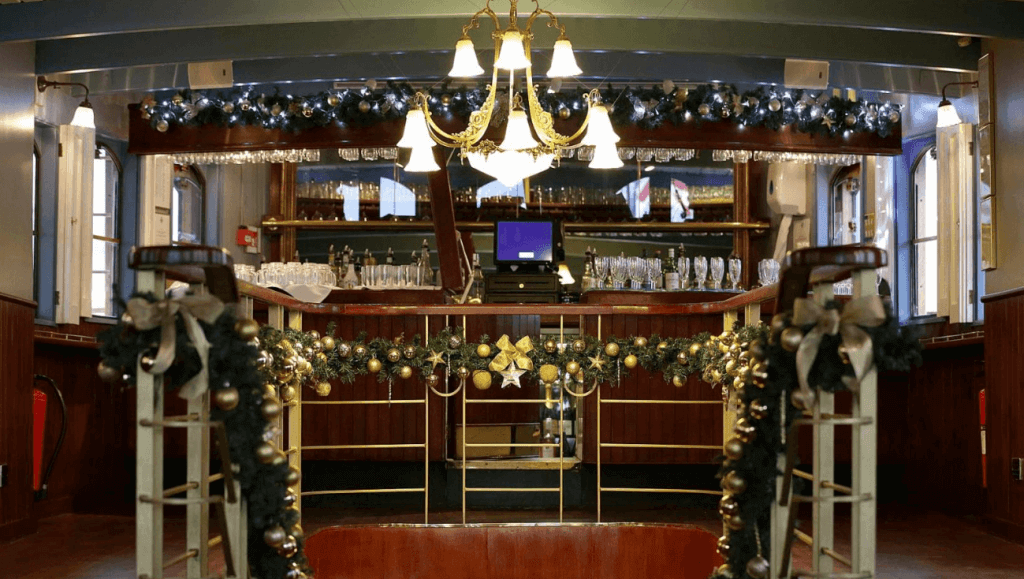 Cinemas
Were you planning a Christmas movie marathon this year? Why not make it a bit more special and watch the movies in an actual cinema, and not in your office's conference room? Most of the cinemas also offer lounge areas, so you will still be able to play some Christmas games and chat with your coworkers.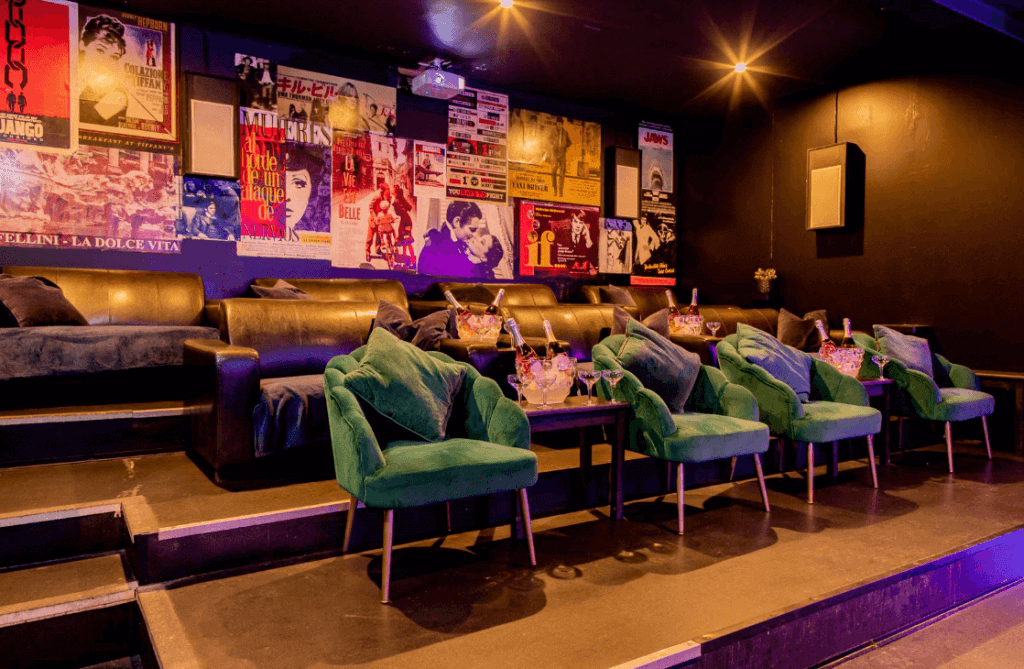 Breweries
An alcohol-tasting or making class is already quite a popular theme for an office party, so why not take your team to the actual place where the alcohol is made? Many breweries offer lovely event spaces where you can organise a one-of-a-kind Christmas party. To add the festive touch, ask everyone to dress up in their favourite ugly Christmas sweater.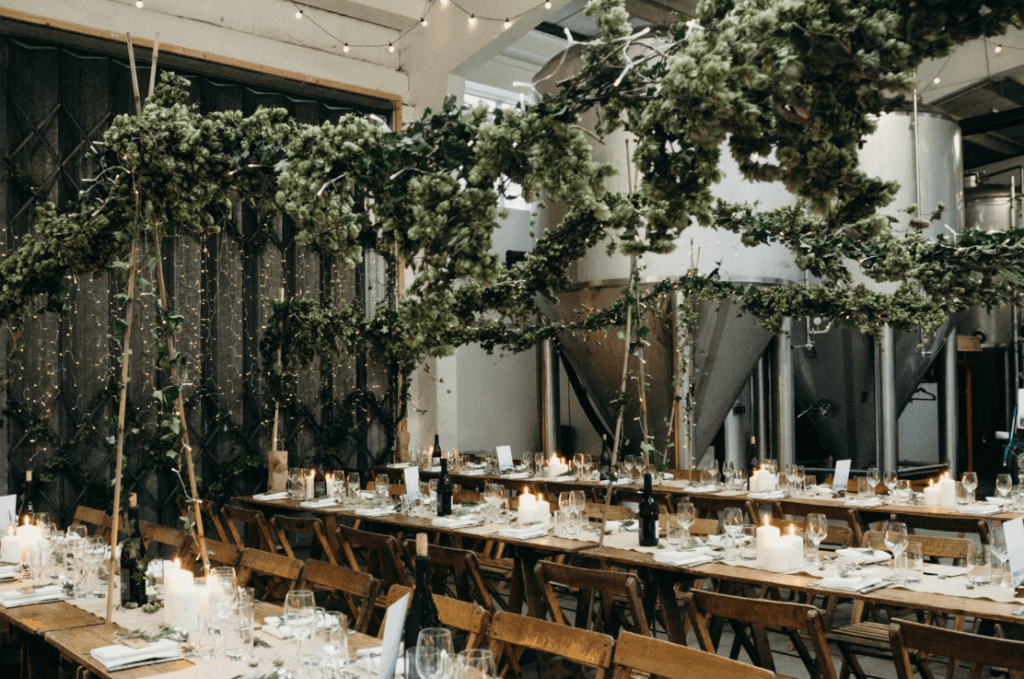 Museums
Museums are great places for hosting a private event because they're often located in large cities with plenty of parking and easy access to public transportation. Plus, most museums have beautiful, unique spaces that can be adapted for nearly any theme or purpose. To make the occasion more festive, ask your guests to dress up in festive costumes. Our list of Christmas dress-up ideas can help you with that.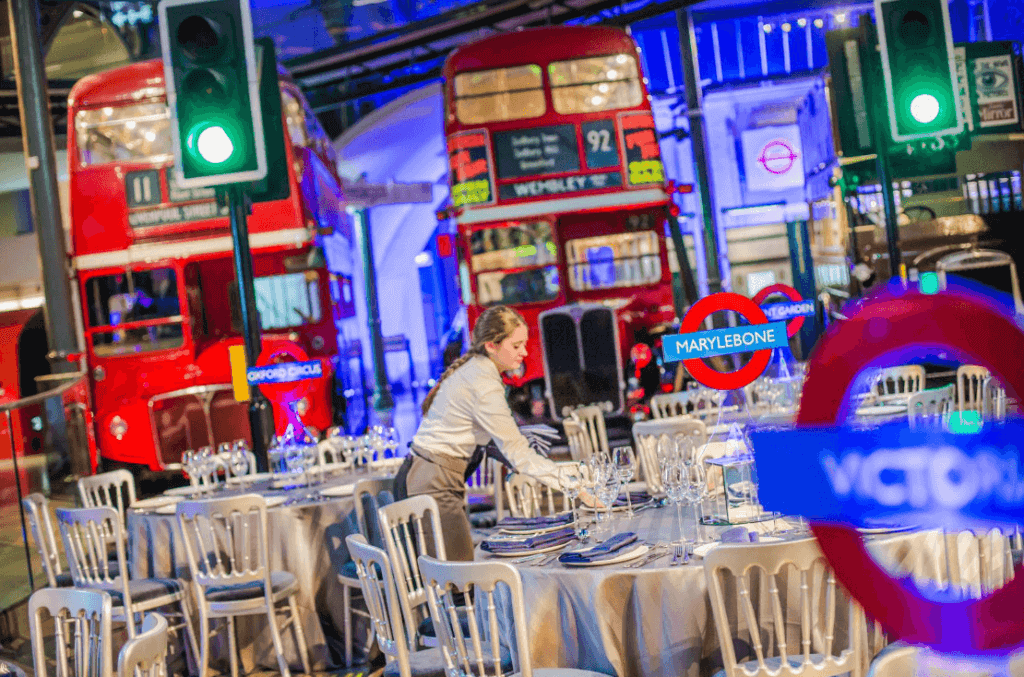 Key Takeaways
From unusual themes and one-of-a-kind experiences to unexpected venues, there's no shortage of ideas for making this year's Christmas work party a blast. We hope that our suggestions will help you and your coworkers relax, have fun, and make some memories for years to come. And if you need help finding just the right venue for your party, just drop us a line, we're happy to help out with that as well!
So, put some Christmas cheer on, and jingle all the way!
FAQ
When should I start planning my office Christmas party?
It's never too early to start planning your office Christmas party. After all, you'll need some time to plan out your theme, decorations, entertainment, and food. And if you're planning an office party at a venue other than your office, you'll need to book it early as well, usually anywhere from 3 to 4 months in advance. Once you secure the venue and the date, you'll have plenty of time to organise everything, and you won't have to worry about getting it all done at the last minute.
How do you make a work Christmas party fun?
The main purpose of a work Christmas party is to bring everyone together and get to interact, so if you can create that kind of synergy, the party is bound to be fun. But to make that happen, you can do a few things. Find an exciting venue that will elevate your party. Choose a theme for everyone to follow. Plan some interactive games that will have everybody engaged. And, most importantly, make sure to have some fun yourself so that everyone has a great time.
How do you plan a great office Christmas party?
Planning a company party can be stressful, so there are a few things you can do to make sure that your work Christmas party is a success.

✅Secure the date and the venue (3 to 4 months in advance)
✅Send out the invites early
✅Decide on the theme and decorations
✅Organise food and drinks (remember to provide non-alcoholic options as well!)
✅Plan the entertainment (organise games or hire an outside provider)