🎵 It's Beginning to Look a Lot Like Christmas
Another year has (almost) passed. You and your coworkers have worked hard, made tight deadlines, closed huge deals, and achieved challenging goals. Now it's time to kick back and focus on celebrating the holiday season with a bang!
Perhaps you've taken a few steps to organise the annual office Christmas party? Or maybe you're about to start planning the details such as setting a budget, picking the ideal venue, and choosing the menu. These undoubtedly essential elements will influence the event's overall success. But have you thought about the most important element? The thing that will keep everyone from stifling their yawns? The Christmas party games! Not only will these get everyone into the festive mood they are also a great way to carry out team-building activities.
Christmas games offer a perfect opportunity to connect and interact outside official working hours. While playing these games your coworkers can wind down, relax and spend some quality time together. Because they build a sense of camaraderie among colleagues, these games can definitely benefit your company's culture and boost productivity.
So, make sure to include some holiday-themed activities. Luckily, we've got your back and have made a list of the best Christmas office games to help you throw a holiday party to remember. So hop on board and start reading now.
Top 20 Holiday Office Party Games
Now, let's get to the fun part!
1. How Many Ornaments?
🎵 Underneath the Tree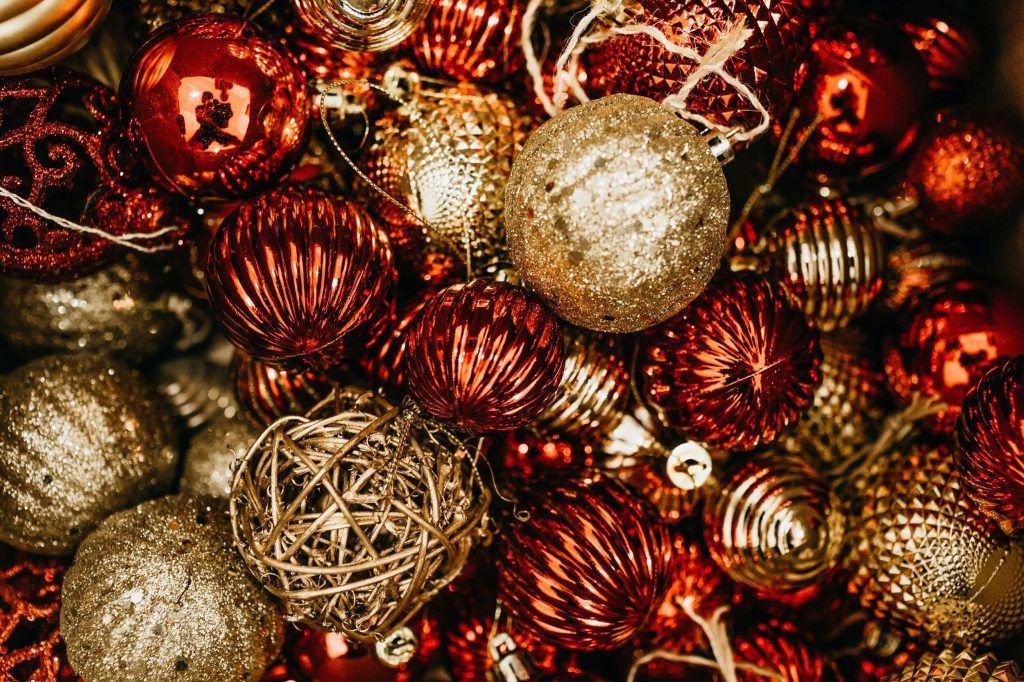 Warm up your crowd with this easy game that will get everyone in the right mood!
Essentials: A few pieces of paper, a pen, decorations
How to play
Embellish the space with fun holiday ornaments that will set a festive mood. And don't forget to count them all, as you will need the exact number to figure out the winner.
When the party is about to start, ask everyone who arrives to guess the number of ornaments they can see. Write the answers on paper, together with the name of the submitter.
Once you have collected everyone's answers, check whose answer is equal, or almost equal, to the actual number. Make a grand reveal who's the winner.
2. Holiday Photo Booth
🎵 It's the Most Wonderful Time of the Year
Who doesn't love a little bit of competition? Why not channel your coworkers' modelling skills with this easy-to-prep idea?
Essentials: Polaroid cameras, Christmas-themed props, a board, pens, paper, and a container for votes
How to play
Set up a corner with some holiday-themed backdrops and props such as reindeer headbands, Santa beards, Elf hats, etc. Then, divide everyone into groups, tell them to strike a pose and take a creative holiday picture that stands out!
Once you have all the pictures, place them on the board and ask everyone to vote for the best holiday picture.
3. Guess Who Made This Christmas Treat
🎵 Who Took the Merry Out of Christmas
Request your coworkers to prepare their signature holiday treats and bring them to the party! It will make them anticipate the event even more.
Essentials: homemade desserts and cookies, a table, paper, a pen
How to play
Ask everyone to make and bring their favourite holiday treats to the holiday party. And later, let other attendees guess who made them and write their answers down on the paper. Once you've collected all the answers, see who has made the most correct answers.
4. Guess the Coworker
🎵 Naughty or Nice
This one will bring you so much joy! Would you have imagined that George from HR was such an adorable baby when he was a little boy? Or that Anne used to wear cute pigtails? This activity will encourage everyone to talk and reminisce about the past. Who knows, maybe you'll find out that you share some of the same holiday traditions?
Essentials: Christmas-themed pictures of your coworkers from childhood
How to play
Before the party, ask your coworkers to bring their favourite holiday-themed picture from their childhood. Label them with numbers and make a display on the wall or board so that everyone can see and make their guesses. Collect their answers and check who is the winner.
5. Snatch the Christmas Cup
🎵 Take Me Home for Christmas
Essentials: Cups, someone to run the game
How to play
Divide the group into pairs and ask each pair to face each other. Set the cups so that each pair has one cup standing between them. Then, start giving everyone orders, e.g. to touch their heads, knees, shoulders, squat down, etc. And when no one is expecting it, shout 'CUP!' The person who successfully snatches the cup eliminates the other.
Continue playing other rounds until only one person remains.
6. Find Santa's Friends
🎵 Christmas Always Finds Me
This one is great to get people up and moving after a few hours of sitting and eating holiday food.
Essentials: Small elf figurines or elf stickers, paper, and pencils
How to play
Before the party starts, hide small elf figurines around the event space and make sure to hide them well! Then, when you've decided to start the game, give everyone 10 minutes to find as many elves as possible.
The person with the most elves wins.
7. Christmas Scavenger Hunt
🎵 My Only Wish (This Year)
A list of Christmas games wouldn't be complete without this ultimate classic. To make it more fun and personalised, pick quests that will reflect the company's values!
Essentials: Scavenger Hunt sheets
How to play
Divide everyone into teams. Give each team a sheet with all the quests they need to complete in 45-60 minutes. The team who finishes the most tasks wins. However, to avoid any cheating, ask participants to record their team completing the challenges.
8. Name that Tune (Christmas Edition)
🎵 The Mistletoe Jam
Another classic that will immediately break the ice and it doesn't require any singing skills at all!
Essentials: a music player, a host
How to play
First things first, you will need to create a list of holiday-themed songs. You may want to hint to your coworkers that a Name that Tune contest could be on the agenda. This will give your colleagues a chance to refresh their memories and prepare as well.
At the party, divide the attendees into groups and then play a few seconds of popular Christmas hits. Give the team some time to decide. The first one who shouts out the right title gets a point.
We recommend starting off with the most popular hits and well-known classics before slowly increasing the difficulty.
9. Christmas Karaoke Competition
🎵 Elf's Lament
For this particular game, we recommend putting it off until later in the party when the cocktails kick in and everyone's in the right mood. After all, not everyone feels like a star and wants to show off their singing skills to the world. Some people need some liquid courage before they are ready to channel their inner Michael Bublé and Mariah Carey.
Essentials: a karaoke machine, plenty of courage, a judge
How to play
Announce a couple of weeks before the party that you're planning a Christmas karaoke competition. This will give everyone a chance to pick a Christmas song they'd like to perform, and for you to make sure that the list of songs will be available on the karaoke machine.
At the party, encourage the participants to turn into professional singers who can hit (or not) those high notes! A judge will award points and the person who gets the most points wins.
How about taking your office crowd to a professional karaoke bar?
10. Christmas Squid Game Challenge
🎵 Don't Shoot Me Santa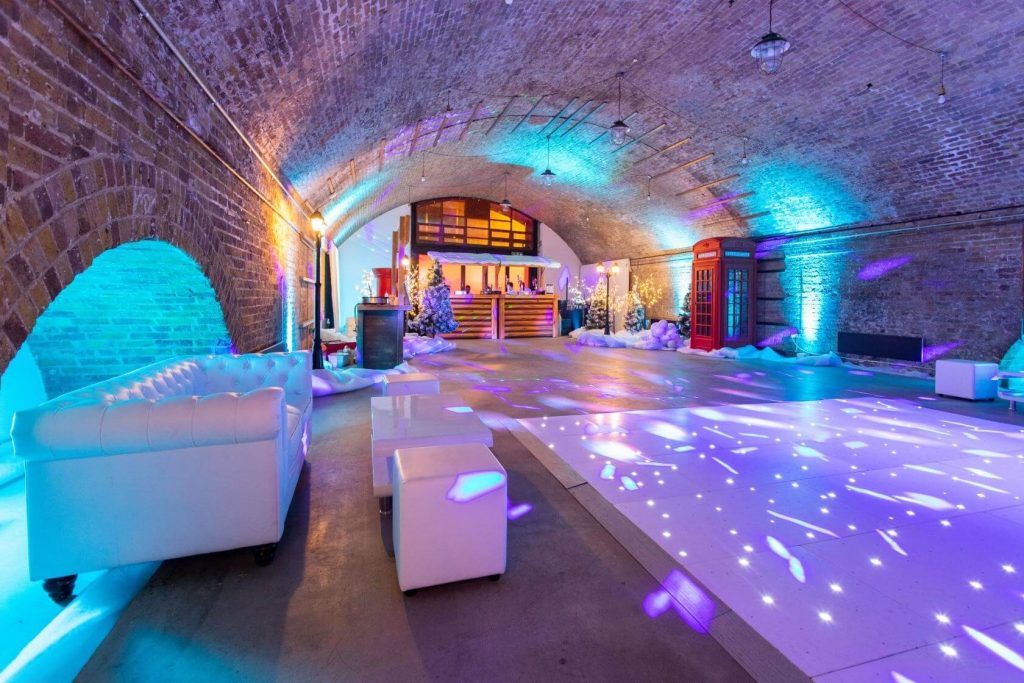 We L-O-V-E this idea! And we bet this one will be a huge hit at any office holiday party, especially when you know your coworkers have watched the show.
Gather all the essential elements together and let everyone fight for presents!
To all the people who haven't watched Squid Game: Of course, you don't have to catch up and watch the series to play this game. What you need to know is that the participants of the Squid Game took on many challenges to win money. However, if they didn't manage to complete the task, they were eliminated by getting shot. Yes, it doesn't sound nice, but we guarantee that no one's getting hurt by playing this version of the game!
Essentials: a dozen of boxes, wrapping paper, a toy laser gun
How to play
First things first, you need to prepare the boxes. Shoe boxes or any other boxes of the same size will be best. Half of them need to be filled with something like old newspapers to ensure they don't break under the weight of the participants. The other boxes should be empty. Then, wrap all the boxes in holiday-themed wrapping paper.
When it's time to play, set the boxes on the floor in two parallel lines. The game players will need to decide which box to step on. If they step on the ones that don't break, they win. If the box does break, the person is eliminated and you point at them with the laser.
The winner will be whoever can make their way across the line of boxes without stepping on any that are empty.
11. Christmas Tree Slide
🎵 Christmas Tree Farm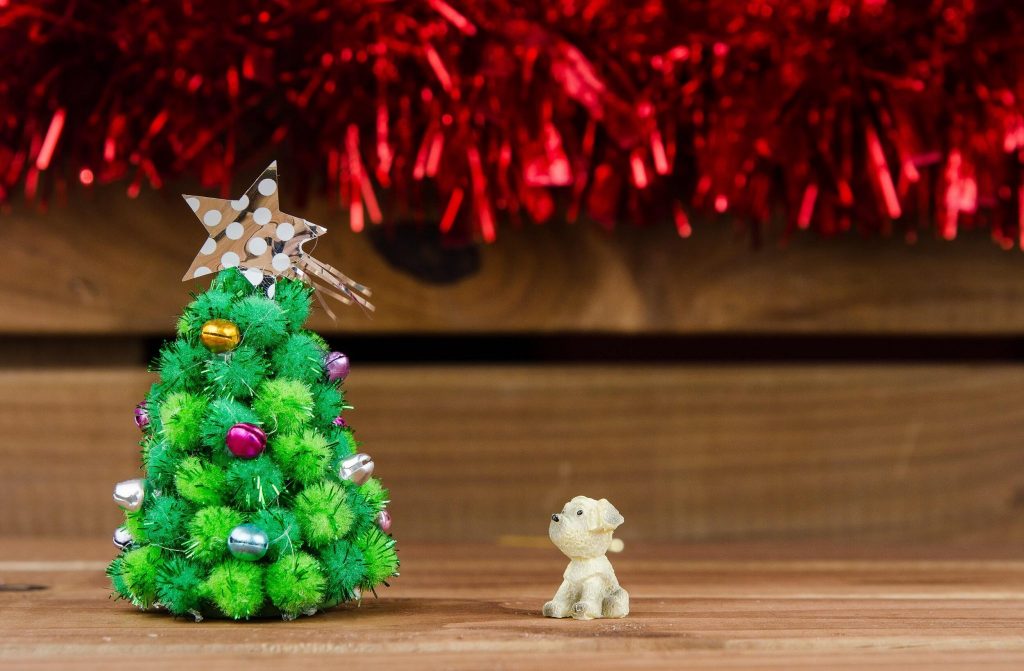 It seems easy, right? But it actually takes some strategy to win.
Essentials: a long table, tape, a non-permanent marker, 3 small Christmas trees
How to play
Use duct tape to divide the edge of the table into three equal tracks. Next to every line, write down the number of points that the player will receive once the Christmas tree crosses one of the lines.
Play the game in three rounds during which each person has 3 turns to slide the Christmas trees across the table. Once the game is done, you sum up all the points and pick the winner.
12. Candy Cane Championship
🎵 Candy Cane Lane
Don't let the name of this game fool you! It is perfect for checking out your team's coordination and cooperation.
Essentials: at least a dozen of candy canes, two teams of 3-4 people
How to play
Divide the group into two teams and give every person one candy cane. Then, give the team leaders another candy cane and hook it on the bottom of the candy cane they're already holding. When you shout "GO," they must walk up to another teammate across the room (their choice) and transfer the candy cane to them without the help of their other hand. The game continues until every person on the team has successfully transferred their candy cane.
Sounds easy? Well, wait until you start the game.
13. 'Who Am I' for Christmas
🎵 Can You See
This low-prep game will be the perfect option for anyone who doesn't have a lot of time for planning their office Christmas party.
Essentials: sticky notes, pens
How to play
Think of as many holiday-related characters and places as you can. Then write each one on a sticky note. Everyone who wants to play needs to select one of the sticky notes and place it on their foreheads. Then they need to go around and ask coworkers "yes" or "no" questions to guess who or what they are.
The winner is the first person who guesses it right.
14. Christmas Costume Contest
🎵 Frosty the Snowman
The Christmas Costume Contest is a great way to get the office together and have some fun.
In fact, it's the perfect game for bonding as it encourages interaction and helps break down barriers.
Essentials: fun costumes, a few people to serve as judges, a host
How to play
Announce the contest early on. This will give your coworkers some time to come up with a dazzling, holiday-themed costume that will surprise everyone with their creativity. You can personalise the contest by picking a certain theme or showing up in the most original ugly sweater. At this point, you should also ask some volunteers to be the judges and appoint a host who will present awards to the contestants.
To add some sass to the game, arrange some sort of a stage or runway where participants can model their outfits in front of the crowd and the jury.
When everyone has shown off their costumes, the judges will pick the winner and award the prize.
15. Deck Your Coworker
🎵 Deck the Halls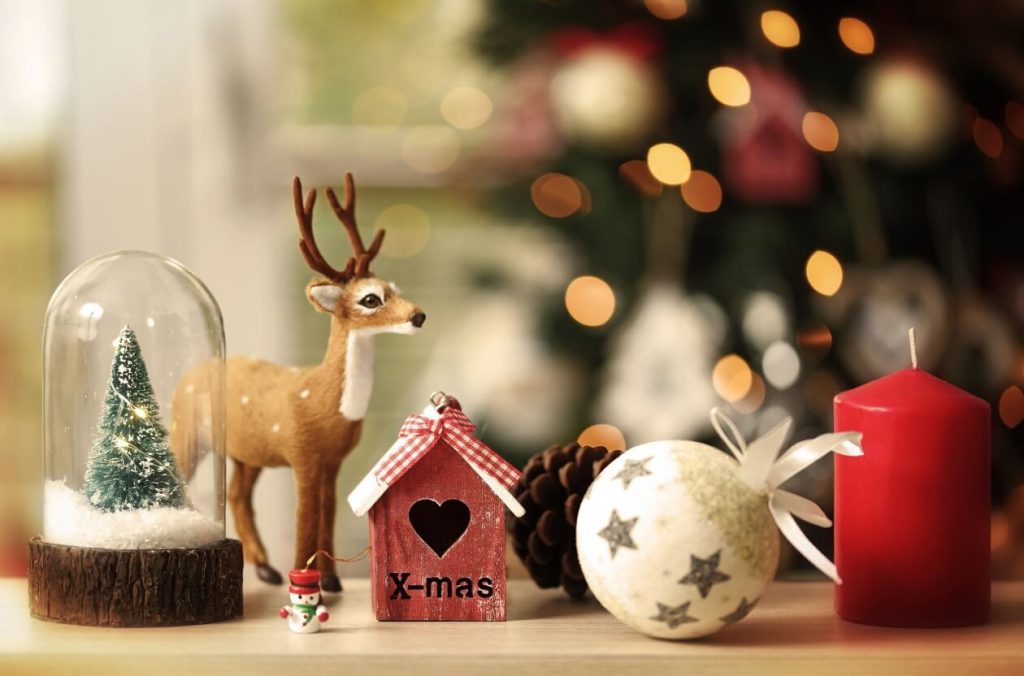 Make sure to have the camera on for this one!
Essentials: Christmas tree decorations, a volunteer to be a judge
How to play
Divide the team into groups. Each team must pick someone to be the 'tree' that they will decorate. Make sure that every group has enough ornaments such as baubles, garlands, lights, streamers, Christmas tree toppers, etc. Then, when you shout "GO," the groups have 2 minutes to deck their human tree as fast as they can.
Once the buzzer rings, the judge will pick the winning tree.
16. Two Holiday Truths and One Lie
🎵 Santa Tell Me
Is Evan, Agnes, or Mark the best liar in the office? This fun game is a perfect ice-breaker and team-bonding activity that will enable your coworkers to get to know each other a bit better.
Essentials: paper, pens, lie-detecting skills
How to play
To start the game, each person must write down three holiday-related facts about themselves on their paper: two truths and one lie. Then, the other players must try to guess which fact is false by asking 'yes' or 'no' questions about each fact on the paper. The game doesn't end until everyone has told their truths and lies.
17. A White Elephant Gift Exchange (with a Plot Twist)
🎵 I Am Santa
Forget about Secret Santa and plan a more fun and exciting version of the classic gift exchange! We guarantee you'll bring the event up a notch once your coworkers leverage their inner Grinch to get the present they want. (And don't worry, it won't be a disaster like in that legendary episode of The Office.)
Essentials: gifts, wrapping paper, ample space where you can place the gifts
How to play
Firstly, make sure to inform everyone about the gift exchange at least 2 weeks in advance. Set a spending limit so that all the gifts will be around the same price range. Then, ask everyone to write down a list of things they'd like to receive. Assign each coworker the name of the person they should get a gift for. However, ask everyone to wrap the presents in plain paper without signing them.
This is when the fun part begins.
Place the presents in one spot and ask everyone to sit around them. The first person picks up the present and doesn't open it. The second one picks up another gift and, using their sense of touch, decides whether they want to keep the present or steal a gift from another person. Everyone unwraps their presents only after everyone has selected one.
Just remember to set some rules (for example, that each person can change the gift only 3 times) to keep the game fun and light-hearted. You will find variants of the game in this article.
18. Design the Perfect Christmas Tree
🎵 Rockin' Around The Christmas Tree
Too easy? Ask your coworkers to do it with their eyes closed!
Essentials: writing utensils, sheets of paper, blindfolds
How to play
Divide the crowd into groups of 4-5 people and give each group a piece of paper and some pencils. Next, ask them to draw the perfect Christmas tree.
The first player from the team starts drawing a tree and then passes it on to the next person who must add something to it, such as a star or any other decoration. Once everyone has had a turn, compare all of the trees together and vote on which one is best.
19. Guess the Christmas Film: Emoji Edition
🎵 Somewhere in My Memory
Check your coworker's knowledge of classic Christmas films! Will they be able to guess Love Actually, Grinch, Home Alone and other hits in the language of emoji?
Essentials: pens, sheets of paper
How to play
To prepare for this game, print out sheets of paper with pictures of emojis representing movie titles. Then give each employee a sheet and ask them to write down all of their guesses in 10 minutes.
When the time has ended, reveal the answers and award points based on how close everyone came to guessing correctly!
20. Virtual Christmas Fun
🎵 Do You Hear What I Hear
Are some of your company's coworkers scattered around the world? Don't make them feel like they're missing out. So be sure to include them in the office Christmas party games this year.
Not sure how to do that? We've got you covered! We have a blog post that covers a whole range of cool virtual holiday party ideas that can add some excitement to your event. So make sure to check it out.
To Wrap It Up
🎵 Christmas Time Is Here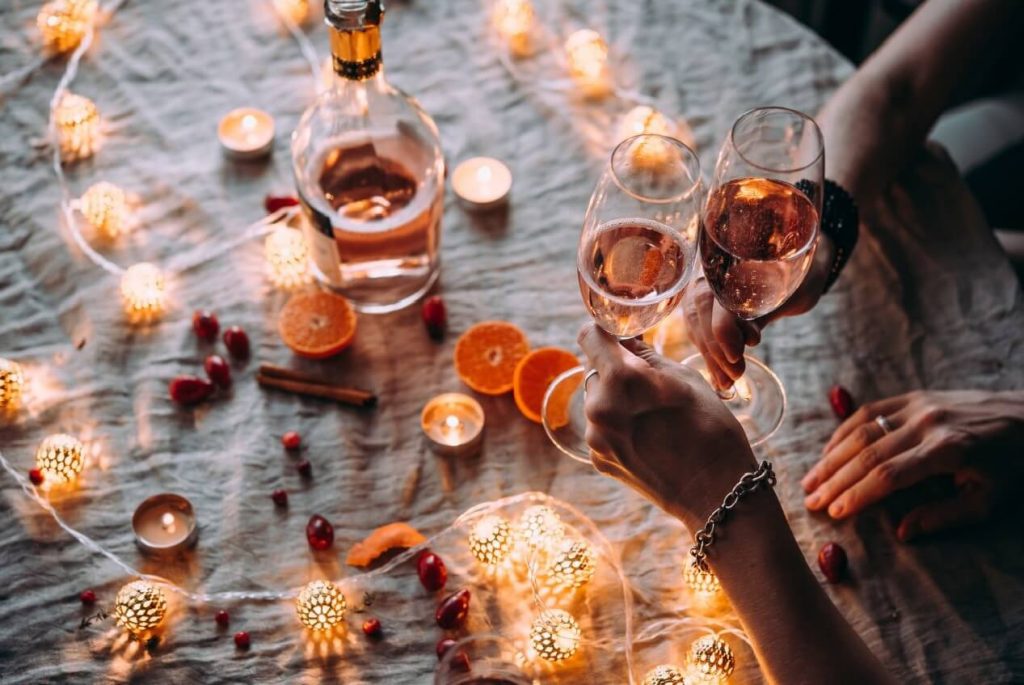 Holiday office parties are much more exciting when they're enriched with engaging games. Everyone will appreciate your effort in preparing activities to help everyone relax, connect and bond.
We hope that the office Christmas party games listed above will work great with your event, whether you're planning an in-person or a virtual office party. Do you need more tips on event organisation? Check out our guide to office Christmas party planning!
So, which one of the games was your favourite? Make sure to include your top picks at the party!
And always remember to reward the winners with a small or silly prize for their effort and good humour.
FAQ
When should I start planning my office Christmas party?
Common practice is to start planning around 4 to 3 months in advance. This will give you plenty of time to plan the activities, menu, and gifts, as well as pick the best date and venue that will suit your needs. 
So don't wait until the very last minute. There is no need to get stressed out. Thorough and early planning will also make sure that you will have time to handle any setbacks. So start organising as soon as you can.
When is the best time to secure the venue for the office Christmas party?
To make sure that you have plenty of venues to choose from, you should start browsing around 4 months in advance. This will give you time to investigate a range of venue types and prices so you can thoughtfully choose the event space that will suit your needs.
Remember, you're not the only person organising an office Christmas party, so to have only the best venues available on your preferred date, you should book your venue no later than 3 months ahead of the party.
How to pick the best venue for my office Christmas party? 
Before you start browsing venue offers, make sure you've determined these key elements:

Budget – Knowing how much money you have for the whole event organisation is crucial to picking the right venue. You'll know how much you can pay for the hire and will be able to pick a venue that is both within your price range and matches your requirements. 

Date – A set date will give you insight into what venues are available. It will be much easier for you to browse the venues knowing that you can book all the spaces that are on the list. Plus, we always recommend picking at least three venues so that you can compare their offers and pick the one that gives you the most at the given price range.  

Guest number – Even an estimated number will help you rule out spaces that will be too small, or too big for your party. Apart from accommodating everyone, you should also consider whether the space is suitable for your party games and entertainment.  
With those essentials in mind, you will be able to pick the ideal venue for your perfect office party! You can easily search for potential venues, as well as rule out spaces which don't meet your requirements.