As autumn turns to winter and Christmastime approaches, it's time to take a deep dive into the back of your closet. Forget your cute cardigans or posh pullovers, the name of the game is ugly Christmas sweaters. We all have them. They may be classic gifts given by aunties with the best intentions or they can be a recent purchase. But whatever they are, they are sure to be amazingly awful! Whether you are partying with your friends or at your office, it's time to let that festive polyester blend take centre stage! Here are some great ugly Christmas sweater party ideas:
What is an Ugly Sweater Party?
Just about everyone has one or eight of these lying around. If you don't have one, it's a sure bet that your friends have one or two to spare. Over the years, ugly sweaters have gone from being a kind gesture from ageing relatives to something of a prize as ugly sweater parties have become as much of a holiday staple as gingerbread houses.
The ugly sweater party is just that. A party with everyone showing off their attire, and the uglier, and more ridiculous, the better. Don't shy away from Rudolphs with glowing noses, oversized sweaters adorned with decorated trees (that also light up), or a good hand-me-down from grandma or grandpa will always be a hit! And don't be afraid to try and outdo your friends!
Once everyone is together, make sure the vibe is cosy, serve some Christmas themed drinks and holiday snacks, and turn up the volume on your favourite Christmas tunes. Party planning is no easy task, but we're here to share some great ugly Christmas sweater party ideas that will ensure your party is a hit!
Ugly Christmas Sweater Party Ideas
#1 Ugly Sweater Contest
Organising a friendly competition is a great way to make sure that everyone comes wearing a sweater, especially impressively ugly ones. The more over the top, the better. Have everyone cast a vote for the winner and put together a Christmas gift basket for the first place winner! Include a nice bottle of sparkling wine, some candy canes, peppermint candles, or whatever else you think screams Christmas.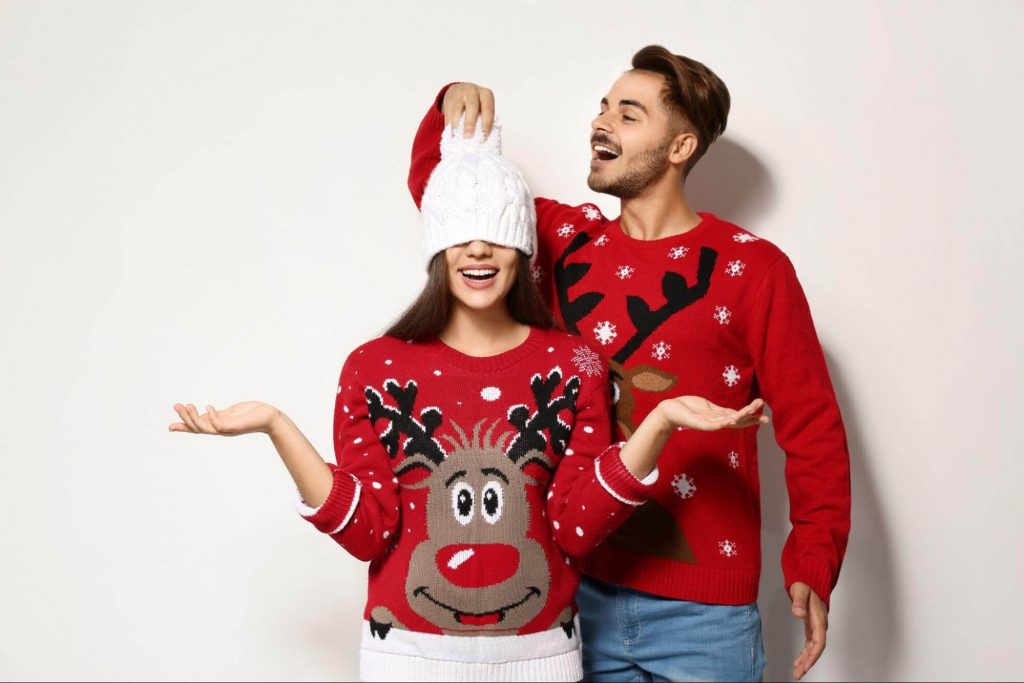 #2 Secret Santa
Nothing says Christmas parties like a Secret Santa gift exchange. The rules are simple. Everyone gets the name of another participant and is tasked with buying them a present. Just keep it…well…a secret! It is a good idea to set the price at something reasonable like £10-£25 just so everyone can receive a decent gift and no one has to break the bank.
#3 White Elephant Gift Exchange
Pairing this gift exchange with an ugly sweater party is almost as Christmassy as Santa Claus himself. The white elephant gift exchange involves everyone bringing a gift and choosing one from under the tree. There is only one catch, you can steal a present from someone else, if you want, and others can steal from you. It's always fun to put a tiny item in a big box to throw someone off. These parties are also a great excuse for giving out a fun ugly sweater too!
#4 Decorate A Tree
This is a hands-on activity that is lots of fun. Have everyone make a decoration (ugly sweater themed, of course), get out the ornament hangers and have everyone choose a spot to hang their decoration. Making decorations is a great way for everyone to show their creative side and decorate the tree with a little part of themselves for a truly memorable celebration.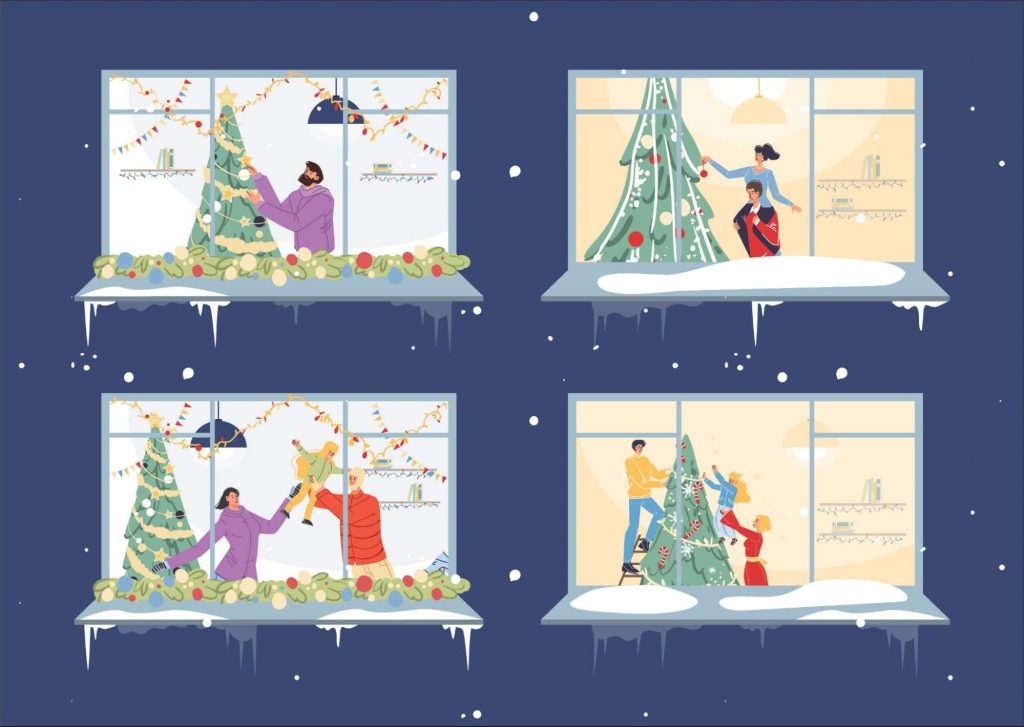 #5 A Movie-Themed Ugly Christmas Sweater Party
Ugly Christmas sweaters have no shortage of cameos in popular cinema. From classics like National Lampoon's Christmas Vacation to Elf, and yes, even Die Hard (the best Christmas movie, in my humble opinion), there are many sources of inspiration. Don't be afraid to make your own sweater for this occasion, but finding an outfit that makes you look like Clark Griswold will make you the star of the party!
#6 Ugly Sweater Cookie Decorating
Why leave the dessert out of the fun? All you need to do is bake a few dozen cookies and bring them to the party. Set up a little decoration station filled with icing, hundreds and thousands, and whatever other sweet treats you like. Then set your guests to decorating. This is an activity that pretty much everyone can enjoy.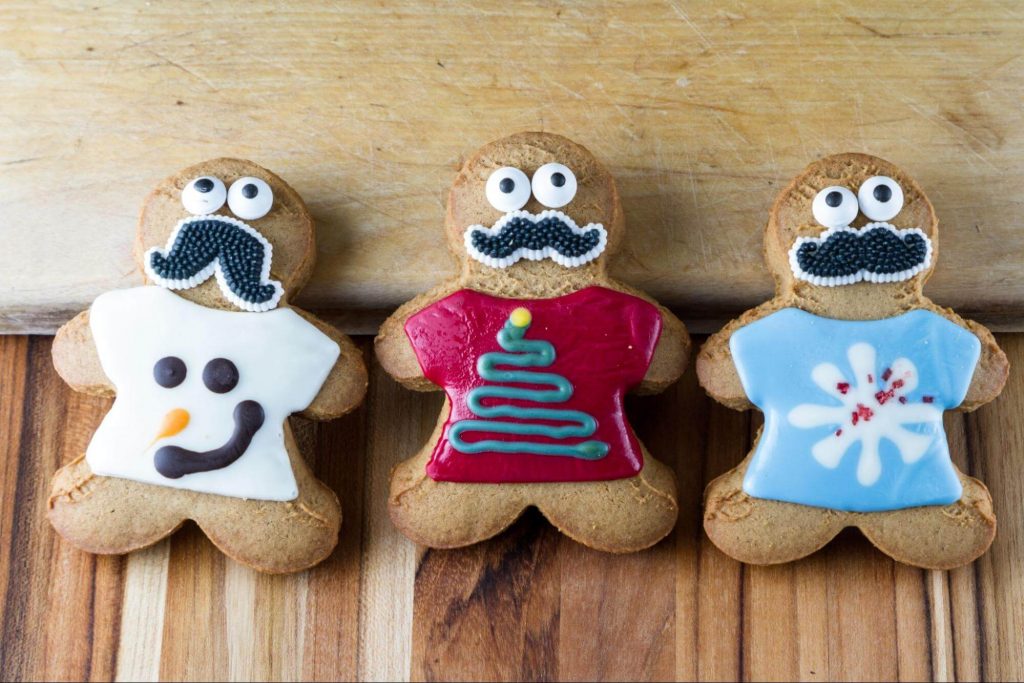 #7 Christmas Karaoke
We all have our favourite festive tunes, and what better way to sing them than in an ugly sweater? The setup is simple and the fun is guaranteed. Browse through a few YouTube karaoke playlists and get ready to have a great time!
#8 Digital Games
Online workplaces are now just as common as brick and mortar offices. Don't leave your remote employees out of the fun. Check out Tagvenue Virtual for a remote Christmas party that everyone will love!
Christmas Party Spaces
Now that you have your plan for the evening, you need to find a space where you can host all of the fun activities. Christmas parties can be held pretty much anywhere. The most important consideration is to find a place that is suitable for the size of your guest list. Why not check out some of our favourite types of Christmas party venues?
Pubs
What better way to celebrate with ugly Christmas sweaters than in the neighbourhood local? Pubs are a popular venue type and are great for both parties with friends and office events. With their good selection of food and drinks, pubs are an excellent location for any celebration.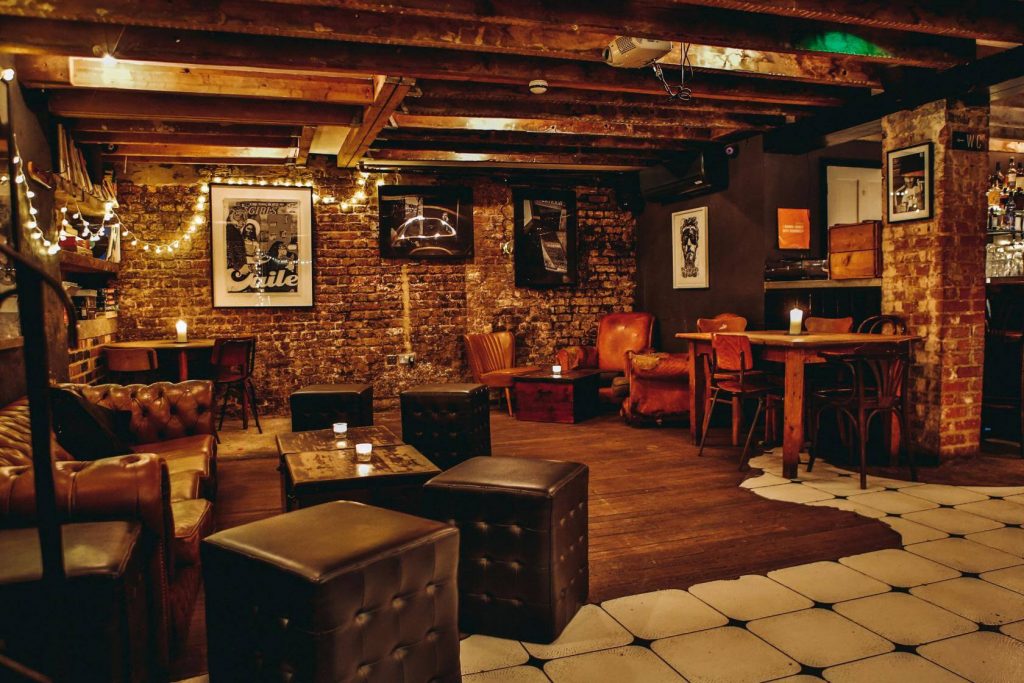 Restaurants
If you are looking for something a little more relaxed, then a sit down dinner is always a good option. You will be able to flex your ugly sweaters while kicking back and enjoying a great meal with company to match.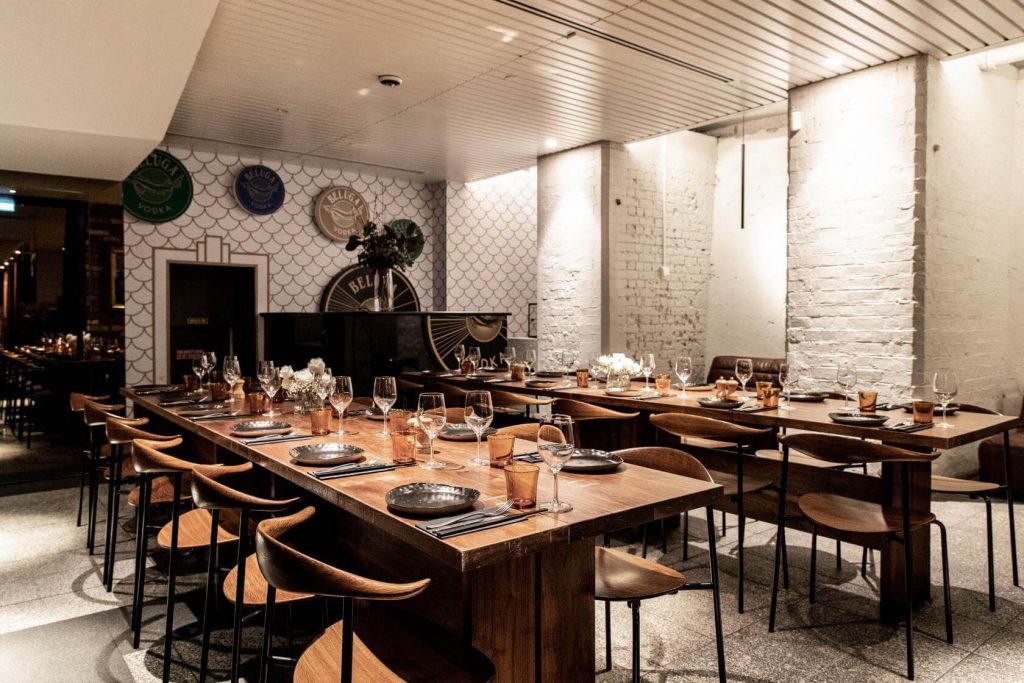 Ballrooms
If your ugly Christmas sweater party is turning into more of an ugly Christmas party soiree, consider a ballroom for your next event. Ballrooms are great for large parties, so if you are looking to have a large office party, you can find plenty of ballrooms that offer incredible Christmas party deals.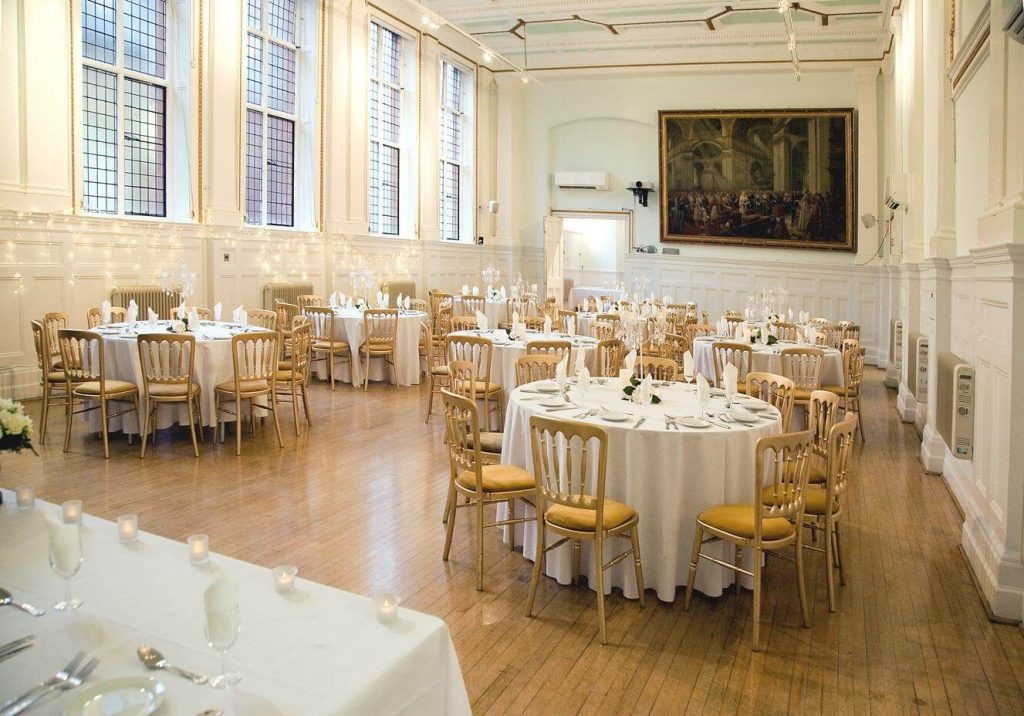 Unique Venues
Unique sweaters deserve a unique place to party. If you are tired of the same old office parties, hosting your party in a unique venue is one of the best ways to make your party memorable. Whether it is a quirky hall for dinner or a movie theatre that you are looking for, a unique space will be talked about for months to come.
Start Planning the Party Today!
Ugly Christmas sweaters are just one of the many joys of the festive season. So gather your guests and enjoy sharing the holiday joy of amazingly ridiculous sweaters. With these ideas for your party, you are guaranteed to have an unforgettable time. So what are you waiting for? Pull that sweater out from the back of your closet and book a space today!
FAQ
How do you plan an ugly Christmas sweater party?
Planning an ugly sweater party is just like planning any other party but it comes with a fun dress code. Things you should always keep in mind are:
Pick a date
Book a location
Send fun invitations
Create a menu
Organise your games
Put together party favours and gift baskets
Once you do all of these, you will be in good shape!
How do you hold an ugly Christmas sweater contest?
These are always a blast and they're simple to do. Just have everyone take a turn showcasing their ugly sweater, and when everyone finishes showing off, ask everyone to cast a vote. Make sure you have some fun prizes ready for the winners.
How do I spice up my ugly Christmas sweater?
Decorating your own sweater is one of the most fun things you can do for the party. Lights are always a huge hit, and do not shy away from hanging ornaments on your sweaters! The more you make your sweater your own, the more people are going to love it.