Everyone's favourite time of the year has finally arrived. Few things are looked forward to as much as the office Christmas party. Not only is it a great time to let your hair down and hang out with coworkers, but it is also one of the best team-building opportunities for the year. We have put together a list of some great corporate Christmas party entertainment ideas for the 2022 holiday season!
If you are looking for a space to throw your party, Tagvenue can help you with that. We are the world's fastest growing marketplace for venue rental, making it easy to find an amazing place to party in your city.
Awesome corporate Christmas party ideas that will be sure to live up to the hype
#1 Office Decoration Party
Before the party even kicks off, get out the tinsel and bells and start jazzing up your work space. Encourage everyone to bring some small things from home or make them in the office as part of the party. Grab a small Christmas tree, and be sure to throw some presents around it if you are having a gift exchange during your party. Don't be afraid to hold a competition to see who has the most creative decorations!
This is an inexpensive and fun activity that gets everyone into the mood to celebrate!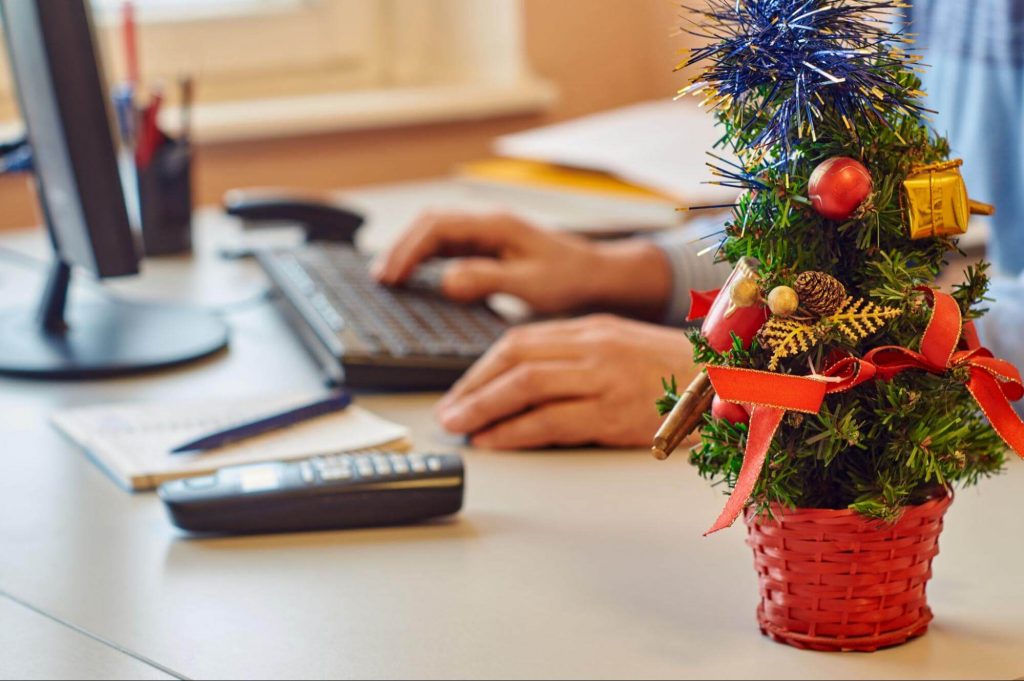 #2 Ugly Sweater Party
Everyone has them, so why not bring them to the celebration? Bust out that ugly, itchy sweater you have hanging in the back of your closet and get the party started. The more ridiculous the sweater, the better. When you're at the office, set up a station to decorate the sweaters as well. Stock it with pipe cleaners, cotton balls, and glitter, and really encourage your office to embrace its creative side. Then, you can rent a photo booth and make some memories at the party that will last. Check out our Ugly Sweater Party Blog for some more ideas.
#3 Gift Exchanges
What's Christmas without getting a few gifts? Gift exchanges are simple, just set a price limit (£15-£20) and then everyone will receive something small and fun. If you like, consider a White Elephant party to add a bit of an edge to the classic gift exchange. Everyone brings a gift and puts it under a tree, but there's a bit of a catch… you can steal other people's presents. Once everyone takes a turn, the gifts are opened. Having Santa give out the presents is also a great laugh, especially if it's the boss in the suit!
#4 Christmas Potluck Party
Potluck parties are affordable and easy to organise. Partygoers separate the tasks of buying disposable plates and cutlery, and others do the cooking. This is especially great if you are working in an international office, as everyone can bring a taste of home to the party. Having desserts is also always a must, and thankfully there is no shortage of great Christmas desserts!
#5 Christmas Treat Bake-Off
In the spirit of friendly competition and a general love for sweet treats, a Christmas-themed bake-off is sure to be a crowd pleaser. Everyone casts a vote for their favourite dessert, and then the winner is awarded something like a holiday basket full of candy, nice soaps, etc. This is one of those competitions where everyone wins. Even if you don't take home the basket, you are sure to be able to take home some delicious treats.
#6 Gingerbread House Building
This is an all-time Christmas favourite. Set up a station (an easy-to-clean one preferably), and stock up on sweets. Give everyone about a half hour to create a gingerbread architectural marvel, and then enjoy a snack afterwards. Enjoy some hot chocolate while you're building and don't forget to add loads of custom designs and candy. Make teams of two and start building!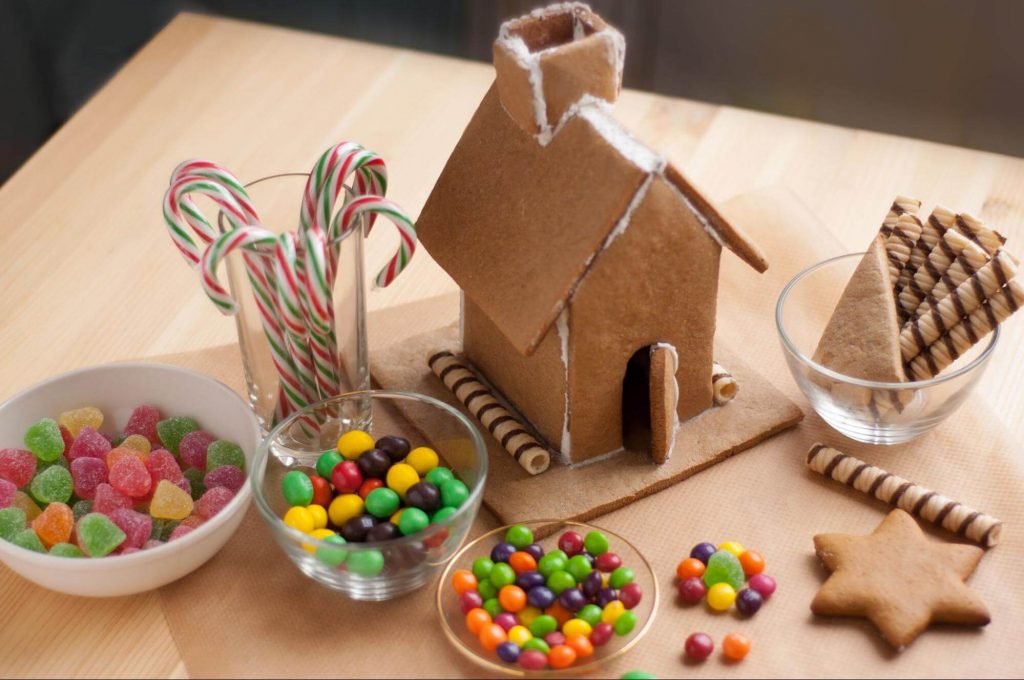 #7 Have a Christmas Cocktail Party
Every party needs a great selection of food and drinks to match. Forget about beer and run-of-the-mill mixed drinks. Think festive! Christmas cocktails include things like spiked eggnog, mulled wine, and hard hot chocolate. These cocktails are super easy to make and are certified crowd pleasers. Also, don't forget the bubbly. It is a holiday party, after all!
These parties are perfect for bars and restaurants. These locations, more often than not, will have a dedicated Christmas-themed bar menu with creative and delicious cocktails that will leave you and your colleagues feeling festive and asking for more. To accompany these delicious cocktails, consider having some small snacks at your party for some amazingly seasonal pairings.
If it is in the office and you have some room in the budget, consider hiring a bartender for the job! They will come with a large repertoire of Christmas and wintery drinks for you and your colleagues to enjoy. It also saves you all the work of having to keep drinks stocked.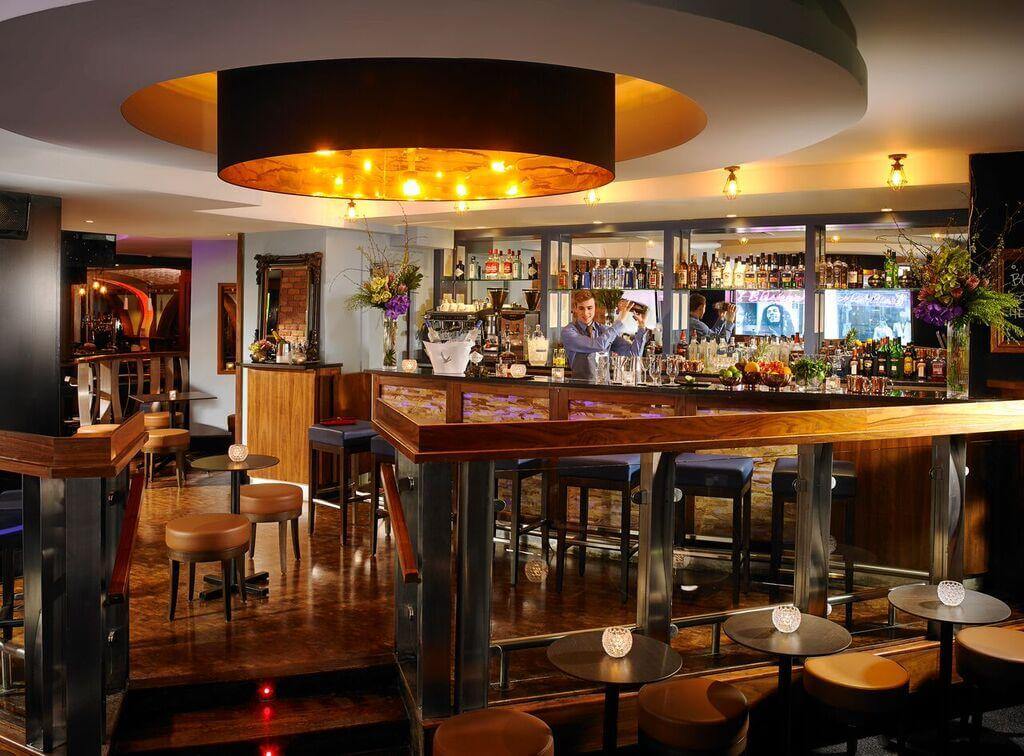 #8 Christmas Wine Tasting Party
If cocktails aren't your thing, but you love a nice glass of red, white, or rosé, a wine-tasting night is exactly what you are looking for. This can be held either in the office or in a restaurant, but for the full experience of a night out with amazing wines, a restaurant is a no brainer. They will offer you all of the accoutrements that go along with a fancy wine night.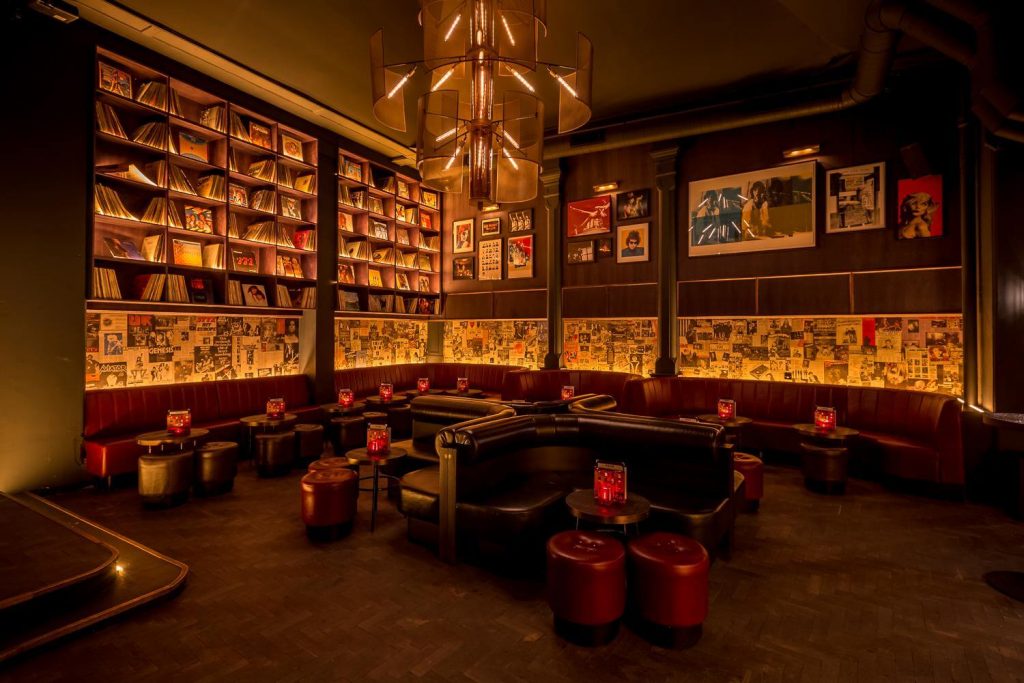 #9 Christmas Monte Carlo Night
Simply get some card tables, a few decks of cards, and a roulette wheel. It's time to get the party started. If playing with real money is a bit too high stakes, all you need are some plastic poker chips instead. Instead of tuxedos, have everyone wear ugly Christmas sweaters and Santa hats. Those with the most chips at the end of the night can all take home prizes, or if you want a real casino experience, they can cash in their chips in exchange for prizes throughout the night.
#10 Christmas Painting Party
You don't have to be Norman Rockwell to paint a beautiful Christmas scene! Take the office to a studio with an instructor and unlock everyone's creative potential. This is great for both experienced and beginner artists, and everyone will have something to take home with them at the end of the party as a personal decoration or potential gift. These are super easy to organise and are great for team building.
#11 Dress Up
Find your favourite movie and dress like the main character. Whether it is Cindy Lou Who or the Grinch, it's always fun to cosplay your favourite Christmas movie. If costumes aren't your thing, why not go black tie and make the event a bit more formal? Invite everyone to dress in their best for the evening and enjoy adding a classy vibe. Just be sure to be clear about all of these things on the invitation, so you don't have to worry about anyone not getting the memo. Check out our 10 Christmas Dress Up Themes blog!
#12 Christmas Karaoke
We all have our favourite Christmas songs. There is always one that you cannot get out of your head, so you might as well sing it. It's a great team-building activity, and it helps everyone loosen up a bit, especially because everyone knows the songs already! Don't shy away from the classics either because we all grew up listening to them, so it's safe to say that everyone knows the lyrics by heart.
#13 Board Games
Whether you are partying at the office or kicking it with friends and family back home, something everyone does around Christmastime is pulling out the board games. Classics like Uno and Christmas Pictionary are easy ways to get the party started or even keep it going. These are great for getting everyone involved, and putting a Christmas spin on classic games is always festive and fun!
#14 Virtual Christmas Games
If you don't have board games at hand or want to be able to include remote workers, consider playing some games virtually. Tagvenue Virtual will provide you with games that will leave you with a smile on your face and feeling the spirit of the season. Whether you want to play some reindeer games or have a virtual happy hour, Tagvenue's got a fun and exciting activity that your colleagues will love.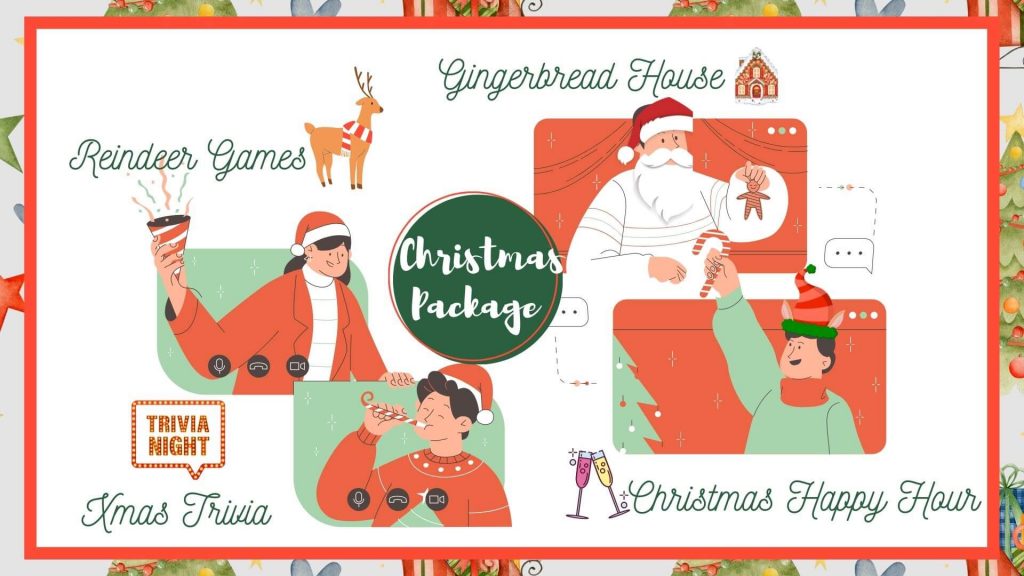 #15 Don't Forget About the Afterparty
Corporate office Christmas parties are great times, but a change of scenery is always welcome. Tagvenue can help you find an amazing place for your after party for whatever activity or vibe you are looking for.
After a long day of office parties and activities, kick back and enjoy a nice meal with your colleagues and friends. Restaurants will often have amazing Christmas party options with a set menu and a great selection of wines for an elegant night out. If your office is not really into the bar scene, a laid-back restaurant is the way to go.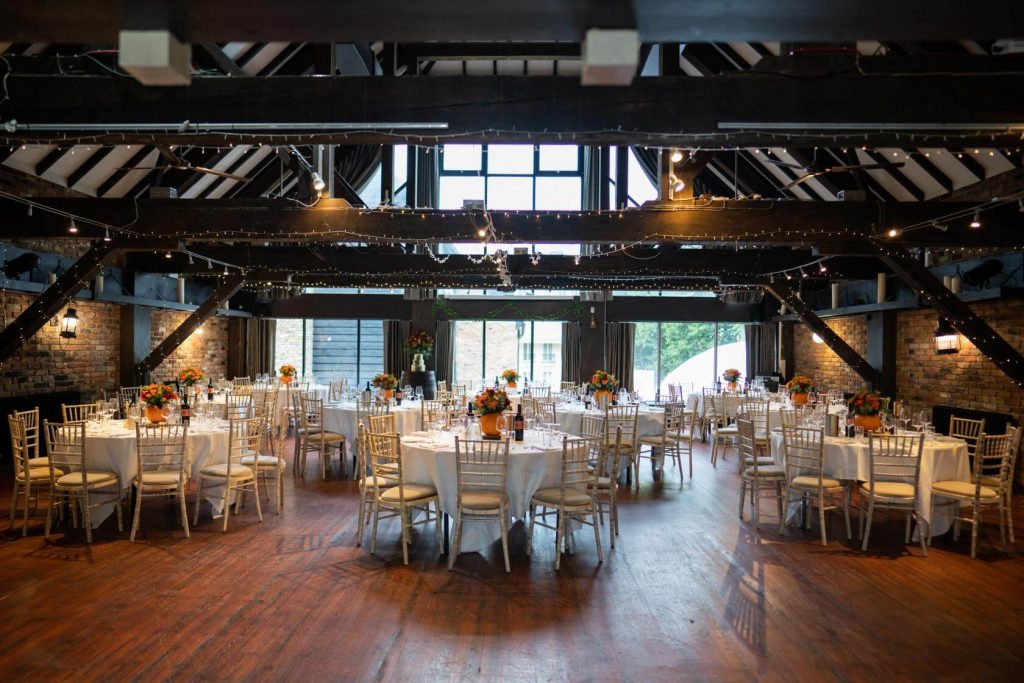 When the office party has come to a close and everyone has had dinner, consider hiring a nightclub or pub to keep the party going. Smaller parties are great for bars and pubs with function rooms. If you are having a larger party, nightclubs are the place to be. You can hire a booth or the whole venue. A club gives you plenty of room to spread out, not to mention a place to cut a rug and socialise.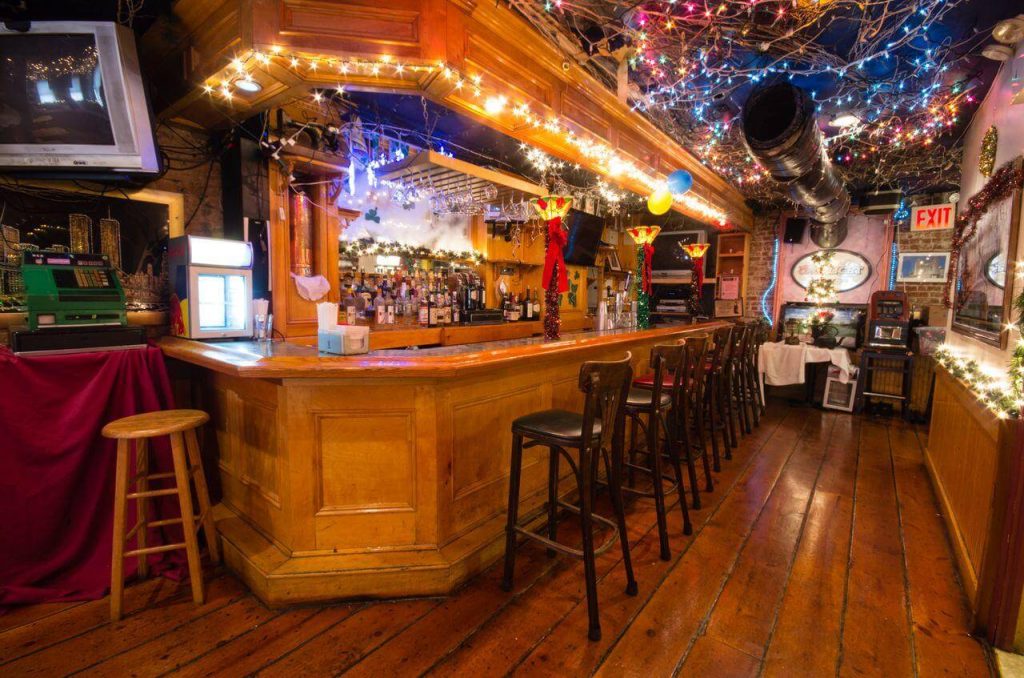 Corporate Party Planning Guide
Planning a corporate party is certainly a large undertaking. There are many different variables at play, so here are a few tips to help keep you on the right track to making your party a success:
Time and Place
The first thing to do is figure out the time and place. Christmas is a time when people are going to be going on holidays and possibly travelling, so you don't want to plan the party too late. You also don't want to plan it too early because having a Christmas party in November will make it hard for everyone to really get into the festive mood. We recommend planning your party around the second or third Friday or Thursday of December. This way people can get in the Christmas mood before the party.
It's a good idea to start your party off at the office. Doing some of the activities listed above is going to get the party started, but going out as a group afterwards is definitely a good idea. Hire a bus to transport everyone from the office to a restaurant, bar, or nightclub. If the party is close by, let everyone take the afternoon off, get ready at home, and then meet back up for the night of celebration.
Selecting The Venue
Finding the right place can be tough. Depending on what your coworkers and associates like to do on a night out, your head may be spinning trying to figure out the right move. Don't worry. Use a program like Slack to make the process of planning an event a bit more democratic. If most people want a nice dinner, then, by all means, go for a nice dinner. When you finally decide on a place, then decide how much you can afford to spend. Once you've figured these things out, Tagvenue is ready to help you find a great place for a party that will also work with your budget.
Invitations
Now that you know where the party is and you have an idea of what to do over the course of the day, get those invitations ready. They can be as simple as an email, instant message, or even asking people in person. Be sure to include information like plus ones, dress code, and of course, the time and place. Give everyone more than enough time to RSVP, as the earlier you get this info back, the smoother your party planning will go.
Itinerary
Having an itinerary for the day is key to keeping things on time and focused, especially if you are going to be having time to work, eat, and eventually move venues. A detailed itinerary shared amongst your colleagues will help make sure that everyone knows what the game plan is and reduce any confusion. The itinerary should provide a clear outline and timetable, which should preclude any questions from your colleagues.
Team Recognition
Holiday parties are also employee appreciation parties. Make sure you plan a part of your day, whether it is in the office or at the event, to recognise each other's accomplishments and achievements. Doing this boosts morale and camaraderie amongst colleagues and will create a stronger team for the start of the new quarter.
Key Takeaways
Planning a corporate Christmas party has gotten a whole lot easier. These party ideas are sure to keep everyone at your party busy and having fun. However, if you want to move your party to somewhere more exciting than the office, take a look through what Tagvenue has to offer. We have curated a list of some of the world's finest venues in most exciting cities. Get your party started with us!
FAQ
What are some ways to get everyone involved in a corporate Christmas party?
Breaking the ice at one of these parties can sometimes be a tall task. Once everyone is at the party, get the music playing, the games started, and the snacks out. This will ensure that people get settled in quickly. Once everyone is settled in, start with a game that is easy to play or is a conversation-based game like team Christmas trivia. Also, focus on group activities and get everyone talking, but keep work talk to a minimum! It's a party, after all.
What are some unique work Christmas party ideas?
When you are planning your party, and are considering a change of scenery away from the office but want to avoid a dinner party, think about other classic winter activities. Organise a ski trip, take everyone ice skating, or head off  to a cabin for a night by the fire. These will be sure to spice up your Christmas party, especially if you and your team are stuck in a rut year after year. 
What is a good theme for a work Christmas party?
The theme makes the party. If you are in need of one, here are a few ideas to consider:

✅Christmas Costume Party
✅Christmas Mystery Party
✅Bring your pet to work holiday
✅Santa's Workshop Party
✅A Black Tie Soiree

Something that has become increasingly popular in recent years is a volunteer party. Giving back to the community is a rewarding endeavour that is definitely reflective of the spirit of the season.  Volunteering with your office colleagues is one way to support your community around the holiday season.

How Do I Host A Christmas Work Party?
Hosting a Christmas Party at work can seem like a stressful undertaking, but it does not have to be. Staying organised and on top of things should be your number one priority. Always:

✅Give yourself plenty of time to get everything together
✅Set a date
✅Establish your budget
✅Find an amazing venue
✅Party your stockings off

Tagvenue can help take some of the stress out of finding a great venue for your work Christmas party with our extensive catalogue of venues around the world and our smart filtering options.