Ah, Christmas—the most magical day of the year! Except it doesn't have to be, and rarely is, just one day! The magical atmosphere unfolds around us in the weeks leading up to Christmas, filling us with joy and excitement and making the days that much more merry and bright.
If you're looking for inspiration on how to spread cheer around your workplace this holiday season, we've got you covered with our list of Christmas spirit week ideas. You may be familiar with the concept from your school years—well, there's no reason why us adults should be excluded from the fun!
So, let's explore all the different options and have a memorable countdown to Christmas 2023!
What Is Christmas Spirit Week All About?
"Christmas spirit week" isn't a universally defined term, but in many contexts, especially in schools and workplaces, "spirit week" refers to a designated week where individuals participate in themed activities or dress-up days.
A Christmas spirit week might involve daily themes related to the holiday season. And the major event? Your annual holiday party, of course! A weeklong celebration is a great way to not only awaken the festive spirit but also foster a sense of community among your team.
Christmas Spirit Week Ideas for Work
Are you ready to get your team excited about this year's celebration? Let's bring back those childhood memories of waiting in anticipation for Santa's arrival on Christmas Eve. Organize different holiday-associated activities every day to amp up the festive mood and create opportunities for your team to bond.
1. 🎄 Team Decorating Challenge
Divide employees into teams and assign each team an area or a department to decorate. Set a time limit and let them get creative. Once the time limit is reached, take a small tour and vote on the best-decorated area.
2. 🎄 Gingerbread House Building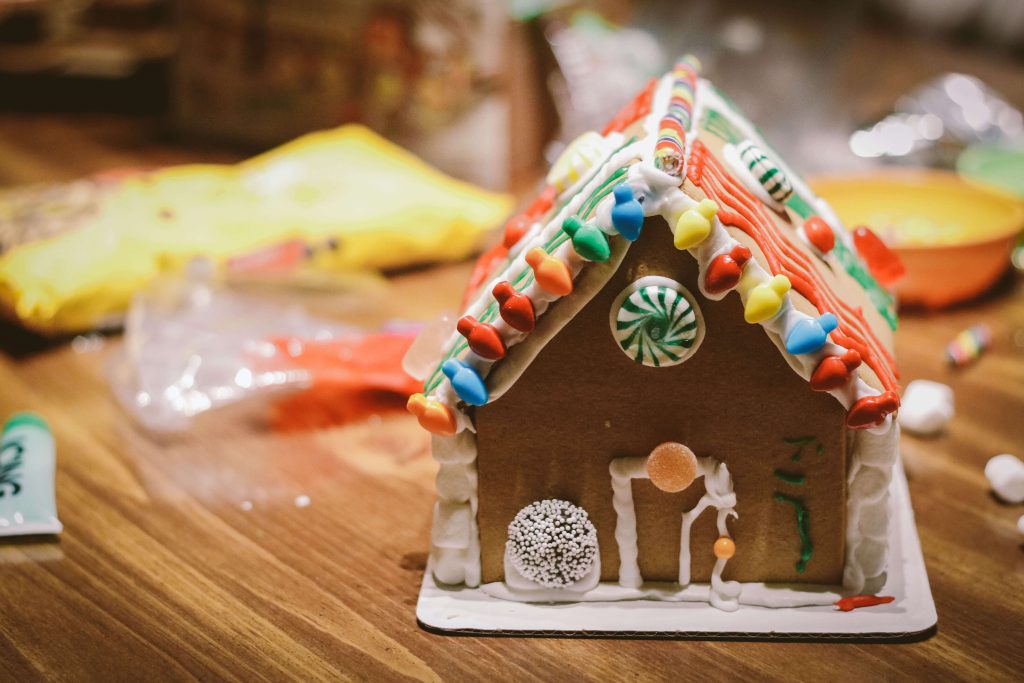 It smells like Christmas! Supply teams with gingerbread kits and let them create their masterpieces. This not only fosters teamwork but can become a sweet treat for later. Yum!
3. 🎄 Holiday Potluck
What's better than bonding over mouth-watering food? The idea is simple: each employee or team brings a dish that represents their favorite holiday tradition. Your company lunch break has never been more exciting!
---
❄️ Check out our article about holiday potluck ideas for more inspiration!
---
4. 🎄 Secret Santa with a Twist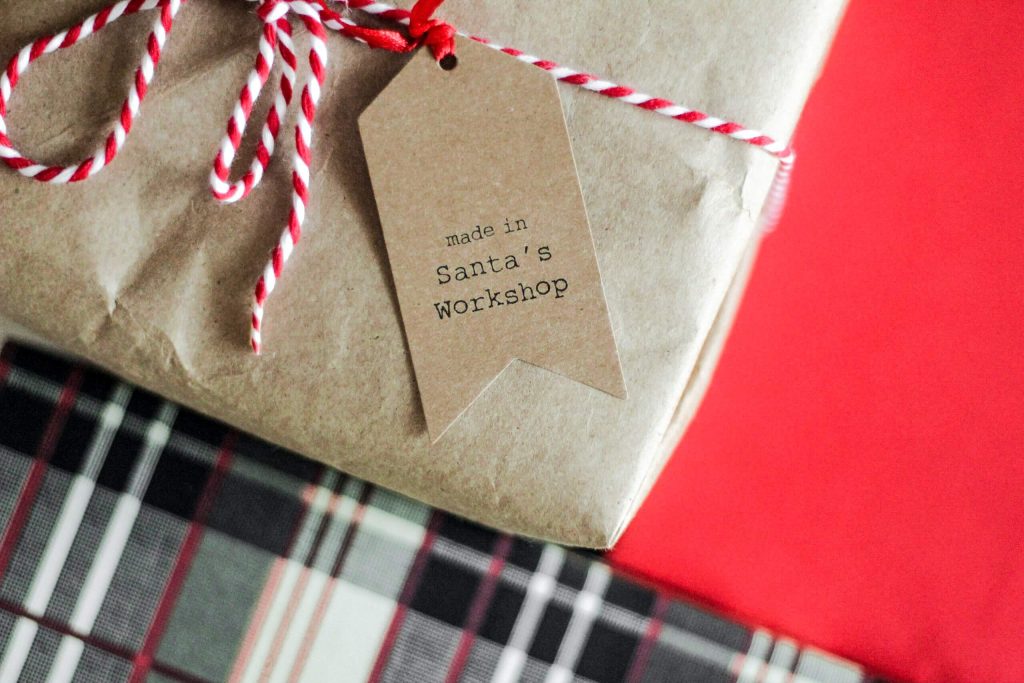 In addition to the traditional gift exchange, each Secret Santa writes a heartfelt note of appreciation for their recipient. Reading anonymous positive feedback can be a warm experience for everyone.
5. 🎄 Caroling Flash Mob
Prepare a surprise for another department by quickly organizing a caroling flash mob. Spontaneity and joy are both great team boosters.
6. 🎄 Crafting Corner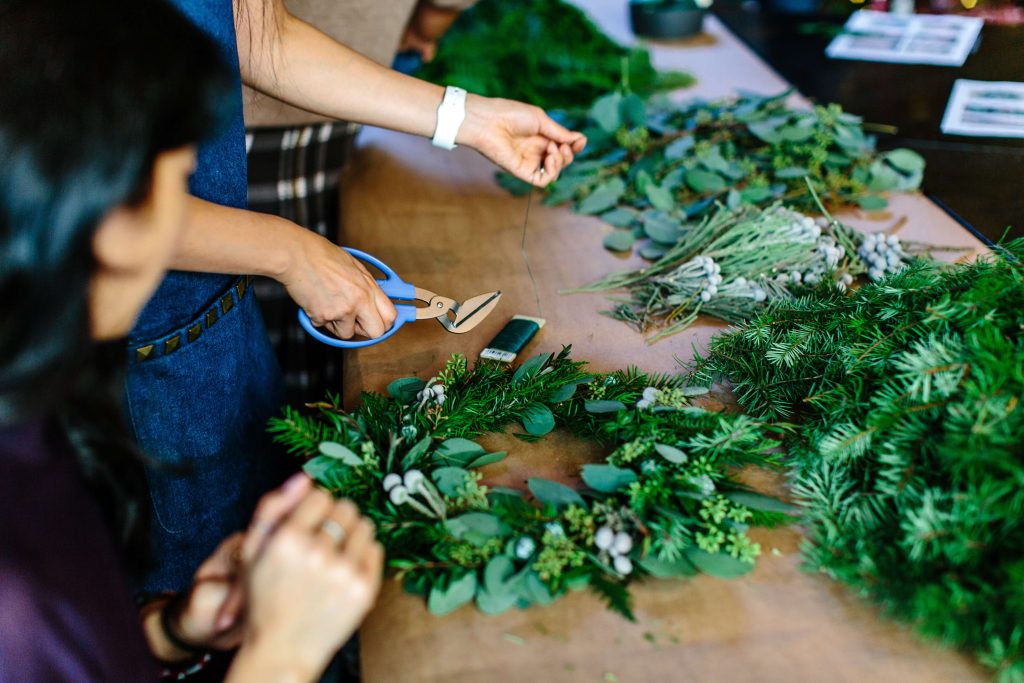 Set up an area where employees can take a break to make holiday crafts, such as ornaments or cards. This hands-on activity allows colleagues to tap into their creativity as they share skills and techniques with each other. Additionally, the crafting corner can become a tranquil oasis amidst the hustle and bustle of work.
7. 🎄 Holiday-Themed Office Olympics
It's time for a festive break from the usual office routine. Imagine teams navigating a tinsel obstacle course, participating in "reindeer" relay races, or competing in a game of snowball toss (using crumpled paper, of course). It's an exciting way to foster camaraderie and lift office morale.
8. 🎄 Holiday Escape Room
Set up a festive-themed escape room challenge in a conference room to promote creative thinking and employee cooperation. Teams must work together to solve holiday-themed riddles and "escape" before the time runs out.
9. 🎄 Recipe Relay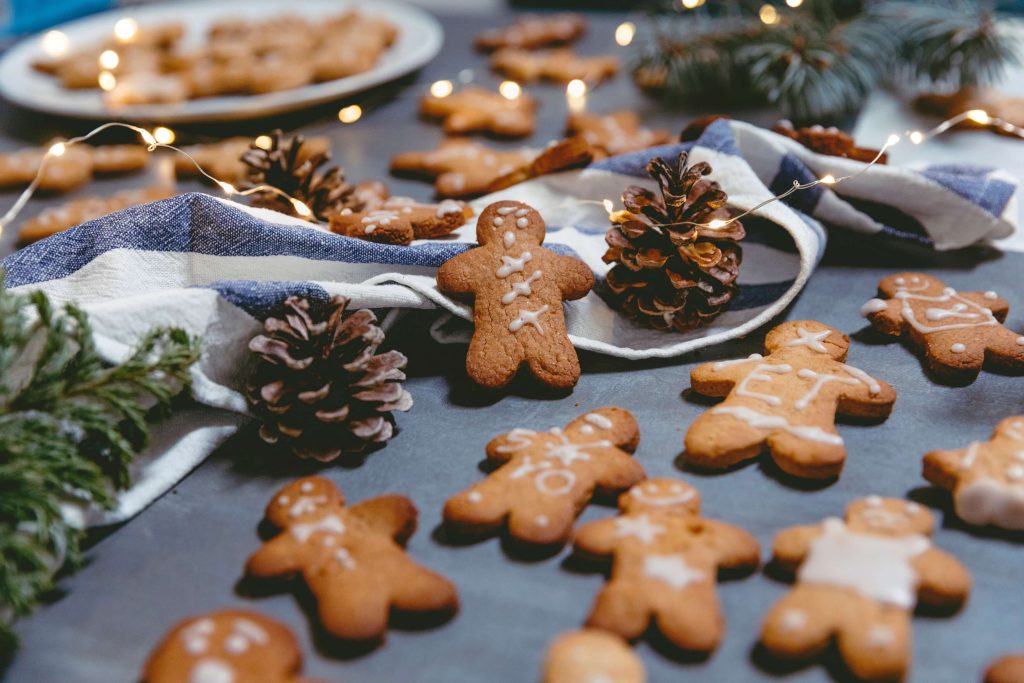 Everyone writes down their favorite holiday recipe on a card. The cards are then shuffled and redistributed. Next, teams try to cook or bake the recipe they've received, promoting both collaboration and possibly hilarious results.
10. 🎄 Christmas Movie Bingo
Host a movie day where you watch a popular Christmas movie together. Create bingo cards filled with scenes or quotes from the movie. Employees can tick them off as they watch, and winners can receive festive prizes.
11. 🎄 Wrap Battle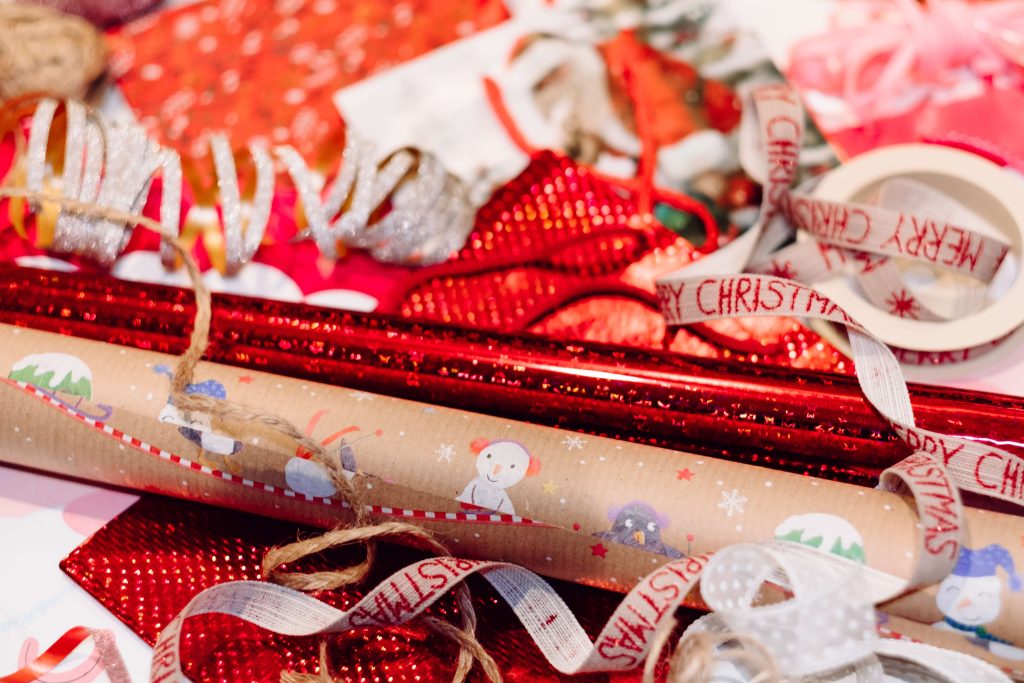 Set up a gift-wrapping station where teams can compete against each other to see who can wrap oddly shaped items the quickest and neatest. Don't forget to prepare small prizes for the winners!
12. 🎄 Christmas Karaoke Relay
Each team sends a representative to start a song. Midway, another member jumps in, and so on, until the team finishes the song together. It's both a test of coordination and a fun singing challenge.
13. 🎄 Holiday Hat Workshop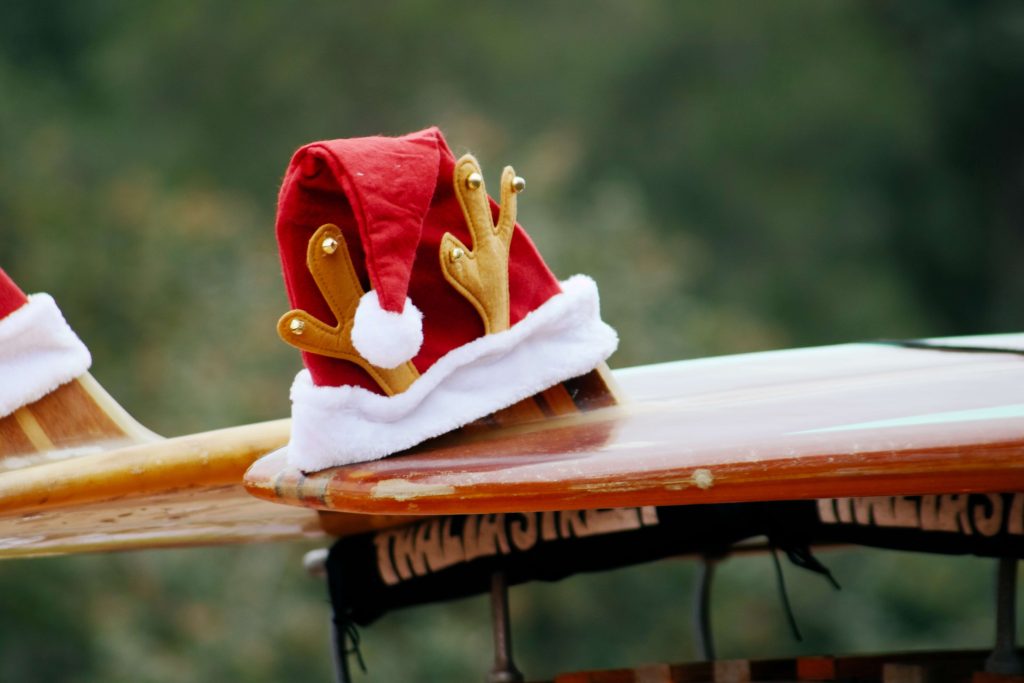 Provide basic hat materials and challenge each team to create the most festive hat. Once everyone's done, follow the workshop with a parade showcasing each team's creation.
Hide holiday-themed items or clues around the office. Teams compete to find and piece together all the items or solve a holiday mystery.
14. 🎄 Festive Scavenger Hunt
Hide holiday-themed items or clues around the office. Next, let teams compete to find and piece together all the items or solve a holiday mystery.
15. 🎄 Christmas Story Chain
Start a Christmas story and let each team add a paragraph. By the end, you'll have a hilarious and unique tale created by the whole office.
Holiday Theme Day Ideas for Work
Dive into the festive season with our curated list of holiday theme days tailored for the workplace. Each idea is designed to sprinkle a dash of holiday magic, uniting teams in a joyful celebration. Customize them to fit your office's vibe, and let the holiday spirit shine!
16. 🎄 Pajama Day
It's Monday morning, your alarm goes off, and the last thing you want to think about is getting ready for work. Well, this time you don't have to!
Ease into the Christmas Spirit Week with a relaxed Pajama Day! Oh yes, leave your formal shirts and ties back in your closet and let everyone come in to work in cozy pajamas, preferably with a winter or Christmas theme.
17. 🎄 Ugly Christmas Sweater Day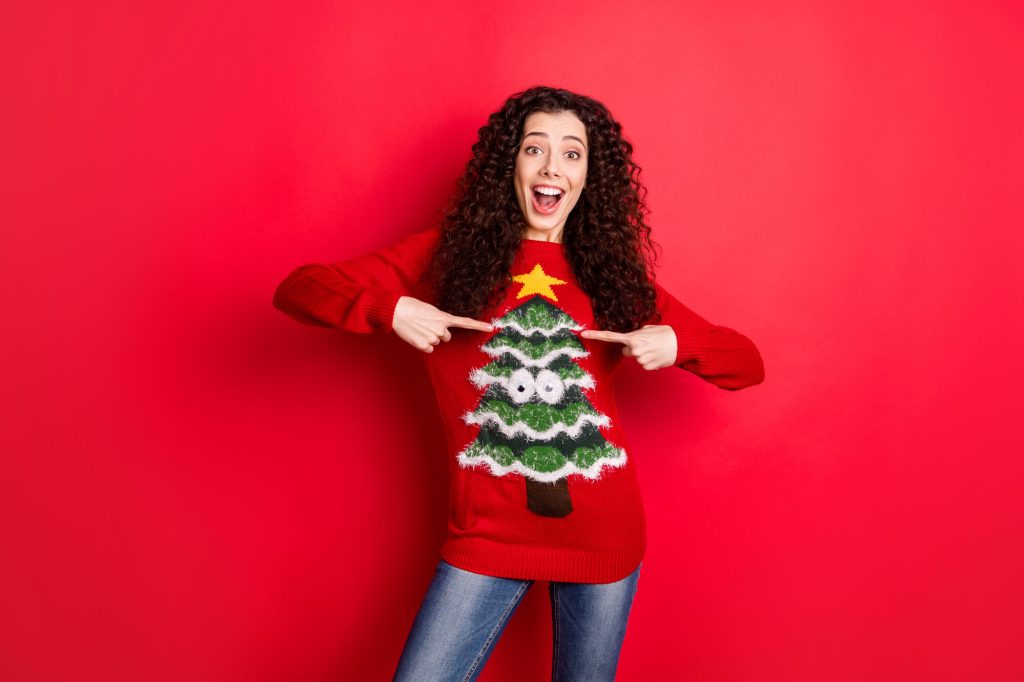 The idea is simple: everyone wears their funniest or most outrageous holiday sweaters. If you're sick and tired of seeing this recommendation in every Christmas-related article you read, spice it up and really make it yours this season!
How about a DIY sweater decorating contest? Use all the tinsel in the world, wrap yourself in Christmas lights, and win the prize for rocking the tackiest outfit in your office. Yes, the theme this year is not to treat yourself so seriously and unleash your inner child.
---
❄️ Find even more inspiration in our article about funny Christmas themes!
---
18. 🎄 Festive Hat Day
Let your team showcase their holiday spirit through headgear. This could be anything from traditional Santa hats, quirky elf hats with jingling bells, elegant snow queen crowns, to reindeer antlers that light up.
This theme goes well with the Holiday Hat Workshop we mentioned in the previous section. You could even offer prizes for categories like "Most Creative," "Funniest," and "Most Festive" to motivate everyone to join in. And, of course, remember to snap plenty of pictures!
19. 🎄 Christmas Movie Character Day
Nothing quite adds to the cozy atmosphere like putting a Christmas classic on TV. So let's get inspired by the movies and have everyone in the office dress up as their favorite character. You'll have so much fun guessing who's portraying who, and you can even hold a contest and vote for the best costume of the day.
---
❄️ You may also like our article about Christmas party dress-up themes!
---
20. 🎄 Candy Cane Day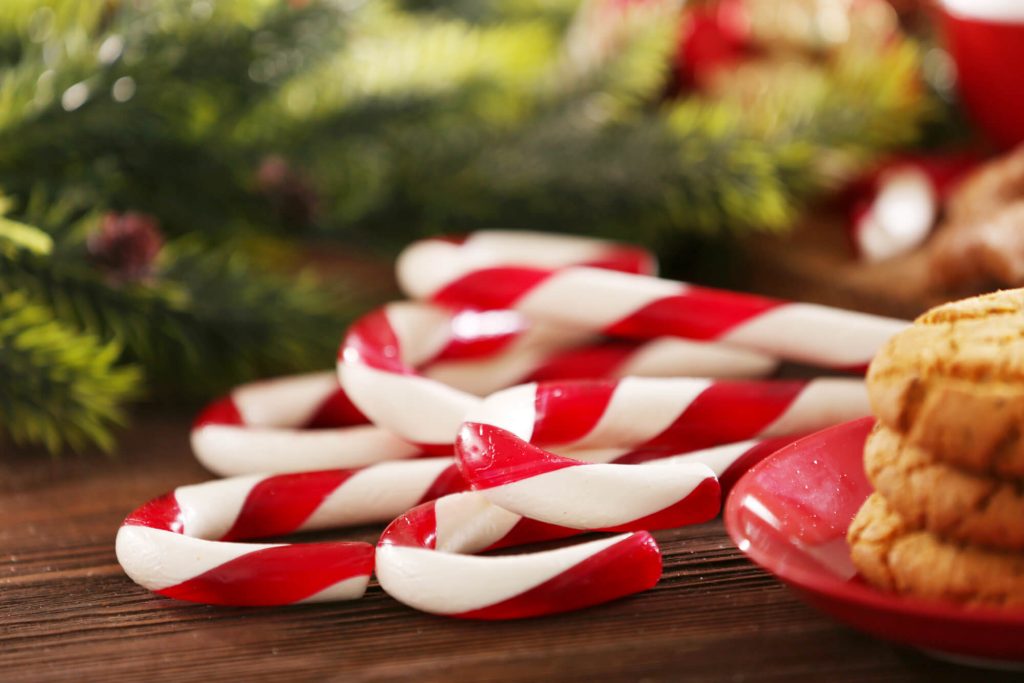 Encourage attire that mimics the swirly patterns, be it socks, ties, scarves, or even full-blown outfits. Offer actual candy canes as treats throughout the day, possibly introducing different flavors beyond the traditional peppermint.
Consider setting up a DIY candy cane craft station, where participants can create ornaments or candy cane reindeer using pipe cleaners and googly eyes. Host a candy cane hunt, similar to an Easter egg hunt, where candy canes are hidden, and folks can search for them.
21. 🎄 Winter Wonderland Day
🎵 We're walking in the winter wonderland…
Put on some Michael Bublé, don your winter-themed attire, and deck the office like the Snow Queen's castle. Think blue and white color scheme, fake snow, snowflake-shaped decor, snowmen, and lots of sparkle.
---
❄️ Check our article about winter-themed party ideas!
---
22. 🎄 Holiday Colors Day
Time for a radiant display of the holiday season's palette!
Encourage everyone to wear bold reds, deep greens, shimmering golds, icy silvers, and pure whites. These colors can be showcased in clothing, accessories, makeup, or even temporary hair dyes. Set up different zones or areas decorated in each color, providing a visual feast and great photo opportunities. Offering multi-colored snacks or drinks, such as cupcakes with colored frosting or colored fruit punches, can add an edible touch to the festivities.
---
❄️ Find even more ideas in our article about elegant Christmas party themes!
---
Final Thoughts
Organizing a Christmas spirit week at work can help build a sense of community and anticipation for the upcoming holiday. Incorporating these ideas into the workday brings festive cheer and gives employees a break from their routine, boosting morale and strengthening team dynamics. It's all about having fun, expressing creativity, and spreading joy.
In a year filled with challenges and tasks, the holiday season serves as a timely reminder of the warmth and camaraderie that binds us together. Taking a moment to celebrate and cherish these bonds not only rejuvenates the team but also sets a positive tone for the upcoming year.
So, let the holiday spirit take over, and here's to creating memories that will last long after the decorations come down!
FAQ
What are good Christmas spirit week ideas?
Good Christmas spirit week ideas include themed dress-up days like Ugly Christmas Sweater Day, Festive Hat Day, or Holiday Colors Day. Incorporating activities like a gingerbread house-building contest, office decoration competitions, or a holiday karaoke session can also add festive fun
How do you celebrate Christmas spirit week at work?
To celebrate Christmas spirit week at work, organize a series of themed activities and dress-up days throughout the week. Encourage employees to participate by offering small prizes, setting up photo booths for themed days, and hosting holiday-related games or contests to foster engagement and camaraderie.
How can I make Christmas spirit week fun?
To make Christmas spirit week fun, ensure a mix of activities that cater to diverse interests. Include creative challenges, interactive games, opportunities for employees to share their own holiday traditions, and provide incentives or rewards for participation.
How do you engage employees during the holiday season?
Engaging employees during the holiday season involves blending festive cheer with team-building activities. Offer opportunities for social interaction through holiday parties or potlucks, introduce team challenges like decorating contests, and consider flexible scheduling or surprise breaks to show appreciation.
What can you do for the 12 days of Christmas at work?
For the 12 days of Christmas at work, consider a different festive activity each day. This can include themed dress-up days, a Secret Santa gift exchange, a holiday trivia quiz, crafting sessions, caroling, a charity drive, and culminate in a big holiday party or luncheon on the final day.
Why is a Christmas party important in the workplace?
A Christmas party in the workplace is important as it offers employees a chance to relax and bond outside of their typical roles. It fosters camaraderie, boosts morale, and serves as an expression of gratitude from employers, acknowledging the hard work and achievements of the staff throughout the year.