25 Fun Online Christmas Games and Activities for Remote Teams
'Tis the season for merrymaking! Put your Santa suits on and start warming up for 24 of the most fun and Christmassy games you and your colleagues can play. Remote teams may feel less excited about the holiday season since they largely work by themselves most of the time. However, with the holiday season just around the corner, it's up to HR managers and team leaders to bring some holiday cheer to even the most remote office! 
Does this sound like a lot of work? No! Tagvenue Virtual has got all of the best hosted and free virtual games that are guaranteed to help your team bond and unwind within minutes!
If you want to get straight to the planning – start organising your virtual Christmas party today! 
Christmas Party Games for Large Groups
Whether you're a team of 200 or 500 people, we've got you covered with our top 5 holiday picks for large groups. Skip the legwork and take a look at our trivia games, reindeer races, virtual happy hour, and more!
Pricing: from £16/$22 pp
Group Size: 8-500
Duration: 60 min
Trivia games are loved and enjoyed by all. Movie, art or history buffs will get the chance to shine through the six rounds of Buzz In, Pictionary, Fact Matching Trivia, and more! This trivia game comes with a holiday theme and an emcee to get your team in the festive mood, so you won't have to lift a finger for a successful Christmas celebration. Christmas Essential is a humorous activity with a touch of competition that will turn your remote office meeting into an instant party. Remote employees will have the chance to meet, frolic and mingle with everyone at work while learning some fun holiday facts in a playful and lively setting!
Pricing: from £16/$22 pp
Group Size: 8-500
Duration: 60minutes
Get your team together and have a blast playing a holiday-themed Around the World game. The game features unique winter holiday traditions such as (spoiler alert) the Festival of Lights, Hanukkah, and more! Participants will get to try their hand at a pub quiz together despite being in different locations. Throughout the game, participants will get to learn about each other's culture while competing for the top spot. The game is perfect for small groups and large groups alike, which makes it a perfect team-building pick for the holiday season.
Pricing: from £16/$22 pp
Group Size: 8-500
Duration: 60 min
Competition surely makes you go hungry. Luckily, with the All I Want for Christmas bundle, you won't have to worry about your winning spirit, your Christmas Spice Chocolate Bar or your prosecco. All I Want for Christmas combines a hosted live competition with fantastic holiday gifts, Pictionary, Festive Karaoke, Trivia and much more! You name it and they've got it. Get in the holiday spirit with this terrific combo that will wow your team and boost team spirit no matter how great the distance.
Pricing: from £65/$90 pp
Group Size: 10-500
Duration: 120 min
Congrats! You've made it onto Santa's nice list this year! Experience the magic of Christmas with a holiday-themed game and a cocktail crafting class. Rockin around the Christmas Tree is a unique festive event where participants will be entertained for two hours straight. Craft a drink or four and enjoy the magnificent view from the Alpine Lodge with your favourite colleagues. Hosted by a mixologist/emcee this activity is all about enjoying a vibrant Christmas experience together. But that's not all! Once your cocktails are ready, it's time for some friendly competition. Draw your best version of Rudolph or receive a lump of coal trying to win the Pictionary game or showcase your knowledge in the Christmas-themed trivia. With 5-6 mini games for your team to try and a holiday themed photo booth to capture some goofy office memories, your team will be more motivated than ever to join your next team building activity!
Pricing: from $70 pp
Group Size: 10-200
Duration: 60 -min
Who said decorating gingerbread houses is only meant for kids? Certainly not us! Watch your team reveal their artistic skills as they dive into the magical world of gingerbread houses. With pre-built houses delivered to their doorsteps, they won't have to worry about the baking. The host will facilitate team communication while helping participants assemble and decorate their own gingerbread house. Both fun and creative, this throwback to childhood is perfect for international teams as they discover different Christmas traditions together. Don't forget to pick a few winners at the end of the party!
Pricing: from £18/$24 pp
Group Size: 8-250
Duration: 45 min
Your employees are never too old to get back at their favourite childhood games. Reindeer Race is a fully hosted online game where participants must help Santa pick a new champion reindeer to win the game. Participants compete over the course of six races to elect Rudolph's successor. The game is simple and perfect for beginners. Slow your rivals by loading the reindeers with cakes while you earn the highest number of presents! But be careful, your nemesis might steal the show! Perfect for a light-hearted holiday party, Reindeer Race will delight your employees and get them in the holiday spirit right away!
Christmas Murder Mysteries
This Christmas, don't let anyone get away with murder! It may be the holiday season but for some, the spooky season never really ends. Christmas-themed murder mysteries are a popular activity for bringing teams closer and reviving flagging team spirits. Whether it's the murder of Jacob Marley or a ski-trip that requires your team to put on their detective caps, holiday murder mysteries will certainly blow your team's mind away!
Pricing: from £349/$475
Group Size: 6-50
Duration: 60 min
Travel back to 1946! It's Christmas Eve and you are dancing the night away at Skellington Hall when a murderer strikes. Lord Skellington has been found dead and the only suspects are the shady characters from Skellington's mysterious past. But it seems too easy to blame them for the Lord's misfortune, could it be one of the many other guests instead? Swap your dancing shoes for magnifying glasses and bring the culprit to justice! With live actors and a lead detective to help your team out, your guests are in for an epic Christmas game!
Pricing:from £12/$17 pp
Group Size: 4-450
Duration: 90 min
Solve a murder mystery at a ski resort with your detective crew. Something awful occurs as you and your friends are enjoying a fantastic ski holiday. An avalanche uncovers a body in the snow. Collaborate and solve the riddles with your team as you investigate the murder. Examine clues and identify the culprit before your adversaries. For groups that wish to enjoy some thrill during the holiday season, Death on the Slopes is the ideal game.
Pricing: from £349/$475
Group Size: 6-50
Duration: 60 min
Discover a truly gruesome murder by returning to Dickens' London during Christmas time.
Aficionados of detective fiction and Charles Dickens' classic novella  A Christmas Carol will adore this online game where they must crack the case of Jacob Marley's death. Marley's body has been discovered in the counting-house which he shared with infamous miser Ebeneezer Scrooge.   To solve this horrific crime, participants hear from suspects, look over the evidence and hints and, hopefully, bring justice to the unfortunate Jacob Marley!
Fun Virtual Team Building Activities for Christmas 
Holiday fun doesn't have to be restricted to Christmas games, particularly when you're hosting  an online party for your remote team. We've got several interesting alternatives to traditional holiday games that will keep your team engaged and boost their morale. Why not check out our  Christmas happy hour party or our virtual paint and sip event?
Check out our list of entertaining activities that will bring joy to your remote office this season.
Celebrate in style with a mixology class. You don't have to be in the same room to enjoy a delicious drink together! Hosted cocktail making and tasting classes are packed with excitement and will help your team unwind after a hard day's work. Opt for something unique like a Polish Liqueur Tasting Class or Apres Ski Cocktail Class and watch your team enjoy the activity to the fullest. Professional mixologists and hosts know how to entertain participants and teach them a thing one or two about their favourite drinks. To keep the fun going, host a trivia match or any game of your choice right after the mixology class. Wondering about our top virtual happy hour options? We've got 26 Zoom Happy Hour Ideas, Games and Activities for Work that are perfect for some instant inspiration.
Pricing:from £32/$45 pp
Group Size:15-100
Duration: 60-90min
It's time to shine the light on the Picassos and wine connoisseurs on your team! A paint and sip virtual party is perfect for an adult Christmas party as it gives everyone the chance to explore their creative side and awaken their inner connoisseur! You don't have to be an artist to enjoy a glass of fine wine or paint your first tableau. A hosted paint and wine party helps participants get to know each other while enjoying something creative in a fun and humorous environment. With the art supplies provided and your favourite wine to sip on, you're all set for a convivial session together.
Christmas cooking is lots of fun when it is hosted and carried out as a group activity! Get out your spatulas and get ready to perfect your Christmas dish and show off your cooking skills! Whip up the most delicious Christmas dinner with a chef and your team! Scared of burning the house or Christmas tree down? Don't fret, the host will teach you everything from scratch and you will be impressed by your cooking by the end of the masterclass. Whether you want to bake some traditional gingerbread cookies with your gang or explore  Christmas cuisine with Jamie Oliver's Cookery School, it's all available this holiday season. Whether you want to prepare Hanukkah latkes or Polish dumplings, you just need to pick your favourites! Here are some of our top cooking class picks to try out with your team:
Pricing:from £14/$19 pp
Group Size:5 -100
Duration: 60 min
Savour an original Italian tiramisu with your team. Reconnect with your colleagues while having fun perfecting your very own Tiramisu from scratch. Get your ingredients before the event and hop on Zoom where the host will teach you how to compose your masterpiece. Don't worry about having two left hands, this Tiramisu baking class is great for anyone, from beginners to pros! Buon appetito!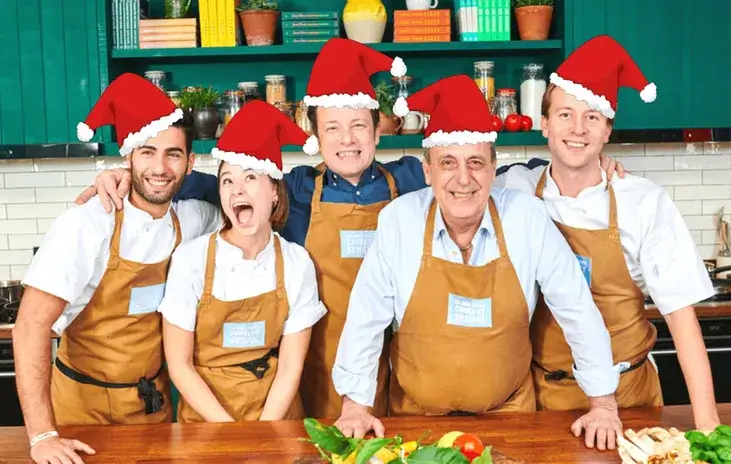 Pricing:from £800/$1100
Group Size:10-1000
Duration: 120 mins
It's time to get out your fancy pans and plates, because things are about to get extra delicious! Get the foodies on your team together and book a Christmas cooking class with Jamie Oliver's Cookery School. Explore different cuisines from Sichuan Style to Mexican Street Food with your team and learn how to create the best Christmas dish ever. Don't forget to play some music as you enjoy your feast together!
Pricing:from £12.5/$17 pp
Group Size:6-200
Duration: 120 mins
Can you smell the delicious gingerbread cookies in the air? Our Gingerbread Cookies Baking Class is a fun-family activity that can be enjoyed by everyone on your remote team alongside their families.  A popular Polish treat, gingerbread cookies are not only easy to bake and decorate but are also super yummy!  Plus, they have no expiry date, so your team will get the chance to learn the secrets of these traditional cookies and gain the skills to recreate them at any time! 
Ideas for Hosting Free Virtual Christmas Games
If you're thinking about how to host your own Christmas game or activity without spending a fortune, we've got your back. Whether it's Christmas Bingo or a film dubbing game, there are plenty of options for you to host a free fun holiday party for your crew.
15. Holiday Last Letter Game 
The Last Letter Game can be played by 2 or more players. You simply need to have access to an online resource such as an online dictionary where you can type in a letter to pull up a list of words. You may wish to divide your guests into teams or let them play independently. To keep the game going at a swift pace, set a timer for each word. The opposing team gets a chance if a team is unable to come up with a word. If no one can come up with a term, you will give one and the game will continue with your word. Make it a requirement that gamers cannot consult the internet for assistance.
16. Film Dubbing Game 
Pick your favourite holiday movies and dub in dialogue instead of the actual line of the chosen movie. Explain the rules before the game so that everyone can fully participate. Let the participants know that they will watch a movie with sound muted and that they will dub in the line for the characters. This activity allows your team to get as creative and artistic as they can, so get ready for some laughs and giggles throughout the party. You can also assign guests to specific characters and allocate a length of time for each character. Split the team into smaller groups and let the fun begin!
17. Holiday Movie Drinking Game
Have a sip when  a Christmas song plays or when a character says 'ho ho ho' in Rudolph the Red Nosed Reindeer! Or chug as long as Buddy is singing in Elf! Drink for the ultimate bonding and get-together with your team. Once everyone has had a drink or two, the conversation will be more jolly than ever. Pick some lines from your favourite movie and when you hear them decide whether to take a sip, chug, finish a full drink or take a shot. 
Here are our top Holiday Movies to help you out:
Rudolph the Red Nosed Reindeer
Elf
How the Grinch stole Christmas
A Charlie Brown Christmas
Home Alone
The Santa Clause
A Christmas Carol
The Nightmare Before Christmas
18. Christmas Dance-off
No virtual holiday party is complete without dancing to your favourite tunes. For a classic Christmas dance party, play some Sinatra, Nat King Cole, Dean Martin, Tony Bennett, or other legendary musicians. For something more contemporary, make a mix-and-match music playlist with upbeat songs and more mellow songs, and look for holiday albums from your favourite modern singers. For something more special, invite your employees to share their most loved holiday hits.
Check out these playlists to get your groove on:
19. Discover Unique Christmas Family Traditions
Get to discover your employees' culture and traditions by asking everyone to share a Christmas tradition that is unique to their family. This type of activity will keep everyone engaged and allow your team to discover a lot about their teammates. Are you ready to hear about the Feast of the Seven Fishes or movie marathons? Bring it on!
20. Christmas Movie Trivia 
Who directed It's a Wonderful Life? Or what's the name of Jack's ghost dog? Host a Christmas Movie Trivia Game where your guests will have to identify popular lines from the movie, character names and much more. Christmas Movie Trivia games are a lot of fun and the movie buffs on your team will certainly enjoy this experience. Here's a list of trivia questions for your party! 
21.Virtual Holiday Scavenger Hunt 
Hosting a virtual scavenger hunt is a fun and engaging way to celebrate Christmas. The activity, which lasts for roughly 15-45 minutes, will boost interest and excitement. The best things to look for are those that offer storytelling or "show and tell" opportunities, such as favourite presents and holiday candy. To throw your own online gathering, use the free holiday scavenger hunt template below!
How does it work?
Fire off prompts and give points to the team or person that brings the item first. You can also award extra points to anyone who shares a story about the object presented!
22. Christmas Charades 
Regardless of your age, charades are always a success during the Holiday Season. By selecting well-known holiday sayings, songs, and movies to act out, you may create a version that is specifically for the occasion. Additionally, when playing with only adults, you can make the prompts as challenging and cryptic as you like!
23. Holiday Bingo Party 
Christmas Bingo is a familiar and easy-to-host activity that promotes team interaction and bonding. Participants can interact with their team using the chat box and in break out rooms or they can play as one team throughout the party.
The first person to mark five consecutive squares wins. Use the template we created for your online Christmas party, but make sure to shuffle the questions! Use our free template to host your own holiday Christmas Bingo party. 
24. Name that Christmas Tune 
Test your Christmas song knowledge with a few rounds of Name that Tune! With plenty of free playlists on YouTube for you to choose from, this activity is probably one of the easiest to host online. Have your team singing, laughing and ho hoing each other as they try to guess the Christmas songs! Here are our top 2 playlists for your team: 
25. Christmas Lights Tour 
This virtual Christmas party activity does require some preliminary planning. Before your event, give attendees instructions to tour their cities and neighbourhoods and record photos and videos of the most elaborate light displays and yard decorations. When everyone is present for the party, let each person take a turn acting as a tour guide, sharing the screen, and explaining the pictures. Employees can interact with coworkers and the outside world through this activity. It's a lot of fun to explore each other's backyards during the holiday season by taking virtual holiday light tours. Additionally, motivated team members can create and present their own incredible setup!
Tips on How to Host an Unforgettable Christmas Party
Everyone dreads all the preparation that comes with the holiday season. We recommend planning in advance so that, even when the event is around the corner, you can relax . Read our tips to help you host the most fun online Christmas party ever!
Pick a hosted event to minimise the responsibilities and allow everyone to participate in the event. 
If you're planning to host your own event, make sure to prepare an activity ahead of time. 
Once the event date and time is confirmed, send out the invites to all the guests at least a month in advance
Send out some Christmas hampers such as snacks and drinks for your festive soiree. 
On the day of the event, start with some light conversation or ice breakers to make everyone feel comfortable. 
Remember to be as inclusive as possible, especially for employees of different cultures.
Add a theme to your Christmas fete, consider a dress code or check out these 10 Funny Christmas Party Themes for a Laid-Back Celebration or even 12 Cool Winter-Themed Party Ideas You Should Try in 2023 for some ideas.
Add a background to your Zoom meeting if you're hosting your own event. 
End the event on time as your guests may have other commitments during this season. 
Relax and remember that a virtual holiday party is all about creating meaningful memories with your team!
Final Thoughts
Throwing a virtual Christmas party is all about building relationships within your remote workplace and bringing the festive spirit to the office. There are many engaging activities and games to help strengthen workplace relations. Virtual Christmas parties are, above all, a way for you to reward your employees and show appreciation during the holiday season. 
For more holiday party inspiration check out our 25 Best Zoom Christmas Party Games and Activities,  21 Christmas Party Games and Ideas and our 28 Virtual Holiday Party Ideas for work.
 Have a holly jolly Christmas!
FAQs: Fun Online Christmas Games for remote teams
What are Fun Online Christmas Party Games for remote employees?
These are activities that include team building and bonding in the holiday spirit. Whether it's a Christmas-themed virtual murder mystery or a holiday trivia, there are many games and activities that will make your team look forward to online team building. Since remote employees tend to be left on their own, it's essential to use these occasions to reward them for their hard work, particularly at the end of the year. Virtual holiday games are an exciting and guaranteed way to bring your far-flung team together over Zoom and celebrate the spirit of the holiday season.
What are the best fun games for a Zoom Christmas party? 
It all starts with whether you want to host the event on your own or opt for a fully-hosted event. Platforms such as Tagvenue Virtual can help you plan your virtual Christmas party from scratch and customise the event according to your needs. If you're planning to host your own party, we recommend adding a Christmas twist on classic games such as Bingo and Scavenger Hunts. Use our templates above to host your own online game. Games such as quizzes can be easily hosted using Quizlet or Kahoot. Ask your guests to dress up for the occasion and get ready for some rounds of jolly laughs. Running out of ideas? Check out some other great activities and games for the Christmas season.
How do I host a fun Christmas party online?
It all starts with picking a time and date that's suitable for all your guests. Make sure to confirm the availability of all your employees ahead of time. You may use a survey to shortlist the best activities for the occasion. Pick your activity and a web conferencing software such as Zoom or WebEx for the event. Then send an invitation to all your guests with a meeting link. To make your Christmas party even more unique, you can design invitation cards with Canva and add a dress code to the event!
How do I make a virtual holiday party fun?
Make your event fun by hosting an event that's engaging and light-hearted for all your employees. Be sure to inform everyone ahead of time so that they can allocate the required time for the event. You can send invites and remind your employees of the party during team meetings to get them interested in the event. Sending hampers with snacks and drinks is also effective in making parties more fun and engaging. Remember to be respectful towards everyone and include even the quiet ones into the conversations and games! 
What are some simple virtual office Christmas party ideas?
You don't have to rob a bank to host a memorable Christmas party for your team. A Virtual Card Exchange, Holiday Happy Hour, Costume Contest and Scavenger Hunts are some of the easy ways to entertain and engage remote workers during the holiday season.