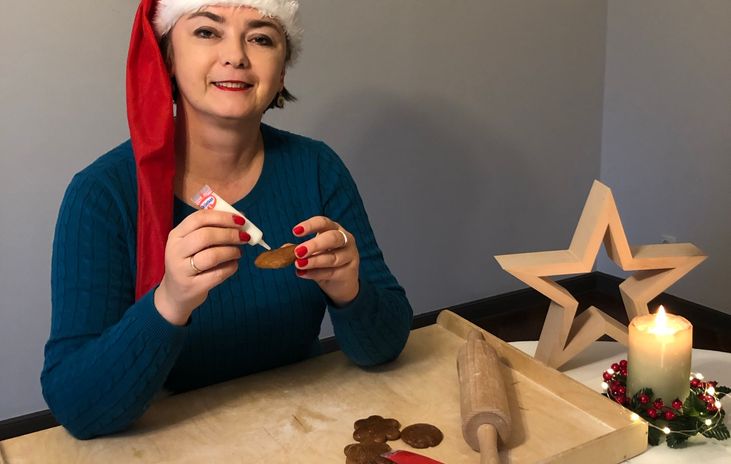 Gingerbread Baking Class
Book this online baking class to discover unique gingerbread traditions!
Availability
6am to 6pm GMT
Activity highlights
Bake the ultimate Christmas cookie
Fun and relaxed atmosphere
Hosted in English/French/Spanish/Polish
Get detailed recipes after the class
No skills or fancy cooking equipment required
Event description
Gingerbread cookies, a spicy-sweet treat, play an important role in Polish culinary culture. Gingerbread traditions date back to the middle ages in Poland and this sweet treat is still near and dear to the country's heart. Even though they are primarily known as Christmas cookies, gingerbread cookies can be baked all year long and decorating these cookies is still a fun family activity in present-day Poland. This online baking class will introduce you to a cake that is easy to make, has no expiry date, and is simply delicious!

Before the class, you will receive information about the things needed to get you started – both kitchen supplies and a shopping list for the ingredients.

You will be taught to make your own gingerbread spice mix and then you will make the cookies. Next, you will find out how to turn the gingerbread into beautiful house decorations. At the end of the class, you will learn how to gift-wrap them as presents for your beloved ones.

After the class, you will receive a file with detailed recipes.

The class can be conducted in English, French, or Polish. Spanish upon request.

Group size limit depends on the choice of video call software, e.g. the capacity of Zoom is 100 people.
What's included
List of ingredients and kitchen utensils
File with recipes
Link to the online meeting
What you need
Basic kitchen utensils
Ingredients
PC / laptop / tablet with a camera
Reliable Internet connection
Video call software (Zoom, MS Teams, Google Meet)
---
---
Cancellation policy
RESCHEDULING POLICY:
After a booking has been made, Client rescheduling within 2 weeks or less of the event date is subject to a fee equal to 25% of the total fee.
After a booking has been made, Client rescheduling within 72 hours or less of the event date is subject to a fee equal to £150 or 50% of the total fee whichever is greater will be applied at the time of your re-booking. Your event must be rescheduled within 365 days of your original event date.

CANCELLATION, LOW-SHOW, AND NO-SHOW POLICY: No refunds will be issued for reduced event participant headcount turnout at an event ("Low-Show"), zero participant turnout at an event ("No-Show"), and/or event cancellation. If you provide notice at least 72 hours in advance of the event for a Low-Show, No-Show, or cancellation then credit towards a future event may be issued in accordance to the rescheduling policy above. Any credit issued will be in accordance with the rescheduling policy above and must be utilized within 365 days of your original event date.
FAQs
What is the Gingerbread Cookies Decorating Class?
It's not only a decorating class, it's also a gingerbread cookies cooking class! Learn the basics and secrets of traditional gingerbread cookies from our professional chef. Participants will be taught how to make and decorate their own gingerbread cookies from the comfort of their homes. The host will share stories about this famous Polish tradition while you discover the secret spice mix for these delicious cookies. Gingerbread cookies are easy to bake and perfect for impressing your friends and family!
Will the participants receive the ingredients before the event?
Unfortunately, we do not provide a cooking kit for this experience. However, all participants will be provided with a list of ingredients and kitchen supplies that they'll need for class. Don't worry, as the ingredients are easy to find, and you may already have some of them at home!
How can my team prepare for this Gingerbread Decorating/Cooking Class?
Make sure that your team members have donned their aprons and prepared their ingredients and kitchen utensils before the session starts. Also, everyone should make sure that they have a stable internet connection for a smooth experience. We recommend turning on everyone's cameras for a livelier and more interactive event.
Can this event be hosted for a team of 7 people?
Yes! We can accommodate anything from 6 to 200 people for this virtual event. So, whether you're planning a virtual cooking session or a Christmas party, do not hesitate to reach out to us at any time.
Can the Gingerbread Cookies Decorating Class be hosted in French?
We're glad you asked! Our Gingerbread Cookies Baking and Decorating Classes can be hosted in French and even Polish! Spanish language cooking classes can be provided upon request.
How many hours does the cooking class last?
It all depends on your cooking and decorating skills! The Gingerbread Cookies Decorating Classes usually last up to 120 minutes. However, if you wish to extend your event for some extra team bonding time, simply let us know when sending your request.
I would love to book the Gingerbread Cookies Decorating Class. How do I proceed?
To book the cookie decorating workshop, email us at events@tagvenue.com or use the inquiry form on our website to get in touch. Once the date and group size are confirmed, we'll provide you with a quote and all necessary information regarding the selected activity. You can then make a payment after providing us with the company billing details such as the address and VAT number (this applies to non-UK customers only). The booking confirmation and invoice are sent via email. You can securely pay via a link with your CC ( Visa, MasterCard, Amex) . We accept CAD, GBP, USD, SGD, AUD, and EUR.
Other popular activities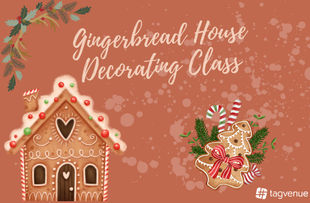 Gingerbread House Decorating Class
Get into the holiday spirit with gingerbread house decorating! We provide everything you need to succeed, from baking to decorating! Display your creation and let the delicious aroma fill your home!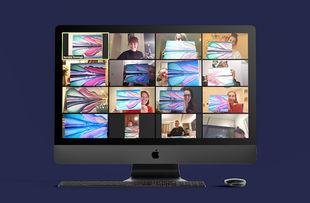 Paintvine - Virtual Paint and Sip
Looking for the perfect creative workshop idea? We've got you covered with our virtual sip and paint party. Impress colleagues by channeling Picasso or Van Gogh! Paint away!