Tired of cookie-cutter work Christmas parties and looking for something more unusual?
We've been there too.
So, how do you throw an extra special office Christmas party?
A pinch of inspiration is sure to help, that's why we've rounded up our 9 favourite office Christmas party ideas to help you and your colleagues step up your festive game up in 2019.
Organising a Christmas party and looking for a venue that would suit your needs? We've got you covered! Check out our free venue finding & booking platform, Tagvenue.com.
---
Small Christmas Party Ideas: A Festive Masterclass
---
For small companies and groups, it's always a good idea to organise a workshop and get everyone involved. You get to learn, strengthen team bonds and create something new together – what's not to like? Not quite sure what kind of workshop would be the best fit for your team? Have a look at our favourite ideas:
Cooking class
Baking a whole army of gingerbread men, discovering the secrets of molecular cuisine or simply sticking to a traditional Christmas feast? Brainstorm all the possible options with your team and decide on your favourite.
Charlie's Chocolate Factory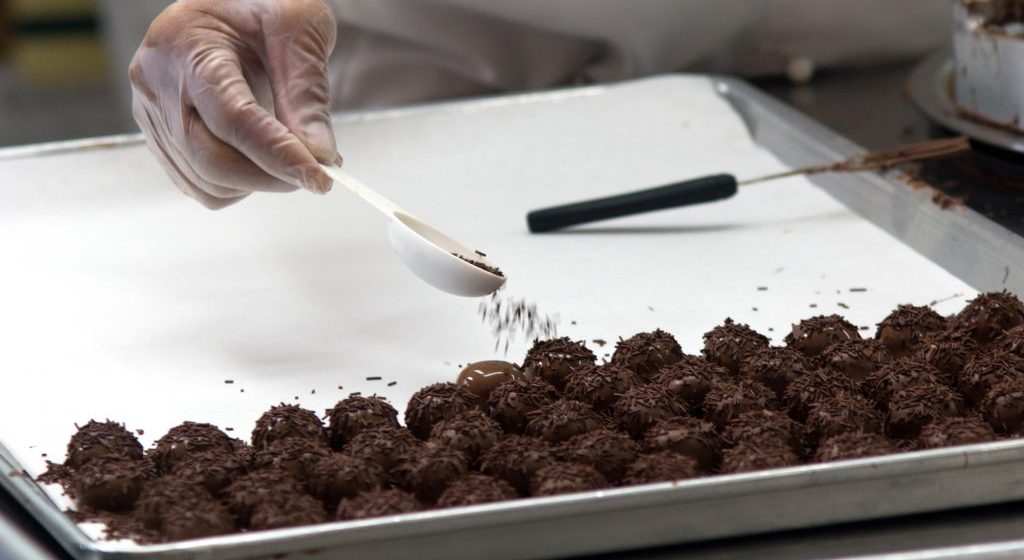 Learn how to create your own Christmas-themed chocolate bar (how about orange zest and cinnamon topping?) or mouth-watering pralines. It's a lot of fun, and your nearest and dearest are sure to appreciate a bespoke gift like this — if you and your co-workers don't eat it all first!
DIY Christmas decoration
Depending on how interested your group is in arts and crafts, you can choose an advanced option, such as Christmas pottery classes, or settle on something else simple yet creative. How about you follow the zero waste trend and learn how to create beautiful Christmas decorations with what's already on hand?
Hand lettering for holiday cards
Calligraphy is a skill sure to come in handy on many occasions, especially at Christmas time! Get in touch with an expert, gather your colleagues together, grab your pens and learn how to add some sparkle to your 2019 Christmas cards.
---
Cheap Christmas Party Ideas: Potluck Affair
---
If you're on a budget, the best way to cut down on costs is to go for self-catering. Why not take advantage of this fact and make a fun activity out of it? The idea of a potluck party is very simple. Every guest contributes a different homemade dish to be shared. Sounds fun, right?
Before you get down to planning your own potluck Christmas party, here's a couple of tips to keep in mind:
Create a sign-up sheet
You don't want to end up with 9 out of 10 guests bringing the same kind of entree to a work Christmas party. Or a festive lunch where everyone has only brought desserts, right? Aim for a bit more variety instead by making a sign-up sheet so everyone can agree on what to bring.
Confirm your plans with the venue manager
If you're hiring a venue for your work Christmas party, make sure the manager doesn't mind if you bring your own catering. In some cases, additional fees might apply. It's always good to ask!
Recognise the best
After everyone tries all the delicacies, ask them to vote for their favourite one. The author of the winning dish should receive a special Christmas party favour.
---
Simple Christmas Party Ideas: Secret Santa
---
It's a classic and generally well-received idea, yet it doesn't have to be boring and repetitive! We've got some ideas for improving your Secret Santa in 2019:
Make it a themed gift exchange
Talk to your team members and agree on a particular theme. For example, you can all stick to homemade gifts, focus on things bought from local businesses or get really creative with gift bag ideas. Another approach we love is bringing something you've once received as a gift. This is really budget-friendly and usually hilarious!
Use a dedicated app
It's 2019, so why not make things easier for everyone? The internet is full of gift exchange apps, many of which allow the participants to list their preferences without ruining the fun.
Add a little fun
There are plenty of ways to combine Secret Santa with other popular games. How about a Christmas scavenger hunt or hot potato? Everybody knows the rules and it's an easy way to make the whole thing much more entertaining.
---
Creative Christmas Party Ideas: Ice Ice Baby
---
What better time than Christmas to add a little frosty touch to your party? Here's a couple of wintry ideas to inspire you:
The Snow Queen's Palace
Give your space a frozen look with fake snow spray, cotton snowflakes, mirrors and lots of silver glitter. Feel like going the extra mile? if you're based in London, you can hire a venue with elements made of genuine crystal clear ice!
Snow Globe
Ever wondered how it feels to find yourself inside a snow globe? Now's the right time to find out! Hire a space with glass walls, add frosty decorations and create a falling snow illusion with the lights. If you like the idea but would prefer to stick to something more low key, you can still add a unique touch to your Christmas party. Snow globe balloons are easy to create and make a wonderful ice breaker – if you pardon the pun!
Ski Lodge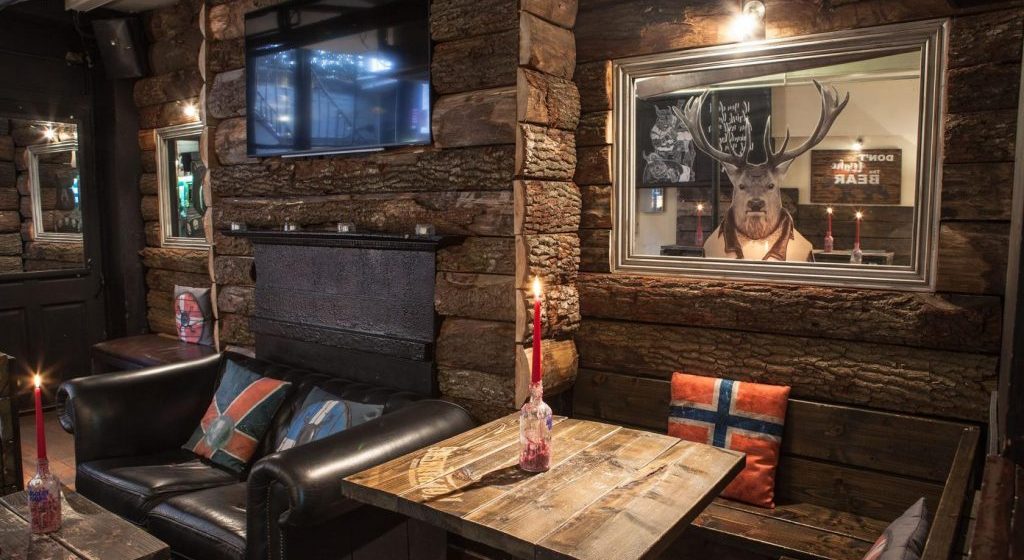 Feel the vibe of an alpine ski resort without leaving town! Cover the lounge with pine trees and snow, add some wooden furniture, fairy lights and treat your guests to fondue and mulled wine. We love this idea mostly because it feels icy and warm at the same time. What's not to love?
---
Interactive Christmas Party Ideas: Games Night
---
No matter if you'd prefer to make it entirely unplugged or mostly digital, it's always nice to engage in some healthy competition with your workmates!
Christmas Charades
A classic way to start the night. This never gets old! Who's going to do the best Rudolph the Red-Nosed Reindeer impression this year? (Get some Christmas Charades ideas here.)
Christmas Bingo
Depending on what your teammates are interested in, you can focus on Christmas movies, traditions, dishes or whatever else comes to your mind. Add a special holiday-themed touch and use marshmallows or candies as markers!
Retro Christmas Arcade Games
Not really into full-blown company Christmas parties? This one's perfect for those who love low-key celebrations and consider themselves a bit geeky. Take a trip down memory lane, gather some old-school (maybe even 8-bit) Christmas games and invite your co-workers for a festive tournament.
Read more on the best Christmas party games to play at work here.
---
Unique Office Christmas Party Ideas: Sail Away
---
Set your sails for one of the most impressive Christmas party experiences out there! In most cities around the world, event planners take advantage of waterfront views and hire very special Christmas party boats.
Fancy booking one?
Here's what you should consider:
Cruising or static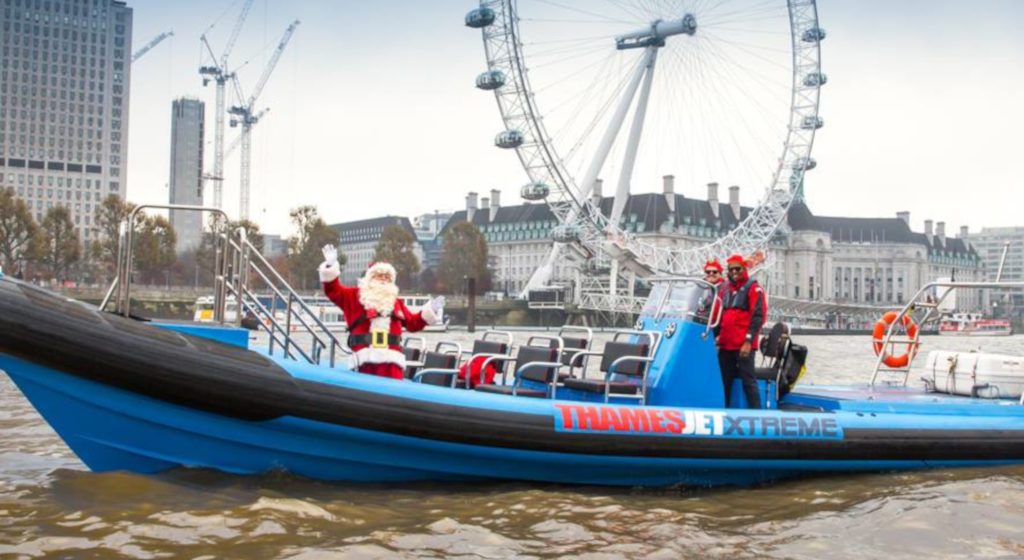 In most cases, it's highly unlikely that your guests will get seasick while on a party boat. It only makes sense to leave the boat docked at the beginning of the party and then set off once everybody arrives. So don't stay at the dock, head out to admire the views instead! With all the sparkling lights and decorations, at Christmas time the view only gets even prettier!
Private or shared
If you're hosting a corporate Christmas party for a large group, it would make the most sense to hire an entire barge all to yourselves. On the other hand, if the number of attendees is not big enough, you can opt for the shared Christmas party. In this case, you can still hire a designated area and have some privacy – or mingle with other party-goers if that's what you're after!
Indoors or outdoors
We all know the Christmas weather can be rather frosty (depending on the location of course :). Obviously, most Christmas party boats host the festivities below their deck but don't hesitate to arrange some outdoor activities, too. You don't want to miss out on amazing views, right? Warm your guests up with spiced cider, and enjoy the holiday vibes.
---
Funny Christmas Party Ideas: Festive Fancy Dress
---
We really can't think of a better occasion to let your hair down and dress in something so quirky it wouldn't even cross your mind otherwise. You can try to come up with your very own idea or get inspired by some of these:
Ugly Sweaters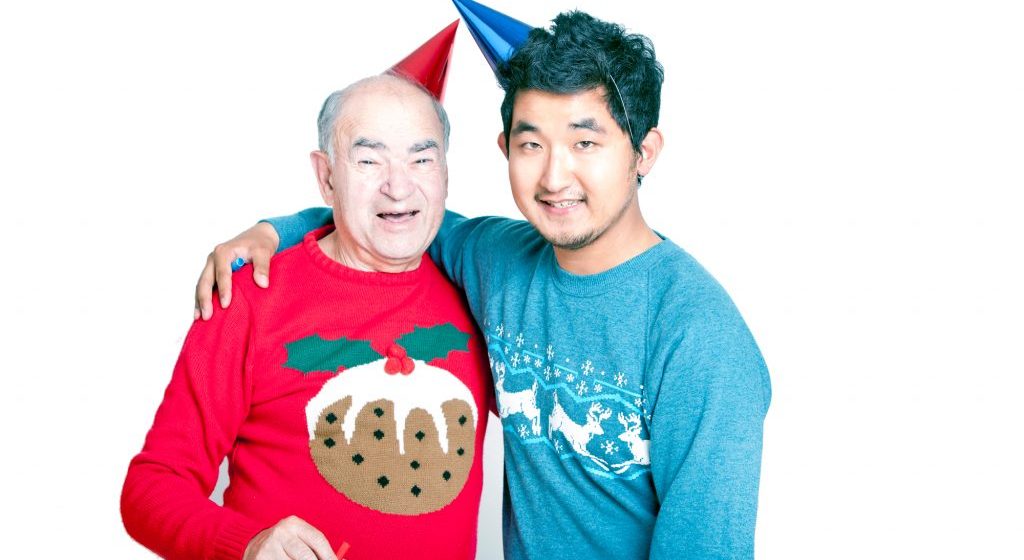 Remember the tacky gift you got from your auntie? The one that you tossed in your closet and forgot about? Well, it's high time you dug it out! Ugly Christmas Sweater Party is one of the top ideas for the 2019 holiday season.
Santa's Elves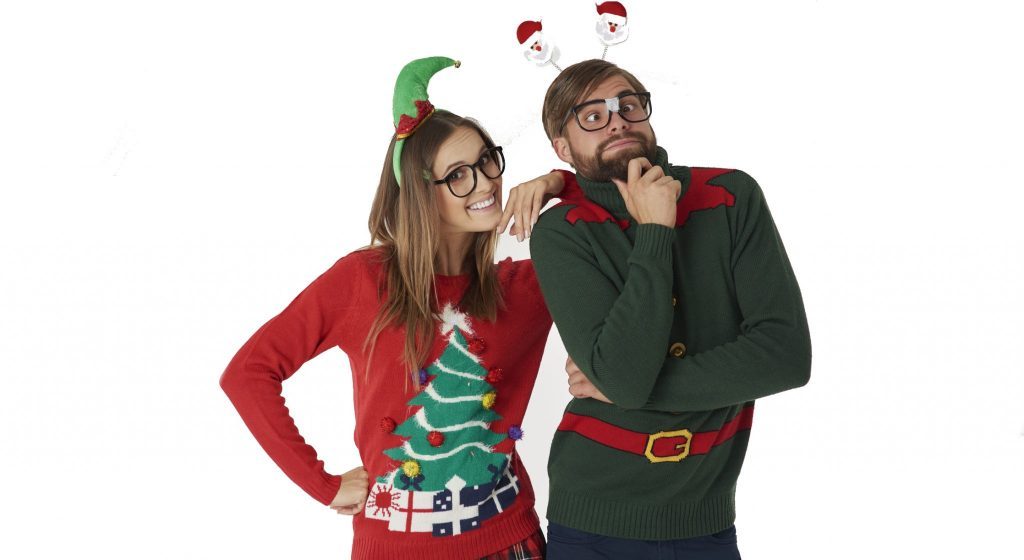 If you feel like getting matching costumes for your whole team, the Christmas Elf theme is your perfect pick. It's affordable, the colours suit everyone and the party photos are going to be pretty awesome!
Walking Christmas Trees (or Snowmen)
Decorating a Christmas tree is just so obvious – why not become one instead? With all the pieces of decoration you can come up with, this is the ideal option for a fancy dress competition!
---
Alternative Christmas Party Ideas: Murder Mystery
---
How about a Christmas party, but with a bit of a darker twist? A murder mystery game will hit the bullseye for those who are not really into bright and shiny holiday celebrations and prefer something thrilling instead.
Are you a fan of this quirky Christmas party idea? Here's how to plan yours:
Choose a venue to match the story
You can host the murder mystery game in your own office, however, we strongly recommend hiring a venue to suit the theme! A Christmas story set in the Victorian era will unfold better in a historic venue from this historical period. Remember to tell the guests to dress up accordingly, too!
Pick the right scenario for the group
Most murder mystery scripts are designed for groups up to 30. If you're organising a large Christmas party, even up to 200 attendees, you can get actors involved to take the roles of suspects, while the remaining guests play detectives.
Feed the rumour mill
The guests will surely get hungry during all the speculations and investigations! Make it a memorable murder mystery dinner and treat the attendees with delicious Christmas fare. Last but not least, don't forget to prepare some nibbles and finger food to snack on during the game.
---
Themed Christmas Party Ideas: All Out or Laid Back?
---
Guess we're all tired of repetitive Christmas party themes, right? That's why we've done a bit of research and found some that are far from the ordinary. Here's the top 3:
Christmas Casino
How about a trip to Las Vegas, but with a festive touch? Combine dice, card decks and roulette tables with mistletoe, candy canes and wreaths. The colours match really well, don't they?
The Chronicles of Narnia
If you feel like creating a whole new world, this theme is the perfect opportunity. Why not start right at the door – you can transform the function room entrance into a proper wardrobe to step into! Inside the guests will find snow-covered decorations, vintage lanterns and maybe even a winter sleigh to sit on? Don't forget to serve Turkish Delight just like the White Witch did – it's obviously irresistible!
The Anti-Christmas
Now for all the Grinches and Scrooges out there – you deserve your very own party too! How about you drop all the holiday stuff and go do something completely unrelated? In the end, it's really all just about having a good time.
---
Exclusive Christmas Party Ideas: Dinner or Dance?
---
Christmas is sometimes the only opportunity for your whole office to celebrate and unwind together, so if you're going down the private route for your festive bash it's important to get the venue and location right. Look into a venue that will guarantee a private space for you and your colleagues, as well as specific seasonal packages, and a location that will take everyone's breath away.
Private dinner
Much of the success of your party will hinge on the tastiness of the food, so make sure you're clear on what you'd like to enjoy food and drink-wise. Whether you're looking to go all out with a whole seasonal banquet or just looking for festive themed canapes and nibbles, quality is of vital importance. Christmassy drinks such as cocktails, mulled wine, and champagne also go down a treat so make sure you're well stocked and have had a chance to sample some of the venue's food before going ahead with the booking.
Yule Ball
It wouldn't be a Christmas party without a large space to get your dancing shoes on so make sure the venue has ample space on the dancefloor, as well as mingling areas. Try and see if you can also organise your own private DJ to ensure that everyone will hear their top seasonal songs and be able to easily get their Christmas groove on. You want this to be a party to remember, don't you?
Cheers!
---
---
---
You might also like