Who says Christmas party activities are only for kids? With twinkling lights, the scent of fresh pine, and the nostalgic tunes of carols, the holiday spirit is alive in all of us! But if you're looking to amp up your festive corporate celebrations this year, you're in for a treat. Get ready to jingle all the way with our sizzling list of Christmas party activities for adults that are bound to make your celebration the talk of the town. Trust us, Santa would definitely approve!
🎄 Top 10 Fun Christmas Activities for Adults
Dive into the magic of the season with our curated list of easy Christmas activities that you can easily pull off in office surroundings! We understand that while kids have their fun, the grown-ups deserve a sprinkle of yuletide joy too! Unwrap our festive favourites and let the adult Christmas games begin!
1. Ugly Sweater Christmas Contest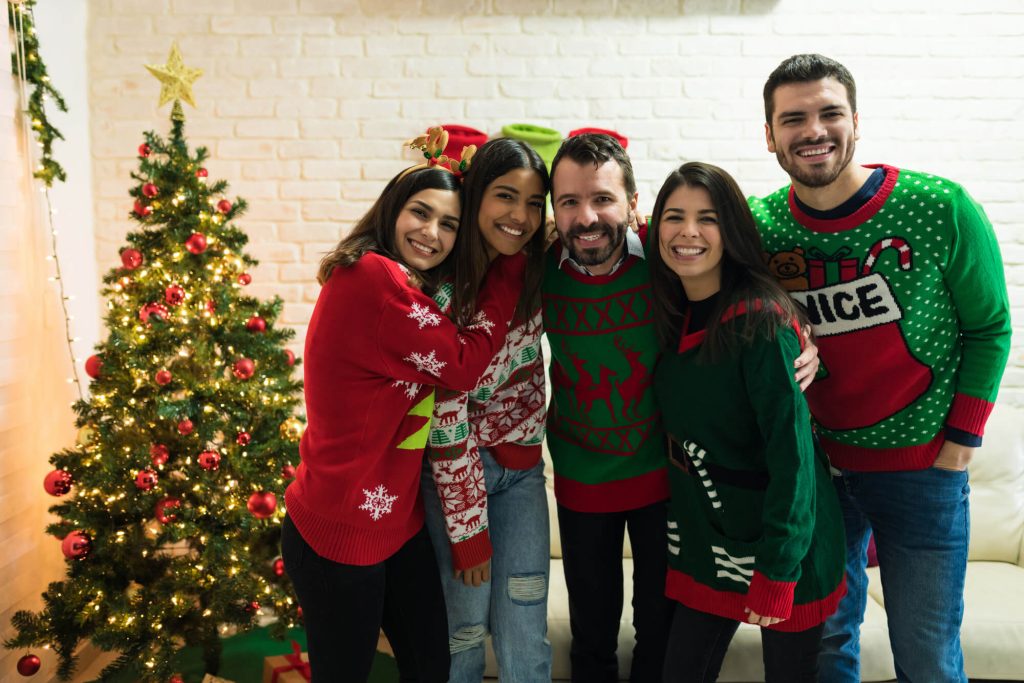 Ah, the timeless tradition of the ugly Christmas sweater! Think about it; there's nothing like a bit of friendly competition to bring the team together, right? As far as Christmas team-building activities go, this classic has a cheeky edge.
Invite everyone to wear their 'best' ugly sweater to the office Christmas party. Set up a runway, play some jolly tunes, and let your colleagues strut their stuff. With prizes for the most hilarious, creative, and ugliest, you'll experience plenty of laughs and maybe a few cringes, too!
And if you're hooked on the idea and seeking more inspiration, don't forget to check out our blog post on more ugly sweater Christmas party ideas!
2. Christmas Carol Duel
Forget what you think you know about traditional carolling! The Christmas carol duel is the new face of work Christmas party activities for adults. Imagine a mash-up of Name That Tune and a lip-sync battle, only with a touch of festive spirit sprinkled on top.
Divide your team into two, hand out lyric sheets, and watch as they compete to remember and perform classic Christmas songs with zeal and zest. You can also throw playful props or costumes to ramp up the excitement. It will induce bouts of laughter and camaraderie, and you'll also find out who the office's secret Mariah Careys and Michael Bublés are!
💡 Pro tip: Assign a judge or use audience applause to determine the winning tea!
You could also take this opportunity to hire a fabulous karaoke bar. Check out Tagvenue for the best options in town!
3. Name That Christmas Tune
Ah, the joy of festive melodies! This one is a classic hit among fun Christmas activities for adults that'll strike a chord at your corporate soirée!
Here's the game plan: compile a playlist with snippets of iconic Christmas songs – the catchier, the better. Divide your colleagues into teams, hit play, and challenge them to name that tune.
Not only will this activity stir up nostalgia, but it'll also put everyone's festive knowledge to the test. Between friendly rivalries and bursts of carolling, this game promises laughter and bonding – the perfect recipe for holiday cheer in a corporate setting.
4. Gift Wrapping Race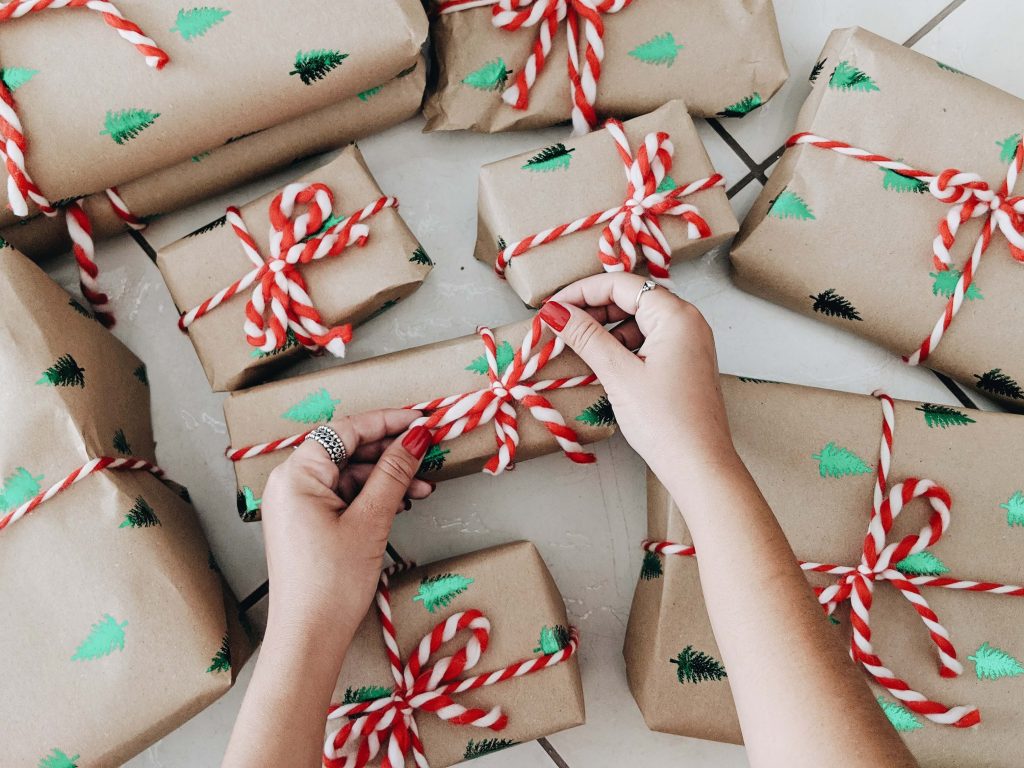 Unleash the festive fervour in your office with this top contender among Christmas team building activities for work!
Imagine this: participants divided into teams, heaps of colourful wrapping papers, ribbons, and baubles, and a ticking clock. The objective? To wrap as many gifts as impeccably and creatively as possible within the set time.
It's not just about speed. Precision and aesthetics matter, too. The best part? The wrapped gifts can be donated, fostering a spirit of giving during the festive season.
This delightful competition is bound to bring out hidden talents, invigorate team spirit, and sprinkle a hearty dose of Christmas cheer among colleagues. Ready, set, wrap!
5. Christmas Movie Bingo: The Drinking Edition
If you feel like swapping out those standard office party games and upgrading your festive bash, this special edition of Christmas movie bingo is your answer! It is the corporate crowd-pleaser everyone will rave about.
Play is simple: as iconic moments from beloved Christmas movies appear, players mark them off on their vibrant bingo cards. And for those feeling a bit adventurous, every bingo win is an opportunity to sip a festive drink.
6. Christmas Storytime
In the hustle and bustle of corporate life, we often overlook the simple pleasures. One such delight is the joy of being regaled with a story. For your next office holiday celebration, consider introducing 'Christmas Storytime'.
Designate a snug corner of the event space with comfortable seating, ambient lighting, and perhaps even a faux fireplace for that added touch of charm.
Invite team members to share their favourite festive tales, whether it's classics like 'A Christmas Carol' or personal anecdotes from yuletides gone by. This activity offers a serene break from the usual festivities and allows colleagues to connect on a personal level, learn about different holiday traditions, and rekindle the season's magic.
7. Christmas Cocktail Mix-Off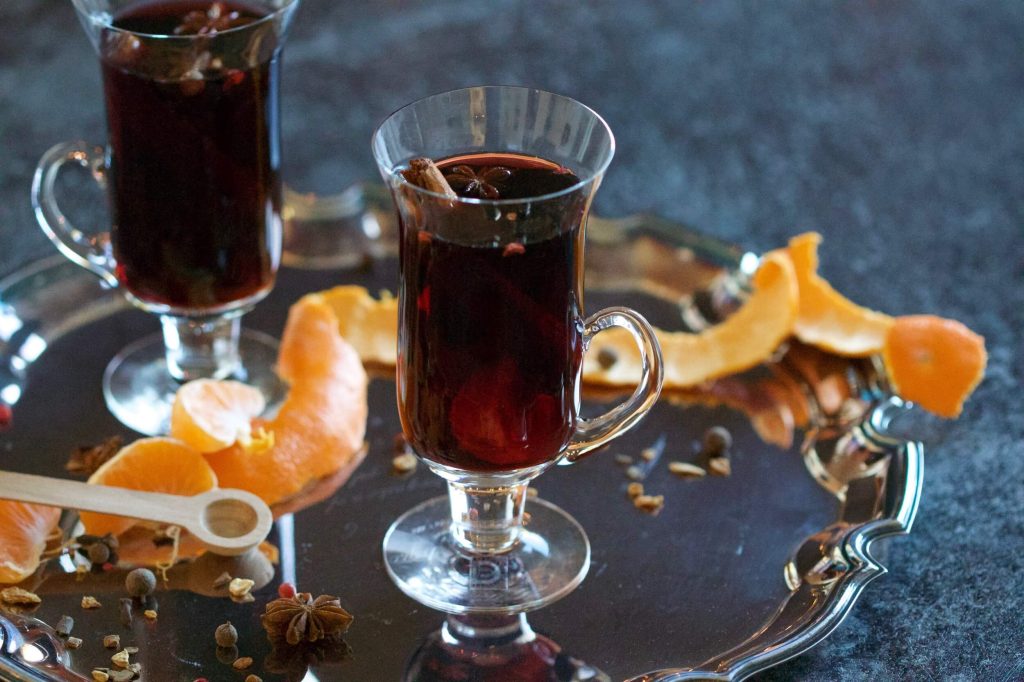 Step aside traditional office festivities, and make way for the Christmas cocktail mix-off!
This sophisticated yet jolly affair is perfect for adding a splash of pizzazz to your corporate Christmas do. Invite team members to showcase their mixology talents by crafting their signature festive beverages. Whether it's a twist on the classic mulled wine or an inventive snowy spritzer, there's room for all to stir up creativity.
For the most tantalising tipple of the evening, set up a little judging panel or have everyone cast their vote.
Or you could always take everyone to a hip bar and let the professional bartenders spoil you with a long list of Christmas cocktails!
---
❄️ Check out our blog article about 15 entertainment ideas for more inspo!
---
8. Secret Santa with a Twist
Ah, the time-honoured tradition of Secret Santa!
But in our corporate rendition, we're adding a delightful twist that will add some extra sparkle to the festive season. Instead of the usual anonymous gift-giving, each participant has to choose a present that resonates with a particular memory or inside joke shared with the recipient.
This will make the gift hunt more engaging, and the unwrapping session will turn into a delightful journey down memory lane. The room will be filled with chuckles and nostalgic tales, fostering a deeper bond amongst colleagues!
9. Blindfolded Tree Decorating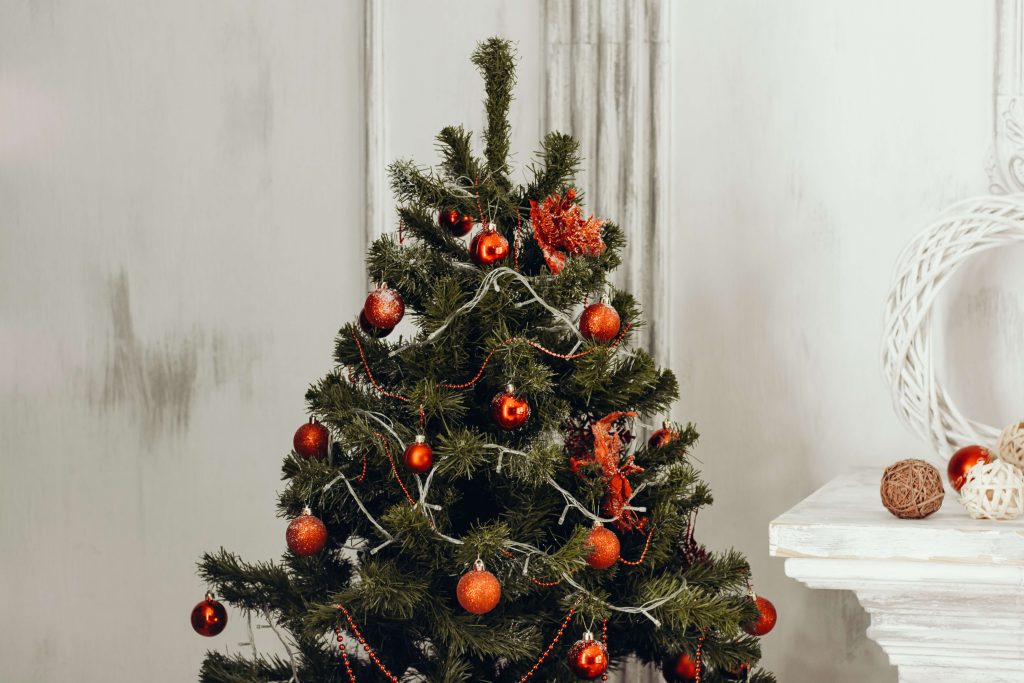 Have you ever tried decorating a Christmas tree…blindfolded? We bet you haven't! So why not try this fun activity with your colleagues this year? It is perfect for breaking the ice and sparking that festive spirit!
Divide your teams into pairs and blindfold them. Once they're ready, hand them an assortment of ornaments, tinsel, and ribbons, and give everyone a time limit to dazzle their tree. The results? Often hilarious and unpredictably stylish!
Remember to capture the before-and-after shots for a good laugh and memorable office moments!
---
❄️ Psst! You may also like: The 20 Best Office Christmas Party Games to Play in 2023
---
10. Pin the Nose on Rudolph
Remember those dizzying spins before trying to pin the tail on the donkey? Well, Rudolph's joining the office festivities this year and his shiny red nose has gone amiss.
Grab your colleagues, blindfold the 'reindeer guide', give them a spin or two (maybe not too many if they've visited the eggnog station), and watch the hilarity ensue. This is perfect for breaking the ice or bringing a moment of nostalgic glee amidst the annual budget and sales talks.
A little hint: The winning strategy combines spatial awareness and sheer luck. And perhaps, if you're lucky, Rudolph might just guide your next business strategy with his glowing nose!
🎄 Bonus: Easy Christmas Craft Ideas for Adults
Amidst all the classic Christmas party activities for adults, we've got a bonus for you! Why should kids have all the fun with crafts? Even as seasoned professionals, we see a twinkle of childlike excitement during the holiday season. So why not channel that yuletide spirit into some DIY magic? We've curated a list of easy and sophisticated Christmas crafts for grown-up hands that will bring joy.
Time to swap the spreadsheets for sequins and sparkle this festive season!
11. Handmade Christmas Cards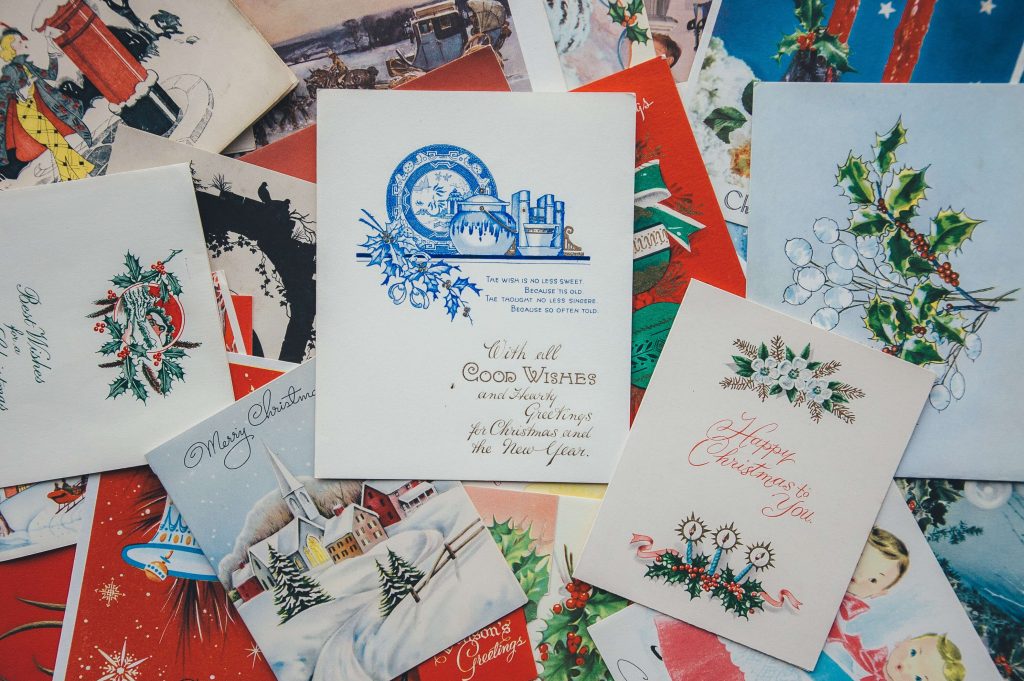 Deck the halls with boughs of holly and your desk with glitter and glue! One of the most delightful ways to stir up the festive spirit in a corporate setting is through crafting personalised, handmade Christmas cards.
Remember the thrill of receiving a heartfelt note in a one-of-a-kind card? This time, it's your turn to play Santa! Gather your team, stock up on festive art supplies, and let the creative juices flow.
Picture your CEO's face etched with mirth upon seeing a pop-up reindeer in a tie or your manager's joy at a sparkly snow globe design. Not only is it a throwback to our school art projects (bonus points if you can still colour within the lines!), but it's also an excellent way for colleagues to bond, share a few laughs, and spread Yuletide cheer.
12. DIY Wreath Making
One of the timeless traditions of the festive season is wreath-making, and it's not just reserved for the crafty or the garden enthusiasts. You can transform your corporate get-together into a haven of creativity and collaboration with a DIY Wreath Making workshop.
Supply attendees with an array of fresh greenery, festive baubles, and twinkling fairy lights. This hands-on activity promotes teamwork, camaraderie and serves as a delightful icebreaker!
Your colleagues will definitely bond over selecting the perfect sprig or playfully debating over the right placement of baubles! And at the end of the session, each participant will have a unique wreath to hang proudly at home or in their office cubicle, serving as a tangible memory of festive fun had with peers.
For those wanting to add a competitive edge, you can turn it into a friendly contest with a prize for the best wreath! It's sure to bring out the festive flair in everyone, no matter their role in the company.
13. Christmas Mason Jar Crafting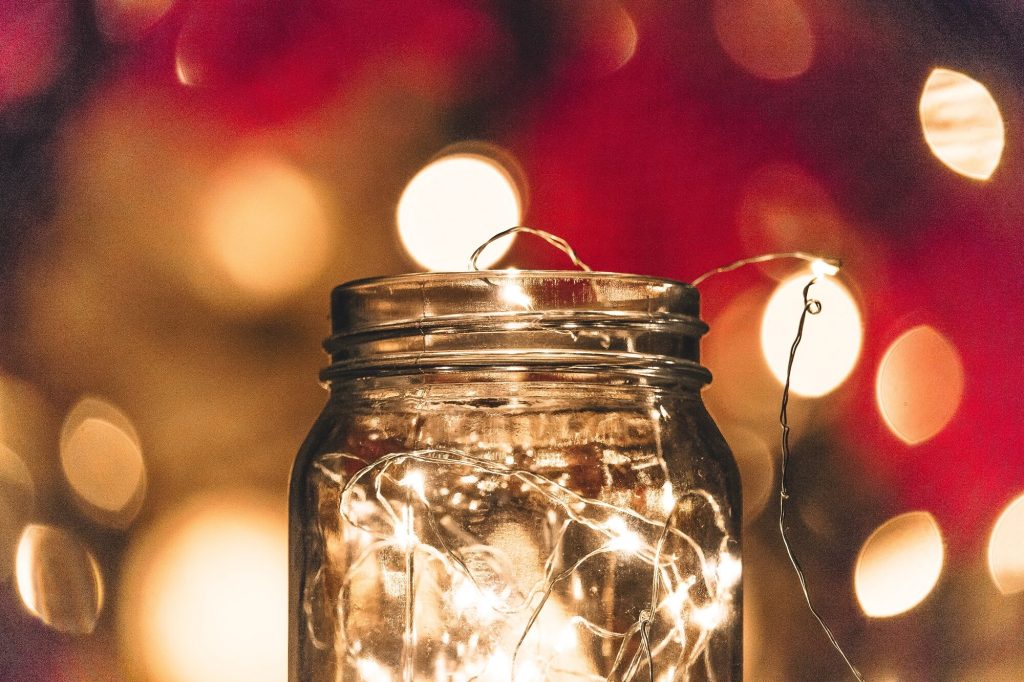 Shift gears this corporate Christmas by introducing mason jar crafting to the agenda. Using mason jars, team members can craft bespoke centrepieces, candle holders, or even miniature snowy landscapes.
This activity is inviting for everyone, whether you've never held a glue gun or have a dedicated crafting corner at home. Moreover, it's a brilliant way to foster teamwork and allow everyone to express their personal style. Your artful creation might even become a conversation starter, finding its way onto desks throughout the office. So, why not mingle, craft, and ring in the holidays with a touch of handcrafted elegance?
14. Personalised Ornaments Making
Dive into the heart of the festive season with personalised ornament making. Perfect for fostering creativity and team bonding in a corporate setting, this activity allows each colleague to craft their very own Christmas decoration. Using a variety of materials, from glittering beads to intricate ribbons, each participant can reflect their personality or perhaps even the ethos of their department.
From Bob in accounting's perfectly-painted snowman to Susan from HR's surprise talent for glass etching, this DIY station promises ornaments and stories to hang on the tree. And, let's face it, nothing beats that heartwarming moment when you exchange creations with a colleague, creating bonds stronger than that stubborn glitter on your hands!
15. Paper Angels Crafts
Swap the PowerPoint for parchment and indulge in crafting paper angels with your colleagues. Set up crafting stations at your corporate soirée, and provide metallic markers, glitter, ribbons, and even some 'CEO gold stars' for that extra flair.
By the end of the night, watch your office transform into a winter wonderland adorned with handcrafted angels fluttering gracefully about.
🎄 To Wrap Things Up
And there you have it – a sleigh full of festive ideas to make your corporate Christmas soirée one for the books! It's clear that the holiday season isn't just for kids – adults can revel in the magic too. So which of these ideas will you be incorporating into your office celebrations?
If you're looking for more jolly inspo, don't be a Grinch! Dive right into our other must-reads:
🌟 Top Christmas Decorating Trends to Transform Your Office Party in 2023,
🌟 Delightful Christmas Dinner Party Ideas to Dazzle Your Co-Workers,
🌟 15 Christmas Party Themes to Spread the Holiday Magic in 2023,
🌟 21 Christmas Party Food Ideas to Mingle and Jingle at This Year's Office Party.
May your festive celebrations be merry, bright, and utterly unforgettable! 🥂
FAQ
How to make a Christmas party special?
Making your corporate Christmas party stand out requires a mix of creativity, and attention to detail. Here are some steps to sprinkle magic into your event:

❄️ Unique Venue – Consider renting a space that isn't your usual conference room. Think of winter wonderland-themed gardens, cosy lodges, or even upscale lofts. The change in scenery can make the event feel more festive. On Tagvenue, you will easily find a great venue for your Christmas celebrations – make sure to check out our platform! 

❄️ Personalised Decor – Incorporate elements that resonate with your company culture rather than generic Christmas decorations.It will add a personal touch to your festivities. 

❄️ Interactive Activities – Spice things up with fun games and activities, like a DIY ornament station, Christmas karaoke, or a wreath-making competition. Activities are the perfect icebreaker and keep the energy high.

❄️ Special Guest Appearances – If your budget allows, consider hiring a guest entertainer, such as a local band, a comedian, or even a magician. Surprising your team with unexpected performances will truly make the party memorable.

❄️ Give Back – How about incorporating a charitable angle? Set up a toy drive, have a section for writing holiday cards for the elderly, or raise funds for a charity your company feels passionately about.

❄️ Memorable Takeaways – Don't let your attendees leave empty-handed. Whether it's a personalised ornament, a festive cookie in a decorative bag, or a simple photo from a photo booth, give them a memento to remember the special evening.

❄️ Show Gratitude – Make sure there's a segment in the evening where the leadership team expresses gratitude for the hard work and dedication of the employees. It will add warmth and make everyone feel valued.

❄️ Invite Feedback – After the party, send out a feedback form or have an informal chat to gather insights on what everyone loved and where there's room for improvement. This ensures that every year, your Christmas parties will get even better!

Do you have more questions about planning your corporate Christmas party? Check out our blog post full of useful tips on how to host a Christmas corporate party!


How to make a Christmas party for adults fun? 
Ah, the age-old question of how to bring that merry sparkle to adult festivities! Corporate Christmas parties don't have to be a rinse-and-repeat of bland buffets and predictable playlists. Here's your blueprint for a jolly good time!

❄️ Themed Delight – Consider fun themes beyond the typical snowflakes and Santa hats. How about a Christmas Around the World where each table represents a different country and its unique holiday traditions? Or a retro Christmas, throwing back to the golden days? Swing by our latest blog post for some more inspiration!

❄️ Photo Ops – Set up themed photo booths complete with props that align with your chosen theme. Whether it's a winter wonderland backdrop or a kitschy ugly sweater booth, make it Instagram-worthy!

❄️ Showcase Talent – Got a colleague who plays the guitar or another who does stand-up on weekends? This is the time to showcase their talents and make them the stars of the evening.

❄️ Dress It Up – Encourage fun dress codes. Whether it's festive ties, Christmas PJs, or a full-blown costume party – dressing the part makes everything more enjoyable.

How early should I plan a corporate Christmas party? 
When it comes to orchestrating an unforgettable office Christmas party, starting early, up to six months in advance, is the secret ingredient. Believe it or not, kicking off your planning as early as June or July isn't excessive; it's strategic. Securing popular venues or top-tier catering services often requires a head start, as the holiday rush can lead to fully booked dates.

By mid-summer, you'd ideally set a preliminary budget, pencilling in potential dates and touring venues. As the leaves start to turn in August, it's prime time to lock in your venue choice and float out a Save the Date to build excitement.

September should see you finalising key vendors like caterers and entertainers and adding special touches to your theme. October beckons for official invitations and finalising guest lists, while November is all about nitty-gritty details, from menu choices to event timelines. 

With a fortnight left, a last check on all arrangements sets you on the course, and in the final week, it's all about the finishing touches and prepping for any DIY elements. By the time the party rolls around, with all your diligent planning, you'll be in a perfect position to oversee and truly enjoy the festivities. So, while summer might seem an odd time to jingle those bells, it's your pathway to creating a stellar yuletide celebration.