Christmas is coming, and 'tis the season to slow down, eat delicious food, and spread the Christmas jolliness. And if your office is ready to deck the halls with some holiday cheer, we're here to help!
Whether you're the designated party planner for the annual office Christmas bash or just looking to contribute something mouthwatering to the potluck, our list of 21 Christmas party food ideas will help you sleigh this year's party table and leave everyone's tummy happy.
So, get your tinsels on, and let's go!
🎄 Ideas for Christmas Appetisers
As an old Irish proverb says, Laughter is the brightest in the place where food is good. So get ready to fill your office with a lot of good food and even more laughter!
1. Dips
Serve a merry medley of dips, from spicy to creamy, to make sure there's something for every taste. Provide tortilla chips, crackers, and raw veggies to enjoy the dips with. The dips can vary from creamy artichoke dip to festive salsa, so you can be sure nobody gets bored!
2. Hummus
Hummus is a versatile chickpea-based dish that can be enjoyed by both meat lovers as well as vegans, making it a perfect dish for an office Christmas party. For a Christmas flair, make hummus of different colours (and flavours): add beetroot for the bright red/pink colour, and spinach for the green. Serve with pita bread, bread sticks, or crackers and cut up vegetables.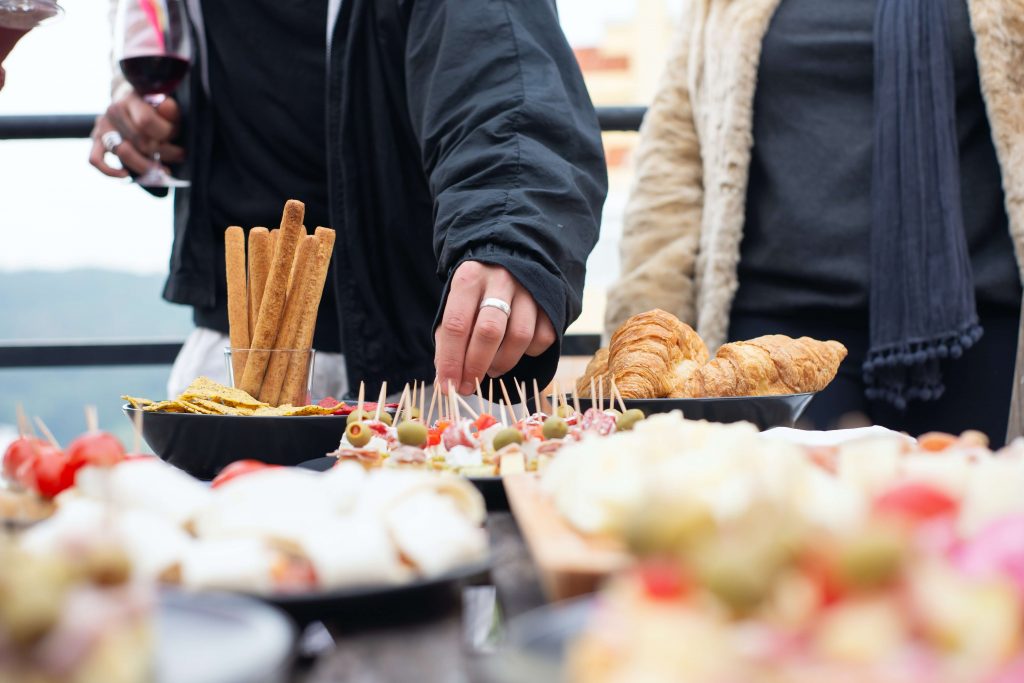 3. Brie Tartlets
Serve Brie tartlets for a touch of elegance. The rich, melty Brie paired with cranberry or fig jam will make your coworkers feel like they're unwrapping a gourmet Christmas morning. You can switch up Brie for other cheeses to vary the flavours.
4. Stuffed Mushrooms
Filled with sausage, cheese, or herbs, stuffed mushrooms are an appetiser that's both flavourful and filling. They're also the perfect finger food for mingling. You can prepare a few different versions of the stuffing, both meaty and vegan, so everybody can enjoy this appetiser.
4. Bacon-Wrapped Anything
Wrap bacon around dates, sausages, or asparagus for a savoury and satisfying bite that's sure to please a crowd. You can add a walnut or feta cheese to each wrap to make it even more filling and flavourful.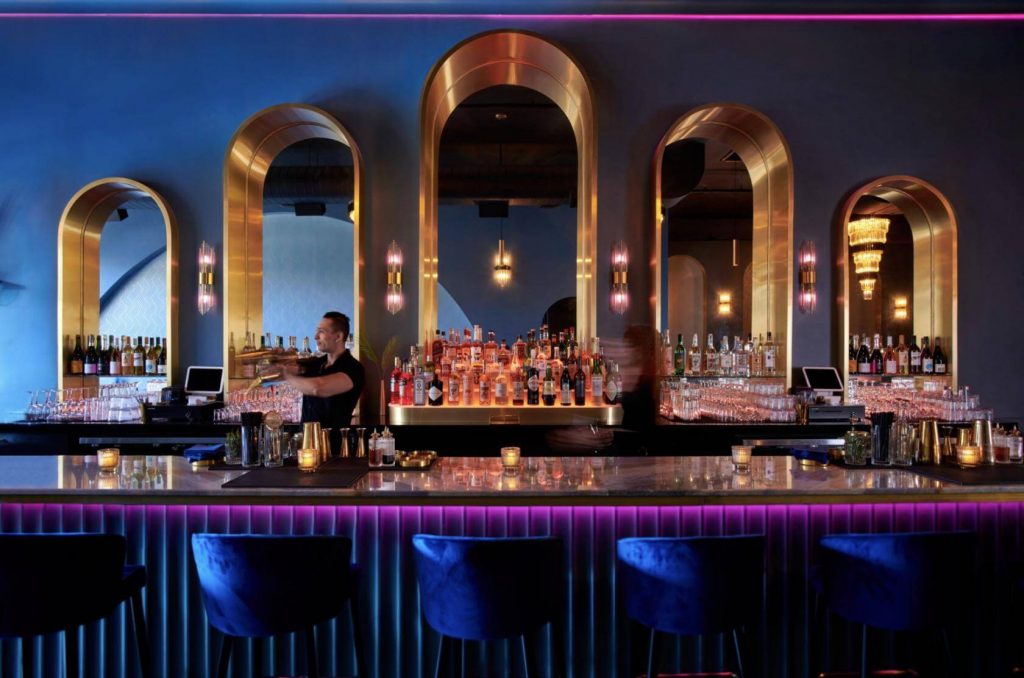 Appetisers go hand-in-hand with a great cocktail, so if you're thinking of a holiday cocktail party, throw it in an awesome venue. Tagvenue has the best spots where you can enjoy both Christmas cheer, as well as a good drink, so have a look!
🎅 Christmas Lunch Ideas
POV: about to be in a food coma. Those Christmas lunch ideas will help your office celebrate the season in the most mouthwatering way possible!
5. Air-Fried Prawns
Santa's not the only one coming to town; these air-fried prawns will make a grand entrance too! Season the prawns with herbs for a flavourful dish that won't weigh down the feast. If you have the option to do so, you can also grill your prawns, adding a beloved Australian Christmas staple to your table.
6. Hearty Soup
Warm up your office with a pot of hearty soup. Mushroom or cauliflower creams will satisfy any foodie, but the Christmas soup options are as many as there are elves in Santa's workshop, so you can find something to suit everyone.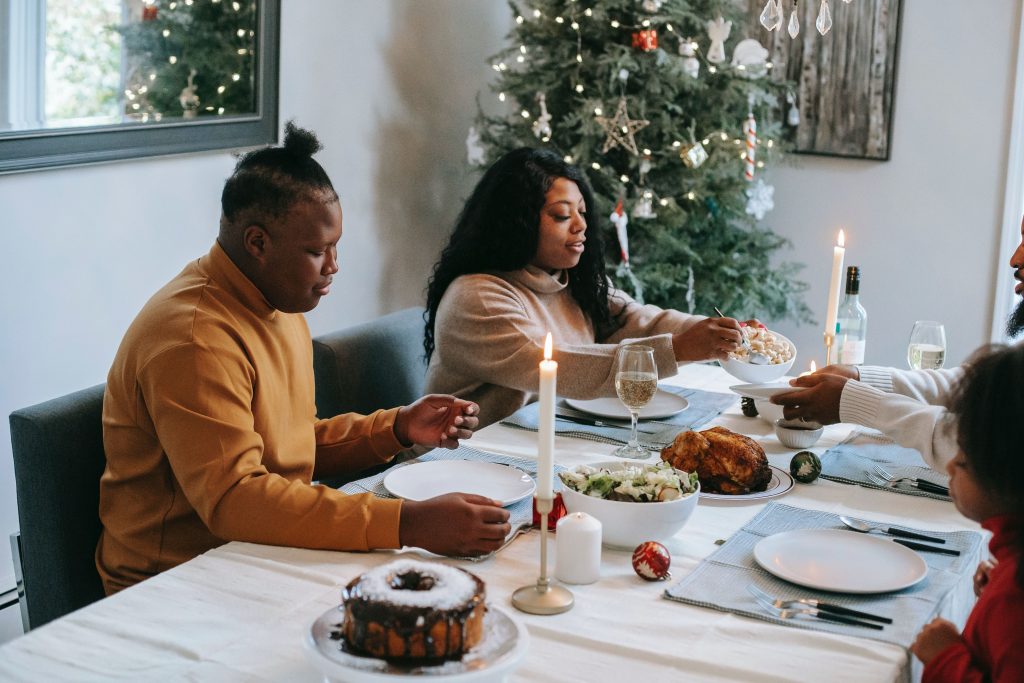 8. Potatoes
Whether you decide to roast, bake, or mash them, potatoes have to find their way into your Christmas table. Butter them up with some holiday cheer, and they'll be the perfect side dish at your festive lunch.
9. Roasted Turkey
If you're looking for a classic and easy-to-prep Christmas lunch dish, then roasted turkey is what you're looking for. Offer it with classic sides for a traditional holiday meal.
10. Festive Falafel
Falafels are like the Christmas ornaments of the vegan feast. You can serve them with a creamy dip made from cashews and tahini or a cranberry sauce. Add cranberries and chestnuts to the falafels to add a Christmassy flair to the dish.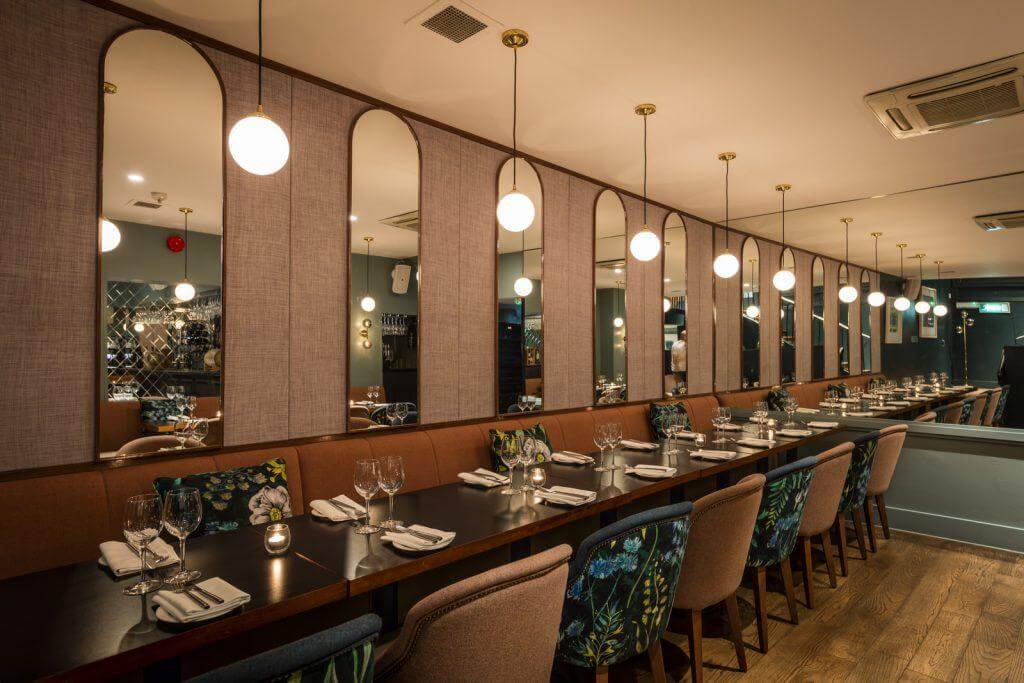 ❄️ Christmas Buffet Ideas
When organising a Christmas buffet, keep in mind to serve a wide selection of dishes, set them up in a way they're easy to self-serve, and make sure there's plenty for everyone to enjoy. Take a look at some ideas for what to serve at a Christmas buffet.
11. Beef Empanadas
An alternative to mince pies, empanadas can be a Latin-inspired pie to add to a Christmas buffet. They can be easily served and held in hand, making it a perfect dish if you're organising a buffet for a large crowd. Serve with a savoury dipping sauce.
12. Christmas Wreath
Create a visually appealing display by plating finger foods in a wreath shape, complete with a decorative bow. You can serve sausage rolls, pizza bites, devilled eggs, or any other nibble food in such a festive display!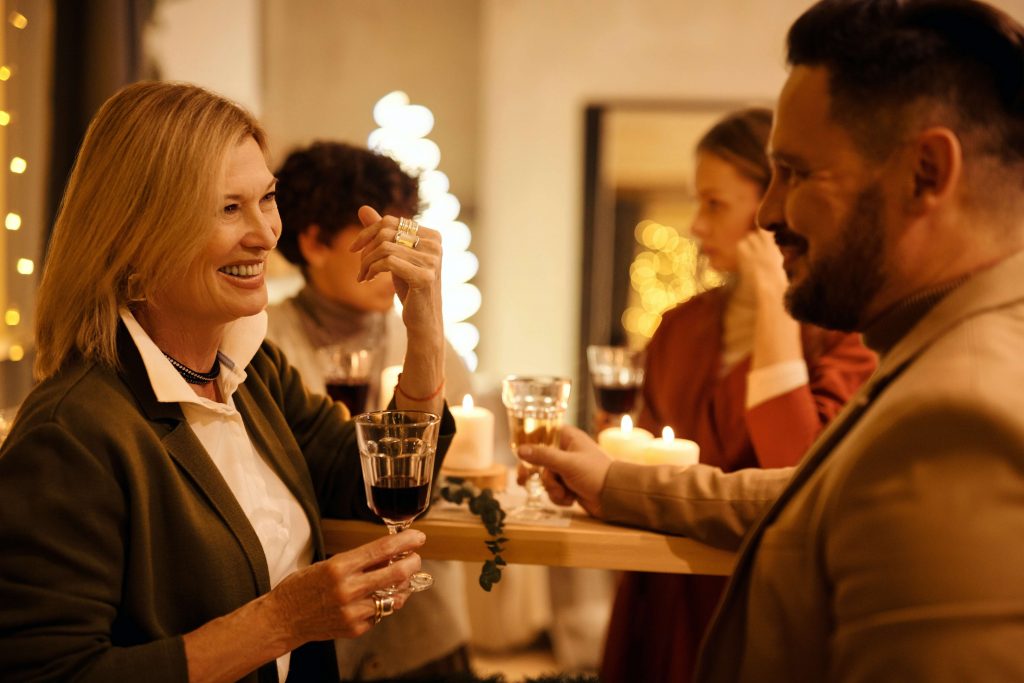 13. Charcuterie Platter
A platter of cheese, meats, and olives offers a range of flavours and is sure to be a crowd-pleaser. Decorate it with rosemary stems, sugared cranberries, and candy canes for a festive feel. You can also use a star-shaped cookie cutter for the cheese, turning it into an additional holiday-themed decoration.
14. Dessert Bar
Dessert is the best part of any party, and a dessert bar is the perfect way to make sure everyone gets a little bit of everything. Stuff it with Christmas S'mores, gingerbread cookies, and mini Pavlovas. Other ideas include Rice Krispy treats, chocolate-dipped strawberries and pretzels.
15. Christmas Punch
Offer a punch that adds a celebratory note to the event. Making one in a batch will ensure every guest can help themselves to it, and you won't have to worry about refilling everyone's cup. Prepare two versions, one alcoholic and the other non-alcoholic, so every party guest can enjoy it.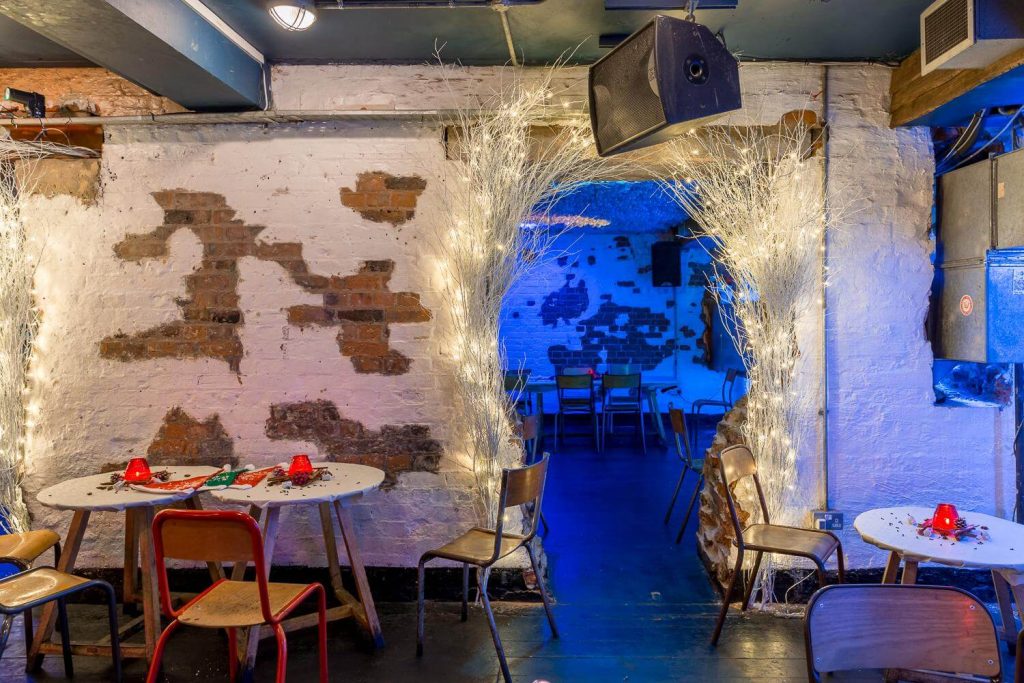 If your office doesn't have a party-friendly area, take your party to a rented space! You can hire venues with BYO policies, so you can bring your own food, or search for one that will prepare a Christmas buffet for you and your coworkers to enjoy!
✨ Ways to Spice Up Your Christmas Party Food
Nothing's wrong with a staple Christmas dinner: a roasted turkey, mashed potatoes, and a Christmas pudding. But if you want to switch things up a little bit for this year's Christmas office party, there are a few things you can do:
16. Christmas Brunch
When talking about a Christmas party, usually dinner comes to mind. If you want to twist things up for your office this year, offer a Christmas brunch to celebrate the holiday season. Set up a pancake or waffle station with various toppings and a hot cocoa bar with different flavours of marshmallows and mini candy canes for stirring. Give each employee a Christmas-themed pancake topper like Santa's hat or reindeer antlers to keep things festive.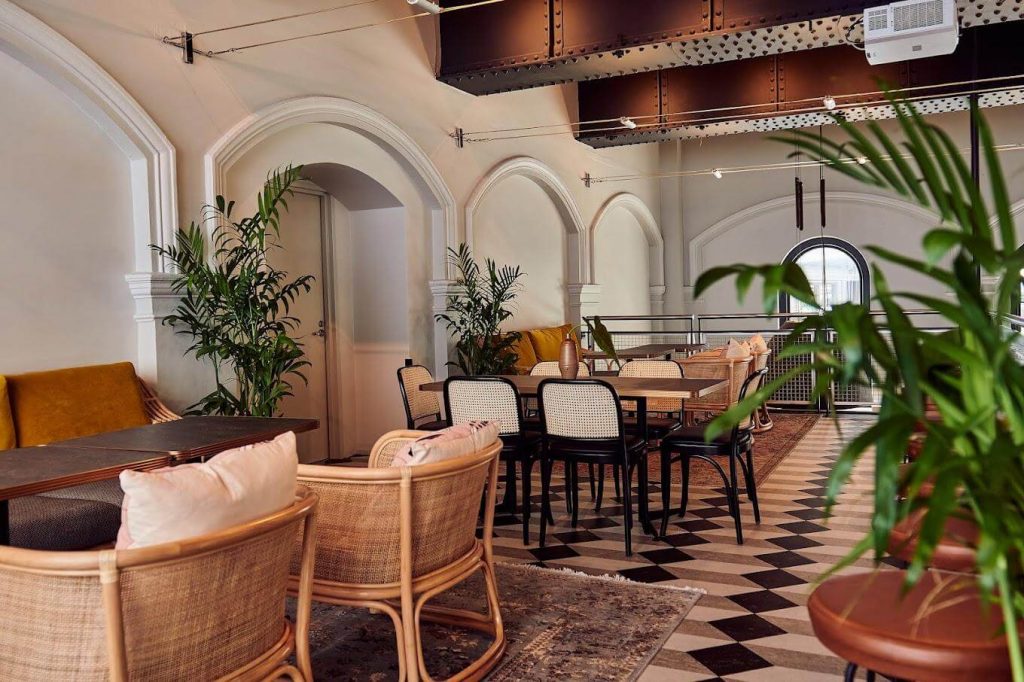 17. Themed Christmas Party
Picking a theme adds a fun twist to the party. Consider popular shows or something unique to your office culture. Imagine a Hogward-worthy feast, a Friends-themed holiday meal, or a Frozen-inspired Christmas brunch!
18. Around the World Christmas Party
Get inspired by what you can find on Christmas tables all over the world, and take your party guests on a culinary sleigh ride through the holiday dishes. If you're scared the idea might be too difficult to carry out, keep in mind that Japan celebrates Christmas with a KFC chicken, so you got this!
19. Christmas Potluck
A potluck takes the pressure off the host and allows everyone to contribute to the meal, so let everyone play Santa's helper by bringing in a dish for a Christmas potluck. Prepare a list of dishes to bring so everyone can sign up for what they will be preparing, so you can avoid an all-cupcakes meal or a mashed potatoes extravaganza!
20. Christmas Cooking Workshop
Turn your office Christmas party into a team building occasion with a cooking workshop. It allows everyone to participate, have fun trying out something new, and then enjoy a well-deserved meal. It's also an awesome option to enjoy a Christmas party in virtual offices, as cooking workshops can be enjoyed online.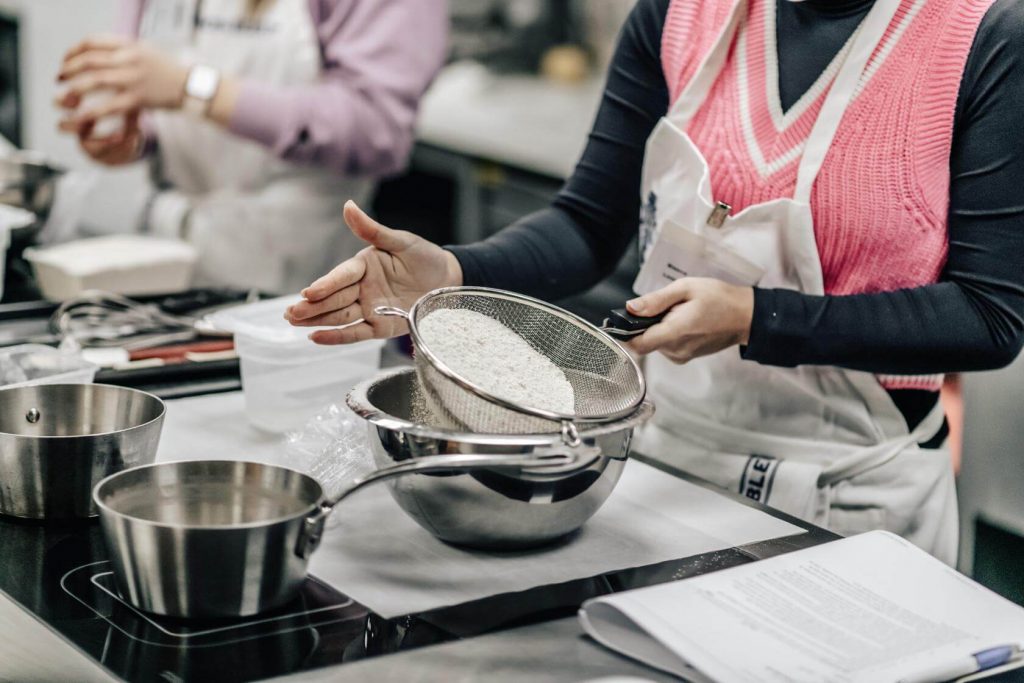 21. Christmas Colours Party
Make your party table a part of the Christmas decorations. Serve dishes in a red, white, and green pattern to create a culinary Christmas palette. It's a visual feast that would make even Frosty the Snowman tip his hat.
You're a professional in your field, and there are professionals who can make any party stand out from the rest. Search for the best spot and team to host your next festivities, and rest assured your party is sleighing to success.
🎁 To (Gift) Wrap Up
As you prepare to mingle and jingle at this year's office party, we hope our list of 21 Christmas party food ideas will give you the inspiration needed to create a memorable celebration. Whether you're looking to dazzle with appetisers, serve up a heartwarming lunch, offer a delicious buffet, or switch things up this year, we're sure you will have everyone rockin' around the Christmas tree. Don't forget to deck the office walls, throw in some fun games, and falalalala into your party.
Merry Christmas and happy celebrating!
Check out our Christmas section for more inspiration for your party.
FAQ
What do you put on a Christmas buffet table?
A Christmas buffet table is often adorned with a mix of hot and cold items. You can include classic dishes like roasted meats, mashed potatoes, seasonal vegetables, and fresh rolls. You can add canapes and appetisers for guests to nibble on as well. Don't forget the dessert section with festive treats like gingerbread cookies or mini Pavlovas and a bowl of Christmas punch.
What do you serve to a crowd at Christmas?
Serving a crowd at Christmas calls for dishes that can be prepared in large quantities and appeal to various tastes. Think large roasted meats like turkey or ham, big casseroles, and salads that can be made in advance. For desserts, prepare one-bite treats, like cookies, or S'mores, so it doesn't get messy. Consider a beverage station with both alcoholic and non-alcoholic options.
What do you put on a holiday platter?
A holiday platter typically showcases a variety of textures and flavours. You can arrange an array of cheeses, cured meats, fresh and dried fruits, nuts, and olives, all paired with a selection of crackers and bread. For a touch of sweetness, add some cranberry or fig jam. Decorate with rosemary stems, red and green bows, and pinecones for a festive appearance.
How do you decorate a Christmas table inexpensively?
Decorating a Christmas table on a budget is all about creativity and using what you have. Consider DIY centrepieces using natural elements like pinecones, branches, or even ornaments from your Christmas tree. Candles of varying heights can add ambiance without breaking the bank. Visit charity shops to look for affordable table cloths and festive tableware.
What finger foods are good for a Christmas party?
Finger foods are perfect for a Christmas party, as they offer variety and can be self-served. Crowd-pleasers include stuffed mushrooms, bacon-wrapped dates, Brie tartlets, and a selection of dips. Consider also adding some vegetarian options like festive falafel, and a variety of hummus, to ensure there's something delicious for everyone.