The Christmas season is finally here. It's time to gather with your colleagues for an end-of-the-year bash that features gifts, food, and the holiday spirit. Although party planning can be a big undertaking, it doesn't have to be expensive at all! As long as you have great company, games and food, you are bound to have a blast.
Check out some of our favourite company Christmas party ideas on a budget.
Budget Christmas Party Tips and Ideas
#1 Set a Budget and Stick to It
Knowing how much you have to spend is the first step to planning a successful cheap Christmas party. Create a spreadsheet or use great budgeting apps like Mint so you have a clear visualisation of where your money is going. When you know how much money you have to spend, it will be easier to assign it to certain categories and also know which categories you can cut to save a few pounds.
#2 Cut Costs Wherever You Can
This one is a no-brainer as a concept, but it is hard to determine exactly where you can cut costs. First things first, send out emails or virtual invites instead of paper (this is also the greener option, too!). Swap out the booze for some hot chocolate or ask everyone to chip in for a bottle of wine. If you can, consider hosting a joint Christmas party with another department or firm because two budgets are better than one!
#3 Find an Affordable Venue
Finding a good venue at a reasonable price may seem like a tall task. Fortunately, many restaurants, pubs, and nightclubs offer Christmas party packages that include a set menu and a few drinks at a competitive price. Tagvenue has created a list of great venues at affordable prices for your next party on a budget!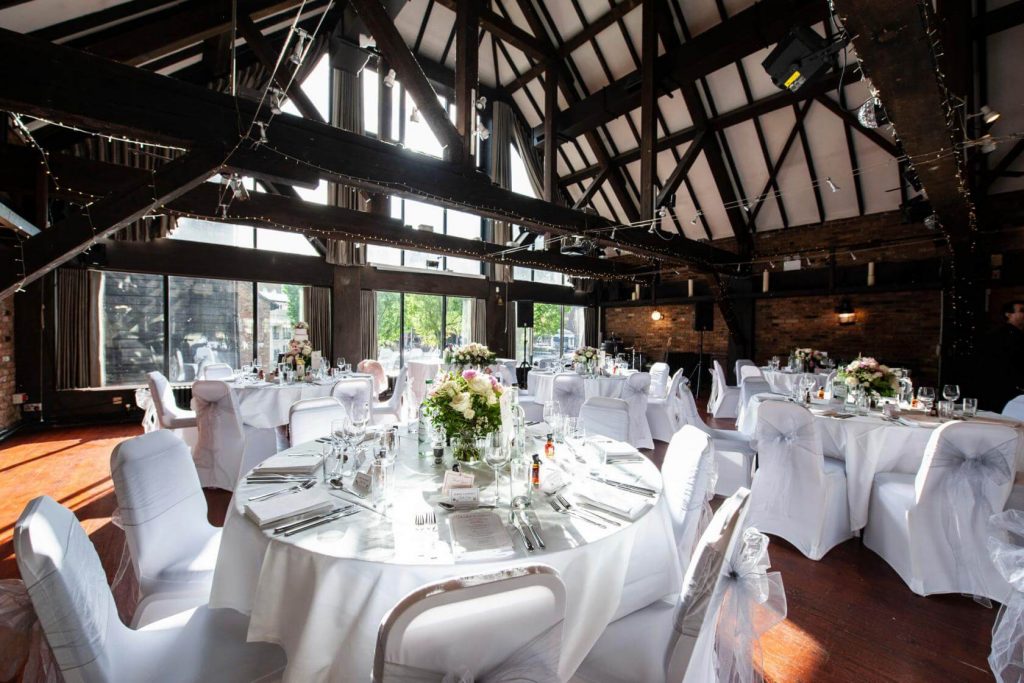 Although a venue hire may cost a bit more than an office party, it has the added benefit of coming with a nice change of scenery. Also, the venue will take care of the cleanup. Trust us, the last thing anyone wants to do after working is set up the space and then clean it up. Hiring a venue saves everyone tons of time and stress, as the job of party planning can also be split between your party planning committee and the event managers.
Consider having your Christmas party on a budget at your local pub. Pubs offer a laid-back atmosphere and private rooms which are great for private parties. Everyone can chill out, have a few pints, and talk about their Christmas plans and New Year's resolutions.
#4 Timing of the Event
Wondering how you can cut costs for your venue rental? Why not have an early Christmas party or a celebration in January! By hosting an off-season party, you can still have all the fun but at a discounted rate. Plus you can pull off all of the fun Christmas activities and delicious holiday food before Christmas. Planning your company party slightly off the official calendar also has the added benefit of making things easier for your colleagues as you avoid the mad rush leading up to the holiday, and the general sense of exhaustion right after.
#5 Keep it at the Office
If a venue is not in your budget, keeping the party at the office is probably going to be your best option. The advantage of this is that you will likely have all of the equipment you need to get the music going and play some Christmas movies. Consider playing a few fun virtual games to get the party started and enjoy some quality team-building time. Tagvenue Virtual has plenty of great options to help get your party in the festive mood. If you are still looking for some inspiration offline, check out our list of the 20 Best Christmas Office Christmas Party Games!
Everyone has a dish that, when they smell it, all they can think of is "Christmas", so why not show that off to your colleagues? If your party is at the office, another way you could keep costs down is having a communal feast or potluck party where everyone prepares some Christmas or holiday food that is near and dear to their hearts. It's a good strategy if the party planners make a sign-up sheet, so there aren't any repeat items. To avoid making this a costly endeavour for the participants, ask everyone to bring in some bite-sized morsels. This way, everyone can try a little bit of everything.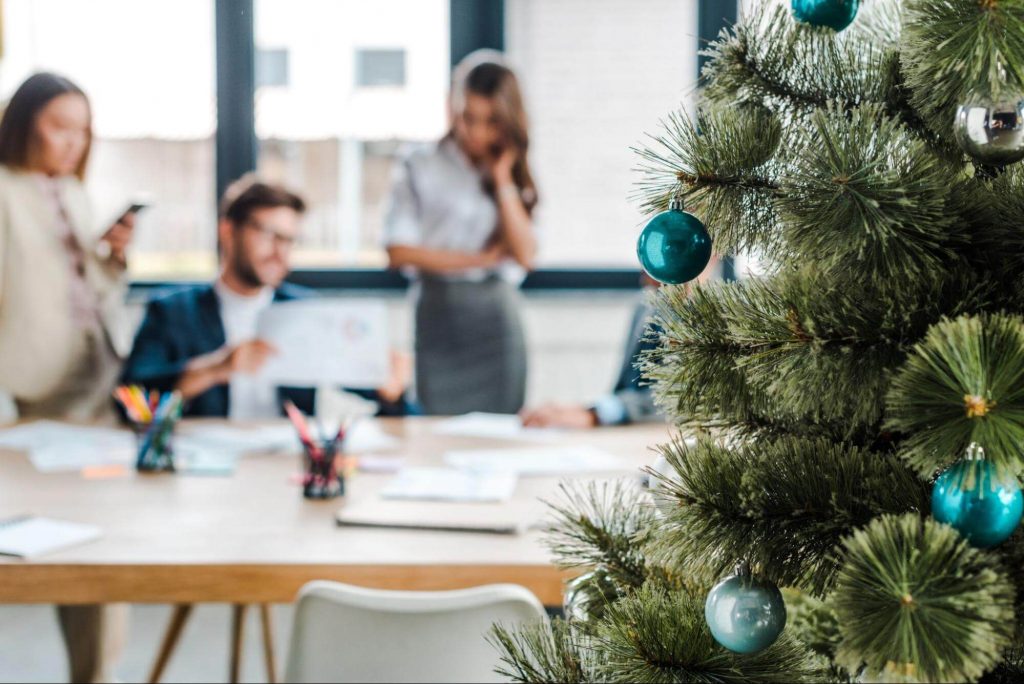 #6 Photo Ops and Props
If there aren't any photos, did the holiday party even happen? You don't need to break the bank to have some great props and even a photo booth. You can rent a photo booth for anywhere from £75-£200 per hour. Disposable cameras and polaroids at the party are another great way to make the memories last! You can make your own Christmas-themed props for next to nothing, all you need is just a bit of creativity. Bust out the halos, ugly sweaters, whatever you have and create some great memories!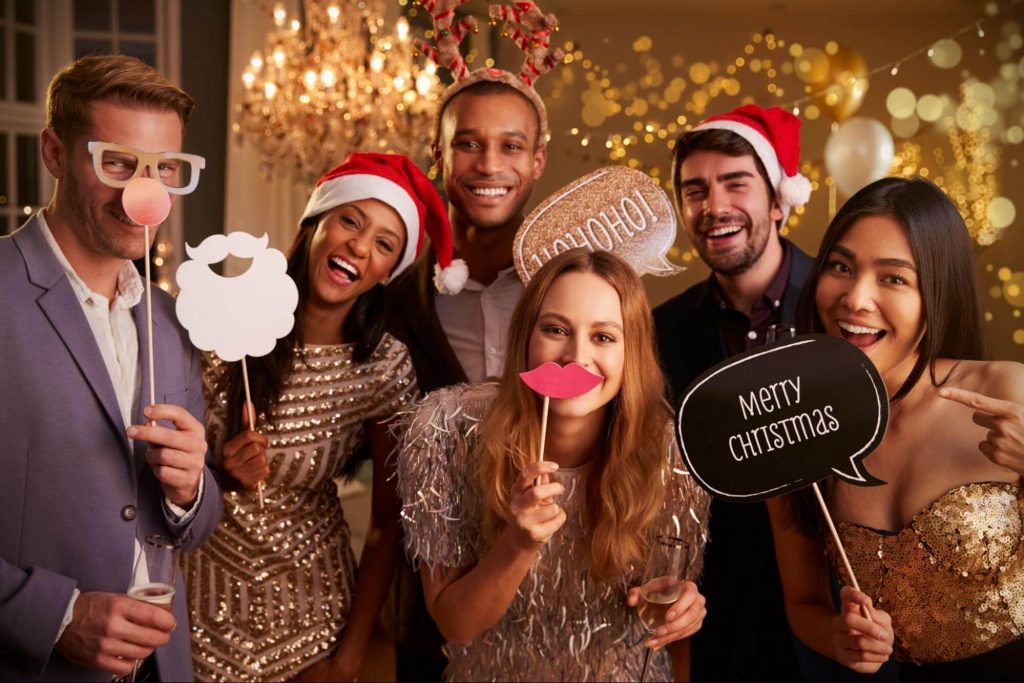 #7 Decorations
It doesn't matter if you are having your party at a nice bar, a restaurant or in your office, decorations are a must. If your party is in a venue, and they are decorated for the holiday then you are covered. Otherwise, just bring any personalised decorations you have and set them up. If it's an office party, make decorating the main event part of your party. Set up a station with everything you need to make some cute decorations and then take an hour or so to decorate. Apart from that, string lights and small Christmas trees are cheap, and they are a great way to get everyone in the Christmas mood!
Key Takeaways
An amazing Christmas party does not have to be an expensive one. There are plenty of things that you can do to keep costs down and still have a blast. Proper budgeting is the key to having a successful party, and once this is set, you can get the ball rolling. Tagvenue.com can give you some ideas for your next holiday party and also help you find the perfect place for you and your coworkers to celebrate the season!
FAQ
How can I make my office Christmas party fun?
Making your office Christmas party a great time is a breeze. All you have to do is make a good plan for the day, plan fun games, and serve great food. Christmas parties are a great opportunity for team building and for your colleagues to let their hair down for the evening. Check out our ideas for some great corporate Christmas party ideas!
What time should my company Christmas party start?
The starting time will depend on your plans. If you are staying around the office, then you can make it last all afternoon. If you are going out, then 19:00  is perfect for the start of a great night out. Starting then will allow people to stop at home and change out of their work clothes and into something a bit more elegant. It will also grant you and the venue manager a bit more time to get everything set up for the evening.
When are the cheapest times of the year to have a Christmas party?
There is a mad rush to find venues with Christmas party packages in the first 3 weekends of December. If you are looking to hire a venue for a Christmas party at a discounted rate, think early or later. Having a party in mid-November is a great way to get everyone in the Christmas spirit. If everything is booked up, don't shy away from a Christmas party in the first week of January.
How do you plan a great company Christmas party?
Christmas party planning can be a stressful way to welcome in the season, but don't fret! Here is a small list to make everything goes smoothly for your company Christmas party:

✅ Pick a fun theme – Think anything from ugly sweaters to Nightmare before Christmas. Having a fun theme is an easy way to get everyone in the Christmas mood.
✅ Create an itinerary – Having a clear game plan is a must. This way, you will have expectations for your day, and you will stay on time, especially if you hired a space for just a few hours.
✅ Budget – This goes without saying that this is key to a smooth party. Keeping an itemised budget is the best way to track your spending and ensure that costs are as low as possible.
✅ Set up a committee – Two (or more) heads are better than one when it comes to party planning. Gathering a few eager volunteers to join your cause will make the daunting task of party planning a piece of fruitcake.