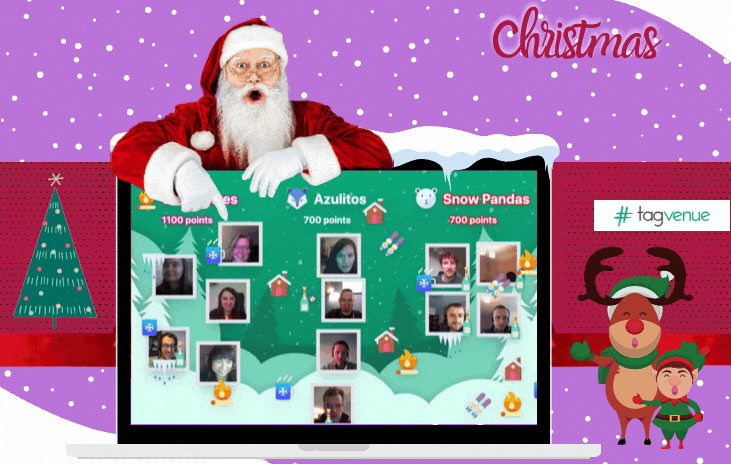 Christmas Essential Trivia
Boost team morale with a virtual event that people actually enjoy!
Activity highlights
Setup with your personal Event Producer
Professional Host to cheer you on
6-7 festive-themed mini-games
Event Description
Laughter, excitement, and cheer are in the air this season, so come join us.

Participate in a variety of Christmas-themed mini-games like Trivia, Fact Matching, Buzz In, and Pictionary or the equally festive Karaoke and Sort it, you and your team will enjoy a virtual holiday experience that will be enjoyed by all! And cap it all off with our holiday-themed photo booth at the end. Simply put on your festive attire, click the link, and enter the Tagvenue Virtual Social platform where the ho-ho-host is waiting to entertain your team.

After you book a slot, our event producer will design a plan that is unique to your team's requirements. You'll find everything you need (and more!) because we have hundreds of game sets available.

You'll get a link to the game once your gameplay scenario is ready. Just notify your team members to show up when it's time to play. There is no need to download anything. You and your crew will be greeted by one of our skilled hosts who will divide you into groups of three to six players after explaining the rules. After each question, a new team member will become the captain's position to ensure that everyone stays involved and no one is left out.

Christmas Essential is a laid-back, humorous activity with a dash of competition, a dollop of networking and team building, and a sprinkle of pure holiday enjoyment! It's a wonderful opportunity for participants to catch up, discover some fascinating and entertaining facts, and build bonds. It's ideal for remote work events, team building, or integrating new teammates!

Please note that mobile devices are not supported.

What's included
Professional Host
Dedicated Event Producer
Web-based platform, Winter Wonderland Edition
6-7 festive-themed mini-games
Photo Booth and Pictionary pictures as event takeaways
What you need
PC / laptop (Mobile devices are NOT supported!)
Earphones / Headphones
Reliable Internet connection
Latest version of Google Chrome
---
---
Reviews
E
Ems!, CM Delta Ltd
Booked on 28th December 2022
Really great especially when you are new to a company! Was fab! Hodgy was amazing.
L
Leanne , St. James's Place Wealth Management
Booked on 22nd December 2022
great alternative to a Christmas party - thank you
K
Kathy, Elexon
Booked on 16th December 2022
Lots of fun. Loved how we could see everyone even when we were split into teams. very enjoyable. Our host was brilliant!!
Z
Zeedy, SilverBack
Booked on 16th December 2022
Absolutely fantastic and good balance so that everyone can play e.g. if you not a quizzer etc
S
Sophie F, Hitachi
Booked on 26th November 2022
Really enjoyed it, very surprised at the video quality and the games were fun and engaging.
J
Jacko, Ball Beverage Packaging
Booked on 10th November 2022
Haven't laughed that much in months. Thank you Tag Venue
---
Cancellation policy
RESCHEDULING POLICY:
After a booking has been made, Client rescheduling within 2 weeks or less of the event date is subject to a fee equal to 25% of the total fee.
After a booking has been made, Client rescheduling within 72 hours or less of the event date is subject to a fee equal to £150 or 50% of the total fee whichever is greater will be applied at the time of your re-booking. Your event must be rescheduled within 365 days of your original event date.

CANCELLATION, LOW-SHOW, AND NO-SHOW POLICY: No refunds will be issued for reduced event participant headcount turnout at an event ("Low-Show"), zero participant turnout at an event ("No-Show"), and/or event cancellation. If you provide notice at least 72 hours in advance of the event for a Low-Show, No-Show, or cancellation then credit towards a future event may be issued in accordance to the rescheduling policy above. Any credit issued will be in accordance with the rescheduling policy above and must be utilized within 365 days of your original event date.
FAQs
What is the Christmas Essential Virtual Holiday Party?
The Christmas Essential Virtual Holiday Party is all you need to make your team, friends, and family happy this holiday season. Foster team communication and collaboration by participating in different Christmas-themed mini-games such as Buzz In, Trivia, Karaoke, and more. Teams even get to snap some photos in the holiday-themed photo booth. Fully hosted, Christmas Essential is the perfect holiday activity for remote teams.
What is included in the event price?
Many Christmas goodies! Our professional ho-ho-host is there to guide and entertain you throughout the game, a dedicated event producer to assist you with event planning, a winter-themed web-based platform, 6-7 festive-themed mini-games and, to top it off, your photo booth and Pictionary pictures as event takeaways.
Can the Christmas online event be customised for my team?
Yes! It can be customised for your team. For instance, we can combine two different events for your Christmas party, or if you need to customise the questions or number of mini-games, do let us know and we can tailor your event for the best experience!
How far ahead should I book the virtual Holiday party?
You should book your virtual party at least two months in advance. The festive season is a busy one, which means early birds are likely to have a better chance of booking their desired date.
How do I book a virtual Christmas experience with Tagvenue?
Booking has never been easier. All you have to do is fill in the inquiry form on our website to get in touch with us. Once the date and group size are confirmed, we'll provide you with a quote and all necessary information regarding the selected activity. You can then make a payment after providing us with the company billing details such as the address and VAT number (this applies to non-UK customers only). The booking confirmation and invoice are sent via email. You can securely pay with your CC ( Visa, MasterCard, Amex) via a link. We accept CAD, GBP, USD, SGD, AUD, and EUR.
Other popular activities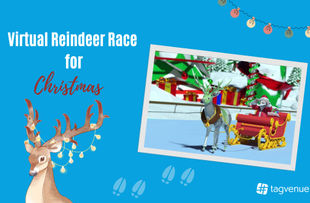 Virtual Reindeer Race for Christmas
Collaborate with other players and help Santa pick a new champion Reindeer by competing in Reindeer Games. Race to earn the most presents and become the successor to Rudolph in this holiday game!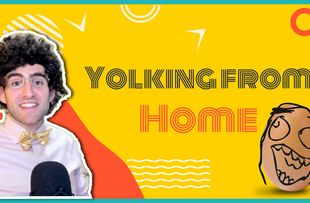 Yolking from Home - Family Feud
With 6 different simple games to choose from, this fully hosted activity via Zoom is guaranteed to get the conversation started, encourage participation, and lighten the mood in your virtual meetings!