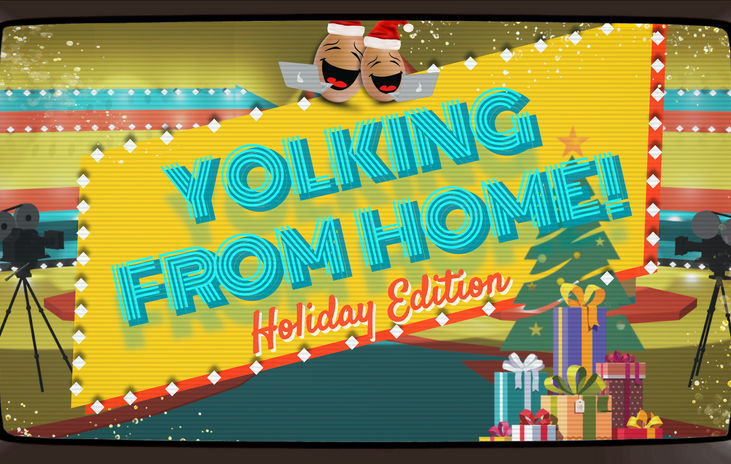 Yolking from Home
TV Show themed virtual event with 6 games to choose from!
Activity highlights
A choice of six virtual games
No smartphone apps to download
Happy hosts that encourage inclusion and excitement
TV show like b-rolls and and game-intro videos
Event Description
Yolking from home! is a fully hosted event themed as a TV game show and uses fun, conversational games which your team won't have played anywhere else.
There are six games to choose from, that use friendly competition to entertain your guests and encourage maximum participation. The result is a jovial atmosphere where your team can be themselves, learn new things about each other, and have a laugh together.

A Yolking from Home event typically has 2-3 different games which take 75 mins and 110 mins respectively.
The game is organized via zoom, and while the maximum capacity is 180 people the contestants will be split into smaller teams of 15-18 people and compete against each other in the break-out rooms.
Each break-out room has got a separate host!

You can choose which games you think your team will enjoy most:

1. The collaborative quiz where we test how well you know the players in the other team.
Before the show we ask players open ended questions where they give funny and creative answers. On game day, teams guess who in the opposing team gave the answers.

2. A test of your communication skills and artistic flare.
Your 'Artist' must accurately replicate a funny photo from your team's instructions. Points are given for capturing the main objects in the right place, the finer details of the image and the team's communication.

3. Tell the truth or make it up, to become victorious.
Players recite a personal story to the opposing team. It could be true or false. The opposition interrogates to try and work out which it is. The storyteller's job is to fool their opponents.

4. A Race through Wikipedia that tests players' logic, trivia knowledge and quick decision-making.
Teams must work together to navigate from a random wikipedia article to a destination wikipedia page the host gives them. A bit like word association with wikipedia. High suspense and fast paced race action against the clock!

5. Have you got your finger on the pulse or society?
Teams are given a key-word and together must out-think their opponents on what the most popular search terms are on Google using the word. This game is about listening to each other, compromise and having a good sense of people's search habits.

6. See how well your team knows our planet
We drop teams in a random location on our planet. Together they use the clues around them to work out where on earth they are, down to the nearest mile. Perfect for team's who've been in one place for months during lockdown.

Yolking from Home is a lighthearted and jolly activity that will leave your teammates with a renewed sense of camaraderie, a vital ingredient for you to create a team that people love to be a part of.
What's included
Dedicated setup support
Template emails with videos and images to get your team excited and turning up
One host for every 15-18 guests
A follow up PDF with screenshot, highlights, scoreboards and funniest moments of the event
What you need
Zoom
PC / Laptop with a reliable Internat connection
Earphones / headphones
---
---
Cancellation policy
All sales are final and non-refundable.
One-time courtesy reschedule possible up to 7 days before the event date.
No rescheduling possible for no shows or last-minute cancellations.​
Other popular activities