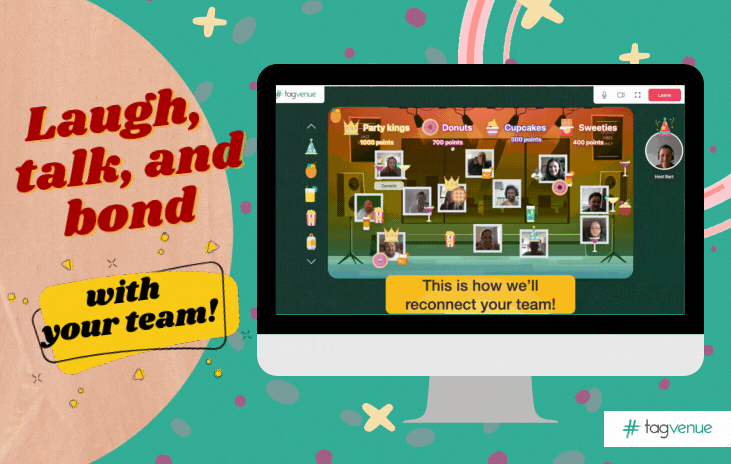 The Team Quest - Virtual Trivia Game
Giggles and laughs all the way with a fun trivia that people will actually enjoy!
Activity highlights
Setup with a personal Event Producer
Just share the link with your team
Engage with all participants at once
Professional Host to cheer you on
Event Description
Looking for the best online trivia for your team? Search no further! Team Quest, as the name suggests, is meant for team-building exercises. Featuring games like Emoji Riddles, Music Games, Karaoke, Face Mashups and Guess the Celebrity, these fun online trivia games for groups foster positive relationships within the workplace and will ensure that your team has a good time!

Team Quest is a multiplayer trivia game, which makes it an excellent pick for remote and hybrid teams, alike. Whether you're planning an onboarding session, online office party or need a virtual icebreaker, Team Quest has it all!

This 60-minute activity is suitable for small and large groups. Larger groups will simply need to combine the web-based platform with Zoom. Our trivia is perfect for a fuss-free online event. All you have to do is choose a date and your dedicated Event Producer will get in touch with you and create a game session tailored to your team's requirements.

You get to choose from various themes, and challenges and even customise the difficulty level! Sounds like a dream come true? Well, we'll make sure to deliver a tailor-made experience so all the participants have a good time!

Once the gameplay scenario is ready, you'll get a link to your team-building activity. Simply share it with your teammates and hop on Zoom when the time comes. There are no registrations or downloads required. Our lively host will assist and entertain your team!

Want to host a tailored experience for Women's Day or Movie Night we've got more than ten different themes from you to choose from.
1. Black History Month
2. Women's History Month
3. St Patrick's Day
4. Earth Day
5. Mental Health Awareness Month
6. Movie Night
and more!

How it works:
The game host explains the rule and splits participants into smaller groups. Once everyone is ready, the game starts! Work your way through mini-games like Trivia, Fact Matching, Buzz In and Pictionary! We value engagement, so every player gets the chance to be the captain and nobody gets left behind. Once the winner is announced, you can keep the party going with some fun props, poses, and photos!
What's included
Professional Host
Dedicated Event Producer
Web-based platform
6-7 mini games
Photo Booth and Pictionary pictures after the event
What you need
Laptop/Desktop (mobile devices NOT supported)
Earphones
Reliable Internet connection
Latest version of Google Chrome
---
---
Reviews
P
Prodman, Hopin
Booked on 16th December 2021
Excellent platform. Loved it!
O
Olson, Cisco
Booked on 22nd October 2021
Great adventure! :)
S
Sav, Facebook
Booked on 10th June 2021
The event was AMAZING! So was Marta our host!
K
Krystal, Intelliflo
Booked on 21st January 2021
Really like the facts one where you have to drag and drop
B
Brenda, BBC
Booked on 8th December 2020
Great fun, would definitely recommend
T
Trick, SoftwareONE UK Ltd
Booked on 3rd December 2020
Very cool idea and setup. Thanks to the host for a great game !
---
Cancellation policy
RESCHEDULING POLICY:
After a booking has been made, Client rescheduling within 2 weeks or less of the event date is subject to a fee equal to 25% of the total fee.
After a booking has been made, Client rescheduling within 72 hours or less of the event date is subject to a fee equal to £150 or 50% of the total fee whichever is greater will be applied at the time of your re-booking. Your event must be rescheduled within 365 days of your original event date.

CANCELLATION, LOW-SHOW, AND NO-SHOW POLICY: No refunds will be issued for reduced event participant headcount turnout at an event ("Low-Show"), zero participant turnout at an event ("No-Show"), and/or event cancellation. If you provide notice at least 72 hours in advance of the event for a Low-Show, No-Show, or cancellation then credit towards a future event may be issued in accordance to the rescheduling policy above. Any credit issued will be in accordance with the rescheduling policy above and must be utilized within 365 days of your original event date.

FAQs
What is The Team Quest virtual trivia game?
The Team Quest is a relaxed and fun game with a hint of rivalry based on short-attention-span games like Trivia, Fact Matching, Buzz In, and Pictionary. Run by our fantastic hosts, It is an excellent activity for promoting team building and boosting morale. It will enable your team to laugh and chat, while they learn some interesting fun facts and bond! It's 60 mins of entertainment & team interaction. The session length can be adjusted according to your requirements.
Why is The Team Quest a good team-building activity for remote teams?
The Team Quest is a fun virtual team-building activity that can help your team communicate and cooperate better. The Team Quest helps team members get to know each other better and teaches them to trust one another. Online mini-games like Fact Matching even help players discover "unknown facts" about their teammates! Ultimately it's all about having a good time talking, joking, and laughing. This virtual game also prioritizes equal engagement, so each player has the chance to be the team captain and lead others.
Is The Team Quest suitable for dispersed remote teams?
Absolutely! Remotely dispersed teams are our most frequent customers. The main challenge here is to find a time slot that will fit everyone's calendar, but then we're good to go. In addition, we can adjust the game content to the players' requirements, so if your team consists of people from across the globe, we'll do our best to provide content that is tailored to your team's needs.
How does The Team Quest work?
After purchase, our event producer will get in touch to discuss your expectations and specific needs. Prior to the event, you will receive a game link along with instructions which must be shared with your team. The game requires at least 6 participants. For groups of up to 25 players, the experience can be solely hosted on our web-based platform. For larger groups, you can use Zoom along with our platform. There is absolutely no need to download anything. You'll only need your PC/laptop, a stable internet connection, access to Google Chrome, and headphones, then you're good to go! Meet our fantastic host online and enjoy the game!
How do I proceed with the booking?
Simply enquire via our platform or send us an email at events@tagvenue.com. We'll get back to you ASAP and confirm the availability and pricing of the virtual activity. If these suit your needs, simply book the event by providing the following: company billing details: address, and VAT number (for non-UK customers only). We'll revert back with a booking confirmation and an invoice. A payment link will be provided where you can securely pay with your CC (Visa, MasterCard, Amex). We accept CAD, GBP, USD, SGD, AUD, and EUR.
Other popular activities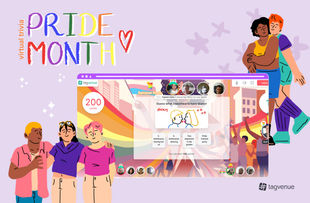 Pride Month Virtual Trivia
Host a Pride-themed trivia match featuring LGBTQIA+ pop culture and historical questions in our all-time favourite game, Team Quest. Celebrate the community's beauty and learn new facts!
Around the World - Virtual Icebreaker
Around the World is a fun and lighthearted team-building game that promotes networking and cultural learning. Ideal for collaboration, culture-building, and more. Suitable for everyone!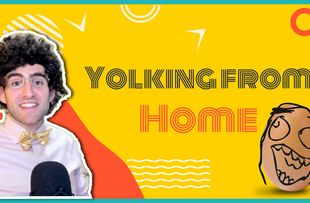 Yolking from Home - Family Feud
With 6 different simple games to choose from, this fully hosted activity via Zoom is guaranteed to get the conversation started, encourage participation, and lighten the mood in your virtual meetings!