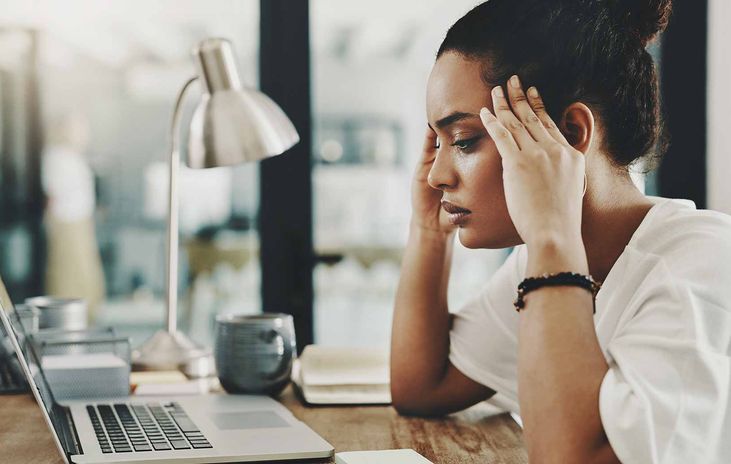 Burnout Management Online Workshop
Help your team recognise the effects of stress before it takes its toll on your employees
Activity highlights
Boost your productivity while working from home
Explore healthy sleep and self-care routine
Protect yourself from Winter blues
Learn how to fight procrastination
Event description
It's almost that time of the year when burnout is real! Deadlines, daily meetings, commitments, and working under pressure are a lot for your team to take.

Both physical and emotional exhaustion can cause burnout. If there are no rigid strategies to help manage burnout in the workplace, the chances of your staff suffering from severe burnout are high. After enduring long-term stress and stressful activities, employees often feel drained and low. However, with the right tools and simple strategies, employees can learn how to manage their work-life and reduce the negative effects of burnout.

Our Burnout Management workshop focuses on improving employee morale through a series of workshops. (3 in total) Participants will be given tips and a toolkit to manage stress and prevent possible burnout. This workshop is meant to improve employee morale and well-being in your organisation. The ultimate goal of these online sessions is to help create a happier and healthier workforce.

How does it work:
The Burnout Management workshops take place on the online communication platform of your choice. During the first workshop, participants understand how stress can lead to burnout. The second session focuses on meditation and mindfulness to help your team cope, while the last session reveals simple lifestyle changes and steps to help reduce stress and possible burnout.

Workshop One:
Understanding Stress & Burnout
45mins
Biology of Stress
Causes of stress
Stages of Burnout
Consequences of Stress and Burnout on Yourself and Others

Workshop Two
Addressing Stress & Burnout
45mins
Mindfulness Workshop led by a professional coach

Workshop Three
Stress and Burnout Prevention
45mins
Strategies to Prevent Stress & Burnout and
How to Implement Them

Remember, burnout is the result of long-term stress. Our Burnout Management Workshop is ideal for helping your team grow professionally in the healthiest and happiest way possible! Enquire now to learn more about our workshop.
What's included
Zoom link
Educated event host
What you need
PC with Zoom
Reliable Internet connection
---
---
Cancellation policy
RESCHEDULING POLICY:
After a booking has been made, Client rescheduling within 2 weeks or less of the event date is subject to a fee equal to 25% of the total fee.
After a booking has been made, Client rescheduling within 72 hours or less of the event date is subject to a fee equal to £150 or 50% of the total fee whichever is greater will be applied at the time of your re-booking. Your event must be rescheduled within 365 days of your original event date.

CANCELLATION, LOW-SHOW, AND NO-SHOW POLICY: No refunds will be issued for reduced event participant headcount turnout at an event ("Low-Show"), zero participant turnout at an event ("No-Show"), and/or event cancellation. If you provide notice at least 72 hours in advance of the event for a Low-Show, No-Show, or cancellation then credit towards a future event may be issued in accordance to the rescheduling policy above. Any credit issued will be in accordance with the rescheduling policy above and must be utilized within 365 days of your original event date.
FAQs
What is the Burnout Management Online Workshop?
Managing burnout in the workplace is crucial to the overall health of your organisation. Burnout is often the cause behind disengagement and low employee morale. Our Burnout Management Workshops are carried out in three sessions (of 45 minutes each), where employees learn about the impact of stress and the causes of burnout. The workshop focuses on lowering the stress level and preventing burnout through easy-to-implement strategies and tips that can help your workforce become more engaged and happier.
How can the Burnout Management Workshop help my team?
Our burnout management workshops are crafted to help participants recognise early signs of burnout and how to prevent it. Teams are taught mindfulness and strategies to reduce stress and the possibility of burnout.
How long is the workshop?
Each workshop is 45-minutes long and covers all the essential aspects of burnout management. See the details above. The workshops can be scheduled according to your team's availability.
What will my team need for the online workshop?
Your team will need a pen to take down some tips. A quiet room during the second workshop to help them relax and practice mindfulness. Participants will need a beach towel or yoga mat for the second session.
How can I book an online professional development activity for my team?
To book any of our online professional development activities on Tagvenue, simply email us at events@tagvenue.com or use the inquiry form on our website to get in touch with us. Once the date and group size are confirmed, we'll provide you with a quote and all necessary information regarding the selected activity. You can then make a payment after providing us with the company billing details such as the address and VAT number (this applies to non-UK customers only). The booking confirmation and invoice are sent via email. You can securely pay with your CC ( Visa, MasterCard, Amex) via a link. We accept CAD, GBP, USD, SGD, AUD, and EUR.
Other popular activities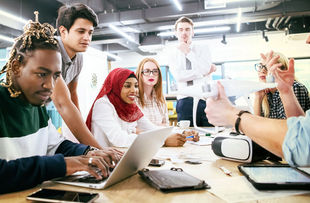 Diversity and Inclusion Consulting
Improve your company culture and boost employee happiness with our DEI policies and training. Enhance empathy, awareness, and inclusivity skills to better serve customers and create a safe workplace.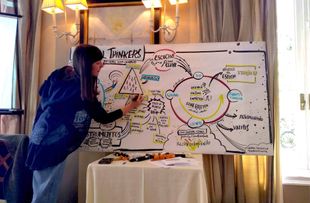 Visual Thinking
Join our Visual Thinking Workshop and learn to use visual maps to organise your ideas. This step-by-step course is designed for professionals and teaches basic shapes, symbols, and text.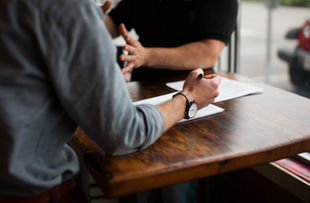 Keynote and Workshops
Unlock your unique potential with our personal branding and communication workshops. Create a personal brand from scratch and conquer imposter syndrome. Learn to communicate assertively and more!