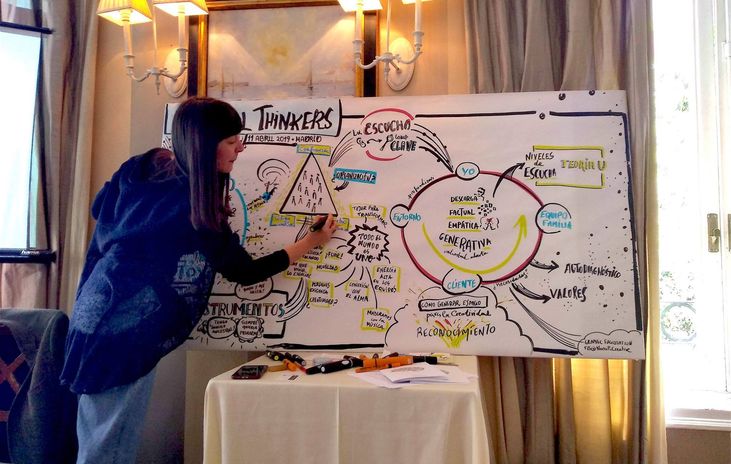 Visual Thinking
Unleash your creativity for an online visual thinking workshop!
Availability
Mon. & Wed., 7-9pm CET
Activity highlights
Learn how to use basic symbols to create images and icons that reflect your idea
Create a visual map for your daily routine, favorite song, story or recipe
Get to see the world with different eyes and visualize your ideas better
Participate in fun exercises that boost the creative side of your brain
Event description
Leaders, it's time for some fun learning! Who says professional development needs to be boring? Our Visual Thinking Workshop is here to change your mind.

Meant for professionals, our workshop will teach you the basics of visual thinking via a step-by-step process. Since people are visual learners, ideas are more easily transmitted through visual maps. Using basic shapes, symbols, and texts, you will learn how to use structure and organise your ideas in a way that's easy to understand.

Hosted by Nassia Pannagiotidi, who pursued a design and people-oriented career, this Visual Thinking Workshop is a powerful tool that any professional can use in their work-life or for personal planning. Nassia will inspire teams to draw and present their ideas in creative ways that will help improve brainstorming sessions and presentations. Through a series of fun creative exercises and the creation of a visual map, attendees will get to understand the basics of visual thinking.

Our Visual Thinking Workshop can be hosted in the following languages:-
-Greek
-English
-Spanish
( Please note that you need to select the language before the workshop)

Teams will love this well-paced workshop where they will gather valuable insight into visual thinking through a step-by-step guide and hands-on practice.

What's included
Zoom link
Professional and educated facilitator
What you need
Paper
PC with Zoom
Black and color markers
---
---
Cancellation policy
RESCHEDULING POLICY:
After a booking has been made, Client rescheduling within 2 weeks or less of the event date is subject to a fee equal to 25% of the total fee.
After a booking has been made, Client rescheduling within 72 hours or less of the event date is subject to a fee equal to £150 or 50% of the total fee whichever is greater will be applied at the time of your re-booking. Your event must be rescheduled within 365 days of your original event date.

CANCELLATION, LOW-SHOW, AND NO-SHOW POLICY: No refunds will be issued for reduced event participant headcount turnout at an event ("Low-Show"), zero participant turnout at an event ("No-Show"), and/or event cancellation. If you provide notice at least 72 hours in advance of the event for a Low-Show, No-Show, or cancellation then credit towards a future event may be issued in accordance to the rescheduling policy above. Any credit issued will be in accordance with the rescheduling policy above and must be utilized within 365 days of your original event date.
FAQs
How can the Visual Thinking Workshop help my team?
Known as a valuable art of communication, visual thinking workshops will help your employees to structure their ideas and present them in a more easy-to-understand format. Visual thinking workshops don't only simplify how ideas are presented and received, but also help learners tap into creative problem-solving skills in a unique and fun way.
How can I prepare for this Visual Thinking Workshop?
Write down some questions and grab a pen to take down some useful tips. We also recommend getting some coloured pencil or markers for you to fully immerse in the visual thinking process. All you have to do is carefully listen to the host to make the most out of this class. Through fun creative activities and a visual map of something that you enjoy, you will learn the basics of visual thinking by the end of the workshop.
Can more than 20 participants attend the workshop?
No. Our workshops are designed for up to 20 people as it is more convenient for the host to guide participants and help them gain a clear understanding of visual thinking.
Can I host this online workshop on any day of the week?
The Visual Thinking Workshop can be hosted on Mondays and Wednesdays only. For more details, please see above or drop us a line here :events@tagvenue.com
How can I book the Virtual Visual Thinking Workshop on Tagvenue Virtual?
To book a Virtual Visual Thinking Workshop, send us an email at events@tagvenue.com or use the inquiry form on our website to get in touch with us. Once the date and group size are confirmed, we'll provide you with a quote and all necessary information regarding the selected activity. You can then make a payment after providing us with the company billing details such as the address and VAT number (this applies to non-UK customers only). The booking confirmation and invoice are sent via email. You can securely pay with your CC ( Visa, MasterCard, Amex) via a link. We accept CAD, GBP, USD, SGD, AUD, and EUR.
Other popular activities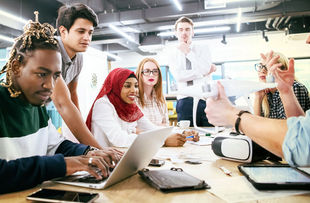 Diversity and Inclusion Consulting
Improve your company culture and boost employee happiness with our DEI policies and training. Enhance empathy, awareness, and inclusivity skills to better serve customers and create a safe workplace.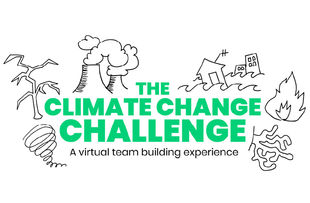 The Climate Change Challenge
Join forces to save the planet from climate change as eco-heroes. Combat monsters worldwide caused by global warming. Enjoy fun and educational aspects, with intellectual challenges.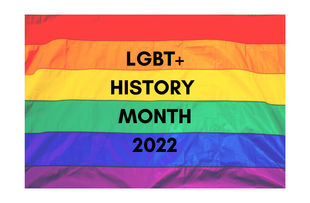 LGBTQ+ History Workshop
Join us to learn about LGBTQ+ history and hear personal stories. Expand your awareness, become an ally, and empower others in a safe, uplifting environment.