Choosing the right conference venue can make or break your event. This is something that should definitely be at the top of your Conference To-Do List. After all, the venue will have a big impact on your budget and set the tone for your entire conference. Critical details, like the date of your event, are dependent on the space you select, so it's important to choose wisely. To help you out, here are 7 things to consider when scouting venues in London, Manchester, Birmingham, or Edinburgh.
How to Choose a Conference Venue
1. Budget
Keep the bottom line in mind when tackling the logistics of your event. Take the time to learn about the cost of hiring a conference venue, because it is a significant cost item, and you need to make sure you stick to your budget. If you've found the perfect conference venue, it's worth asking whether you can get a lower price in exchange for a multi-year contract. Being flexible on the date can also help you secure a discounted rate, as certain days of the week tend to cost less. Don't be afraid to negotiate!
2. Location
Choosing a convenient location is one way to maximise attendance. Don't forget to ask about public transport links, airport access and nearby hotels. Ample parking or valet service is also important for attendees who choose to drive on the day. You can provide additional networking opportunities by making sure that restaurants and other attractions in the area are open before and after your event.
3. Capacity
Ensure attendees have comfortable seating in all sessions, as well as space to relax during breaks. Don't choose a venue with theatre-style seating when delegates need to take notes or use laptops. Similarly, a conference room that's too big will make it look like half the attendees failed to show up.
4. Features
Book a venue that has all the amenities you need for your event. This includes A/V equipment, microphones, kitchen facilities and wheelchair access. Be mindful of the set-up capacities, paying attention to seating arrangements and sponsor areas. Check whether you can utilise break-out rooms and exhibition space, or hire the caterer of your choice. If the venue provides on-site catering, ask whether it can accommodate food allergies or special diets.
5. Staffing
You'll have a lot on your plate on the day of your conference, so make sure there will be enough concierge support, waitstaff and security. You should also determine whether there will be a dedicated venue coordinator on-site to assist with any issues. Check whether there will be tech support available during your conference, so your presentations run smoothly and attendees don't end up wandering around in search of Wi-Fi.
6. Branding
Be mindful of stakeholders and sponsors by choosing a venue that's clearly aligned with the image you want to project. Don't forget to ask the venue manager if there will be other on-site events that clash with your conference or brand message. It also pays to find out what signage and branding opportunities are available. Can you place signage in the elevator or advertise on in-house plasma screens? Branding is important, so make sure you can do it!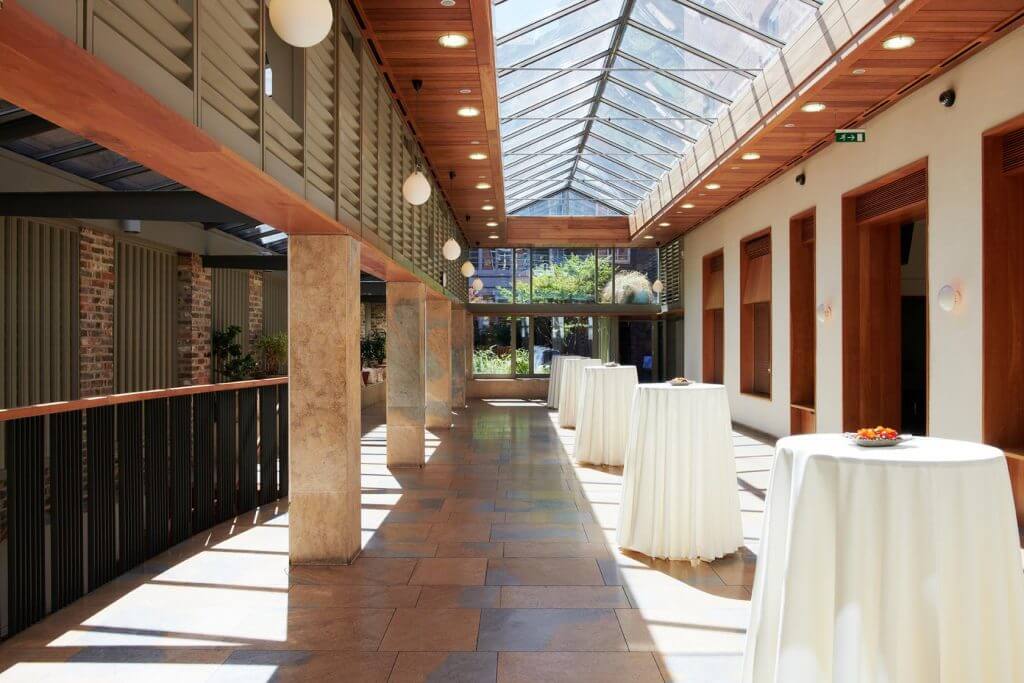 7. Accommodation
If your event runs all day or over several days, it's often best to choose a conference venue with on-site accommodation. That way, delegates can relax at the end of the day without any added travel.
8. Venue Layout 
If you are organising a large or multi-day conference, you will need different types of spaces. How you choose the spaces for meetings, coffee breaks and exhibitors can have a direct impact on the success of your event. Make sure you have some idea of the number of panels and a basic schedule already written up in an outline before you decide on the venue. Some conference venues offer flexible arrangements that can change one large space into two or three smaller ones if needed and this type of venue can make your planning much simpler.
9. High Tech Options
Make sure that the venue has sufficient wi-fi and other high-tech capabilities. Many events incorporate a new modern hybrid component that will allow conferences to accommodate both those who will attend in person as well as those who cannot or choose not to. Video conferencing and recording capabilities should be considered if this is in your plans as well. There should be appropriate AV equipment and lighting as well.