In the UK, a conference venue can cost on average around £30 per person according to Tagvenue's data. Of course, conference venues come in a whole range of sizes, from large expo centres to hotels or even to theatres, halls or ballrooms and your choice of venue will affect the cost. However, knowing a good baseline price estimate is a great place from which to start planning your event. Whether you are looking for a conference venue in London, Manchester, Birmingham or Edinburgh, the following industry tips will help you sort out the best choice for your event!
Why should you rent a conference venue?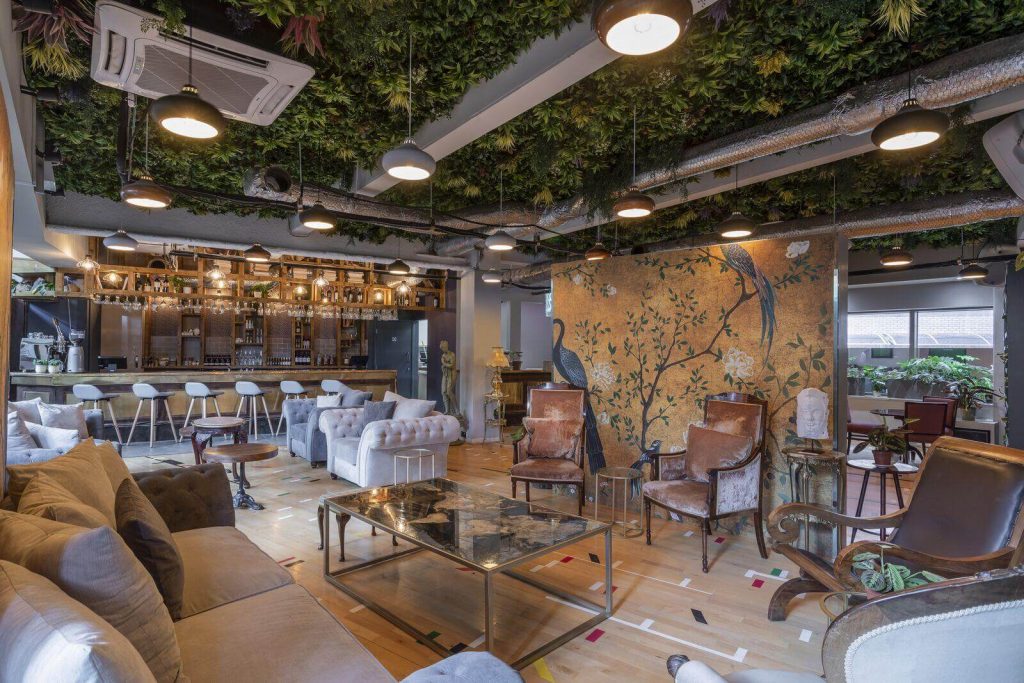 A conference can be an immensely complex event. Not only does it require intensive planning, but it also needs the perfect venue. A conference venue offers not only the proper size space – with both large and smaller event spaces for a variety of exhibits, break-out rooms and meetings – it also gives you flexibility with regard to arrangement and technology that is crucial when managing crowds of significant size.
What are the price models for conference venue hire in the UK?
Conference venue hire is usually handled in two different fee types – the Day Delegate Rate (DDR) and the flat session fee. 
Day Delegate Rate
The Day Delegate Rate (DDR) is a fee for a conference that is charged per attendee and is based on a full day-long meeting. The DDR often covers the use of the venue, as well as some catering options, along with a general AV package. This option is a particularly good fit for conferences as it also often includes dinner. As an addendum to the DDR, hotels can offer the option of a 24-hour rate (an extra rate that can be charged if the meeting goes late and attendees need accommodation). The DDR is most suitable for conferences that will run over the course of a few days.
Flat Session Fee
Charged by the hour or the session time, a flat session fee is suitable for conferences of a shorter duration. This could also be a suitable fee type if you are searching for extra space for your conference and must look for room hire outside of your main venue.
What kind of venue can I hire for a conference?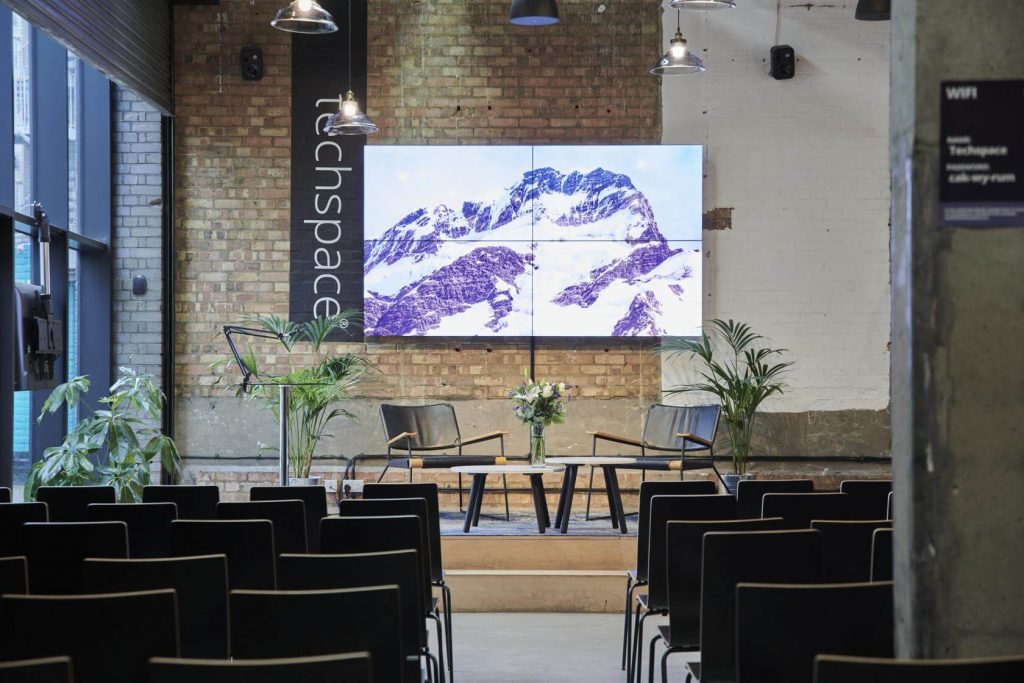 A conference venue can be held in a range of spaces, your choice will depend on the type of event you wish to organise. If you will have an exhibition hall for vendors, you will need a large space, perhaps a ballroom or large hall as part of the venue. You will also need a selection of function rooms for panels and other smaller meetings as well as for coffee breaks and receptions. Your venue choice can make or break your event, so choose wisely when you consider your options.
Here is a selection of a few venue types that are suitable for conferences:
Stadiums
Most major cities in the UK have at least one conveniently located stadium. These are venues that are great for a large crowd. With expansive parking facilities and a variety of meeting spaces, these are great venues for expos and other large events.
Halls
Generally thought of in conjunction with large receptions or weddings, these are also a potentially good fit for a conference.
Theatres and Cinemas
With built-in presentation areas and seating, these spaces are a good choice for conferences that require presentations to large crowds. These spaces could be good for kick-offs and high-profile conference speakers.
Hotels
With their convenience and professional experience, hotels are the gold standard of conference venues and are great out-of-the-box solutions. Be wary of any hidden charges attached to attendee accommodations.
Expo Centres
Designed to showcase a wide variety of large scale events, exhibition centres have the technology and space to pull off large-scale events with a minimum of fuss.
Colleges and Universities
Plentiful in all UK cities, colleges and universities offer large scale presentation spaces, as well as halls and reception areas galore. Historical venues in this category can also add a special atmosphere to your event.
Which factors determine conference venue costs?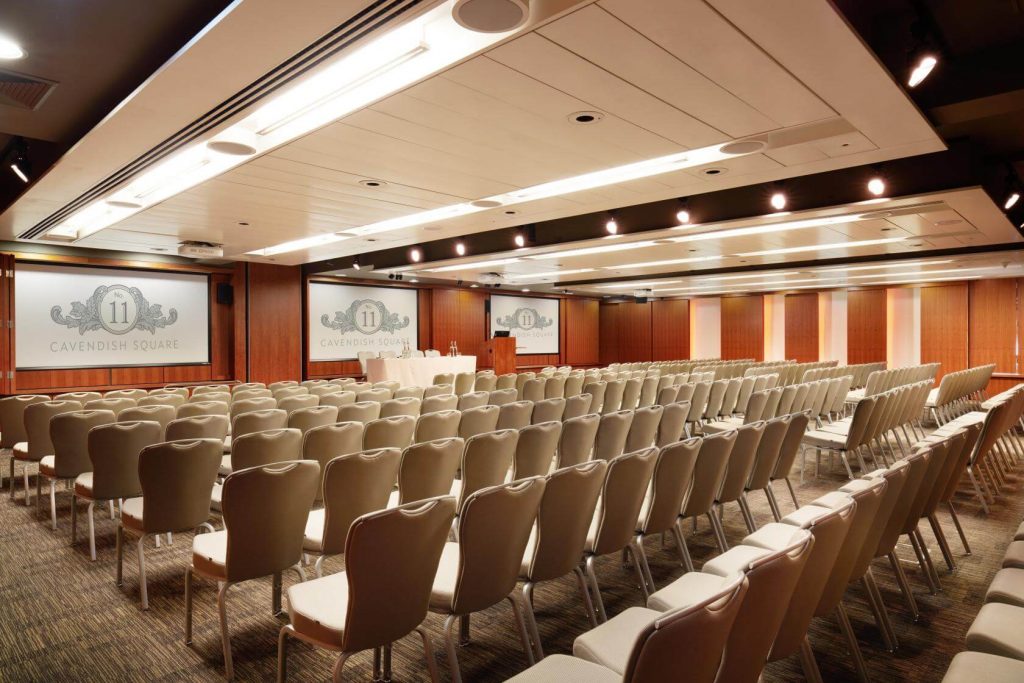 Conference venue costs rely on a variety of factors including:
Location – If the venue is centrally located you will be paying higher fees. Certain types of locations can affect your costs. For lower prices, check outlying districts.
The number of guests – With a DDR hire fee, you will, of course, be paying more for a greater number of attendees. Offset this cost through an attendance charge.
Standard – If you utilise a 4 or 5-star venue, you will be paying a higher rate. Don't be afraid to negotiate if possible.
Size of space – A larger space, particularly in a central location, will cost more. Ensure that you are hiring a space that fits your actual needs.
How far ahead of the event do I need to book a venue for a conference?
According to Tagvenue data, most conference venue booking takes place at least 60 days before the event. For larger more complicated events that might require more than one room, as well as the settling of associated organisational issues such as accommodation or formal dinners, finding the right venue early is always crucial.
How do I book a venue for a conference?
Conferences are the product of intensive planning and this process should leave you knowing where and what kind of venue you should hire.  Consider the number of attendees as the primary factor in your planning, but don't forget to consider other aspects, such as the day of the week or the season of the year, for example. Consider checking out online resources that will help you cover every contingency in your planning, such as Conference Checklists.
When starting the process of hiring a conference venue, you should first set out all of the relevant details for your event. Make sure you know the answers to the following questions:
How many attendees will there be?
How many days will the event last?
Will I need to help attendees find accommodation?
Do I need to find outside vendors for such things as AV, technological needs, photography or catering?
Once you have settled on a few locations for your conference, check out an online venue marketplace such as Tagvenue. Search through your options and then reach out to venue managers to discuss your booking and your ideas. Don't forget to read everything before signing, and make sure you understand all of the applicable terms and conditions. Negotiate when you need to, and keep your options open.
All data cited in this report is based on statistical data from the Tagvenue.com platform.
To Wrap Things Up 
While the cost of renting a conference venue in 2023 can vary significantly based on numerous factors, a clear understanding of these elements and some strategic planning can help you budget effectively and secure a venue that's perfect for your event. Remember, the right venue sets the tone for your conference, influences attendance, and underscores your brand's image, making it worth every penny.
Want to ensure that you've got all bases covered for your upcoming conference? Our conference planning checklist is your ultimate guide, detailing every step you need to make your event a resounding success!
FAQ
What are the differences between a meeting room and a conference venue?
First things first, let's start by defining both terms. A meeting room is typically a smaller space designed for a handful of individuals (often within the same organization) to gather for a focused discussion, brainstorming session, or presentation. It's often located within a business's premises and is equipped with necessities such as a projector, AV equipment, and maybe a whiteboard.

On the other hand, a conference venue is designed to accommodate larger gatherings, such as corporate events, academic symposiums, or industry conventions. These venues can handle hundreds, if not thousands, of attendees and are often equipped with state-of-the-art AV equipment, multiple breakout rooms, catering facilities, and even dedicated event planning and management teams.

So, the main differences between a meeting room and a conference venue lie in the size, purpose, equipment, and services available.
How early is it best to hire a conference venue?
Securing a conference venue should be at the top of your event planning checklist. The golden rule is to start as early as possible—typically, this means booking at least 12 to 18 months in advance, especially for larger or high-demand venues. This gives you time to manage other critical details, such as notifying attendees, preparing presentations, and coordinating with vendors.
However, if you're planning a smaller conference or your dates are flexible, you may find that a 6-month lead time is sufficient. The key here is to start early and give yourself maximum flexibility and choice. 

Want to dive deeper into choosing the perfect conference venue? Don't miss out on our comprehensive guide to choosing a conference venue in 2023. You'll gain invaluable insights to help you make the best choice for your event!

What are the characteristics of a conference?
Conferences, while varied in their specifics, share some common features such as:

✩ Educational and networking opportunities – Conferences typically feature keynote speakers, panel discussions, or workshops aimed at sharing peer to peer knowledge and sparking discussions among the attendees. They also offer opportunities for attendees to network, fostering collaboration and partnership within an industry or field.
✩ Agenda-driven – Unlike casual gatherings, conferences are structured events with specific start and end times, scheduled breaks, and a predetermined sequence of activities or presentations.
✩ Catering – Conferences often include some form of catering, whether it's a coffee break, a buffet-style lunch, or even a formal sit-down dinner.
✩ Venue requirements – Given their size and scope, conferences require specific venue features. This might include a main hall for keynotes, smaller rooms for breakout sessions, spaces for vendors or exhibits, reliable Wi-Fi, and professional-grade audio-visual equipment.
✩ Professional atmosphere – Conferences, even those with casual elements, maintain a professional atmosphere. This can be seen in everything from the event's dress code and language use to the visual branding and promotional materials.