So you've helped to pick the perfect wedding dress, polished your wedding speech, and supported the bride when she made important wedding decisions. Now it's time for you to embrace the most exciting task: hosting a memorable bachelorette party!
We know that it's a quest like no other that needs a pinch of effort and engagement. But trust us, you'll have plenty of fun nailing down the details and picking the proper bachelorette party decorations, outfits, food, and drinks.
Perhaps you've already taken some steps to make the bachelorette party happen? But, no matter if the answer is positive, you won't want to miss all the top bachelorette party ideas and activities, would you? Read our article to find out how you can honor the bride-to-be in an exciting way.
Fun Bachelorette Party Ideas & Activities
Planning to kidnap the bride-to-be for a thrilling night in (or out of) town? Maybe you're on a quest to host a low-key bachelorette party at home? Well, don't fret! We're n sure you'll be able to pull off a smashing event.
But to make it happen, you need to pick the right bachelorette party ideas and activities that will match the party's vibe. And, of course, the ones that will live up to the bachelorette's expectations! After all, it's a party to honor her single life and becoming a married woman. It should include activities and opportunities that will give her a chance to let her hair down. Otherwise, it won't feel like her own bachelorette bash. Make sure that she will approve of everything you're planning – you can ask her directly or consult the people who know her best.
But enough about that! Let's skip to the fun part that you're eager to know more about — the bachelorette party ideas and activities! Whether you're planning a staycation or a girls' night out, check out our suggestions and get inspired!
1. Bachelorette Party on a Boat
Sweeping waterfront views, a breeze over the water, and colorful drinks will get the bride in the right mood! So what do you say about hiring a private yacht, sunbathing all day in matching bachelorette suits, and chilling with flutes of champagne? Or how about jumping into a party boat to dance the night away in bachelorette party dresses? Your bride-to-be will be simply delighted to have made a splash with this kind of party!
Budget: 💲💲💲💲
Fun: 🍹🍹🍹
Vibe: 🌟🌟🌟
Does this idea sound like a plan?
2. Getaway Bachelorette Party
Want to take the pre-wedding bash up a notch? Pick one of the country's hottest bachelorette destinations and kidnap the future bride for an unforgettable adventure. Maybe LA, Vegas, or Dallas? Whatever you pick, be quite sure that a bachelorette weekend will help your bestie to unwind and recharge her batteries. Especially when you book a resort or a hotel with a pool!
Budget: 💲💲💲💲💲
Fun: 🍹🍹🍹🍹🍹
Vibe: 🌟🌟🌟🌟🌟
3. Disco Karaoke Party
This is a classic bachelorette party idea that everyone will love! Book a karaoke room, get into matching bachelorette outfits that are all about glitter and shimmer and have the time of your lives by singing and dancing to your all-time favorite hits. Also, don't forget to bring the booze! It's just a matter of time before everyone wakes up their inner Beyoncé and puts their vocal cords to use!
Budget: 💲
Fun: 🍹🍹🍹🍹
Vibe: 🌟🌟🌟
4. Club & Restaurant Crawl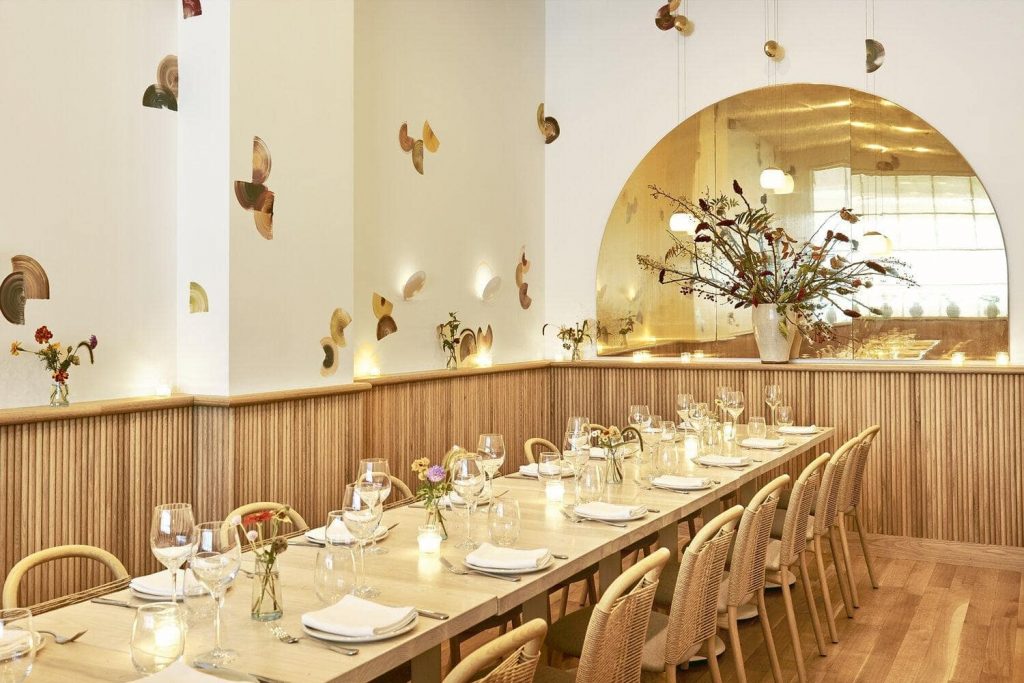 Is your bride a foodie who lights up at the thought of trying new dishes? Then how about exploring the city for the best treats and snacks? You can swing by a few top clubs in-between noshing to burn those calories and get ready for another round of delicious nibbles!
Just make sure to secure the necessary reservations at your chosen restaurants and bars before the bachelorette party kicks off. That way, you won't have to worry about waiting in line to enter or getting a table for yourself and your guests!
Budget: 💲💲💲
Fun: 🍹🍹🍹🍹
Vibe: 🌟🌟🌟🌟
Wild Bachelorette Party Activities
You and your bride love a challenge, right? You aren't afraid of trying new things and making memories for a lifetime. Comfort zone? There's no such word in your dictionary. This list of bachelorette party ideas is specially dedicated for you — the fearless ones!
5. Grannies Gone Wild Party
Jump into the future and dress up as cool grannies! Wear silver wigs, fake glasses, high-waisted pants, and blouses with ruffles. You can even get crazy with some face paint and fake wrinkles.
Then hit up bars and clubs!
This is a great way to get attention. And we guarantee you'll get plenty of free drinks, too!
Budget: 💲💲
Fun: 🍹🍹🍹🍹🍹
Vibe: 🌟🌟🌟🌟🌟
6. Festival Bachelorette Party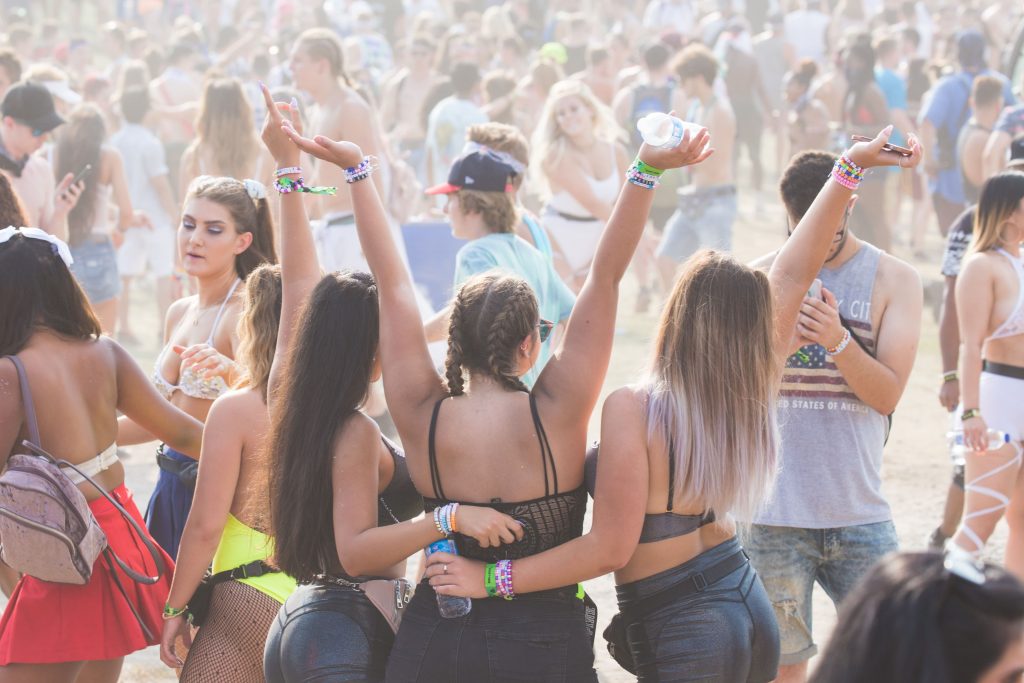 Is the wedding planned for early fall? Then you can't miss the opportunity to steal away with the bride and head off to a music festival! But don't forget to bring your special festival-inspired bachelorette party outfits to make it a party to remember!
Check out which ones take place near you. Or plan a party weekend in one of the popular bachelorette party destinations, which usually are also home to some superb music festivals.
For example, you've got Hard Summer Festival in LA, Lollapalooza in Chicago, and Governor's Ball in NYC. And those are only a few out of a huge range of options!
Budget: 💲💲💲💲
Fun: 🍹🍹🍹🍹🍹
Vibe: 🌟🌟🌟🌟🌟
7. Get Tattooos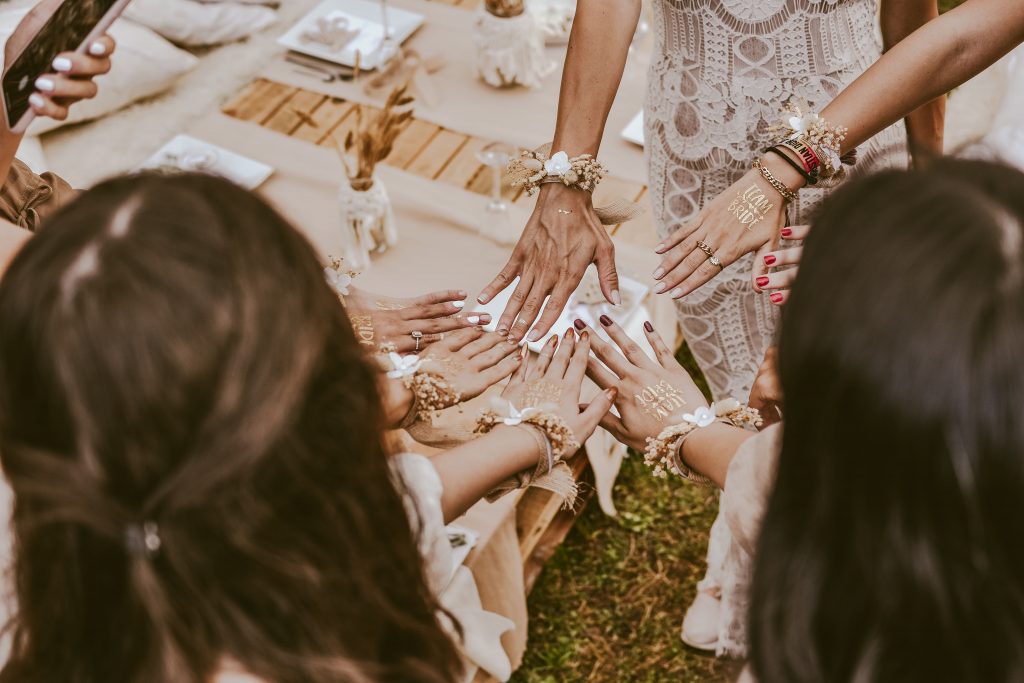 Looking for a way to commemorate the great night out you had? Get tattoos! Perhaps the bride has mentioned something about getting one in the past? Well, then there is no better time to get her first inking then at her own bachelorette party. You can cheer her on while she's on the chair, or take it a step further and get one done as well.
However, if the decision is too serious, you can always get temporary tattoos. Pick the design together and remove it when you decide that it's time.
Budget: 💲💲
Fun: 🍹🍹🍹
Vibe: 🌟🌟🌟
8. Go-karting
Perhaps your bride is crazy about speed and fast cars? Then you must consider go-karting. Go-karting is the perfect choice if you're looking for a wild and unique bachelorette party activity. Trust us, the bride will have a blast racing around with her friends while enjoying the thrill of driving at high speeds. It's also a great way to get some exercise before the wedding.
Budget: 💲💲
Fun: 🍹🍹🍹🍹
Vibe: 🌟🌟🌟🌟
9. Paintball
Who said that paintball is only for tough guys? The truth is, everyone will have a blast beating the opposing team and splashing them with color. Schedule a private game under the watchful eye of professionals and set everyone loose to run around and try to eliminate others from the game!
Not into getting messy? Try out laser tag instead. It can spice up the atmosphere and help the bride beat her pre-wedding stress.
Budget: 💲
Fun: 🍹🍹🍹
Vibe: 🌟🌟🌟
Bachelorette Party Ideas & Activities at Home
Is the bride-to-be into laid-back celebrations in comfortable home surroundings? That's totally okay! Bachelorette parties at home can also be totally memorable and successful — you only need to pick the right bachelorette party ideas and activities that will match the party style and the bride's character. Luckily for you, we've made a list that will work great at home. Keep reading to discover them all!
10. Wine Tasting
Who needs a trip to Napa Valley when you can taste all the best wines from the comfort of your couch?! Why not pick the bride's favorites and complement them with a selection of snacks? Or, to spice up the whole experience, ask each of the bridesmaids to create a unique charcuterie board.
Why not go wild with cheese platters, sweet boards, snack boards, fruit boards, and more? Surprise everyone with a chance to experiment with a range of food options paired with different types of wine!
Want to prepare something special? Consider adding a digital wine tasting to your party plans! Sit back, relax, and let a professional sommelier guide you through the whole experience.
Budget: 💲💲💲
Fun: 🍹🍹🍹🍹
Vibe: 🌟🌟🌟🌟
11. Glam Makeup Party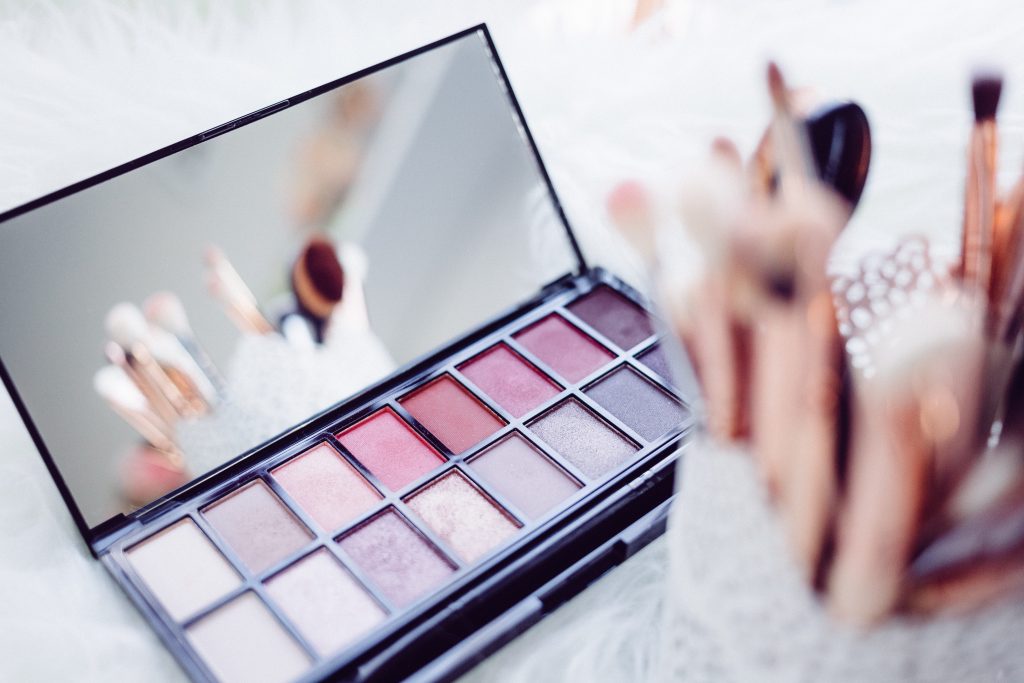 A bride who's all into beauty will be thrilled to find out you've set up a masterclass with a professional makeup artist! Ask everyone to bring their makeup tools and cosmetics to the bachelorette party – then get ready to learn how to get the trendiest looks of the season as you sip on some mimosas. Trust us, it will be fun and educational — and you can get some stunning Charlotte Tilbury-inspired looks!
Budget: 💲💲
Fun: 🍹🍹🍹
Vibe: 🌟🌟🌟
12. Spa Day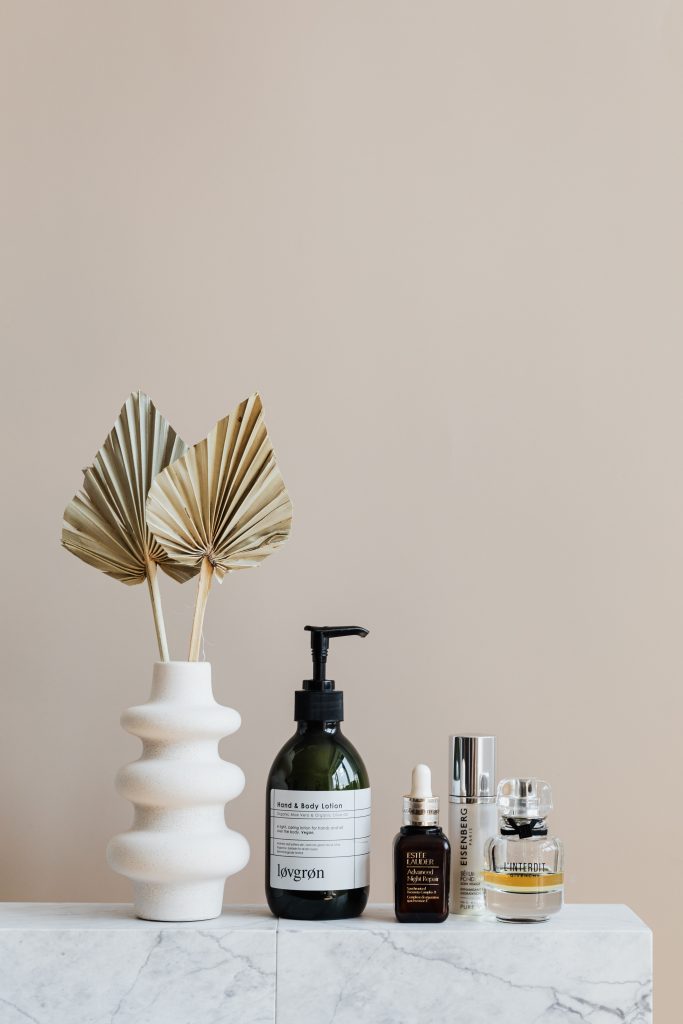 Who doesn't like getting pampered and being treated like royalty? The wife-to-be will appreciate some well-deserved 'me' time after months filled with wedding duties. You can hire a professional masseuse to sweeten the experience and give the bride a much-needed massage and some fab facials.
Throw in some great bachelorette food and drinks and some relaxing music, and you'll have a plan for an unforgettable bachelorette party!
Budget: 💲
Fun: 🍹🍹🍹🍹
Vibe: 🌟🌟🌟
13. In-house Cooking Class
Alright, foodies! Gather round! Honoring the bride-to-be with a fancy dinner is one of the best ways to spend quality time before her Big Day. You can book a professional in-house cooking class, or simply gather together to create some magical dishes which you can enjoy with a glass of wine (or a few!).
Cooking together is a great opportunity to catch up, but it can also break the ice! And food prepared at home, somehow always tastes better.
Budget: 💲💲
Fun: 🍹🍹🍹🍹
Vibe: 🌟🌟🌟🌟
14. Bachelorette Party Photo Shoot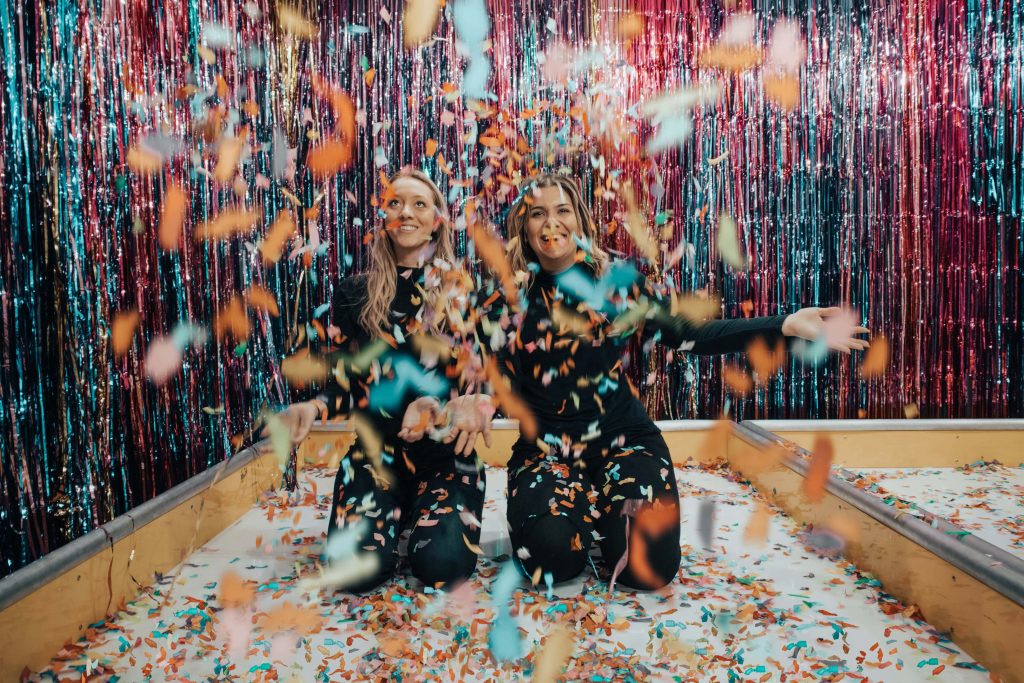 The idea is simple, yet it will bring everyone so much delight! Book a professional photographer and surprise the bride by setting up a homemade photo studio in the garden, patio, or even the garage where everyone can channel their inner model. Add some bachelorette party banners, balloons, fairy lights, flowers, backdrops, etc. to liven up the pictures.
Don't settle for the same-old, same-old! Kick things up several notches and choose a trendy theme for the photo shoot, like Cowgirl, Glitz & Glam, or Jungle. Remember, the photo shoot doesn't have to be expensive or complicated — but it does need to look good!
And when the set is ready, go all out and snap cute pictures that will leave you all with a great keepsake!
Budget: 💲💲
Fun: 🍹🍹🍹🍹🍹
Vibe: 🌟🌟🌟🌟🌟
15. Movie Night with a Twist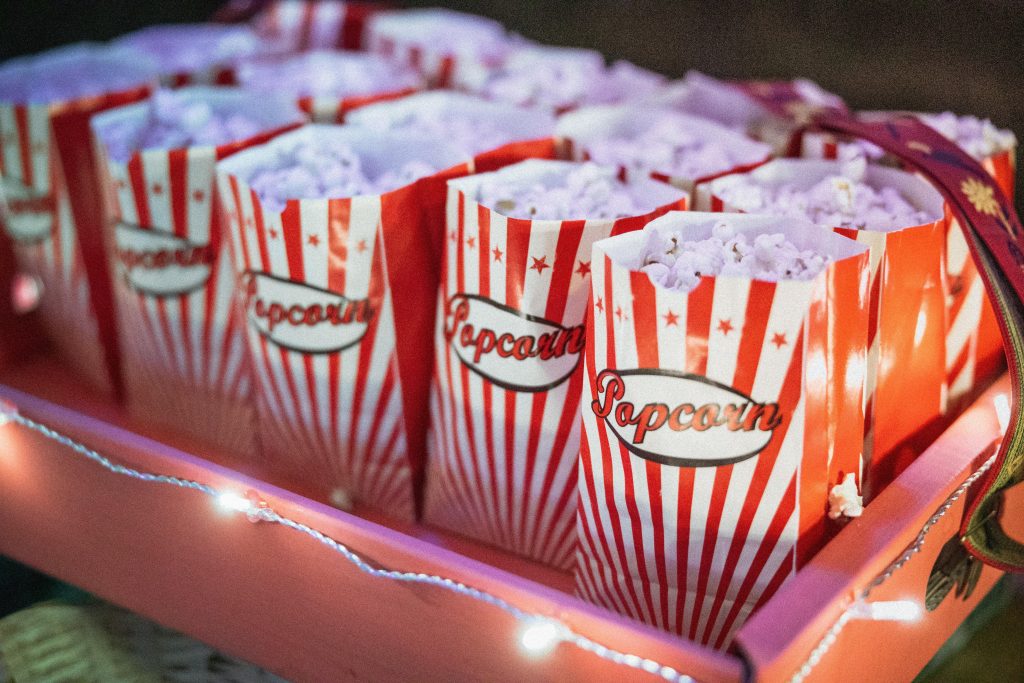 You don't have to leave the house for a movie night bachelorette party! Put all the delicious snacks, beverages, and blankets into one room and turn off all the lights. Then, play some all-time classic movies and ask everyone to drink when the movie character shows up on the screen and does something specific. You'll have plenty of fun!
If you want to get fancy, print out some cool movie posters for each of your guests' favorite scary flicks so they can feel extra official at the bridal party.
Budget: 💲
Fun: 🍹🍹🍹
Vibe: 🌟🌟🌟
16. Murder Mystery Bachelorette Party
Is your bride a true crime fan? Then you simply have to consider this idea for her memorable celebration! Turn her into a real detective who will solve the mystery of a lifetime with your help! Add some matching decorations, and arrange a setting that looks just like a crime scene. And of course, you can't forget about the matching bachelorette party t-shirts that match the occasion!
Looking for some help? There are plenty of companies out there, like this one, ready to help you prepare the ideal crime scene and customize activities that fit the bride's style.
Budget: 💲💲
Fun: 🍹🍹🍹🍹🍹
Vibe: 🌟🌟🌟🌟
17. Camping Bachelorette Party
Put up a tent in the garden, bring out the s'mores supplies, hang up lanterns and flowers, lay out sleeping bags and pillows, and serve up some cocktails around the campfire. That's it! You've got a perfect recipe for a unique bachelorette party at home! You'll feel like you're on a real camp out without leaving the comfy backyard!
Budget: 💲
Fun: 🍹🍹🍹
Vibe: 🌟🌟🌟
18. Game Night Bachelorette Party
How about hosting a bachelorette party that is all about games? This is a super simple and affordable idea that will keep everyone entertained the whole night.
There is an array of hilarious bachelorette party games which you can pick according to the bride's character! Make sure that the list includes staple drinking games, like Tapout Drinking Game, or Name That Drink, as well as some bachelorette party printable games. And of course, you can't forget about such classics as the Scavenger Hunt or Bachelorette Bingo!
Budget: 💲
Fun: 🍹🍹🍹🍹🍹
Vibe: 🌟🌟🌟
Bachelorette Party Essentials
You want to host the best bachelorette party possible. After all, you're hosting it for a dear friend who's about to pass a major milestone. It has to be outstanding because she will keep the memories of this important event for a lifetime.
You already have a list of a range of exciting bachelorette party ideas that you know the bride will love, but that's not all! To ensure that everything is flawless, we've also prepared a list of all the bachelorette party must-haves that will make the event successful, whether your bride-to-be is into a low-key celebration or one that is extra wild.
You want to host the best bachelorette party possible. After all, you're hosting it for a dear friend who's about to pass a major milestone. It has to be outstanding because she will keep the memories of this important event for a lifetime.
You already have a list of a range of exciting bachelorette party ideas that you know the bride will love, but that's not all! To ensure that everything is flawless, we've also prepared a list of all the bachelorette party must-haves that will make the event successful, whether your bride-to-be is into a low-key celebration or one that is extra wild.
Ample Space
If you're planning a low-key bachelorette party at home or a girls' night out, you need enough room for everything you are planning. Remember, your guests' comfort will hugely impact the party's overall ambiance, so make sure there's enough space to mingle, eat, drink, dance, and play games.
If you're considering renting out a bachelorette party venue, drawing up a guest list will save you plenty of time. You will know whether the venue you're considering is comfortable and ample enough for everyone you have invited and for everything you are planning. Using platforms such as Tagvenue will make the whole venue-finding process quicker. How? We have smart search engines that you can adjust to your guest number, budget, and preferred location. You will see spaces that fit your criteria and pick a great venue that matches all your requirements in a jiffy!
Delicious Bachelorette Food
Another essential element for your party is food! Make sure it's something fun and different that everyone will enjoy (especially the bride). Out of ideas? Book a restaurant and customize the menu with exciting options! On Tagvenue, you will find a wide range of spaces with delicious menus that you can tailor to the bride's taste.
Remember to take care that you choose the right beverages to go with the food! Champagne, wine, or whiskey? Perhaps colorful and delicious cocktails? Come up with a list of easy-to-make bachelorette party cocktails that you can prepare and serve on your own! Just make sure you prepare both alcoholic and non-alcoholic drinks so that everyone has an option they can enjoy.
Planning to rent a bar? Don't be afraid to ask the bartender for some suggestions on which cocktails may be a hit for both the guests and the bride.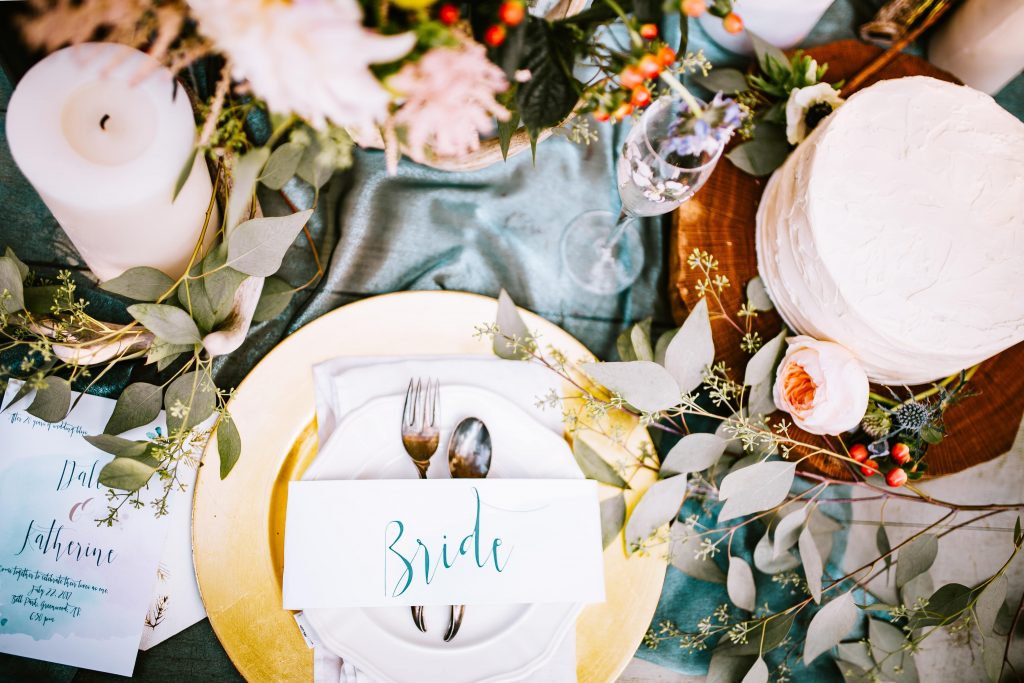 Of course, your event needs a proper bachelorette theme! Themes are essential for setting the party's tone and can make any event more exciting. So, make sure yours has one, too! You can pick trendy bachelorette party themes, or raise the bar and build a bachelorette theme based on the bride's personality and hobbies. We always recommend going for the latter, as the party will be more personal and your bride-to-be will simply love it!
Once you've picked a proper theme that you know will be a hit, make sure everyone knows it in advance so they can dress accordingly and get ready for the night ahead!
Bachelorette Party Outfits
This is where your creativity comes to the fore. Prepare special bachelorette party outfits that match the party theme you've picked. Think of bachelorette t-shirts, dresses (or perhaps swimsuits if you're planning a pool party?), and accessories. Of course, the bride's outfit has to stand out in some way to let the world know she's saying au revoir to her single life. Let her wear anything she wants, even if it means wearing something low-key and delicate like a bachelorette tiara or a veil. Remember, it's her special night — she needs to feel comfortable!
Bachelorette Party Favors
No matter what kind of a bach party you're throwing, there's always room for some bachelorette party favors! It's a nice gesture to thank everyone involved with a gift that they can have as a keepsake of this truly special night. You can think of some DIY options or surprise everyone with personalized bachelorette party goodie bags with scented candles, soaps, etc. The sky's the limit!
Bachelorette Party Games
A bachelorette party without games is like an NBA game without the slam dunks. They add a spark of excitement to the event and give a chance for everyone to spend some quality time together. They are great icebreakers, too! So make sure you have some great bachelorette party games up for grabs, such as Ring Scavenger Hunt, Prosecco Pong, Thunderstruck, etc.
Summary
Whether you're planning a low-key bachelorette party at home or a wild celebration on the town, we hope that with this list of activities and ideas you'll be inspired to plan an event to remember. As you can see, there are plenty of options you can pick from to pamper your bride with the celebration she deserves.
So, now it's time to string the best ideas together and plan a bachelorette party everyone won't soon forget. Good luck!
FAQ
Who organizes a bachelorette party?
Usually, it's the maid of honor who's in charge of organizing the bachelorette party. She's the main decision-maker who ensures the party is tailored to the bride-to-be's personality and style. Of course, she will be supported by other bridesmaids, as well as the bride's family. However, it's her responsibility for making sure that everything goes off without a hitch. Is that you? Congrats! You're in for a lot of fun! 
Who pays for a bachelorette party?
A general rule of thumb states that it's the maid of honor and the bridesmaids who pay for the bachelorette party. However, other guests can also chip into the bachelorette party budget to cover the bride's share. So if you want to involve others in planning and paying for the bachelorette party, go right ahead! After all, the more money you have, the more bachelorette party ideas you can incorporate into your planning and bring the event to the highest levels! 
What's the most popular season for bachelorette parties?
Late spring and summer are peak seasons for bachelorette parties. Warm temperatures and sunshine not only help create a party ambiance but also are great for bringing outdoor bachelorette party ideas to life. Why not, rent a cool outdoor party venue in Las Vegas, San Diego, or Miami and celebrate in the open air! 

But this doesn't mean that you're obligated to host a bachelorette party at the same time as everyone else. Bachelorette parties wrap up the whole wedding planning process and their main goal is to celebrate the last days of being a Ms.  This means that it is best to schedule them around a month prior to the wedding day.
Is it necessary to bring gifts to a bachelorette party?
Most bachelorette parties don't require gifts. However, it doesn't mean they are not welcome! The bride-to-be will appreciate some small gifts like a sexy lingerie set, flowers, cute pajamas, perfumes, etc. In some cases, all guests chip in to buy one bigger present that will remind the bride of this special night for years. However, it's best to discuss this matter with the maid-of-honor. She will dispel any doubts on that matter.