15 Best Scavenger Hunt Ideas in 2023 + Free Printables
Published on 16th January 2023
Virtual events
›
15 Best Scavenger Hunt Ideas in 2023 + Free Printables
Need to improve your team's motivation? Then you're in the right spot. Virtual scavenger hunts not only improve employee morale but also help new joiners become part of their new team. Since working from home has become the new normal, you need more than daily meetings for solid team building. And virtual games, also known as online treasure hunt games, offer more than just thrills! They're the perfect way for remote teams to develop closer bonds and have some fun. We're not the only ones who think so- Forbes and Harvard Business Review both recommend games as an effective teamwork tool to bring employees together.
So why not check out our amazing selection of digital scavenger hunts for team engagement, along with some helpful tips on how to make your event a success!  To make things even easier for you, we've even included some free printable virtual scavenger hunts for you to use for an epic team-building activity!  Whether you want to book a professional scavenger hunt with a host or run one by yourself, we're certain that you'll find the ideal virtual scavenger hunt right here! So, read on players!

How can online scavenger hunt games improve team morale?
Virtual scavenger hunts are great ice breaker exercises and are excellent for remote team building. They facilitate positive interactions between coworkers and build a sense of friendly competition. They also strengthen communication and trust which helps to create a more healthy work environment. Moreover, your team will also have the chance to work on crucial skills, such as critical thinking, problem-solving, and creativity all while enjoying themselves. These team-building activities also encourage active learning and can be a great opportunity to sneak in bits about your company's mission and core values. But remember to keep it fun!

While completing challenges, your team will also have the chance to work on crucial skills, like critical thinking, problem solving and creativity. These games also encourage active learning – you can even sneak in bits about your company mission and core values.
Virtual Scavenger Hunts Ideas for Remote Employees
Are you ready to rumble? Consider hosted virtual scavenger activities if you're planning a company-sized event for all of your employees! They're a great low-effort option as the professional hosts take care of the organizing — from the humor to covering the guidelines! All you have to do is pick a date and assemble your team! It's best to send an invite at least two weeks before the online activity along with the link and follow up with a reminder a couple of days before the big day.
Now, hop on to our exciting list of virtual games for your crew!

Let's start with something both fun and relaxing. This game will take your team to a 3D virtual paradise with an immersive in-game experience that will make you feel like you are all in the same space!! Join forces and hunt for clues and solve puzzles to defeat the mighty AI of Desert Island to win the game. This is a great easy-going activity with just the right touch of competition, it is fun for everyone – even those who've never played online puzzles!
How to get started: You'll need the latest version of Google Chrome and a link to your Desert Island, the central meeting hub. Every player is part of a smaller team and has an individual URL for their own island. Teams compete against one another and reunite at the end for the winner reveal. Don't forget to snap a fun selfie for your avatar!

Maybe you can't travel to your dream vacation spot, but you can still go globetrotting with your team! Be the heroes of the day by getting to London in 80 days (figuratively speaking!) Enjoy a series of fun mini-games, as you solve riddles and time-sensitive challenges. The team with the highest score wins! And since there are no breakout rooms in this game, all the players must interact with each other! It's a super fun and laid-back team-building activity that gives everyone the chance to connect and learn some interesting facts along the way!

How to get started: No need to download anything or register. Once you sign up, you'll receive a link to share with everyone before the game. Once you join, you'll meet your professional hosts, who'll give you all the instructions and divide your team into smaller groups for the session.
The future of the planet is in your hands! An evil A.I. is planning to launch a space rocket and the only way to stop it is to join forces! Solve all the puzzles, and work with your teammates to stop A.I.'s evil plan! Offering a bit of a twist on the normal scavenger hunt format, The Moonbase features a series of visually striking SCI-fi-themed mini-games. The team that wins the most points will stop the A.I. and claim victory!! Moonbase is somewhat similar to Desert Island. It's an engaging game and is perfect for escape room enthusiasts and cooperative learners. Teams must work together to solve puzzles before the clock runs out. You'll get to walk around the Moonbase with your photo and you have to stay close to your peers to hear them, so it feels like you're in the same room!
How to get started: You'll need at least 4 to 5 players for each team and a minimum of one team of 4 is required. The rest will be managed by your AI Host who will lead you through the game! Naughty A.I. has infiltrated the NASA moonbase – can you and your team stop him from launching his evil space rocket?
Benvenuto in Italia – the land of gladiators and pizza! Scavenger hunt fanatics, time to find your way around the streets of Italy, and go on a virtual holiday scavenger hunt below the sea at a festival in Sicily!
This online scavenger hunt experience hosted on Zoom involves some fun Italian pronunciation, learning about the history of gladiators, recreating a scenario, and discovering secrets about the infamous Mafia. This scavenger hunt hosted on Zoom also involves roleplay and of course, a hunt that will get your team thinking and laughing together. This Italian journey can be hosted in English, Italian and Spanish. This virtual event is fantastic for employees to relax while learning something worthwhile! Put your creativity and wits to the test during 60-90 minutes of pure Italian fun! 
How to get started: Book a date and make sure everyone has access to a connected device. (laptop, phone, tablet, etc.) Join your host on Zoom and listen to their instructions carefully. Compete against one another or cooperate in smaller teams. Now it's playtime!

Hop on Zoom or another video call software of your choice where an experienced event host will welcome you and walk you around the streets of Italy. All you will need is a reliable internet connection, headphones, a camera….and pizza!
5. Escape Quest
A mix of a traditional treasure hunt and an online escape room, Escape Quest is an exciting team activity. Find the hidden clues, solve puzzles and get to the bottom of the mystery before your time runs out! When signing on, your teams can choose from two competitive games: Catch Meme If You Can – catch a mysterious hacker who's turning people's photos into memes and Race for the Lost Tomb – race against the clock to escape the sunken city of Atlantis.

How to get started: This activity is hosted over Zoom. Once you get on the call you'll receive instructions from your host, who will then divide your group into smaller teams and send you to separate breakout rooms where you'll be working on your chosen quest simultaneously.
6. The Big Smoke
Time to race against the clock! The Big Smoke offers a Zoom-based virtual scavenger hunt that's fully tailored to your company. During the game session your team will be faced with 30 challenges to complete, including taking photos, fetching items, and recording videos. Get ready to have tons of fun!

How to play: Meet your host on Zoom who will explain the rules and get your team started by assigning them to breakout rooms. The winning team is rewarded with a prize during a live awards ceremony where you'll get to see event highlights and have some good laughs!
7. Social Scavenger
It's tough to remain sane when working 9 to 5 every day and keeping up with the home responsibilities! Fortunately, The Work From Home Hunt by Social Scavenger is here to inject some fun moments into your team's life. Get to the top of the leaderboard by participating in photo and video challenges. That's not all! Work together to solve riddles all while enjoying every minute of it.
How to get started: Connect via Zoom to kick off the experience. Teams of a minimum of two will be required. The game can be self-hosted or you can opt for a paid host to make the hunt more interesting!
BreakoutIQ is great for a dynamic and personalized virtual scavenger hunt. Participate in this travel-themed quest and explore the world's most famous landmarks and monuments while visiting different areas of the globe. Your team will get to work on their critical thinking skills, creativity, and spontaneity. See which team can complete challenges and score the most points!

How to get started: Simply join a Zoom call with your professional host who will explain what the game's about and send you to a breakout room. Play three rounds of 10-minute challenges, each followed by a recap and score update. The winner is revealed at the end of the game!

Virtual Scavenger Games by SmartHunts present you with high-energy, interactive challenges, including memory matching, speed challenges, social media hunts, trivia, and brain teasers. Bolster your team's cooperation skills and discover everyone's strengths.

How it works: Meet your professional host on Zoom, where you'll be divided into teams. You'll use the SmartHunts app to get instructions, see scores and share your experiences. Teams must work together to complete the different challenges. The game concludes with an awards ceremony and a highlights reel.

Inspired by The Amazing Race, an American reality show, The Great Race is somewhat similar to offers different travel-themed challenges: "routes," "detours," "fast forwards" and "roadblocks." These challenges include clues, trivia, photo tasks, and more. Score points and strive to snatch that winner's crown!
How to get started: Participants must download the Mobile Adventures app, scan a unique code, and set up their profile. The race itself will take place via the app.  Use Zoom or Google Meet to communicate and collaborate with your crew.

A very popular scavenger hunt game, Scavify requires players to scan QR codes, check in to different locations, and answer questions. The advantage of this game is that participants can take part according to their own schedules. The leaderboard tallies the scores over a set period of time. You can even measure engagement thanks to the analytics feature. The app also lets you easily download any shared photos or create a slideshow to relive your experience.
How to get started: Simply download the app on App Store or Google Play. Pick a cool username and search for your hunt game and sign up to play.
Birds of a feather surely stay connected together when they can choose from over 100 ready-made missions that incorporate photos, video, and text challenges. Players can join from their mobile phones from all parts of the world. GooseChase is a fun and exciting way to support social interactions in your remote team and boost your company's culture.

How to get started: Have your team join the game by downloading the scavenger hunt app for iOS or Android. All submissions appear in the live activities feed and all efforts can be followed on the live leaderboard, which helps keep the participants engaged. It's a competitive and super fun virtual team-building activity!
DIY Virtual Scavenger Hunt Ideas for the office
Why buy when you can create? If you want to create your own scavenger hunt from scratch, why not check out our DIY options! Discover three super simple options featuring two apps that will help you build an exciting game experience for your teammates.

Embark on an around-the-globe adventure from the comfort of your couch. Terraclues asks you to search for hidden locations in various places around the world, all thanks to Google Maps! Choose from hundreds of existing hunts or create your own. If you have team members who work from different cities or countries, you can use this as an opportunity to learn about each other. All you need is an Internet browser and you're ready to play. To make it more of a team building exercise, you can jump on a video call, split into groups and work on the hunts together. Assign points for each hunt is solved and see which team does the best job!
Actionbound, enhanced with an augmented reality feature, offers you an abundance of tools to create interactive scavenger hunts known as 'bounds'. Send your team on a mission, have them follow GPS directions, solve challenges and compete in tournaments. The challenges can involve scanning QR codes, taking quizzes, or submitting photos and videos. Prepare your hunt, then ask participants to download the app to their phones or tablets (it works on both iOS and Android). That's it! Everyone can now join the fun and engage in a team competition.

While working from home, it may be hard to squeeze in some physical activity. Well, CameraHunt will get you up and running in no time! You have 60 seconds to locate different items in your surroundings with the lens of your phone's camera. It's super easy and costs nothing. Plus, it can be fun to see who on your team has the best reflexes! Simply, download the app onto your mobile device (available for iOS and Android). You can play the game offline and compare your scores or connect with your team via a video call and cheer each other on as you struggle to complete the challenges!
Virtual Scavenger Hunt Lists for Remote Employees (Free Printables)
You've come this far and you surely deserve some free goodies! We've prepared 3 sample scavenger hunt lists for your next activity. Feel free to modify or add your own items to the lists to make them more fun or personal for your team. Each of the virtual scavenger templates consists of a list of 15 items. Download one of our free printables and send it to all participants, so they can have it on hand during the hunt. We've also included a template list to create a totally customized scavenger hunt list.
Scavenger hunts are great for getting players moving, even if it's just around their apartment. They also give everyone the chance to learn something new about their colleagues! So here's a list of easy-peasy scavenger hunt items for a fun virtual event that everyone will enjoy!

Around the House
A Trip Down Memory Lane
The Home Office Edition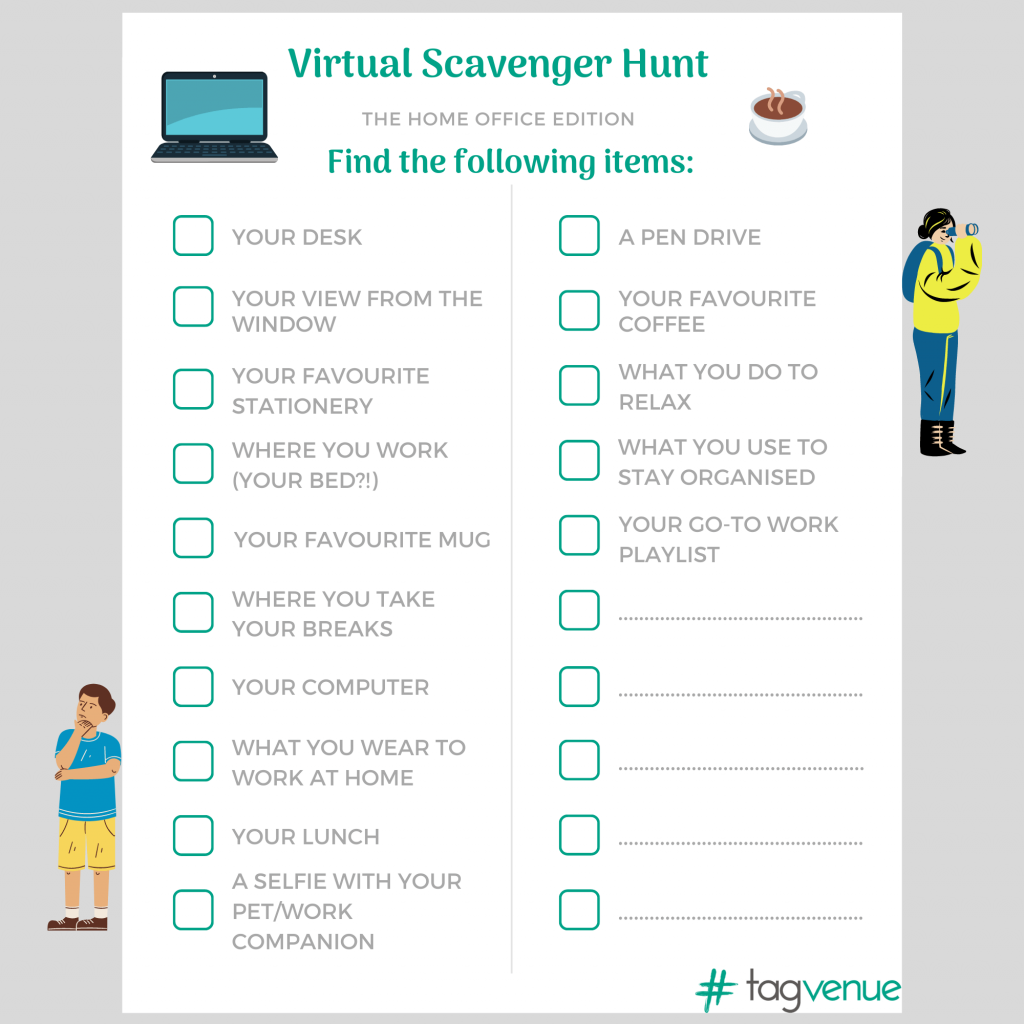 Clear template (For You!)
5 Popular Zoom Scavenger Hunt Lists for Adults
Add a theme to your event to make it unique! Choose broad themes to give the chance to everyone to participate. From food items to nature, there are many easy ways to create a list of online treasure hunt items. Here are some of our favourite Zoom scavenger hunt themes and tips on how to make them fun!

Food
Got some foodies on board? Why not compile a list that includes all things food! Ask your team to post pics of their lunch or share their favorite recipes and cookbooks. Quiz them on random food facts and sneak in some knowledge about nutrition!
Colours/shapes/textures
Instead of asking participants to retrieve specific objects, like a mug or a TV remote, only specify the color, shape, or texture! For example, ask for something fluffy (like Mark's plushy) or something shiny. This can be a really fun twist on the scavenger hunt that help everyone get creative!
Hometown-related
As a remote team, you probably have people working from different cities and countries. So why not host an activity that lets you explore and learn about each other's hometowns? To make things better, ask participants to submit photos of some famous landmarks and monuments or give you a tour of their favorite places around town.
TV shows
Design a scavenger hunt entirely related to your team's favorite TV shows! Whether it's The Office or GoT you can get really creative with this one! Get participants to recreate particular scenes, ask trivia questions and prepare a list of items to be found in a given episode and organize a streaming party!
Zombie apocalypse
The zombie apocalypse strikes again. You've got five minutes to locate a weapon of your choice and all the supplies that may help you survive. This can be a great exercise to see which one of you has the best ability to think on your feet and come up with creative solutions!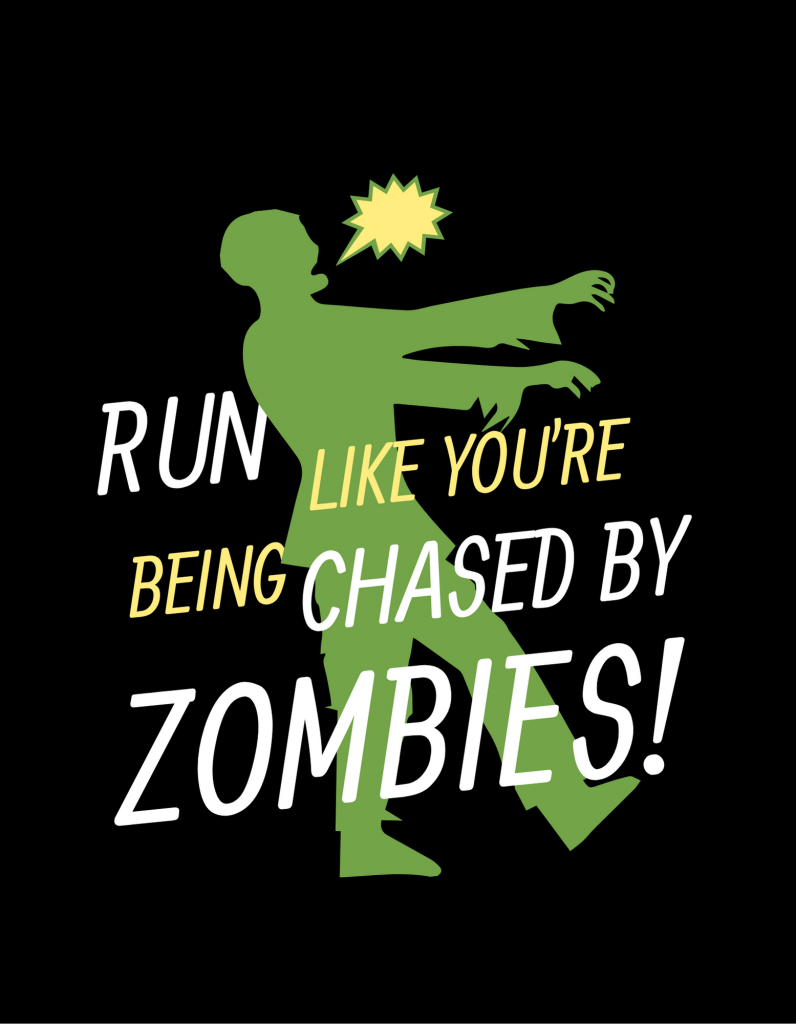 How to host a virtual scavenger hunt for team building?
With great team-building comes even greater planning! There's no secret to a successful bonding activity. By planning the scavenger hunt in advance and brainstorming ideas with your team members, you'll come up with the best game selections for your team and leave them wanting more of these remote scavenger hunts!
Brainstorm
First things first, start with a brainstorming session. Ask around for ideas so that you choose an activity that will be fun for everyone on your team. Think about the theme and design a scavenger hunt that everyone will be comfortable with. You can even have a quick survey to find out more about your colleagues' preferences.
Pick a convenient date
Make sure you pick a date that suits everyone on your team. You can suggest a couple of different options and have a vote. If you're planning a hosted activity, reach out to your provider and ask about availability. Once that's out of the way, send the invites!
Prepare your scavenger hunt list
If you're going down the DIY route, you're going to need a list. Get creative! The items on the list can be objects that your participants need to fetch, but you can also provide other challenges! For instance, prepare a quiz or a survey, make a list of activities for your teammates to complete, ask your team to share photos or record videos, or even send them on a googling hunt. The options are endless and your imagination is the only limit!

Decide on scoring
To be able to announce the winner, you need to devise a clear scoring system. Decide on the criteria that need to be fulfilled. Does the winner have to be the fastest or do they need to find all the items/complete all the challenges? Are you going to award any bonus points, e.g. for creativity?
Set a time limit
Decide how long your online scavenger hunt is going to take. Depending on the form, it can be a dynamic game, where everyone has just a couple of minutes to complete the hunt, or a long-term activity, where your team may have a week (or a month!) to send their responses. Just make sure you don't accept submissions past the deadline! And if you go for the fast-paced version, use a countdown timer to keep track of time.
Establish some ground rules
Think about the criteria you are going to use to count the challenge as completed. State whether the responses need to be accurate and whether there's room for flexibility regarding the listed items at the beginning of the game.
Decide on the form
You can use an online communicator like Zoom or Google Meet to connect with your team, but that's not the only option. Participants can send their submissions via e-mail, chat, Slack or whichever app you use to communicate. It can take place in real time or not. For long-term scavenger hunts, you can host different challenges every day.
Prepare prizes
To motivate your team to really engage in the hunt, why not reward them? Decide whether you will reward a single person or team or whether you'll give prizes to the first three winners. Hold a small awards ceremony at the end to reveal the winner and don't forget to thank everyone for their participation.
Final Thoughts
Remote work has led to a significant drop in social interaction among peers. Virtual scavenger hunts have the power to promote healthy relationships between co-workers while stimulating everyone's critical thinking abilities! These games provide an escape from the 9-5 routine and can instantly uplift everyone's mood – it's basically like a quick vacation to another land for your team while staying comfy and cozy at home! Virtual scavenger hunts create a sense of unity even where players are in different parts of the world. So, don't hesitate to plan these team building activities every once in a while to revive the synergy within your team!
FAQs
What is a virtual scavenger hunt?
Virtual scavenger hunts work like real-time scavenger hunts where participants are required to find items from a previously prepared list. The advantage of virtual scavenger hunts is that they can be carried at any time and require only a laptop and a stable internet connection! Alternatively, you don't have to do it over video call at all – your team can just send in their submissions via email, chat, Teams, Slack, or whichever platform you use to communicate.
How does a virtual scavenger hunt work?
A virtual scavenger hunt works in a similar way to its physical counterpart. Teams set out on a quest to find as many items from the list as possible, within a set amount of time. To take that fun online, you can connect with your team via Zoom or a similar platform, or have people submit their responses to a group chat, Slack channel, etc.
How do you organise a virtual treasure hunt?
There are several easy ways to host a virtual scavenger hunt. You can opt for a hosted activity, where you won't have to do anything except make a reservation and show up. You'll also receive the assistance of expert hosts to walk you through the game. There are many virtual scavenger hunt options out there! If you're just getting started, games like Around the World and Moonbase are excellent as icebreakers. Pick a game and let your team know at least a week or two in advance and send them invites for confirmation. Once the date is finalized, send them an invite with a Google Meet, Slack link or any other suitable platform.
How do you host a scavenger hunt on Zoom?
You can organise a Zoom scavenger hunt 100% yourself or with the help of a professional host. There are a number of hosted games, where all you have to do is book the date and show up, e.g. Jam. With the DIY variant, one of you will probably need to take on the role of a host. You'll need to prepare the list of clues and distribute it to your team, who will have to show up with the right items in front of their webcams before the time runs out.
How long is a virtual scavenger hunt?
When you host a DIY scavenger hunt, you get to choose how long it lasts. You can do a series of quick challenges that last 5 minutes each. You can also hold your hunt over an entire week or month, with a different clue released every day. It's all down to your preference! Hosted games, on the other hand, usually take from 30 to 90 minutes.
How much does it cost to host an online scavenger hunt?
Prices will vary depending on which option you choose. There are plenty of ways to host a free virtual scavenger hunt. Organise a DIY Zoom scavenger hunt, engage your team in a Selfie Hunt or use a free online puzzle, e.g. Terraclues. As for the paid options, the price depends on your chosen provider, e.g. Desert Island – from £16/$22 per person, Around the World – £16/$20 per person (minimum £399/$499 if less than 26 people), The Big Smoke – £25 per person (minimum of £500 if less than 20 people).