35 Unique Virtual Icebreakers for Remote Teams
Over the last past years, remote work has become 'new normal', and this has left many teams feeling disconnected. Everything has changed so much during this time: we haven't seen our colleagues face to face in a while, some team members have left and other new ones have joined. With many employees working remotely for the foreseeable future, it's clear that team building activities are more important than ever. This is why we've put together this ultimate list of fun and exciting icebreakers that can inspire remote teammates.
We're excited to share all of these amazing hosted activities that you can play on Zoom, as well as many other exciting virtual games and icebreakers that you can share with your colleagues.
What are unique virtual icebreakers?
Unique icebreakers are quick and easy games and activities that you and your team members can do to spark up conversations and get to know each other. They are essentially designed to 'break the ice' and can be used either at the beginning of a business meeting or as a separate event, for example, to welcome and get to know new hires. 
Virtual icebreakers are exactly the same, but with one exception: they are done via a video call or sometimes in a form of texts on the company's communication platform.
How do virtual icebreakers improve team building?
Working remotely limits your team's opportunities to just talk and build trust. You can't greet each other as you walk to your desk, have a quick talk in the break room, or eat lunch together. All of these simple interactions, however, are critical for establishing confidence and forging ties among coworkers. According to The Balance Careers, icebreakers can improve the relationships between participants during trainings and team meetings and facilitate communication.
That is why, when working from home, you must be very deliberate about scheduling social time. So here are a few fun icebreakers to get you started and make a difference in your team's dynamic.
A friendly reminder: Don't dive right into activities that require personal information or will make those who don't know one other well feel uncomfortable. Starting with some light, easy-going activities and gradually progressing to more personal ones as people get more comfortable expressing things is the ideal method for creating trust and strong bonds amongst team members.
Hosted Activities on Zoom:
You may be wondering why you should choose a hosted activity over a self-hosted one. Going for a hosted
You might be wondering why a hosted activity is preferable to a self-hosted one. Taking part in a hosted activity provides unique fun for the entire team! There's no need for one or two people to worry about arranging and preparing an activity for the rest of the group. It also ensures that everyone has an equal chance to participate in the game and not miss out on anything. Individuals can learn how to work successfully together through hosted events; you'll be shocked how quickly people get together and collaborate when there's a prize on the table.
Let's take a look at the best icebreakers for your teams!
Fun Icebreakers for Zoom Meetings
Icebreakers may be a bit of a hassle. Some people may find attending an online call and being questioned about their lives or hobbies quite normal, and even look forward to it, but others may shun any conversation. Here are a few activities you may host to break the ice, whether you're having a meeting with business partners or onboarding new team members:
There is no better virtual experience to help your teammates bond than the Team Quest! This immersive experience guarantees lots of laughs, fun and bonding through a series of mini-games such as Trivia, Fact Matching, Buzzin and Pictionary. A friendly (and enthusiastic) host will guide you through the game, so don't worry about feeling lost or not knowing what to do next. The best part of the Team Quest is that all participants can interact with each other and no one is left behind since the role of captain switches after each question! It's a great ice-breaker game as it will allow the veteran team members to meet new colleagues and start interacting as teammates.
Group Size: 6 to 400
Price: Prices start at £349/$399
Session Length: 60 minutes
Equipment: You will need a reliable Internet connection, headphones, and the latest version of Google Chrome and Zoom
The Big Virtual Game Show, an exciting and interactive team building activity, will bring your team together and help them get past those initial awkward moments! The event offers unique games inspired by the most popular 80s, 90s and 2000s TV game shows. You and your teammates will play a mixture of mini-games that will test your speed, knowledge, memory and even artistic skills! We assure you that your team will not be bored, not even for a second, so get ready for interaction, enthusiasm and fun!
The Big Virtual Game Show is a great ice breaker as it encourages bonding and camaraderie.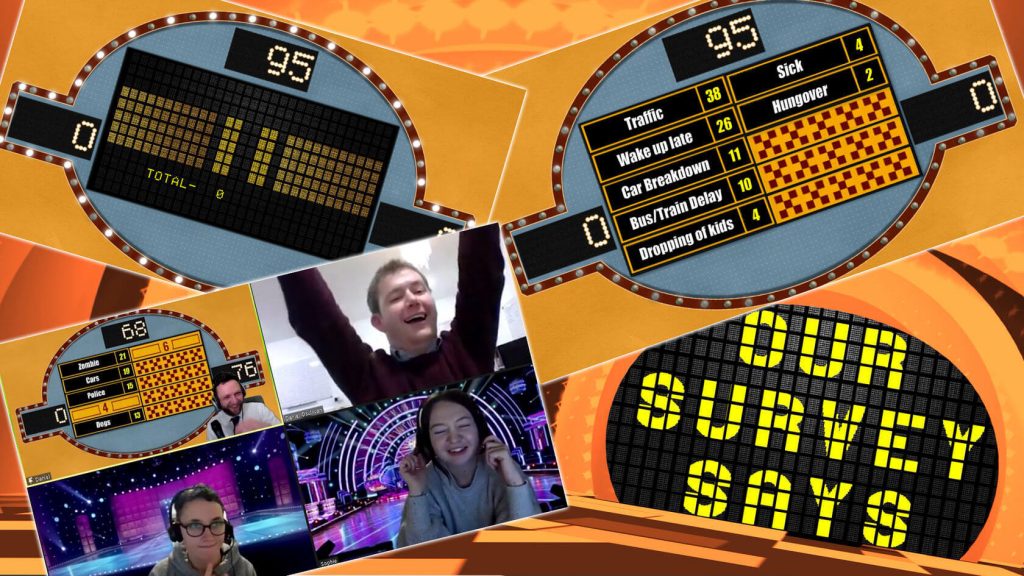 Group Size: 6 to 60
Price: Prices start at £450/$635
Session Length: 75 minutes
Equipment: You will need a reliable Internet connection, headphones, and the latest version of Google Chrome and Zoom
We've all been missing office parties, right? But don't worry, we have something amazing for you and your team! It's no secret that people can really connect during office parties, so let's build some bonds whilst staying safe with Office Party! During this event, you will encounter the most stereotypical characters that are part of every company: the foodie, the sporty one, the globetrotter, etc. who will each present you with a challenge that you will have to solve together with your teammates. To make it more fun, you will have a chance to vote on which member of your team most resembles the character you've just met. To conclude this remarkable event, you will participate in an Oscar-style awards ceremony.
Office Party will allow you to share some unique laughs with your teammates and will be a good starting point for the future as it helps to foster good communication and cooperation within the team.
Group Size: 5 to 500
Price: Prices start at £469/$649
Session Length: 90 minutes
Equipment: You will need a reliable Internet connection, headphones, and the latest version of Google Chrome and Zoom
Online family feuds require no previous experience and are a lot of fun. Yolking from Home is perfect for encouraging participation and communication among new and old peers. It includes hosts to lighten the mood and encourage interaction, this activity features six different challenges and is perfect as an icebreaker.
Pricing: from £520/$725
Group Size: 8-180
Duration: 75 mins
What's included: One host per 15/18 participants, dedicated support, videos, and images to get your team excited.
The Ha-ha-happy Hour Icebreaker
Who doesn't appreciate a great happy hour? It's not only about the cocktails or the shenanigans; it's also about catching up with coworkers, relaxing, and getting to know them better.
Drinks facilitate conversation and are a common way to bring people together. Online happy hour functions similarly to in-person happy hours, with the exception that you can all meet in the same room (virtually!) despite being in different parts of the world. All participants are sent hampers, and all they have to do is hop on a Zoom call to get the party started.
Have you ever thought about becoming a mixologist? Well, we may have an activity that will make those dreams come true! We're offering you a unique chance to immerse yourselves in the bar environments of fantastic locations around the world: Singapore, Ibiza and Puerto Rico! You name it! The energetic hosts will take you deep into the vibe of the four cities and share their secret drink cultures. 'Travel' to iconic cities and shake up different cocktails from the comfort of your home.
If you're wondering why 'Cocktails Around The World' could be a great ice-breaker activity, we have a quick and easy answer for you: creating and sharing this type of culinary experience is a great way to bond. And when everyone has the chance to share a virtual toast of any of these delicious drinks, they will definitely experience a unique bonding moment.
Group Size: 5 to 120
Price: Prices start at £45 per person
Session Length: 80 minutes
Equipment: You will need a reliable Internet connection, headphones, and the latest version of Google Chrome and Zoom
With Seasonal Wine Tasting you can kill two birds with one stone: become a sommelier and bond with your colleagues over wine! Choose this online class and have the chance to taste some amazing wines as well as broaden your knowledge of wine. You will be exposed to a selection of lesser-known grapes, styles and regions – all suitable to the season, of course. The hosts will guide you throughout the whole experience, teaching you how to taste and smell, while sharing interesting facts about the wines you are sipping. Even the biggest beer-lovers will find themselves captivated by this intriguing peek into the world of wines.
Wine tasting is a great ice-breaking activity as everyone comes to the activity a novice, ready to learn and enjoy each other's company.
Group Size: 6 to 100
Price: Prices start at £55 per person
Session Length: 90 minutes
Equipment: You will need a reliable Internet connection, headphones, and the latest version of Google Chrome and Zoom
Scavenger Hunt aka the Adventurous Icebreaker
Commonly known as a treasure hunt, this icebreaker favourite works wonders! Virtual Scavenger hunts are a no-brainer to reproduce and they promote communication like no other activity. Since participants have to engage with their peers and find the listed items, they get to discover a lot about each other while scavenging online or from their homes. Scavenger hunts can be easily hosted for free if you have a list of items and are willing to play the host. A fully hosted scavenger hunt allows everyone to participate and explore their virtual world together. Need some free ideas for your next hunt? Head to our blog post for some free scavenger hunt templates!
Here are our top picks:
Everybody loves playing the hero, even if it's just for one day! Once again, evil A..I has come up with some nasty plans to destroy the planet and only your brilliant skills can save the earth from destruction. Team members get to interact over a series of visually stimulating mini-games as they accumulate points to eventually claim victory. Part escape room and part scavenger hunt, Moonbase is an ideal choice for cooperation, communication, and team bonding.
Pricing: £16/$22 pp
Group Size: 4-25
Duration: 20-60 Minutes
What's included: AI host, Game Hub
The Virtual Escape Room Icebreaker
When it comes to online escape rooms, they are known for their high levels of collaboration and interaction. Employees get to show off their problem-solving creativity and connect with their coworkers while solving riddles and spotting clues to win the game. Take a peek at some fantastic options for your next icebreaker.
Project Avatar combines aspects of both a video game and the theatre , with participants assisting the hero in real-time. Players direct their avatar, which is played by a live actor, via vocal instructions as they solve the hidden logic puzzles and win points. Participants can participate in one of two modes: as a 15-player team or as two competing 15-player teams. Get out there and save the hero!
Pricing: £16/$22 pp
Group Size: 4-25
Duration: 20-60 Minutes
What's included: Controllable Avatar (played by a live actor), tech support team
Although basements are probably the last place you'd want to go on your first day at work, this game will compel you to work together with your new coworkers to break free! You're on your way to a charming cottage, but when you arrive, the place appears to be deserted. You look around, enter the basement, hear the door close, and discover that you are trapped! All you have to do now is work together with your squad to solve the riddles and clues to get out alive!
Pricing: £38/$50 pp
Group Size: 10-600
Duration: 60 Minutes
What's included: Lively host to guide you through, a dedicated moderator for each team.
Solve a Murder Icebreaker
Solving a virtual murder together can break the ice like no other activity. Brainstorm ideas and find the culprit together. Virtual murder mysteries are ideal for getting everyone talking and interacting in no time.
Your crew has been called to serve as online jurors in a trial. Examine the evidence, follow the leads, and speak with the accused to determine whether he is guilty or not. Discuss the facts and evidence with your team members and work together to determine whether the accused is truly guilty or if there is a conspiracy. Participants are contacted by email and text in an attempt to sway the truth in this highly interactive and realistic experience. Is this compelling mystery game good for group management and teamwork? We plead guilty!
Pricing: £600/$815
Group Size: 8-20
Duration: 105 mins
What's included: Live actors, event host, interactive pieces of evidence
Have you heard the news this morning? Mr.X, the popular business tycoon was found dead on Flight 9032. But who committed this terrible crime? Could it be the work of a jealous competitor, an old enemy, or a frustrated employee? Find out with your detective crew while solving enigmas and working through the evidence. Participants get to share their ideas and find solutions to solve the mystery together. What better way to onboard new employees than a fun mystery game?
Pricing: £4/5$ pp
Group Size: 1-5000
Duration: 60mins
What's included: Leaderboard, inbuilt hints, and solutions.
It's time to put your detective abilities to the test and nab the killer…if you can! Sort through the evidence, and witness statements to solve the riddles, and catch the killer so that justice is finally served. The body of Scott Davies was found in a river ten years ago and the mystery has remained unsolved since then. Team up with a coroner and archivist played by real-life actors to reveal the truth.
Pricing: £600/$815
Group Size: 8-15
Duration: 105 mins
What's included: Evidence and police database, (replicated from the UK Ministry of Justice's website), Real-life actors, and Event host.
Quick Fun Icebreakers for Virtual Meetings ( 20 to 30 minutes)
Employees, particularly newcomers, might dread spending hours socialising with their new coworkers. For some, it can be taxing, or they may simply regard engaging in a fun activity as a waste of time. So, why not keep your icebreaker short and entertaining to ensure that it works? Take a look at some of our rapid icebreakers!
Four small games, an interactive photo booth, and a hilarious emcee are included in this activity. The ultimate icebreaker, similar to our best-selling icebreaker, The Team Quest, can be conducted before conferences, for onboarding new employees, and other activities. Participants compete in a variety of tasks, including Karaoke and Face Mashups. Plus, they get to snap a few pictures for their home office!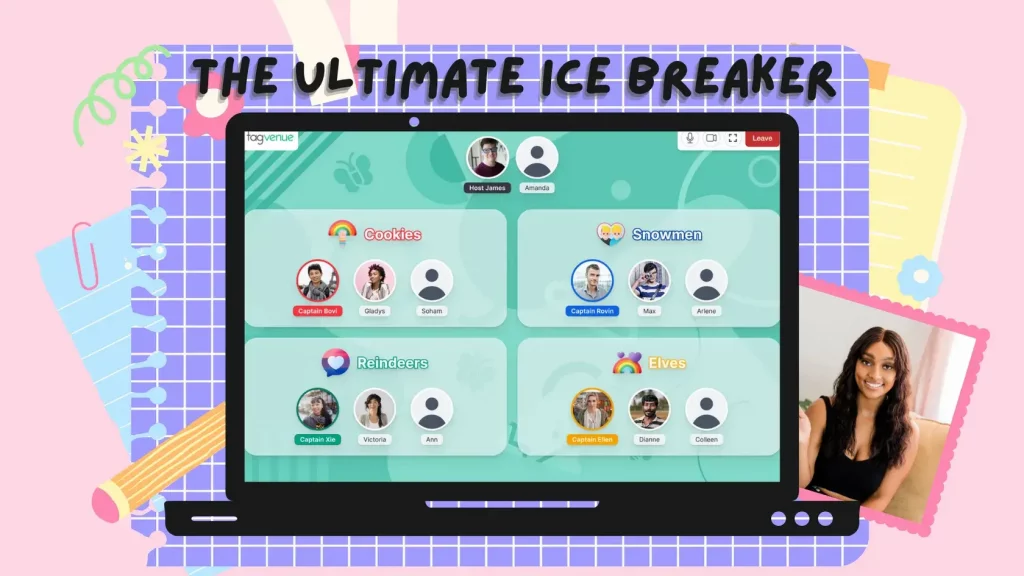 Pricing: £249/$349
Group Size:6-20
Duration: 30 mins
What's included: 4 mini-games, a photo booth, an Event host, web-based platform.
Desert Island is an excellent activity as an icebreaker as it is both immersive and relaxing. Players team up to bring down the evil A.I win the game. Solve riddles and hunt for clues together. The game promotes friendly competition and focuses largely on creating the feeling of being physically together!
Pricing: £16/$22 pp
Group Size: 4-25
Duration: 20-60 Minutes
What's included: AI host, Game Hub
Quick Icebreakers for Virtual Meetings
14. Where Are You Joining Us From?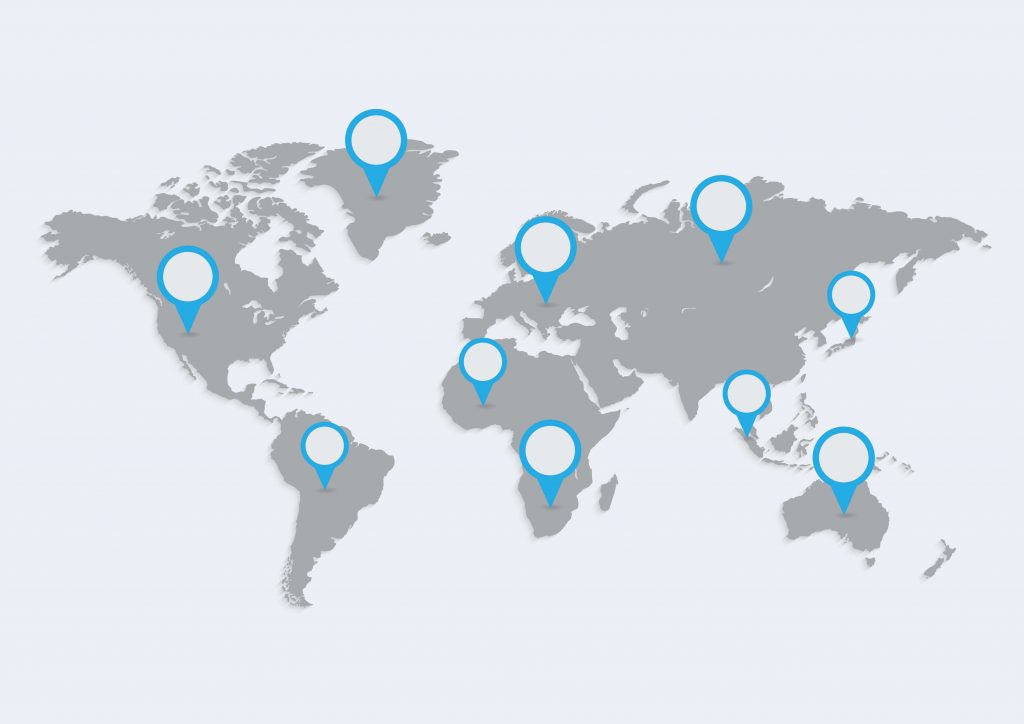 Let's take advantage of remote working and make a game out of it. Since so many employees come from different corners of the world, you can learn plenty of interesting facts about all those different places. So why not prepare a couple of interesting (and perhaps not so obvious) facts about the place of your current residency and make your colleagues guess where on Earth you are right now? It's a great way to test your knowledge (but also learn some) and bond with your teammates while debating over the answers.
Tagvenue's tip: A great ice-breaker activity as it allows your employees to work together on the clues while also learning something about each other. Let's be honest, it's quite fascinating to learn more about different cultures (and get a local's point of view).
15. Virtual Coffee Break with your colleagues
Who said you can't enjoy a short coffee break when working remotely? Set aside a few minutes in your busy calendar and chat about anything non-work related over a cup of coffee with your coworkers. What would usually take place in the office kitchen or common area is now moved online, but we promise you it's still as much fun as it used to be in the office. A lot of people say that one thing they miss the most about working in the office is those impromptu coffee dates with their coworkers, so let's bring them back.
Tagvenue's tip: There is no better icebreaker than having a chat over a cup of coffee! Since you're joining from home a great idea would be to share with your colleagues. Why not introduce your pet or a child (if you have any)? Or perhaps you could give a small tour around your home office – let them in behind the scenes.
16. Guess Who
Guess Who is a great way for your employees to learn more about each other. With this fun game, it would be ideal if the participants have already met once or twice so that they have a rough idea of everyone's personality. To ensure that it goes off as smoothly as possible, ask your employees a bunch of light-hearted questions, gather the answers and prepare the facts before a team meeting. You can then put it either in a poll or ask the question and get the participants to share their answers in the chat.
Tagvenue's tip: You don't have to jump straight in with big questions such as 'How old are you?' or 'Are you married?'. Remember that it is an ice-breaker activity, so start with light-hearted ones, for example, 'What was your last Google search?' or 'What did you have for dinner last night?'. These questions may seem silly, but the answers can actually say a lot about the person. 'Guess Who' can also challenge assumptions about colleagues and help teammates see each other in a whole new way.
17. Virtual Team Trivia
First of all, you will have to appoint a trivia master — a very important position! The trivia master will be in charge of selecting the questions, dividing people into teams and keeping track of the score. Trivias are usually all about general knowledge, so why not put a little spin on your company's trivia game and ask questions strictly related to your company? Here's how your remote trivia could work: each round is 10 questions long. After asking a question, send your teams into breakout rooms for them to discuss and come up with an answer. One person from the team writes down their answer and you get back to the main room. After 10 questions, give the teams a minute or two to finalize their answers. When the time's up, share your answers, score them and repeat the same actions for round two! But remember: no Googling allowed!
Tagvenue's tip: The questions should be company-related, but what about mixing in questions regarding your colleagues? Let's check whether your team knows who drinks tea only from the cup with a kitten on it or who eats only green Skittles. A quick game of trivia will strengthen relationships between colleagues as well as allow them to share laughs (and their knowledge).
18. Two truths, one lie
This is a great way to get to know your colleagues and also test your intuition. Ask each participant to write down three statements about themselves: two of them true and one that is a lie. Share them via chat or put them down in a Word or Google doc and share the screen with others. Then let's vote and see who knows their colleagues the best! Once everyone has voted, the correct answers will be revealed and points will be given. You are more than welcome to discuss each round of statements and perhaps ask follow-up questions if you find something particularly intriguing.
Tagvenue's tip: In case there are a bunch of new hires joining your team, why not kick off the team meeting with a fun game of 'Two Truths, One Lie'? It is an easy way for employees to get to know people they work with and share fun facts about themselves.
19. Pictionary
Yes, you are reading it correctly: Pictionary. If you thought this could only be played in real life, then we have some revolutionary news for you! And it is not that difficult – apart from the fact that you will have to draw using a mouse and we all know how those drawings usually go. Anyway, Zoom is a great tool to do that! You can use the virtual 'Whiteboard' feature on there and draw away! It would be a good idea to divide yourselves into teams beforehand and brainstorm ideas for clues. That way you will have more time to come up with something creative and you won't waste time during the actual game. Once the ideas are there, warm up your wrists and have some fun!
Tagvenue's tip: Pictionary is all about team effort and cooperation between team members! So it can be a great exercise for any team as it helps to grow bonds and communication skills between employees. Plus, it is a guarantee of great fun and a huge amount of laughter.
20. Charades
Become an actor/actress and act out the clues to help your team win! Split your group into two teams and either use an online word generator or ask everyone to write down three things before the meeting. Use gestures alone to get your team to guess more words or phrases than the rival team! The person who is acting out the charade should use the Zoom 'spotlight' feature. It depends on each team to decide how much time they want each round to last – it could be a minute, but if you're feeling brave, go for 30 seconds. You could also go one level up and play picture charades. Use a maximum of 5 photos to describe your clue. The hard part is that you can't use a picture that is directly related to the thing you are trying to describe (e.g. you can't use a scene from a film to describe it). So, are you up for the challenge?
Tagvenue's tip: Playing charades can help build team camaraderie! It is a great ice-breaker activity, especially for team members that don't know each other that well, as it develops nonverbal communication skills and teaches people how to collaborate effectively.
21. Random question of the week
We all have those moments when we want to take our minds off things and talk about random things, right? With this game, you will have a perfect opportunity to do exactly that! Ask away and surprise your coworkers with some thought- and laugh-provoking questions: If you were a vegetable, which one would you be and why? If you were featured in the news, what would be the reason? Who would you like to play you in a biographical film about your life? Which popular song drives you crazy? If you could choose only one meal to eat for the rest of your life, what would that be?
Tagvenue's tip: Asking random questions could be either a quick ice breaker at the beginning of a meeting or a separate team building activity. No matter what your team chooses, it's a great opportunity to meet and share random facts about yourselves (whilst sipping your favourite drinks if it's an after-work meeting).
22. Virtual Karaoke on Zoom
Get loose and share some laughs with your team over a crazy karaoke night! First, ask your colleagues for good song recommendations and make a playlist with the most frequent suggestions. You can use Watch2Gether to assemble your list. Once that is sorted, set up a meeting, get some drinks and blast out those tunes!
To make sure that everything runs smoothly, have your coworkers stay mute unless it's their turn. And if you really need to talk to each other use the chat option.
Tagvenue's tip: What would you say to a themed Karaoke night with your teammates? Decide on one theme (it could be rock 70s or 2000s pop) and not only sing tunes from that time but go a step further and dress up to really feel the vibe of the chosen era. Virtual karaoke is a fun activity that will help your employees bond, relax and share laughs.
23. Create a team song
This is a perfect activity for any music lover. By creating a team song you get to tell your company's story in a cool way! It will allow you to share funny or remarkable moments from office life as well as your company values. It will also test your abilities to work as a team since there will be a lot of decisions to be made. First of all, you have to decide on a beat! It could be either 'Twinkle Twinkle Little Star' or Justin Bieber's 'Baby', whatever works best for you. Okay, once the beat is sorted out, you can start the writing process. Make everyone share one idea with the rest of the team, put them down and let the magic happen. Once you're done, ask everyone to contribute and sing one line from the song. Have one person record the masterpiece performance so that you can laugh at it for many more years.
Tagvenue's tip: What a great opportunity for your employees to cooperate, communicate and come up with solutions! Not to mention the fact that old employees could share funny memories with new hires and give them insight into the company's life (and culture).
24. Virtual book club
A great thing about a virtual book club is that it can be anything you want. Decide collectively what genres you would like to read, come up with a list of books worth having a look at and get to reading. However, it doesn't have to be just one genre. You can start with a book that will be beneficial to everyone at the company and once you're done with it, you can move on to a crime story or a novel to take a break from work stuff. When planning a book club you should also take into consideration the time in which you will read the chosen book. Once the time has passed, get your teammates together to discuss and compare their perspectives and feelings.
Tagvenue's tip: A virtual book club could be an intimate meet-up with your colleagues – and you can invite people not living in the same city or even time zone! To make this meeting even more special, what about changing your backdrop to a photo based on the book you are discussing? All in all, a great opportunity for team members to bond over their interests and share different points of view.
25. Song/Film recommendations – share your favourites with your colleagues
The desire to share things they find cool is quite natural for people. This is why we thought it would be a good idea for you to share with your teammates any recommendations you may have. Set up a monthly meeting during which you will all exchange one (or more) things you really loved the past month. It could be a new band discovery and you want to share it with your indie-loving friends. Or maybe you were aimlessly scrolling through Netflix, stumbled upon a nice-sounding title, clicked on it and you fell in love with it? You could also discover a new ground-breaking brownie recipe and you feel like your colleagues are missing out by not knowing it? It can be anything but if you only wish to share your favourites, go for it and put the meeting into your calendars straight away.
Tagvenue's tip: No matter if they are a veteran or a rookie employee, they could bond over the same things and break the ice in no time! Sharing interests outside of work helps colleagues to get to know each other which increases the chances that they are invested in the company.
26. Health/Wellness Challenge
We all know how important health (both mental and physical) is which is why we couldn't miss this activity idea on our list. To take care of your employees' health, create a challenge and keep updating each other on how you're all doing on a daily basis. As for the challenge itself, it could be 30 days of walks or any other movement. A good idea is to provide a place for your team members to share their accomplishments and progress. Plus, everyone loves a good challenge, so perhaps think of a cool reward for those who will successfully complete the challenge without missing a beat.
Tagvenue's tip: You know the classic quote: 'We're all in this together!' A wellness challenge could help boost employee engagement and happiness (hello, endorphins). It is a win-win situation because colleagues have a chance to not only bond over the same thing but also take care of their health!
27. Never Have I Ever
If you're familiar with this game you will know how much fun Never Have I Ever is. The questions don't have to be juicy at all, you can stay work-friendly and keep the personal stuff personal. How to play it in an "office" environment though? Hold up your hand so that everyone can see your fingers. Then choose either one person to ask the questions (for example, prepared earlier or copied from somewhere online) or take turns in asking questions. Whenever someone has done the action described in the question, they will put one finger down. The first person with all fingers down gets a penalty.
But remember: be creative!
Tagvenue's tip: Remember that the point of this game is to get to know your colleagues better and find out interesting facts about them. Make sure you pick your subjects wisely and not ask people you've just met extremely private questions.
28. This or That
This is a light-hearted game perfect for breaking the ice between coworkers. It can be played at the beginning of a meeting or anytime really as it's fun and quick. The game is simply throwing out two options with someone answering with one and explaining why they made this particular choice. You can go for more controversial ones, such as "dog or cat" or "pineapple on pizza: acceptable or not", but you can also go easy on your teammates with questions such as "trainers or sandals" or "city or countryside".
Tagvenue's tip: This or That can help kick-start any meeting! It could loosen up the atmosphere but also help old employees and newbies interact in a fun way. Who knows, maybe they could bond over a topic they share a common affection for.
29. Speed Networking (Coworker Speed Dating)
Speed dating at work may sound weird but don't knock it til you've tried! It can be an amazing way to get to know your coworkers on a personal level and find your work wife or husband. 'Speed Networking' doesn't mean anything romantic, it's simply a quick and easy way to create a meaningful connection with your coworker. By spending time together and having a quick conversation, you will be able to find common ground and similar interests, as well as learn more about each other. Even the most uncomfortable attendee will be able to have a short conversation with another person – if nothing else they could exchange work experiences.
Tagvenue's tip: Speed Networking is a great icebreaker! It encourages conversations and interactions that wouldn't usually take place during a normal workday but also helps create unique relationships between colleagues.
30. Zoom Background Charades
Pick a random background for your next Zoom meeting and have your colleagues guess what it represents. It could be a scene from your favourite movie, a beloved cartoon character or your favourite place. No matter what you choose, have the others guess and let's see how well they know you or how good their general knowledge is (or simply, how many lucky guesses there will be).
Tagvenue's tip: Charades are always fun to play, regardless of your age! A game or two of Zoom Background Charades could help co-workers cooperate and communicate with one another better. Sharing a laugh with your teammates could also strengthen your relationships.
31. Highs and Lows
Each day we experience some lowlights and highlights, be it at work or in their personal life. But each of them can be a good lesson, not only for the person who has experienced it but also for others. So why not devote a few minutes of your weekly meeting (preferably on Friday) and have everyone share some highs and lows from their week.
This could be reserved for teams who know each other quite well (since it involves some vulnerability), but also for new teams to create a healthy and safe workspace where everyone can share how they're feeling.
Tagvenue's tip: Sharing highlights and lowlights could be a good starting point for a virtual meeting. It could help create strong bonds between coworkers and create a healthy work environment. After each person shares their experience, think of saying something meaningful to them as it could feel disappointing to share something that isn't positive and receive no feedback on that.
32. GIF Wars
Let's see who can create the funniest (or weirdest) GIF! You can use any online GIF creator for that (our team usually uses this one since it's easy to use and offers cool effects). Once your small animation is done, show it off to your colleagues and share a laugh! You can all have a fierce discussion afterwards and even vote who is the best gif-maker.
Tagvenue's tip: Creating crazy GIFs is a great activity that helps break down the barriers that might exist between coworkers. To make it even more fun, team members could replicate some of their colleagues' gifs that made them laugh the most and share them with the rest of the team.
33. Common Ground
Brainstorm and find something that you and your coworkers have in common that is NON-WORK related! This virtual activity will encourage everyone to find out more about the others but also share things about themselves (that perhaps they wouldn't share otherwise). You can begin by throwing out random facts about yourself or asking others questions to find any connections. After sharing ideas, you can eventually find a shared hobby or a place that you've all been to at some point.
Tagvenue's tip: In case you run a large company, this activity could help your employees get to know one another better. Good relationships between coworkers help boost their engagement, happiness and productivity, so why not organise a good old 'Common Ground' game? Set the date and find out how much you all have in common!
34. Birthday Lineup
In the Birthday Lineup, your knowledge will be tested like never before! You and your teammates will have to put yourselves in order by your birthday – day and month (no year needed, we don't want anyone to feel insecure). Whilst doing so, you can't talk or text your colleagues – you have to decide on your own. Come up with a list of names in birthday order and let's find out how well you listen to your coworkers! Once the time's up, share your answer and pick the winner!
Tagvenue's tip: Employees could have a chance to get to know each other better on a personal level! Perhaps there is more than one person born on the same day? Birthday Lineup could also start interactions that wouldn't usually take place.
35. Passion presentation
Why not share your passions with your coworkers? Each week one person can talk about something they are really passionate about or they can't live without. It could be anything, from yoga to baking to playing the drums. Remember that a good passion presentation is not about a colourful PowerPoint presentation or a number of vibrant pictures. Your feelings towards your passion are what matters the most! Don't be shy and share your passion with others!
Tagvenue's tip: Passion presentations are a great way to know your coworkers better and strengthen the relationships between them. Hearing about someone's passion could inspire some other person to pick up a new hobby or activity.
Icebreaker Questions for Virtual Meetings
If you feel like none of the above activities will work for your team, how about some basic Icebreaker Questions? Here are some you might use or modify to make them more interesting and creative: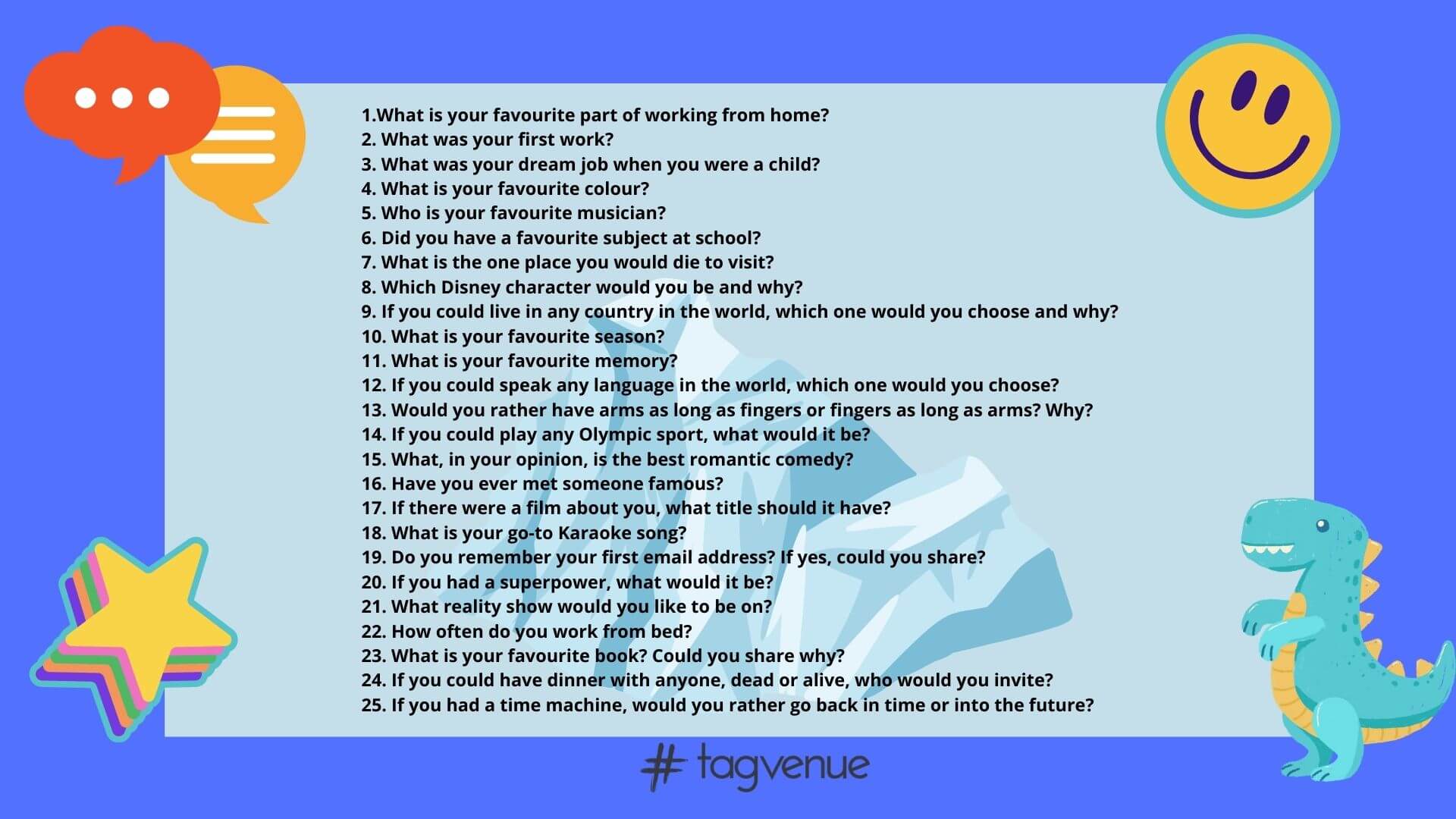 Icebreaker Practices
To ensure that your ice breaker is a success, here are some of the best practices you should always have in mind:
Follow the 'max 15 people' rule: When it comes to icebreakers, you don't want it to be too crowded. This rule is simply that if there are over 15 people in the call, divide them into smaller groups and send them to breakout rooms. No matter the format of your activity, you don't want it to be too long and boring.
Don't break the 30-minute rule: This rule is very similar to the previous one: to avoid individuals getting bored, keep it short. You don't want to waste your and your employees' time, so make sure that you set a time limit for your activity – we suggest it is no longer than 30 minutes.
Choose a meeting leader: When there are many people participating in a meeting, things can get messy. The participants may be extremely excited about seeing each other and their conversations may get off-topic. Designating one person as the meeting leader will help with any chaos, keep the meeting productive and on schedule.
Be a little bit silly: Humour is a great way to loosen people up and break any ice. Boring activities or icebreaker questions will not engage employees and get their interest. On the contrary: they could make the atmosphere slightly weird. That is why you shouldn't be afraid to crack a joke and pick an activity that seems the most fun!
Break the ice often: We recommend doing some kind of icebreaker as often as possible! You could have a short game at the beginning of every meeting or dedicate some time each week to bond. The icebreakers don't have to be long – even 5 minutes could make a huge difference for your team. Remember that building a bond and breaking the ice takes time, so it's better to chip away at it one step at a time instead of melting everything at once.
FAQs
Here are some answers to your most asked questions about the Virtual Icebreakers.
What is a virtual icebreaker?
Virtual icebreakers are small team-building activities that help remote or hybrid teams get to know each other better and strengthen the relationships between individuals. They also allow them to spend some social time together and have fun. A good icebreaker can loosen people up and create a more pleasant atmosphere in a team.
What is a virtual team?
A virtual team is a group of people who do not meet and work together in a physical place but work remotely. It means that instead of meeting each other at the office every day, they communicate via video calls, emails and instant messaging.
Why are virtual icebreakers important?
Virtual icebreakers are a great way to create trust among coworkers and strengthen their relationships. During virtual team-building activities team members get to know each other better and improve the quality of communication between them. When teammates spend time together, it helps them build stronger bonds and positively affects the team's overall success.
How do you build a strong work culture with a remote team?
Let's get something straight: work culture is not decided by how many bean bags there are in the common area in the office. It is much more, which is why it is easier than you think to work on your work culture – even remotely. Ask some basic questions to have a better understanding of how the work culture in your company looks and whether it is strong: How does your team work together? How do employees communicate with one another? How do they solve problems?
How do you bond with a remote team?
Building a strong relationship in a team is very important and affects the work itself. You can bond with your team by asking about their feelings at the beginning of each meeting – remember to make sure they feel that the workspace is a safe space and nobody will be judged. Virtual team building activities are also quite helpful to bond with your team in a different environment. The ideas of virtual icebreakers presented above could work in your favour and bring your team even closer.