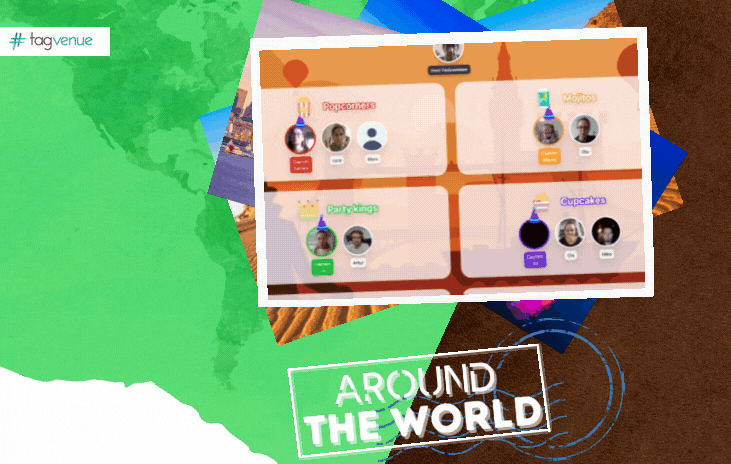 Around the World - Virtual Icebreaker
Join this exciting virtual travel around the world and bond with your team!
Activity highlights
Follow the route of Phileas Fogg
Professional Host to cheer you on
Event description
Trying to get your hands on the most entertaining icebreaker game for your virtual meeting? Well, congrats! You just found it!

Around the World is a lighthearted team building game with just the right amount of rivalry! And it's all in the spirit of fun! Whether you're organising a virtual icebreaker for senior leaders or new employees, this online icebreaker focuses on networking and gives participants the chance to learn some interesting facts about various cultures. We recommend it for activities that have a high focus on collaboration, culture-building, networking, and much more!

The best part? No more boring breakout rooms! Around the World is not your ordinary online trivia! You get to interact with everyone attending the event! Each player gets to be the captain and pick the answers after every question, meaning that everyone has a chance to participate. Improve communication skills and boost productivity among remote workers while indulging in creative thinking.

How does it work?
It's super simple! Before the big day, you will receive a link to the game to share with your teammates. Click on the link when the time comes and get ready for some serious fun! No registration or download is required. Our entertaining host will welcome you and your team on the platform, explain the rules, and split you into teams of three to six players! Once everyone is ready, the host starts the game. Play a series of mini-games and win the game along with bragging rights!

Note: Mobile devices are not supported.
What's included
Professional Host
Dedicated Event Producer
Web-based platform
7 mini-games
Photo Booth and Pictionary pictures after the event
What you need
PC / laptop with a camera (Mobile devices are not supported!)
Earphones / headphones
Reliable Internet connection
Latest version of Google Chrome
---
---
Reviews
R
Rachel, WeWork
Booked on 20th January 2022
great fun and brought helped build good team spirit :)
D
Dorota, SoftJourn
Booked on 15th December 2021
Thank you for an amazing experience!
S
Sandi, Symphony
Booked on 12th October 2021
Everybody loved it!
T
Teresa, GSK
Booked on 16th September 2021
Great fun with a lot of laughter
---
Cancellation policy
RESCHEDULING POLICY:
After a booking has been made, Client rescheduling within 2 weeks or less of the event date is subject to a fee equal to 25% of the total fee.
After a booking has been made, Client rescheduling within 72 hours or less of the event date is subject to a fee equal to £150 or 50% of the total fee whichever is greater will be applied at the time of your re-booking. Your event must be rescheduled within 365 days of your original event date.

CANCELLATION, LOW-SHOW, AND NO-SHOW POLICY: No refunds will be issued for reduced event participant headcount turnout at an event ("Low-Show"), zero participant turnout at an event ("No-Show"), and/or event cancellation. If you provide notice at least 72 hours in advance of the event for a Low-Show, No-Show, or cancellation then credit towards a future event may be issued in accordance with the rescheduling policy above. Any credit issued will be in accordance with the rescheduling policy above and must be utilized within 365 days of your original event date.
FAQs
What is the Around the World Virtual Icebreaker?
Treat your group to a virtual exploration of the globe, visiting up to 7 locations and following the route of Phileas Fogg! Your goal is to acquire as many points as possible throughout your journey, which comprises a series of short-attention-span games like Trivia, Buzz In, Pictionary, and 4 other mini-games run by our cheerful hosts! This fun activity focuses on team bonding and cooperation for 60 minutes straight. The duration of the event can be adjusted according to your needs.
Is Around the World Virtual Icebreaker a suitable team-building event for new joiners?
Absolutely! Around the World is great for helping your team get along while making sure that new joiners feel like they're part of the team. This virtual team-building activity focuses on improving communication and helping your team members get to know each other. Plus, it's a good opportunity for them to unwind! The extra mini-games create some virtual meeting fun as everyone explores new places and discovers different cultures.
How does Around the World Virtual Icebreaker work?
Around the World focuses on team building. Although you play in teams you can still interact with everyone attending the event. The game is suitable for groups of all sizes, however, we recommend at least 6 participants to ensure a lively atmosphere. Also, every participant has the chance to be a team captain so no one gets left behind. It's a web-based platform, so no downloads are required. The game can be combined with Zoom if needed.
Can I make a special announcement during the activity?
Yes! If you need to make a special announcement or a birthday shoutout, just let your designated event producer know at events@tagvenue.com and the host will make sure to include a celebratory moment during the activity. You may also use the brief description option on the event's page if you haven't booked the event yet and need some assistance with the planning. Ask and we shall provide!
What happens after purchasing a virtual team-building activity?
Once you purchase an event, our event producer will get in touch with you to make sure that we provide you with an epic experience. Send us an email at events@tagvenue.com if you require further assistance. We will then confirm the availability of the activity, along with the price for your stated number of participants. Once these are confirmed, you can make a payment by providing your company's billing details, including the address, and VAT number (for non-UK customers only). We'll then send you a booking confirmation with all the details and an invoice. A payment link will be provided where you can securely pay with your CC ( Visa, MasterCard, Amex). We accept CAD, GBP, USD, SGD, AUD, and EUR.
Other popular activities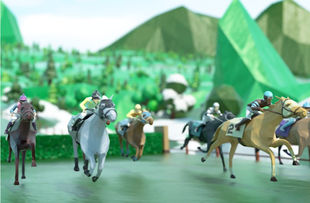 At The Races - Virtual Races
Experience the thrill of the horse races without the risk of losing money with At the Races! Bet, train, and sabotage horses with your friends in this exciting game. With a live scoreboard and more!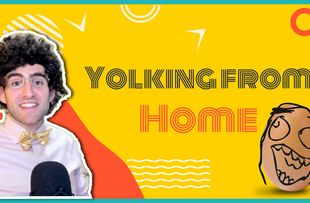 Yolking from Home - Family Feud
With 6 different simple games to choose from, this fully hosted activity via Zoom is guaranteed to get the conversation started, encourage participation, and lighten the mood in your virtual meetings!