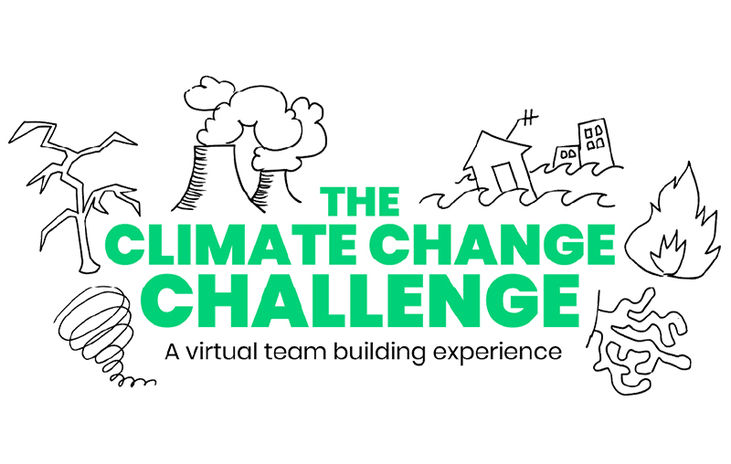 The Climate Change Challenge
Let your team be eco-heroes and fight back the monsters of climate change.
Activity highlights
Hosted in English or Spanish
Delivered via videocall software and the web
Event description
Help protect humanity from climate change by becoming an eco-hero. Travel with your team around the world and fight the monsters that represent the results of global warming.

Ideal for addressing the Sustainable Development Goals in a recreational and teamwork environment. Game that combines entertaining and diverse challenges with an informative approach. The Climate Change Challenge consists of both intellectual and physical tasks. The team that achieves the highest score wins.

At the scheduled time, participants enter the video conference where they meet the Game Master, who gives them access to the game and gives a briefing of the activity. After making sure that everybody is ready, participants are divided into smaller units of a few players and sent to the team video-conferences and the competition begins.

Players face a series of challenges designed to test their personal skills and teamwork abilities. Throughout the game, teams can see a real-time ranking of the competition and can request the help of the Game Masters if needed.

Once all teams have finished the game, the event is closed by announcing the winners and letting teams share their experience with the rest of the participants.

The event can be hosted in English or Spanish.
What's included
Event coordinator
Supervised play
Help system with Clues and a Support Chat
Access to the web-based game platform
Customization of the game platform with the client's corporate image
What you need
List of all the participants separated by teams of 6-8 people
PC / laptop with a camera
Earphones / headphones
Reliable Internet connection
Internet browser (preferably Google Chrome)
Server test
Videocall software (Zoom, MS Teams, Google Meet)
---
---
Cancellation policy
RESCHEDULING POLICY:
After a booking has been made, Client rescheduling within 2 weeks or less of the event date is subject to a fee equal to 25% of the total fee.
After a booking has been made, Client rescheduling within 72 hours or less of the event date is subject to a fee equal to £150 or 50% of the total fee whichever is greater will be applied at the time of your re-booking. Your event must be rescheduled within 365 days of your original event date.

CANCELLATION, LOW-SHOW, AND NO-SHOW POLICY: No refunds will be issued for reduced event participant headcount turnout at an event ("Low-Show"), zero participant turnout at an event ("No-Show"), and/or event cancellation. If you provide notice at least 72 hours in advance of the event for a Low-Show, No-Show, or cancellation then credit towards a future event may be issued in accordance to the rescheduling policy above. Any credit issued will be in accordance with the rescheduling policy above and must be utilized within 365 days of your original event date.
Other popular activities