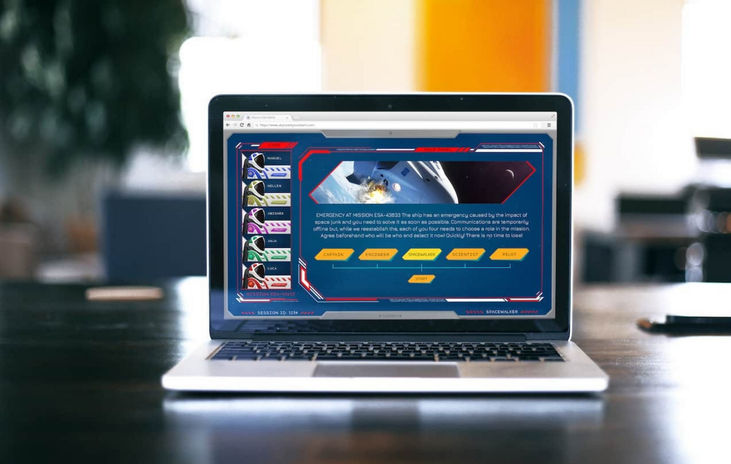 Space Escape
Foster employee engagement, improve communication & boost team spirit ... in space
Activity highlights
Take on a role of an astronaut and pilot your spaceship back to Earth
Everybody needs to engage in order to accomplish the mission
Debrief the team performance after the game
Delivered via Dedicated Platform and communication app of your choice
Played in teams of 3 - 5 players
Event description
You are a team of 3, 4, or 5 astronauts about to go back to Earth from space but something breaks and you're locked up in different parts of the spaceship. You need to work together to fix the ship, re-establish the systems and successfully navigate the spaceship back to Earth. Then a debriefing follows so you can discuss how it went and reflect on your teamwork.

You start on a conference call and split teams into breakout rooms of 4 or 5 (in a facilitated option the host is responsible for that). You all join the link provided before the event and now one team member per breakout room has to create a session, by pressing the number of players that you are. The rest of the players will join that session. It's nothing complicated and there are detailed instructions provided before and during the game.

In the next step, you have to choose your roles. Available are captain, engineer, spacewalker, scientist, pilot. Each astronaut sees something different on their screen. You need to communicate efficiently to solve all the puzzles together - everyone needs to collaborate!
Now your mission begins!

After you manage to get your spaceship back to Earth, debriefing follows. In the facilitated option it will be coordinated by professional educators, in self-facilitated one person from each team will run it using provided materials.

This escape room consists of a set of innovative and fun challenges that have been designed to trigger a set of emotions, situations, and learning opportunities.
Thanks to the debriefing you are able to share your experience and reflect on what you did as individuals and as a group. You will understand each other better and learn how to improve your communication.

Please mind that the availability of the facilitated option differs from the self-facilitated version.
70 minutes is the standard length of the event but it depends a lot on how quickly you and your team manage through all the puzzles. It takes up to 120 minutes for some teams!
What's included
Debriefing materials
Coordinator and Professional educator (on request)
Game link
What you need
PC or a laptop
Earphones / headphones
Reliable Internet connection
Latest version of Google Chrome browser
Communication app of your choice
---
Pricing and capacity
4-50 People self facilitated
51-100 People self facilitated
101-200 People self facilitated
---
Cancellation policy
All sales are final and non-refundable.

For the facilitated version:
A one-time courtesy reschedule is possible with notice up to 48 hours before the event takes place. Last-minute rescheduling will incur a fee of 50€ per reschedule.
In case of partial no-show, if the client or the participants agree to carry on with the service (with no less than 3 participants per group), they can do so at no additional charge.
Other popular activities