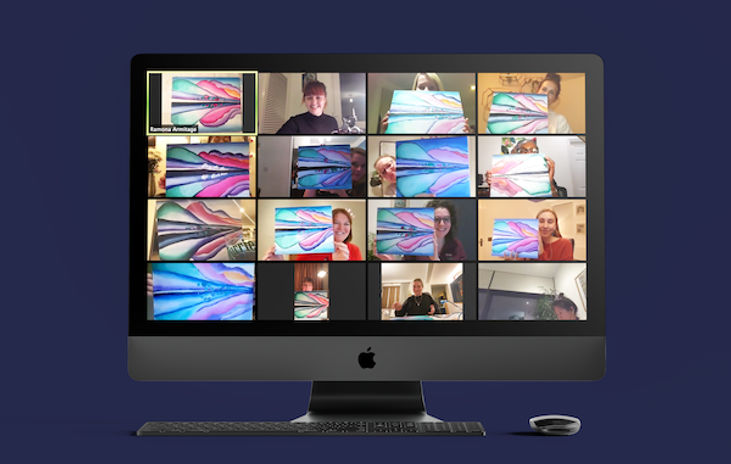 Paintvine - Virtual Paint and Sip - Team Building
Drink wine and awaken your inner Picasso while socialising with your team
Availability
Any day of the week
Activity highlights
All equipment delivered to your doorstep (wine not included)
Great for those who are eager for some creativity
No painting skills required
Event description
Get creative together. Enjoy an interactive painting or sculpture session with all materials delivered in the safety and comfort of your own home while sipping on a glass of fine wine.

Bring your team together in the comfort of their own homes with a live-streamed event and all materials delivered to their doorstep. It's a fun and creative experience that will bring a smile on their faces and maybe bring them something to hang on their walls. It is a perfect blend of creativity and conversation to help your team connect, unwind or perhaps celebrate a big achievement - no matter the distance.

Don't worry if you are no Picasso or Van Gogh - no artistic experience required. We provide everything you need, delivered directly to your door. Prepare to get creative and discover the artist in you.

Available packages:

Acrylic Painting:
- Unlimited access to Paintvine On-Demand Painting lesson library
- A Premium quality canvas board for creating your masterpiece
- 12 x 12ml High-Quality Acrylics
- 2 Premium Brushes
- 1 Paint Tray (can be canvas or plastic)

Sculpture:
- 1 Kg of Air Dry Clay
- Full set of Sculpture tools (pictured)
- Sculpture Sponge
- 1 x Paintbrush
- 1 x 75ml Crawford and Black Paint
What's included
Painting/sculpting kit
Patient art teacher
Video-Call link
What you need
Reliable internet connection
PC or a laptop
Space to paint or sculpt
---
Pricing and capacity
EU shipping - starting at
USA shipping - starting at
---
Cancellation policy
RESCHEDULING POLICY:
After a booking has been made, Client rescheduling within 2 weeks or less of the event date is subject to a fee equal to 25% of the total fee.
After a booking has been made, Client rescheduling within 72 hours or less of the event date is subject to a fee equal to £150 or 50% of the total fee whichever is greater will be applied at the time of your re-booking. Your event must be rescheduled within 365 days of your original event date.

CANCELLATION, LOW-SHOW, AND NO-SHOW POLICY: No refunds will be issued for reduced event participant headcount turnout at an event ("Low-Show"), zero participant turnout at an event ("No-Show"), and/or event cancellation. If you provide notice at least 72 hours in advance of the event for a Low-Show, No-Show, or cancellation then credit towards a future event may be issued in accordance to the rescheduling policy above. Any credit issued will be in accordance with the rescheduling policy above and must be utilized within 365 days of your original event date.
FAQs
What is a Paintvine class?
It's simply a painting class for groups where you can engage in a creative process. You can choose between the Acrylic Painting and Sculpture Packages. We will deliver all painting tools to your door. Our patient art teacher will lead participants step-by-step. Guests bring their own drinks and paint or sculpt their own creations. This virtual workshop focuses on well-being and relaxation- perfect for a Friday evening party!
What is included in the package?
If you pick the Acrylic Painting, you will receive the following: two premium brushes, one paint tray, high-quality acrylics, a premium quality canvas board, and unlimited access to the on-demand painting lesson library. And for the Sculpture Package, you will get one kilo of air-dry clay, sculpture tools, a sculpture sponge, a paintbrush, and Crawford and Black paint (75ml).
How can my team prepare for the online workshop?
By picking a quiet spot to relax and focus during the painting class. Other than that, they will simply need a PC/laptop and a stable internet connection. The link to the event will be sent to you and should be shared with all participants before the event.
Can remote teams host a virtual painting session?
Totally! This event is suitable for all those working from home in Europe and the U.S. You simply have to ensure that everyone can join the activity at a convenient time, so it's best to consult everyone or team leaders before planning.
How can I personalise my event?
If you are planning a farewell party or celebrating a company milestone, simply let us know, and we will ask our host to make a special announcement at the start of the session. You can also ask for host rights to be transferred to you or a colleague once the painting activity is over.
How do I book an online painting session for my team?
Click on the 'Enquire Now' option on our website to book an event and let us know whether you have any special requests during the event. Or simply send us an email at events@tagvenue.com with the number of guests, the event's name, and your requested dates. We'll get back to you with the details. Once you agree to proceed, you will need to send us your company details such as the address and VAT number (for non-UK Customers only) following which we'll send you an invoice and a link for the payment. You can then securely pay with your CC ( Visa, MasterCard, Amex) via a link. We accept CAD, GBP, USD, SGD, AUD, and EUR.
Other popular activities