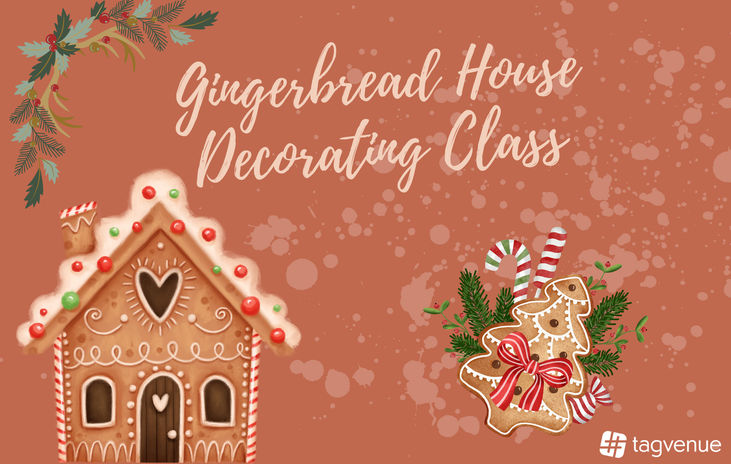 Gingerbread House Decorating Class
Gingerbread house decorating made easy so you can make it look difficult and brag.
Activity highlights
Gingerbread House DIY Kit delivered to your doorstep
Customise your design or follow the instructions
Patient and jolly Instructor
Contains gluten and dairy
Event description
Nothing gets you in the holiday spirit more than gingerbread house decorating. We take all of the difficulty out of baking and decorating houses by providing you with everything you need to succeed.

Join our instructor as she walks you through the simple steps in putting your house together and providing fun and simple decorating techniques. Customize your decorations however you desire or follow along with the instructor's ideas. Allow our homemade gingerbread house smell to overwhelm your home and capture everyone's attention on display this holiday season!

To host an event virtually we will ship your entire team the kit with homemade house pieces. We include everything needed to decorate the houses, such as a cake round, icing, and candies.

Once booked and confirmed, a video call link will be provided to share with your guests. We can't wait to see your creations online!

Virtual events typically last 60 minutes.

The pricing includes a delivery fee within the UK and the USA.
Shipping to Canada is 15 USD extra.
What's included
Link to the meeting
Gingerbread House DIY Kit: homemade house pieces, icing, candies, icing tips
White cake round to build your house on
What you need
PC / laptop / tablet with a camera
Reliable Internet connection
Video call software (Zoom, MS Teams, Google Meet)
Desk to decorate
---
Pricing and capacity
Masterclass fee - 0-50 people
Masterclass fee - 51+ people
0-50 Gingerbread House Kits
---
Cancellation policy
RESCHEDULING POLICY:
After a booking has been made, Client rescheduling within 2 weeks or less of the event date is subject to a fee equal to 25% of the total fee.
After a booking has been made, Client rescheduling within 72 hours or less of the event date is subject to a fee equal to £150 or 50% of the total fee whichever is greater will be applied at the time of your re-booking. Your event must be rescheduled within 365 days of your original event date.

CANCELLATION, LOW-SHOW, AND NO-SHOW POLICY: No refunds will be issued for reduced event participant headcount turnout at an event ("Low-Show"), zero participant turnout at an event ("No-Show"), and/or event cancellation. If you provide notice at least 72 hours in advance of the event for a Low-Show, No-Show, or cancellation then credit towards a future event may be issued in accordance with the rescheduling policy above. Any credit issued will be in accordance with the rescheduling policy above and must be utilized within 365 days of your original event date.
FAQs
What is the Online Gingerbread House Decorating Class?
This cake decorating class is all about getting your team in the holiday spirit. You won't have to worry about baking or intricate details while participating. The class focuses on simple techniques and makes gingerbread house decorating a fun adventure that will transport remote employees to their childhood! With the gingerbread smell in their homes and a lively host, your team will be talking and having fun while learning something new.
What is included in the Gingerbread House Decorating Kit?
Everything you'll need to get started. We will provide our Gingerbread House DIY kit with homemade house pieces, icing, icing tips, candies, and a white cake round to build your house on. Our instructor will guide you through the process on Zoom or your preferred video call software. All you'll need is a desk to decorate your cake! We provide delivery within the UK and the USA. For shipping to Canada, an additional 15 USD is charged.
Can this Virtual Gingerbread House Decorating Class be hosted for hybrid teams?
Yes! Our events are designed for both hybrid and remote teams. For those working from the office or home, it's an excellent opportunity to bond despite the distance and to indulge in some Christmas merriment together. We recommend setting up a TV screen or projector for those joining from the office. Drop us a line so that we can help you organise the event.
How many people can participate in the gingerbread house decorating experience?
Any number of people between 10 to 200 can join the virtual party. If you're planning an event for a lower or higher number of people, get in touch and we'll help you out.
How can I book this virtual gingerbread house decorating class?
To book our online Christmas party, enquire via our platform or send us an email at events@tagvenue.com if you require further assistance. We will then confirm the availability of the activity along with the price for your chosen number of participants. Once these are confirmed, you can make a payment by providing the company billing details i.e. the address, and VAT number (for non-UK customers only). We'll then send you a booking confirmation with the details and an invoice. A payment link will be provided where you can securely pay with your CC ( Visa, MasterCard, Amex). We accept CAD, GBP, USD, SGD, AUD, and EUR.
Other popular activities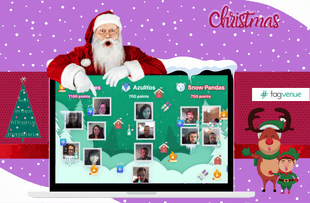 Christmas Essential Trivia
Join in the holiday fun with a mix of festive mini-games like Trivia, Buzz In, Pictionary, Karaoke, and Sort It. Dress up, click the link, and enter Tagvenue Virtual Social for a jolly event!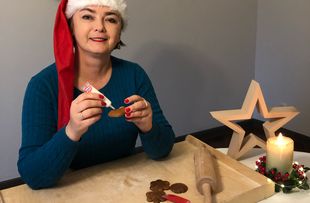 Gingerbread Baking Class
This online baking class will teach you how to make this sweet and spicy treat, which is perfect for any occasion and still a fun family activity in present-day Poland. Get baking with the team!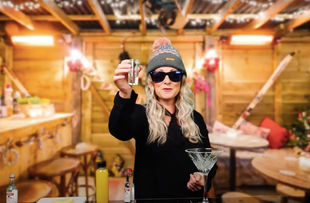 Apres Ski Cocktail Masterclass
Warm up with a delicious apres-ski cocktail in a cozy chalet. Join our cocktail-making class and learn to make your favorite drink without enduring the cold. Gather your team right away!