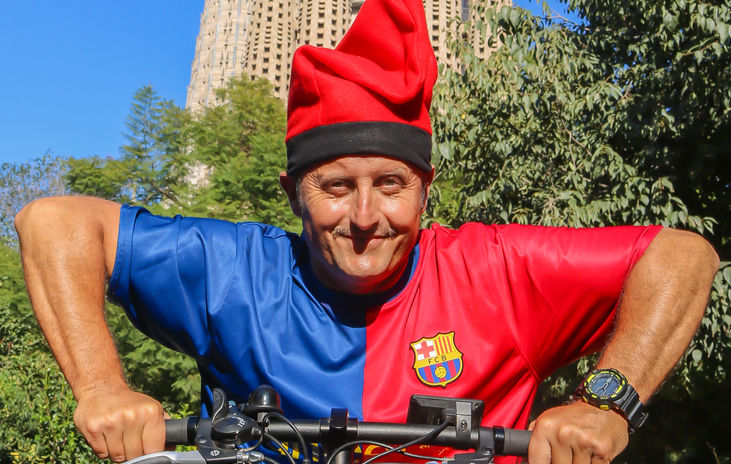 Fiesta In Barcelona - Virtual Tour
Amigos, join us on this virtual trip to hear hilarious local stories, discover beautiful sites and engage with your team!
Availability
Mon-Sun, 8am-11:30 pm CET
Activity highlights
Participate in team-building Barcelona themed games
Answer absurd "Never have I ever" questions
Learn hilarious stories about Barcelona
Create a crazy "Tapa" with your team
Event description
Treat your team to a fiesta in Barcelona! Discover this magical city through storytelling and cheeky activities!

If you can't go to Barcelona with your team, why not host a virtual tour that makes them feel like they're in the city? Let your team collaborate and interact to solve this fun Barcino Trivia. Participate in the most unique Christmas celebrations ever with the Poop Guy aka The Caganer, and get to know each other through some amusing Never Have I Ever questions.

The host will encourage your team to share their thoughts so that they can interact and learn more about one another. You'll learn how to eat properly when in Barcelona and how to create the crazy "Tapa". And with a poll, you can pick between options like Save Gaudí: Let's go back in time and let's try to save Gaudí from a horrible death! OR "Save the Princess" The uniquely bizarre story of Sant Jordi, the patron Saint of Catalonia.

Options:
Standard event details: Ideal For Remote Teams and Families who want to connect and hang out in spite of the distance, this Virtual Tour can last 60 or 90 minutes. We'll encourage your remote teams to build deeper connections with each other under the guidance of your fun (and super friendly!) Barcino hosts. During this interactive virtual trip, you will be able to choose between stories about Spanish culture, famous characters, and also places.

Premium Tour details: Add a second host who will be live streaming in Barcelona: Go sightseeing from the comfort of your own home with your team! Join our Barcino guide as they take you around the city in real-time. You'll soak up beautiful sites and hear hilarious stories—without your legs ever getting sore!

The game can be hosted in English, French, and Spanish.

Draw a Dalí moustache, get some tapas and find your prettiest sunglasses because you are going to Barcelona!
What's included
Zoom link
Fun event host
A photo of your team
Blast for all the players
What you need
PC / laptop
Earphones / headphones
Reliable Internet connection
Videocall software (Zoom, MS Teams, Google Meet etc.)
---
---
Cancellation policy
RESCHEDULING POLICY:
After a booking has been made, Client rescheduling within 2 weeks or less of the event date is subject to a fee equal to 25% of the total fee.
After a booking has been made, Client rescheduling within 72 hours or less of the event date is subject to a fee equal to £150 or 50% of the total fee whichever is greater will be applied at the time of your re-booking. Your event must be rescheduled within 365 days of your original event date.

CANCELLATION, LOW-SHOW, AND NO-SHOW POLICY: No refunds will be issued for reduced event participant headcount turnout at an event ("Low-Show"), zero participant turnout at an event ("No-Show"), and/or event cancellation. If you provide notice at least 72 hours in advance of the event for a Low-Show, No-Show, or cancellation then credit towards a future event may be issued in accordance to the rescheduling policy above. Any credit issued will be in accordance with the rescheduling policy above and must be utilized within 365 days of your original event date.
FAQs
What is Fiesta in Barcelona Virtual Tour?
Fiesta in Barcelona is a virtual tour intended to enable teams and families to enjoy the city from the comfort of their homes. Participants get to discover Barcelona through fun trivia and stories about the culture. Through a series of amusing Never Have I Ever questions and some light entertainment from our host, your guests will learn many new things about this unique city. Engaging and extremely interactive, this virtual tour is ideal both as a diversity and inclusion experience or a fun event for all.
How does a virtual tour work?
Depending on the package that you've chosen, you can either discover the city through activities such as trivia and storytelling or enjoy some sightseeing with the help of a live host who will take you around some popular places in Barcelona. All you need to do is select your preferred language ( English, French or Spanish) and hop on Zoom with your team when the time comes! Don't forget your shades and camperos!
Does my team need to download anything for the event?
No. You don't have to download anything for the event. You can choose any communication platform that you prefer (Zoom, Google Meet, etc). We recommend using headphones and turning on your cameras for a more immersive experience.
Are virtual tours suitable as team building activities?
Since they encourage meaningful relationships among participants, virtual tours are effective team-building exercises. Bonding that overcomes the restraints of physical distance is fostered by activities that allow participants to discover new things about one another.
How many people can participate in a virtual tour?
As few as 10 people and as many as 4,000 can take part in the event. However, it's best to keep it to reasonable numbers of participants where everyone can interact and get to know each other.
How can I book a virtual tour on Tagvenue?
Simply enquire via our platform or send us an email at events@tagvenue.com. We'll get back to you ASAP and confirm the availability and pricing of the virtual activity. If these suit your needs, simply book the event by providing the following: company billing details: address, and VAT number (for non-UK customers only). We'll revert with a booking confirmation and an invoice. A payment link will be provided where you can securely pay with your CC ( Visa, MasterCard, Amex). We accept CAD, GBP, USD, SGD, AUD, and EUR.
Other popular activities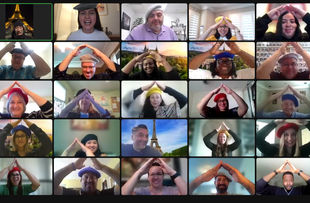 Paris Party - Virtual Tour
Your Parisian virtual tour will teach you all about classic monuments! Get your team on this virtual Parisian dream trip to hear hilarious stories, discover beautiful sites, and have fun together!
Around the World - Virtual Icebreaker
Around the World is a fun and lighthearted team-building game that promotes networking and cultural learning. Ideal for collaboration, culture-building, and more. Suitable for everyone!
Virtual Scavenger Hunt in Italy
Experience an Italian Scavenger Hunt that will blow your mind from the comfort of your couch. Explore Italy, learn Italian vocabulary, and find links between Italian culture and objects at home.