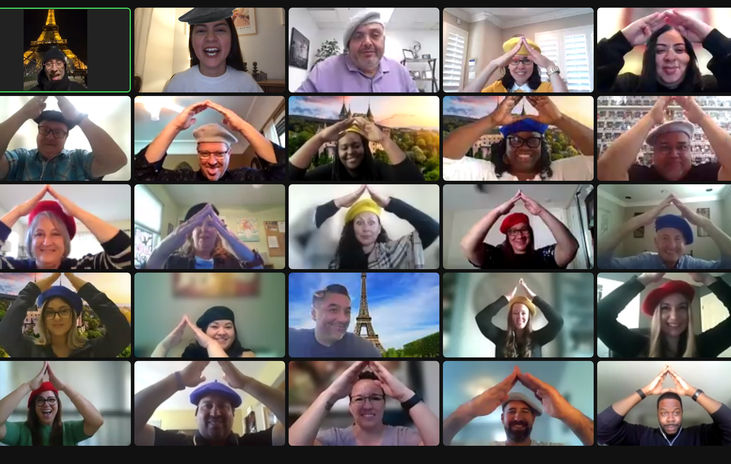 Paris Party - Virtual Tour
Get yourself some baguette, camembert, and your beret hat cause you are going to Paris!
Activity highlights
Compete in a ridiculous "Parisian Trivia" and "True vs False" and other games
Experience Parisian atmosphere with your team
Host live streaming in Paris (optional)
Hear original stories about Paris
Event description
Dreaming of the Eiffel Tower lately? Travel to Paris in an instant without any cost!

Treat your team to an ooh-la-la virtual tour in Paris where they'll get to experience the city together, despite being in different locations. This tour features a combination of storytelling and super fun activities that will have your team learning hilarious French words, competing in Parisian Trivia contests, and discovering their inner Parisian with icebreaker questions. Teams will learn quirky stories about the city while connecting, and engaging with each other!

Your Parisian virtual tour will teach you all about classic monuments and answer such questions as Why shouldn't the Eiffel Tower stand today or Why has the U.S made the Louvre Museum as famous as it is?
Learn to picnic à la Parisienne, find out where locals go for fun and discover incredible and underrated museums. Rekindle bonds with your team or loved ones with absurd Parisian trivia, hilarious French vocabulary lessons, Protesting 101, and more!

Options:
Standard event details:
Ideal For remote, hybrid teams and families who want to connect and hang out in spite of the distance. This virtual tour can last 60 or 90 minutes.

OPTIONAL: Add a second host who will live stream from the Paris streets. Send picnic boxes to each participant to enjoy during the virtual trip.

The game can be hosted in English, French, and Spanish.

Get your team on this virtual Parisian dream trip to hear hilarious stories, discover beautiful sites, and have fun together!
What's included
Zoom link
Fun event host
A photo of your team
What you need
PC / laptop with a camera
Reliable Internet connection
Earphones / headphones (recommended)
Videocall software (Zoom, MS Teams, Google Mee, Webex)
---
---
Cancellation policy
RESCHEDULING POLICY:
After a booking has been made, Client rescheduling within 2 weeks or less of the event date is subject to a fee equal to 25% of the total fee.
After a booking has been made, Client rescheduling within 72 hours or less of the event date is subject to a fee equal to £150 or 50% of the total fee whichever is greater will be applied at the time of your re-booking. Your event must be rescheduled within 365 days of your original event date.

CANCELLATION, LOW-SHOW, AND NO-SHOW POLICY: No refunds will be issued for reduced event participant headcount turnout at an event ("Low-Show"), zero participant turnout at an event ("No-Show"), and/or event cancellation. If you provide notice at least 72 hours in advance of the event for a Low-Show, No-Show, or cancellation then credit towards a future event may be issued in accordance to the rescheduling policy above. Any credit issued will be in accordance with the rescheduling policy above and must be utilized within 365 days of your original event date.
FAQs
What is the Paris Party Virtual Tour?
Experience the beauty of Paris with your team without leaving your house. Dispersed teams and families get to experience the city together and learn a few fun French words as they discover the city through trivia and icebreaker games. Participants will interact with each other while learning cultural bits about one of the most beautiful cities in the world. This is a fully hosted event and you can even customise the event by adding a second host to livestream as they ride around the city and send picnic boxes to your team.
How many people can participate in a virtual tour?
Anything from 10 to 4000 people. All you have to do is ensure you have a stable internet connection and join your friends on the provided link when the time comes. Headphones and cameras are optional but recommended.
When can I host a virtual tour?
Virtual tours are ideal for birthday parties, office parties, and culture-building events. Participants not only get to visit a city together but they also get to talk and laugh while learning something new. You can host a virtual tour at any time of the year.
Can I combine two events for a team building activity?
Yes! We can help you organise two different events for a team building experience. For instance, you can combine a Cocktail Crafting activity along with a virtual tour. If you're unsure about how to combine events, drop us a line and we'll help you organise the event from start to finish.
How do I book a virtual event on Tagvenue?
You can either use the 'Enquire Now' option on the event page to proceed with the booking or get in touch with us at events@tagvenue.com. Let us know your guest size and preferred dates and we'll get back to you with the answers asap. Then we proceed with the payment- all you have to do is provide us with your company's details such as the address and VAT number (for non-UK Customers only) following which we'll send you an invoice and a link for the payment. You can then securely pay with your CC ( Visa, MasterCard, Amex) via a link. We accept CAD, GBP, USD, SGD, AUD, and EUR.
Other popular activities
Around the World - Virtual Icebreaker
Around the World is a fun and lighthearted team-building game that promotes networking and cultural learning. Ideal for collaboration, culture-building, and more. Suitable for everyone!
Virtual Scavenger Hunt in Italy
Experience an Italian Scavenger Hunt that will blow your mind from the comfort of your couch. Explore Italy, learn Italian vocabulary, and find links between Italian culture and objects at home.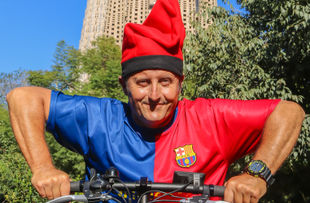 Fiesta In Barcelona - Virtual Tour
Treat your team to a virtual fiesta in Barcelona! Explore the city through storytelling, trivia, and cheeky activities. Learn about Catalan traditions like the Caganer, try making tapas, and more!