Who else wants to know how to plan a party with flair? Take the guesswork out of planning your next event with this easy-to-follow party planning checklist. Our venue experts have broken down the essential steps so you can host a memorable event without breaking a sweat. So what are you waiting for? Check out our ultimate party planning to-do list and get organising!
Ultimate Party Planning Checklist:
A month before:
Write a guest list
Keep in mind that 70–80 per cent of invitees will typically attend
Select a date
Avoid disappointment by

enquiring with multiple venues

or being flexible with your event date
Determine your budget
Be realistic – decide where to splurge and where to save
Choose a venue
Save time by using a

free venue-finding service like Tagvenue.com
Decide on a theme
Make decorating easier by hiring an event space that ties in with your choice
Book speakers, entertainment or an emcee, if needed
DJs, live bands and photo booths are all popular options – just make sure to let the venue manager know what you're planning
Invite your guests
Your invitations should include the date and time, dress code and party theme
Organise catering
Think about everyone's needs. Do your guests have allergies or special dietary requirements? Make sure your caterer can accommodate special dietary requirements.
Three weeks before:
Plan the details
Research Pinterest, blogs and magazines for decoration ideas

Place your orders
Do you need tableware, party favours or a cake?

Create a seating plan, if needed
This is well worth considering if you're having more than 50 guests
Line up some help
Find out who your go-to person at the venue will be and enlist a few friends to lend a hand on the day
A week before:
Call or email guests who've not yet RSVP'd
Finish DIY projects
Inviting friends over to help out makes for a fun pre-party!

Make a party playlist
Music sets the scene so choose upbeat tracks that'll keep your guests on the dance floor

Confirm all deliveries and pickups
The day before:
Pick up rentals and flowers
Shop for last-minute items
On the day:
Start the party before the real party gets started
Social Networks are incredibly useful to let your guests know everything they should know (Is it going to rain tonight? Tell them as soon as possible!), but also to encourage them to come along with their best attitude. Remind them about the details of your party and try to open a conversation between your guests.
Decorate
It's time to let you inner interior designer go wild! Place flower arrangements and set up the lighting, tables and serving areas (remember not to inflate balloons until 1–2 hours before your event)
Welcome your guests!
Things should be organised, which means you can enjoy your event as much as your party-goers!
Connect different people in the same room
If you grew up in a village, you would know how easy people from different generations and backgrounds can have an interesting conversation. Turn your place into a little village where everyone knows everyone. You just need to introduce them and talk about interests they have in common.
Relax and enjoy
Otherwise your guests will see you overwhelmed and they won't enjoy it either. If you think there is too much to handle you can always leave it to the professionals and hire a party promoter… If you can afford one. If not, don't worry, feel free to ask some of your regular visitors to help you. In the end, planning a party doesn't have to be a solo endeavour. You must remember that one of your priorities is to be happy. So getting a little help can do wonders. There really is no better way to get the party started…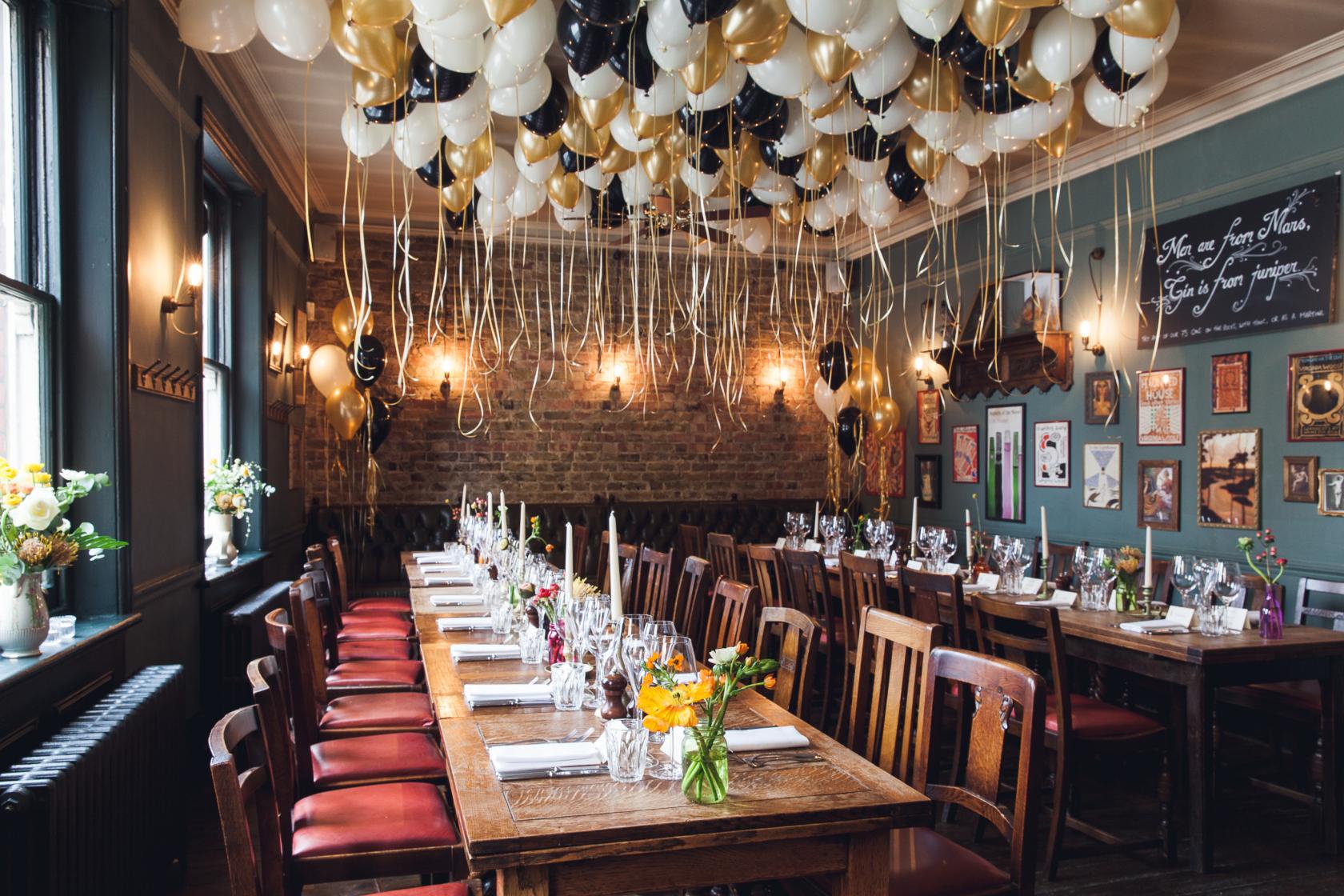 Bonus tips and tricks:
Order thank you notes at the same time as your invitations
This will save on shipping costs

Make sure the bar is well stocked and there's plenty of ice
Expect each guest to have 1–2 drinks per hour

Hire a venue with a built-in activity
Booking a fun venue, like a bowling alley or a karaoke bar, will simplify your event planning