Planning a party but don't know where to start? Take the guesswork out of your planning with our easy-to-follow party planning checklist. We have set out all the essential steps to help you host a memorable event without breaking a sweat.
Leave the stress behind with our comprehensive party planning checklist and get the party started!
✨Up to Three Months in Advance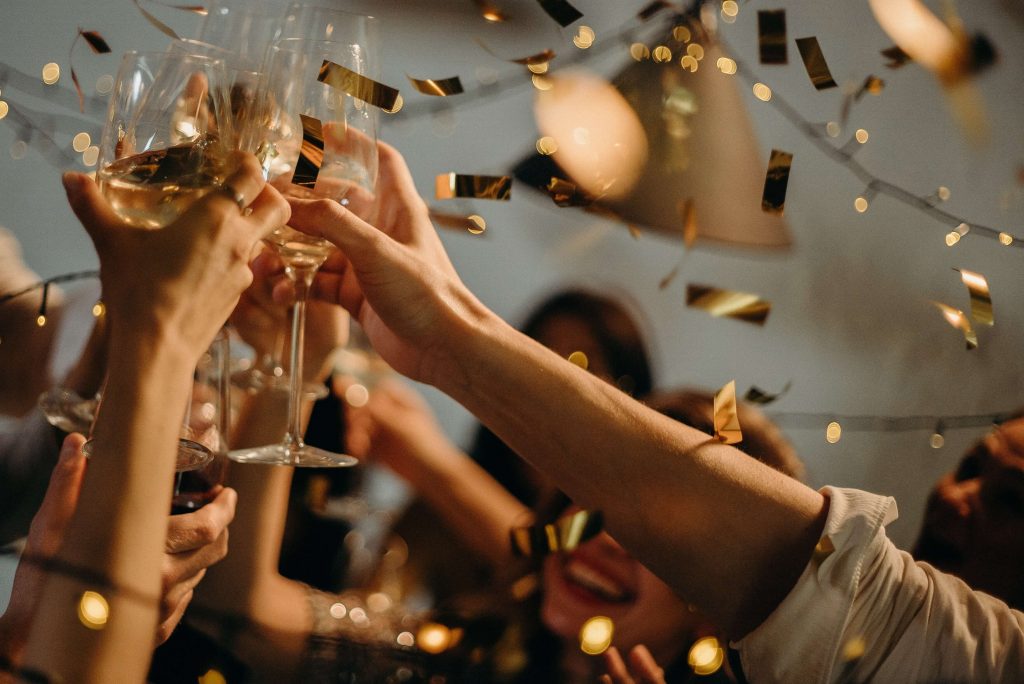 Whether you're hosting a birthday party, baby shower, graduation party, bachelorette party or something else, make sure to start your planning process well in advance. Giving yourself enough time before the event will give you a chance to nail down all the essential party details, from setting the budget to choosing an exciting theme and decorations. You'll also make the right decisions along the way and will feel less stressed out on the big day!
Select a Date and Time
Keep a date in mind, but don't narrow yourself down to just one day. Be flexible and check whether the most important guests are available for your chosen date. If you have a favourite place where you want to organise your event, it's also good to check with the venue beforehand to see if they are available for hire on your selected day.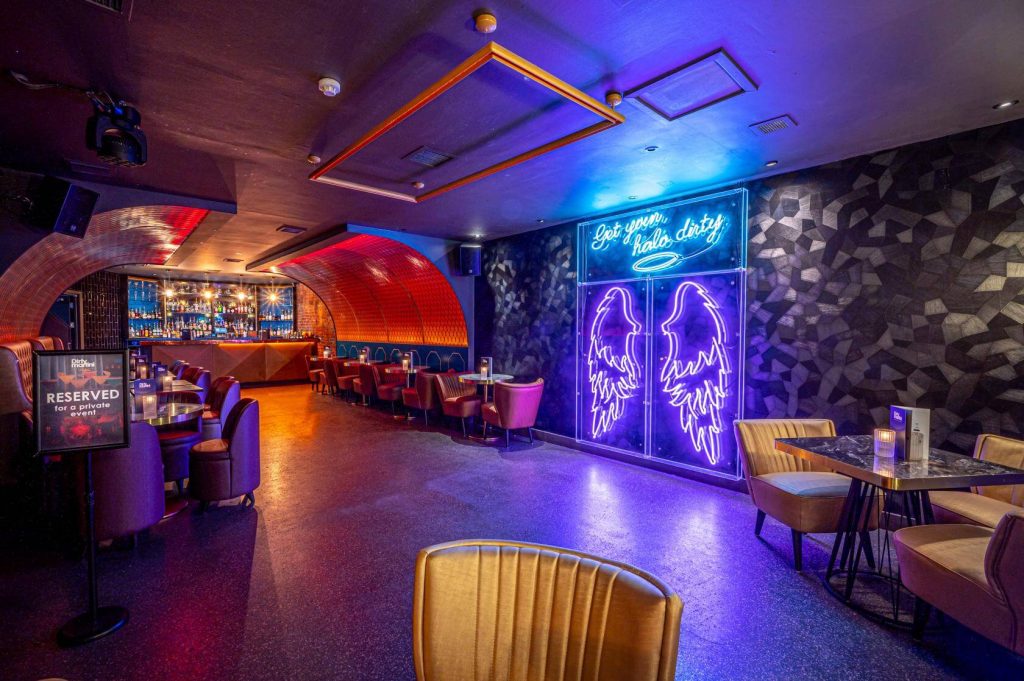 Start your party preparations by figuring out the perfect date. When would be best to host it? During the weekend or in the middle of the week? Don't narrow yourself down to just one day. Be flexible and make sure to check whether all your guests can show up on your chosen date. Generally, we don't recommend choosing a date that falls near any holidays or long weekends – that's when many people have other plans which will make it difficult to show up at your party.
If you have a favourite place where you want to organise your event, it's also good to check with the venue beforehand to see if they are available for hire on your selected day. Being flexible also allows you to find fantastic venues that can make your party a memorable one.
Determine Your Budget
Establish a clear budget early on and stay realistic. Prioritise the elements that matter most and distribute your budget wisely. Avoid overspending on a single major element while neglecting other crucial aspects of your party. Balancing your budget is key to a successful event.
Doing some research can provide cost estimates for each party aspect and help guide your spending decisions. This knowledge helps you allocate resources effectively. Alternatively, you can consult an event planner for expert budgeting assistance.
Decide on a Theme
Decide what type of party you'd like to host and book/decorate your venue accordingly. Want some inspiration? Check out our 170 party themes to rock every party!
Draw Up a Guest List
Whether you're planning a big event or an intimate gathering, a guest list will help you make all the right decisions. You will easily calculate how much food and drinks you need, as well as choose a comfortable space that will accommodate everyone.
Hire a Venue (or Host It Yourself)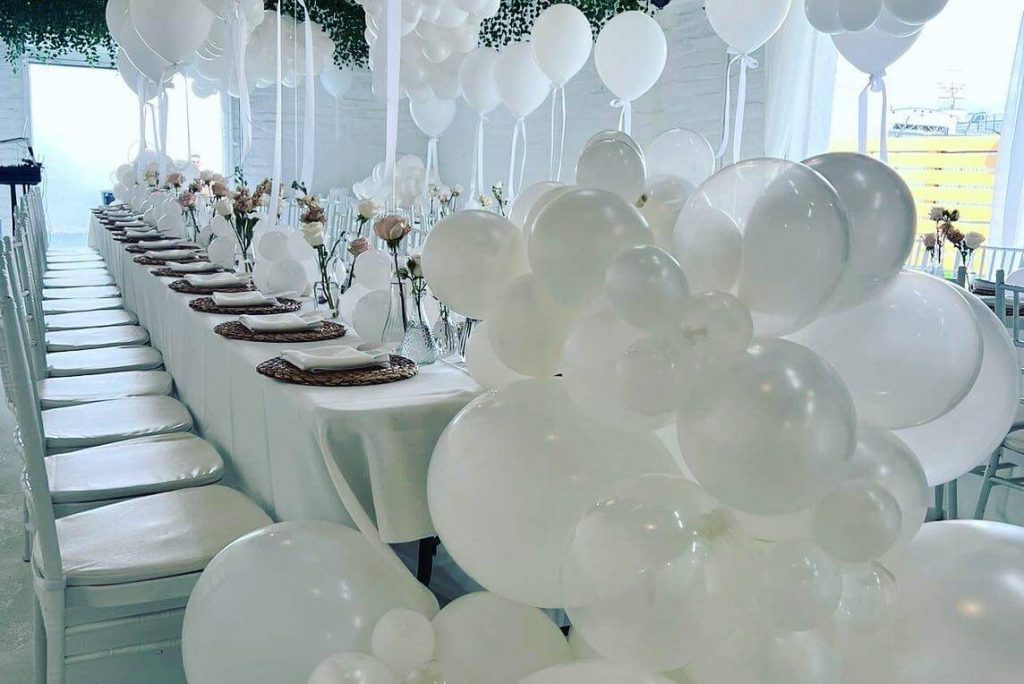 When planning your party, one critical decision is whether to host it at home or in a venue. Opting for a venue can simplify things and potentially reduce costs, especially if they offer comprehensive party packages. Venues often have dedicated managers to assist with planning and may provide in-house catering and bars for added convenience.
However, if you prefer a more personalised event, check if the venue allows external caterers, entertainers, and bar suppliers. Be mindful of potential corkage fees for alcohol they don't supply. Also, confirm setup and departure times, as well as any cleanup requirements, if you bring in your own vendors.
Hosting at home can save money, but it requires substantial planning unless you hire a professional party planner. It offers an opportunity for a unique, bespoke experience, allowing you to invest savings into marquee rentals, external caterers, and entertainers. You'll have full control over timing, catering, bar, and entertainment choices, giving you more flexibility than a venue.
Nonetheless, hosting at home demands thorough organisation and planning. For grand, luxurious home events, involving a professional party planner is recommended to ensure a seamless and memorable celebration.
On Tagvenue, you can choose from a wide range of different venues, from vibrant restaurants to classy bars, upscale rooftops and more!
Book Entertainment and Extras
Ensure you're clear on the venue's rules regarding sound levels, music start and stop times, party end time, guest departure time, and venue cleanup requirements. Additionally, inquire about any restrictions on the type of entertainment allowed, as some venues may have strict guidelines, such as prohibiting acts with dangerous stunts or burlesque performances. Understanding these details will help you plan your event smoothly.
Also, to ensure you're hiring someone trustworthy and professional, check the vendor's portfolio and reviews before booking. This way, you'll lower your chances of having any unpleasant surprises.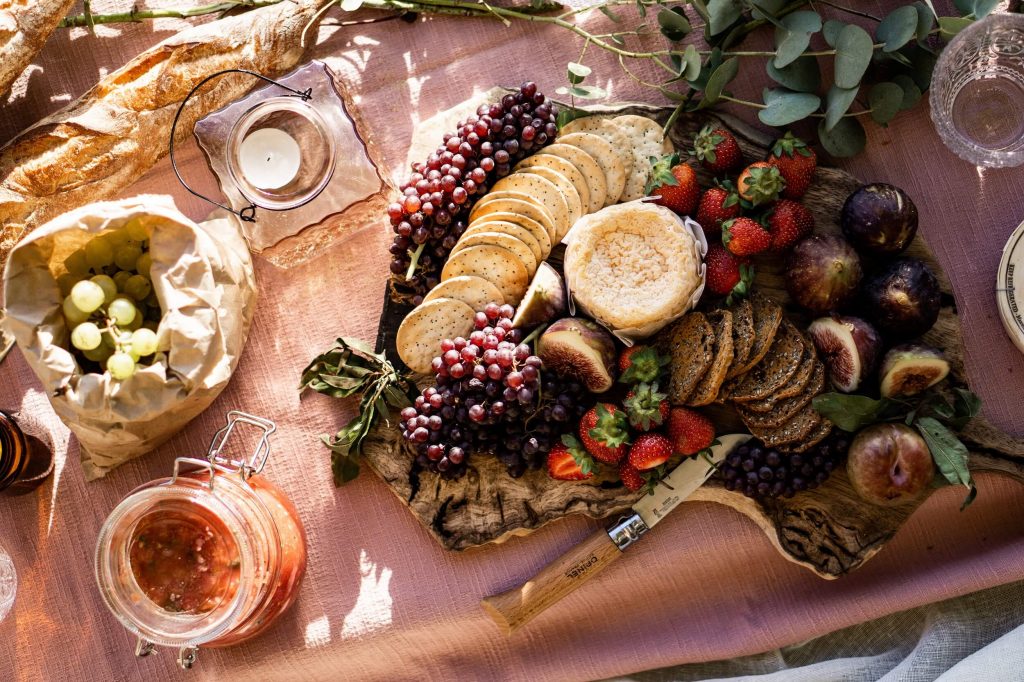 When choosing the menu, we suggest taking into account what type of event you'd like to host. If you're going for a cocktail style, you can, for example, serve delicious finger foods that go well with cocktails. Or you can surprise everyone with different types of charcuterie boards! When it comes to sit-down dinners, you can have a potluck or hire a fantastic restaurant that will spoil everyone's palate.
But no matter which option you decide on, make sure to consider everyone's needs. Do your guests have allergies or special dietary requirements? If you're taking charge of the cooking, devise a menu that's easy to prepare and will also accommodate all your guests. If you're using external caterers, be sure to let them know all the important details before they begin proposing a menu.
And why not make things more interesting by adding food stations? Immersive food stations can really bring your party theme to life! Food stations allow guests to explore and graze from a variety of interesting options, they are extremely social and can be themed to match your party.
Send Invitations
Once you've decided on the date, budget and where you will host the event, make sure to create a buzz around your party with proper invitations! You can use classy paper ones and send them via mail, DIY digital ones or even create a special event page on social media.
Just make sure you include all the essential information, such as the date and time, dress code, and party theme.
Line Up Some Help
If you've hired a venue, ask the venue manager who from the venue can assist you during the party. Apart from that, it's a good idea to ask some close friends for help during the event to lift some weight off your shoulders!
If you are planning on throwing an all singing, all dancing luxury party then consider using a professional party planner. Party planners know their stuff and organisation and planning are in their DNA.
A planner will alleviate a huge amount of stress, they know the best suppliers, how to manage a budget and are experts at pulling everything together, both in advance and on the night, so that you can just relax and enjoy your own party.
✨Three Weeks Before the Party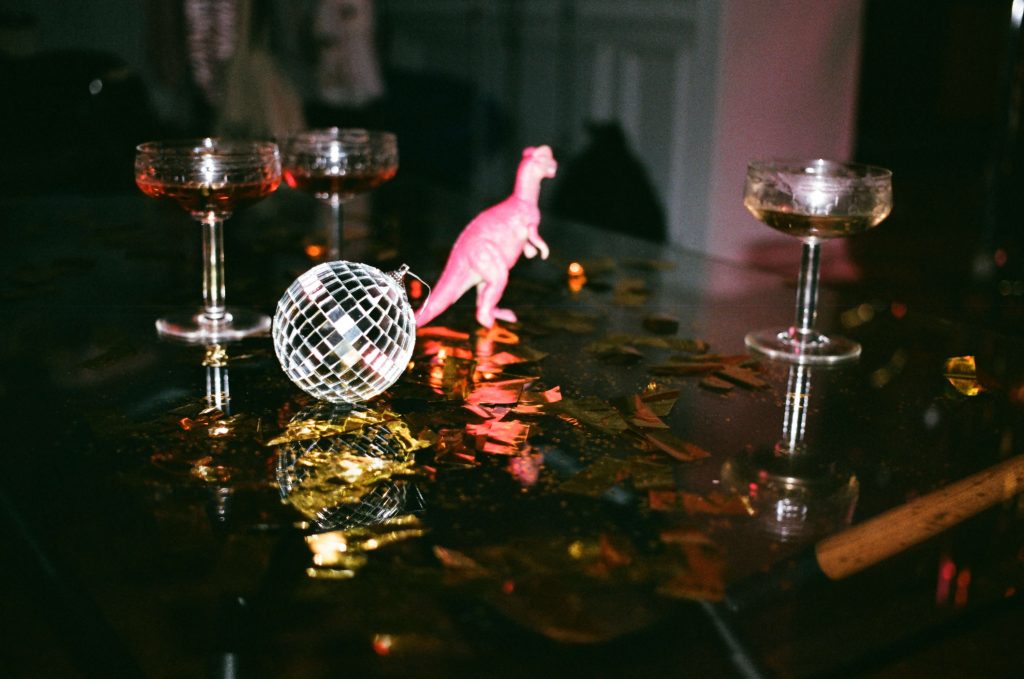 Around a month to three weeks before the party is the perfect time to determine aesthetic details, from decorations and seating arrangements to party favours. They make all the difference in making your event stand out from the crowd, so try to come up with something cohesive and fun!
Choose Party Decorations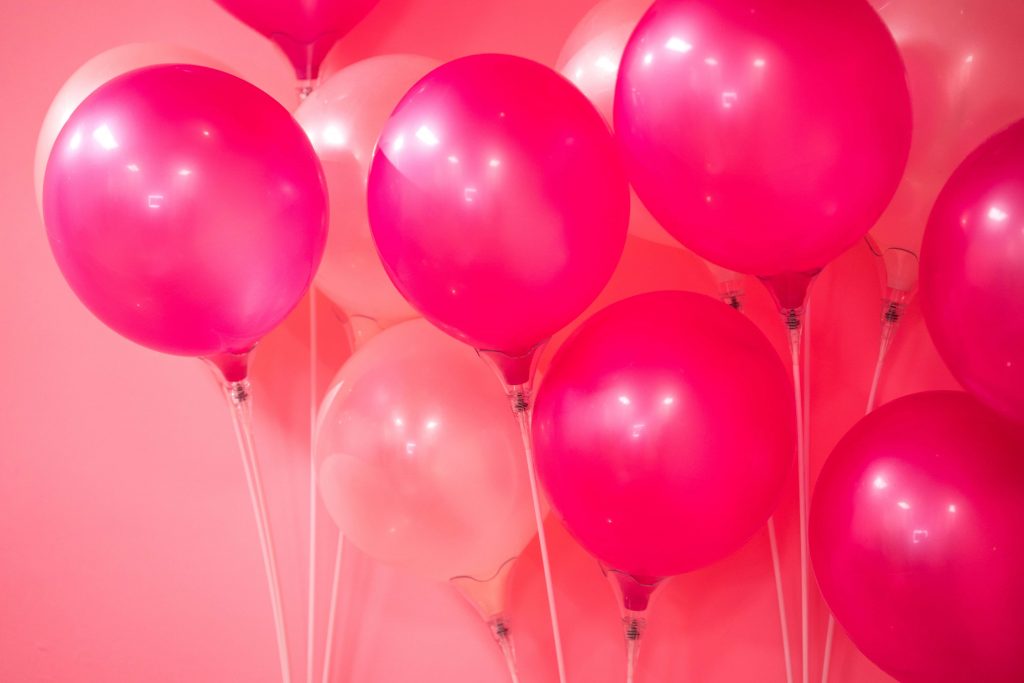 Balloons and streamers, or buntings and garlands? If you don't know what decorations to choose, research Pinterest, Instagram, blogs and TikTok for some inspiration that will tie in with your theme. You can also keep the decorations simple – even some flowers, fairy lights and candles can do the trick and elevate the atmosphere.
Create a Party Schedule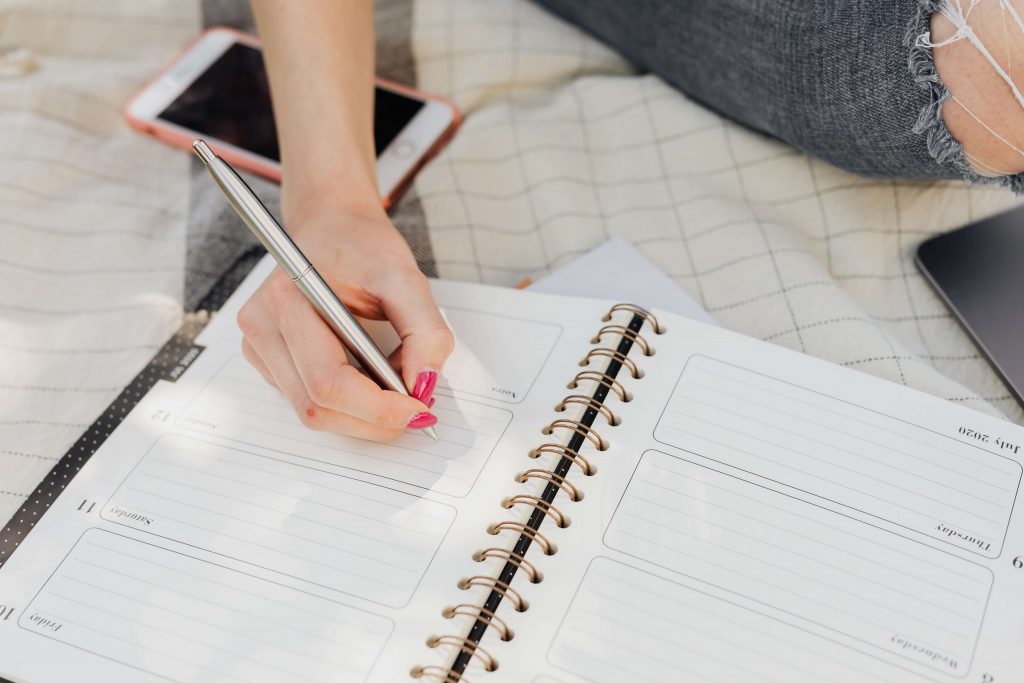 Whether you're hosting a birthday party or a baby shower, a rough schedule will give you a general idea of how the party should progress. It will also help you stay organised and make sure that everything runs smoothly from start to finish.
When creating a schedule, apart from the obvious start and finish time, allocate enough time for each activity you've planned and add in a buffer in case things run over schedule. Consider the flow of the party and how you want things to progress. Do you want to start with some fun party games to break the ice? Or perhaps you want everyone to mingle first? It's your party, so you get to decide!
Creating a party schedule is a fun and creative process that will make your party planning experience much smoother!
Place Your Orders
If you're planning to have a cake, gift everyone with cool party favours or order personalised decorations, then now's the time!
Create a Seating Plan, If Needed
If you're having more than 50 guests and you plan to serve a sit-down dinner, you need to take some time to figure out the seating arrangements. Be sure to seat people evenly between people they know and people they don't know to try and encourage mixing. Feeling green and don't know where to start? Check out our blog post on seating arrangements for more ideas!
✨A Week Before the Party
The party day is coming closer! Now let's focus on the finishing touches that will ensure that everything goes without a hitch.
Take Care of RSVPs
A week in advance is the best time to call or email guests who have not yet responded to your invitation. Don't be afraid to be a little nagging, and if they still don't respond, try to reach them a few more times. It's better to be sure than to have unexpected guests showing up at the last minute! By having confirmed RSVPs, you will easily be able to plan and make last-minute rearrangements.
Finish DIY Projects
If you're making your own decorations, make sure to have them all ready a few days before the party. Try not to procrastinate and leave it to the day before the party – it will only make you stressed out and nervous!
You can always invite your friends over to help you out. Such a spontaneous activity can make for a fun pre-party that will make everyone eager for the big day!
Make a Party Playlist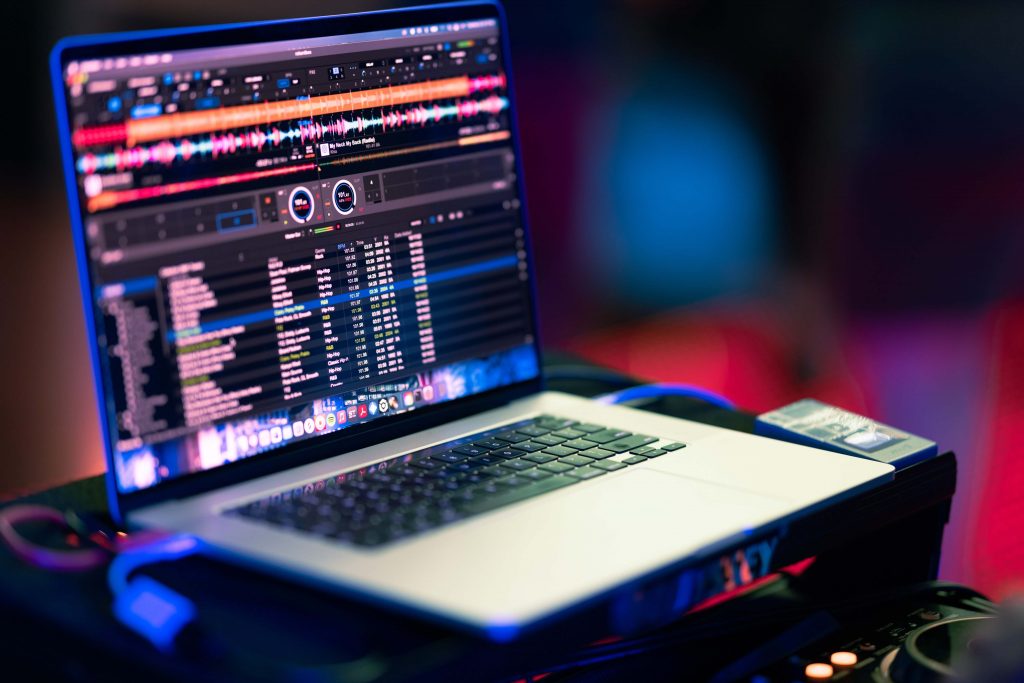 Music will set the tone for your party. So make sure you've got the perfect playlist ready! Aim to get the floor filled early, but don't waste all your biggest tracks at the beginning! Build the atmosphere while keeping things upbeat.
A great idea is to ask all the guests to add their favourite tracks to the playlist. On the day of the party, they will be all waiting to sing along when their favourite tune starts playing!
Confirm All Deliveries and Pickups
Imagine this: your party is in full swing, everyone is having a blast, and then, suddenly, you realise that the cake never showed up. Disaster! That's why it's crucial to confirm all deliveries and pickups before the party.
Keep a list of all the items you've ordered, such as flowers, catering, cake, etc. and add the info of the delivery or pickup time. A day or two before the party, call or email the vendors to confirm the details. This will give you peace of mind and allow you to make alternate arrangements in case things go south.
Speak to the Neighbours
If you're hosting a party at home, check in with the neighbours to let them know that you're hosting a party and it may get loud. Communicate with them to see if they have any specific boundaries or desires, or allow them to make plans to go out themselves.
Of course, you can always invite them to the party as well and strengthen those neighbourly relations!
✨The Day Before the Party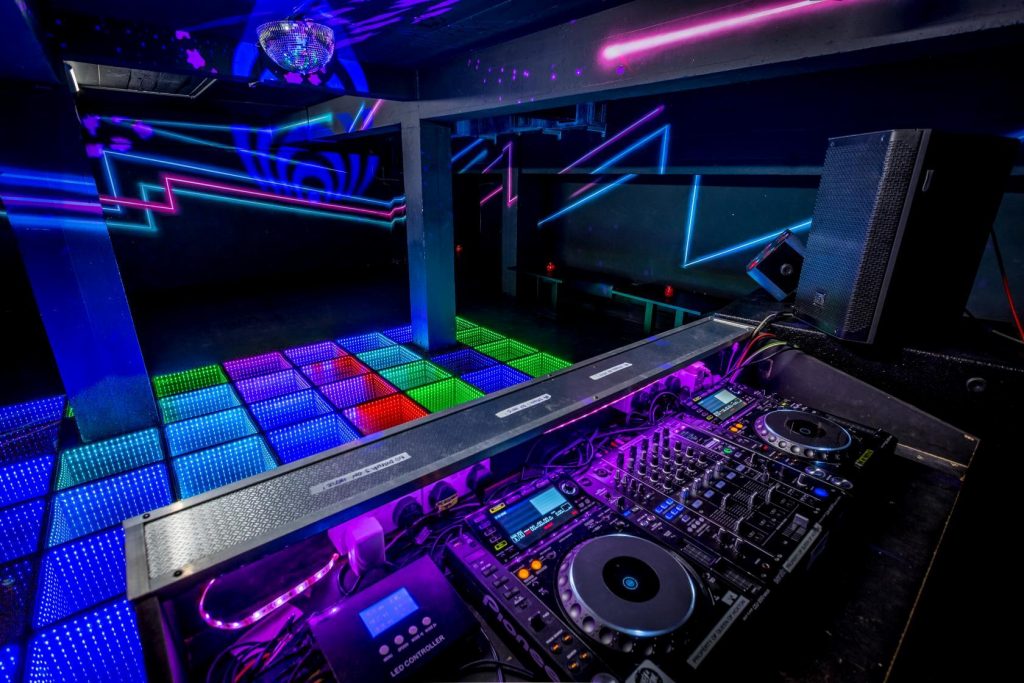 Pick up Rentals and Flowers
Collect your orders and make sure everything is ready for the big day.
Shop for Last-Minute Items
Forgotten something or realised you need some extra items at the last moment? Now's your chance to buy them!
Charge Your Camera
Imagine not being able to capture the best moments of your party! Fully charging your camera the day before will make sure this won't happen.
Check Your Party Programme and Checklist
Party planning is a long process, and some things can naturally be missed along the way. Double-check your list and complete any small tasks that might be left over.
✨On the Day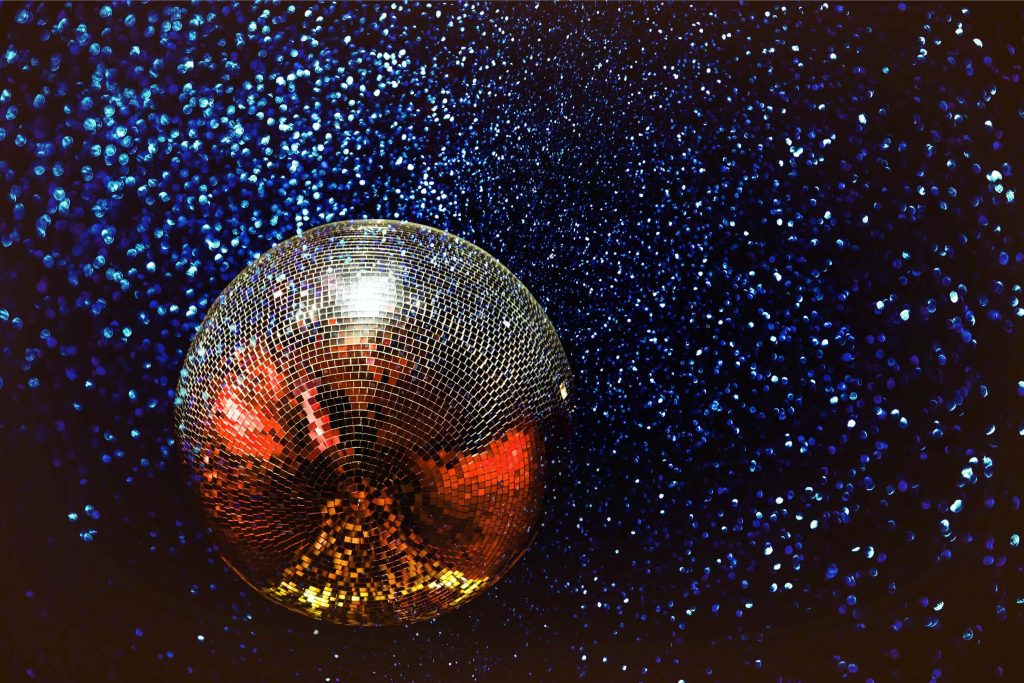 Start the Party Before the Real Party Gets Started
If you're in touch with your guests on social media, it might be nice to message them on the morning of the party with some last-minute hints, e.g. weather updates. Also, remind them about the details of your party and try to create some excitement by sending them pictures of the decorated venue/space and encouraging them to bring their best attitude.
Decorate
It's time to let your inner interior designer go wild! Set out the flower arrangements and put up the lighting, tables, serving areas and dance floor. Remember not to inflate balloons until 1–2 hours before your event!
Welcome Your Guests!
Remember that you're here to party as well! Welcome your guests with a smile and enthusiasm to set the tone for the rest of the night. Make sure that you don't miss anyone who shows up.
Be a Good Host
Try and connect guests that haven't met before by introducing them through interests they have in common. If you do this early on, it will create a relaxed atmosphere where everyone feels like they know everyone else.
Relax and Enjoy!
As long as you're organised beforehand, there shouldn't be many issues that arise during the party. So try to relax and enjoy it yourself.
If your guests see that you're overwhelmed, this can rub off on them and dull the atmosphere. If you can afford it, it's always possible to leave it to the professionals and hire a professional entertainer that will guide you through the night. Just remember that your main priority is for you and your guests to be happy and enjoy the night!
✨After the Party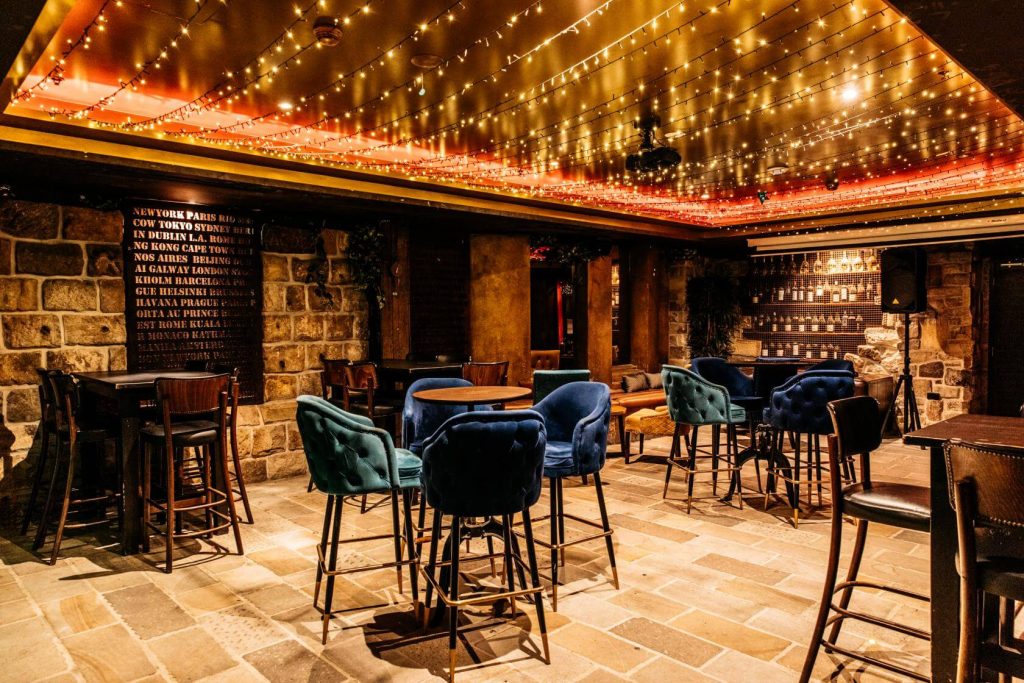 Thank Yous
Be sure to thank your venue, helpers and guests. If you want to use thank you notes, order them at the same time as your invites to save on shipping costs.
Cleanup
Either with a hired crew or with your team of helpers, make sure all the equipment and decorations are taken down and you leave the venue as you found it.
Check Your Camera
Go through any photos and videos you took during the party and send them to your guests. Everyone will appreciate such a gesture, as they will work as the perfect keepsake they will keep for a lifetime!
✨Bonus Tips and Tricks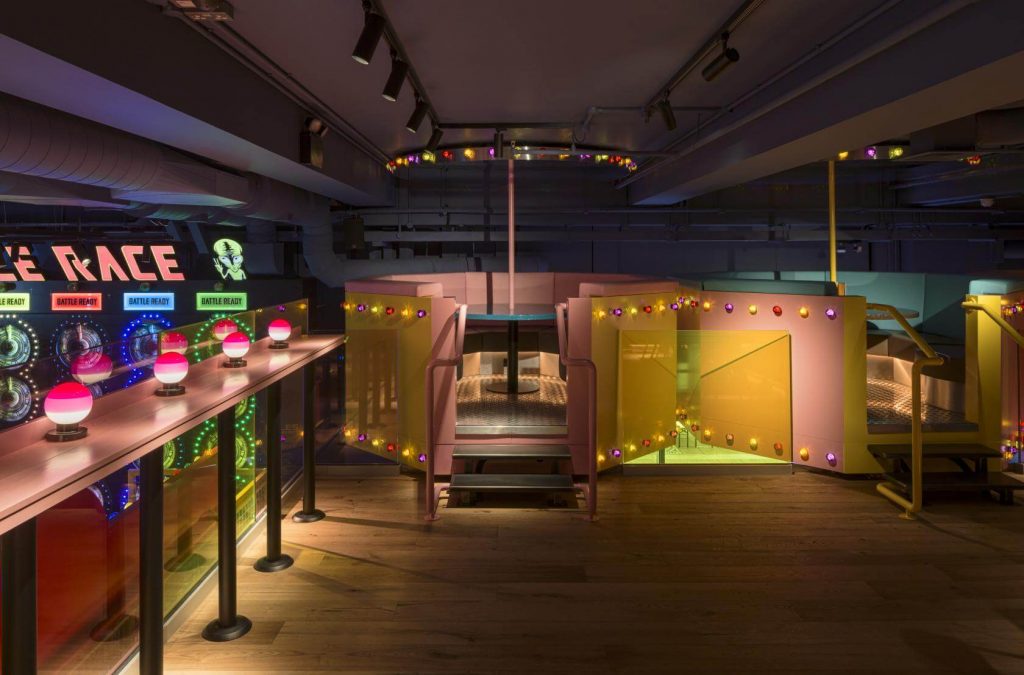 Write Your Own Checklist
To stay organised and ensure you don't miss anything important that may influence the party's success, create a checklist that will be tailored to your event. Use this checklist as a guide and include any extras you may need to make your party the one for the books.
Stock Up the Bar
Happy guests are the ones who don't run out of booze early. To avoid this from happening, calculate how much beverages you will need. Generally, it's a good idea to expect each guest to have about 1–2 drinks in the first hour and 1 for each hour after that.
This drinks calculator can give you a clearer idea of the amount of alcohol you should have per guest.
Hire a Venue with a Built-In Activity
Booking a fun venue, like a bowling alley or a karaoke bar, will not only simplify your event planning, but make it more exciting. At Tagvenue, we have an array of exciting venues that will keep your guests entertained and engaged throughout the whole event! With our smart engines, you're sure to find a space that matches your expectations and price range.
✨Hiring a Venue? How About Making a Venue Hire Checklist Too?
We've already touched on the fact that you may be hiring a venue that could operate with more rules than if you were hosting it yourself. In this case, it's a good idea to come up with a checklist of things to verify with your venue before you go ahead with your event. Here are a few initial ideas:
Ensure you have the venue manager's contact information in case of any emergencies.
Check what time you and your helpers can arrive to begin setting things up for the party
If you have any deliveries to wait on, check where they'll be delivered to.
Double-check what time you have to be out of the venue and when you should hand the keys back. Some places may let you leave things at the venue and pick them up the next day, so it's important to check.
Verify for how long alcohol and drinks can be served and when music should be stopped.
If the venue offers parking, get all the necessary information about location, price, valets and collection.
Check with the venue manager about where rubbish should be disposed of and whether or not the venue recycles.
Make sure you read the policy about any late fees in case the party runs late
Want some more tips? Head over to our ultimate checklist for choosing a venue!
✨To Wrap Things Up
Putting on an awesome party takes a lot of work and preparation, but with this party planning checklist, you'll be well on your way to hosting the event of the year!
Remember to keep a positive attitude and stay organised. Don't be afraid to ask for help if you need it. But what's the most important thing? Have fun! All the efforts will go to waste if you're not present at your own party and don't enjoy it. Even if you forget about something, your guests will appreciate all your hard work and effort, and they'll remember your party for years to come when you have fun with them.
So get out there, start planning, and let's make some amazing memories!
FAQ
How do you budget for a party?
What we recommend is to think about how much you can pay for the whole party. Then, try to prioritise the most important expenses, such as food, drinks, decorations, venue hire, etc. and figure out what's the ideal number you'd like to pay for each party element. Write those numbers down and keep track of them once you make the final decisions.
What makes a good party?
A good party is one that leaves everyone with great memories and a desire to attend your next event. If we were to choose what we should pay attention to when hosting a party, those elements would be:

💠Good food and drinks
💠Music 
💠Activities
💠A fun theme 
💠Attention to detail 
💠Great venue 
How far in advance should the party be planned? 
The earlier, the better! Having enough time to take care of all the essential elements will result in you being more confident as a host and having fewer chances of something going wrong. That's why you should start planning a party around three months before, especially when you're planning on booking a great venue.