It's always Halloween o'clock somewhere! From the haunted house to the pumpkin patch, there is something quite unique about Halloween that makes us excited for the 31st of October. Adults and children equally enjoy this night of tricks and treats! So, party monsters and witches, be prepared to be spellbound by our most enchanting Halloween party themes for 2023 and beyond. Abracadabra!
Laid-Back Halloween Party Themes
You can forget about liquid courage cause you won't need it! Our laid-back Halloween party themes are ideal for anyone who wants a chilled party that leaves them re-energised and not drained. Parties bring people together to unwind, have fun and bond, so laid-back themes are perfect if you want to host something without weeks or months of planning.
1. 🛏️Creature Comforts
Forget about those latex costumes that leave you gasping for fresh air! A great party is all about comfort. Throw away your sparkling heels and tight tuxedo and ask your friends and family to come dressed in their comfiest costumes.

Whether it is their favourite pyjamas, ugly Christmas sweaters or Pikachu onesies, transform your space into a cosy autumn retreat with candles, wreaths, warm blankets and a hot cocoa station. Now it's time to delve into some horror story-telling or enjoy some of the best horror movies, whatever tickles your fancy!
2. 🎃 Pumpkin Patch Picnic
Summer's gone, but the weather is still good enough to enjoy the great outdoors at this time of the year. So why not trade the scares for an autumn-inspired Halloween party? Set up your pumpkin patch picnic in a nearby park or courtyard. Consider renting a cosy garden for the occasion.

Encourage your guests to bring their favourite blankets and seasonal treats like pumpkin-flavoured goodies, apple cider, and hearty sandwiches. You can even play light-hearted Halloween games like pumpkin bowling or try your hand at pumpkin carving. It's an ideal way to enjoy autumn and the spooky season at the same time.
3. 🧛 Fangstastic Friday
Make the most of your Friday night with a fangstastic party. Encourage your friends and family to dress up as their favourite monsters, mythical creatures or some fun pop culture characters. Transform your home or party venue into a vibrant Halloween fiesta with colourful decorations and themed party supplies.
You could even get piñatas filled with sweets and goodies for the occasion. Get the party going with some Halloween-inspired music! Bare your fangs and keep your toes tapping!
4. 🎲 Scary Movie Trivia
Try a scary movie theme trivia to get everyone talking and laughing about their favourite horror movies and scenes! Use a tool like Kahoot to create a fun game or YouTube for short games like Guess the Movie.
Make things more interesting by asking guests to participate in a Scary Movie Charades where the guests must act out the title of a plot of a famous horror movie, and the rest of the partygoers have to guess what the film is!
If you're looking for a more generic one that doesn't scream Halloween at every corner of the room, look at our party themes for practically any of your upcoming gatherings.
DIY Halloween Party Themes
There ain't no better party than a DIY party! It's the perfect way to be cost-efficient and creative. Whether it's with an eerie backdrop or some fearsome finger food, we have several thrilling themes to motivate you to head to the nearby craft store.
5. 🕺Twitch and Itch Dance Party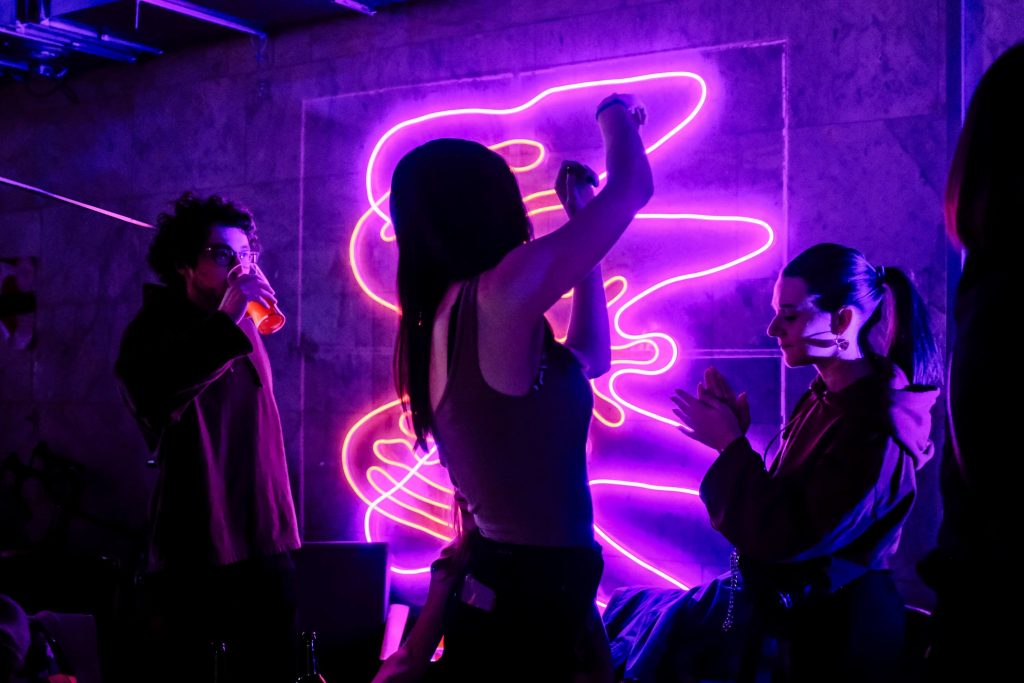 It's Halloween Night, and guess who's dancing in the middle of the room? A T-Rex! The 31st of October is about going all out, so why not host a little dance party where everyone can display their best or funniest dance moves? Have you ever seen Nosferatu dancing on Thriller? Well, now is your chance! Ask your guests to share their favourite Halloween tracks and curate a playlist for your Halloween dance party!
Check out some of our favourite Halloween tracks to get started:
Monster Mash – Bobby (Boris) Pickett
Haunted – Beyonce
Creep – Radiohead
Thriller – Michael Jackson
Ghostbusters Theme – Ray Parker Jr.
Somebody's Watching Me – Rockwell
This Is Halloween – The Citizens of Halloween
Zombie – The Cranberries
The Addams Family Theme – Vic Mizzy
Superstition – Stevie Wonder
6. 🔦Glow in the Dark Gathering
Things are about to get glowy! Combine your DIY skills with the right ambience to get your guests in the Halloween spirit. Cut out some ghost shapes from white paper or cloth and attach them to string lights. Enhance the ghostly ambience with flickering led candles and eerie music. It's an easy and budget-friendly way to transform any space into a spooktacular gathering. Check out this tutorial for some DIY ideas.
7. 🍬Halloween Treat Potluck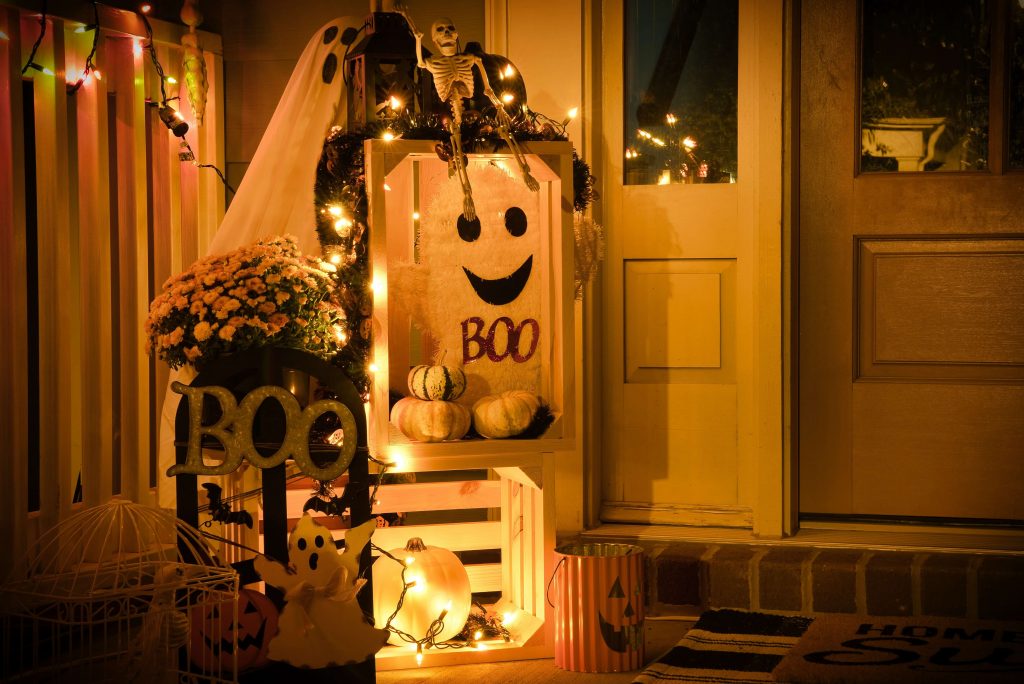 Are you tired of the tricks? Why not embrace the sweet side of Halloween by hosting a treat potluck? Invite your guests to bring their favourite treats, which can be anything from monster-themed cupcakes or Poison Apple Punch to classic pumpkin spice cookies.
Encourage your guests to show their creativity and let everyone enjoy a delectable feast. You could even exchange some treat recipes ahead of time to help out your guests.
8. 🤡 Creepy Carnival
Host a carnival with a twist by creating a creepy ambience. With the help of some friends, set up game stations with classic carnival games like ring toss or a fortune-telling booth. Decorate the area with vintage posters, red and white streamers, and some creepy circus props straight from IT.
Ask your guests to wear carnival-inspired costumes to add to the festive atmosphere and travel back in time. Tarot readers or clowns – the choice is theirs!
Wickedly-Fun Themes for Your Office
Are you spending Halloween at the office or maybe you just want to treat your colleagues to a fun party? Take advantage of Halloween to transform your office into a fete!
Dare to step into your creepy or goofy office, where the rooms are alive with mischief! We've come up with some bewitching ideas!
9. 🐶Pet Costume Challenge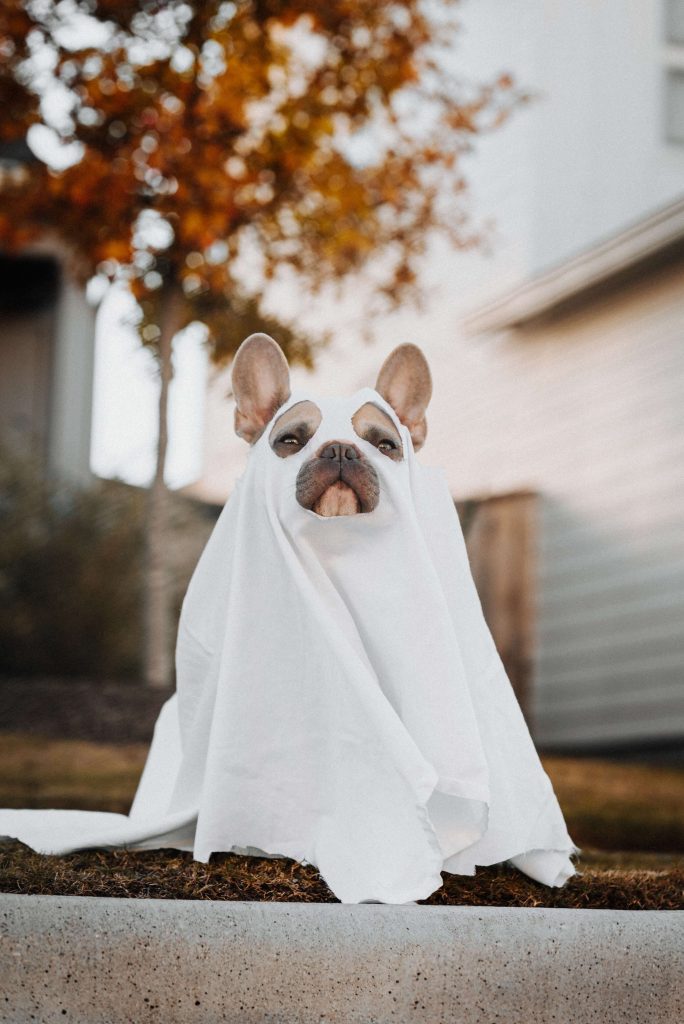 Most of us have a weak spot for fur babies, and Halloween is the perfect opportunity for everyone to show off their pets. Let's be honest; there's almost nothing cuter than a cat in a Chucky suit or a dog in a vampire cloak!
Add a twist to your classic office parties by making your pets the stars of Halloween festivities. Most ideas can be easily DIY-ed or bought on Amazon. Remember to store some pet treats for welcoming the star-like guests into your office!
10. 🏆Winner Takes It All
People love some competition! So why not make your event more fun by adding a best-dressed costume? Watch your staff unleash their inner costume geniuses! Make sure to send an invitation mentioning the contest and some prizes for the best-dressed attendees. That way, everyone can bring out their wickedly creative side and come prepared for the party and contest. Keep in mind that it is important not to force employees to dress up and respect every one's choice.
11. 🧛Keep It Classic with a Vampire Ball
If horror movie classics surround you, a vampire ball might do the trick. From classic characters such as Count Dracula to the Vampire Lestat, your guests have plenty of options. Make sure you send an invitation that mentions the dress code and possibly a contest for the best-dressed attendee.
Decorate your space with open coffins, red-blooded balloons and paper bats to set the mood. Here are some classic vampire ball decorations to take your party to the next level.

Outdoor Halloween Gatherings
12. 📽️Spooktacular Outdoor Movie Night
Take the warm blankets and fuzzy socks out! We're about to get all cosy for a night of spooky movie fun. Rent an outdoor venue like a rooftop cafe or take advantage of your outdoor living space and create a relaxing ambience with a Halloween twist.
Arrange comfortable seating with cushions, blankets and bean bags. Create a food stand with Halloween snacks like popcorn with orange food colouring, candy corn, and some Witch's Brew! Hang a white sheet and use a projector to display horror classics, or embark on a haunted house tour!
If you're lucky enough to all have VR sets, why not start the night with this haunted house 3D VR experience?
13. ⚰️ A Graveyard Smash a la Beetlejuice
Host a haunting graveyard smash inspired by the popular Beetlejuice movie. Pick an outdoor venue, preferably decked with tombstones (natural or DIY-ed). Add fog and eerie lighting to the scene; you're almost set.
Pick some Beetlejuice-themed decor like striped banners or ghostly figures. Add a spooky soundtrack and encourage guests to dress up as Beetlejuice characters or simply in white and black.
Serve Bettlejuice-inspired food and drinks like Beetlejuice Brew or Sandworm Sliders. You may even create a photo booth area for memorable snapshots and offer themed party favours!
14.🧙 Witch's Brew Bash
Forget about the Blair Witch! Stir up some fun with a Witch's Brew Bash! Transform an outdoor area into a witch's coven. Hang broomsticks and witchcraft in the trees for some enchantment. Set up a bubbling potion station where guests can mix their concoctions. Offer some treats such as 'Witch Finger' cookies and marshmallow monsters. Add some music to your party and watch your guests have a ball!
Spooky or Fancy? Choose the Right Venue
The venue sets the scene. While investing in a venue might seem far-fetched, venues make up a large part of the overall atmosphere and theme of the party. Here are a few tips for you to choose the right party venue:
1. Finalise your guest list. This will help you decide on the party size and requirements. Consider whether the venue can accommodate your desired party size comfortably. Consider factors such as decorations, seating and activities to ensure you have enough space for comfort.
2. Pick a theme. Think about the ambience you want to create. Choose a venue that aligns with your desired theme, whether it's a haunted mansion vibe, a dance party, or a costume party.
3. Look for spaces that are either decorated for the occasion or offer flexibility in decorations and allow you to create the desired atmosphere.
4. Choose an easily accessible location for your guests. The proximity of a venue is crucial to a party's success. Consider other aspects such as parking facilities or your guests' requirements. A central location can make it convenient for everyone to join the Halloween party.
5. Evaluate the amenities and facilities provided by the venue regarding seating, tables or restroom facilities. Check if any other services are required for your party, such as sound systems, lighting equipment or catering options that can enhance your party experience!
6. Use a platform like Tagvenue to find the perfect venue. Filter your search based on location, capacity and budget. Tagvenue also provides enough venue information and photos to help you make an informed decision. Remember finding the perfect Halloween venue sets the stage for a memorable party.
Conclusion
So now that you have the perfect party venue and some Halloween party theme ideas, you can already start preparing for your party. Whichever theme you choose, make sure that you include fun activities for everyone and that they all feel comfortable. Keep elements such as the music, food and decorations in mind to make your party a success. A little bit of personalisation goes a long way!

Our themes can inspire any party, whether Halloween or your next big bash. Elements such as the music to the food will make or break your event. Remember that your party theme can be personalised to your liking.
Focusing on the aspects that will make your party unique and successful is crucial. It's essential to ensure that your guests have access to your venue and that all guests are having a good time. Happy haunting!
FAQ
How can I make my Halloween party memorable?
There are many ways to make your Halloween party memorable. You can pick a venue to help you create a memorable Halloween party and leave the planning to the event manager. If you decide to plan everything yourself, it's essential to start planning early. Elements such as the venue, food, music and dress code can make a huge difference. Choosing a specific theme will not only help set the theme and make your party unique but it will also help guests choose what to wear and what to bring to the party. If you need some additional help, check out these great and easy Halloween party ideas for some instant inspo.
What are some budget-friendly Halloween decorations?
Halloween parties don't require you to break the bank! You can save some coins by DIY-ing most of your decorations, from upcycled glass jar lanterns to eerie silhouette cutouts. There are many ways to upgrade your space with some creativity. If you need some inspiration, check out these DIY Halloween decorations. 
What are some family-friendly Halloween theme ideas?
Anything from a Pumpkin Patch to a Creepy Circus will add a touch of Halloween magic to your party without being overly scary. Our DIY section offers some fun-filled celebration ideas such as a dance party, an outdoor Halloween party, and a glow in the dark gathering. Our Laid-back section offers some easy ideas for a cosy friends/family get-together such as a pumpkin patch picnic, Fangstastic Friday party or a Halloween pyjama party.  Whatever you decide to do, think about your guests first and whether everyone will be comfortable with the theme.
Can I host a party in a small space?
Certainly! You can make any venue work if you choose the right ambience. Just remember to keep in mind the venue capacity so that your guests are comfortable to move around. From a cosy movie night to a dance party, anything can work if you plan the guest list to suit the space.