London has so many corporate meeting rooms available that choosing the perfect location can be a difficult task. New meeting locations pop up every day, it's almost impossible to keep up with the trends. That's where we come in! We can help you find the perfect location that will make your meeting memorable and productive.
The secret is… a meeting room with a beautiful view!
Make a lasting impression by hosting your next meeting in a room with a breathtaking view
Whether you prefer a view of the historical part of London, the river, or futuristic skyscrapers, a meeting space overlooking London is the perfect setting for your next business meeting. Views from high buildings help people experience an enhanced feeling of empowerment, confidence, and desire to take risks. This results in a more productive environment and could help reach your objectives faster.

Here is a list of some of our favourite meeting venues with a view in London: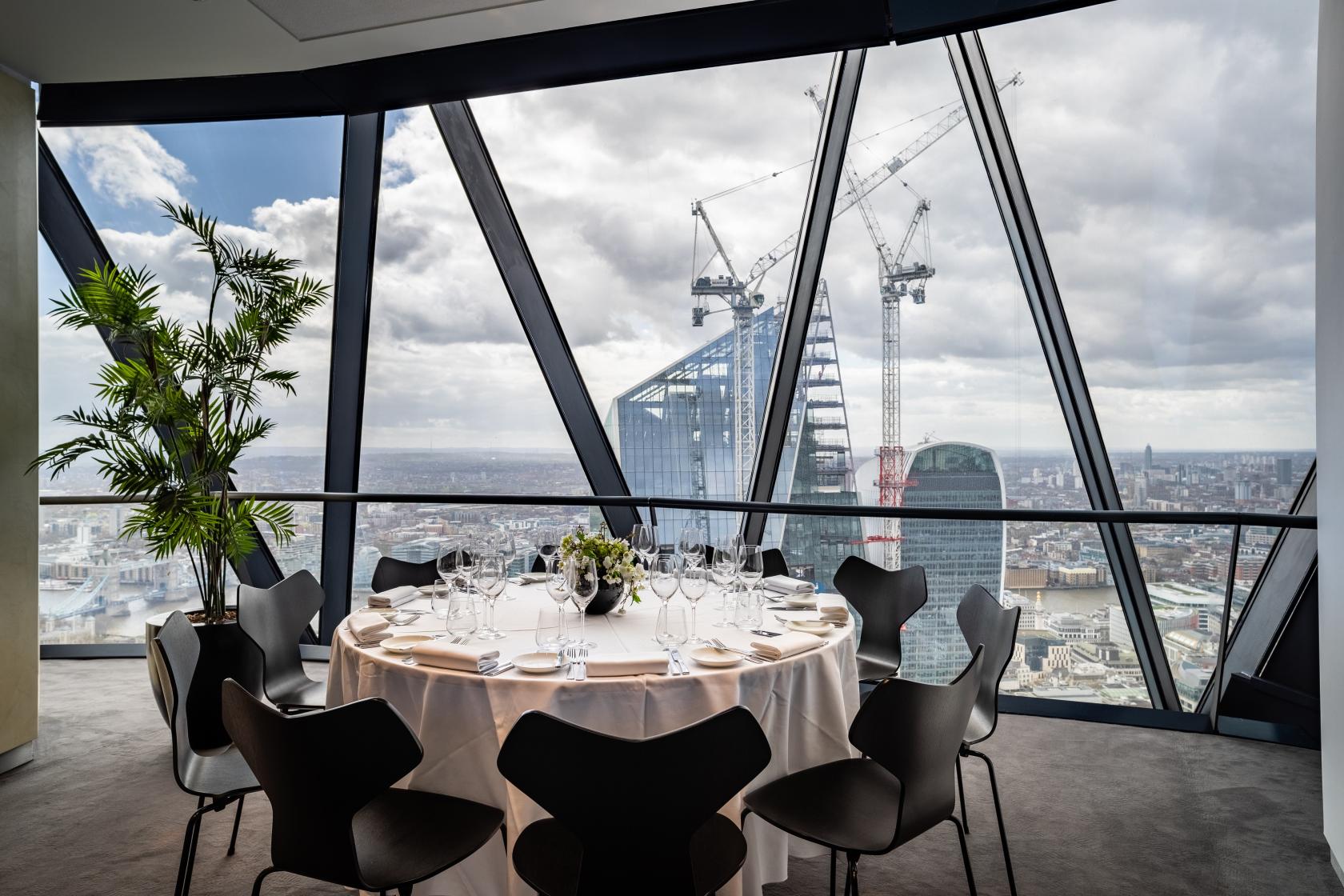 Situated in the heart of the City of London, the Gherkin is a famous building available for your next meeting. This venue is extremely hospitable and adaptable and can be used for different types of meetings. It offers in house catering and a beautiful view through floor to ceiling windows of the historical financial district.
More information and booking request: Searcys at The Gherkin
Offering a 360° view of the City of London, this Westminster based event venue is a versatile paradise that is able to host up to 300 people. Offering individual rooms for hire and event packages that include unlimited refreshments, catering, and technical equipment. What better way is there to discuss business than over a cup of tea and with a view of the London Eye?
More information and booking request: Atmosphere Venues
If you are on the lookout for something smaller and more intimate, the Menier Penthouse is gonna be your favourite place for hosting a meeting. This venue has a pleasant atmosphere due to its charming and stylish interior design. Another perk is that you don't have to share it with anyone else since the venue is for hire as a whole. It has two balconies, a kitchen, bean bags, a sofa, and anything else you could desire.
More information and booking request: The Menier Penthouse
The Canada Water Theatre is situated on the top floor of the Canada Water Library and offers several meeting rooms for hire. Meeting Room 4 is known for its flattering natural lighting and a beautiful view across Canada Water. This venue is most suitable for small groups, guidance work, or individual tutorials since it offers an intimate atmosphere.
More information and booking request: Canada Water Theatre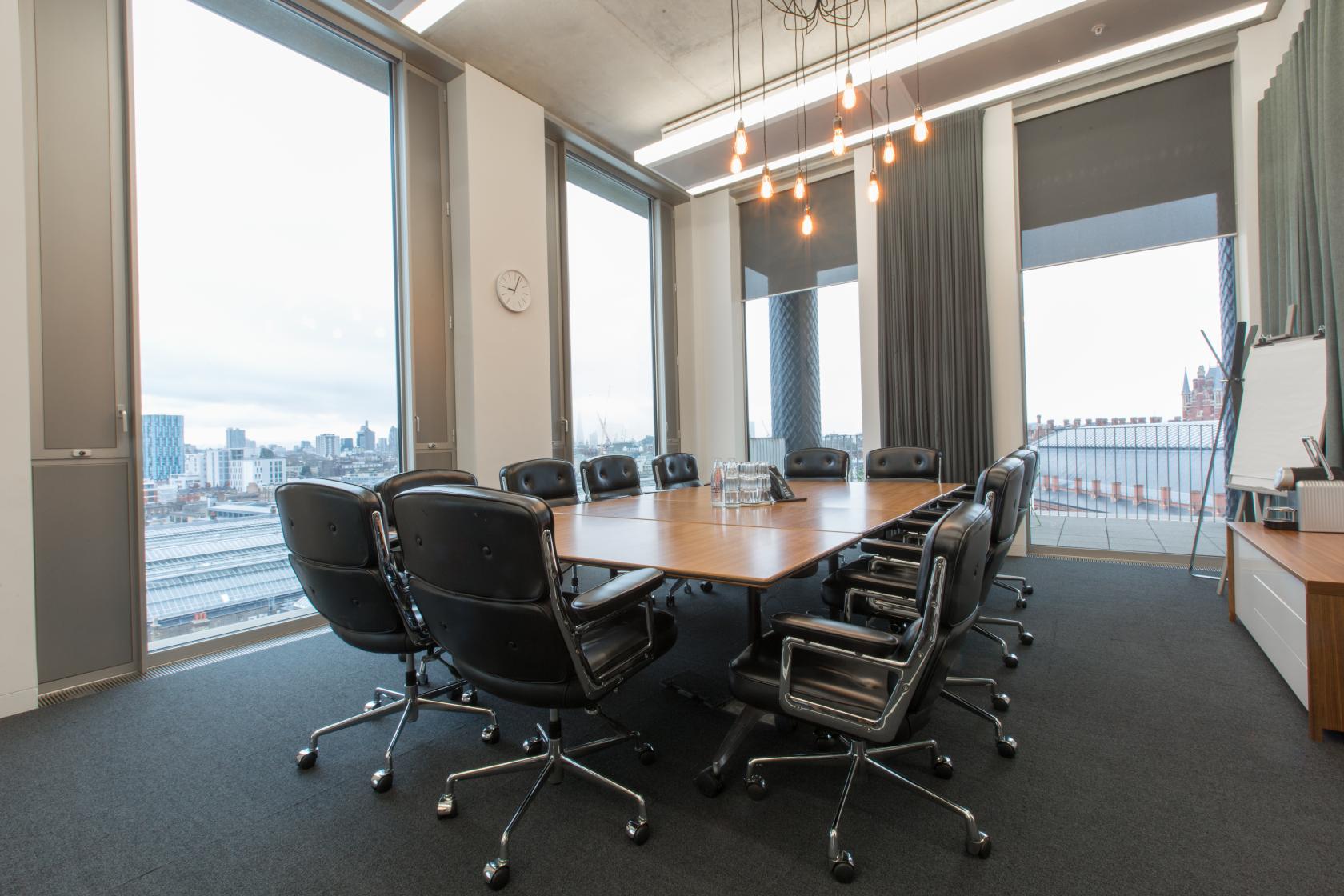 Overlooking Pancras Square, this building has several office and meeting spaces with top-notch technology ready to accommodate your every need. This space offers in-house catering and several menu options to choose from.
More information and booking request: Gridiron Building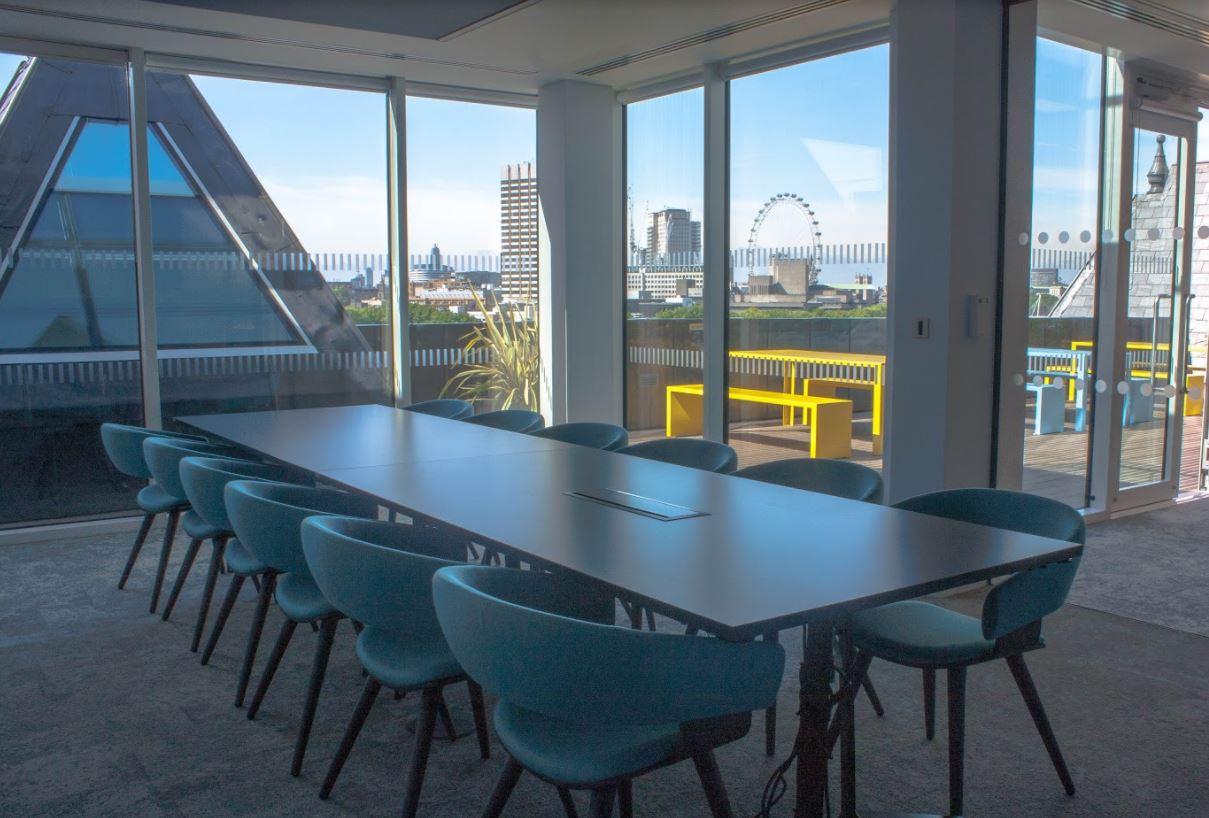 Located on the sixth floor, 58VE offers a beautiful view of the iconic London skyline, a lounge room, and a balcony. Equipped with up-to-date technology and tech support on sight as well as in-house catering, this venue has everything you need for a successful meeting.
More information and booking request: 58VE
A space from the 1960s reimagined into modern offices, a breathtaking roof garden, and a café that will keep your stomach full throughout your meeting. Plus count in the panoramic view and outstanding customer service and you won't be able to find a reason to not hire this venue.
More information and booking request: 20 Eastbourne Terrace
The environmentally friendly meeting rooms at White Collar Factory
You can find this workspace of the future conveniently located by Old Street. Filled with modern office spaces, cafés, restaurants, a courtyard, and a rooftop. And let's not forget about the beautiful view! Picking this space for your meeting room would definitely make the right impression on your participants.
More information and booking request: White Collar Factory
The meeting room in the clouds at Duck and Waffle
This venue features the highest dining room in the country. If you decide to have your corporate meeting here, you will definitely leave a lasting impression. It is very flexible and is happy to adapt to any type of event you plan.
More information and booking request: Duck and Waffle
The meeting room with delicious food at Saint Georges Hotel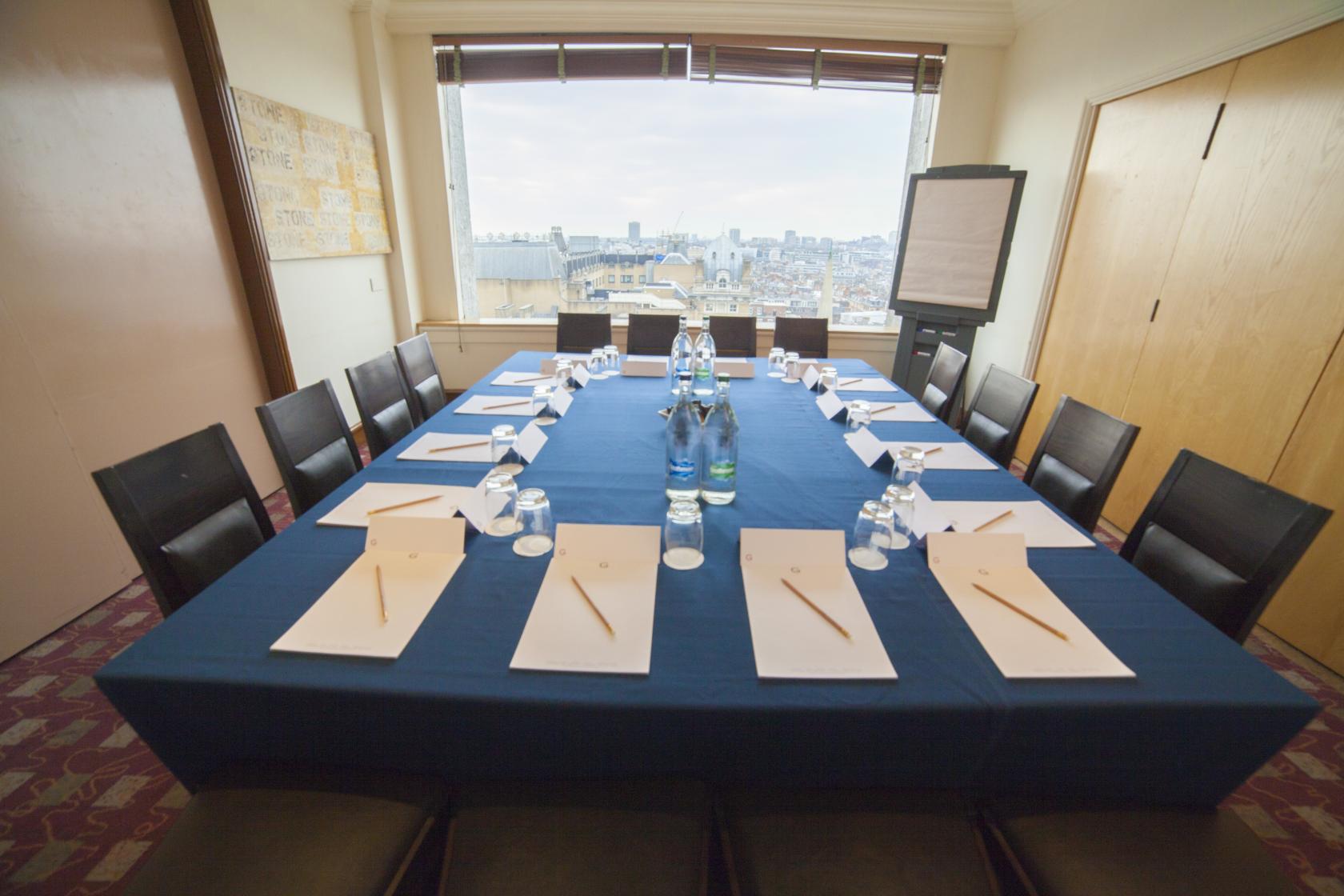 Pick one of the meeting rooms in the Saint Georges Hotel and enjoy the beautiful view of London and the use of modern technical equipment. If you wish, you may also experience the delicious modern European Cuisine available at the restaurant in the same building.
More information and booking request: Saint Georges Hotel
If you are looking for an untraditional and laid-back meeting space, a boat definitely falls in this category. Beautiful views aren't only from high up and the Floating Showroom can prove that. Equipped with a whiteboard and a projector, have your meeting while enjoying the scenery on the Regent's Canal, Grand Union Canal, and River Lea.
More information and booking request: The Floating Showroom
---
---
---
You might also like