Hey, future maid of honour! You've got a big responsibility on your shoulders with planning your friend's hen party. Stressed much? Well, there's no need to worry now that you've landed on our post!
You don't have to be a professional hen party planner to organise a fantastic celebration for your bestie. Everyone can do it, especially with our comprehensive guide and free checklist. No more worrying about forgetting crucial details, no more chaos, no more last-minute surprises! You're about to dive into the glorious and complex world of hen parties, but you can handle it! Good luck!
Let's Get Things Straight About Planning a Hen Do
Before getting into the steps to a perfect hen party, let's cover all the basics.
If you're a first-time bridesmaid, hen parties might seem overwhelming. Sure, you know they are pre-wedding celebrations for the bride, but is there some rulebook you need to follow? Generally, you don't have to worry about too many established rules and restrictions, but there are a few things you should stick to:
❤ The bride is the focal point. Do you want to organise the perfect hen party? Make it a celebration that she will enjoy. It doesn't matter how much you love an activity or a theme, if you know she wouldn't like it, you should skip it.
❤ The bride doesn't pay. The rule of thumb is you divide the costs of the hen do between all guests, excluding the future bride. Unless there are huge financial imbalances within your group, you should stick to that and everyone should pay the same!
❤ The perfectionist in you needs to leave. And so does the control freak. The hard truth is that no event will ever go exactly as planned. It's best to make a flexible schedule instead of planning every minute of the party and make sure you're prepared for changes in the itinerary. It will save you a ton of stress, we promise!
❤ You can ignore the clichés, really. Matching fancy dresses, clubbing all weekend and strippers are a-okay, but only when that's the bride's wish. You don't have to stick to the stereotypical image of a hen do, the best parties are tailored to the bride's interests!
These are just some of the most important tips to bear in mind when starting out on the hen party planning journey. We hope you're ready to take up this challenge! Keep reading to find out what to do first and get prepared for the celebration of the century!
Stage 1 – Figuring Out the Basics of the Hen Party
⏳ Around 10-12 months in advance
Before you can start planning, you need to do the pre-planning! Jot down all the basics, and the whole process will be much more like a breeze and not a hurricane. And once you download our comprehensive checklist at the end of this article, you'll undoubtedly feel on top of the task! Make sure you start early enough (sometimes even a year prior is a good idea). This way, you won't have to rush any decisions, and finding a date and place that fits everyone's schedule will be easier.
Consult the Bride
Priority: ⇧⇧⇧⇧⇧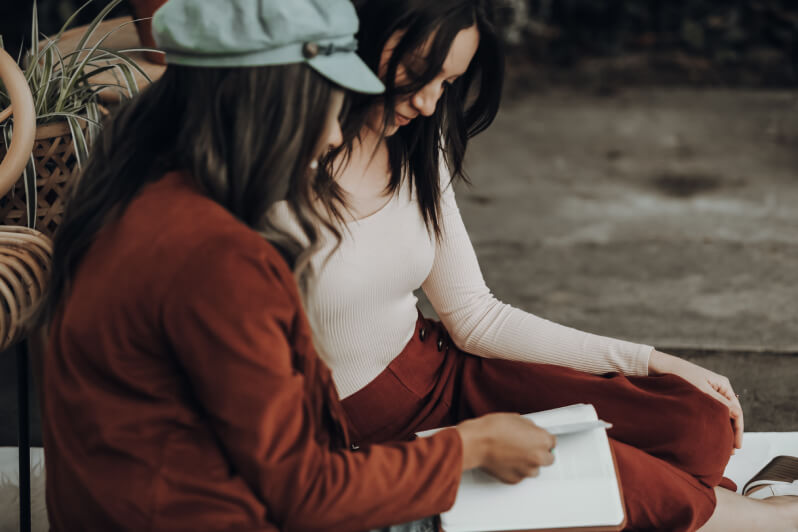 Unless you're going for a completely surprise hen party (whew, risky), you should start by talking to the bride and figuring out what she wants for her hen do!
You can ask questions straight-up or go incognito mode and figure it out through seemingly unrelated conversations. We've already mentioned how important it is to focus on the bride's preferences, so don't skip this task! The essential information you need includes:
Whether she wants to keep things simple or have a wild hen do.
Whether she's dreaming of a night out or an entire weekend of celebrations.
Who she wants to invite.
What her must-haves are.
What her 'absolute no's are.
Whether she prefers a traditional hen do or a 'sten' do.
Note: Sten parties are combined stag and hen parties! They're growing in popularity, especially when both partners have the same friend group.
Make a Guest List (And a Group Chat!)
Priority: ⇧⇧⇧⇧⇧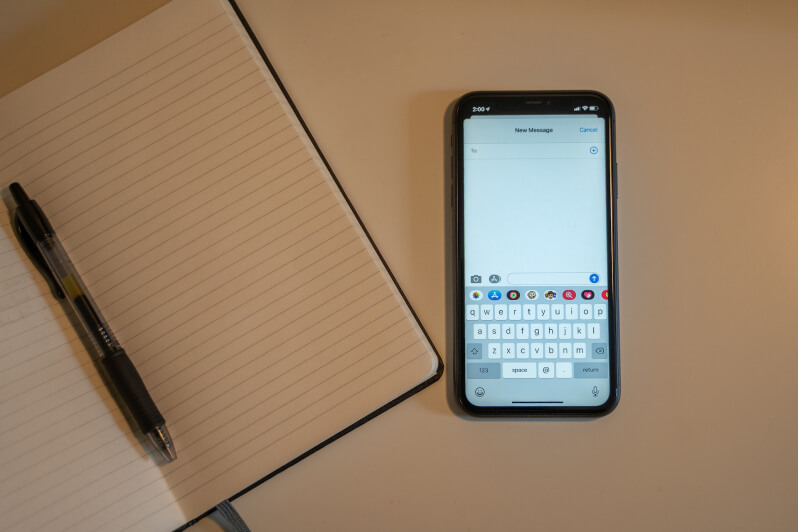 Once you know who the bride wants at her party, it's time to make a final guest list and contact everyone. Usually, the attendees are all the bridesmaids and possibly other close friends and family members of the bride-to-be.
There are debates about whether the mum (and mum-in-law) should be invited, but you probably know the answer by now: that depends on the bride! The same goes for the bride's guy friends – traditionally, hen parties were all-women, but there's no reason it can't change. Hashtag Team Bride!
You also need to set up a way to communicate with all the guests because they will be involved in the planning process, too! Setting up a group chat to discuss everything is the most convenient way, but you can also send out emails with the most important updates.
Agree on the Hen Party Budget
Priority: ⇧⇧⇧⇧⇧
Your budget will determine what exactly you can afford for the hen do. Because it's a team effort, you have to take into account everyone's financial situation. Unless you decide to split the costs in a different way, of course! It's doable, but usually it can be a lot of hassle and back-and-forth.
According to Plan The Hen, the average per person cost can vary anywhere from £50 for a daytime hen do, to as much as £1,000 for a long-haul weekend abroad! Figure out how much everyone can contribute, and then you can start planning the next steps.
Pick a Date
Priority: ⇧⇧⇧⇧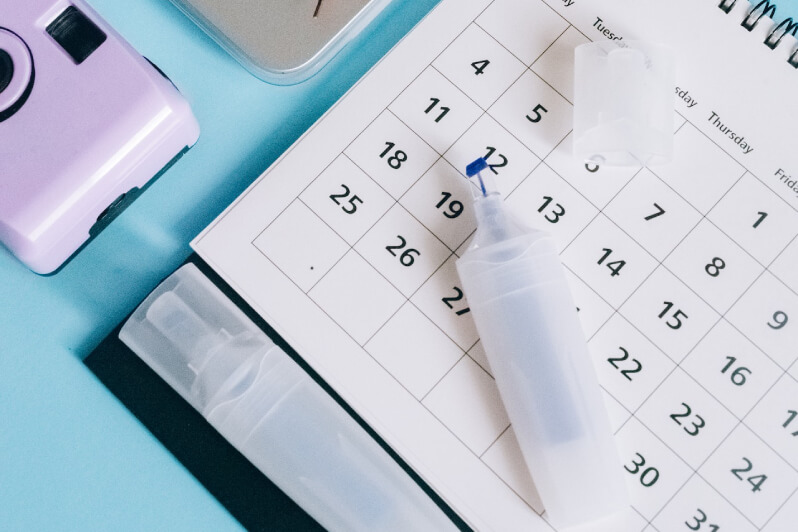 This point might seem pretty straightforward – just find a day or weekend when everyone is available and call it done. Well, if only…
Picking a date for the hen party is a chore. Someone's away all month, someone has weekend courses every second week, and when you think you've found the perfect time, you realise you have an important event to attend. That's why starting early is so important! The sooner you begin the debate, the more likely you will leave this battle victorious.
👰 Tip: Don't get too attached to the first date you pick. Things happen, and sometimes you have to reschedule. However, you might not always be able to change the plans: once the venue and vendors are booked, it can be a real hassle. In this case, the guest list might have to be modified! It's completely okay if that happens – you can't always please everyone, no matter how upset some people might get.
Stage 2 – Planning and Booking the Hen Party
⏳ At least 3-6 months in advance
You've arrived at by far the longest, most complex stage of organising a hen do. Now, it's more important than ever to stay organised! If our free checklist isn't enough, make a spreadsheet to keep track of finances, services, and all vendor contact information. Okay, let's stop delaying and get straight into the business!
Decide on the Hen Party Type and Theme
Priority: ⇧⇧⇧⇧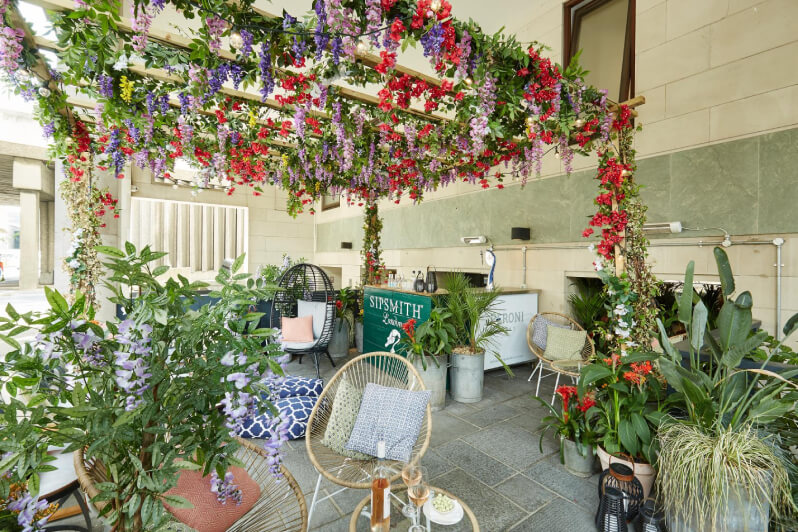 Are you doing a weekend away? A night out clubbing? Take the bride's preferences and the team's budget into account and make the decision together!
Hen weekends are extremely exciting and make the bride feel the happiest in the world for a full 48 hours. But they're not for everyone! If you have a low budget or a very tight schedule, a single-day event might work better for you.
Once you've got that out of the way, it's time to pick a theme. You can go for full glam, all-pink, or look for more out-of-the-box ideas in our list of 170 party themes for 2023!
Draft a Hen Do Agenda
Priority: ⇧⇧⇧
The itinerary doesn't have to be perfect and detailed at this stage, but it's important to have an idea of what you'll be doing at the party! Think of activities that will be enjoyed by every guest, but primarily by the bride! Popular options include:
Spa and wellness day.
Wine (or other drink) tasting.
If you can't think of anything fitting, we've got you covered! Check out our guides to hen party ideas and bachelorette party activities and get inspired!
👰 Tip: If the guests are coming from different parts of the bride's social circles and don't know each other, start the hen do with some icebreakers! This way, everyone will feel comfortable in the group even before you all get drunk. 😉
Book the Venue and Accommodation
Priority: ⇧⇧⇧⇧⇧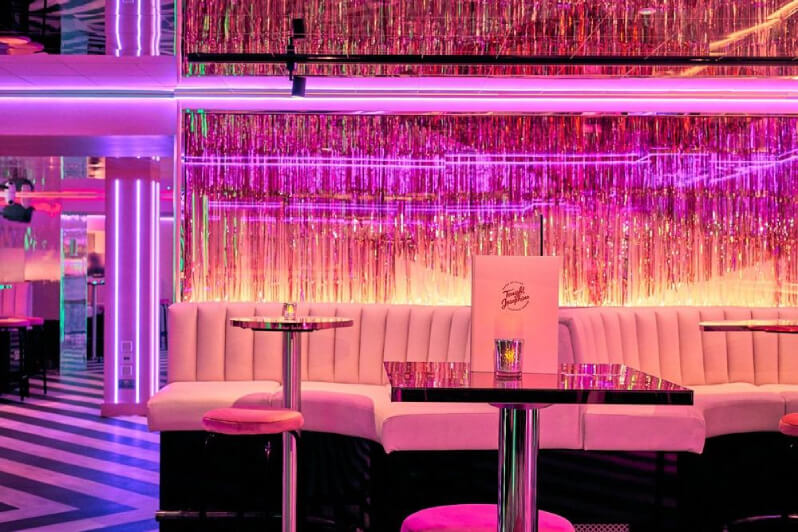 Unless you're planning a hen house party, you'll want to take picking a location very seriously! A private hire space should ideally be secured at least 6 to 8 weeks before the party takes place.
Fortunately, hiring a hen do venue isn't all that complicated! You can browse them on an online venue marketplace like Tagvenue. There, you'll find a wide selection of spaces of all shapes and sizes. Before picking the perfect spot, consider factors such as location, pricing, capacity, and policies.
If you have a theme and activities figured out, finding the ideal space will be much easier! Some of the most popular venue types for hen nights include:
Restaurants
Bars and pubs
Nightclubs
Party boats and buses
If it's a hen weekend and you'll need accommodation, book it as early as possible to have the best options!
👰 Tip: Even if you're not going out of town, booking a room at a nice hotel for the bride and her closest circle might be a nice touch. She'll definitely enjoy a lush continental bed to get her rest in after a night out!
Arrange for Catering and Other Services
Priority: ⇧⇧⇧⇧
You might want to hire a whole range of professionals for the hen party, and each of them requires some planning and brainstorming. Here are some of the most popular services that are booked:
Catering or a private chef/bartender – If you're throwing the party at a restaurant or pub, you might not need to worry about taking care of the food and drinks separately. However, it could be a priority on your to-do list on other occasions! Make sure the catering service can match each guest's dietary restrictions before you book.
Photographer – To ensure the memories last forever, hire a photographer (or videographer!) to capture them on camera!
A DJ or professional entertainer – If you want to spice the hen party up, consider booking a professional who'll make sure everyone has fun! It's not necessary, but it can bring the experience up a notch.
Before you enquire and book a specific service, don't forget to read reviews, carefully check pricing, and read their policies!
👰 Tip: When on a tight budget, look for venues with those services included in the hire price! Minimum spend venues are a great option, as they eliminate the need to pay for the space and order external catering. All you have to do is spend a specific amount of money on food and drinks during the hen party!
Figure Out the Logistics
Priority: ⇧⇧⇧⇧⇧
Your hen party plan won't be complete before you consider the logistics! It's crucial to know how you'll get to the destination, move from place to place, and stay organised throughout.
Don't forget the transport, especially if you're going further away than the city centre! Will you be okay going by bus? Do you need plane tickets? Or maybe a car rental will be necessary for the entire hen weekend to go smoothly?
Stage 3 – Polish the Plan
⏳ 1-2 months in advance
We finally got there. The prelude to the Big Day is coming up, and you have everything figured out! Or do you? It's high time to check!
Check In with the Guests
Priority: ⇧⇧⇧⇧⇧
Before you start doing all the finishing touches, confirm the plans with all guests! It might be good to send out emails and ask if they're surely coming. Make sure you've got all their dietary restrictions and other special needs right, too.
It's also a good time to come up with a dress code and decide whether you're preparing a gift for the bride, as well as party favours for the guests.
Confirm All the Bookings
Priority: ⇧⇧⇧⇧⇧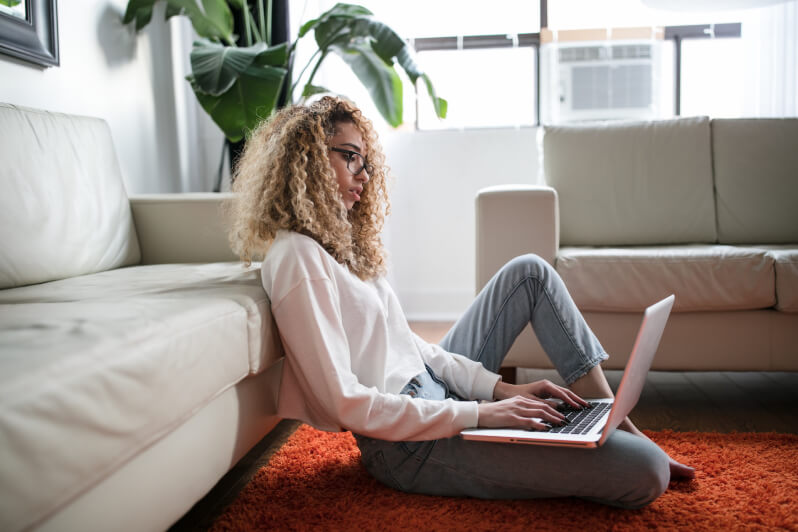 You've made the bookings, but it won't hurt to double-check and make sure nothing has changed. Start making calls, sending messages, and re-reading all your confirmation emails!
If you haven't done that already, pick a menu and clarify all details with the vendors. In case anything has changed with the guests, make sure you notify your caterer and other services you've booked in advance.
👰 Tip: Make a list of all services and locations you have to check in with, together with notes on what you might want to ask about! You might think you'll remember everything on the spot, but trust us, something can always slip your mind!
Take Care of the Booze
Priority: ⇧⇧⇧
Let's be real, most hen parties will involve at least a bit of alcohol.
If drinks are not included in your catering package or available at the venue (or if you simply think they won't be enough), securing the booze as soon as possible is good practice. Maybe you'll grab a few bottles of champagne on sale if you plan in advance!
Make a Playlist
Priority: ⇧⇧⇧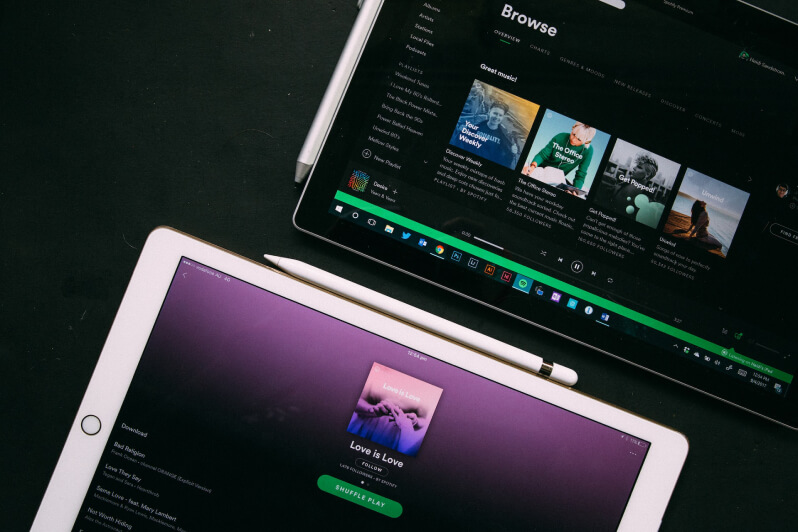 No hen party is complete without the right music! You can get inspired by some pre-made playlists, but the perfect hen do playlist is a mixture of party hits and the bride's favourite tunes! You can make a shared playlist on the music streaming service of your choice so that each bridesmaid can add something from themselves!
Organise the Hen Party Decor
Priority: ⇧⇧⇧⇧
Not everyone is lucky enough to party in an extremely scenic location! Some spaces might need a bit of pampering, so look for on-theme decor (may we suggest some DIY options?). Don't go overboard, just keep it classy and easy on the eye. And make sure it's a good backdrop for all your selfies, of course!
Stage 4 – Get Ready to (Hen) Party
⌛ The day of the hen party
Warning! An unforgettable hen party is ahead! Now we're here and all that's left is to have a good time! Right? Well, there might be a couple more things you want to take care of. But don't worry, they're just finishing touches.
Pack the Essentials
Priority: ⇧⇧⇧⇧
No matter how long the hen do lasts, it's good to have a bag with essentials prepared for all occasions. Aside from your personal items, taking some stuff that might be useful for everyone is a good idea, especially as the host!
Depending on your agenda, it can include different things. Think spare pantyhose, plasters, wet wipes, and even on-the-go stain remover.
👰 Tip: Try to imagine how the night might go beforehand, but worst-case scenario style! This is not to stress you out, but to be prepared for all possible outcomes. A bit of overthinking is actually useful when putting together a hen do emergency kit!
Have a Good Time (and Make Sure Others Do, Too)
Priority: ⇧⇧⇧⇧⇧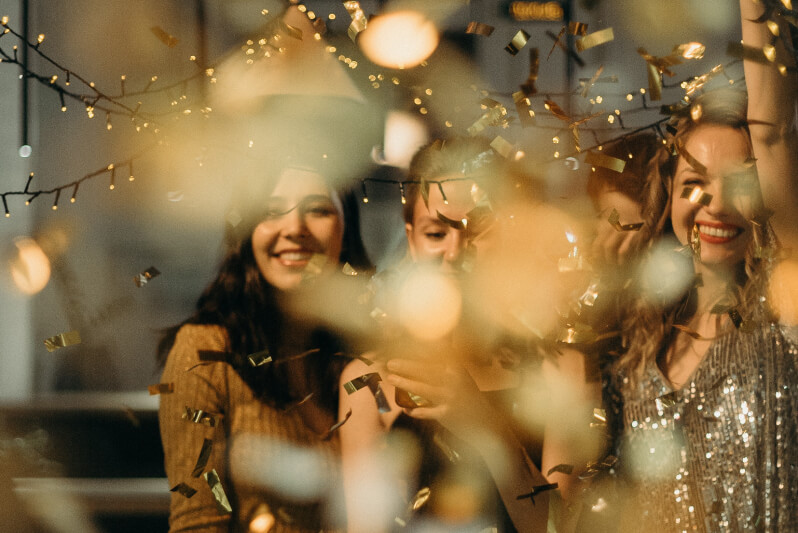 As the person in charge of organising the whole hen party, you might feel responsible for each guest. The key to success is to find balance: make sure no one is excluded or gets lost while moving between bars, but don't get too obsessed with the whole thing! After all, you're all adults who can take care of yourselves.
Spend time with the bride, let her know how much you appreciate her, and be proud! You've organised this fantastic party from start to finish. That's something you can brag about for a really long time!
Final Notes + Free Checklist
Planning a hen do is a hefty task. It can feel overwhelming and stressful, but remember you're not doing this alone! Don't be scared to ask the other bridesmaids for help. They all care about the future bride, so they'll be more than happy to assist you, we promise.
The only thing you've left to do is grab our complete checklist and get down to business. Keeping track of the hen party planning process is much easier when you have the essentials written down.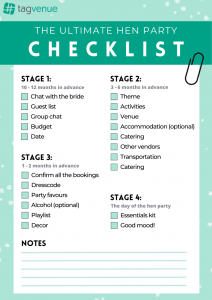 Good luck, we know you can do it!
FAQ
What is the purpose of a hen party?
Some call hen parties the final thrill before she says 'I will'. That might be old-fashioned thinking – marriage doesn't end your party life! The purpose of a hen do is to celebrate the upcoming nuptials and let the bride party without the hassle of organising everything. She's probably already a nervous wreck because of all the wedding responsibilities, so it's an opportunity to wind down and have fun during a stressful time!
How do you plan the perfect hen party?
To plan a perfect hen do, you need to forget about perfection! Instead of hyper-focusing on details you can't control, put the bride in the spotlight. To make the celebration ideal from her point of view, you need to understand what she enjoys. Invite the people she feels comfortable with, include an activity that brings her joy, and make sure she can party without any stress!
How do I book a venue for a hen do?
Booking a hen party venue is easy! You just have to go on a venue hire platform like Tagvenue, browse all your options, and pick the perfect fit. You can filter through all the options in your area, check out photos and read customer reviews to make the choice a bit easier. After you've shortlisted your favourites, you can contact them through enquiry forms on the website and get in touch with the venue manager. After that, you'll be just a few steps away from finalising the booking!
Should I bring a gift to a hen party?
Gifts are not a set-in-stone tradition at hen dos. However, it might be nice to give the bride something to remember the day by! It can be a small present from all bridesmaids, like a memory book with photos and handwritten notes from all the guests.
What should the dress code be at a hen do?
Most hen parties should have at least a vague dress code, which depends on the theme and activities, so there's no one-size-fits-all answer. If you're planning some outdoor activities, the guests should probably be dressed comfortably, while a fancy dinner will require a different outfit! You can also go for hilarious fancy dress, matching T-shirts, or even inflatable costumes. No one will judge your choices, it's a hen party!