Ah, Christmas time again! A wonderful season where we cherish joy, warmth, and, most importantly, friendship. But let's be honest, after a few years, those traditional Christmas gatherings with friends can start to feel a bit… well, predictable. Don't you agree? Then you, my friend, are in for a treat!
Welcome to a world of Friendsmas celebrations that go beyond the norm and venture into the extraordinary. Ever thought of a Christmas party on a rooftop with sparkling city lights as your backdrop? Or how about traveling around the world without leaving your living room? Intrigued? You should be!
In the paragraphs below, we'll unwrap a treasure trove of fresh, innovative, and simply delightful Friendsmas ideas that promise to breathe new life into your festive get-together. From themes and activities that break the mold to unconventional venues and mouthwatering menus, we're decking the halls with creativity this year.
So grab your favorite Christmas sweater and a warm cup of cocoa, and let's dive right in!
❄️ What Is Friendsmas?
If the term is new to you, let's cover the basics first.
Similarly to Friendsgiving and Galentine's Day, Friendsmas is the merry mash-up of "friends" and "Christmas," a festive celebration that extends the warmth of the holiday season to the family we choose: our friends.
It's a time to gather, laugh, and create memories, transcending traditional holiday norms to embrace the joy and connection uniquely found among friends. From sharing a delicious feast to playing fun games, Friendsmas is the perfect excuse to enjoy the company of those who mean the most to us.
A mix of tradition, innovation, and plenty of love—that's the recipe for a jolly Friendsmas!
❄️ A Fresh Take on Friendsmas Themes
Now that we're on the same page about what we're celebrating, let's talk about fun Christmas party ideas for friends. First up: themes!
Throwing a themed party is an easy way to add more flavor to the gathering. We promised a departure from the conventional, so here are our variations on holiday party themes:
1. Christmas Carnival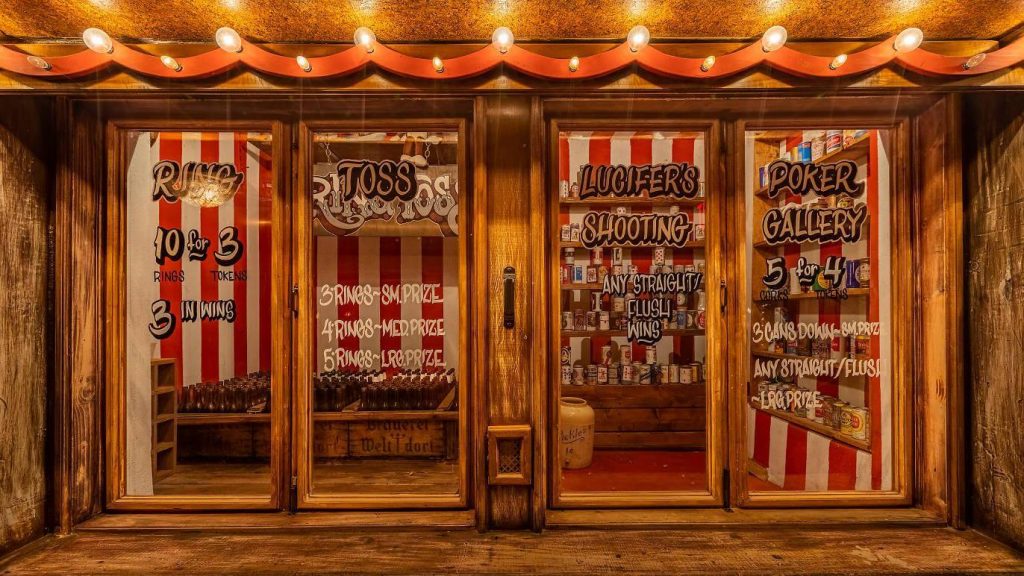 A Christmas Carnival is a magical fusion of festive cheer and the whimsical fun of a fairground. It transforms your Friendsmas gathering into a wonderland of games, laughter, and carnival delights, all under the twinkling glow of Christmas lights.
🎄 How to bring this theme to life? Set up game booths like ring toss along with popcorn and candy floss stands. Decorate your party space with bright lights, colorful banners, and classic carnival motifs adorned with a holiday twist (e.g., carnival horses with Santa hats, festive wreaths around their necks, and jingle bells attached to their harnesses).
2. Friendsmas Time Travel Party
Take a thrilling plunge into Christmases past, present, and future (but don't worry about being haunted by ghosts like Ebenezer Scrooge—unless you did anything to get on the naughty list this year!).
It's a theme that invites your guests to travel through time, experiencing the charm of bygone eras: the excitement of the present and the mystique of the future, all in one joyous celebration.
🎄 How to bring this theme to life? Encourage your friends to dress in Christmas attire from different decades. You can section your venue into different eras with corresponding decorations and music, from the Roaring Twenties to the futuristic 2050s.
Imagine a corner with vintage tinsel and Bing Crosby crooning, a contemporary zone with modern holiday pop hits, and a future area with digital decorations and predicted trends. This trip through time is a unique way to experience the holiday season!
3. Exotic Christmas Luau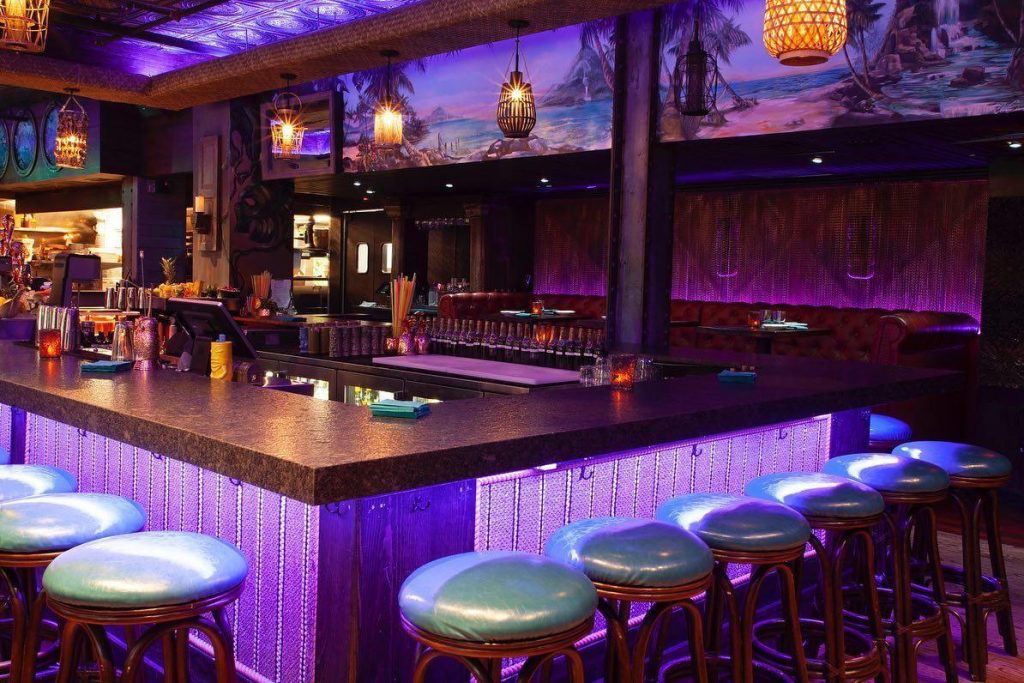 Bring the tropical warmth of a Hawaiian beach party to your Friendsmas celebration. Imagine the gentle sway of palm trees adorned with twinkling Christmas lights, the soft strumming of a ukulele playing "Mele Kalikimaka," and the irresistible aroma of a holiday feast with an island twist.
🎄 How to bring this theme to life? Set up Tiki torches and tropical flowers intertwined with festive decorations like small ornaments or garlands. Serve traditional Hawaiian dishes alongside holiday favorites, and provide leis with Christmas colors for guests to wear.
4. A Literary Friendsmas
Plan an enchanting celebration straight from the pages of beloved Christmas stories. From the Victorian charm of A Christmas Carol to the fantastical wonder of The Nutcracker, this theme turns your Friendsmas gathering into a living storybook filled with whimsy, nostalgia, and imaginative fun.
🎄 How to bring this theme to life? Select a favorite story and let it inspire your decorations, attire, and menu. If you choose The Polar Express, for example, you could create train ticket invitations, serve hot cocoa and cookies, and encourage guests to wear pajamas. Or if you choose How the Grinch Stole Christmas, plan a Whoville-themed feast with quirky table settings and Grinchy games.
5. Christmas Clamping Under the Stars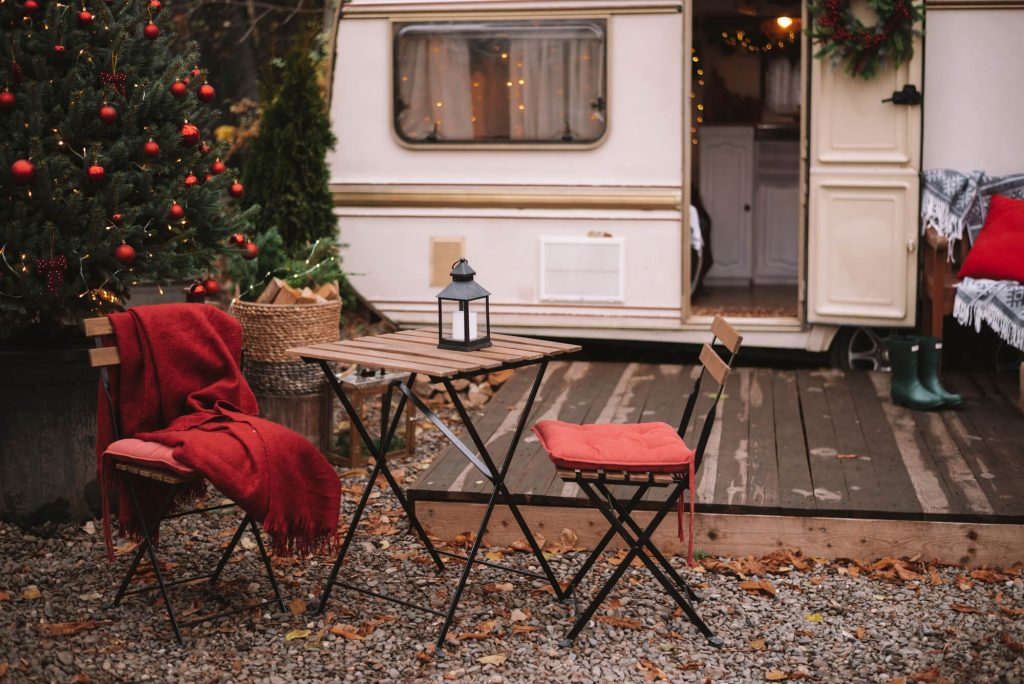 This one is a cozy and adventurous Friendsmas theme that invites you and your friends to experience the wonders of the great outdoors amidst the magic of the Christmas season. Think tents adorned with fairy lights, a bonfire glowing with festive charm, and the serenade of Christmas carols under a starlit sky.
🎄 How to bring this theme to life? Choose a suitable camping spot or set up an indoor camping scene with tents and sleeping bags. Decorate with pine cones, evergreen branches, and twinkling lights. Enjoy traditional campfire treats like s'mores with a peppermint twist and share holiday-themed stories around the fire (or fireplace).
Looking for even more inspiration? Check out our article on winter-themed party ideas!
❄️ Friendsmas Activities That Break the Mold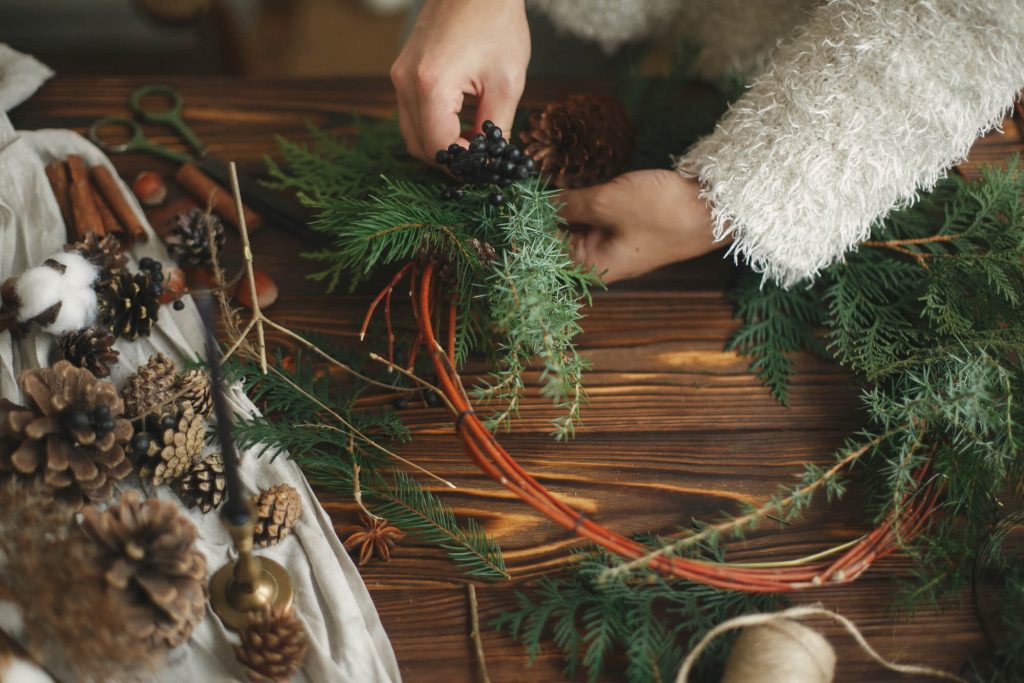 So, you've got your theme—now let's make sure your friends stay entertained throughout the party! Here's a list of activities you can incorporate into your festivities:
6. Craftmas Party
Set up DIY craft stations where friends can create their own ornaments, decorations, or gifts. Provide materials, instructions, and perhaps a warm glass of mulled wine to spark creativity.
Whether it's painting festive baubles, making wreaths, or designing custom holiday cards, the Craftmas Party fosters connection and creativity, leaving guests with handcrafted mementos of a joyful gathering.
7. Christmas Mystery Night
Add a dash of intrigue and excitement to your Friendsmas celebration. Whether it's a classic murder mystery or a festive-themed puzzle, guests will be drawn into a thrilling storyline where everyone plays a part. You can purchase a mystery game kit or create your own, weaving in holiday elements for a seasonal twist.
8. Christmas Charity Event
Rather than focusing solely on festivities, incorporate elements of empathy and compassion by giving back to the community. Invite friends to bring donations for a local charity or host a mini-fundraiser with games and auctions to support a meaningful cause. You could even volunteer together at a community center before gathering to celebrate.
The joy of helping others adds a layer of warmth and fulfillment to Friendsmas, turning a joyful gathering into a celebration of compassion and kindness.
9. Christmas Movie Mashup
Create a short film by taking turns acting out famous Christmas movie scenes. Share the laughs by watching it together! You can even add a red carpet premiere where everyone dresses up, making it a glamorous and hilarious highlight of the evening. Feel free to share your masterpiece on TikTok or Instagram!
10. Festive Food Challenge
Host a cooking competition where friends team up to create a Christmas dish using surprise ingredients. Judges can taste and score each dish, with a fun prize for the winning team. It's a perfect blend of creativity, teamwork, and delicious fun.
11. Virtual Caroling
If some friends can't be there in person, why not host a virtual caroling session where everyone joins in online? Create a playlist of classic carols and spread the festive cheer across the miles, making everyone feel included and connected.
12. Winter Wellness Retreat
Offer a calming space with yoga, meditation, and mindfulness activities centered around peace and joy for the holiday season. Provide cozy blankets, candles, and soothing music to create a serene environment that refreshes and recharges the soul. Or, book a session at a professional wellness facility!
13. Global Christmas Tour
Set up different stations that represent Christmas traditions from around the world, allowing guests to "travel" and learn about various cultures. From tasting international treats to crafting global decorations, it's a journey of discovery and celebration.
❄️ Unconventional Venue Ideas
You can easily throw a Friendsmas party at your home, but if you want to take it a step further this year, we've gathered some venue ideas to spark your inspiration:
14. Rooftop Friendsmas Party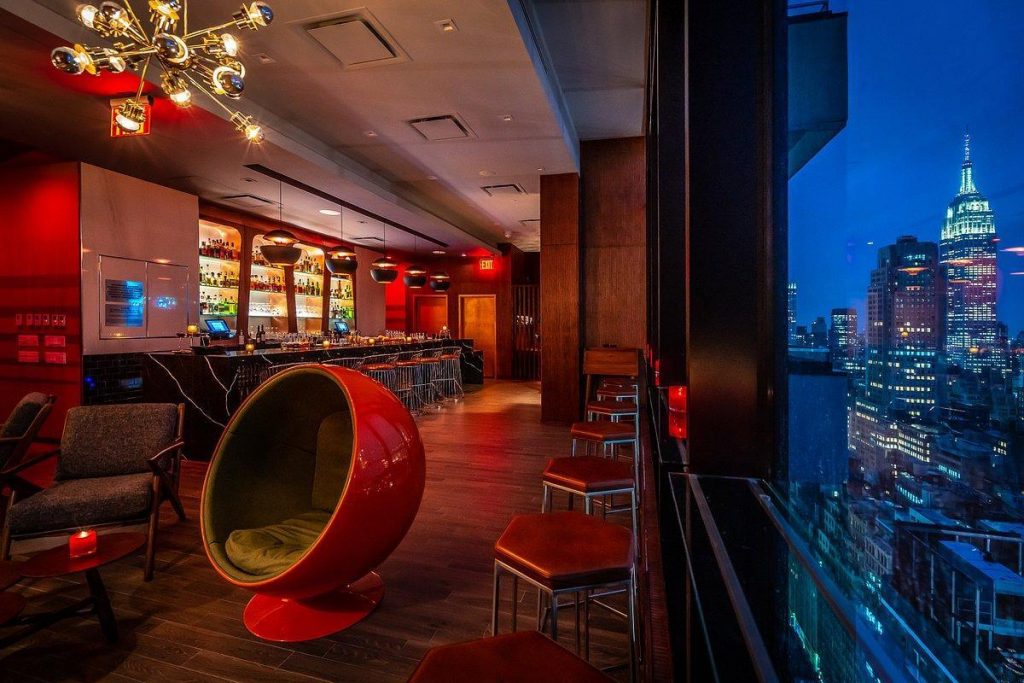 If weather permits, a rooftop with views of the city's lights can be a breathtaking place to host a Friendsmas party. Look for a venue with heaters, blankets, and firepits to keep everyone warm. Add live music or a DJ for a dance floor under the stars, and you'll have an unforgettable night.
15. Themed Pub or Cafe Takeover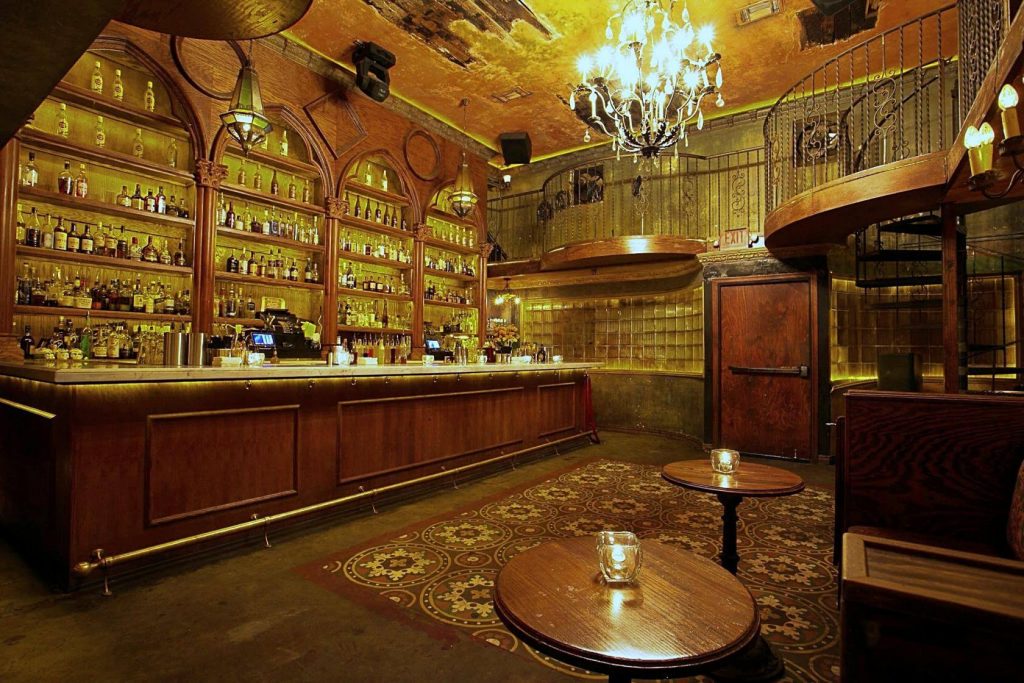 Book a themed pub or cafe and invite your friends for a private Friendsmas celebration. Whether it's a 1920s speakeasy or a wizarding world cafe, the themed decor adds a playful touch. Include games or a costume contest to make the evening more engaging.
16. Holiday Greenhouse
Transform a greenhouse in a botanical garden or any other venue that features plenty of greenery into a winter wonderland filled with twinkling lights, warm blankets, and festive decorations. Surrounded by lush plants, you will have a magical setting for a Friendsmas feast.
17. Historic Library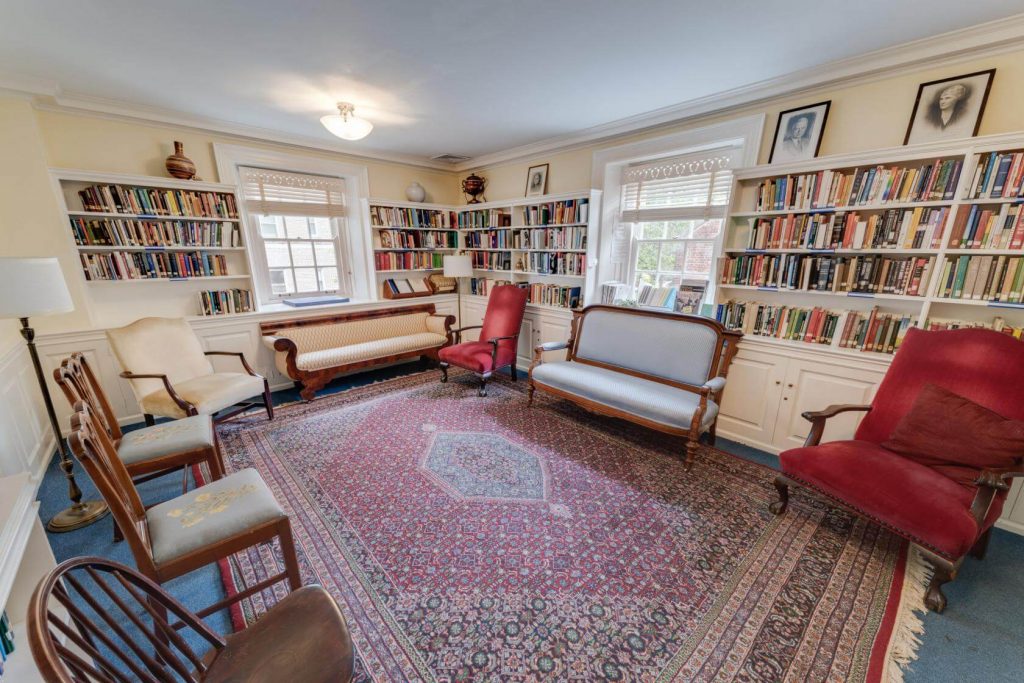 Rent a historic library for the elegant, literary-themed Friendsmas we mentioned in point no. 4 of our list. Imagine sipping mulled wine and sharing stories surrounded by antique books and rich woodwork. Hiring a professional storyteller or organizing a poetry reading could add a literary flourish to the evening.
18. Art Gallery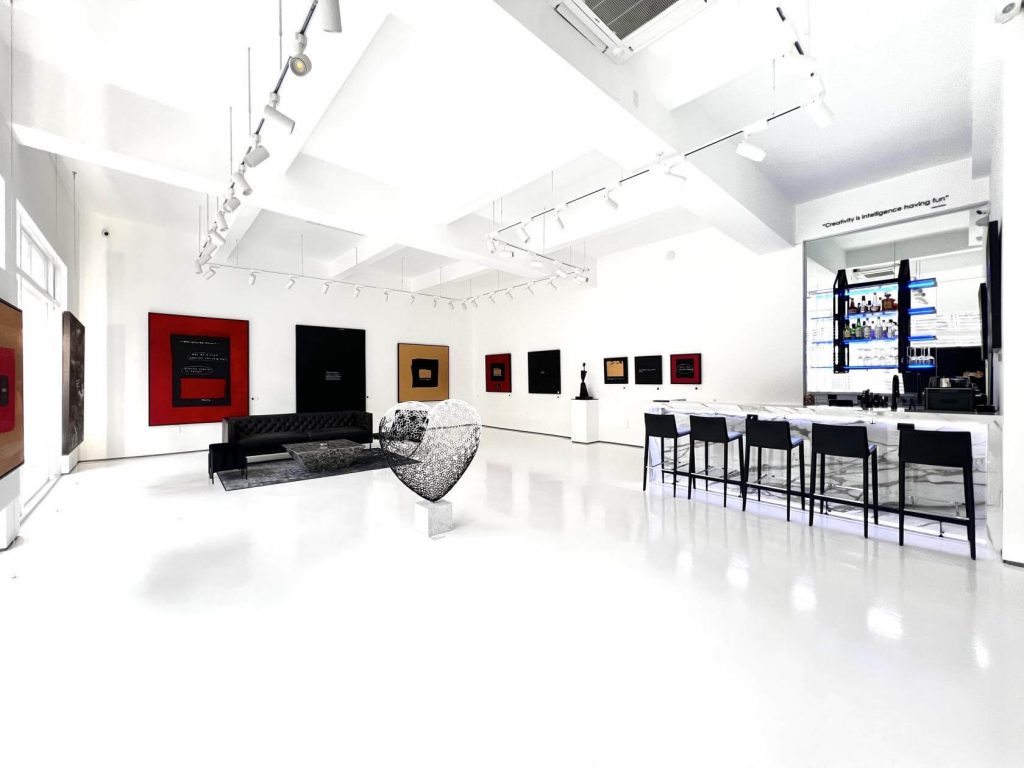 Host your Friendsmas party amidst stunning works of art in a local gallery. Guests can enjoy both the festivities and the visual inspiration that surrounds them. Maybe you could have a private guided tour of the exhibition? And why not have an artist on-site for quick sketches or caricatures as a unique party favor?
19. Barn or Farmhouse
For a rustic, country charm, a decorated barn or farmhouse can create a cozy and inviting space for friends to gather and celebrate. Add hay bale seating, string lights, and local folk music for a truly rustic ambiance.
20. Reclaimed Industrial Space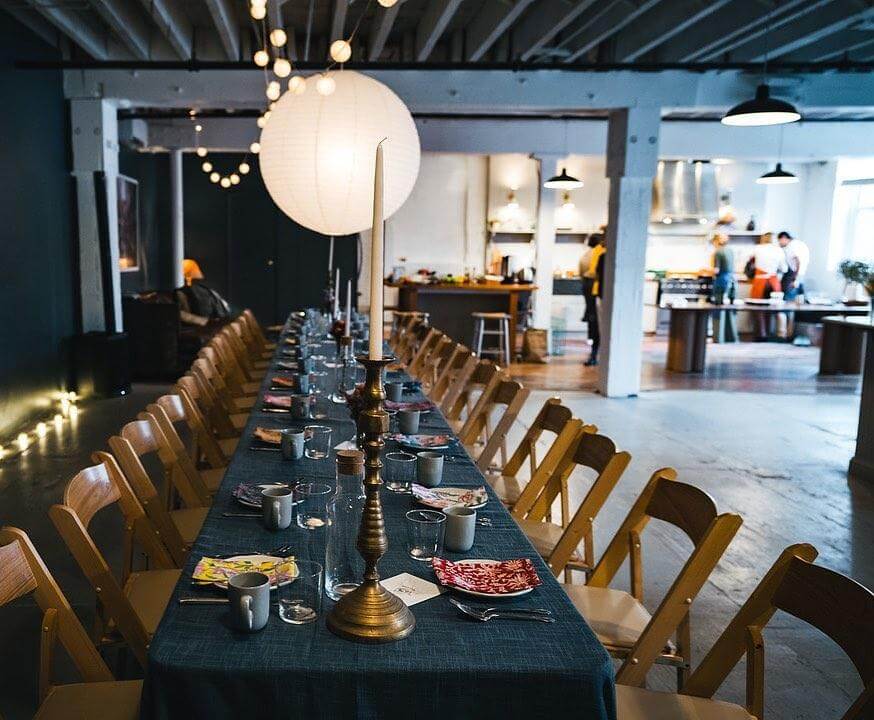 Think old warehouses or factories turned into chic event spaces. The juxtaposition of the industrial architecture with a soft, festive decor creates a unique ambiance perfect for a memorable Friendsmas bash.
21. Local Brewery or Distillery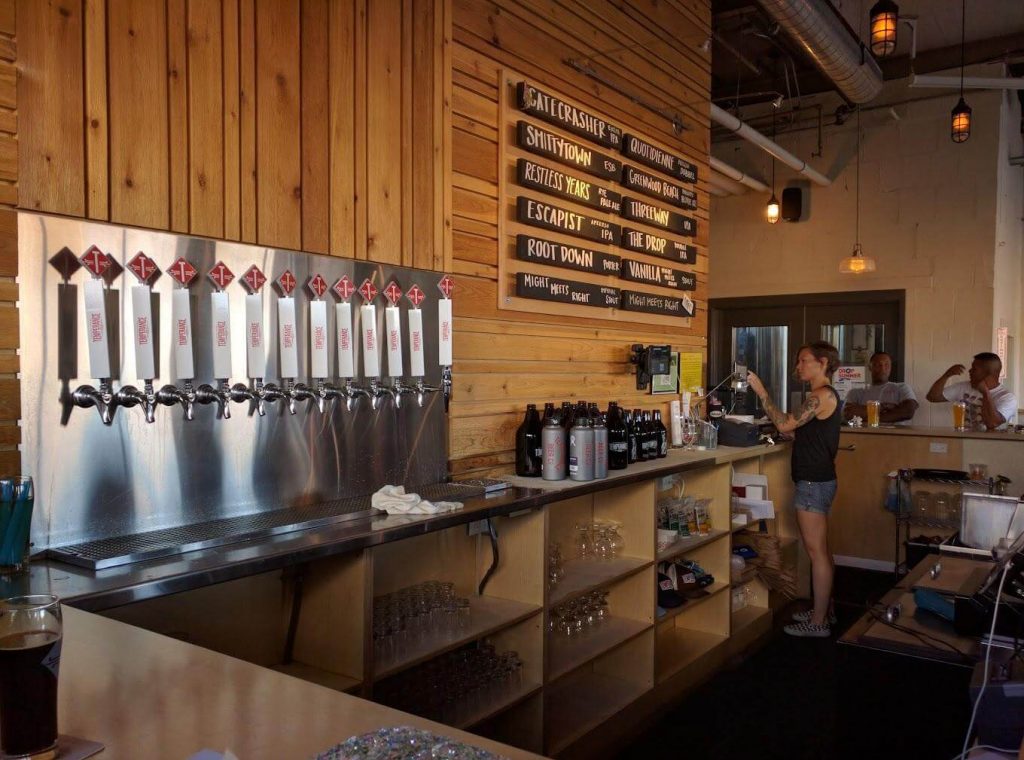 For a more casual and spirited Friendsmas, consider hosting the party in a local brewery or distillery. Many offer private event spaces and can even provide tours and tastings. Personalized beer mugs or cocktail glasses could make great keepsakes.
❄️ Mouthwatering Menus and Treats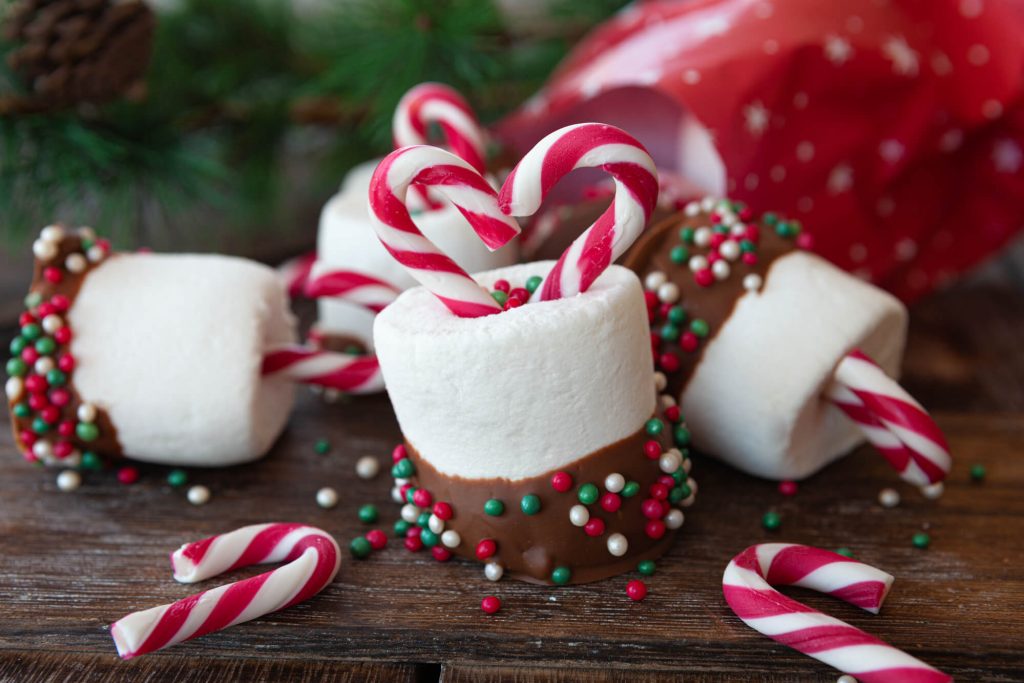 Now you know what your theme is, what you're doing during the Friendsmas party, and where you're having it. But it's not a holiday celebration without delicious food! Here are a few creative options:
22. Christmas Food Truck Party
Go for a delectable twist on the traditional holiday feast. Why not invite a local food truck to cater to your Friendsmas bash, offering tantalizing street food with festive flair? From gourmet burgers to international cuisine, the options are endless. Or, create food stations representing different culinary traditions, allowing your guests to embark on a flavorful journey.
23. Dessert Swap Party
Ask each guest to bring a homemade dessert to share, along with the recipe if they wish. As everyone feasts on an array of cookies, cakes, and confections, they can swap recipes and even leftovers to take home. It's a delightful celebration of community, creativity, and, of course, indulgence in the tastiest part of the meal—dessert!
24. Hot Chocolate and Cookie Bar
Set up personalized treat stations where guests can customize their own hot cocoa with fun additions like whipped cream, sprinkles, flavored syrups, and candy canes. Pair it with a cookie bar featuring an assortment of cookies and toppings.
25. Gourmet S'mores Bar
Elevate the classic s'mores experience by setting up a gourmet s'mores bar. Offer a selection of artisan chocolates, flavored marshmallows, and specialty crackers. Include unexpected additions like fruit, nuts, and spreads to allow guests to customize their s'mores creations. Whether enjoyed around a firepit or a tabletop burner, a gourmet s'mores bar adds a delightful touch of indulgence and interactive fun to your Friendsmas gathering.
26. Themed Christmas Potluck
Turn the traditional potluck into a festive adventure by choosing a unique theme for the dishes. Go for "Christmas Around the World" and have friends bring dishes that represent different cultures' holiday celebrations. Alternatively, challenge everyone to re-create classic Christmas dishes with a modern twist, like vegan "turkey" or deconstructed mince pies.
The result is a diverse and delightful feast where everyone's culinary talents shine, creating a true sense of community and shared joy at the Friendsmas table. Plus, it eases the hosting duties and allows more time for merriment! Hop onto our blog post about Christmas potluck ideas for more inspiration.
❄️ Unique Decorations and Music Ideas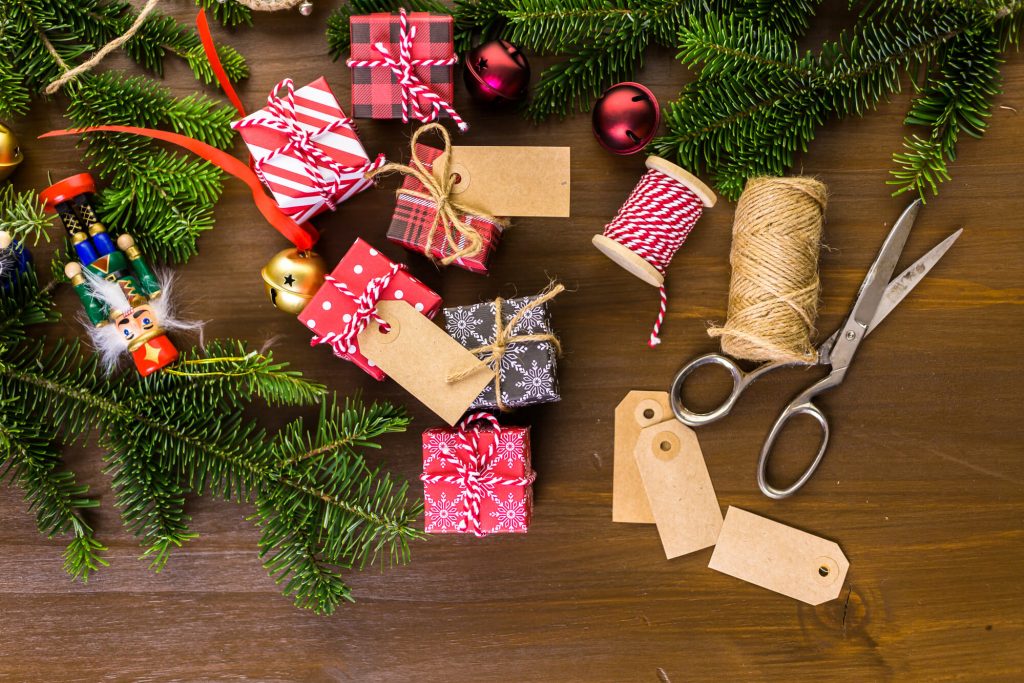 And for the final vibe check, let's talk music and decorations:
27. Recycled Christmas
Use your imagination and embrace a sustainable Friendsmas by upcycling materials for decorations. Turn old fabric, glass jars, or paper into festive decor like garlands or painted wine bottle centerpieces. It's a creative and environmentally friendly way to add a personal touch to the celebration.
28. Musical Friendsmas
Set the mood with a collaborative playlist or hire a local band to perform holiday tunes. Friends can contribute their favorite songs, or live music can elevate the party's atmosphere. Whether it's a jazz trio or rock band, music adds excitement to Friendsmas.
29. Interactive Decorations
Create engaging experiences with interactive decorations like a photo booth with holiday props or a collective painting canvas. These interactive elements add fun activities to the party and provide unique keepsakes.
Conclusion
And there you have it—our selection of ideas to transform your Friendsmas celebration from the ordinary into the extraordinary! Whether you're embracing the cozy charm of a camping-themed gathering or indulging in a global holiday tour right in your living room, these tips and inspirations promise a memorable and joyful get-together with friends.
Don't be afraid to mix and match ideas, add your own creative flair, and most importantly, have fun with it. After all, Friendsmas is about cherishing the bonds of friendship, laughter, and the spirit of the season. So grab those invitations, deck the halls with creativity, and get ready to host a Friendsmas like no other.
Happy planning, and Merry Friendsmas! 🎄
FAQ
How do you throw a Friendsmas party?
Throwing a Friendsmas party starts with selecting a date when all of your guests are available. The holiday season is busy for everyone, so remember to start planning early! Then, decide on a theme or vibe you want to create, book a venue, and send out invitations. Plan the menu, activities, and decorations to match the chosen theme, and consider incorporating unique touches like customized gifts or interactive decor. Don't forget to consider your guests' preferences to ensure everyone has a memorable time!
What to do at Friendsmas?
Friendsmas is all about spending quality time with friends, so pick enjoyable activities that encourage interaction. You can host a cooking competition, do a movie mashup, set up DIY craft stations, or even organize a mystery-solving evening. Combine activities with delicious food and drinks, music, and plenty of laughter to make it an unforgettable night.
How do you make a Friendsmas party fun and unique?
Adding personal and creative touches to the celebration is key. Choose an unconventional venue or theme, such as an aquarium or a "traveling around the world" concept. Use interactive decorations like a photo booth or recycled art show, and spice up the menu with mouthwatering treats that fit the theme. Think out of the box, incorporate your friends' personalities, and don't be afraid to experiment with new ideas to create a one-of-a-kind Friendsmas experience!