The big 4-0 is finally here and it's time to take some great photos to welcome in the next decade. Having a photo shoot is one of the best ways for you to celebrate with friends and family and make sure that this birthday is a memorable one. Whether you are planning a few formal portraits with family, or some action shots with friends, a birthday photo shoot is a great way to bring your friends and family together for your birthday. Why not let Tagvenue help you plan your birthday photo shoot in one of our amazing spaces around the world!
Styling
The first part of planning your photo shoot is deciding on the styling. It is important to make sure that everything is consistent and aesthetically pleasing. This can be done by decorating your party space, whether at home or at one of our 40th Birthday Party Spaces, with balloons, confetti, arches, and/or flowers in your favourite colours. Having a consistent and beautiful space for a shoot or party will help you get the best possible photos.
The Space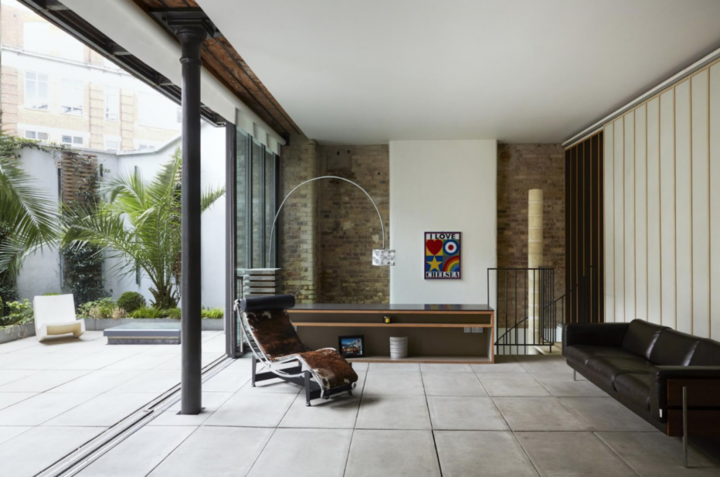 The setting for your photo shoot is key. Having it at home is a great way to keep costs down, but when the costs go down, your workload increases. It will also require you to set everything up yourself and take everything down as well. If you hire a space or a photo studio, then the set up is a lot easier and the spaces are tailor made for parties and photo-ops. Tagvenue can help put you in the space that will help make your 40th unforgettable.
Photo Party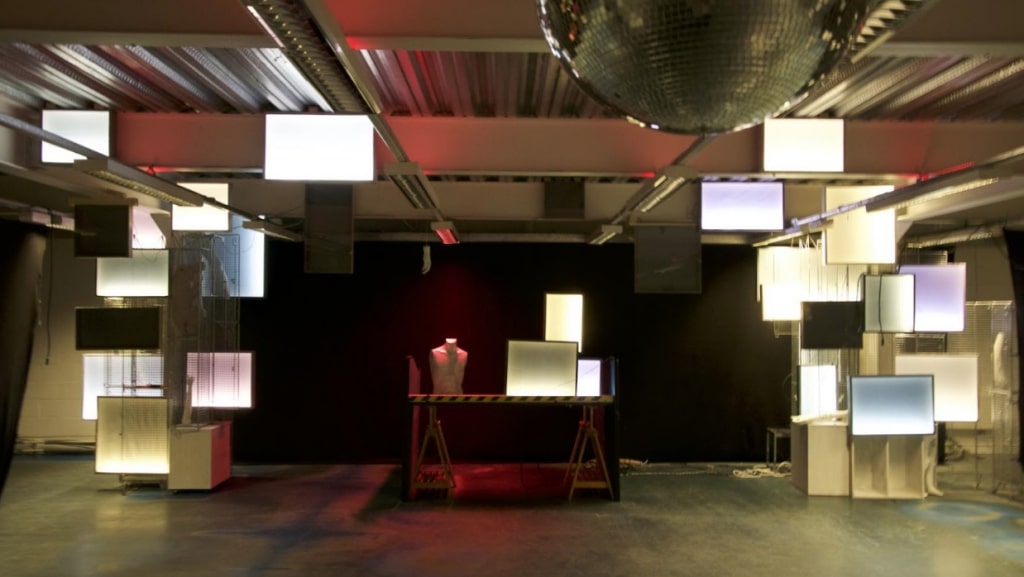 Why plan two separate events? Throw a killer 40th party but also hire a photographer to capture every moment. This way you can party with your friends and family and include them in all of the fun photo shoot activities. This will allow for you to have group photos and solo shots alike. If you are not feeling like a bar or club, Tagvenue has tons of unique party spaces from yachts to gardens all around the world for your party and photo shoot.
Props
Bust out the bubbly and get those balloons filled. Having plenty of fun props on hand is a great way to make your 40th birthday photo shoot memorable. Another great object for your photo-op is an arch adorned with balloons and the things that you hold close to your heart that are worth celebrating and photographing.
Make a Set
Making a set is a way to get that photo booth feel but with higher quality images. Sets can be created with cute colourways and fun props that you can play with and use in creative ways. All you need is a backdrop, balloons, a tripod, and some lights, and then you are ready to go!
---
How about checking out: 16 Useful Studio Photo Shoot Ideas to Stand Out From The Crowd
---
Hire a Makeup Artist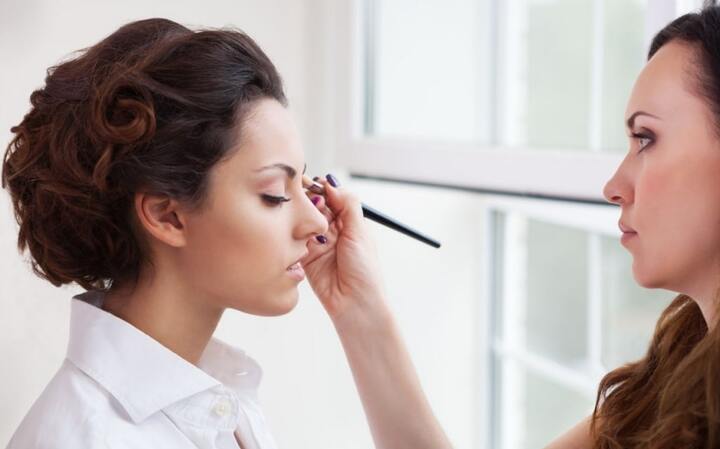 Your 40th should be a day for treating yourself. What better way to do this than by hiring a makeup artist for the occasion. This is a sure fire way to be sure that you will look your best for your big birthday photo shoot. Don't stop with just yourself, and invite your friends to get involved for even more fun!
Dress to the Nines
This one goes without saying. Buy yourself that outfit that you've had your eye on and get the cameras out for your photo shoot. Why not also bring a few outfit changes too to get the most bang for your buck. Most photographers and studios will allow you to change your outfit 2-3 times over the course of your shoot.
Pyjama Photo Shoot
If you don't feel like dressing too fancy and want to keep things casual yet fun, have a pyjama photo shoot! Bust out the silk trousers and matching blouse and cosy up with your friends and family for some unforgettable photos.
Masquerade Photo Party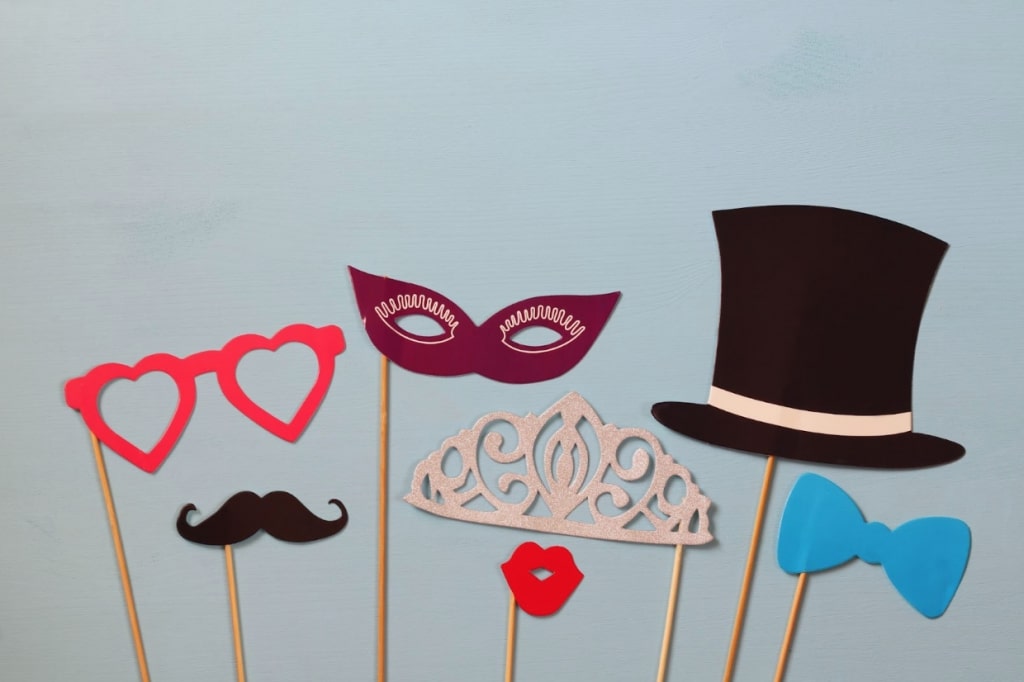 Costume parties are a guaranteed good time. Tell everyone to bring a mask or provide some of your own. These are plentiful and cheap at party stores and they make for some great photos. This theme is guaranteed to provide some memorable photos and a great time whether you are celebrating at home or out on the town.
---
You may also like: 10 Unusual Ideas for a Birthday Photo Shoot for Adults
---
Drone Photos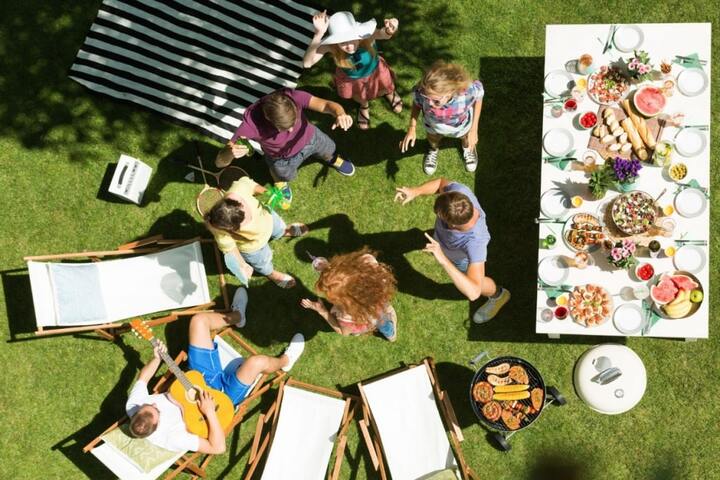 If you want your party to be outside or on a rooftop, consider using a drone to capture the moment. This kind of photography has been all the rage over the past few years, and it is a great way to get a unique perspective on your party. Many photographers often have one of these at their disposal to capture high-resolution images of weddings and parties.
Candid Shots
Candid shots are great for capturing all of the emotion and fun of the party without any filter. What better way to capture everyone's best side and the best moments of your party than with great candid photography?
Freeze Frames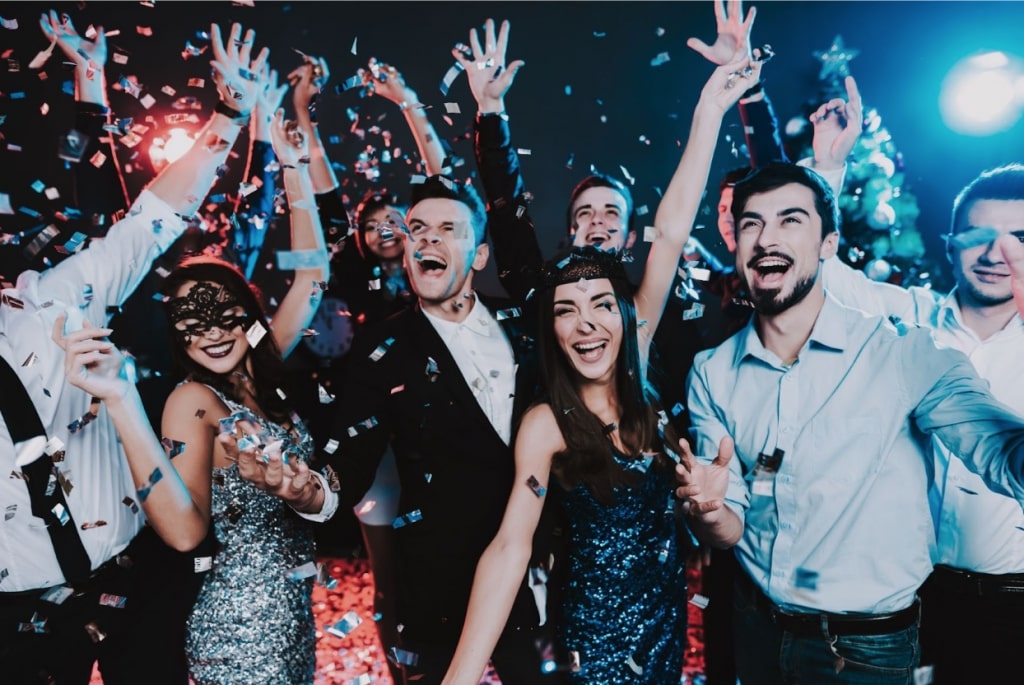 Much like candid shots, frozen shots capture some of the best moments of the party as they are taking place. An example of this is shooting a confetti cannon, or popping open a bottle of champagne. These are even cooler when you utilise flash photography to accentuate the contrast and make your images stand out.
---
Psst! Don't forget to check out: Photography Tips and Tricks for Beginners
---
Experiment with Lights
White lights are great for photography, but if you are looking for something a little more unique, throw some different coloured lights in the mix. You can experiment with cool colourways to create a one-of-a-kind space with some pictures tailormade for Instagram.
To Sum Up
Your 40th birthday should be one to remember. Follow our advice to make sure your next birthday will be a surefire success. So get out the champagne, blow up the balloons, and get that camera ready. Also make sure to check out Tagvenue's platform and let us help you find an amazing party space, unique venue, or photo studio for your next party!
FAQ
How do you plan a 40th birthday photo shoot?
Planning a photo shoot does not have to be a complicated process. What you need to do is hire  a photographer, get a mood board started to figure out your aesthetic, buy all props and materials, and then book a space for your  40th birthday party. Tagvenue has amazing places around the world which can make finding and hiring a venue a breeze.
What do I need for an at-home photo shoot?
At home photo shoots are great for creating a homey atmosphere for your photos and offer a super easy way to get comfortable. It always helps to set everything up to change the vibe of your house a little, while still maintaining that at-home-feel. Some fun things to have around the house that you can play around with are mirrors and different light sources. It's also best if you have the help of a great photographer to make sure that your shots stand out.
How do I keep costs down for my photo shoot?
Photo shoots do not need to be expensive. Amazon and party stores sell all of the props you need at a super affordable price. If they don't have what you are looking for, do not shy away from going the DIY route to make some signs and sets. Lighting is pretty cheap, and used gear even more so. Tagvenue also has tons of affordable party spaces and photo studios for you to book.