If you're like me, you always want to take your photography to the next level. Photography is a truly rewarding hobby and can lead to a creative career. Your photography is an expression of your artistic eye and a great way for others to see the world through your eyes.
There are many steps you have to take to keep elevating your talent. First, you have to familiarise yourself with cameras and different mediums and understand which setting they should be used in. To perfect editing is to perfect this craft. When you are familiar with the gears, have editing down to a science, and you're comfortable in a studio, you are on your way to having a stellar portfolio.
If it is your first time shooting in a studio, take a look through our photography tips for beginners and get started today!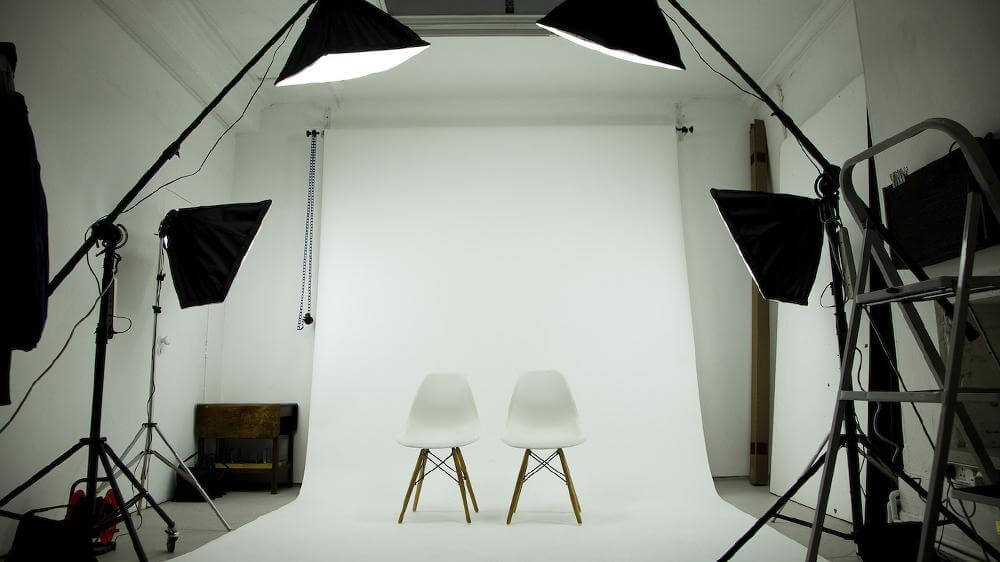 Why A Studio?
Booking time in a studio can seem a bit excessive. Many people think that they would be better off building their own studio and shooting from home. This is tempting, but having access to a full professional studio is the best way to take your photography from the bush league to the pros.
Professional studios will come with the basic gear you need for every shoot available for rental. This includes backgrounds, lighting, and a power source that can handle running lights, computers, and charging stations. Photography on a professional level takes a lot of power, and studios can handle everything you need and more without worrying about blowing a fuse. In professional studios, you do not have to compromise anything to get the best pictures for your client.
Studio spaces also have attentive staff to help you move some of the heavy equipment and also help you set things up in a way that works best for the room. Having staff with years of professional experience and dealing with photographers and videographers is something that is priceless.
Tagvenue has curated lists of some of the best studio spaces around the world for you to see!
First Time In the Studio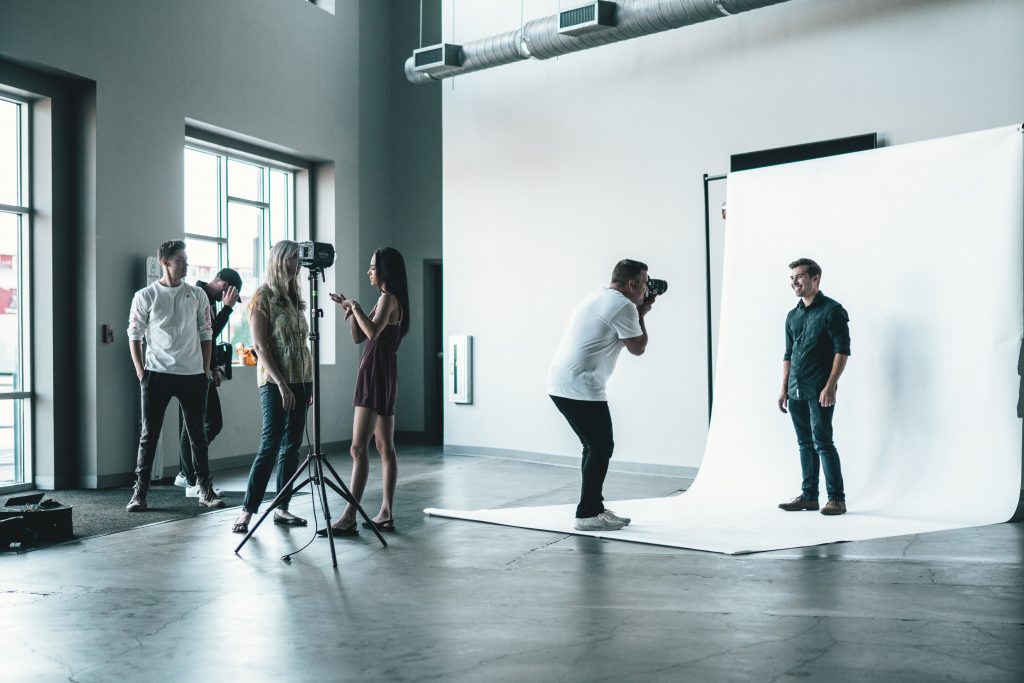 Stepping foot into a studio for the first time can be an overwhelming experience. If you have not worked out of a studio before, look up local professional studios and photographers and inquire about an internship or volunteer opportunity. This way you will get hands-on experience with the gear and understand the ins-and-outs of not only studio work but also how to work with clients in a professional manner.
Studios are the best places for product photography (check out our product photography blog post!) and portrait photography. You will also find that wedding photographers will also utilise studios to get photos of the bridal party before the day kicks off. Photo studios are one of the best ways to get the cleanest possible photos for your clients.
Tips and Tricks for Beginner Photographers
A photographer's job goes beyond taking pictures and editing. Photography is a highly competitive industry, and the professional focus of a photographer should revolve around these three principles: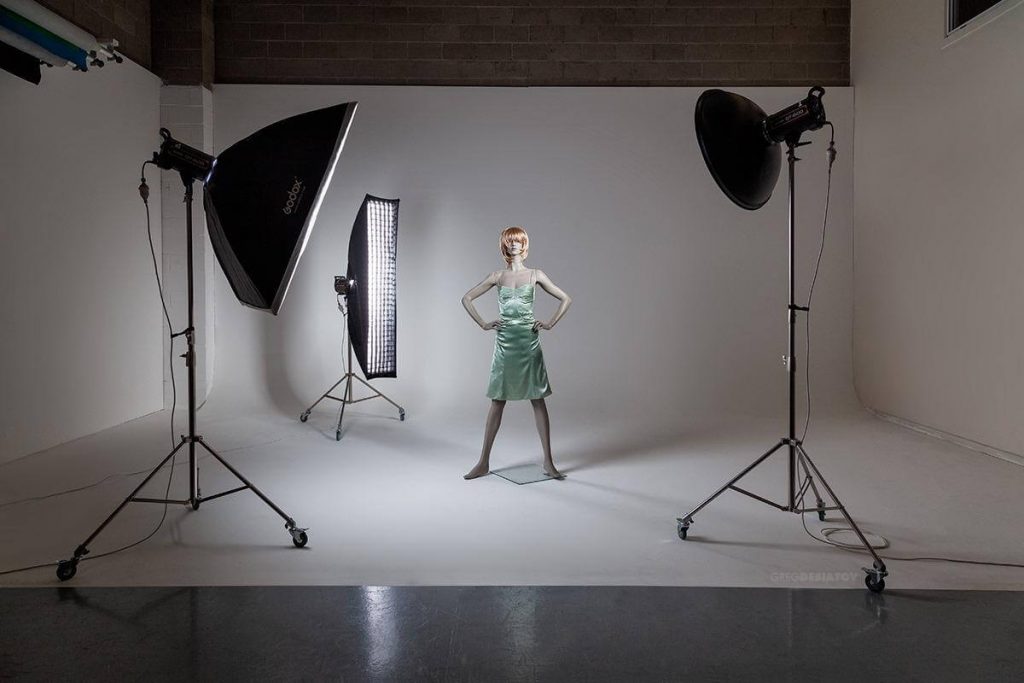 A consistent photographer is someone who is creating a brand and has a recognisable style. They are well practised in their craft and able to understand the wants and needs of each individual client while developing and expanding their brand.
Photographers, especially beginners, should be priced competitively. Having a professional studio space to practice in will greatly increase your value in the eyes of clients. Knowing how to properly utilise the space will also boost your worth.
Speed is one of the most important factors to the success of your business. Clients often expect a fast turnaround on the photos, so it is best to work efficiently both during and after the shoot.
Organisation
Staying organised is key to any successful photo session. There is a lot to do every time you have a shoot and there is much to keep track of during your day. Organisation is the key to consistency. Here are some things to keep in mind:
Your schedule as a photographer is bound to get busy from time to time. Keeping a regular calendar of shoot dates and deadlines is a surefire way to make sure that you don't miss a beat. Nothing looks worse for your practice than losing track of your schedule and double booking yourself or missing a deadline. Of course, mistakes happen, especially as a beginner, but calendars are the best way to keep up.
Google Calendar is great to keep track of everything, as it allows you to communicate directly with the clients and have all of your dates in one place — and it's free!
Before you even step foot into a studio, you have to plan ahead. Talk to your clients, understand the ins and outs of their shoot, and make sure you have the proper gear and space for their specific needs. Make a pre-shoot briefing so they come prepared as well.
A gear belt will be your best friend. It can hold extra camera bodies, lenses, batteries, and memory cards. Having these in arm's reach is a good way to maintain the pace of the shoot and never be caught missing something you need.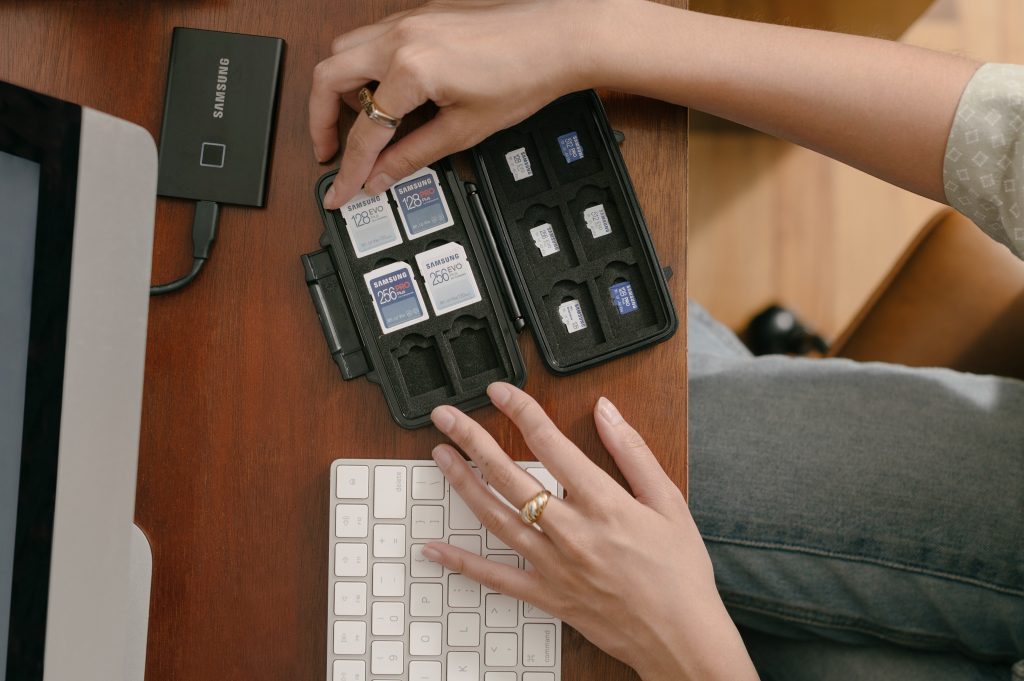 Memory cards fill up fast and there is always a lot of information to sort through on each one. When you are shooting, be mindful of which shots are on each card. An easy way to keep track of them is to mark the case of each card, or when one fills up, put it right onto your computer.
The best way to keep track of your shots is to upload them during breaks in your session. When you upload you will also be able to see if you need to change any camera settings or the lighting in the room. Uploading onto your computer also creates backup in case of a lost or damaged memory card.
Photo shoots are exhausting. Your subject will need breaks, especially if the session is going on all day. Comfortable clients are happy clients. Be sure to get some coffee and snacks for people if you are starting early or your shoot is going on for many hours.
Breaks are also a good time for you to take a step back and change the set, upload your pictures, and make adjustments.
Editing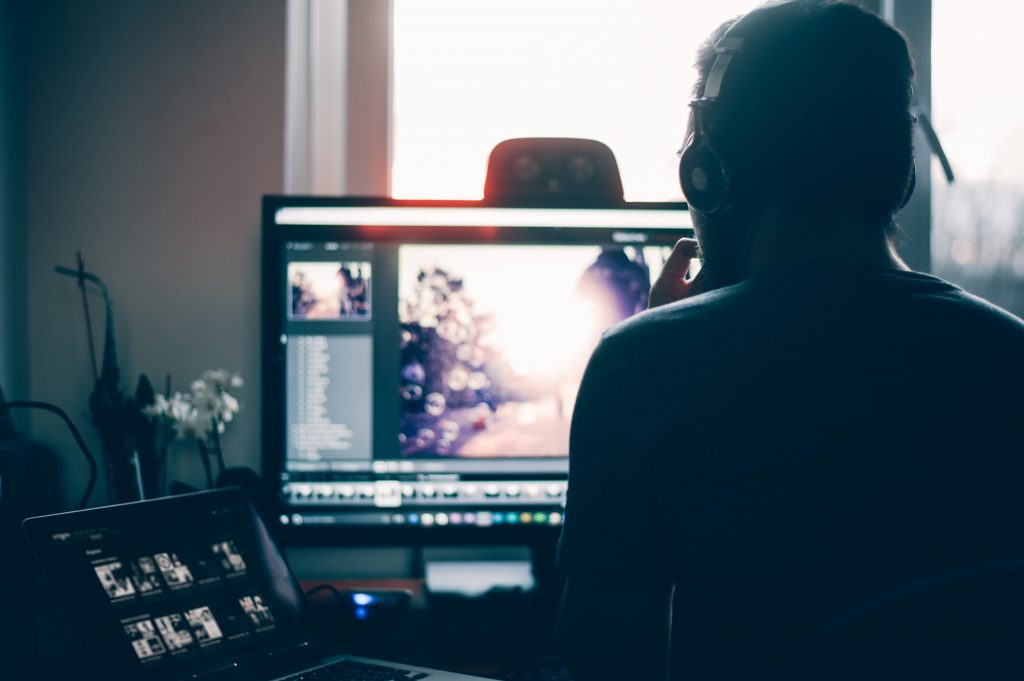 As we all know, editing is how you form your brand. It's just as important as the shoot itself. A great way to ensure both consistency and speed in the editing process is to have a bunch of Lightroom presets made to suit a variety of . Then, after you upload, you will just have to find the best images and fine tune.
The best files to edit are .RAW. Just about every camera has a built in setting that allows you to change from .JPEG to .RAW. RAW files are the best because they capture the most detail with colours, shadows, and highlights. RAW files are rather large. When you send your edited images to your client, .JPEGs, .TIFF, and .PNGs are a solid option, as they offer great quality and small file size.
Do not overlook your histogram. The histogram is a graph that shows the intensities of different frequencies and will allow you to make fine adjustments that will look better on all screens.
Exporting
The final part of your job is to export finished photographs to your client. As I said above, the best file type for this is a .TIFF or .PNG. Optimise different images for different platforms like Instagram or if your client intends having them printed.
Must Have Gear
A photographer's gear is an extension of their eye. Having great professional gear is a must for any serious photographer.
Camera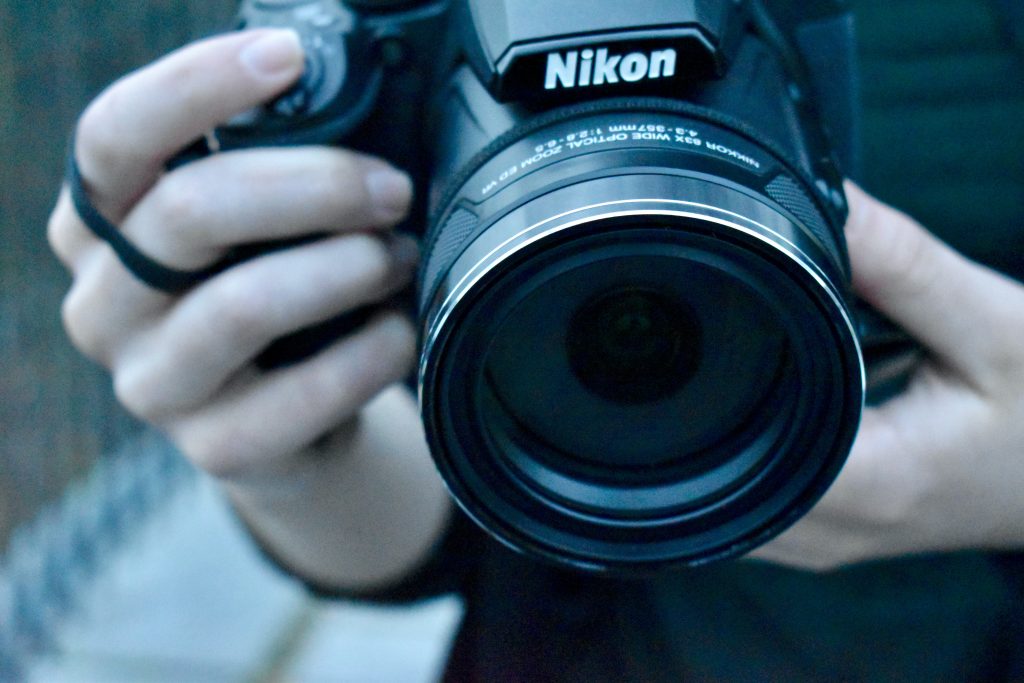 Crop Sensor Cameras
These are cameras that have a sensor that is less than full frame, or 35mm. The sensor is what captures the light and turns it into a digital image that can be viewed and edited. They are great for beginners because of their accessible price point and the easily adjustable, but simple settings. Crop Filter cameras will start at £500 and have the option to be purchased with starter equipment.
These cameras capture more light per image and they give you greater depth of field. Images taken on full frame cameras are going to be higher quality than photos taken on crop sensor cameras. Editing images taken on full frame cameras is also significantly easier due to higher resolution and greater colour and light dynamics. These cameras can cost anywhere from £1000-£2000.
These are top of the line cameras that are the absolute best for portrait photography. They have a 120mm sensor that has incredible resolution and depth of field. Film medium format cameras are also incredibly popular and more photo laboratories have been accepting 120mm film alongside 35mm film. The high resolution comes at a high price, however. These cameras can run you upwards of £4500.
Tripod
This is an obvious piece of equipment that every photographer should have. Having a high quality tripod is the key to getting steady, consistent images, especially if you are shooting in a low light environment. Having a tripod with a level on it is a must.
Lighting Equipment
Getting your lighting right is one of the most important parts of your photoshoot. It is much easier to manipulate lighting in a studio setting, so there are a few key pieces of equipment every photographer should be familiar with when stepping into the studio.
Being able to use natural lighting is crucial for your shoot. Just about every photographer has shot in a natural lighting situation, so this should not take too much getting used to. Some studios will have large windows, allowing a lot of natural light in. Ideally, in a studio the windows will face north and south for the best lighting conditions.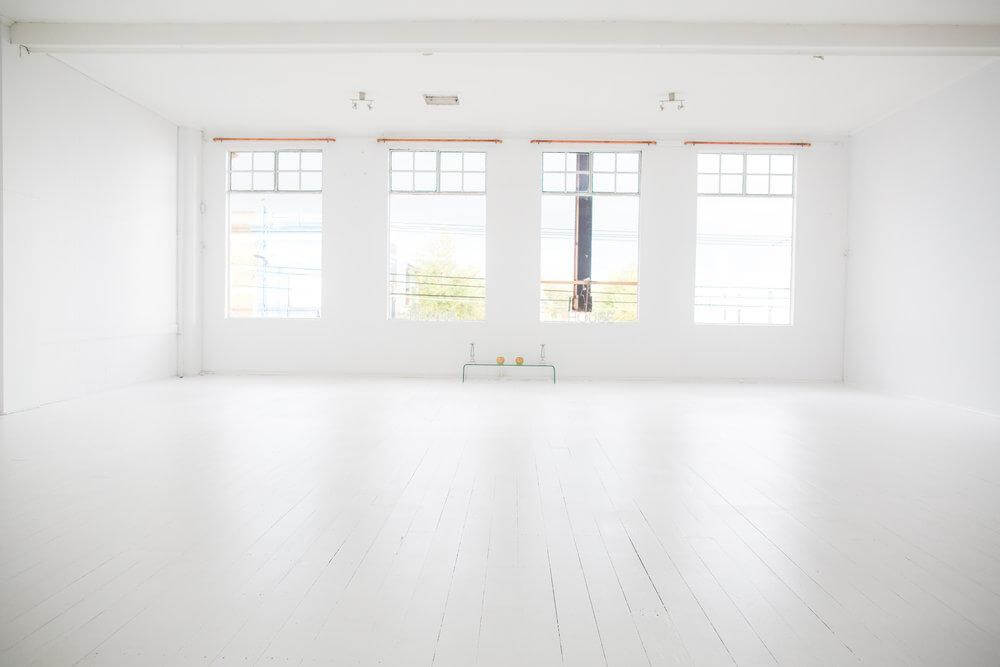 LED Lamps are the most common and some of the most versatile artificial light sources available. They are inexpensive and they also can be modified for different coloured lights at different intensities. Whether you are shooting professional portraits or something more artistic, LEDs are an absolute must have.
A detachable flash is a photographer's best friend. They provide better lighting than most onboard flashes, and are also significantly more adjustable. They allow you to play with the lighting and make sure it compliments the specific needs of your session.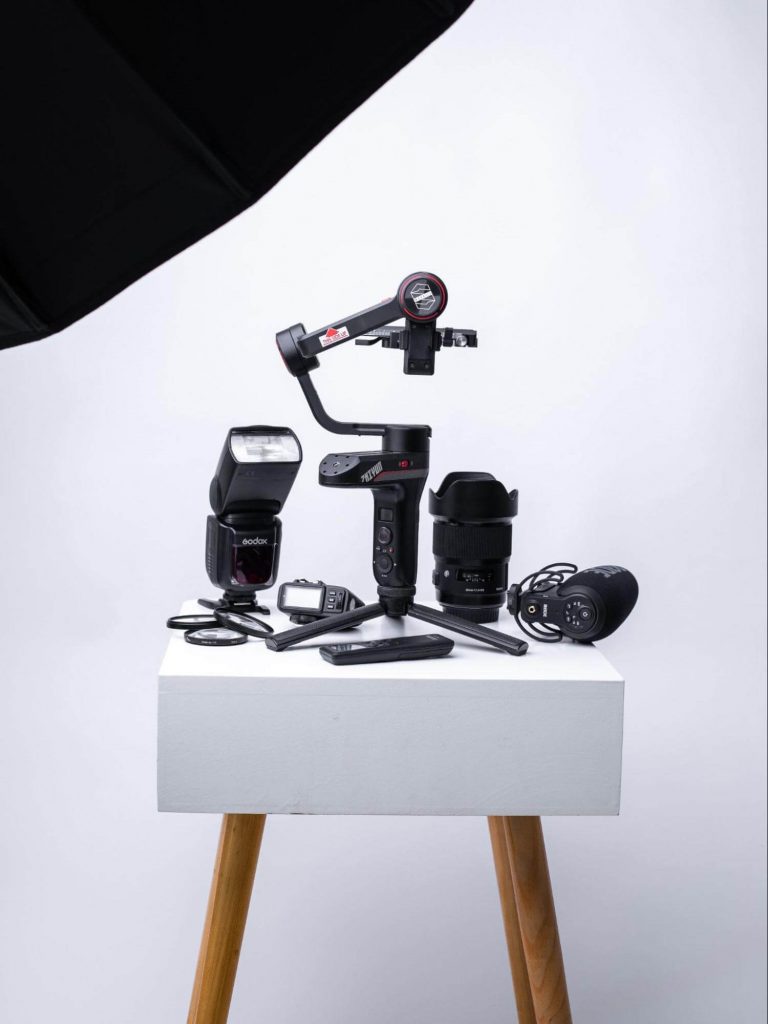 An offboard speedlight offers a momentary strobe, or flash, that illuminates your subject and creates deep shadows and vibrant highlights. This piece of gear is available to beginners at around £130-200, which is a worthwhile investment.
A Laptop and Editing Software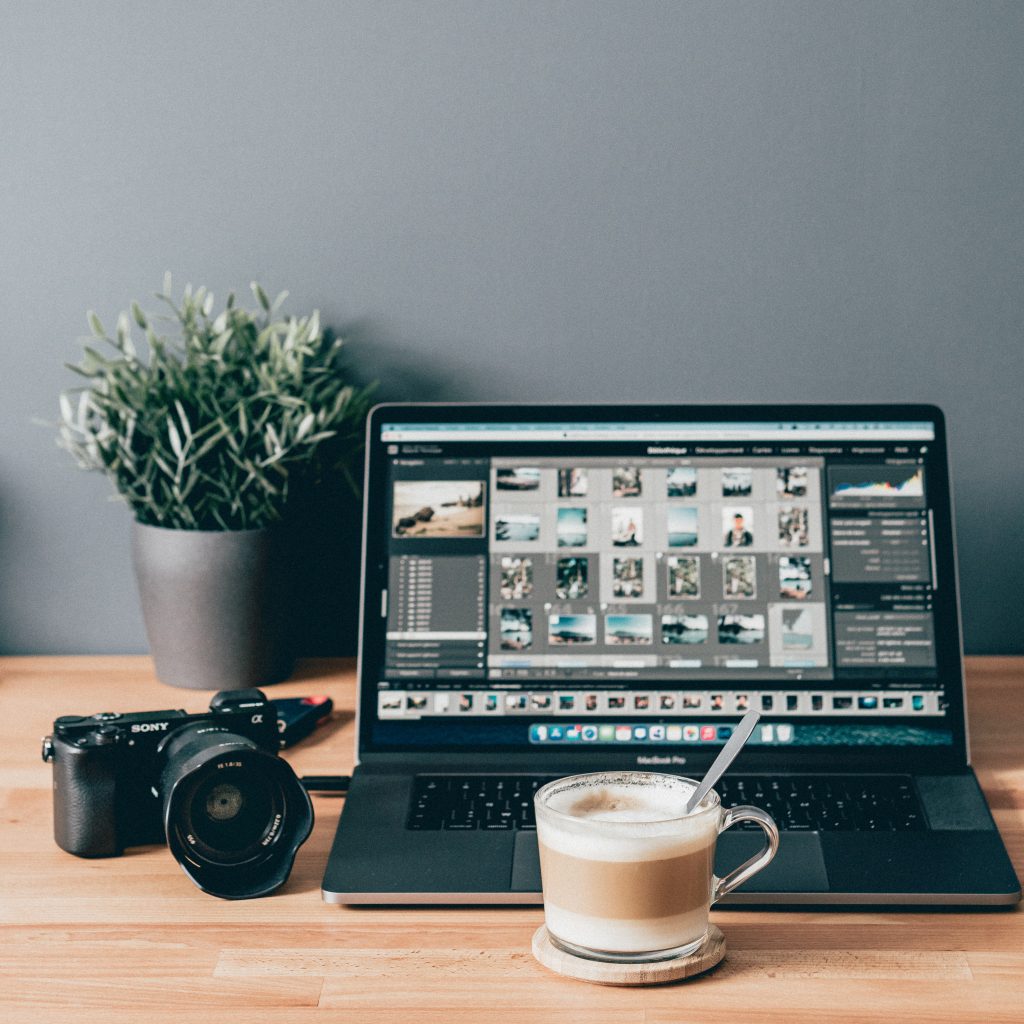 Having a laptop and an offboard memory bank like a 1TB hard drive are key pieces of gear. You need an up to date and powerful laptop to handle all of the images and software. Standard software is Adobe Creative Suite which is the best for editing, organising, and exporting your finished projects.
Key Takeaways
Your first few times in a studio can be stressful, but it is the best way to take your passion from being just a hobby to being a profession. Getting set up and comfortable in a studio is not as hard as it seems. You need to know your gear, your workflow, and how to keep clients happy. Follow these tips for great results during your next shoot!
FAQ
What makes a good photo studio?
A good photo studio is a place where you are in control of most, if not all, variables. You should have all of the backgrounds you need for the specific shoot, and a wide array of lights, light stands, tripods, cameras, and lenses. Having a computer with the proper software, such as Adobe Lightroom, is absolutely essential to get the highest quality images for your client.
Why use a professional photo studio?
Setting up your own photography studio is a tempting thought, but hiring a professional studio will save you all of the time, trouble, and money that comes with building your own studio. Studios have available gear for rental if you are missing a piece of equipment and have professionals there to help you get set up and even show you how to use a piece of gear that you may be unfamiliar with. 
Which programs are the best for editing?
Adobe Creative Suite is standard. Lightroom offers the best features to fine tune your images, as well as allowing you to create presets which greatly increases the speed and quality of your edits. Photoshop is another key piece of software that is the absolute best for photo manipulation. Mobile apps such as VSCO offer great presets and photo editing options that are not available on Instagram, all in a free and easy to use package.
How do I organise digital photos?
Organising digital photos is a key part to staying ahead of any shoot. Having a series of colour-coded or marked SD cards and card cases and upload images during breaks. It is also a good idea to change memory cards depending on different sets or different groups of people. Having your files both on your memory cards and on your PC guarantees that you have a backup of all your photos.