Dinner parties are the magical combination of incredible food and great company. The clinking of glasses and the buzzing chatter of guests create a dazzling symphony that has brought people together for centuries.
Whether you're hosting a fancy dinner party or a casual potluck, there's something about bringing people together over a meal that creates a sense of warmth and intimacy. So, dust off your finest china and pots, put on your apron, and get ready to throw the most memorable event of the year thanks to our unique dinner party ideas and themes!
What is a Dinner Party?
A dinner party is a get-together where people share delicious food and enjoy a great conversation. It can take place in a variety of locations, including a private residence, a restaurant or another kind of venue, and can be as formal or as informal as you like.
Dinner parties frequently include numerous courses and a variety of cuisines. The host is in charge of planning the gathering, supplying the food and beverages, as well as creating the mood and atmosphere for the evening with entertainment and games. At such events, people can make new acquaintances, develop relationships, connect, socialise over delicious cuisine and engage in conversation.
Food speaks to everyone in a language that is independent of culture and belief. It has the ability to break barriers and unite individuals from all backgrounds around a delectable meal. That's why hosting a dinner party might be the perfect opportunity for you to spice up your social life (and your meals) and have a memorable evening!
Fun Dinner Party Theme Ideas for Adults that Will Surely Impress
So you're organising a dinner party, and you want to make it a special occasion that everyone will remember. Well, look no further, because Tagvenue has got you covered! We've compiled the best dinner party themes and ideas for adults that will dazzle your guests and ensure a successful gathering. Our list includes suggestions for every taste and preference, from a lavish Italian feast to a bohemian-inspired get-together. Prepare to impress your guests and earn the title of the best host ever!
1. Take your Guests on a Culinary Adventure Around the World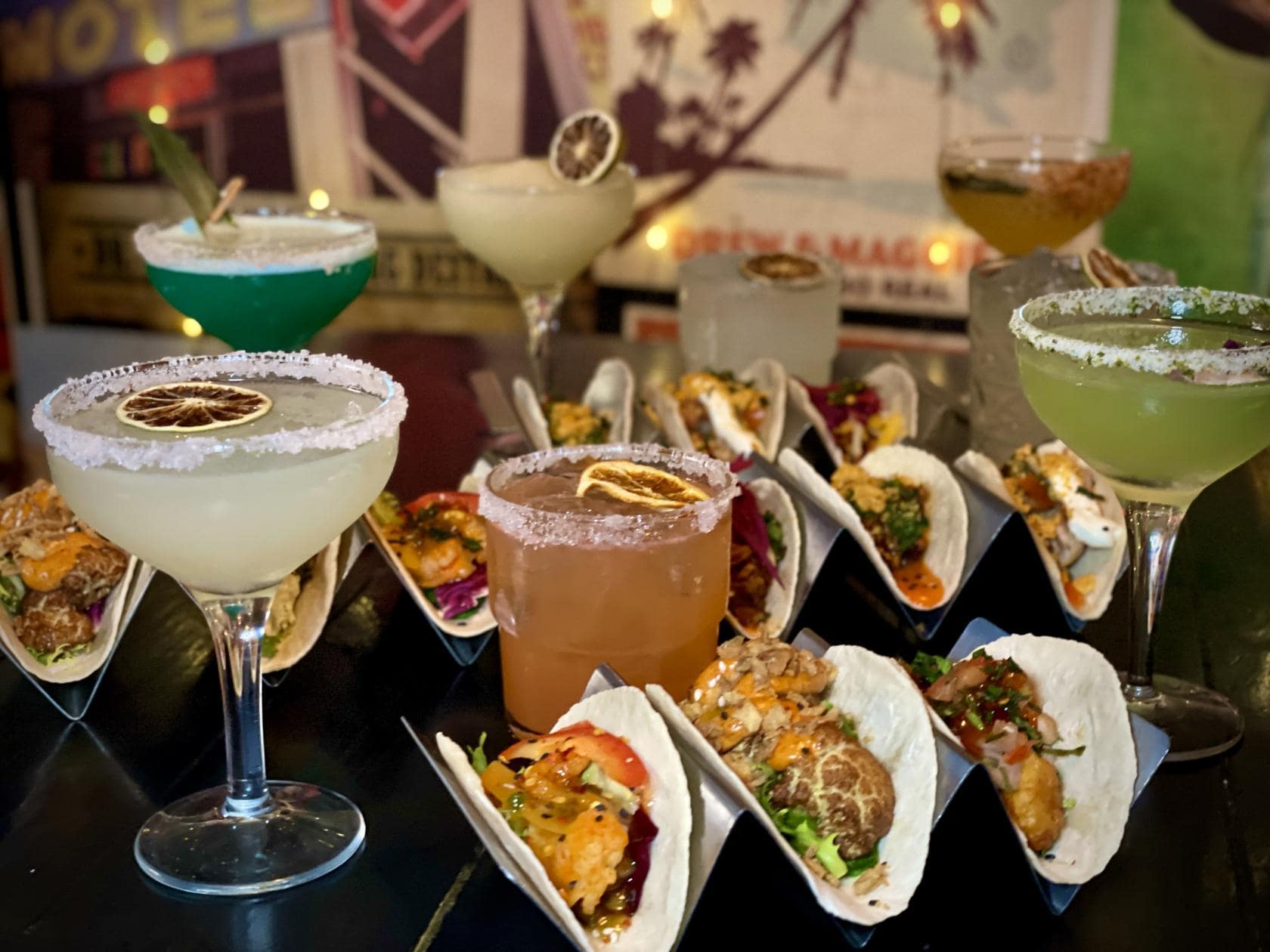 Explore dishes you love or have always wanted to try by hosting a dinner party with a specific cuisine as a theme! Perhaps an Italian dinner party with delicious Lasagna and Pizza? Maybe you're in the mood for a Greek supper with Moussaka and Souvlaki! How about some delicious Korean dishes such as Bulgogi and Bibimbap? A Mexican fiesta will always be a wonderful choice as well. 
🍕 Expert tip: Do your research about your chosen cuisine. You can either do your best to prepare the dishes yourself or rely on the services of a local restaurant. You can additionally set the mood by playing music from the country whose dishes you are enjoying or by decorating the space with appropriate decorations.
Tagvenue has a wonderful selection of restaurant venues that will be the perfect place to host your glamorous dinner party! Head to our platform and hire the perfect venue in just a few clicks!
2. Host a Murder Mystery Dinner Party
At a murder mystery party, the only danger of dying is not from the game, but from the sheer deliciousness of the food! The true riddle you'll have to solve is why you won't be able to stop eating the delectable appetisers, mains, and sumptuous desserts!
There are a few alternatives for the dinner party game to choose from. You can purchase a murder mystery kit or hire a murder mystery company that hosts dinner parties. In addition, if you're up for the challenge, you can come up with the entire story and all the clues yourself.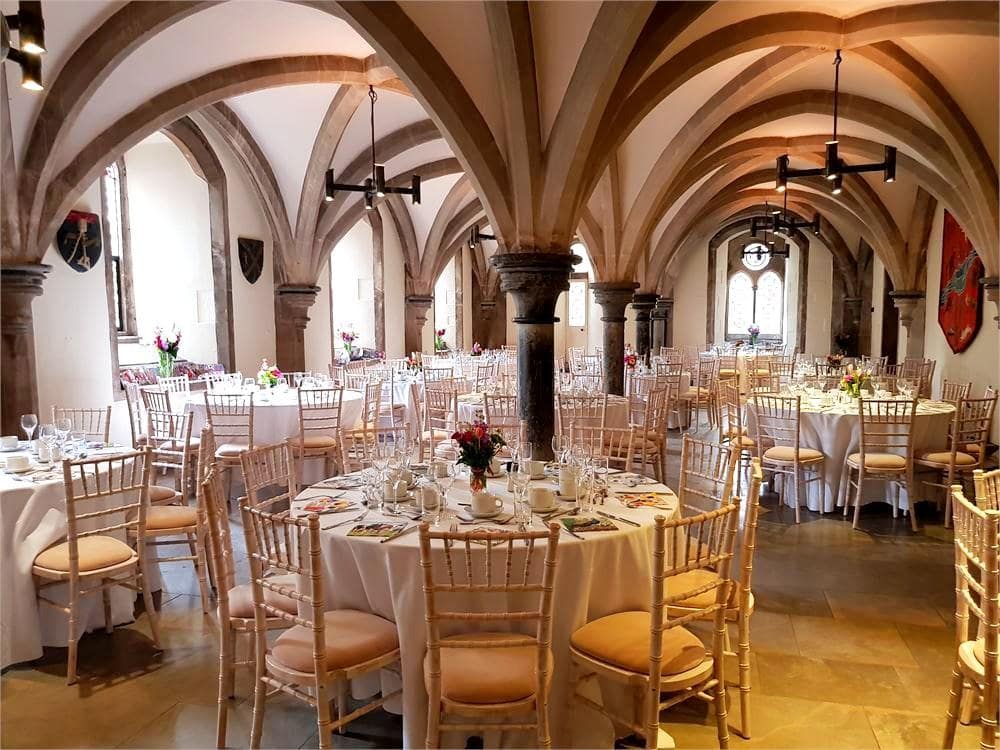 Create a menu that features foods that would have been enjoyed in the Middle Ages, such as soups, roasted meats, and root vegetables. Mead or ale could alternatively be offered as the beverage of choice. Additionally, make sure to decorate your area with candles and banners and opt for wooden dishes and cutlery (Knives only please! Forks weren't used until 1608!). 
Last but not least, invite your guests to dress up in on-theme clothing and organise activities such as a game of historical trivia or a sword-fighting competition (with fake swords, of course, unless you want your feast to have an ending like 'The Red Wedding' one).
4. Plan a Dinner Party Inspired by the Silver Screen
There are plenty of on-screen dinner party scenes and suppers to take inspiration from for your own event. Such examples include the famous episode of 'The Office' (US) titled 'Dinner Party' (we are certain you will do a better job than Michael and Jan) and the several dinner party scenes in 'Julie & Julia'.
You can make your dinner party revolve around the overall aesthetic of the movie by wearing on-theme outfits and decorating your home or venue to match. What's more, you can go all out and embrace the 'eat the food on screen' concept by literally preparing the same dishes from the movie or TV show.
5. Bring out the Fresh Produce for a Farm-To-Table Dinner Party
Nothing compares to dishes that have been prepared with local ingredients. Embrace your area's farmer's markets and create a dinner party menu that revolves around local seasonal ingredients. Keep your recipes simple and allow the natural flavours to shine. Consider serving dishes such as grilled vegetables and fruit salad. Don't forget to create a lovely table setting. What's more, you can even display some of the seasonal produce on the table to link to the theme.
6. Savour the Flavour of a Specific Ingredient/Dish
There are no rules when it comes to this theme. All you have to do is centre your theme around a specific food group, ingredient, or dish. You can host a fun taco or pasta night, a dessert-only dinner party or an 'All you can eat – Potato edition'. To help you select the perfect theme, just answer the following question 'If you could eat one dish/ingredient for the rest of your life, what would it be'. Your answer will be your perfect theme!
🍕 Expert tip: If you are hosting a taco-themed dinner party, for example, go all out by creating a designated taco station and decorating the space with taco-shaped balloons and other festive decorations. This can also be customised for sushi or a pizza dinner party or any other theme you select.
7. Organise an Enchanting Forest Dinner Party Under the Stars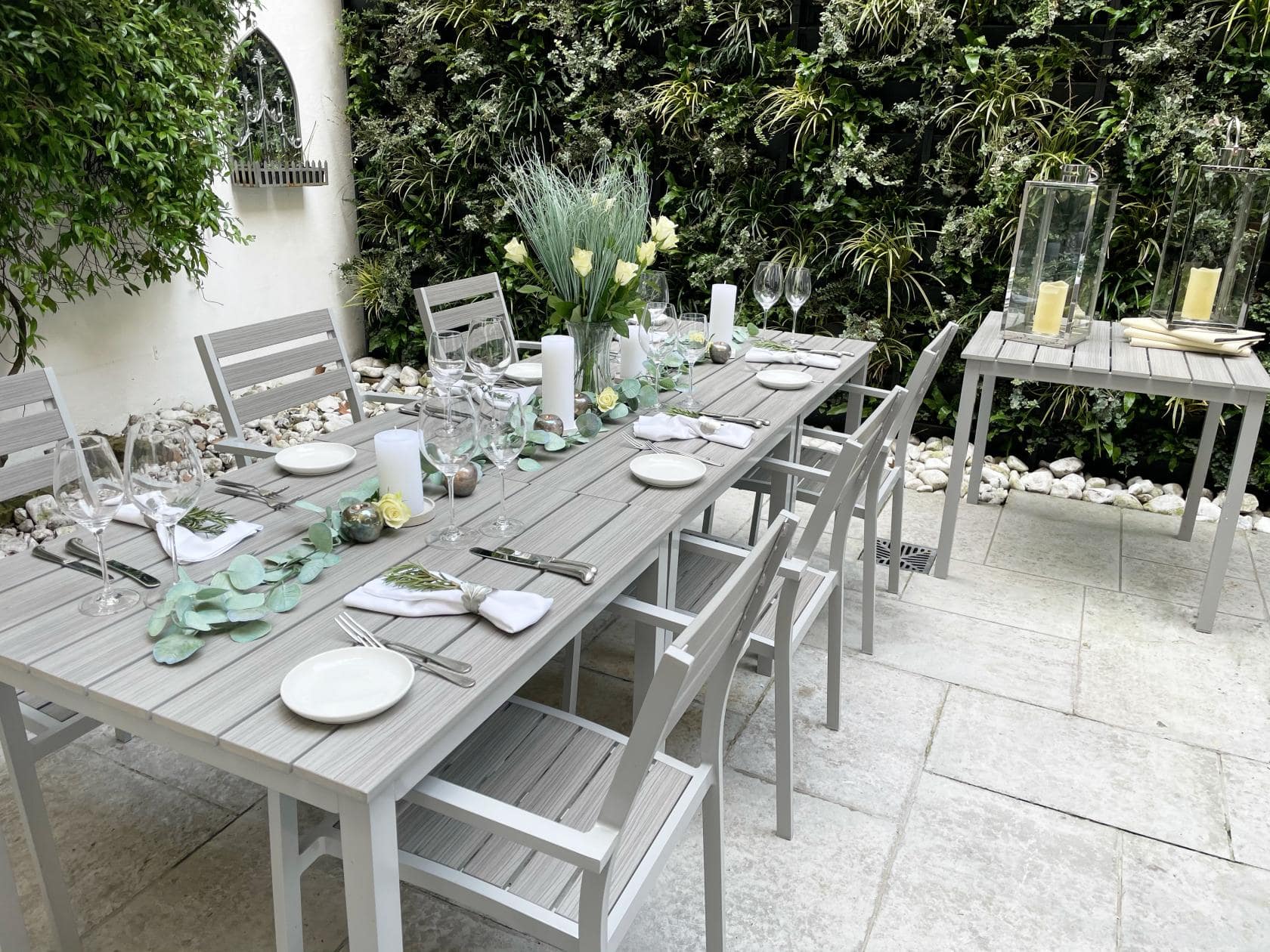 Picture this: you and your closest pals enjoying delectable dishes under the night sky, laughing, and sharing fun stories and memories as candles, fairy lights and the stars illuminate this magical occasion. It sounds like A Midsummer Night's Dream to us!
Such a wonderful concept may be best for a summer dinner party, but technically, all you need to do is to ensure that it will be warm enough (and won't rain…or snow) on the day you want to host your event. Set up a table outdoors, or even a picnic-style spread, put up fairy lights and prepare for a magical dining experience. You can host this type of dinner party at an outdoor terrace or garden venue or even a vineyard!
8. Host a Fun 'Breakfast for Dinner' Party
Do exactly what the theme suggests – prepare all of your favourite breakfast dishes such as pancakes, waffles, omelettes, sandwiches and even cereal and serve them at your dinner party! Don't forget the fresh orange juice and coffee (perhaps caffeine-free considering the time of your event).
You can go the extra mile and ask everyone to show up in their comfiest pyjamas or you can send each guest with a monogrammed PJ set or cosy slippers!
9. Prepare Your Own Meals at a Cooking Dinner Party
In the words of Guy Fieri, 'Cooking is all about people. Food is maybe the only universal thing that really has the power to bring everyone together.' Take inspiration from his quote and invite your closest people for a fun night of cooking and eating your masterpieces.
There are a few ways you can bring this theme to life. One approach is to simply host a DIY dinner party where you and your guests prepare the meals on the spot together. Additionally, you can even host a cooking competition and give an award to the guest who prepares the best dish of the night.
10. Keep it Casual with BBQ or Potluck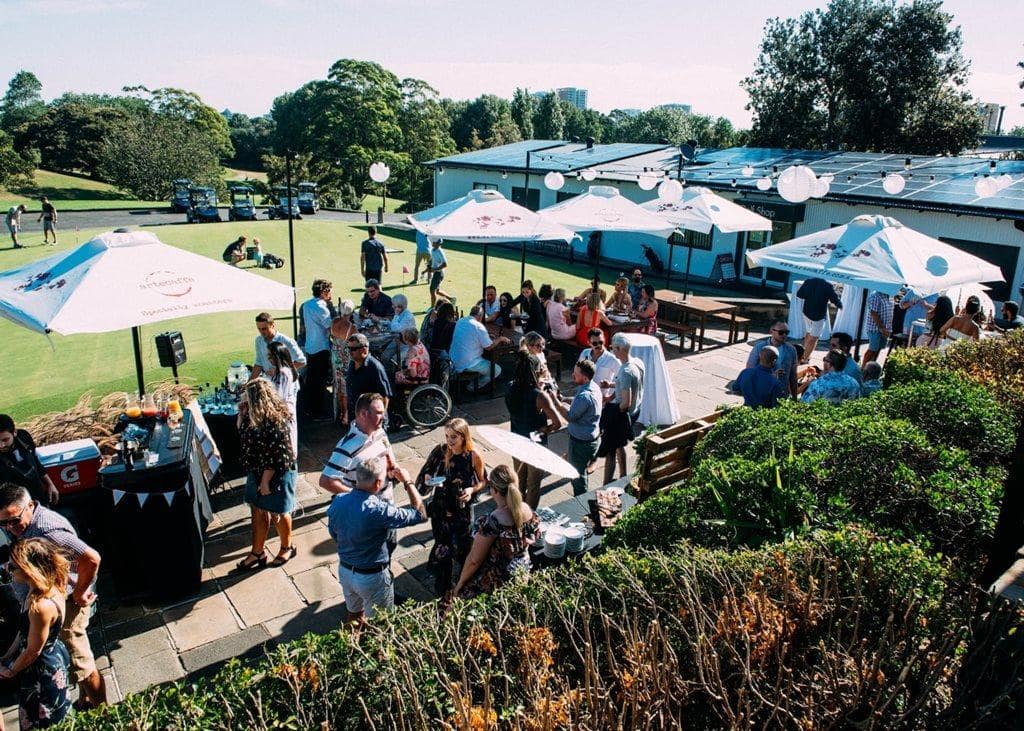 Hosting a BBQ dinner party is a wonderful way to bring people together in a casual setting. Grill up your favourites on your BBQ grill and serve everything buffet-style. Crack open a cold drink and enjoy the company of your friends and family. Throwing a potluck can also be a great way to have a laid-back gathering without the extra stress. All you have to do is ask each guest to bring a dish to the dinner party. Wrap up the evening with a signature cocktail and you are all set!
🍕 Expert tip: If you want to avoid any miscommunications, you can assign each guest of your potluck a specific dish or category they have to stick to such as 'appetisers', 'mains' and 'desserts'. Consider labelling each dish to make it easy for guests to identify. If somebody is more interested in drinks and mixology, ask them to be the designated 'bartender' for the night.
11.  Plan a Unique Dinner in the Dark Party
If you are not familiar with the 'dinner in the dark' concept, it's basically enjoying a delicious meal in a completely blacked-out space. At such events, you are encouraged to awaken your other senses and experience your food like never before. 
You can host such a dinner party at home, although due to safety hazards, it might be best to go with a venue that provides such an experience. The desired effect can be achieved with blackout curtains and an easy-to-navigate dining set-up (keep the sharp knives away, please).
🍕 Expert tip: Select a menu that is easy to eat and won't create too big of a mess. Additionally, incorporate dishes with various textures and flavours to enrich everyone's culinary experience.
12. Host a Bohemian Dinner Party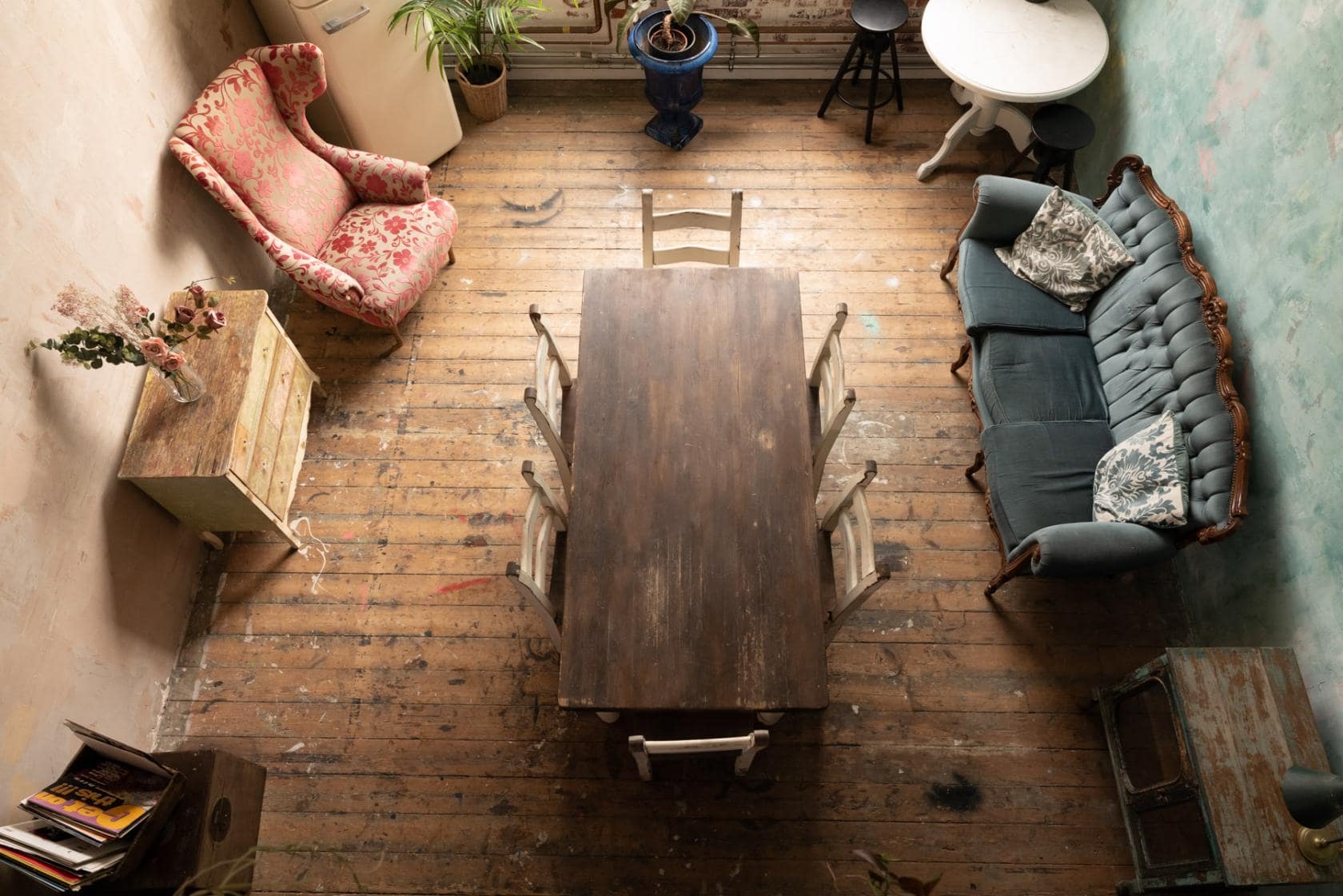 Create a bohemian-inspired dinner party set-up by incorporating colourful decoration, mismatched cutlery, cups and plates, vintage tablecloths and nicknacks, as well as flowers and additional rustic decorations. 
Consider serving charcuterie boards, fondue and other finger foods that will encourage your guests to mingle and socialise. Create comfortable lounging areas with pillows and blankets and end the night with a signature cocktail or a wonderful selection of wines.
13. Throw a Delicious Vegetarian/Vegan Dinner Party
Even if you or your guests aren't vegetarians or vegans yourselves, throwing a plant-based dinner party will be an amazing opportunity to try new and exciting delicacies. Select dishes that are flavourful, have multiple textures going on and are visually appealing. You want to serve food that looks inviting and appetising and which prompts your guests to be adventurous. 
Include plenty of plant-based sources of protein and a variety of fresh produce. Opt for vegan drinks as well! Consider your table setting- incorporate light tablecloths, napkins and fresh flowers and fruit to tie everything together!
14. Experiment at a Mad Scientist Dinner Party
As the name suggests, you will get to channel your inner 'mad scientist' by creating delicious concoctions and potions (the edible kind). Transform your space into a fun culinary laboratory by incorporating lab equipment or chemistry-related signs. Offer a variety of fun drinks with different colours and flavours (some dry ice will do wonders).
Create an exciting menu and give your dishes appropriate names such as 'Elemental Enchiladas' or 'Lab Lasagna'. Get out of your comfort zone, get inspired by an episode or two of 'Marcel's Quantum Kitchen' and just have fun!
🍕 Expert tip: You can elevate your dinner party by serving your concoctions in laboratory staples such as beakers, flasks and petri dishes.
15. Dazzle Everyone with an 'Alice in Wonderland'- Inspired Feast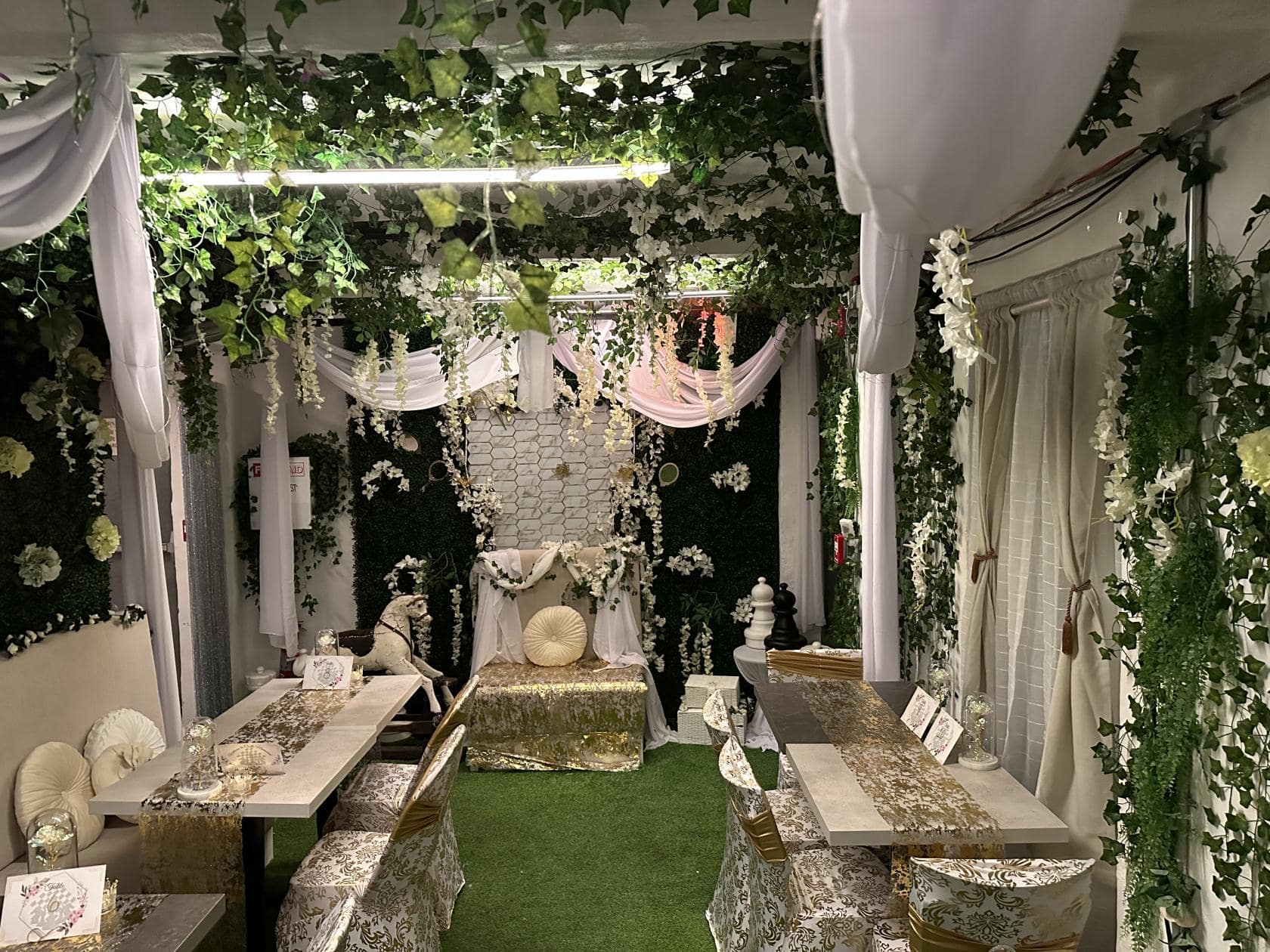 Create an enchanting 'Alice in Wonderland'- inspired setting by incorporating intricate tea cups, clocks, playing cards, chess pieces and red and white roses. You can put a banner above your venue's entrance that says 'Rabbits Only'. Make sure to incorporate the iconic 'Drink me' and 'Eat me' labels on your drinks and dishes. 
You can ask guests to dress as a character from the book, in order to bring the story to life. With a little imagination, this dinner party will be 'as curiouser and curiouser' as Alice's own adventures.
16. Awaken Your Taste Buds and Wit at a Dinner Party Game Night
Raise your hand if you like a little competitive game every now and then. Combine your love for such fun challenges and mix it with some delicious food and you will have yourself a recipe for success! Such a dinner party theme combines the best aspects of a dinner party and game night!
All you have to do is settle on a menu that would be easy to eat while playing the games. Opt for dinner party appetisers and starters. Stick with finger foods and bite-sized snacks. Choose fun games to keep you entertained throughout the whole party. You can never go wrong with crowd-favourites like Pictionary, Charades or Cards Against Humanity. 
🍕 Expert tip: You can even play games that are food-related such as Sushi Go Party!, Throw Throw Burrito or Foodie Fight!
17. Enjoy the Taste of Tradition with Beloved Family Recipes
Hosting a dinner party centred on family recipes is an excellent way to celebrate your ancestry, discuss your family's culinary traditions, and share good food with loved ones. This is the ideal time to get in touch with your relatives and ask them to share their recipes if you don't already have them.
Set the table with your best dishes, decorate with references to your family's culture and background and enjoy a night of fond memories and familial affection.
18. Host a Virtual Dinner Party
If some of your guests can't make it to an in-person dinner party, don't fret, because you can still throw a fun celebration! You and your guests can attend a virtual cooking class and prepare the food you will enjoy later together! 
Additionally, you can also simply settle on a dish that everyone will have to prepare beforehand and enjoy it during your virtual dinner party! Incorporate some fun virtual entertainment (you can even attend a virtual escape room) and have a dazzling night!
Bonus: Fun Dinner Party Games For Adults to Play at Your Next Gathering
Are you looking for ways to 'spice up your life' at your next dinner party? Look no further! We've rounded up some of the most fun and engaging dinner party games to keep your guests entertained and excited throughout the whole evening!
Blind Taste Test Challenge
Select interesting ingredients like sauces, herbs, or even spices. Keep in mind that they need to be easily distinguishable. Make sure to include a palate cleanser such as flavoured water, sorbet, or some kind of bread or tea. Make your guests take turns guessing the secret ingredients while blindfolded. The guest with the most correct guesses is the winner! May the best chef win!
Food Bingo
Create personalised bingo cards with food items instead of numbers (you can include either a picture or the name of the dish). The dishes should be from your dinner party menu. The idea is that for each dish your guests try, they get to cross it off on their bingo cards.
Make the game a real challenge by incorporating uncommon dishes with new and exciting ingredients. This game will give you the opportunity to urge your guests to be adventurous and expand their palette!
Dinner Roulette
The rules for this game are fairly simple: ask each guest to bring a surprise ingredient. Ensure that nobody is aware of what the others are bringing. Once everyone's arrived, the real challenge can begin: you have to create a dish by incorporating all of the ingredients!
You can play it safe by instructing everyone to stick to a specific category such as 'sweet' or 'savoury' ingredients, or you can go wild and embrace the culinary chaos by not setting any rules.
Final Food for Thought
Throwing a dinner party doesn't have to be dull! By incorporating our wonderful dinner party themes and ideas, as well as game suggestions, you will surely liven up your gathering!
Hosting such an event is a wonderful way to get together with friends and family for a fun evening of delectable cuisine. So prepare to organise a dinner party that will make a memorable impression by gathering your exciting ingredients, putting on your chef hat and getting ready to expand your palette and culinary horizons!
You can host your dinner party at home, or at a chosen dinner party venue. If you decide to go with a hired event space for your event, make sure to check out our ultimate checklist for choosing a venue.
FAQ
What should you serve at a dinner party?
It's crucial to keep your guests' dietary needs and preferences, as well as your own cooking skills in mind when choosing what to serve at your dinner party. It's important to create a menu that can be easily prepared in advance and is not overly complicated.  

Serve various courses and keep things interesting. You can stick to dishes from a  specific cuisine, or create your own rules. Don't forget to keep your drink options equally as exciting. If you don't want to overcomplicate everything, simply stick with dishes you've prepared multiple times before.
How can you make your dinner party invitations stand out?
Choose a design that is distinct and captivating and fits the theme of your party. To make your dinner party invites more unique, you can also include some personalised touches, such as handwritten notes dedicated to each guest. Your invitations can be physical or entirely virtual.

Tease your guests by providing a hint about what you will serve, or keep up the suspense until the very end. Include a fun food-related pun or two and you are all set!
What dinner party favours can you give out?
Party favours are a wonderful way to show your appreciation for everyone who showed up to your event. There are many creative directions to take when deciding on dinner party favours. You can send everyone home with a monogrammed wine glass, oven mitts or other kitchen gadgets and tools. 

Additionally, you can give out sweets and other kinds of homemade snacks that will surely bring a smile to your guests' faces. Personalised coasters and cookbooks are other wonderful suggestions to consider.
How many guests should you invite to your dinner party?
It's important to first consider the size of your home or venue, the dinner party theme you've chosen, and your budget when deciding how many guests to invite to your dinner party.

Generally speaking, it's recommended to limit the number of guests to 10 to ensure that everyone has adequate room and that you can maintain a lively conversation. Nonetheless, your personal preferences will ultimately determine how many guests you invite.