Anniversaries are a special time to celebrate the love, devotion, and adventures you have shared with your other half. Whether it's your first anniversary or your fiftieth, planning the perfect celebration can feel a bit overwhelming. Don't worry, because we've gathered the best anniversary party ideas and themes together to help you organise a celebration as unique and special as your union.  
From romantic candle-lit dinners to adventurous trips and family gatherings, we've compiled a list of unique and exciting ideas to make this year's anniversary celebration unforgettable. So, grab a pen and paper, and get ready to plan a memorable anniversary party that will make your other half's heart skip a beat!
Anniversaries – A Glorious Celebration of Love
Anniversaries are joyous occasions that commemorate another year around the sun with your beloved by your side. They're an opportunity to not only give your devoted attention and love to your partner but also, if you choose, to acknowledge your love during a gathering with your closest family and friends.
Many cultures around the world have their own distinctive ways of celebrating. In Germany, couples spend their 10th anniversary by planting a tree together (a tradition known as 'Baum pflanzen zum Hochzeitstag'), symbolising the growth of their relationship. 
Couples in India honour their 25th anniversary by renewing their vows and exchanging gifts made of silver. On their 50th anniversary, partners in Japan visit the Izumo Shrine to pray for continued happiness. Anniversary celebrations are a lovely reminder to treasure and honour the love that unites you and your beloved, regardless of culture or custom. They are an opportunity to reflect on your journey and anticipate many more years of love and companionship!
Laid-Back Anniversary Party Ideas That Will Make Your Heart Flutter
A relaxed, hassle-free gathering can be the perfect way to express your love for one another while enjoying the company of relatives and friends. From intimate backyard barbecues to romantic picnics and exciting game nights, there are plenty of creative and casual ideas that will make your heart flutter on your special day without having to worry too much about planning a complicated event.
1. Throw a Romantic Candlelit Anniversary Dinner Party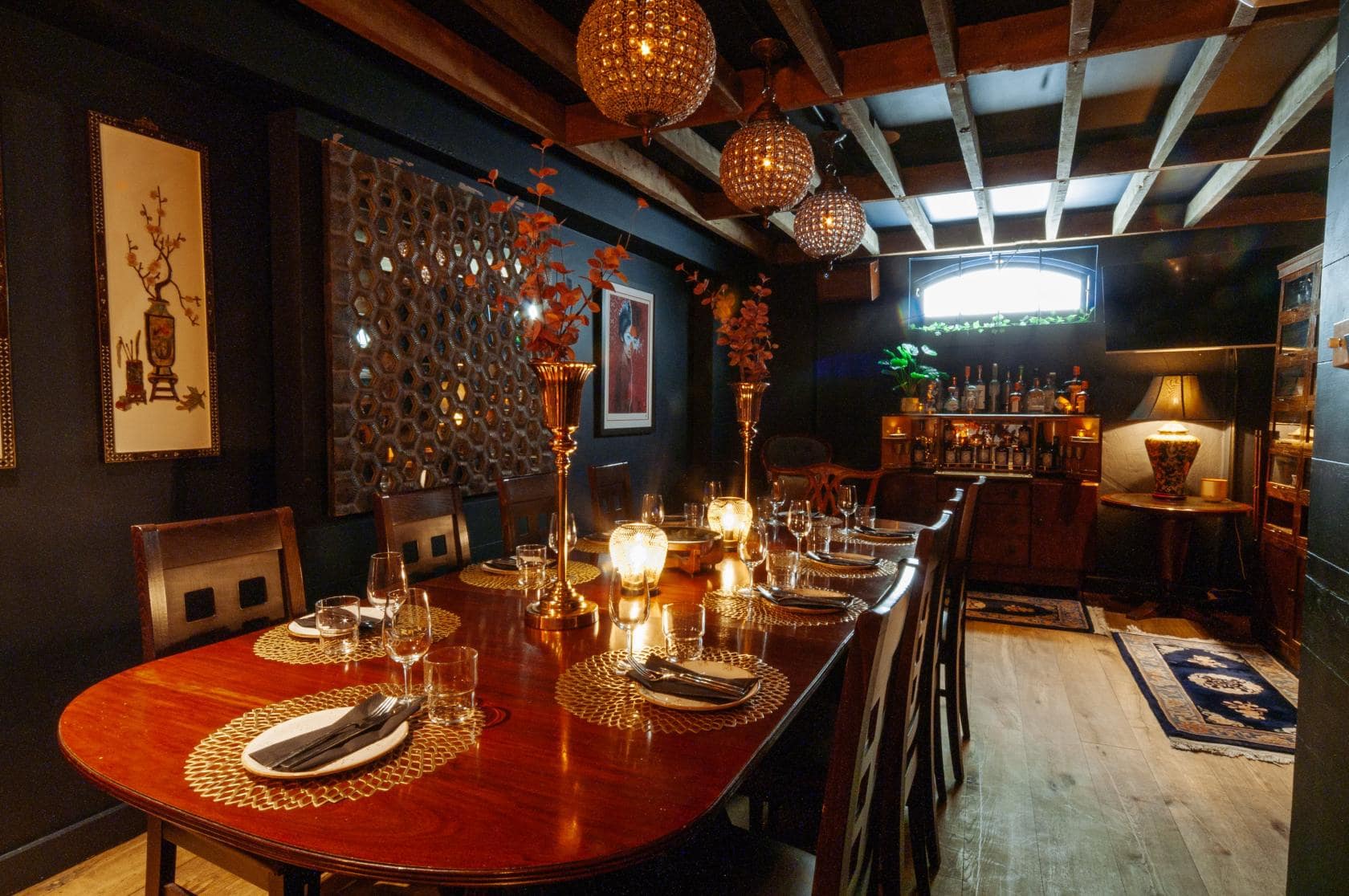 What could be more romantic than a candlelit dinner with your beloved and your inner circle by your side? Create an ambient and intimate atmosphere with soft lighting, candles and your favourite love songs playing in the background.
You can prepare a delectable meal yourself and impress everyone with your skills and menu selection. If you'd like to host a more exclusive experience, you can hire a personal chef that will take care of everything for you. Make sure you and your partner have the best seats close to each other (how else will you be able to share some spaghetti Lady and the Tramp style?)
🌹 Expert tip: Include special touches like handwritten notes on each guest's plate. Incorporate glamorous anniversary party centrepieces such as flower arrangements, fruit baskets and various-sized candles.  
Check out more Dinner Party Ideas and Themes for Adults for further inspiration!
2. Host a Game Night for Friends and Family
A game night is always a good idea! Grab your favourite snacks, refreshing drinks and of course, plenty of card and board games. You and your partner can play as a team against your friends and family or go head to head in friendly challenges to bring a competitive spark to the celebration.
We recommend you select on-theme anniversary party games such as 'Love Letter', 'Love Lingual' or even 'The Game of Life'. Perhaps you can even host your very own 'Family Feud'!
3. Reminisce About Your Union During a Relaxing Spa Day
Perhaps all you need is to enjoy an exclusive spa day experience in the comfort of your own home or at a professional spa. By hiring a venue, you can ensure you will have the best possible experience, as well as the most incredible products and spa services to choose from.
Simply gather your cosiest bathrobes, slippers, and towels and prepare to be pampered. Don't forget refreshing beverages like tea and lemonade and delectable snacks. Provide your guests with various kinds of face masks, creams, and treatments, or set up a DIY face mask station. Set the mood with fragrant candles and relaxing music.
4. Celebrate Your Movie-Like Romance with a Movie Night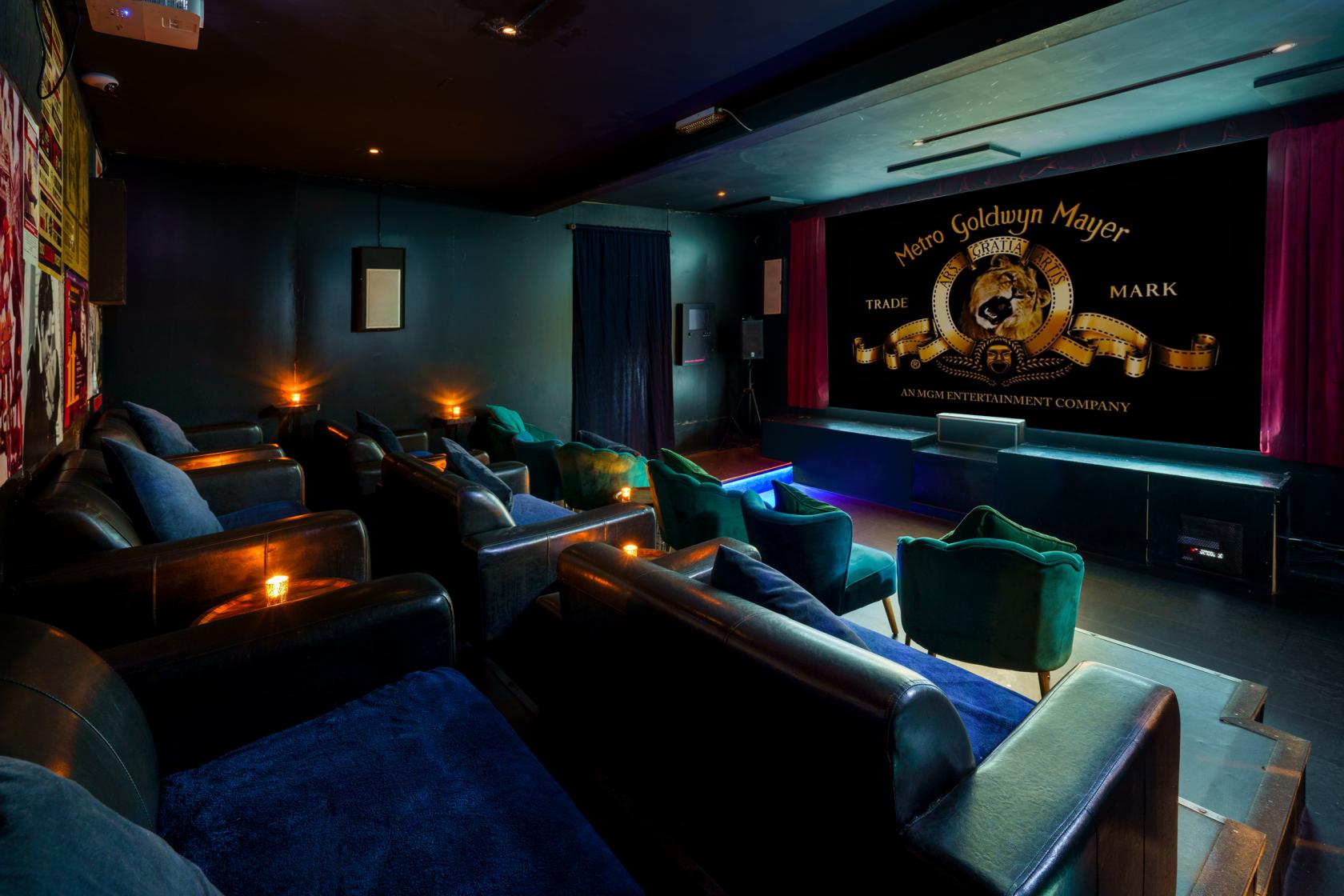 You can host the movie night at home by creating your own version of a movie theatre. Additionally, you can hire a private screening room that is already equipped with everything you may require such as the sets and big screen. Whichever one you opt for, you can create a cosy atmosphere by setting out fuzzy blankets, pillows, and even stuffed animals. Put up some fairy lights, light up a few fragrant candles, and create a popcorn station with snacks and beverages.
🌹 Expert tip: Tie the whole anniversary party theme together by watching a movie or TV show that showcases love, relationships, and even anniversaries! Some of our favourites include: When Harry Met Sally…, Crazy, Stupid, Love and Modern Family( you will have plenty of anniversary inspiration to take from couples like Jay and Gloria, Phil and Claire, and Mitchell and Cameron).
5. Plan a Charcuterie and Wine Soirée
You can host such a charming anniversary party at home or at a chosen venue like a wine bar, restaurant, or winery. Perhaps you can even plan a wine tasting. 
Select a collection of incredible and fragrant wines. Additionally, gather a variety of meats, cheeses, crackers, fruits, vegetables, nuts, spreads, and sauces that pair well with the wines you've selected. Make sure to include non-alcoholic beverages and vegetarian/dairy-free options that will meet everyone's dietary needs.
Put up festive decorations, fairy lights, and candles, play some light jazz and enjoy a delectable and elegant celebration. Additionally, you can look into local wineries and plan a fun day trip that will further make your day one to remember (given you don't have too much fun with all of the incredible wines on display there).
6. Host a Virtual Anniversary Party
If some of your friends or relatives can't make it to an in-person event, invite them to an equally special virtual anniversary party! You can create special memories by inviting your closest friends and family to attend an online workshop or cooking class, or maybe even sharpening their wits during a murder mystery game!
Tagvenue's virtual platform has plenty of exciting activities to choose from. Check it out and see for yourself!
Outdoor Anniversary Party Ideas That Will Sweep You off Your Feet
Take the festivities outside and plan an outdoor anniversary party like no other. The possibilities are endless for creating a relaxed and romantic atmosphere that will be the perfect backdrop for your event. With a few creative touches and minimal planning, you can enjoy the company of your partner and loved ones and make lasting memories in the great outdoors.
7. Keep It Simple with a Delicious BBQ or Potluck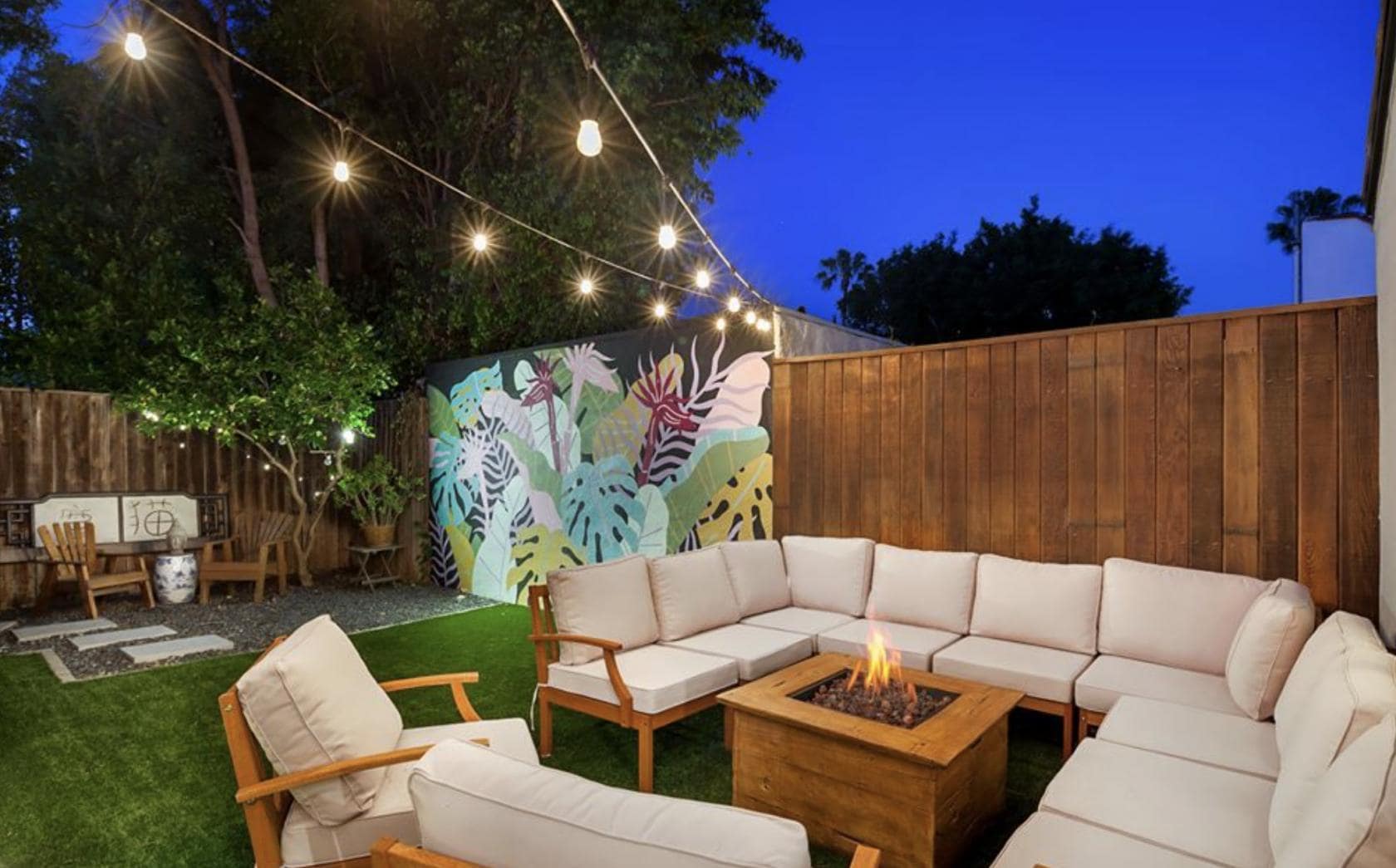 A BBQ or potluck anniversary party is a casual yet fun way to celebrate your special day with loved ones. You can ask everyone to bring their favourite dish to share or you can prepare everything yourself. 
Perhaps you can ask a friend or relative to be your designated BBQ master for the event. Set up some entertaining games or simply enjoy the delicious food and company.  If you don't have a BBQ grill and a big enough backyard to host everyone comfortably, you can always look into outdoor BBQ venues.
8. Organise a Romantic Picnic
A picnic can be the perfect way to celebrate your anniversary in a laid-back yet fun way while spending time outdoors. All you need to gather is a blanket, a picnic basket, delicious snacks such as finger sandwiches, dessert, and fruit, and – of course – plenty of refreshing beverages.
Always check the weather forecast and pack a picnic umbrella, bug spray, and sunscreen. Don't forget some entertainment and games. Select the perfect outdoor venue, send out the invitations, and prepare for the best outdoor anniversary party!
If you want to learn more about how to host a spectacular picnic bash, you can get inspired by reading our '10 Easy Birthday Picnic Ideas for Adults' for some inspiring ideas for your own occasion. 
🌹 Expert tip: After you've selected the perfect outdoor venue, you can elevate your picnic by hiring a company that hosts picnics. This will make your experience luxurious and hassle-free.
9. Invite Everyone to a Fun Beach Day Party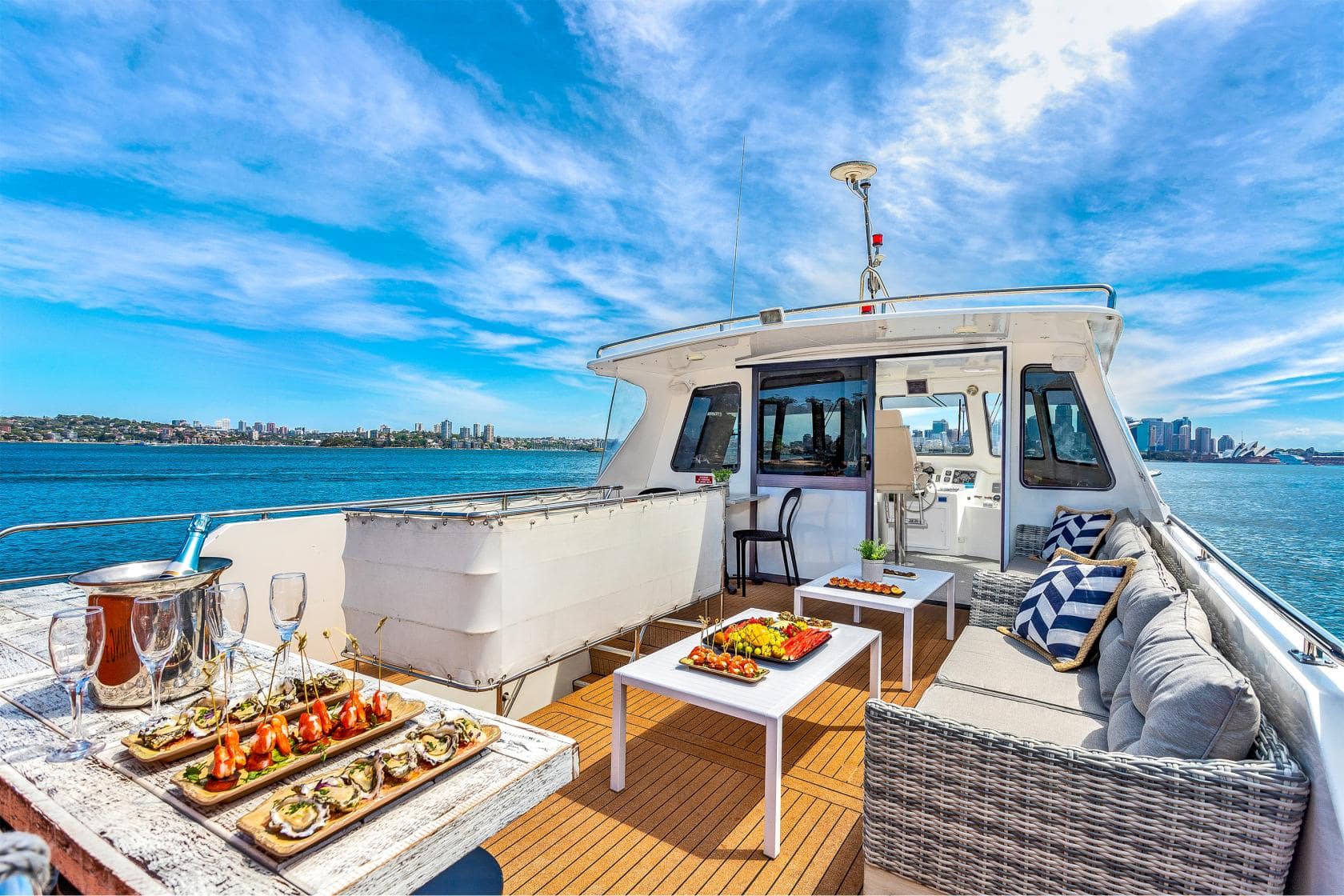 If you want to embrace the 'summer lovin' spirit in the arms of your beloved, what better place to do so than on a warm and sandy beach? Send out the anniversary party invitations and host the most glamorous party under the sun (or night sky!).
Make sure you've secured plenty of beach towels, beach umbrellas, sunscreen, snacks, and refreshments. Plan fun party games that will take place on both the beach and in the water! Incorporate fun decorations like seashells, candles, lights, and banners, and provide your guests with plenty of toys.
Don't forget to sea-l the deal by sharing a magical kiss with your beloved during the wonderful sunset. It's all about creating these magical moments! If you can already envision yourself celebrating in this corner of the world, where the ocean meets the sky, then this is definitely the anniversary party theme for you. 
🌹 Expert tip: Why not go all out by hiring a party boat and setting sail to your happily ever after with your family and friends by your side? You can even keep it a surprise from your guests! Simply invite everyone for a beach day (so they will bring everything they might need) and after they've enjoyed some beach fun let them in on the surprise by taking them on an adventure in open waters!
10. Organise an Exciting Scavenger Hunt
A scavenger hunt will be a truly unique and exciting way to commemorate the milestone! After you've selected an appropriate outdoor venue, distribute items that are significant to your relationship such as pictures, love letters, gifts you've exchanged, and even clothing items that hold significance for you (perhaps you still have something that you wore on your first date?).
Divide your guests into teams, provide them with clues and information about what they will be looking for, and watch the fun unfold. End the event with delicious snacks and beverages.
 🌹 Expert tip: If you want to take things up a notch, plan a larger-scale scavenger hunt all around your town/city and hide your items in places that are significant to your relationship. These can be places like the location of your first date, where you shared your first kiss, or even the place you got engaged or married! Of course, this idea works if those places are all located in the area where you live.
11. Raise Your Spirits with an Extreme Sport Adventure
An extreme sport adventure party with guests could be just the thrilling adventure you are longing for. Gather your bravest friends and family members and select an activity. Some possible ideas include rock climbing, skydiving, zip lining and even kayaking.
Make sure you do your research when it comes to selecting the company that hosts such activities. Consult with people you know who have done it before and check the reviews. And don't forget: Safety first! You don't want to end up falling head over heels for the wrong reasons!
Fun Anniversary Party Ideas to Bring Some Excitement to Your Day
Perhaps you are in the mood to change things up for this year's anniversary. It can be easy to fall into routines and settle for basic get-togethers each year. Now don't get us wrong, those can be lovely ways to commemorate your union, but why not mix things up this year (especially if you are celebrating a bigger milestone) and bring some excitement to the big day? Check out our wonderful suggestions!
12. Plan a Comedy Club Night
In the words of the incredible Beyoncé herself: 'The most important thing in a relationship is to laugh'. Enjoy a night of laughter, light-hearted jokes, and perhaps a drink at a comedy club event. You can enquire with the club regarding private hire and host a private comedy night!
Additionally, you can reach out to a local comedian and check if you can hire them for an at-home event. Explore your options, select the best one for you, and prepare to have a good chuckle in the best company. Make sure the comedian incorporates plenty of relationship-themed jokes.
13. Go on an Exciting Weekend Getaway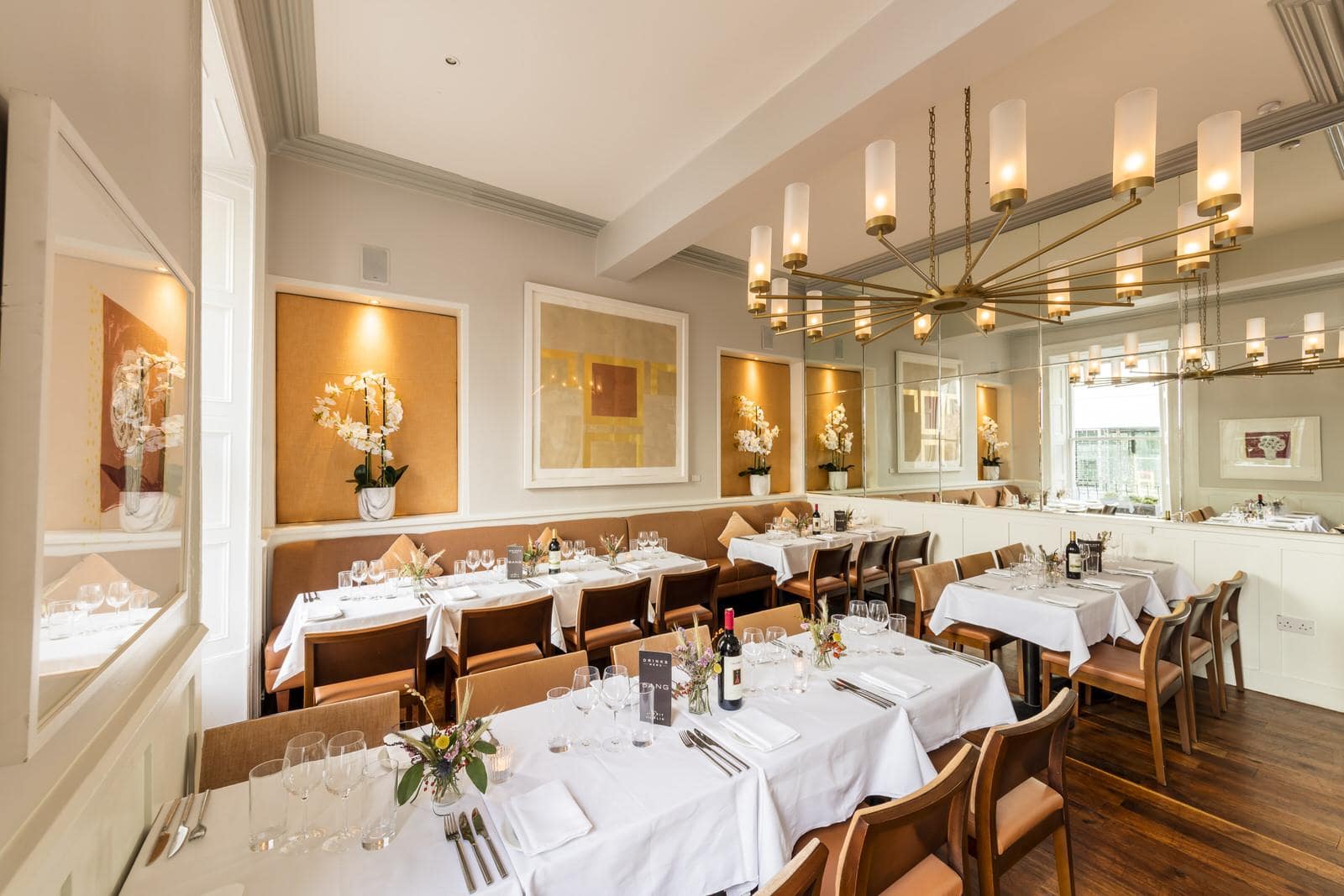 Grab your partner and your closest pals and get in the getaway car to travel to your dream weekend getaway! You can hire a hotel/hostel and enjoy a relaxing weekend getting a tan, exploring the sights, and having a wonderful time with your beloved and friends.
Make sure to include a celebratory dinner at an exciting local restaurant and say 'Cheers!' to many more adventures!
14. Sing Your Heart Out at Karaoke Night
Prepare your vocal cords and let your inner superstar shine at a glamorous karaoke night! You can either hire karaoke equipment or you can opt for a karaoke venue. Whatever you choose, you are in for a fun night of (perhaps not the best, but coming from the heart) lovely tunes and lots of fun in the best company!
Surprise your partner by belting out your favourite song. Nothing says I Will Always Love You like putting your heart and soul into a heartfelt karaoke performance!
15. Attend an Exciting Workshop or Dance Class
If you want to do something different for your anniversary this year, opt for a fun activity like a cooking class, a candle-making or pottery workshop, or a sip and paint. Why not even kick off your feet and shake your body to the fun beat at a dance studio?
It is easy to hire a venue that specialises in your desired activity. Provide delicious snacks and beverages, and decorate the space with balloons, banners, and colourful confetti. Bonus points if you choose an activity you and your partner have both wanted to try for a long time. What better way to celebrate the milestone than by creating memories and masterpieces?
16. Keep Your Spirit Young by Going Clubbing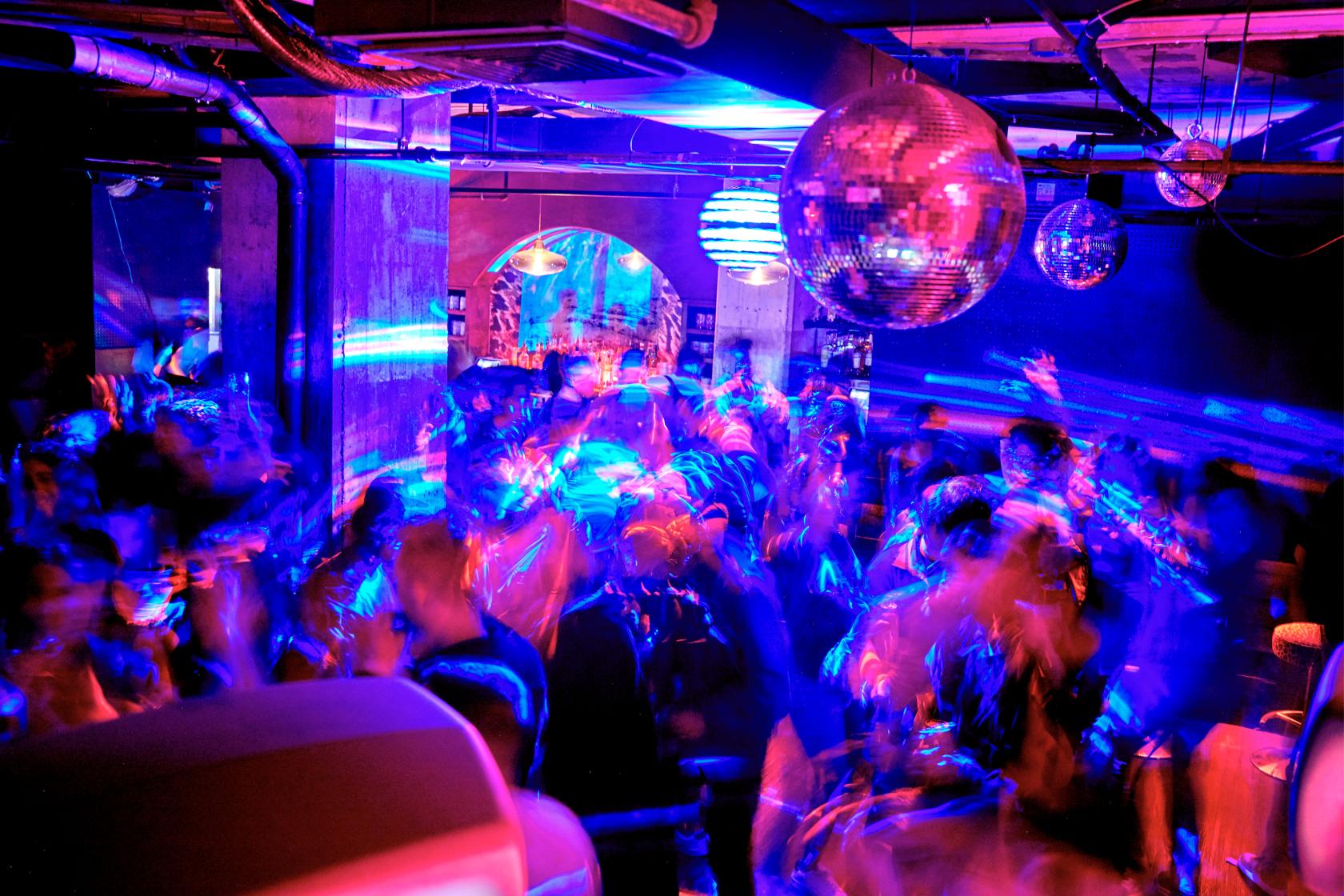 Okay, hear us out! We are aware that this idea is a bit out there for an anniversary. But if you and your partner are looking for a fun and lively way to celebrate, why not hit the town and check out a trendy club or bar in your area? Put on your best outfits and enjoy the excitement of going out on the town.
Invite your closest pals (when was the last time you all got together?), dance the night away, and let loose! No matter how old you are, there is something for everybody at the club/bar! At the end of the night, you and your beloved will be walking home with tired feet and wonderful memories that will keep your spirit young forever!
🌹 Expert tip: Take things up a notch by setting a fun dress code for everyone to follow! How about a '70s-Inspired Groovy Extravaganza', an '80s Neon Nights Rager', or even a '90s Grunge All-Nighter'!
Sentimental Anniversary Party Ideas for a Memorable Celebration
If you're looking to add a sentimental touch to your anniversary celebrations this year, we've got you covered with a few suggestions that will definitely not leave a dry eye in the room (for all of the good reasons). Here are a few sentimental anniversary party ideas to consider!
17. Recreate Your First Date
What better way to feel the sparks fly than by recreating your magical first date! Depending on where your actual first date took place, you might be able to recreate the setting at home or at a selected venue. It's all about creating the right atmosphere through decorations, lighting, music, and even the food and beverages.
Invite your family and friends and make them a part of your special moment by letting them catch a glimpse of the beginning of your relationship. Don't forget to take a moment during the celebration and recognise how far you and your beloved have come together!
18. Renew Your Wedding Vows
If you are married, renewing your wedding vows will be a beautiful way to celebrate and reaffirm your commitment to each other. If possible, you can host a celebration at your original wedding venue, at a different event space, or even at home.
You can dress up in your original wedding attire or wear a special anniversary party outfit. Scatter various pictures of you and your partner around your venue. Incorporate personal touches to the decor, food selection, and other areas. Don't forget to prepare your new vows as well!
19. Recreate Your Magical Wedding Day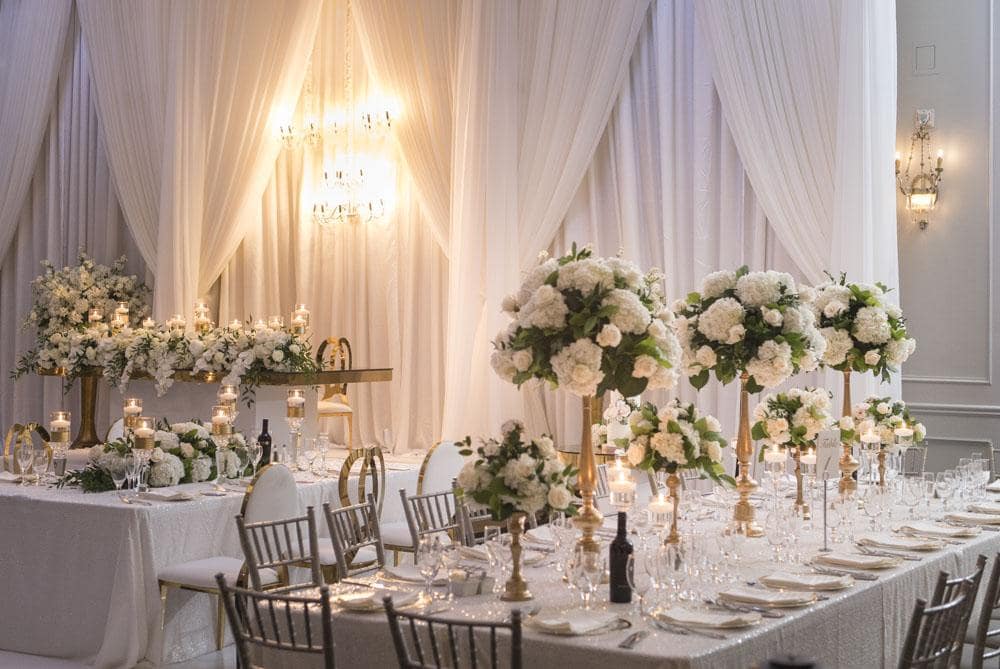 Why not go a step further and host a magical 'second' wedding day celebration? You can go the extra mile by even hiring a wedding venue. This anniversary party can be as extravagant as you want.
Bring on the glamorous outfits, wedding cake, and traditional games and entertainment. Experiencing those exciting things over the course of the party will bring you all of the nostalgia and emotions from your original big day and will further make you appreciate the milestone.
You can take plenty of inspiration from our wedding-related blog posts!
🌹 Extra tip: Even though it is not your actual big day, you will still want to commemorate it right. So why not hire a photographer and recreate your original wedding pictures? We are sure that the comparison of those pictures side to side will bring you all the feels. Additionally, you can set up an actual photo booth at the 'second wedding' itself, or you can place disposable cameras at every table and encourage your guests to take plenty of photos.
20. Host a Themed Party Based on the Year You Got Married/Began Dating
As the name suggests, to pull this idea off, you will have to take inspiration from your own love story and timeline. Choose the perfect venue and decorate it with decorations from the time period during which you began your relationship.
Go all out by incorporating on-theme dishes and beverages, playing songs that were popular during the time, and, of course, wearing your best on-theme outfits. Incorporate pictures of you from that time throughout the venue to wrap up the concept and throw your guests for a nostalgic loop.
Bonus Idea: An Anniversary Party for Two
Whenever you are planning an anniversary party, it can be easy to get swept up by the numerous event planning aspects such as the decorations or guest list and forgetting what's actually important – your love and union.
Your anniversary is all about you and your partner. After the dust has settled after your anniversary party with your friends and family, it may be a good idea to host a romantic party for just the two of you.
Plan a romantic private dining experience, take a romantic getaway or organise a quiet night at home. It's all about celebrating in your own way. Incorporate a special activity such as exchanging love letters, giving each other a sentimental gift, or even having a dance party for two. It will be that much easier to Save the last dance when there are no prying eyes (or guests, for that matter).
To Wrap Up
'Love is not just looking at each other, it's looking in the same direction.'

– Antoine de Saint-Exupéry
Anniversary parties are a wonderful way to celebrate and commemorate your never ending love and commitment and the road you've embarked on together. They honour the ups and downs and all of the special moments shared with your partner over the course of your relationship.
Whether it's an extravagant event with a big guest list, an intimate gathering for two, or a sentimental renewal of vows, these celebrations offer the chance to reflect on the joys of partnership and romance.
There are plenty of ways to make your anniversary extra special through decorations, lighting, romantic songs, and engaging entertainment. Select the perfect anniversary party theme, choose the best venue, and send out the invitations, because this celebration will be one for the books!
FAQ
How to plan an anniversary party?
If you're planning an anniversary party for your partner and yourself or for a loved one, there are a few things to keep in mind. So here's a short checklist to help you navigate the party planning journey:

🌹 Decide on the theme and kind of anniversary party you want to host
🌹 Determine the number of guests
🌹 Choose a dress code (if any)
🌹 Set a date and time
🌹 Select and hire an appropriate venue, vendors, and professionals (if needed)
🌹 Send out the invitations
🌹 Select a delicious menu
🌹 Organise the entertainment
🌹 Make a timeline for the party (but leave room for unexpected surprises)
🌹 Choose party favours (if any)

By following this simple guide, you will be able to easily plan the most important elements of your anniversary party. Don't forget to leave moments for you and your partner (or the couple you are organising this party for) to enjoy some alone time and take in the wonderful milestone. 

For more tips regarding selecting the perfect venue and decorating it, you can check our Ultimate Checklist for Choosing a Venue and our article about What Everyone Should Know When Decorating a Hired Venue!
How to throw an anniversary party on a budget?
It can be difficult to throw an anniversary party on a tight budget, but it is definitely doable with some imagination and preparation. 

You can either host the anniversary party at home or hire an affordable venue in the area. Make a list of the equipment, decorations, and even games from previous events that you can use. You can additionally find affordable alternatives or you can unleash your creativity and DIY your decor pieces. 

To further cut down on the cost, restrict the guest list to immediate relatives and friends, opt for a simpler menu, and stick to hassle-free entertainment. You can create a playlist yourself rather than hiring a DJ or a live band. Keep the main priority in mind – this party honours love and commitment, so make sure that you incorporate personal touches.
How to plan a surprise anniversary party?
So a special couple you know is gearing up to celebrate a milestone? Planning a surprise anniversary party can be a wonderful way to show your support and appreciation for them and their union.

In order to pull it off, think about the couple: what do they like doing together, and what kind of party do you envision them enjoying? Would they prefer a more formal or entirely casual affair? After you've determined the perfect theme, invite the couple's closest family and friends. You can additionally ask them to help out with planning.

Make sure the date and time of the event work for the couple. You can generally follow the same anniversary party planning checklist we've provided above. But there is one very important detail: Keep it all a secret! Instruct everyone to also keep the party details under wraps.
What anniversary party favours can you give out?
Party favours are a wonderful way to show your appreciation to all the wonderful guests that showed up for your big day. You can opt for practical gifts like personalised wine glasses, bottles of champagne or wine, or even small bags with sweets and chocolates. 

If you want to go for a more sentimental keepsake, you can take inspiration from the timeless classic Beauty and the Beast and send everyone home with a forever-lasting rose as a symbol of your union.