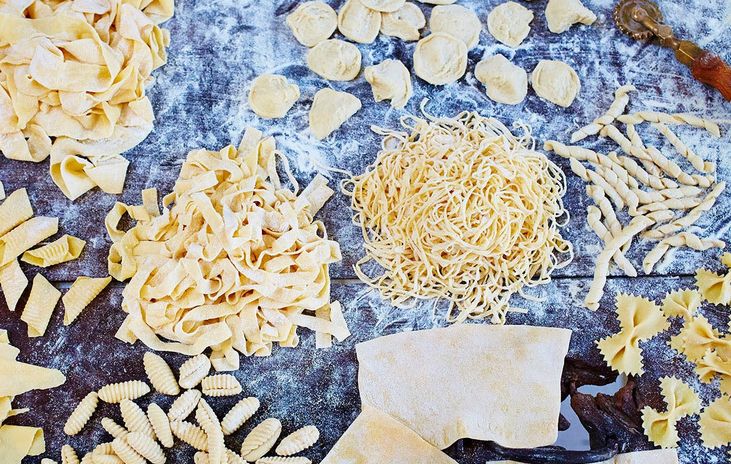 Pasta Master - Online Cooking Class
Get together with team and learn how to cook food from all corners of the globe, in Jamie's signature relaxed cooking style.
Availability
Any day of the week
Activity highlights
Hosted by a chef from Jamie Oliver cookery school
Recipes and shopping list included
Perfect for pros and beginners
Option to add £20 shopping voucher for all participants
Option to send Jamie Oliver Cookery School apron to all participants
Event description
Discover how to make the freshest and most delicious plate of Spaghetti alla puttanesca or Gnocchi from the streets of Italy.

Pasta Master is all about enabling your team to experience the best of Italian cuisine from the comfort of their homes. Participants will even learn how to make their own pasta without a pasta machine. Hosted by Jamie Oliver's Cookery School, this cooking experience will allow your team to bond and share their pasta stories while making a delicious dish.

Pasta Master is an online cooking class, designed to be easygoing and informative, so you can enjoy yourself and bond with your team while learning how to prepare your favourite dish.

How does it work:
Once the date and time are confirmed, participants will be sent a recipe card and prep sheet with a shopping list and kitchen set-up tips. It's best to prepare your ingredients and make space in your kitchen for the occasion. During the class, our helpful English-speaking chefs will walk your group through the recipe steps and cook along with you, while answering any questions along the way.

As the masterclass requires a lot of fresh products we don't send boxes with ingredients to participants.

You can choose from one of the three options:

The Penne Package
- a shopping list and a prep list

The Fusilli Package:
- a shopping list and a prep list
- a £20 supermarket voucher for ingredients

The Pappardelle Package
- a shopping list and prep sheet
a £20 supermarket voucher for ingredients
a Jamie Oliver Cookery School apron in the post

Team, it's time to get your aprons on and get ready to rustle up the finest Italian dishes!

What's included
Professional Chef as a host
Tech support
Shopping list and prep sheet
Jamie Oliver Cookery School apron (Pappardelle Package)
What you need
Kitchen (no fancy tools and dishes required)
Reliable Internet connection
Zoom
---
---
Cancellation policy
All sales are final and non-refundable.
One-time courtesy reschedule possible up to 7 days before the event date.
No rescheduling possible for no shows or last-minute cancellations.​
FAQs
What is the Pasta Master Online Cooking Class?
The Pasta Master virtual cooking class, offered by the prestigious Jamie Oliver Cookery School, is an informative and entertaining cooking session for groups. Teams will get to up their cooking skills and rustle up a variety of pasta shapes and a show-shopping mushroom sauce. Our vetted hosts will guide participants through the recipe steps and answer all your pasta and sauce-related questions along the way.
What is included in the cooking class package?
Our masterclass includes many fresh ingredients which is why we don't send ingredients to our participants. Instead, you'll have a shopping and prep list for your selected package. The Penne Package includes a shopping and prep list with a Zoom link. The Fusilli Package includes the same with an additional item- a £20 supermarket voucher for ingredients. Our premium package, the Pappardelle Package includes the aforesaid items with a Jamie Oliver Cookery apron!
How many participants can take part in a virtual cooking class?
Anything from 10 to 1000 participants. Whether you're planning a team bonding activity for a start-up of 20 employees or a corporate event for a larger group of people, we are ready to serve you up on a plate!
How can a cooking class be conducted virtually?
Virtual cooking classes are similar to traditional cooking classes except for the fact that they are held on Zoom. Participants buy their ingredients and bring them to the virtual class, where they are greeted and guided throughout the cooking session by our professional chef. By the end of the 2-hour session, you all get to taste your delicious plate of pasta with your crew. The lesson is designed to be informative and fun so that remote and hybrid teams can get to know each other while acquiring some skills.
Is Pasta Master suitable as a remote team-building activity?
Yes! Like all of our online cooking classes, Pasta Master is a good pick for a team bonding event as it promotes group bonding and memory-making. Employees will feel more engaged after these team building activities as they will not only enjoy themselves but will also learn a thing or two about their colleagues while working from home.
How can I book a virtual cooking class?
Jamie Oliver Cookery Classes are in great demand, so we recommend booking your classes at least a couple of weeks or even several months in advance to secure your slot. Then all you have to do is enquire via our platform or send us an email at events@tagvenue.com if you require further assistance. We will then confirm the availability of the activity along with the price for your chosen number of participants. Once these are confirmed, you can make a payment by providing the company billing details i.e. the address, and VAT number (for non-UK customers only). We'll then send you a booking confirmation with the details and an invoice. A payment link will be provided where you can securely pay with your CC ( Visa, MasterCard, Amex). We accept CAD, GBP, USD, SGD, AUD, and EUR.
Other popular activities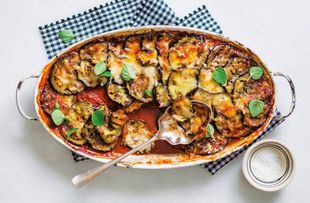 Italian Favourites Cooking Class
Join your team on a culinary adventure and learn how to make your favourite Italian dish with our online cooking class hosted by a chef from Jamie Oliver Cookery School. Perfect for remote teams!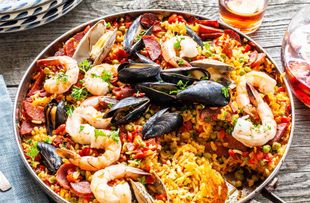 Spanish Classics Cooking Class
Gather your team for a Spanish virtual cooking class! Learn to make Paella Valenciana or Gazpacho with a friendly chef from Jamie Oliver Cookery School. Perfect for both beginners and pros!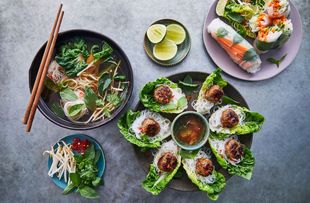 Thai Feast Cooking Class (Virtual)
Whip up delicious Thai dishes with your team: sweet & sour salad, chilli beef, and tom yum soup. Our class is informative and fun, perfect for team building. Connect and enjoy delicious Thai cuisine!