Pumpkin spice latte season is in full swing, and this means only one thing—Thanksgiving is coming! We all know that this special holiday is all about eating comfort food, spending quality time with your loved ones, and creating lasting memories. But how about taking it up a notch this year and surprising everyone with something different that they will remember for years to come?
In this blog post, we've curated a list of top Thanksgiving party ideas that will delight your guests and make your gathering truly stand out. And don't worry, we've got something for everyone—from the traditional to the cutting edge, so buckle up and let's get started!
Top Thanksgiving Party Ideas for Adults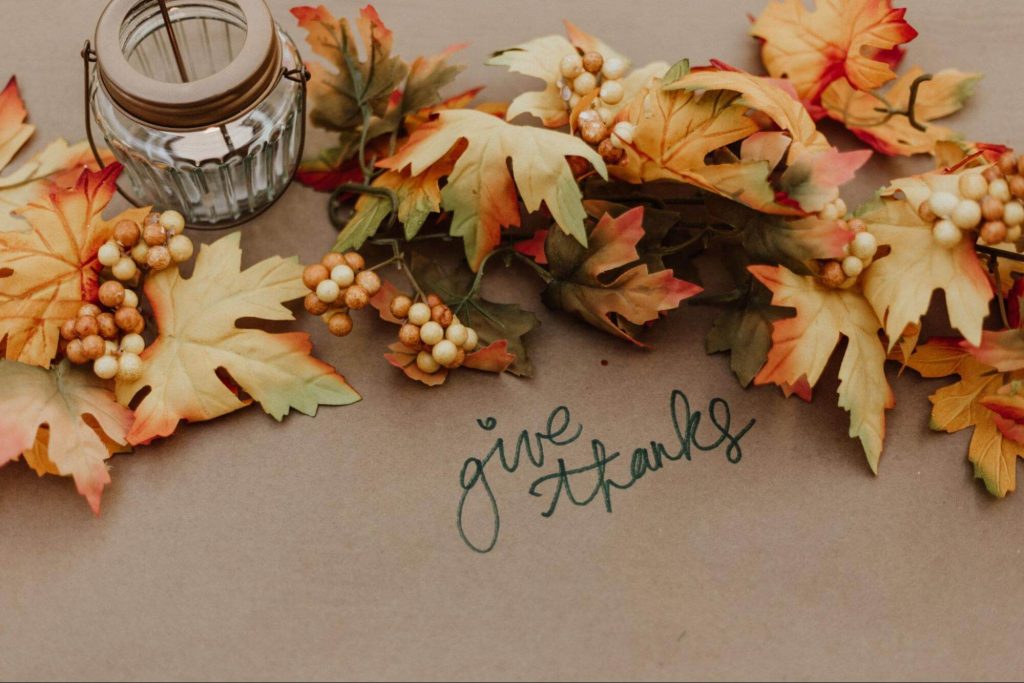 Are you a seasoned host? Perhaps you're a first-time planner? No matter your experience level in planning a Thanksgiving party, these adult-friendly ideas will help you take your celebrations up a notch.
1. Add a Touch of Thoughtfulness with a Gratitude Jar
Adding a gratitude jar to your party setup can truly encapsulate the essence of Thanksgiving—it will help everyone to foster a deep sense of gratitude and connection.
Provide pens and slips of paper near a beautiful jar set in a central location. Invite each guest to jot down something they're thankful for and drop it in the jar. Later in the evening, read some of these heartfelt messages aloud and see the magic unfold.
2. Embrace the Fall Spirit with a Photo Booth
You can easily transform your Thanksgiving dinner into a heartwarming autumnal gathering by introducing a fall-themed photo booth. This delightful corner can quickly become the life of your celebration.
Add a stack of hay bales as a seat, a backdrop of faux autumn leaves, and a prop table boasting everything from straw hats to carved pumpkins. You can also include some funny Thanksgiving-themed props, such as turkey hats, pilgrim accessories, or sign boards with Thanksgiving puns that will liven up your snaps!
3. Have a Delightful Turkey Trot
Amid the warm aroma of baked pumpkin pie and cranberry sauce, a fun-filled race (or a casual walk, based on your crowd) could be a delightful addition to your Thanksgiving celebration. And, apart from having a blast, you will burn some calories, too!
4. Add Some Sweet Competition with a Pumpkin Pie Baking Contest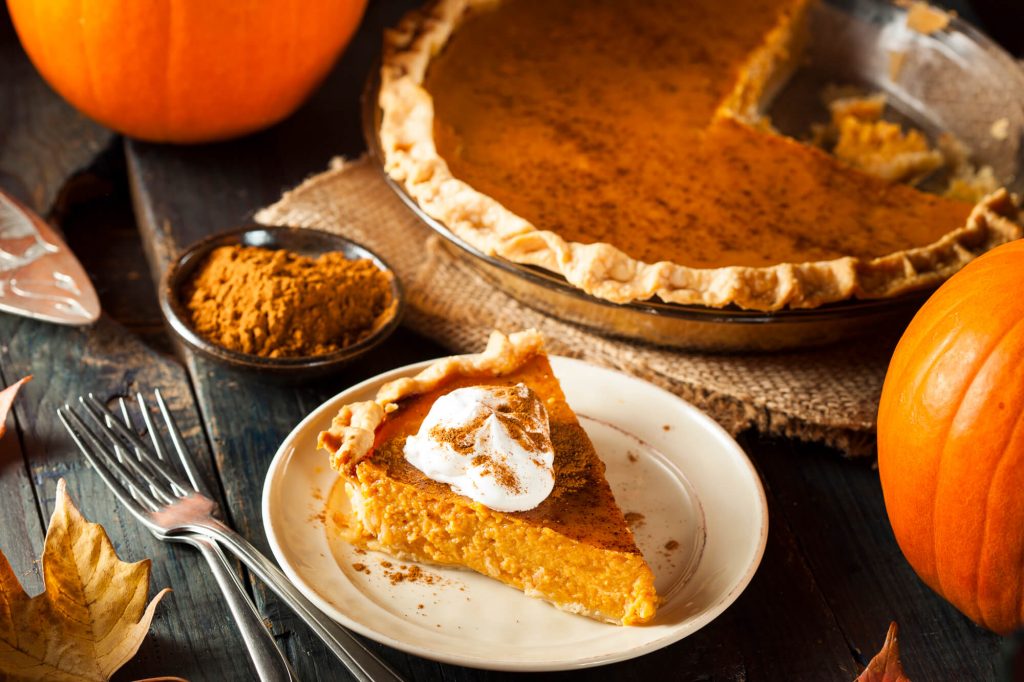 Now, how about adding a little competition to the mix? Thanksgiving isn't complete without a hearty slice of pumpkin pie, and this contest could be a charming and tasty addition to your party.
Invite your guests to bring their version of this classic dessert, and let everyone vote on the best one. This is a fantastic way to involve all your guests and dig into a variety of delicious pumpkin pies.
Just think of the delicious smell of cinnamon, nutmeg, and baked pumpkin wafting through your home. And the best part? The winner gets bragging rights until next Thanksgiving!
5. Step Right Up to A Pilgrim Hat Ring Toss
Want to add a unique spin to your Thanksgiving festivities? Then say hello to the pilgrim hat ring toss! We guarantee that this engaging and light-hearted activity will keep everyone engaged until the end.
To play it, swap out the pegs with pilgrim hats and watch how everyone tries to score some points!
6. Bake Memories with Thanksgiving Cookie Decorating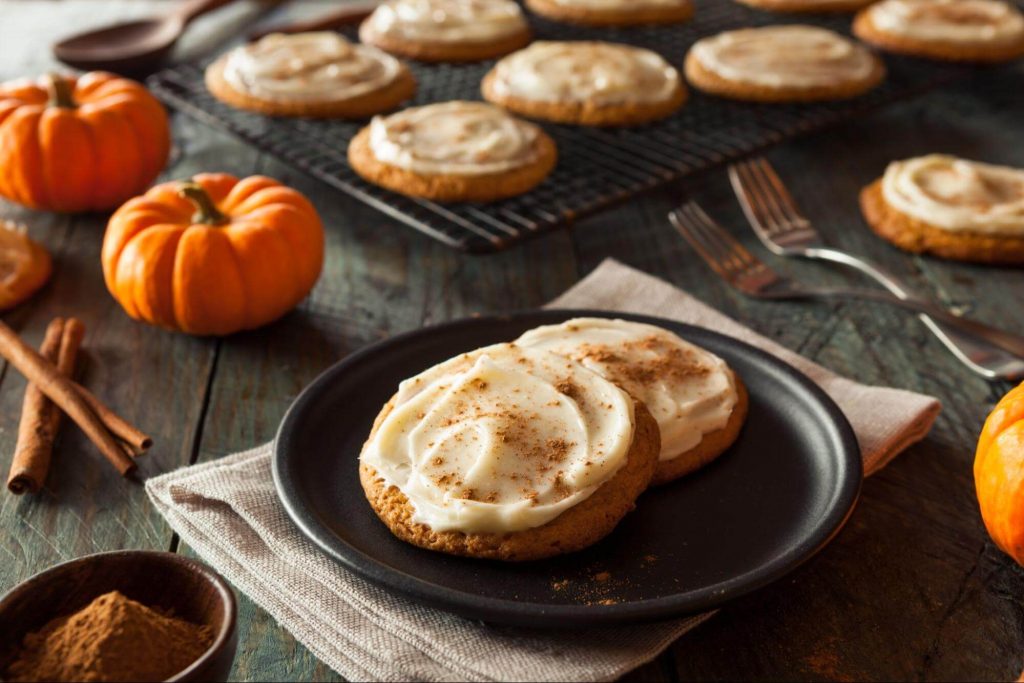 While the turkey roasts and the pies bake, encourage your guests to craft unique cookie masterpieces. Set up an additional table where guests can sit and fully immerse themselves in cookie decorating. They won't even notice when dinner is ready!
7. Savor the Flavor: The Family Recipe Swap
Think about your family's cherished heirloom recipes that are all about love, tradition, and secret ingredients. They deserve the right fame and recognition! So why not invite each guest to bring their favorite family dish along with the secret recipe written on a decorative card?
It's a splendid way to share your culinary heritage, create new traditions, and get a taste of everyone's family history! And what's even better? Your guests will leave the party with a full stomach and a collection of time-honored recipes!
8. Thanksgiving Storytime
Yes, Thanksgiving is mainly about food. But you can always elevate the atmosphere and add a heartwarming storytime to the table!
Before the party, ask everyone to prepare some stories to share at the table. They can be anything from past experiences and special tales to the memories of their first Thanksgiving.
These storytime sessions will definitely enliven the party and deepen your connections!
9. Add a Sweet Touch with A Thanksgiving Hot Chocolate Station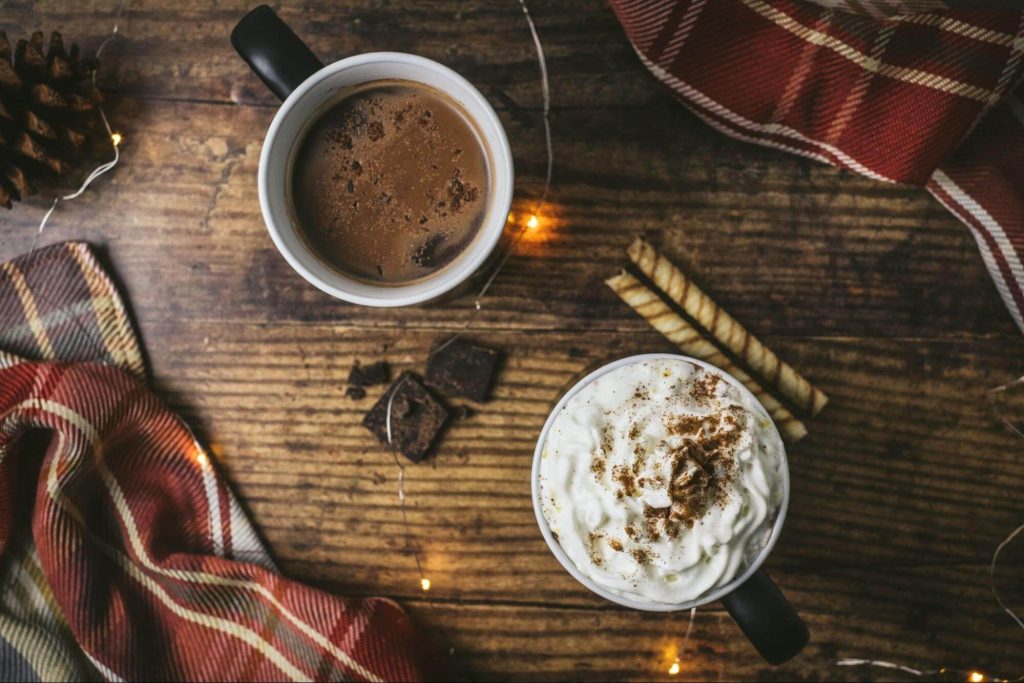 Don't wait until dessert to introduce sweetness to your Thanksgiving party! Adding a hot chocolate station to your menu will be like an oasis of sweetness where guests can help themselves to hot chocolate topped with whipped cream, sprinkles, and marshmallows anytime they want.
It's guaranteed to create buzz, warm smiles, and possibly some chocolate-y mustaches. And who knows, maybe this hot chocolate station will become a new cherished Thanksgiving tradition!
10. Spice Up the Atmosphere with Thanksgiving Party Games
Of course, you can't forget to add some Thanksgiving games to your festive get-together! Have some all-time favorite board games and Thanksgiving trivia up your sleeve, as they can be a secret ingredient that generates laughs and happy memories.
Fabulous Thanksgiving Party Themes to Try in 2023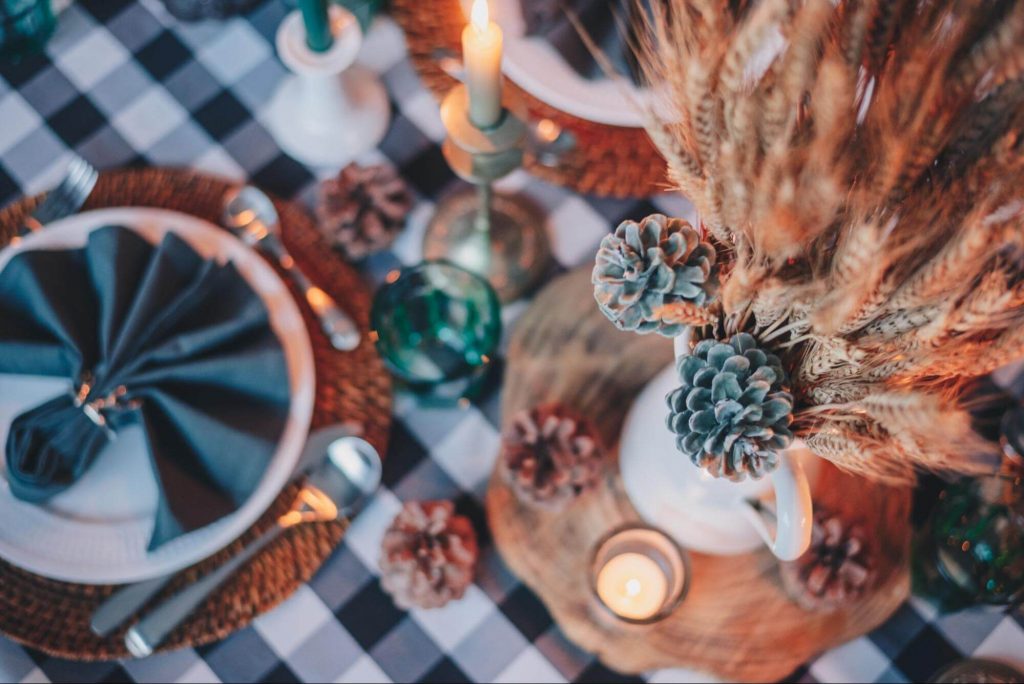 We all know that a personalized theme makes every party a little more special. That's why you shouldn't forget to choose one for your festivities! Here are some of fun and unique Thanksgiving theme ideas that will inspire you to host a truly memorable party.
11. Thanksgiving Themed Charcuterie Board Party
Crave some innovation to your Thanksgiving table? Then consider having a charcuterie board party instead of a traditional dinner! This idea is easy to pull off and will definitely surprise your guests.
Stock your table with a bounty of cheeses, cured meats, olives, fruits, and artisan bread—all inspired by the harvest season. To truly capture the holiday spirit, sprinkle in some Thanksgiving accents, like cranberry chutney and turkey jerky.
12. Classy Thanksgiving Dinner Party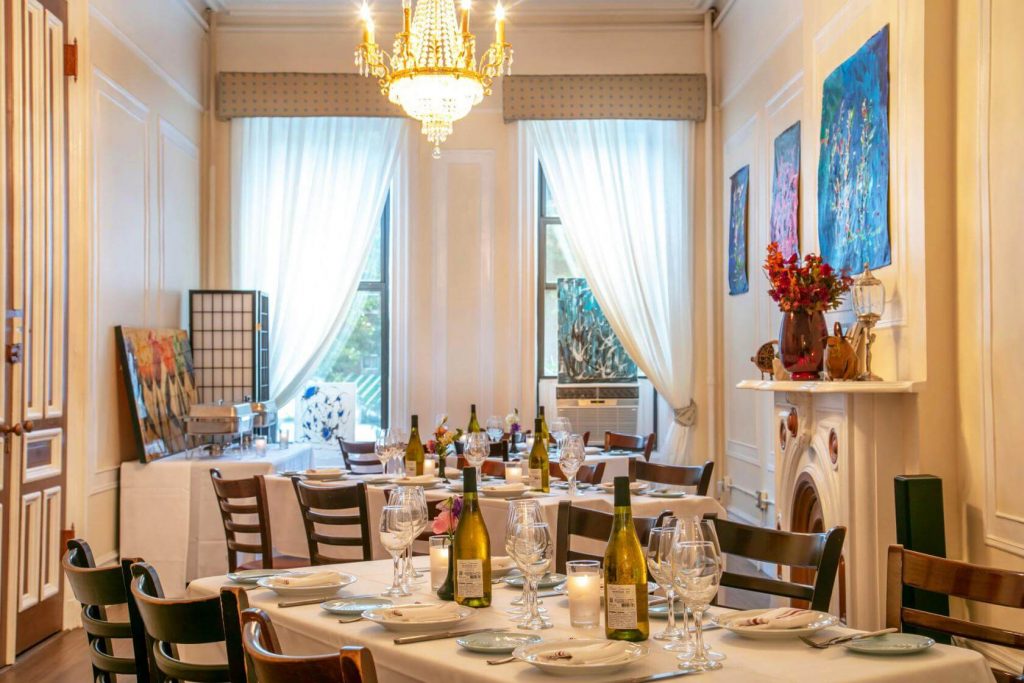 With this theme, your soiree will take on a level of sophistication and elegance that you'd expect to find in upscale dinner clubs or a ritzy mansion event. Think lavish table settings of silver and crystal, an exquisite menu of gourmet delights, and an atmosphere brimming with warm, understated elegance. With soft candlelight and a backdrop of autumn colors, your classy Thanksgiving dinner will not just be a meal, but an unforgettable experience!
Want some inspiration? Swing by one of our latest blog posts that is brimming with unique and charming dinner party ideas.
And in case you'd like to spoil your crowd with something truly special, why not rent a fabulous Thanksgiving restaurant? On Tagvenue, you'll definitely find a space that suits your needs (and taste!).
13. Think Outside the Turkey and Host a Quirky Thanksgiving Buffet Party
In the spirit of innovation and unforgettable celebrations, you may consider stepping away from the traditional Thanksgiving feast this year.
An eclectic buffet party, where turkey is a welcome guest but not the sole superstar will be definitely marked as successful! Curate a smorgasbord of delectable dishes that reflect a unique twist on the time-honored holiday classics. Perhaps a hearty pumpkin lasagna, sweet cranberry BBQ meatballs, or a vibrant harvest salad will steal everyone's hearts?
Don't be afraid to step off the beaten track if that's what you feel is right! Your guests will definitely appreciate your hard work and innovative approach.
14. Feast Familiar: The Comfort Food Thanksgiving Potluck
Are you a traditionalist at heart but would like to spice up your celebrations just a little? Then you may love this idea that is all about having Thanksgiving comfort foods!
This isn't just a dinner, it's a tribute to everyone's treasured favorites. Ask each guest to contribute their favorite home-cooked dish. Your dinner table will transform into a buffet rich in flavors and sentiments, building a Thanksgiving experience that's unique, comforting, and utterly memorable.
15. Time-Travel with a Vintage Thanksgiving Soiree
This theme will breathe new life into old traditions, creating a holiday experience that is both timeless and memorable.
Take your guests on a sentimental journey and adorn your house (or a venue!) with antique table settings and rustic decorations. Fill the air with the warm scent of baked pies and the soft glow of candlelight, all set against a background of jazz tunes from a bygone era.
You can also ask your guests to wear vintage attire to perfectly blend into this charming setting. And when it comes to the food, you can serve classic Thanksgiving fare with a gourmet twist.
16. Reap the Fun with a Harvest Picnic
If the weather allows, consider arranging a picture-perfect harvest picnic in your backyard, garden, or local park! To inspire your menu and decor, take the season's bounty—acorn squash, pumpkins, corn, and apples. Spread out rustic, plaid blankets and arrange hay bale seating for a touch of rustic charm and enjoy the fall's array of colors while spending quality time with your loved ones.
This unconventional approach embraces the harvest season's bounty and fosters a casual, relaxed atmosphere.
17. Have a Friendsgiving Feast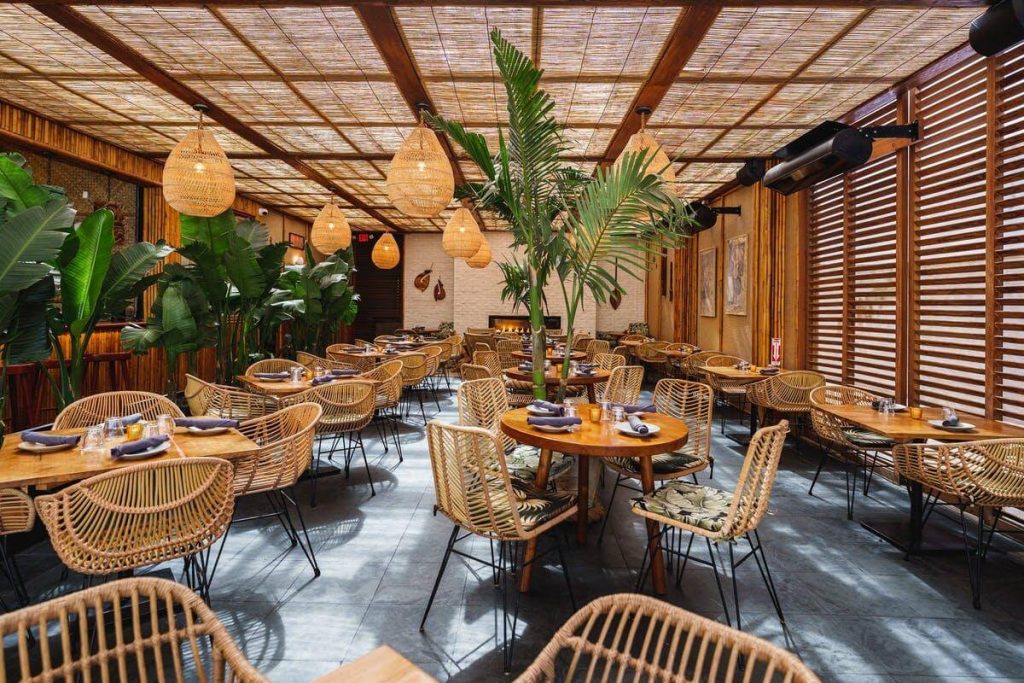 Why not unite your friends around the dinner table and make your Thanksgiving celebration twice as memorable? This heart-warming gathering isn't just about sharing a meal but also love, gratitude, and camaraderie.
Ready to bring this concept to life? Our blog post about unique Friendsgiving themes and party ideas is teeming with inspirations that will leave your guests in awe!
Bonus: A Thanksgiving Planning Template
Apart from feeling gratitude, Thanksgiving is also about sharing! That's why we've prepared this handy checklist to make your party planning as stress-free as possible and make sure that nothing is overlooked.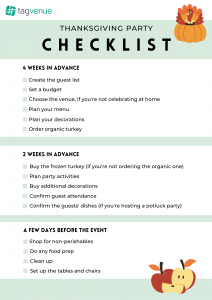 Wrapping Up Your Thanksgiving Party Plans
Crafting the perfect Thanksgiving gathering is an art, but with the ideas shared above, you're now a master painter, ready to create an incredible celebration. But remember, even the most creative ideas need a robust plan behind them to transform into reality. Luckily, we've got just the tools to help you on this front!
Do yourself a favor and don't leave anything to chance! With our comprehensive party planning checklist and definitive event planning checklist, you'll never miss a beat while planning your Thanksgiving party.
FAQ
What are some traditional Thanksgiving games?
Traditional Thanksgiving games go beyond just watching football on TV. Thanksgiving Family Feuds, where family and friends compete in a friendly quiz competition, and a Thanksgiving Scavenger Hunt, where participants look for Thanksgiving-themed items, are popular choices. For those who love word games, Thanksgiving-themed Pictionary or Charades can add a dash of excitement. And for the kids? A Corn Husk Doll-making competition could be fun and educational!
How can I host Thanksgiving without too much stress?
Hosting a Thanksgiving without stress is all about planning and delegating. Create a detailed plan well in advance, including your guest list, menu, and decorations. Use our party planning checklist and definitive event planning checklist to make sure you don't miss any details. Also, make sure to delegate some tasks to family members or friends—after all, Thanksgiving is about togetherness! Most importantly, don't aim for perfection, but focus on creating a warm, welcoming atmosphere where everyone feels at home.
What are family traditions for Thanksgiving?
Family traditions for Thanksgiving vary greatly and often depend upon their cultural heritage. Many families start the day by watching the Macy's Thanksgiving Day Parade. The main event is usually a feast featuring turkey, stuffing, and pumpkin pie. Some families go around the table to share what they're thankful for. Others might volunteer together at a local food bank or participate in a neighborhood Turkey Trot. But the essence of the tradition lies in celebrating and expressing gratitude together.
How to make the best Thanksgiving ever?
The secret to the best Thanksgiving ever lies in meticulous planning, meaningful traditions, and an atmosphere full of love and gratitude. Plan your menu and decorations in advance, and don't shy away from asking for help to lessen the load. Include traditional elements but also feel free to create new traditions that reflect your family's unique spirit. But most importantly, remember to take a moment to reflect on the blessings in your life and share the gratitude with your loved ones!