Are you looking for a great way to build your teams' morale and relationships? Look no further, because that is exactly what you'll find in this article!
Maybe you want to take your coworkers or employees out for a corporate team building activity, or perhaps you want to build chemistry with your football team; even if you just want to get your friends together for a fun night out – You've come to the right place!
We've compiled a comprehensive list of the best team-oriented outings you can find in Melbourne.
It can be challenging to come up with fun group function ideas in Melbourne. We've found that a lot of people who are tasked with organising corporate events wind up stumped and scratching their heads for what to do. The fact is, traditional team building activities can be awkward and boring. You go out with the work crew, talk a little bit about working together as a team, do some trust falls, get a motivational speech and go home… It doesn't have to be that way. Corporate team building activities can be fun! So loosen up, and give one of these ideas below a try. You won't regret it!
The Ludlow Bar is a classy establishment that combines an elegant atmosphere with gourmet food and drinks. With more than five unique dining areas on site, you won't have to shut the place down to rent out a dining room. Making this restaurant a perfect place to host any higher end group function is the fact that they can accommodate any size group from twelve to five hundred! With several different packages to choose from you'll find Ludlow to be very suitable for your corporate wine and dine event. Their packages range from $33-$85 per person and can be a simple cocktail style gathering or a four-course dinner. The absolute highlight of this location is the breathtaking view of the Yarra River it supplies.
Book Cocktail Party at Ludlow Bar & Dining Room
Nintendo Games at Bosozoku
Bosozoku is a fun-filled and exciting restaurant and game lounge. Their story says that a gang of fun-loving motorcycle and karaoke enthusiasts stumbled into a traditional teppanyaki restaurant in Melbourne and thought it was boring. So they decided to buy the place and turn it into everything they knew it could be. Since then, the gang has vamped the menu to house all sorts of gourmet burgers and Japanese Tapas; along with a variety of weird beers, bubble drinks and other concoctions. At Bosozoku you will find a pool table, ping pong table, dart boards, and our favourite, the Nintendo Room! You can rent out the room and play all your favourite Nintendo games, all while laughing, drinking and growing closer with your team! Bosozoku is the best place to go with your small crew to have a good time!
Book Nintendo Games at Bosozoku
Japanese Style Karaoke at Bosozoku
We covered just about everything that makes Bosozoku great, above. But did we mention that you can rent out the karaoke room for a fun team activity?! Grab your microphone and get ready to laugh at your mates while they make a fool of themselves. Every part of Bosozoku is designed with rest and recreation in mind. No matter what the reason, you should find a way to bring the squad to Bosozoku!
Thai Cooking Class at BangPop
BangPop is a fun, open layout Thai restaurant located in the South Wharf area. They rent out their space for cocktail and dinner parties and can host up to 180 people for a private event. The most fun and unique thing about BangPop is that they do group cooking classes (for 20-50 people) which are absolutely perfect for team building and guarantees for a good time! In one of these two-hour cooking classes, you'll learn how to make authentic Pad-Thai and green papaya salad with beautiful fresh ingredients. When you finish the class the whole group gets to sit down at a banquet style table and enjoy the culinary masterpiece you've just created. This masterclass costs $69 per person, so it's a little on the pricey side, but you won't regret the experience! BangPop rests right on the Yarra River which is just another bonus to this fun, interactive experience.
Book Thai Cooking Class at BangPop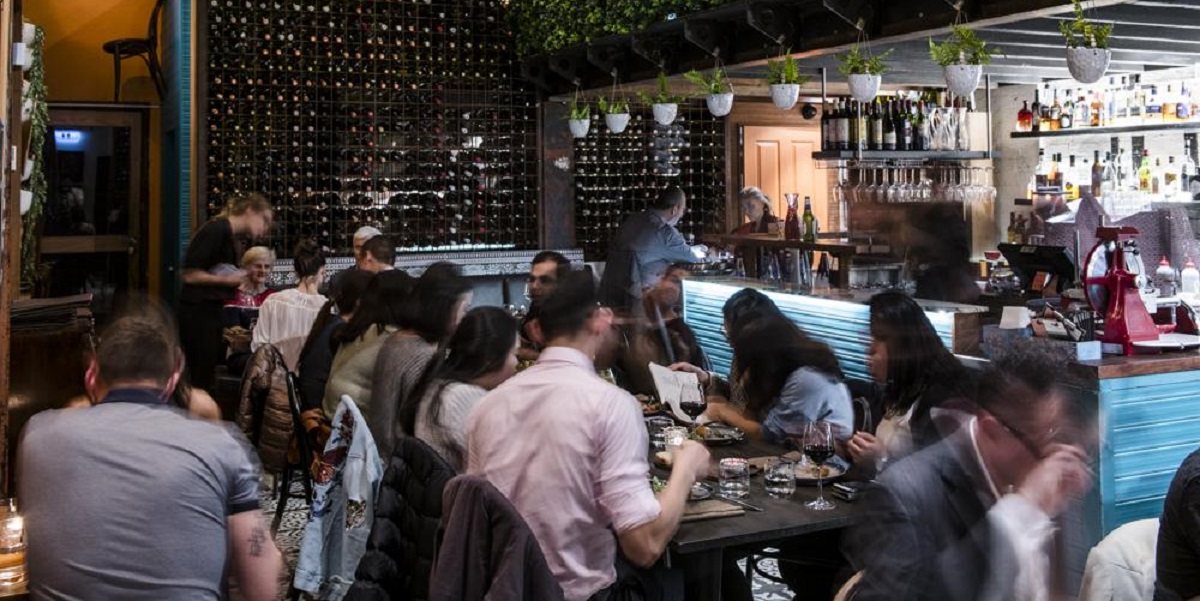 Portello Rosso is a Spanish themed restaurant, focused on providing a welcoming, comfortable experience. With a vast selection of wines and a delicious menu, your cravings are sure to be satisfied when you leave. When you eat at Portello Rosso, you get the feeling that you're at home. It's almost impossible not to relax when you're sitting at a softly lit table, sipping your favourite wine and laughing with your friends. They are very accommodating to group functions, allowing you to pick and choose any variety of items from their menu to serve at your event. You can rent a table or the entire restaurant if you need it.
Book Team Lunch at Portello Rosso
Cocktails and Billiards at Hotel Lindrum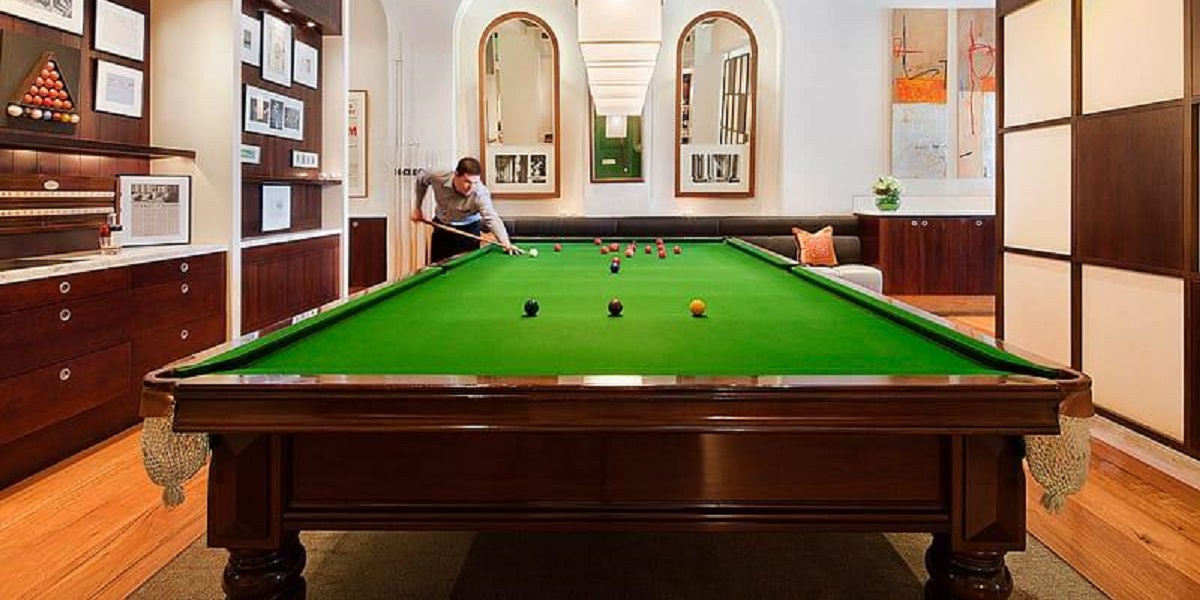 Hotel Lindrum is a boutique hotel located in the Melbourne Central Business District. If you're looking for a space to build your team's chemistry and friendships, this is a great place to start!
You can rent out the back bar and billiard room at the hotel, which hosts up to fifty people and provides endless fun and mingling opportunity. Combining a charming, well-decorated area with a loose, fun atmosphere – the billiards room is a perfect place to chat with your coworkers or team without feeling the pressure of having to put on some sort of facade. This hotel is drenched in historical relevance, and the decor continues to pay homage to the fact. The Lindrum even hosts a billiards table that was original to the building when it was Lindrums Billiards Center in the early 1970s. The table has been restored by the original makers.
Book Cocktails and Billiards at Hotel Lindrum
Longsong boasts a surefire good time! Their motto is "we're moonshine, music, and merriment". And if you're looking for a fun team building activity try out their Cheese Night! Every Wednesday night Longsong hosts their infamous cheese night where they team up with Cheesemonger Anthony Femia to produce a one of a kind experience. Your group will have access to an incredible selection of local and imported cheeses along with several cheese-themed dishes that will be cooked over a fire. Longsong makes a point to create fun, engaging experiences by teaming up with brewers, artists, and makers to bring you a good time!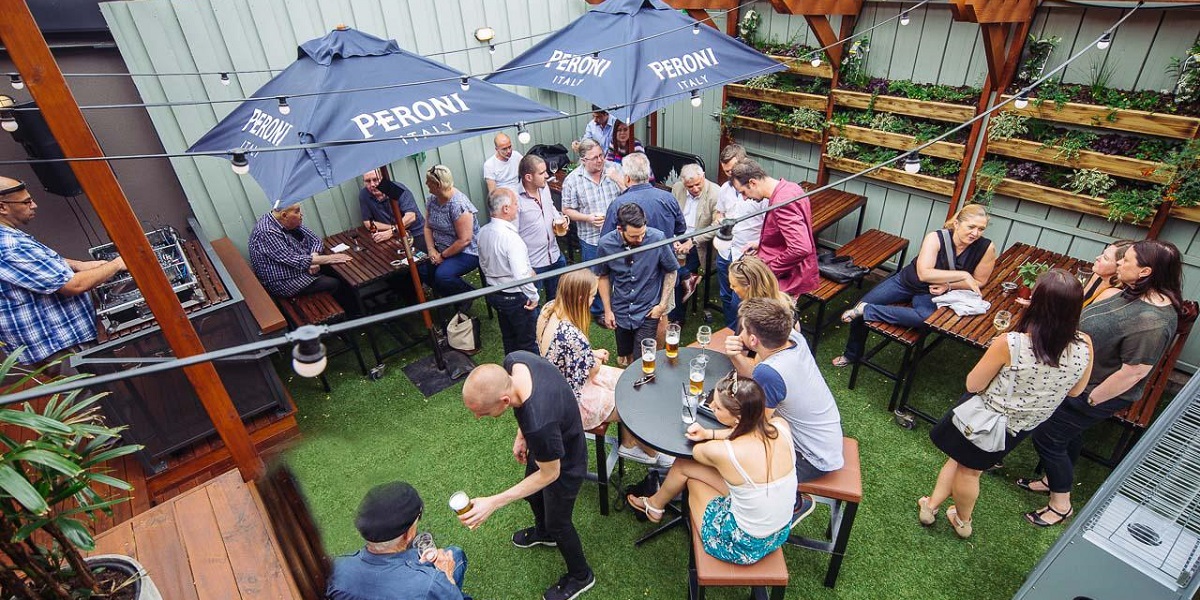 The Beer Garden at the Temperance Hotel is a bar where you can host a fun team building outing. You can rent the deck area that is stocked with tables, umbrellas, lots of plants and nicely staged lighting. There is enough standing room for about 60 guests; or less if you want to have seating room. There's even a spot for a DJ if you want to make your team outing extra lively! The Beer Garden deck doesn't have any specific theme like some of the other bars on our list. So you can really make your team building activity what you want it to be here! With enough room to fit a medium size group and enough time to get to know each other, talk and party into the night this spot is ideal for a flexible team outing.
Book your Party with a DJ at Beer Garden, Temperance Hotel
The Plaza Tavern is the place to take your sports team! With a traditional sports bar feel and well-priced menu, you'll find this tavern to be a comfortable, clean and fun place to watch any sports event on one of their dozens of TVs around the bar. The Plaza Tavern also offers private party rooms for corporate events, wedding parties or anything else you need a large space for.
Book Sports Watching at the Plaza Tavern
Office Party at Lieux
This old converted warehouse turned event space is perfect for any range of event; from corporate team building to wedding receptions, this place can hold it all. The decor in Lieux is relevant and expertly done. The stone bar and emerald floor are only the "tip of the iceberg" when it comes to the style and decorating in Lieux. When you rent this party space, you get access to their DJ booth and projector set up, so you can present a complete audio/visual experience.
If you want to host a sit-down dinner for your small business, you can have it here by candlelight and fireplace. Or if you're going to host the marketing team from your large corporation, you can have up to two hundred people for a fun, cocktail and dance party.
After Work Drinks at BearBrass
How about a less organised team building activity? You can consider taking the work team out after work to BearBrass for some drinks. The whole team can unwind together while enjoying each others company and chatting about what's on your minds. With a tasty menu and a large selection of drinks, everyone on the team will find something they'll enjoy.
Book After Work Drinks at BearBrass
A Team Meal and Water Taxi to the Australian Open Tennis at BearBrass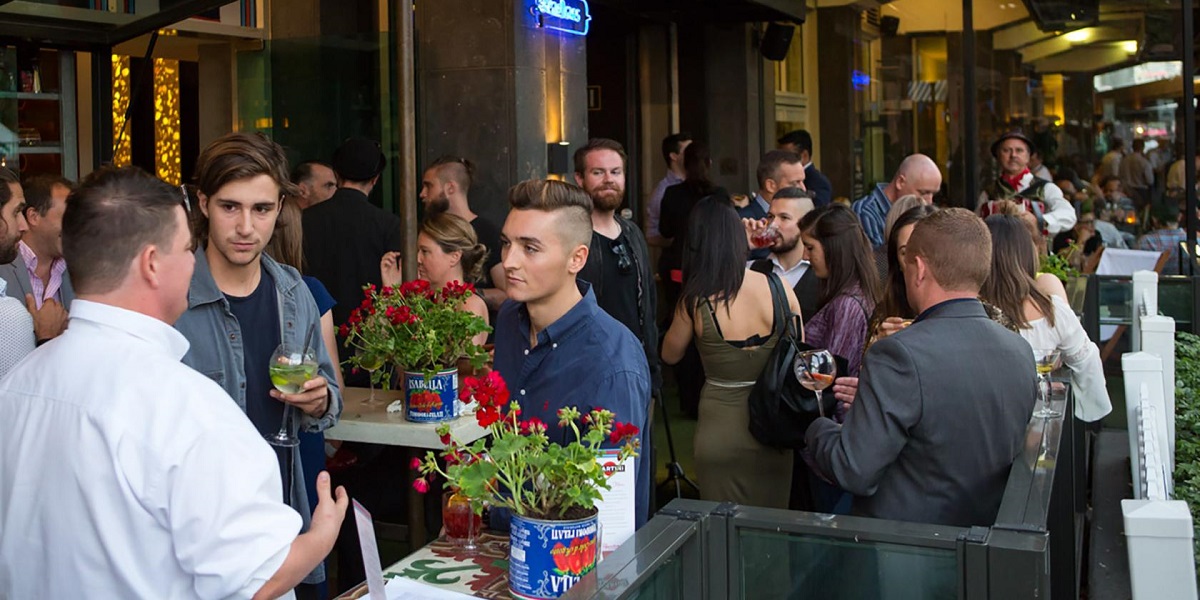 If you want the team to catch a game at the Australian Open then this is a package you'll want to check out! BearBrass will provide you with breakfast to start, then a water taxi on the river over to Rod Laver Arena so you can catch a tennis game. After you're done with the game, you'll be taken back to BearBrass for drinks. Packages range from $35-$55 depending on your meal selection. This is a fun activity that won't leave you any time to be bored.
Book a Team Meal and Water Taxi to the Australian Open Tennis at BearBrass
1960s James Bond Type Experience at Jacksons Lounge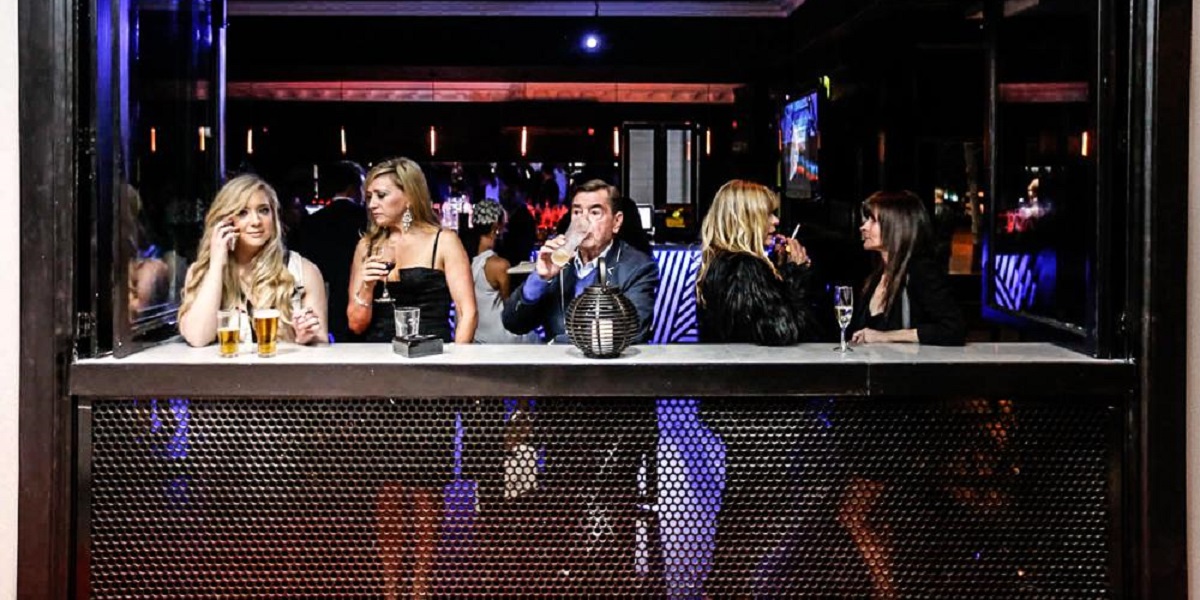 Jacksons Lounge is a bar and party house specifically designed to match the James Bond typestyle. Complete with a spy room smoking lounge, leather couches, and personalised staff to serve you – Every guest is sure to feel like the real 007! Jacksons Lounge offers plenty of parking space and a whole lot of event space for your massive event. Whether you have a huge team you want to bond together, or you are hosting a corporate event with all of your clients; this lounge won't disappoint.
Book 1960s James Bond Type Experience at Jacksons Lounge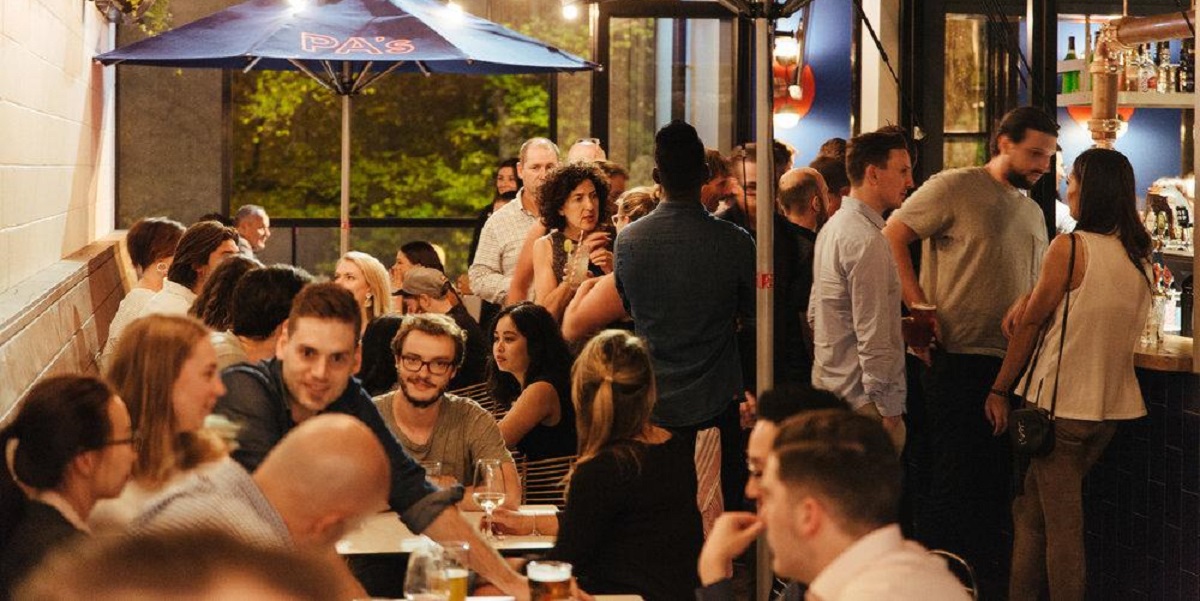 Live like royalty on a commoners budget at Prince Alfred's Rooftop Bar. They offer the rental of their gorgeous space at incredible rates! The venue is quirky and attractive in every way and eating there will make you feel like you're a royal. With an array of floral and botanical decor, you'll find plenty to look at as you enjoy your evening on the rooftop. From birthday parties to silent discos, the event coordinators at Prince Alfred's can help you plan your event and make it everything you want it to be.
Book Rooftop Party at Prince Alfred's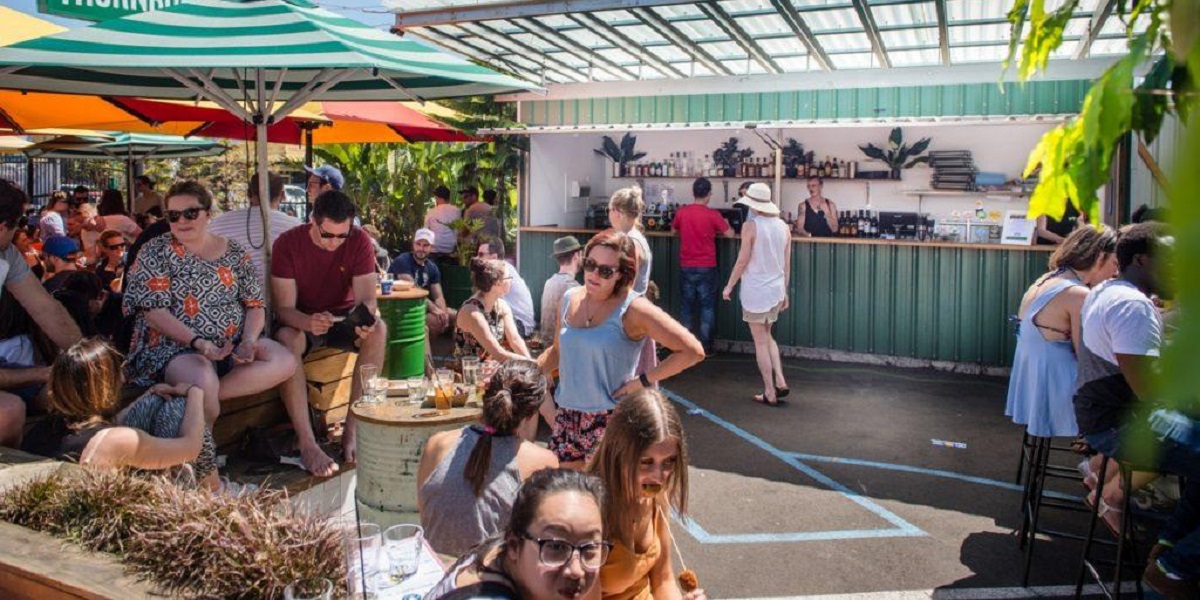 Welcome to Thornbury brings a wide array of food trucks in every day. Pretty much any type of cuisine you can think of will show up to this food truck rodeo! And what better way to make sure everyone on the team gets what they want than by going to a place that has it all?! If you've been tasked with organising your corporate event, give Welcome to Thornbury a call. They can help you with everything; whether you need an AV system, a DJ, or stage; they can help you figure it all out – And you can get your favourite food while you're at it!
Book Food Truck Night at Welcome to Thornbury
Feel like taking your team building to the open water? Dreamscape Boat Tours can do just that. Every boat outing is organised by their professional event managers that will help you make your event come to fruition. Each boat is complete with a full bar and dance floor, and for a little extra you can add on a DJ, magician, Hollywood impersonators or even mimes! If you want a team building function with a view, this is the one for you! With options anywhere from a classy dinner cruise with smooth jazz wooing you as you sail, to a party cruise with bumpin' tunes and just drinks; your choices are unlimited.
Book Boat Cruise at Dreamscape Boat Cruises
For a fun group function you won't forget about, try hosting your event in a train with Dreamscape Tours. This party train has four different cabins you can move throughout at your party. There are even a DJ, dance floor and full-service bar you can enjoy. Or if you like to take it easy while your buddies party it up, you can take a seat in the quiet rear lounge and take in the views. This excursion style venue is a great place to host a team-building function that kids will be attending.
Book Train Tour at Dreamscape Twilight Train
Original Fun at the Break Room
Go let out some frustration at the Break Room. There's not much else to say about this one. Are you and your co-workers tired of your humdrum job? Try out this fun team building activity! You get to go into a room full of pottery and other breakable things, and smash it all to pieces with a baseball bat!
Still, don't see what you want on this list? Most of these venues will work one-on-one with you to design the perfect team-building event in the venue of your choosing, and with a bar or food package that will suit your needs. Explore all venues with team-building activities in Melbourne!
---
You might also like