Are you searching for a way to strengthen the bonds within your team? Look no further than the vibrant city of Chicago, where each and every team can find something fun and valuable to do together!
Chicago presents countless opportunities for teams to reconnect, re-energize, and rediscover their collaborative spirit. From kayaking on the Chicago River, dining with a view of the city's skyline, or enjoying a game at Wrigley Field, no team will be bored here.
So, let's dive into 27 team building activities Chicago has to offer!
🌭 Foodie Team Building Activities in Chicago
It's research-based that teams which share meals are more productive and engaged, so any type of shared meal will be a great team building activity. Check below how you can turn a regular meal into a memorable experience for your team.
👊 Perfect for: teams that love to eat but also look for a way to build morale among team members
1. Dinner with a View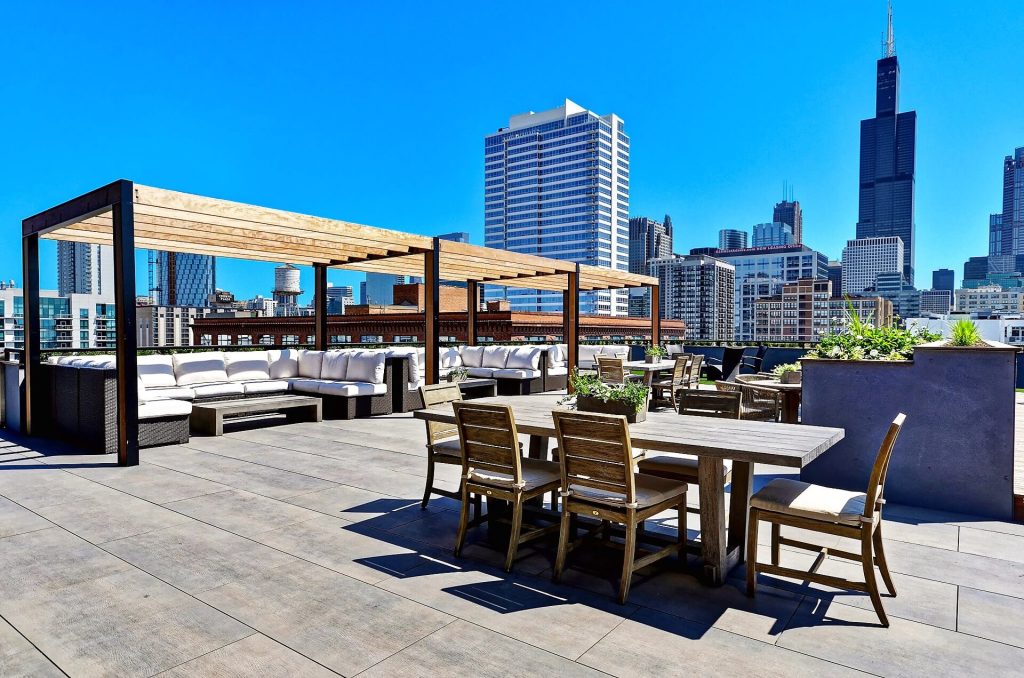 A company dinner might be one of the most classic team building activities, but why not take it a step further and host it in a rooftop venue. With breathtaking city views, delicious dishes, and a good drink in hand, your team can relax, engage in friendly chatter, and unwind.
2. After Work Cocktails
Team building doesn't have to be a complicated affair. Sometimes all you need is to take your team out after a long day of meeting goals and deadlines. And with Chicago's amazing nightlife and abundance of bars, finding a great place to unwind is easy.
3. Cooking Class
Cooking classes can be a fantastic idea for a team building activity that combines creativity, collaboration, and delicious results. As a team, you can either learn how to prepare the traditional Chicago deep-dish pizza or Italian beef sandwich or explore new cuisines and dishes. Whatever you choose, the team will be able to—literally—savor the fruits of their labor with this team bonding idea.
4. Visiting a Brewery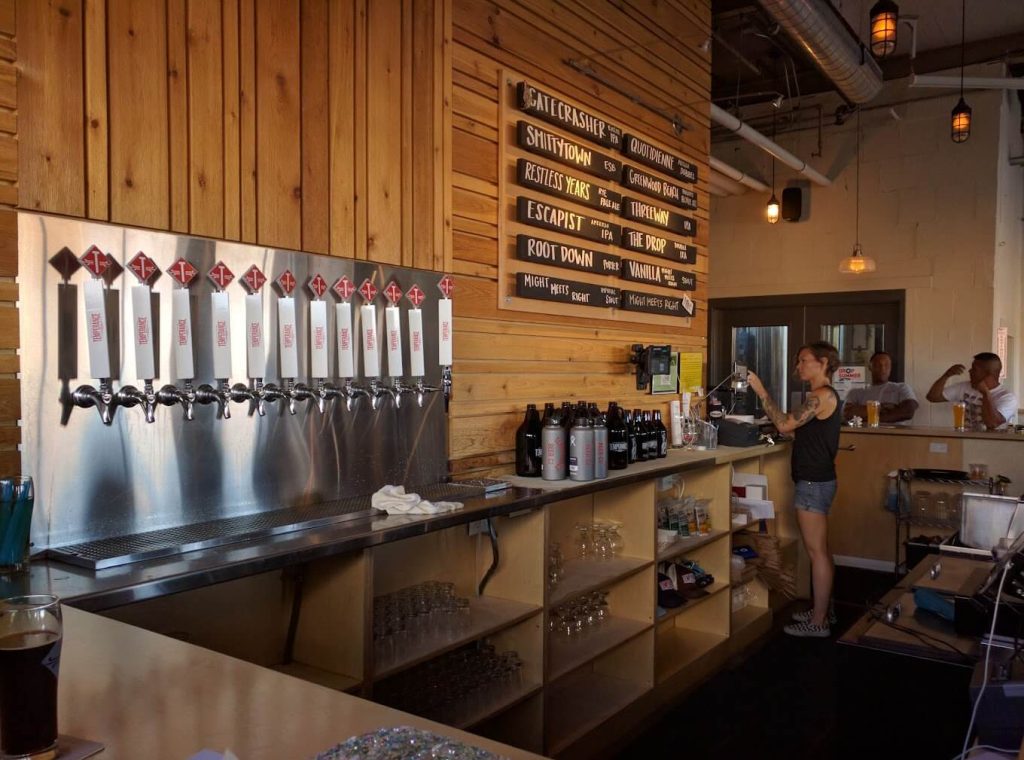 Did you know Chicago has been crowned the capital's craft beer capital? With a title like that, visiting a brewery and tasting local beers is a must, so grab this chance to create a unique and memorable team building activity. Learn and socialize with your team members in a relaxed atmosphere!
⛱️ Outdoor Team Building Activities in Chicago
Engaging in outdoor activities in such a vibrant and iconic city as Chicago provides teams with the opportunity to bond, explore, and enjoy the benefits of fresh air and sunshine.
👊 Perfect for: teams who love to spend time outdoors, whether relaxing or engaging in some sporting activity
5. Boat Cruise
Ponder the city's skyline from Lake Michigan or take in the views by cruising the Chicago River. Whatever you decide, the idea behind this activity remains the same: the team enjoying a laid-back cruise. Prepare some games and snacks to enjoy during the cruise for extra fun.
6. Kayaking on the Chicago River
If you like the idea of organizing the team building on water but are looking for something more active, why not take your team kayaking on the Chicago River? You will still enjoy the city's amazing views while getting a healthy dose of exercise and a shared experience.
7. Zoo Visit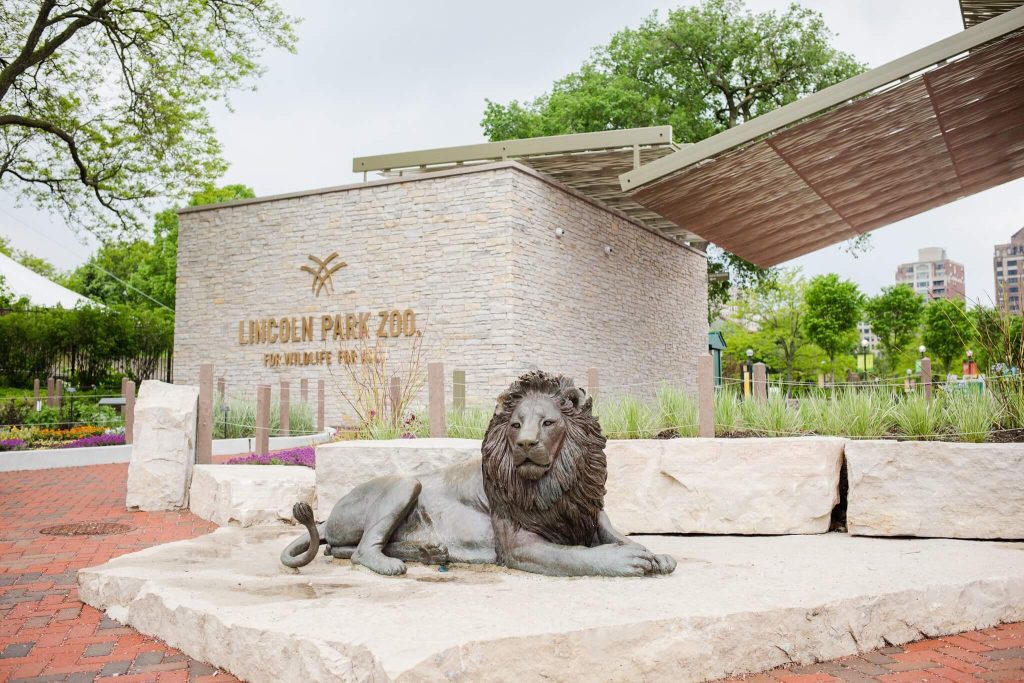 Visiting Lincoln Park Zoo can be a wonderful team building activity that combines learning, teamwork, and a connection with nature. Not only will the team spend some quality time outdoors, but they can also have a chance to engage in enriching discussions about conservation and environmental awareness, promoting a sense of social responsibility within the group.
8. Field Day
A field day in Chicago can be a fantastic team building activity that combines fun, competition, and collaboration. Chicago offers a variety of outdoor spaces, such as parks and beaches that are perfect for hosting a field day. Team members can engage in various exciting activities, including relay races, obstacle courses, tug-of-war, and team-building games.
---
👉 Check out more ideas for Indoor and Outdoor Team Building Activities!
---
9. Company Picnic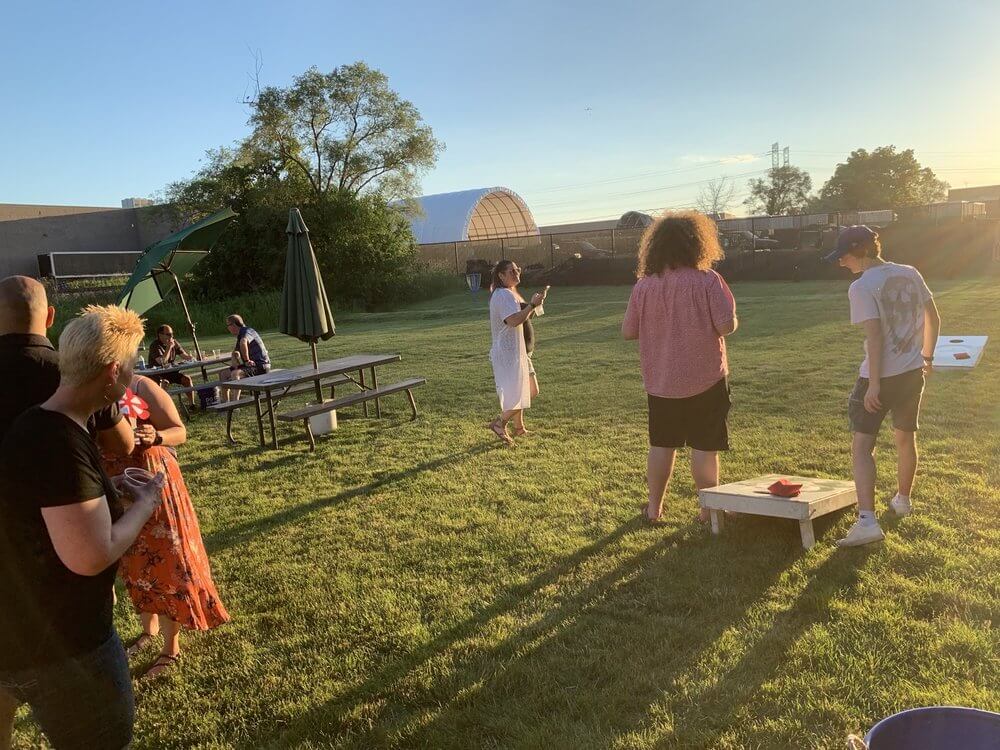 Make the most of Chicago's warm season and gather your team for an outdoor picnic. Whether you decide to host a grill in one of the city's parks or a beach volleyball tournament, a fresh breath of air among all the meetings and deadlines might be just what your team needs. A company picnic is also a great family-oriented event that can help bring your team and their families together.
🏙️ Distinctly Chicago Team Building Activities
As Jimmy Rogers sang, Chicago is the greatest place around. We believe he was right, and the ideas below will help you and your team find out for yourselves!
👊 Perfect for: teams that don't usually work in the city, although Chicago-based offices will also enjoy them
10. Explore the City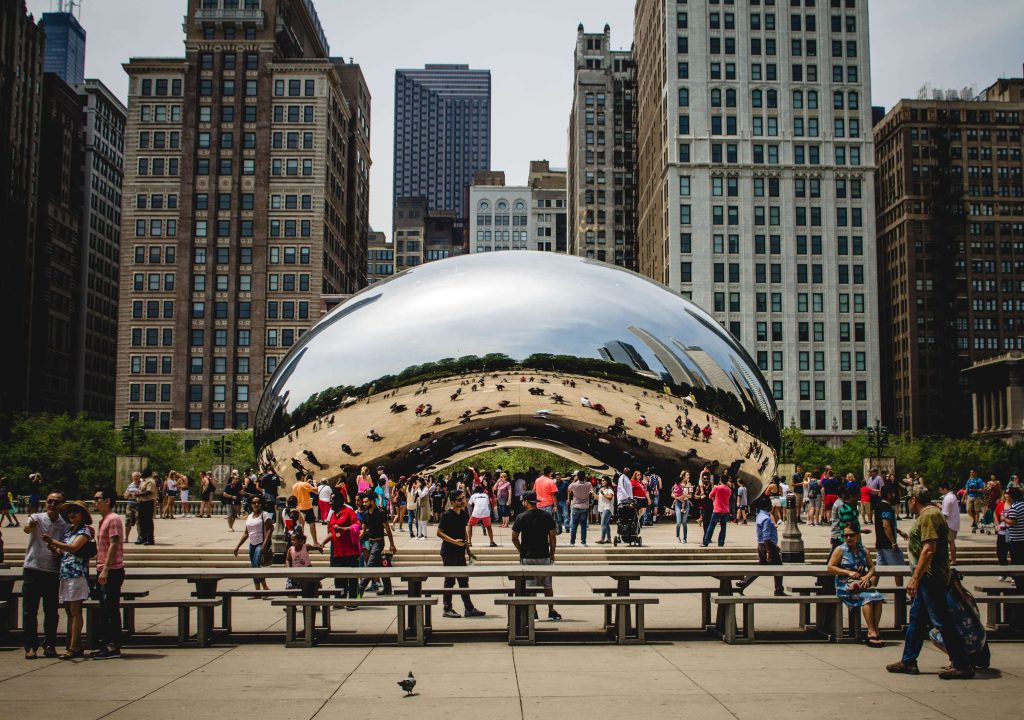 If your team is coming from outside Chicago, why not explore the city together for a unique and enriching team building activity? You can do a normal walking tour or see the city using the services:
Divvy Bikes—Chicago's rental system for bikes, ebikes, and scooters
Hop-On-Hop-Off bus tour—Tour the city on a double-decker bus and hop on and off where you want to explore the city on foot
Private Segway tours—An out of the ordinary way to explore the city
11. Enjoy the City's Events
Chicago is full of history and architecture that can be explored on its own. But there are many iconic events that encapsulate the city's energy, and having your team enjoy them can be a great Chicago-bound team building experience. Take part in the St. Patrick's Day celebrations, enjoy live music at the Lollapalooza Festival, or relax to some blues tunes during the Chicago Blues Festival—these are just a few of the things you can do in Chicago.
12. See a Game at Wrigley Field
If you're looking for an exciting team building activity in Chicago, take your team to see a game at Wrigley Field. The historic ballpark, home to the Chicago Cubs, has a vibrant atmosphere, and the energy and passion of the fans can be contagious. Let your team dive into those emotions, discuss games, snack on classic ballpark food and drinks, and leave more connected than before!
13. Visit Navy Pier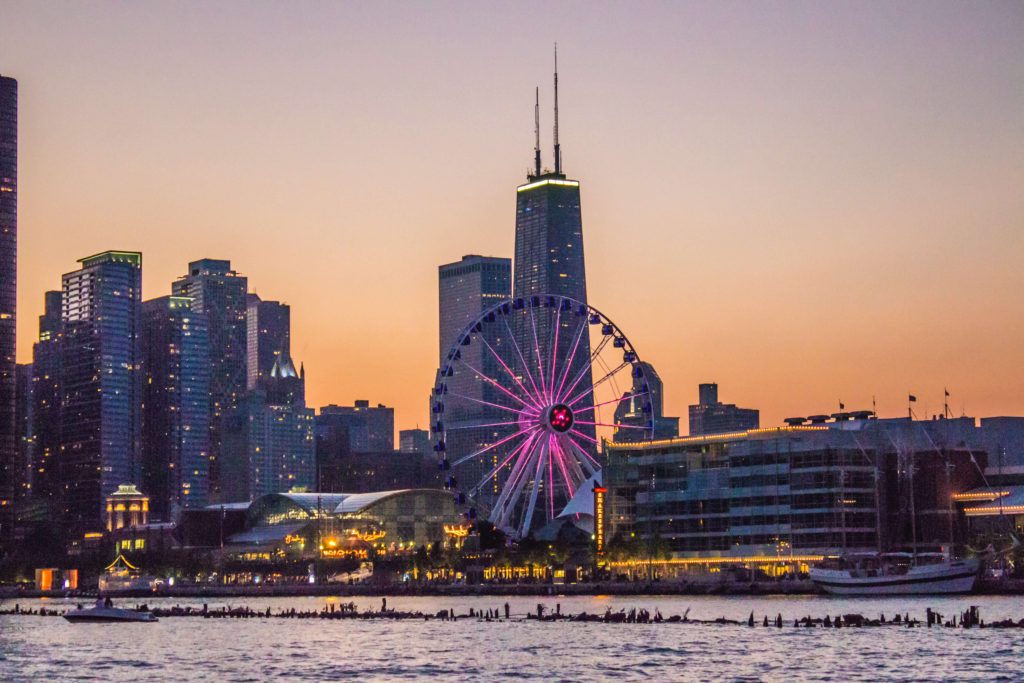 Navy Pier offers an excellent venue for a team building activity that combines fun, adventure, and stunning views. Whether it's taking a ride on the iconic Ferris wheel, challenging each other in mini-golf, or exploring the Crystal Gardens, team members will have plenty of opportunities to engage in friendly competition. Add to that breathtaking waterfront views and a variety of dining options, and you're in for a full day of non-stop fun.
---
👉 Check out more Company Outing Ideas!
---
14. 360 Chicago + TILT
See the city from above in its 360-degree glory. 360 Chicago is a unique 94th floor observation deck that lets you see the city from above in every direction. If you're looking for even more thrills, try TILT, where you can lean 1,000 ft. out over a ledge with a glass floor to experience the city like never before. Only for the down-to-earth teams!
15. Volunteer
Volunteering together as a team can be an incredibly rewarding and impactful team building activity. It fosters a sense of empathy and encourages a positive and compassionate work culture. You can choose a cause that is close to your company's values or one that will support the community where your office is located. Browse volunteer opportunities and talk to your team about where they would like to get engaged.
🎨 Creative Team Building Ideas in Chicago
Let your team's creativity soar in the city where art covers its walls, and hides around every corner.
👊 Perfect for: teams looking to spark their creative sides and think outside the box
16. Creative Workshops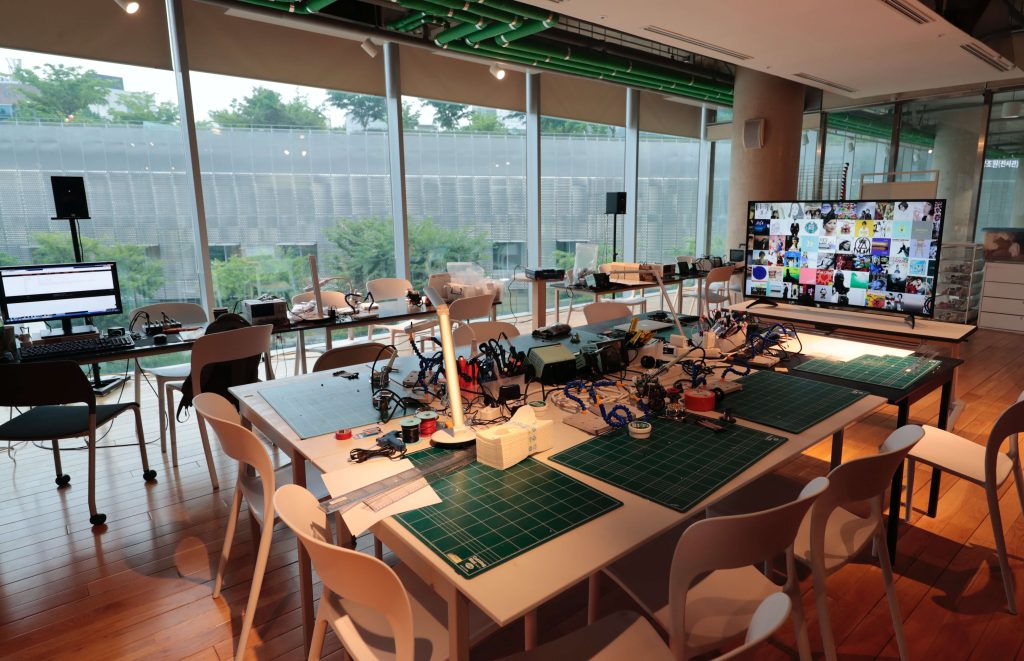 Dive into inventive realms and let your team's imagination soar. Whether it's clay sculpting, decorations making, or another art form, these sessions are tailored to ignite creativity, foster collaboration, and introduce a delightful break from the usual office routine. As the team learns a new skill, they can also discover a lot about each other.
17. Sip and Paint
Unleash your inner Picasso with a glass of vino in hand. Sip and paint sessions are where creativity meets relaxation and where you can chat and bond with your teammates in an informal atmosphere. Plus, you get to keep the masterpiece you created as a keepsake of the occasion.
18. Museum Tour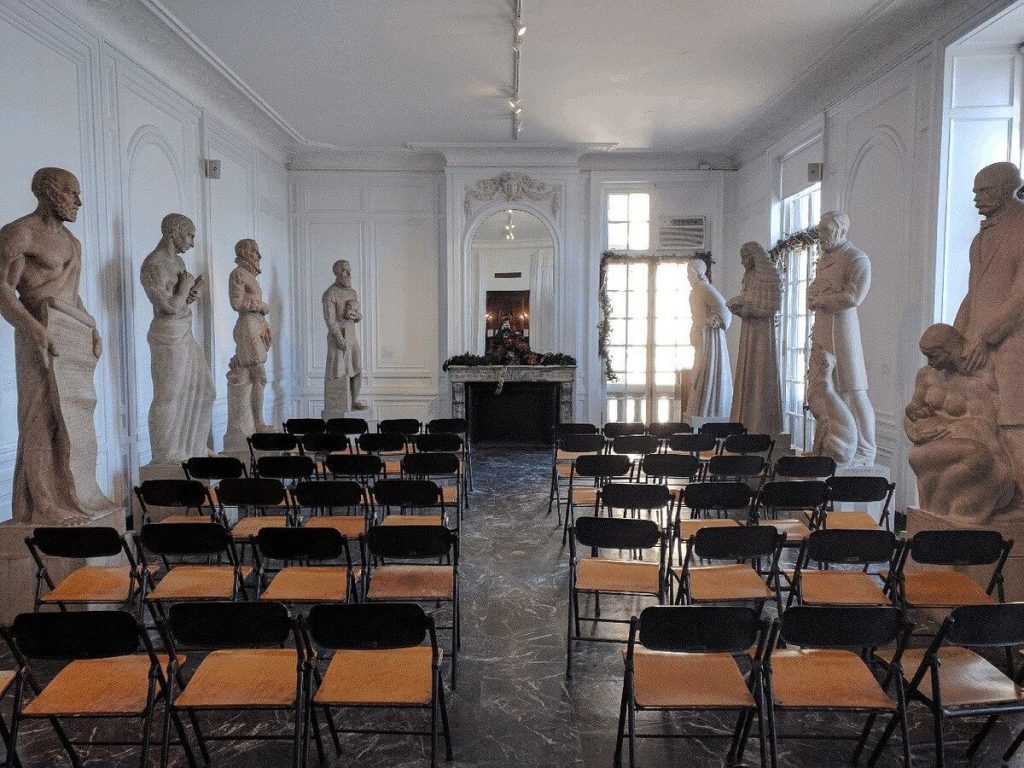 Chicago's museums are where history, art, and "I didn't know that" moments collide. Dive into stories, and emerge with memories and a few fun facts for the next office trivia. You can choose one museum or use services like Museum Hack to get the best of the Chicago museum scene.
19. Street Art Tour
It's often said that Chicago is a living canvas, as street art covers the city's walls, bridges, and buildings. Many world-renowned street artists have left, and are still leaving, their signature projects all over the city. So if you're looking for a creative but off-beat team building idea in Chicago, touring its street art might be just what you and your teams need.
🏈 Sporty Team Building Activities in Chicago
If your team is always ready to get sweaty, choosing a sport-related team building is a must. Take a look at what you can organize for your next team event!
👊 Perfect for: teams that like to compete
20. Golfing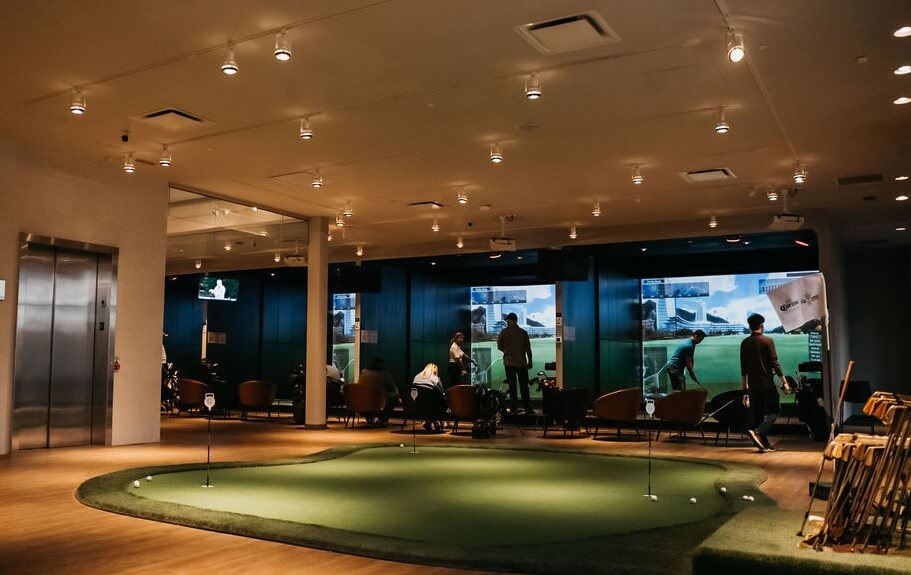 There are over 200 golf courses in Chicago, so if you're looking for a team building activity that fosters collaboration and friendly competition, it's tee time for a round of golf. Golfing provides an opportunity to get the team out in the fresh air, but with many golf courses available indoors as well, it's an all-year activity.
21. All-Company Sports Tournament
An all-company sports tournament can be a fun and energizing team-building activity. Including a mix of different sports and rotating team members can promote teamwork, strengthen relationships, and enhance problem-solving skills. Participating in a tournament allows team members to engage in friendly competition and work together towards a common goal.
22. Bouldering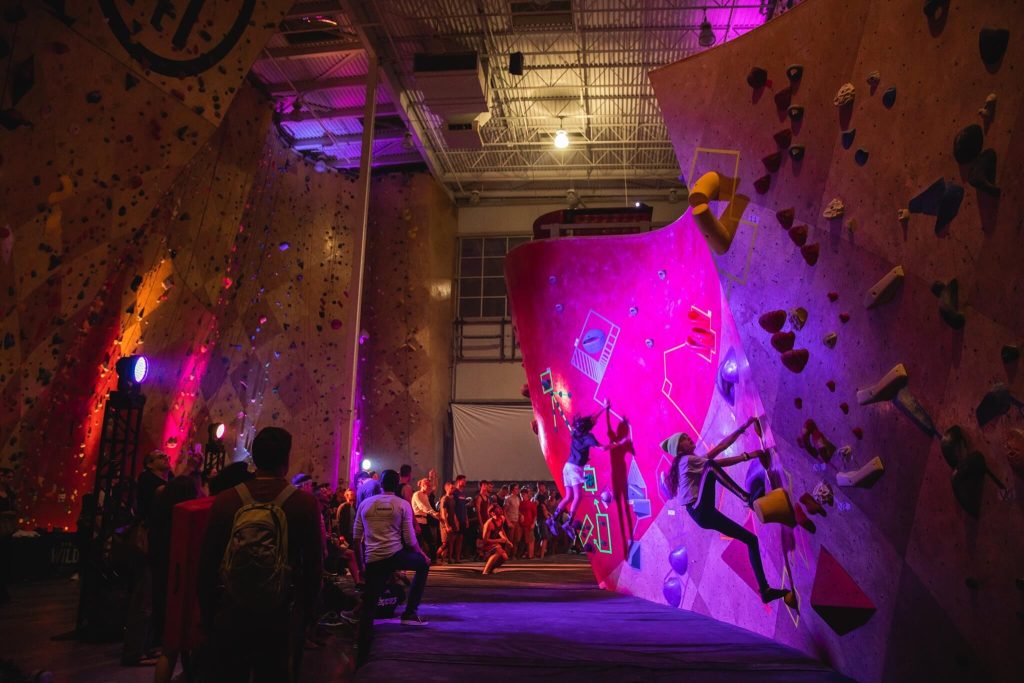 Bouldering can be an exciting and challenging team building activity, where teams can engage in this physically demanding sport in a controlled indoor environment. It promotes teamwork, trust, and problem-solving as participants work together to navigate the routes, provide support, and encourage each other.
💡 Unique Team Building Activities in Chicago
If you're looking for an exciting team building idea in Chicago, check out one of the ideas below.
👊 Perfect for: teams who are looking to up their team building game
23. Indoor SkyDiving
Now, if this isn't exciting, then what is? This unique idea is sure to excite your team and organize a thrilling and bonding team building activity. Team members can support and encourage one another as they each take turns soaring through the vertical wind tunnel.
24. Visiting a Rage Room
Instead of having the team quarrel with each other, encourage them to let off some steam in a rage room. A rage room is where each person can, safely, smash, kick and destroy appliances and furniture with a variety of blunt tools. The activity mostly serves as a stress reliever but can also be great fun for the teams and is surely memorable.
25. Escape Room
Escape the boring office routine with an exciting game of escape room. This activity involves solving clues and finding a way out of the closed room, encouraging communication and collaboration among the team members. The top recommended Chicago escape room is Fox in a Box, but there are plenty more that can provide a fun but fruitful team building experience.
26. See an Improv Comedy
Chicago is said to be the birthplace of improv comedy, so if your team is looking for a good laugh, then you have to see a live improv comedy performance. With many of them happening every day, this team building activity is easy to organize. Follow the outing with a round of drinks, and you're set for a fun team night.
27. Learn Improv Comedy
Why not take your team to an improv comedy class? These classes are a great way to get your team out of their comfort zone and to build trust between members as they learn how to think on their feet, use their skills, and perform in front of others.
✅ To Wrap Up
Whether you are a small startup or a large corporation, Chicago has the perfect backdrop for memorable team moments. From thrilling escape rooms to outdoor adventures, the city offers a diverse range of activities guaranteed to keep your team motivated and united. And we hope our 27 Chicago team building activities will come in handy when planning your next team event.
So pack your enthusiasm, gather your crew, and get ready to have a blast in Chicago!
---
👉 Do you need more inspiration? Our 15 Fun Team Building Activities and Ideas to Improve Your Team's Morale might be just what you need!
---
FAQ
What are corporate team building activities in Chicago?
Teams in Chicago can choose from a variety of corporate team building activities. Some of them include:
→Exploring the city, either by foot, public transportation, or private rental of bikes, boats or buses
→Sharing a meal with the team in one of the rooftop venues, pubs, or other fun venues
→Engaging in creative workshops, which can include cooking classes, improv comedy workshops, or art classes
→Participating in a city event, such as St. Patricks' parade, the Lollapalooza Festival, or a seeing a baseball game at Wrigley Field
→Getting sweaty in a sports event, such as a round of golf, bouldering or kayaking on Chicago River.
What are the best team building activities in Chicago?
Some of the best team building activities in Chicago include going for after work drinks, touring the museums, trying out indoor skydiving, watching and learning improv comedy, or seeing Chicago from the 94th floor. The best team building activity though will be the one your team chooses, so be sure to talk to your team before making the final decision.
How to organize a team building activity in Chicago on a budget?
To organize a team building activity in Chicago on a budget, consider options such as outdoor picnics in local parks, team volunteer projects, or self-guided walking tours of the city. These activities are often cost-effective and still promote teamwork and relationship building. If you're planning to rent a venue, look for corporate hospitality offers and minimum spend options.
What team building activities in Chicago are good for small teams?
For small teams, activities like escape rooms, cooking classes, or group tours of popular landmarks in Chicago can be excellent choices. Small teams will also enjoy indoor skydiving, improv comedy classes, visiting rage rooms or bouldering.
What team building activities in Chicago are good for large teams?
For large teams, outdoor activities like sports tournaments, company field days or picnics, or boat cruises can be suitable options. Volunteering together can bring a tangible change with a large group as well. Going to a game at Wrigley Field or touring Chicago's museums can also help groups socialize and strengthen relationships.