Team building activities are a great way to get your team out of the office to start engaging and interacting with each other in a new environment. However, it is not as simple as just a group of workers together and encouraging them to do something fun or educational. While this is undoubtedly a good starting point, some planning is needed to create an effective team-building program.
Scroll down to see our list of 30+ indoor and outdoor team-building activities that are both effective and fun, and will work in any corporation.
Why Are Team Building Activities Important?
Team building activities are not a luxury for a company but rather an integral driver of success in the current competitive environment. Why? Because team building helps coworkers improve their relationships and communication, and other skills necessary in the workplace, such as problem-solving or creative thinking. They help to build employee engagement.
In their 2022 report on the State of the Global Workplace, Gallup announced that "Teams with thriving workers see significantly lower absenteeism, turnover and accidents; they also see higher customer loyalty." Moreover, companies with highly engaged workers have 23% higher profit. Gallup also points out that it's the responsibility of the organisation to create an engagement culture rather than it being the employees' responsibility.
So now that you know it's not a waste of money but actually a reasonable investment to organise team building, let's see what kind of indoor and outdoor team building activities you can plan for your team.
Indoor Team Building Activities
1. Team Meal
One sure way to build and strengthen relationships between team members is to share a meal together. Since it's such a universal activity, you can organise team breakfasts, lunches and dinners, throw special meals around Christmas or other holidays, or just create a tradition of eating together once a week.
How to do it: Organising this activity is very simple. You can order catering to your office, take your team out to a restaurant, or organise a potluck-style meal.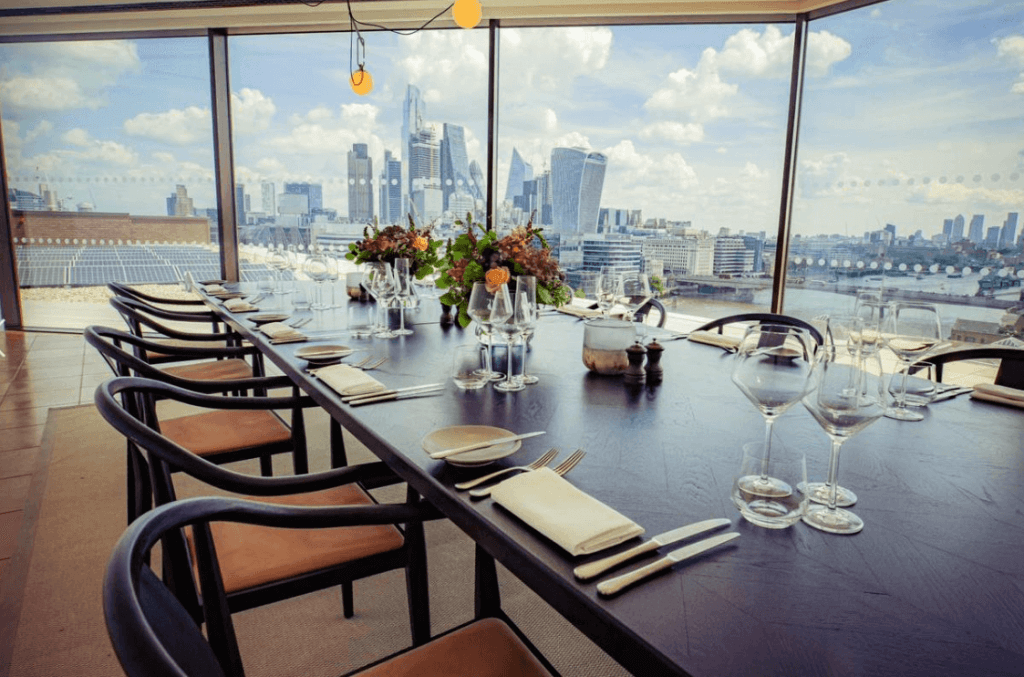 2. Cooking Class
Here's another idea that revolves around food, but this time, the teams have to prepare the meal on their own. Cooking classes provide a fun and relaxed way for team members to get to know each other outside of the office environment. It can also help to nurture a positive working culture.
How to do it: Look for professional studios offering cooking classes and book one for your team. Make sure the selected menu can be easily adjusted to the dietary requirements of the team members.
3. Creative Workshops
We're continuing with the DIY theme. Sign your team up for a creative workshop. Working side-to-side on a project will help team members relax, reduce stress, and help spark their creativity. Plus at the end, everyone gets to take their project home as a souvenir.
How to do it: Similar to cooking classes, look for creative workshops organised in your area and book a session for your team. It's a good idea to run a survey prior to the event so everyone can decide what project they would like to work on. Maybe somebody on your team has an interesting creative hobby, and they could conduct a workshop for their teammates?
4. Fake Pitch
This activity was inspired by one of the games on Ellen DeGeneres' show, Pitch Please. The idea behind the game is to prepare a sales pitch for an unknown product and watch the hilarity unfold.
How to play it: Ask each team to prepare a sales pitch, but don't say what they're selling. During the game, set up the product the way it's visible to other participants but the presenters, and watch them try to sell you a product they don't know. You can give your teams' some time to prepare, presentations included, or play an impromptu game.
5. Lip Sync Battle
Inspired by another great TV show, this activity is bound to bring some laughter. The idea is to "perform" as a chosen musical celebrity. It's a fun way to see how creative your team can be and a great way to get people out of their shells and let them have fun.
How to do it: Each person or team chooses a song and performs it with the rest of the group, using props and costumes. You can set a theme for more fun, e.g. 1980s rock stars, female voices, or 2000s nostalgia.
6. Dress up Party
Dress up parties can be a fun and engaging team building activity. They can serve as a great icebreaker, encourage creativity, and foster team bonding. This type of party is a great idea for holidays or end-of-the-year celebrations as a relaxed team building activity.
How to do it: Organise a party and ask the participants to dress up according to the theme. It can be a superhero theme, the 1980s, or Ugly Christmas Sweater for the holiday season.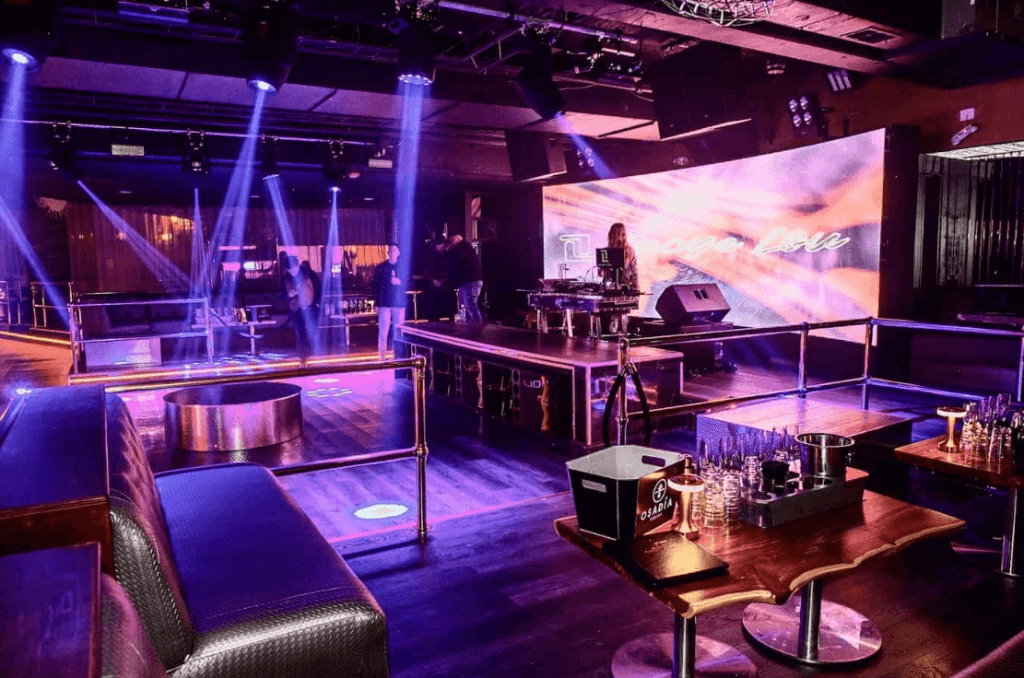 7. Domino Effect
In this game, each team has to create a Domino effect construction. The key of this activity is to work together and communicate effectively.
How to do it: Each team receives a set of various items, such as books, balls, pins, or anything they can find in the office, and has to create a Domino construction. Each team can play against the others for the longest Domino chain. You can also have each team prepare a part of the chain to be connected at the end to create one long Domino route.
8. VR Experience
If you're looking for a unique team building activity, why not try virtual reality (VR)? VR offers a range of experiences your team can enjoy together, as they create memories and strengthen their relationships.
How to do it: Since VR requires headsets that can be quite pricey, the easiest way is to hire a venue offering VR experiences.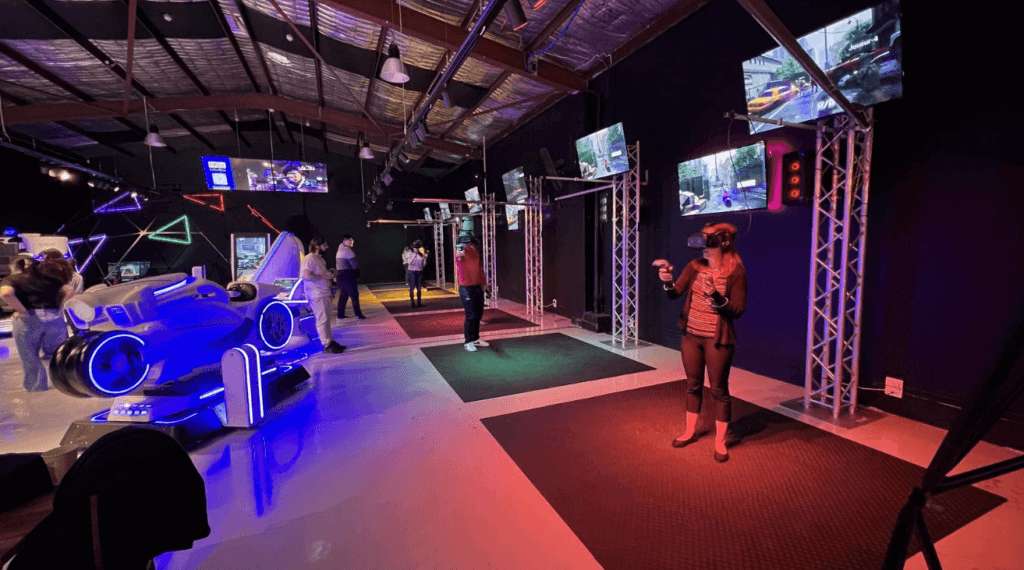 9. Team Feud
This game is Inspired by yet another popular show, Family Feud. Now you can enjoy an engaging time with your team members as they answer popular answers to survey questions.
How to do it: Survey your team or office with a set of questions. They can revolve around popular topics or, for a more personalised event, around the company. You can also buy already prepared sets of questions. Then team members line up and try to gather as many points as possible by buzzing in and trying to guess the answer.
10. Office Trivia
Office trivia is an engaging game to play with your coworkers that is sure to inspire a lot of laughter. Not only will it bring the people together, but it will also help you build knowledge of the company among its employees.
How to do it: Create a list of questions related to the company's history, culture, products or services. You can include some inside jokes to make the game more enjoyable. Select a host who will read out the questions and keep the score. Then, play individually or divide your employees up into teams. You can use apps like TriviaMaker to help with the game setting.
11. Rage Room
Do you ever feel like flipping a table or smashing a window after the copy machine stops working, or the email you've been waiting for is just not here yet? Well, now you can do it. Take your employees to a rage room and let them relieve their stress by smashing, breaking and destroying stuff (not: staff!) in a safe environment.
How to do it: Unless you're planning an office renovation, we highly suggest taking the team out for this one.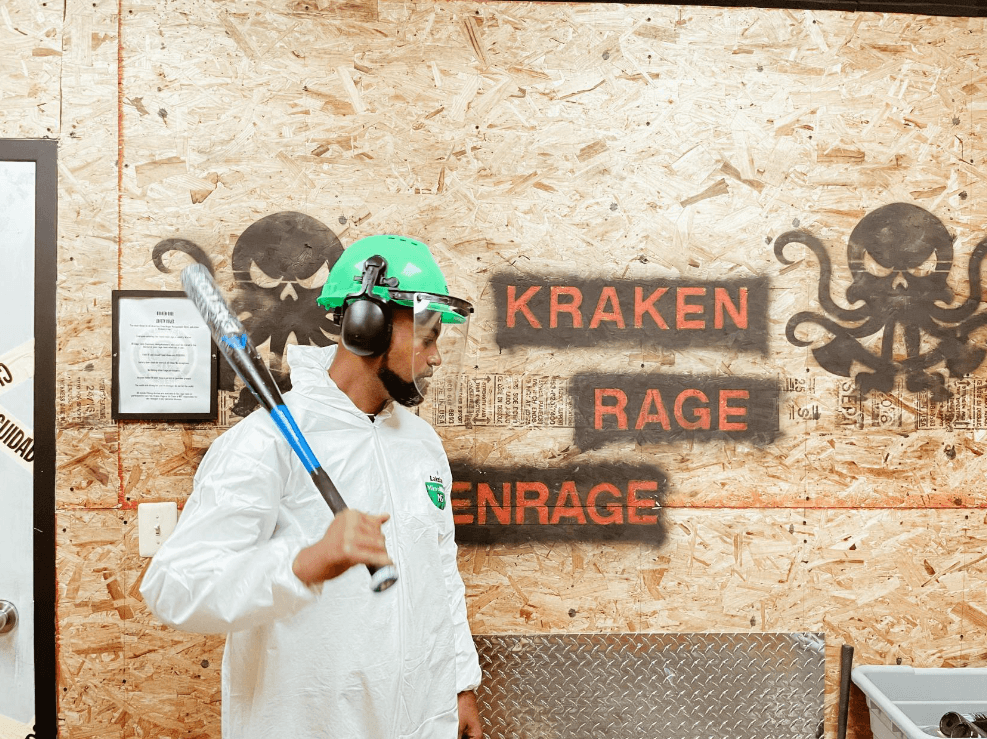 12. Volunteer
Volunteering gives employees another purpose to work towards. Seeing the positive impact the team achieved can help boost the team's morale.
How to do it: Look for an organisation that you would like to help, and see what kind of assistance you can provide as a team. Indoor activities can include helping out at a soup kitchen, organising activities for elderly homes, or putting together care packages. Sometimes the organisation may ask for donations, so you can set up a fundraiser at your company.
13. Laser Tag
This fun activity gets employees to move around, strategise, and compete with each other in a friendly manner. You need at least two players for this game, so even small teams can enjoy it, but in this game, the more the merrier!
How to do it: Hire a tag laser course, and divide the team members into teams. Ask the team to wear comfortable clothes
14. Go-karts
If your team is up for some friendly competition, go-karting might be what you're looking for. This activity allows team members to challenge each other in a fun and safe environment and helps to build trust and respect among team members.
How to do it: Look for a go-karting track in your area and book a session for your team. Make sure to include some snacks and a prize for the rider with the best time.
15. Wall Climbing
This is an intense physical activity, so it might not be everyone's cup of tea, but wall climbing encourages cooperation and builds trust. It also helps to boost self-esteem and confidence.
How to do it: Wall climbing requires special equipment, so it's best to organise it in an especially designed venue. It might also be a good idea to hire an instructor who will help everyone get started.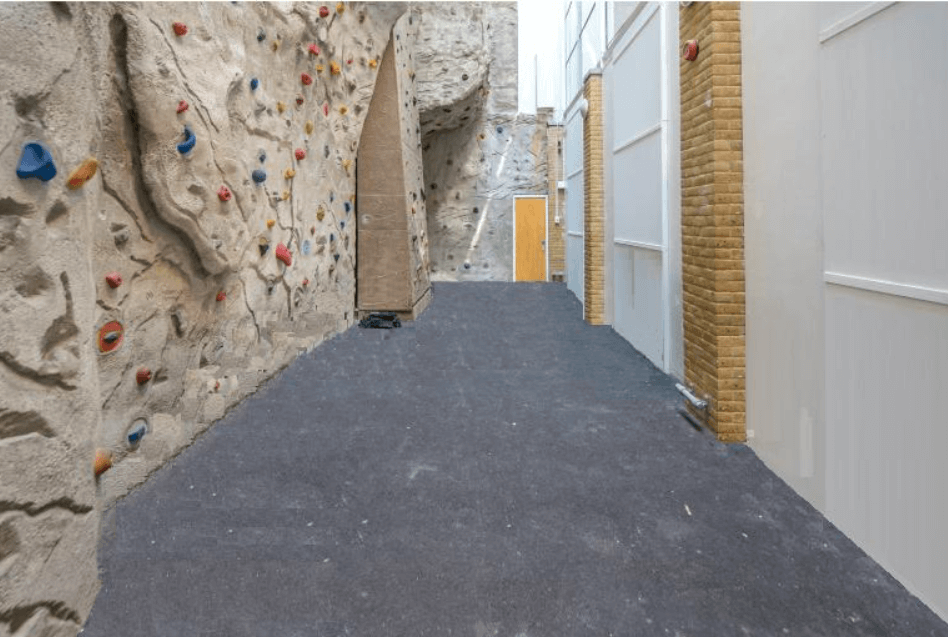 16. Bonus Idea
If you're looking for some more ideas, why not consider virtual team building? A virtual team building activity can be a great way for your employees to interact with each other without the need for face-to-face meetings. It's a great idea for remote teams but can be enjoyed by in-office companies as well.
How to do it: There are many games you can play online for free, such as Gartic Phone or Skribbl. If you would like something more complex that is led by a professional host, head over to Tagvenue Virtual for a range of virtual team building activities!
Outdoor Team Building Activities
17. Picnic
Picnics provide a casual and relaxed atmosphere that can be enjoyed by all employees regardless of their age or physical abilities. They are a great occasion for employees to bring their families and build relationships outside the workplace.
How to do it: Find a place to organise a picnic. It can be a public space, such as a park or venue offering outdoor space. Order catering, and organise games such as badminton, frisbee, or football.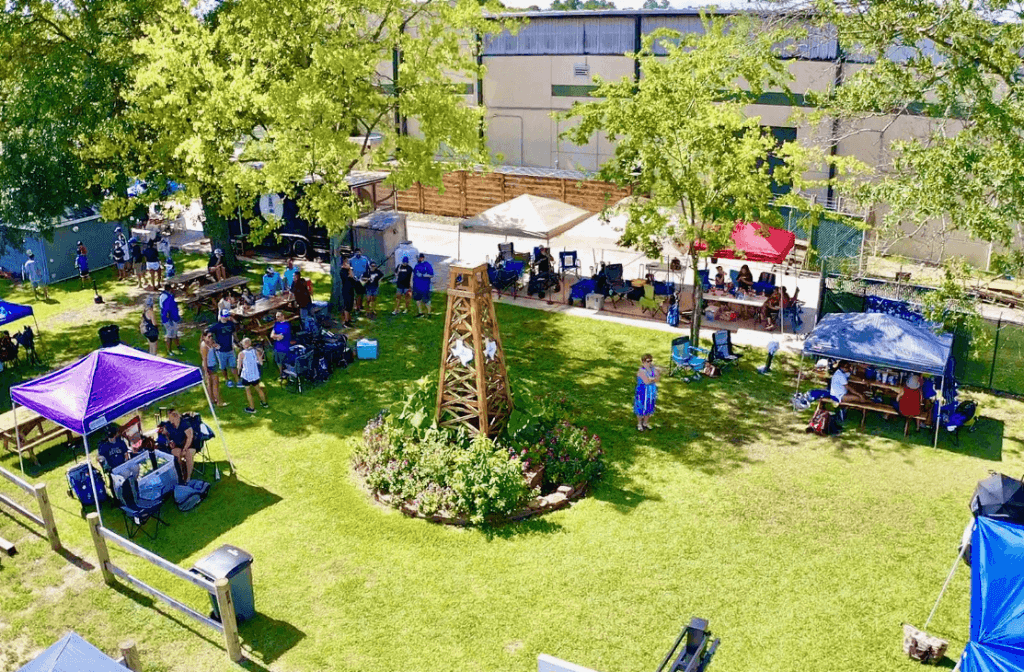 18. Food Truck Festival
Here's another idea for an outdoor food-centred team building event. The great upside of a food truck festival is that it offers a wide range of different foods, so you can be sure everyone will find something to their liking.
How to do it: Search for a food truck festival in your area, or take your team to a different city wherever the event is taking place. If you're a big company and have the budget for it, you can hire a few food trucks and have them come to your building.
19. BBQ
We've mentioned above that sharing a meal together is a great team bonding experience, so why not take advantage of warm weather and organise a BBQ for your team? It will give everyone some space to unwind and get to know each other better, while having fun.
How to do it: You can organise BBQ in a potluck style. Assign one person or more, depending on the size of the party, as the BBQ Master, and prepare the food brought in by team members. You can also hire a space offering a BBQ.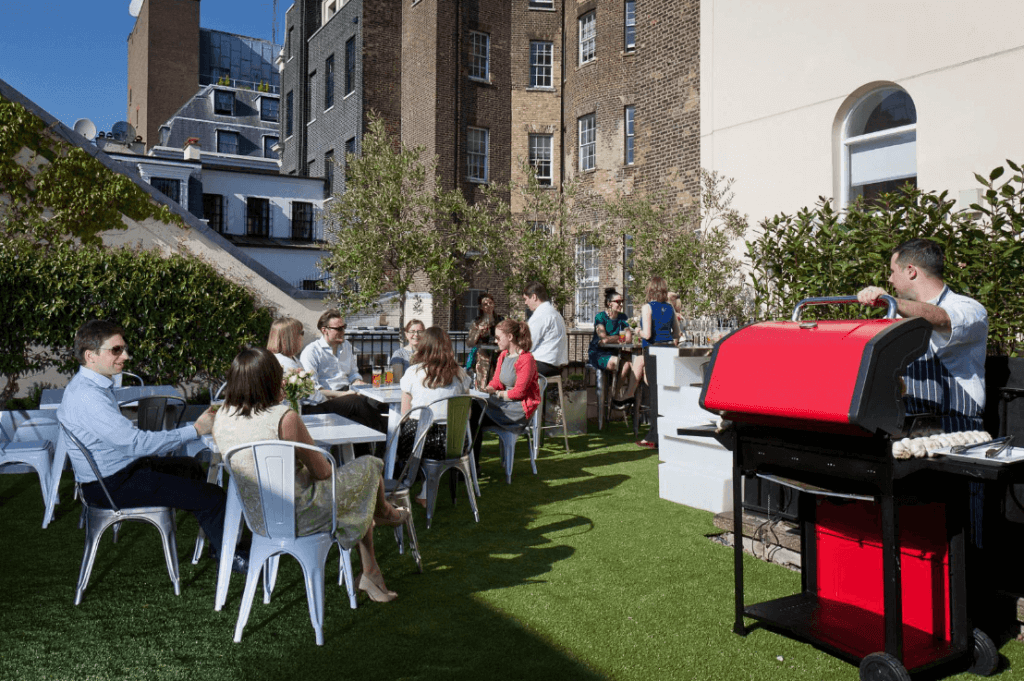 20. Beach Party
Beach parties can be a great way to reward and recognise the hard work and achievements of team members. They provide an opportunity for work colleagues to get to know each other in a relaxed and fun environment.
How to do it: Find a beach to take your team out to. Check with the local authorities whether you need any special permission to use the beach for a company outing. Prepare snacks, drinks, and fun activities like beach volleyball, a sand castle building competition, or a treasure hunt.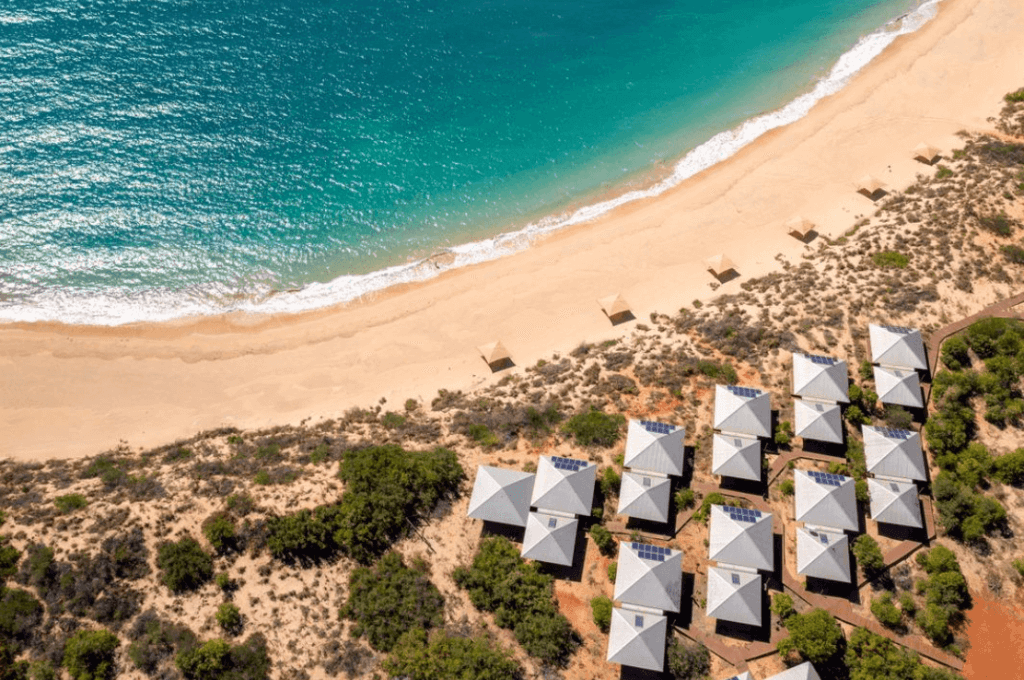 21. Outdoor Concert
Taking your team to an outdoor concert can be a great way to unplug and reduce stress. Team members can interact in a relaxed environment, which can lead to better communication and collaboration.
How to do it: Look for concerts or music festivals organised in your area and buy group tickets. If there are none, consider organising your own event and inviting local musicians.
22. Wine Tasting
Wine tasting is an activity that can be enjoyed all year long if done indoors, but you can make it into an outdoor one if you decide to visit a winery and do the wine tasting on the spot.
How to do it: Find a winery that offers wine tasting. Organise transportation, so the participants don't have to worry about getting there. Make sure team members who don't drink alcohol will also have something to enjoy (chances are the winery also produces grape juices).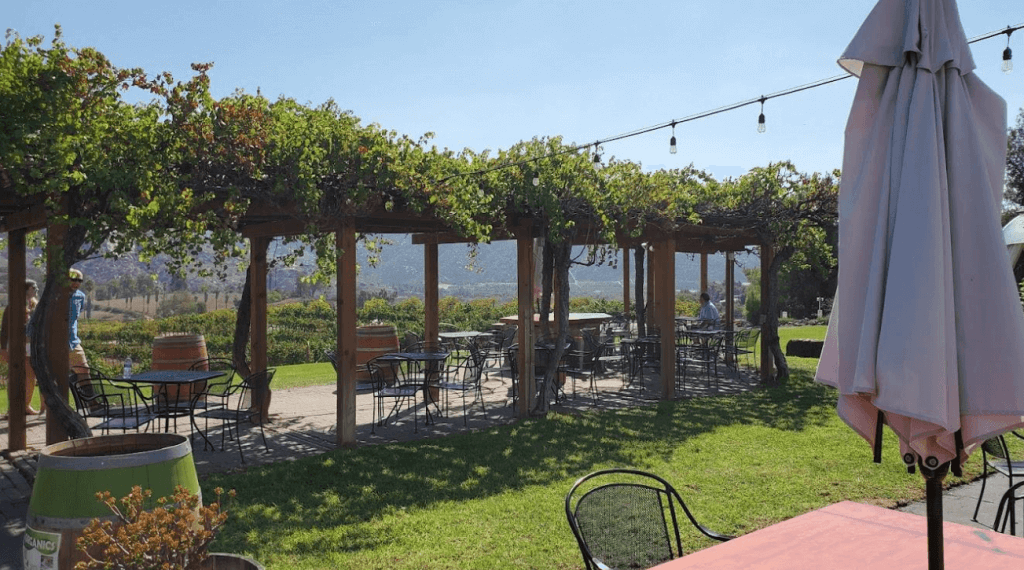 23. Flower Viewing
Hanami, which translates into flower viewing (花 /hana/ – flower, 見 /mi/ – viewing), is a Japanese custom of enjoying the beauty of blooming flowers, usually cherries. Every year, as spring rolls in, you can see groups of people, including company groups, enjoying the cherry blossoms in the parks. It can be a great activity to kick off a season of team outings.
How to do it: First, find a suitable hanami spot. It can be a park or a garden. Look for any arboreta in your area, as they may have blooming calendars and offer spaces for flower viewing. Once you're there, everyone can sit on the ground and enjoy the flowers amidst the cool breeze of spring.
24. Golf
Golfing is a good exercise that encourages strategic and tactical thinking, as well as teamwork. It can be enjoyed by professionals as well as total beginners, making it a perfect team building opportunity that can be enjoyed by anyone on the team.
How to do it: You can take your team to a full-scale golf course, a driving range, or a round of putt-putt.
25. Save the Earth
If you're looking for a meaningful outdoor team building activity, choose an activity focused on saving the earth. Maybe there's a park nearby that needs cleaning up? Or a forgotten plot of land that could use some revamping into a flower garden? By working side-by-side on an environmental project, the team will forge lasting connections while making a genuine difference.
How to do it: Start locally. Ask the city council for tips on where your team could help, or look for the local environmental organisations you could work with. You can also look for ways to get involved via big organisations such as Greenpeace, WWF, or Green Cross.
26. Scavenger Hunt
A classic outdoor adventure for teams, which allows the team members to work on their problem solving skills, communication, and teamwork. It can also spark some healthy competition.
How to do it: Set up riddles for the team members to solve together. You can use apps or prepare printed materials to be handed out to the participants. Set up a prize for the winning team.
27. Camping or Glamping
This activity is ideal for an overnight team outing. It allows team members to spend time together outside the office, building relations in a non-corporate environment.
How to do it: If your team is up for a survival adventure, go for classic camping. You can also opt for a more deluxe experience and hire fully-equipped tents without worrying about sleeping bags, or access to bathrooms.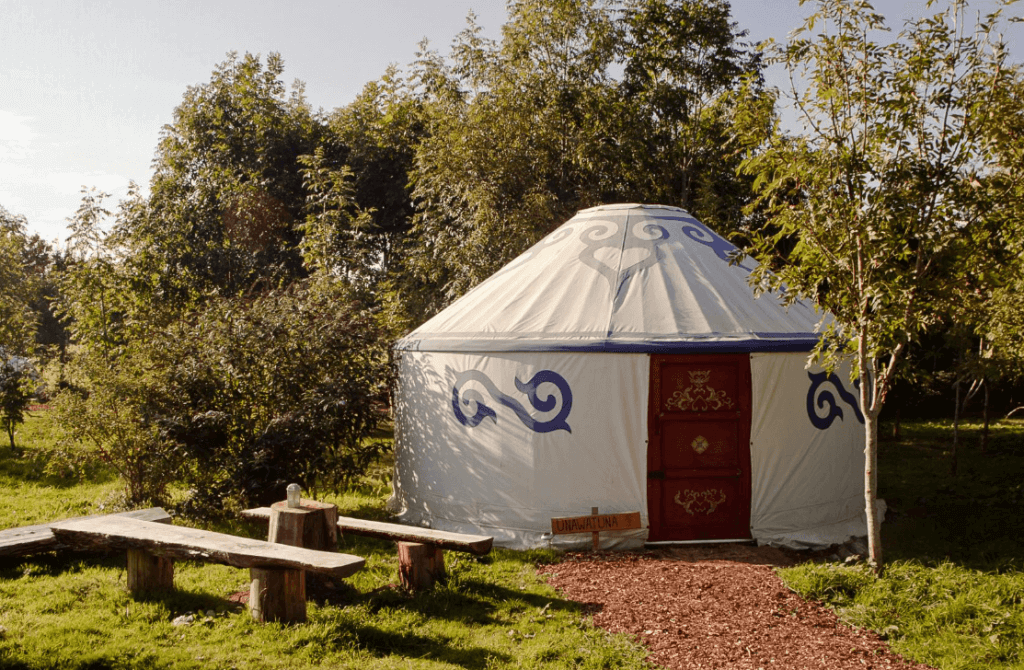 28. Snowman Building
If you live in an area where it snows, you don't have to resign from outdoor team building activities during winter. Organise a snowman-building competition, and let team members compete against each other.
How to do it: Take your team out of the city, so there's enough snow to build proper snowmen. You can set up a theme and have the team customise their snowy friend or let their creativity shine and build their snowmen to their liking. Take photos of the figures and then vote on the best one.
29. Treetop Adventure
This activity is for teams that love an adventure and don't mind getting physically tired. The shared experience of overcoming a physical challenge can create a bond that extends beyond the activity itself and can lead to increased motivation and productivity in the workplace.
How to do it: The safest way to go about this is to find a place that offers specially designed rope tracks and has all the necessary equipment that will ensure everyone stays safe.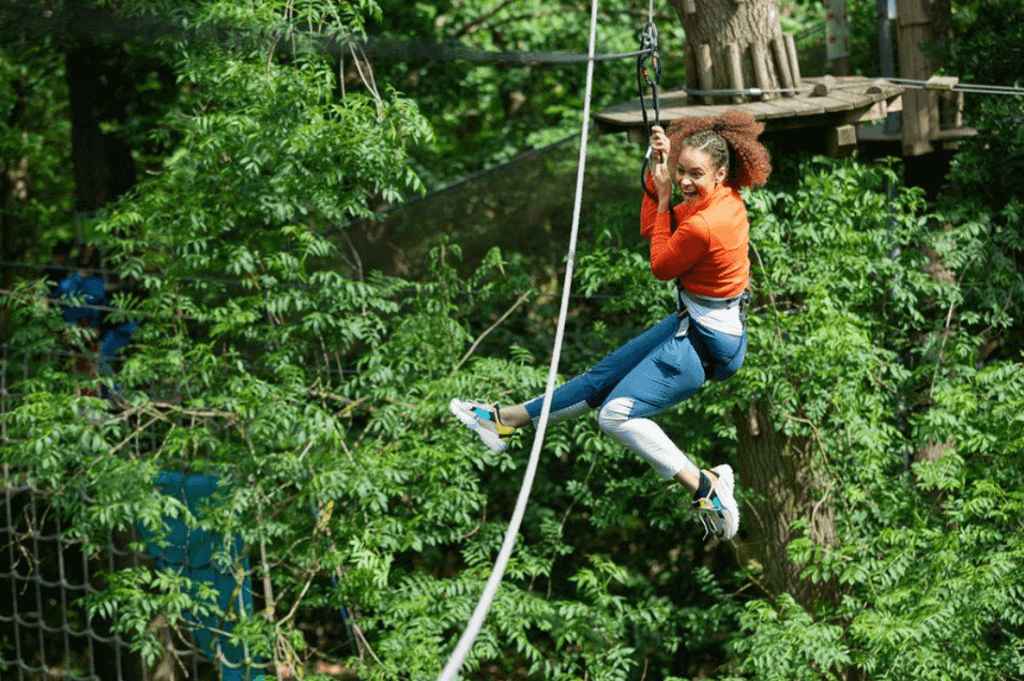 30. Outdoor Movie Night
No wonder a movie date is a popular choice for a first date: it allows you to spend time together, gives something to talk about, and takes away the stress of filling a full schedule for the day. That's why if you're looking for an easy team building activity that will bring your team closer together, you should consider a movie night. To give it a more interesting spin, arrange an outdoor movie screening.
How to do it: Find a venue offering an outdoor space, and either use a wall as a screen or rent out a special screen for outdoor screening. Don't forget the popcorn!
31. Boat Trip
How about jumping aboard for your next team building event? This is a fun activity for any season; however, it's best in the warmer months when you can enjoy the sun, water and cool breezes.
How to do it: Well, you have to find a body of water first. Then, look for businesses offering boat trips and book one for your team.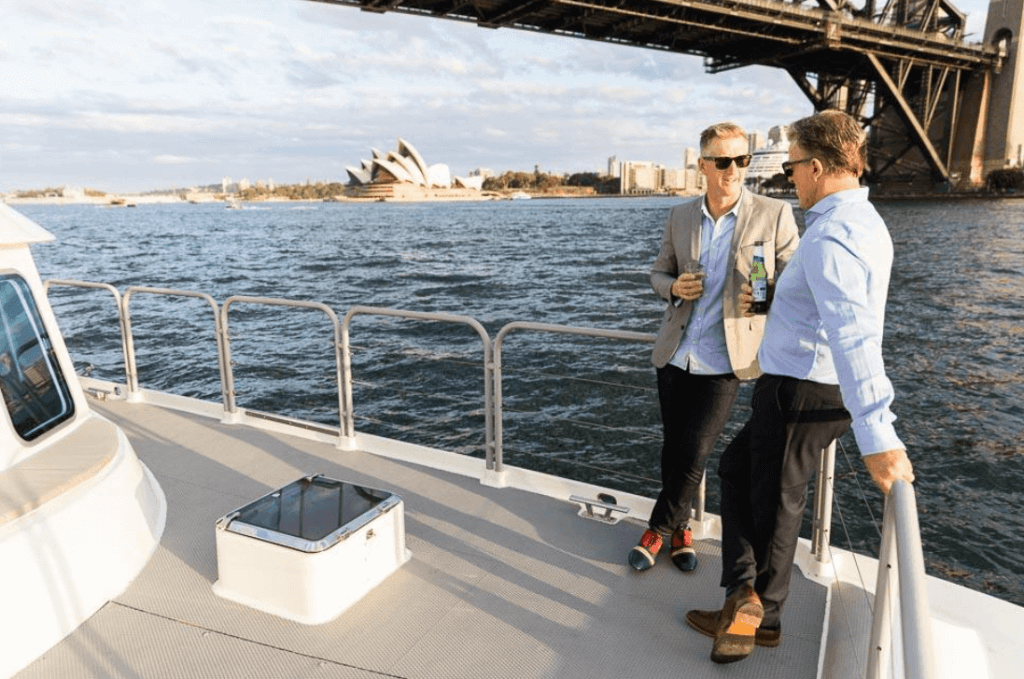 Key Takeaways
There are many different types of team building activities out there, so it may take some time for you to find one that works best for your company. Whichever one you decide on, remember to:
plan an activity that will include all your team members
select an activity that aligns with your company's values
stay within your budget
have fun!
For more helpful info on corporate event planning, check out our tips.
Happy bonding!
FAQ
What are some team building activities for small groups?
There are several team building activities that can be done with small groups. Small groups can enjoy indoor activities such as sharing a meal, attending cooking or creative workshops, participating in VR activities, or playing games such as office trivia. Outdoor activities that can be successfully organised for small groups include organising a picnic, attending an outdoor concert, volunteering, or attending a wine testing session.
How do you host indoor and outdoor team building activities?
The key to successful team building activities is to make sure everyone feels comfortable, included, and engaged. Whether you decide to organise an indoor or outdoor event, there are some points to keep in mind:
→ Define the goals and think about what skills or traits you want to develop among your team members.  
→ Choose the activities that align with the goals you defined. Make sure the activities you choose will be welcomed by the team and won't exclude any team members. Mix up activities that require physical exertion with those that require problem-solving or creativity. 
→ Once you've chosen your activities, plan the logistics of the event. Decide on the date, time, and location of the event. Make sure you have all the necessary equipment and supplies.
→ Communicate the details of the event with the team well in advance. Let them know what to expect and any dress code or specific requirements for the activities.
→ Encourage your team to participate. Don't force anyone to do so, but make sure everyone feels included and valued.
How do I choose the right team building activity?
When choosing a team building activity for your team, think about what you want to accomplish and how the activity will help you get there. Make sure everyone on your team feels that they can be successful at this task, but also make it challenging enough so that it's not too boring to participate. Choose an activity that will be enjoyable and engaging for your team.