Whether it's in our private lives or in the workplace, we strive for social connection. As we spend a lot of time at work, it should come as no surprise that we want to build strong relationships with our coworkers. What is the solution to this? A fun company outing of course!
A small break during a workday can work wonders – trust us. That's why here at Tagvenue we're such big fans of incorporating team-building activities into the company culture! They can be done in the office, either during working hours or once everyone is done with their tasks. But why not switch things up and take your team outside of the workplace?
Team-building activities mixed with a change of scenery can help your team in so many ways! Read on to discover not only why company outings are so beneficial but also which activities are loved the most by teams all over the world.
We hope that you'll feel inspired to organise a fun adventure for your team!
Why are team outings important?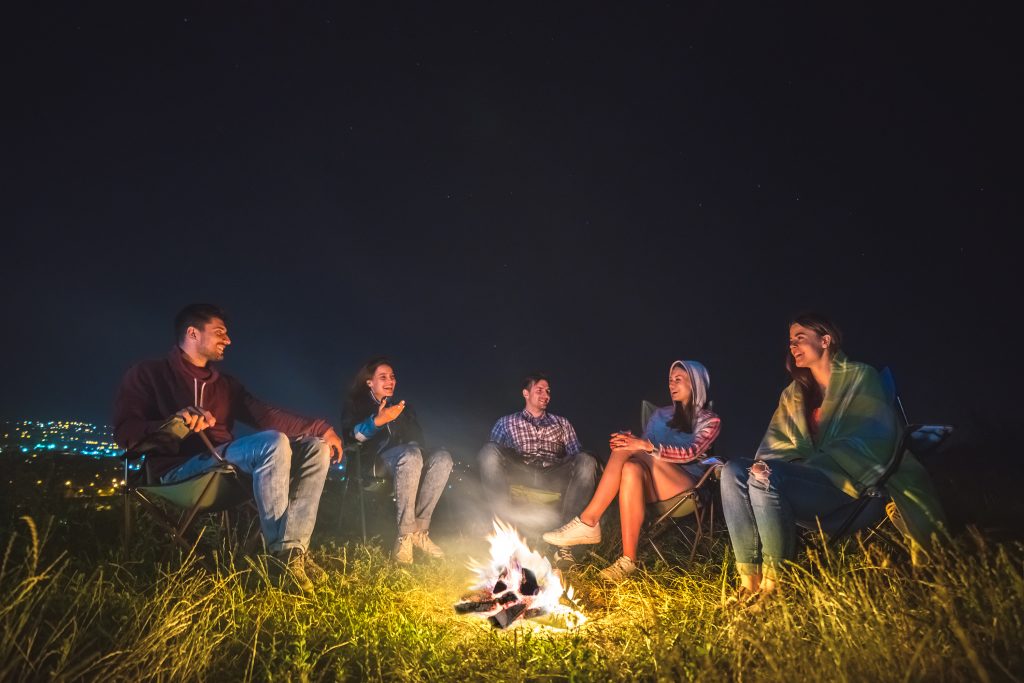 You might think that organising a company outing is "extra" and your team doesn't really need one. Well, think again! On the contrary, a company outing can greatly support team building as your employees have the chance to get to know each other outside of the work environment. So, to put it simply, a company outing strengthens bonds between coworkers and enables friendships.
A change of scenery can inspire new ideas. Your employees (but let's be honest, you as well) will be able to recharge their batteries, hopefully, improving everyone's motivation, and tenure at the company for many more months to come.
And lastly – unusual company outings create memories that last. It's possible that somebody's first go-kart racing or art class will take place during one of the team building activities organised by your company. So remember: creating new opportunities for employees can happen beyond the office walls as well.
Indoor company outing ideas
There are many reasons why managers and HR specialists organise company outing days indoors. It might be the uncertain weather or the lack of fun possibilities outside. But don't be disappointed: indoors doesn't mean less fun! In fact, there are hundreds of great ideas you and your team can enjoy under a roof.
Here are some of Tagvenue's favourite picks!
1. Escape Room
There is likely at least one escape room in your city, so why not take your team there? Escape rooms are usually themed, and the goal is to complete specific actions in order to "escape" the room. Participants must solve puzzles and come up with creative ideas to overcome challenges.
Does it sound like great fun? We think so!
When you decide to challenge your employees in an escape room, we suggest you put them into smaller groups and keep track of the time in which each of them managed to finish their challenge. Those who completed the challenge the quickest can get a small prize!
Why your team will love this: Have you always wanted to try this type of challenge alongside your team? Now you have the perfect chance! Your employees will have to communicate and exchange even the smallest idea in order to succeed. We honestly can't think of a better preparation for working on a new project than an escape room.
2. Laser Tag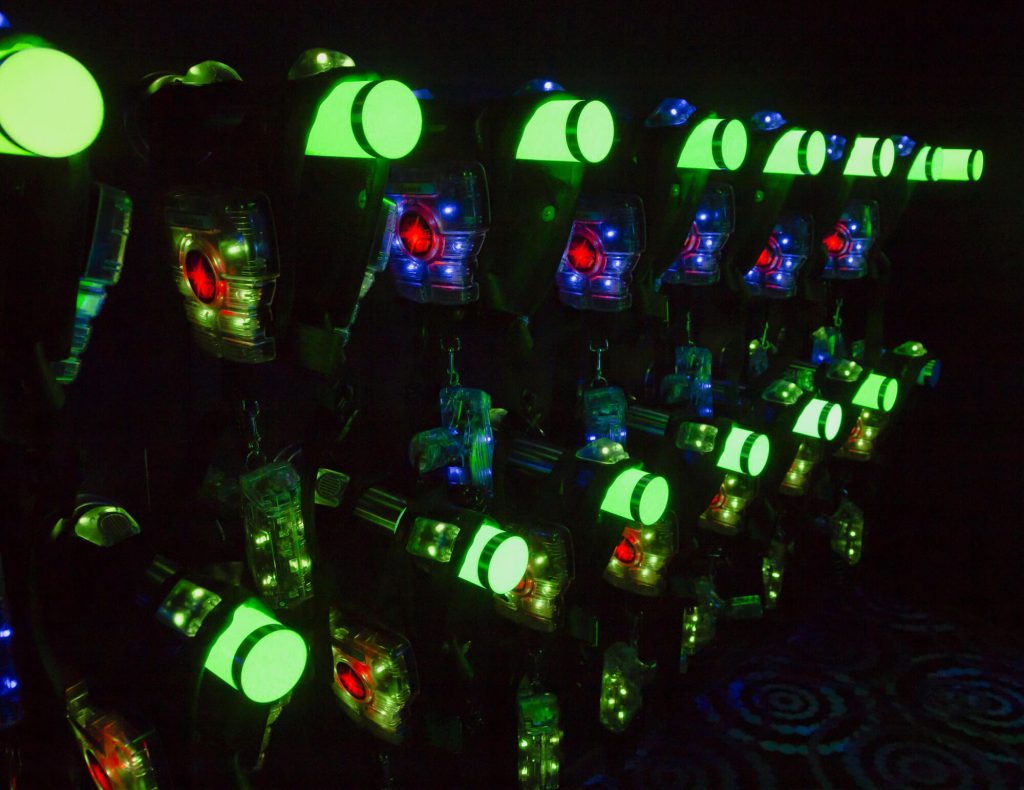 Invite your team to one of the laser tag places in your city and let the fun begin! Usually, the game takes place in a dark room filled with obstacles and black lights. The aim of the game is to shoot people from the opposing team with your laser while trying to survive and avoid being hit yourself.
To spice things up, how about awarding a prize to the winning team or even an individual player at the end of the match? It doesn't have to be something big – just choosing a symbolic prize (let's say, a small trophy) that will motivate people to give their best should be more than enough.
Why your team will love this: Laser tag is a great way to infuse the spirit of friendly competition into your team! It's also a fantastic opportunity for people to try out new things and spend time together in a more active way instead of having another dull dinner meeting.
3. Cooking Masterclass
Do you want to become Gordon Ramsay for a day? Then a cooking masterclass is an excellent opportunity to make your dream come true!
It doesn't matter if your team members are great cooks or their presence in the kitchen ends up in a disaster – thanks to a guided cooking class, nobody will be bored. Every participant will have the chance to polish their skills or gain new ones.
Most of the cooking classes offer to teach you the basics, such as cutting techniques or a pasta recipe, but that's not all! You might also learn how to prepare a full three-course dinner. One thing is certain: you'll have a chance to make yourselves proud and brag about a new dish in front of your family and friends.
Why your team will love this: We've already mentioned gaining new skills, but that's not all. Even if one of the team members isn't the biggest cooking enthusiast, they will have a chance to try the delicacies prepared by others, and learn interesting stories behind the dishes. Plus, let's not forget about learning a lot about coworkers in a new environment!
4. Karaoke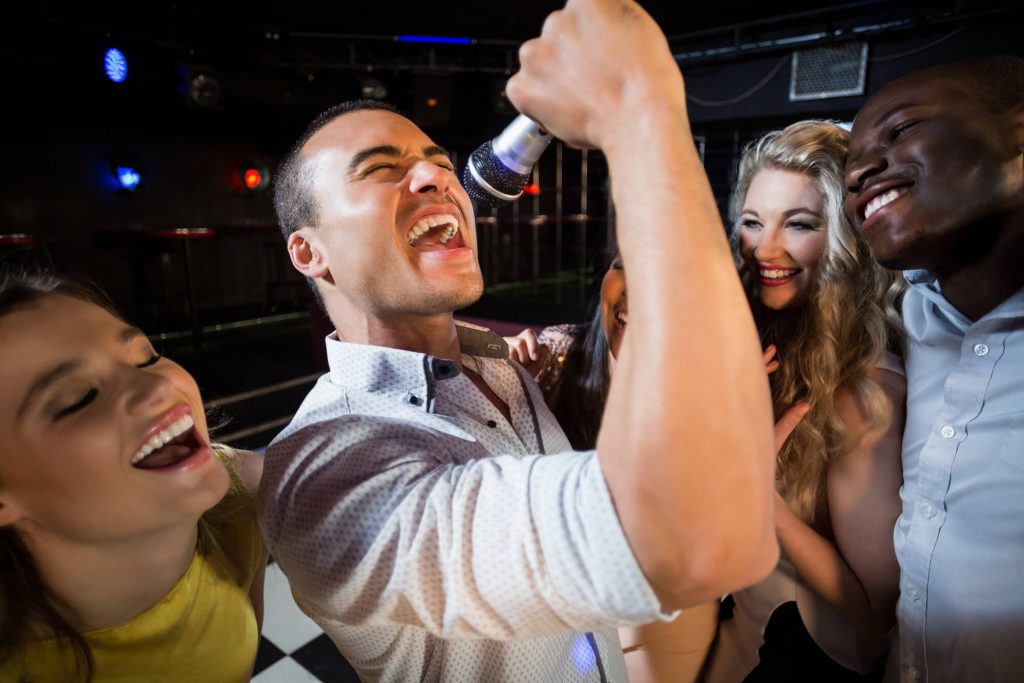 Yes, karaoke is fun but karaoke with coworkers? That's next level! We really can't name a better way for your employees to show their true colours. It's not just their stage behaviour, don't forget that a song choice says a lot about a person as well.
During the night out, you can either form groups and have a contest or go for a low-key evening without any competition. But whatever you choose, ask each team to pick a representative who will sing a song. You can do duets, group performances for those who feel shy, or rock out individually. And to spice things up and fully get into the karaoke vibe, you can also make up categories and include every genre.
For additional entertainment, how about getting into the characters and impersonating the authors of the songs you're performing? Think about it and choose the type of karaoke that you and your employees will enjoy the most. But if you ask us – the funkier, the better!
Why your team will love this: Karaoke encourages confidence, friendly competition, and allows everyone to let their guard down and shrug off their professional work attitudes for a while. And have we already mentioned that great fun is guaranteed?
5. Murder Mystery Dinner
Are you in for a bit of a thrill? And how about your employees? Do you think they'd be up for some role-playing and crime solving? We think a murder mystery dinner could be a great option for you and your team!
Once everyone arrives at the venue, you'll find yourselves meeting some truly extraordinary characters. That's when clues will begin popping, theories will emerge, and motives will come up. And then – the murder!
The whole team will have to work together to find out the truth. You'll have to question suspects, evaluate clues, and put your problem-solving skills to work. Does this sound like a fun challenge?
Feel free to hire a professional company that specialises in murder mystery dinners. This way, you'll have a wide range of storylines to choose from and many options to have a customised mystery developed especially for your team.
But in case you're a secret crime lover and coming up with creepy stories is your favourite free-time activity, why not organise the whole experience on your own? You can browse our platform for top private dining rooms, whether it's in London or New York City!
Why your team will love this: A murder mystery dinner is an unusual way to bond with teammates and test your deductive skills. That already sounds promising but that's not all! What do you and your team say about getting into a role for a few hours and being someone completely different? And to make the whole thing more credible, encourage your employees to arrive in attire matching the theme.
6. Trampoline Park
Instead of swapping your office desk for a table in a restaurant, we have a fun solution for you: why not jump out all of your work-related stress in a trampoline park!
A visit to a trampoline park not only trains your muscles (be ready to be sore the next day from all of the jumps and laughing) but also promotes spending time together in an active way.
So don't hesitate to offer your staff something completely new with this active excursion idea! Participants will have a chance to show off their jumping techniques and in case there are any first-timers, they'll have their peers nearby to help them overcome their fear.
Why your team will love this: Nothing says "pure fun" more than jumping up and down on a trampoline. Trust us: even the most reserved lose their restraint, and before you know it, everyone will be laughing and relieving their pent-up stress.
7. Coffee Tasting
Explore new tastes and educate yourselves about coffee with a workshop!
No matter how big your team is, the variety of coffee workshops allows you to select from among a wide range of experiences. You and your employees will have a chance to choose the coffee that's just right for each of you by discussing and tasting different origins, as well as experimenting with brewing methods and their impact on flavour.
But that's not all! During a coffee workshop, you will learn some basic espresso brewing principles, how to steam milk to achieve your desired effect, and even practice latte art patterns! It sounds like fun, doesn't it?
Why your team will love this: Coffee tasting is a unique way to spend quality time with your colleagues, isn't it? You'll have a chance to bond over your feelings and coffee preferences, as well as learn a lot about this magical beverage.
8. Pub Quiz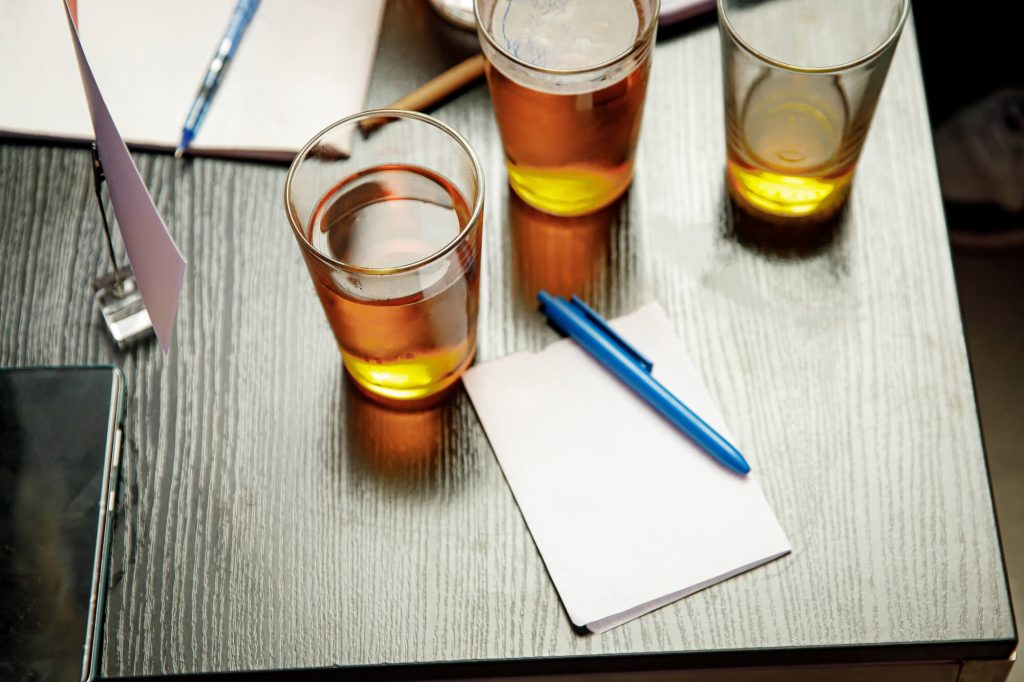 A pub quiz is a great indoor activity, no matter the size of your group. The quizmaster will lead you through at least 5 quiz rounds in a variety of topics, for example, general knowledge, music videos, famous landmarks, etc., and all you'll need to do is provide the correct answers (or at least aim at getting as many points as possible).
You will be divided into teams of 3+ in order to compete against each other. Are you ready to challenge your knowledge and collaboration skills? Yes, collaboration skills! It might happen that you have three different ideas, but you're allowed to write down only one. So how will you narrow the answers down? Well, there's only one way to find out: a pub quiz!
You can also pull off a pub quiz at the office, but it will be much more fun if you hire a venue! Hire a private space in one of London's pubs for a one-of-a-kind bespoke event, then nominate someone to be a quiz master and enjoy an evening filled with fun and laughter. Get ready to test everyone's knowledge!
Why your team will love this: A pub quiz will certainly energise your team! Pub quizzes are a guaranteed event that features lots of fun, motivation, and healthy competition. And don't get upset when you're lacking knowledge about something: not everybody can be an Einstein!
Pub quizzes also build interpersonal relationships. You will be able to exchange ideas and interesting stories behind each quirky thing that one of your teammates happens to know.
9. Art Class
Are you striving for a more creative workplace? If the answer is yes, you can't miss out on inviting your team to an art class!
Whether it's a painting or a sculpture workshop, we're certain your employees will have lots of fun and welcome the chance to develop new skills. And none of the participants has to be experienced – artists at all levels are welcome!
During a workshop, depending on the course you've chosen for your team, you will have a chance to explore the fundamentals of portrait, still life, or landscape painting, to name just a few. You will also be able to learn various techniques that will help make you a better artist.
Why your team will love this: This activity will bring creativity, excitement, and fun to your team. But that's not all! Art classes encourage critical thinking and personal growth. And who doesn't like to learn new things, right?
10. Board Games Championship
For this one, you can either hire an extra space or organise the championship in your office – it's all up to you!
Make up stations that are dedicated to a certain board game. For example, one station could be the Jenga station, the other one Twister, and perhaps the next stop could be Codenames. What do you think?
You can pull out some beloved classics that will make your employees feel nostalgic, or have them vote on which games they want to play the most.
Why your team will love this: This small championship will help to improve your group's dynamics. How so? Various board games help to develop skills like collaboration, delegating tasks, and communication.
11. Table Tennis Tournament
We've got a great suggestion for you! Why not get your whole team together for a small table tennis championship?
All you'll need is table tennis equipment and enough participants. Remember to distribute a copy of the rules to everyone in order to ensure fair play and keep everyone up to date with the proper way of playing.
Playing table tennis is also a perfect way to unwind from the stresses work might bring. And in case someone is feeling stressed, they can let all those negative emotions out during the game. We're certain that everyone's attention will be all on their paddle!
Why your team will love this: For starters, it's something different! Even inexperienced players can have lots of fun or at least laugh a lot. People can cheer each other on, mingle in between their turns, and train their ping pong skills.
Of course, you might need to host your outing in a particular venue whether it's an art gallery for an art class, a meeting room for a board games championship, or a restaurant for a murder mystery dinner. Feel free to browse our platform and explore the spaces in your city that meet all of your needs and requirements.
Outdoor Company Outing Ideas
Your team will have a chance to unwind and relax during all kinds of team building activities, but their good mood will be even more enhanced in an outdoor setting. We've searched high and low (i.e., asked Tagvenue's employees for their company outing preferences) to put together a list of some outdoor ideas that you and your team might enjoy. Have a look and see if there is something you'd like to organise as well!
12. Movie Night Under the Stars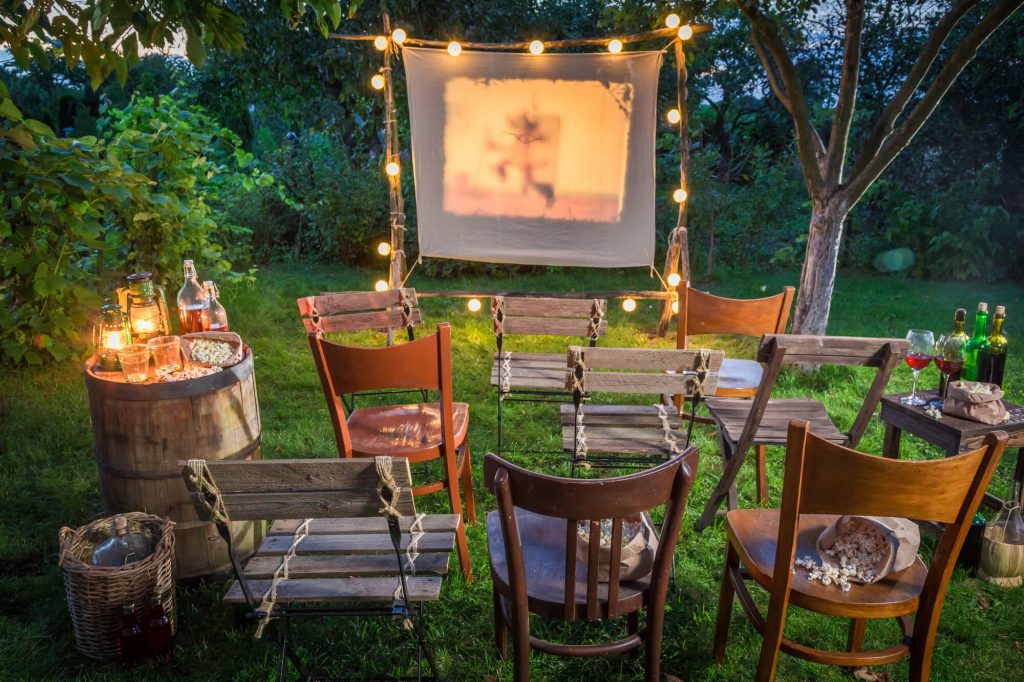 We're certain most of your employees will gladly welcome a relaxing movie night under the stars! How so? Well, a comedy can make people laugh – which is a natural mood booster – while a thought-provoking drama or an inspiring documentary can provoke a discussion afterwards.
Find a place near your office that will fit the whole team comfortably. Once that's sorted out, let's take care of the details. You can either order a fairly inexpensive projector online, or take one of the company projectors, and display the film on the side of a white wall or a DIY screen (e.g., a white sheet).
Team members can lay down on blankets, lawn chairs, or beanbags and watch the film. And, obviously, don't forget about snacks!
Why your team will love this: It might come as a surprise for you, but we're here to break some news to you: outdoor movies are a great way to bring your employees closer together. Really! Work can get stressful, so a team outing that involves watching movies can take a lot of those negative feelings away and let them relax.
13. Scavenger Hunt
No matter how old we get, scavenger hunts never age! And if that weren't enough, they also promote communication and teamwork.
Create a list of items to search for, break your employees up into teams, and see which team can complete their list first. We suggest incorporating photos as they will serve as evidence of tasks being completed and capture all the fun your employees are having as well.
If your to-do list is already overflowing with tasks, you can easily find a professional company that will create a bespoke scavenger hunt in which everyone can participate.
Why your team will love this: Your employees are sure to have great fun! But that's not all – a scavenger hunt can be a vital part of employee engagement. They will have to work together and really get into the game in order to succeed!
14. Go-Kart Racing
Go-karting is much easier than you might think! It's an easy activity to coordinate and you won't have to worry that your team might not fit in the venue since most of the tracks are enormous.
Do we have your attention? Let's dive in deeper! Find a track (either an indoor or outdoor one) and enjoy some racing as a group! It's not only a great opportunity to do something for the first time (which might be the case for many of your employees) but also a distraction from every-day work life.
To build genuine relationships among your team members you need a memorable occasion – something that stands out. And we can't name a better unusual activity than go-kart racing.
Why your team will love this: Introducing some friendly competition is always great for team building, which makes go-kart racing a perfect option for you and your employees. But that's not all! Did you know that this type of an activity can positively affect your mental health? Yup – an hour of go-kart racing can boost not only your heart rate but also your mood for the rest of the day!
15. Hiking
Take your team on an inspirational hike and spend a great time together! Did you know that there are companies specialising in hikes? Well, now you do!
These companies offer adventures filled with problem solving, decision making, and discussions which will bring you together as a team, and in turn help you all achieve your objectives, and improve communication and understanding. If that weren't enough, there is one more perk: you'll experience all of the above whilst being surrounded by a beautiful landscape.
Have we managed to convince you? Do some research, choose the place you like the most, and head to the hills for your next team building event!
Why your team will love this: Physical activities outdoors are thought-provoking; they encourage talks, and help inspire creative ideas. Your employees will have a chance to escape from the stresses of everyday life and office distractions during a pleasant hike in nature.
16. Farm Tour
Let's think about a scenario: most of your employees are townees and don't have many opportunities to go outside of the city to experience rural life. So why not give them a chance?
Organise a fun day for your employees at a farm near your office and take them on a tour filled with learning about animals, gear, and plants. At the end of an exciting day, have a bbq or bonfire so no one returns home hungry. What's more, such an ending could be a great opportunity for coworkers to mingle and learn a lot about each other.
Why your team will love this: Spending a day away from the hustle and bustle of the big city – isn't that something that all of us dream about from time to time? We assume your employees are no exception. They'll have a chance to relax in nature, learn new things about countryside, and perhaps taste some homemade goodies.
17. Beach Getaway
Did you read that and notice the first thing that came to your head was: "We don't have the budget for that"? Well, we've got an easy solution for you! A beach getaway doesn't have to equal a trip to Bali or the Maldives. It can be a small yet beautiful beach near your city!
Grab a bunch of blankets, organise transport to and from the beach, have everyone bring their favourite snacks, and you're all set for a fantastic day in nature!
We also suggest taking a ball or badminton set with you to move a bit and challenge yourselves. You can play a game of charades or simply talk with one another – the choice is all yours. No matter what you end up doing, we're certain you'll love this quality time with your teammates.
If you're located in Sydney, Los Angeles, or Melbourne, to name just a few, it'd be a sin not to organise a party on the beach. So browse our platform and the selection of fantastic outdoor venues in each of the cities we've just mentioned.
Why your team will love this: As we've already established – a change of scenery can work wonders. And taking your team to the beach is no different! We're certain your employees will appreciate fresh air, some water, and a bunch of exciting activities.
18. Kayaking
Take your team outside the city and engage in a fun yet exhausting endeavour – kayaking! It might be the first time for some of the participants, which might make for an even more thrilling experience.
All of the fun and laughter begin as soon as you sit down in the kayak, so you can be sure there'll be lots of lasting memories and strong connections created between coworkers.
We suggest you use tandem kayaks as, thanks to this type of gear, the activity will require teamwork on many levels. Natural challenges (as well as not-so-natural challenges for the brave ones who are up to the task) are part of the fun as well.
It comes as no surprise that sharing a new experience, or working together to solve a problem, helps to foster and build relationships.
Why your team will love this: The feeling of being trapped at the desk all day can be stifling and boring. Outdoor team-building activities, for example, kayaking, are a breath of fresh air. Your employees will also have a chance to challenge themselves and work on their collaborative skills – let's see how they'll handle parallel rowing.
19. Beach Volleyball
Are your employees big sports enthusiasts? If the answer is yes, then why not give them a chance to test their volleyball skills?
Beach volleyball is a beloved sport for both young and old. It's a great way to move, spend time with your team members, and work on both collaborative and volleyball skills.
And in case most of the participants are inexperienced, you don't have to play a serious game. You can either play in a circle as a form of warm-up or train those killer volley moves on the pitch (but without counting the points).
Why your team will love this: Who doesn't love some healthy competition?! Show off your serves, mingle with colleagues through the net, and strengthen your bonds through collaboration on the pitch.
20. Water Balloon Toss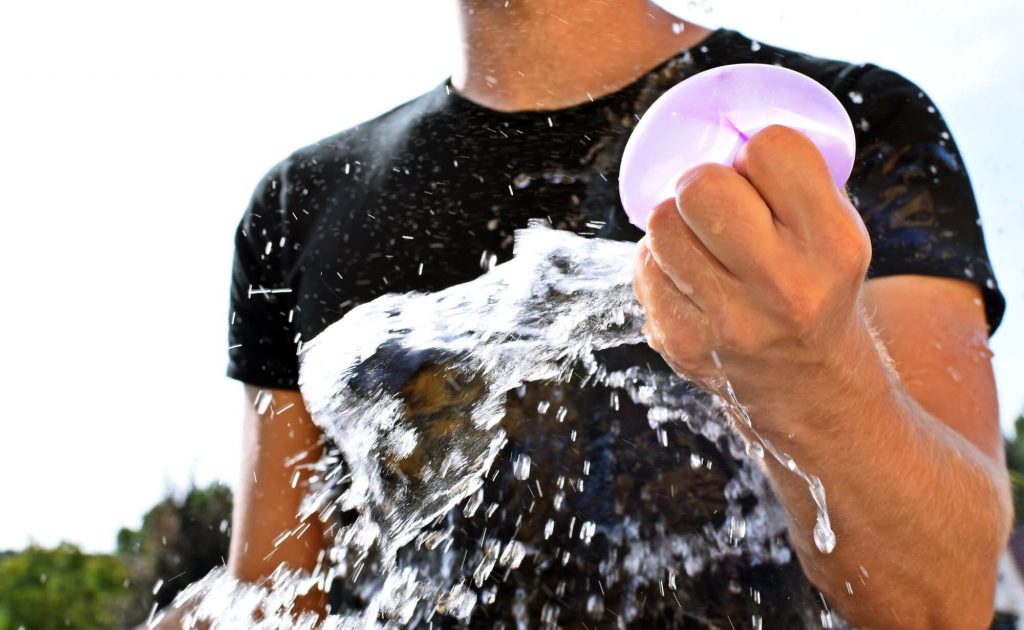 Nothing revolutionary here as water balloon toss is a summertime classic for many. Whether you're new to this activity or not, it is a fun team-building game, without a doubt!
How does it work? Water balloon toss is typically played in teams of two with teammates tossing a single water balloon to each other. Each time a toss is completed successfully, the receiver must take a step back before making the next toss.
The game ends once the pattern breaks – that's when the water balloon breaks, either by hitting the receiver's hands or the ground.
Uncomplicated and lots of fun, right?!
Why your team will love this: Again, this activity is a great opportunity to have some healthy competition between your employees! They'll have to work on their tosses and catches in order to avoid a water balloon breaking. But that's not all – we're certain playing a game of water balloon toss will be a walk down memory lane for many.
21. Tug-of-War
What do you say about hosting an exciting game on a summer day? If you're in, we couldn't recommend tug-of-war more! It's a beloved classic that promotes teamwork and friendly competition.
The most simple form of tug-of-war involves a single rope with a team pulling on each side. The first team to get the middle of the rope over its line wins the game.
However, there are more options than the one with a linear rope. Another good idea is to tie a series of ropes together and have teams pull from 4 or 6 sides. We're already shaking with excitement and looking forward to the next Tagvenue team building event!
Why your team will love this: If you're looking to bring some fun to the office in a productive way, tug-of-war is the game to play! People will have to work together in order to win the challenge – and is there a more important skill that one might have than the ability to work in a team? We don't think so!
Summary
It is so important for any organisation to keep its team working well together. And company outings can truly help with that! They are an enjoyable and easy way for coworkers to get to know each other in a different environment and build strong relationships.
According to a Gallup article, having a best friend at work improves our well-being and performance. What's more, what differentiates the highest-performing teams from others is how colleagues feel about each other and how well they know one another.
Obviously, there will never be a company where 100% of the employees are each other's best friends. No! But even a significant percentage of strong relationships in the workplace is a massive success!
Have we managed to convince you? Are you ready to start planning your next company outing? We hope so! Use one of the fantastic ideas from this blog post and let your creativity run wild! We're certain that not only will your employees build stronger bonds, your company will reap the benefits of the event long after it's over!
If you are curious about other aspects of team building why not check out our other exciting blog posts? You can explore more team building activities to improve your team's morale or get familiar with some creative ideas for offsite meetings.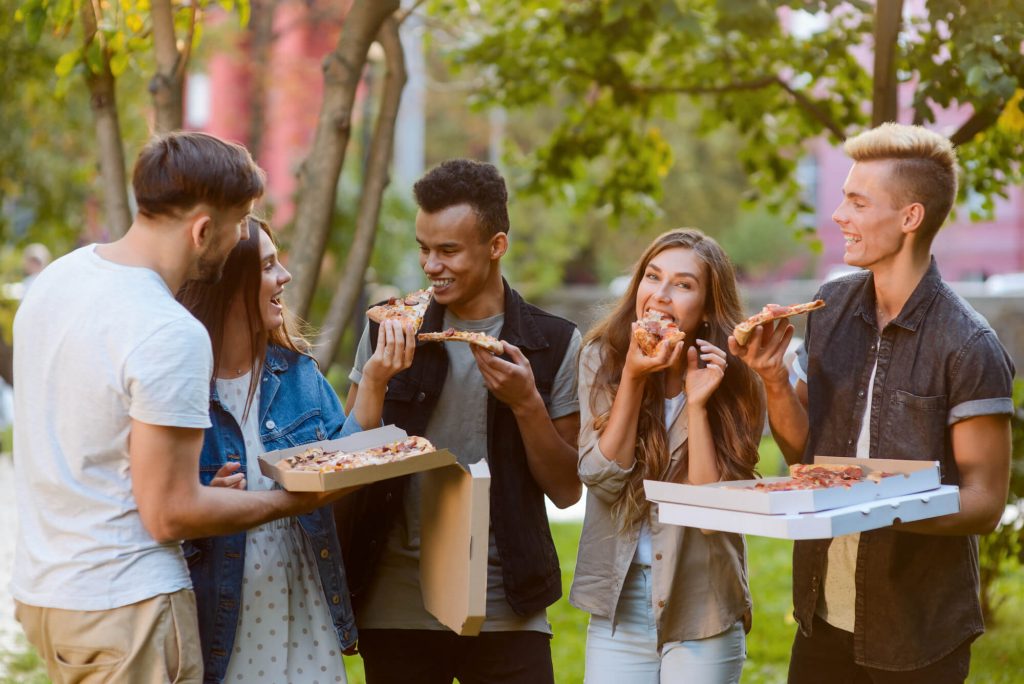 FAQ
What is a company outing?
A company outing is a chance for employees and employers to get together and relax after working hours. Company outings improve motivation, team performance and the relationships between coworkers. It doesn't have to be a lavish event – a simple outing with good food and games can also work wonders.
How can I bond with my coworkers?
The possibilities are endless! You can start by having short chats over coffee or go for icebreaker games at the beginning of each meeting. But we strongly recommend dedicating a few hours a quarter for team building activities and company outings. Studies show that they are beneficial for employees and the whole business.
What are some good team bonding activities?
There is no one simple answer to this question. Every team is different so each will likely enjoy diverse activities. If your employees prefer indoor activities, take them to an escape room, organise a cooking class, or invite them for a delicious dinner. In case they love spending time outside, the best team bonding activities include kayaking, volleyball matches, or various games played outside.
Where can I go for my company outing?
You can either choose somewhere indoors or outdoors – it all depends on everyone's preferences. If you'd rather stay under a roof, consider laser tag, a trampoline park, or a restaurant for a company dinner. But if the weather is nice and you're all craving fresh air, how about going for a hike or heading to the nearby river for some kayaking? No matter what you'll end up doing, you can hire a venue for your company outing with Tagvenue!