Finding the right venue for a party isn't just a matter of luck – it's about knowing the market, and what you want. Let us help get you started by covering the most common question: How much does it really cost to hire a venue for a party?
What is the average cost of a party venue in the UK?

According to Tagvenue platform data, the average cost of hiring a party venue in the UK is between £500-630 per session. The price of the venue will depend on the size of your guest list, the venue type, location, the duration of the party, and food and drink options.
Why should you rent a venue for a party?
Hosting a party can involve an immense amount of organisation, especially for larger crowds, and issues such as catering and clean-up make outsourcing the event the only logical choice. Companies often host parties outside the office for events such as Christmas parties or product launches. Generally, there are several basic logistical issues that make venue hire for parties a great choice because it's:
Offers a larger space for a bigger guest list
Already equipped with suitable furnishings, A/V equipment, a variety of different room sizes, and a great atmosphere
An easy out-of-the-box solution that makes even last-minute planning a breeze.
Perhaps most importantly, with a venue sourced and booked, you are able to rest easy knowing that setup, service and clean-up will be handled by professionals. So you can sit back and enjoy the event yourself as well.
How do you pay for a party venue hire?

Minimum Spend
The most common way a venue will charge for the use of its space for a party is the minimum spend. In fact, it makes up more than 50% of our party bookings in the UK.
What does minimum spend mean?
Minimum spend means that you and your guests will have to just spend a minimum amount on drinks and/or food during your event. In exchange, they will offer a reserved room or space for your event for free (venue won't charge a venue hire fee).
This option can definitely lower your overhead costs. For example, if you have a minimum spend of £1000 and you have invited 50 guests, then your guests simply need to spend £20 each. Just be sure your guests are aware of this, as you want to encourage them to spend enough.
Hire Fee
The second most popular pricing type for hiring party venues is the hire fee. 39.27% of party venues in the UK charged their clients this way in 2019. When you pay a venue hire fee, unless previously agreed, you will be paying solely for the use of the space. Extras such as drinks or food are generally not included but don't be afraid to ask the venue manager for discounts or complimentary offers.
The venue hire fee can be charged per hour, day, afternoon, or evening. This cost must be settled prior to the event.
Package Per Person
A per person package is another payment option for venue hire and is standard for wedding parties and corporate parties. Package per person entails paying an agreed-upon rate per attending guest and includes the use of the space, food, drinks and sometimes even entertainment.
What kind of venue can I hire for a party?
You can choose from many types of venues for your party, including restaurants, halls, hotels, theatres, cafes, bars and pubs. Your choice does not have to depend solely on price, there are other factors to consider such as size, location, accessibility to public transport and atmosphere, among many others. The choice is yours.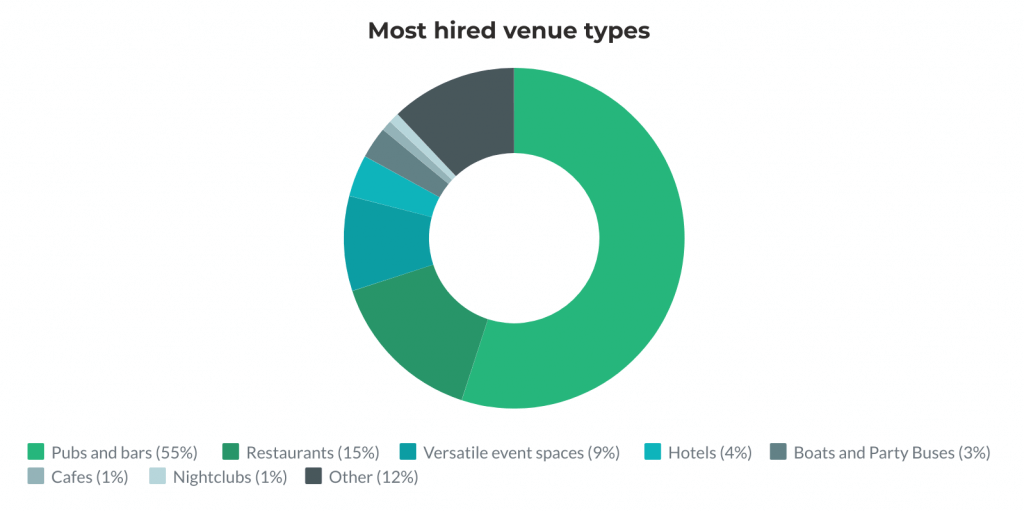 Pubs and Bars
This is the most popular venue for parties according to Tagvenue's annual data: 55% of bookings for parties take place in either a pub or a bar. These are highly adaptable venues, with standing room or sit-down options in function rooms. A pub with the option of games, such as ping pong or pool is also a great ice breaker for large groups that may not feel so comfortable with each other, such as a company event.
Restaurants
A restaurant is a good choice for a party if you are looking for a more elaborate dining experience. In fact, 15% of the parties booked in 2019 on Tagvenue were for restaurant venues. Just make sure that if you are ordering a sit-down meal for a large group, that you pre-order your meal – and that there is a master list of everyone's requests. This will save strain on the kitchen and help prevent mistakes.
Versatile Event Spaces
Versatile event spaces generally attract approximately 9% of bookings. This flexible type of venue is suitable for many types of parties as you can decorate them and make a set-up of your choice. Whether you want to host 10, 20 or 50 guests, this is the type of space that can hold them all. They offer flexibility in space and arrangement that will make organising a breeze.
Hotels
Hotels are great for a party as they can offer a variety of function rooms that will be suitable for a wide variety of groups and party types (4% of parties booked in 2019). A hotel has the benefit of a kitchen highly experienced in catering as well as a professional staff ready to assist you with your party organising, whether it is AV equipment or furnishings. If any of your out-of-town guests need to spend the night, the hotel also offers the option of easy accommodation.
Boats and Party Buses
Boats and party buses are popular (3%) with those who want to take their party to the street (or the water). These offer a great experience with the added value of an exciting and unusual environment.
Cafes
Cafes attract smaller more informal parties (1% of the total in 2019). Although alcohol may not be an option at this type of venue, for an afternoon tea party or other more relaxed events this venue could be a great fit.
Nightclubs
Nightclubs, while not as popular as a party venue choice (1%), offer a great experience with a DJ and a dance floor. This is a great venue type for an active crowd that wants to dance the night away. With a bar and, quite often, an in-house kitchen, nightclubs can offer a fully catered experience.
Which factors determine party venue costs?
While the average cost of venue hire in the UK seems to hover around£500-630, in reality, prices can rise far above that. In some cases, however, venue costs need not be very high at all. This variety of costs and pricing models is something that you will need to factor into your party planning early on. Venue hire costs can vary due to a range of factors:
Location – Is your venue of choice centrally located? Near a landmark. Outside the city centre? Certain types of locations can affect your costs. For lower prices, check other outlying districts.
Number of guests – They say 'the more the merrier' but also, the higher the cost. If you are paying per guest your costs will increase,
Day of the week – Friday evening, and Saturday bookings are in higher demand and thus more expensive. If you can book earlier in the week, you can see significant cost savings.
Season – Holiday seasons and around certain dates, prices will increase, and availability decrease.
Additional services – Will you need to cover the costs of extra staff for your event? Are there surcharges for set up or clean up? There are plenty of ways you might find yourself facing extra charges. Check the fine print of your agreement and make sure to understand any fees.
Venue type – Historic venue? Luxury restaurant? Venue type can affect your costs as well. Take a look at a range of venues when deciding on your event.
How far ahead of the event do I need to book a venue for a party?

According to Tagvenue's data, most people start searching and contacting venues approximately 64 days before the party event. This will give you enough time to check out the wide range of venues on offer and will provide you with time to narrow down your choices. It can also take a week or so of hunting before you find just the right place – and one with just the right sort of availability on the date you want!
How do I rent a venue for a party?
You can rent a venue for a party by first setting down the specifications that you need to bear in mind for your event. How many people will be attending? What sort of atmosphere should the party have? What day of the week should it be on? These sorts of details will vary widely for each person and each event. However, at the very least you should be able to choose the type of venue, and the size you will need. With these, you are well on your way in your hunt.
Once you have settled on a few choices, contact the venue manager and discuss your booking, your ideas and any proposed catering or drink needs. Make sure you read everything thoroughly before signing and know all of the applicable terms and conditions. Don't be afraid to negotiate, and keep your options open until you are ready to make a final choice.
All data cited in this report is based on statistical data from the Tagvenue.com platform.