As the warm summer breeze begins to fade and the first autumn leaves make their appearance, a sense of excitement spreads through the air. Yes, my dear reader, it's that marvellous time of the year when we don our traditional lederhosen and dirndls, clink together our beer steins, and joyously shout Prost! at the top of our lungs. Welcome to Oktoberfest season!
While Munich might be the traditional heart of this legendary festival, who's to say you can't create your very own Bavarian wonderland? In this post, we're bringing you the most creative and festive Oktoberfest party ideas, guaranteeing an unforgettable celebration for you and your friends!
🍻 First Things First – What's Oktoberfest?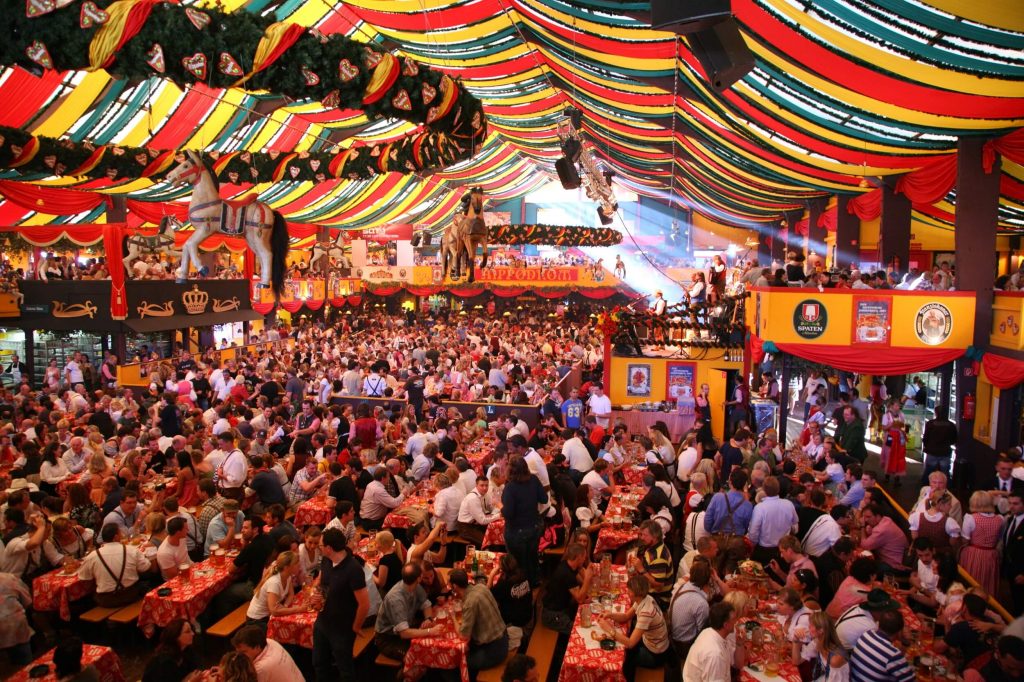 Oktoberfest is a world-famous German festival that originally started in Munich in 1810 as a royal wedding celebration. The festivities were such a hit with the locals that they decided to continue the celebration annually. With time, this local tradition evolved into a globally recognised event known for its spirited music, elaborate traditional costumes, mouthwatering food, and, of course, a wide variety of excellent beers.
So, why should you celebrate Oktoberfest? Because it's pure fun! Oktoberfest offers an opportunity to experience a slice of German tradition and a sense of camaraderie. It's an event that blends together all the good things like excellent food, music, and company. Hosting an Oktoberfest-themed party will give you a chance to transport your guests to the heart of Bavaria, create unforgettable memories and learn something new about a different culture.
🍻 Fun Oktoberfest Party Ideas
Now that you know what this festival is really about, let's crack open a whole keg of fun ideas for the Oktoberfest party that will help you embrace its spirit. The ones that we included in this section will surely take your celebration from good to utterly unforgettable.
And don't worry if you're new to the Oktoberfest scene! These events are super easy to put together and promise a barrel-load of laughs and memorable moments!
1. Have an Oktoberfest Photo Booth
A photo booth will become the heart of any Oktoberfest party – it will create an oasis of smiles, laughter, and memorable snapshots where your guests can take centre stage. They'll strike a pose, laugh, and create vibrant pictures that capture the essence of your Oktoberfest party.
Arrange a corner filled with traditional props, from beer steins to pretzel cut-outs, and of course, the iconic feathered Alpine hats. You can also use blue and white backdrops to pay tribute to the Bavarian flag.
2. Host a Beer Stein Holding Contest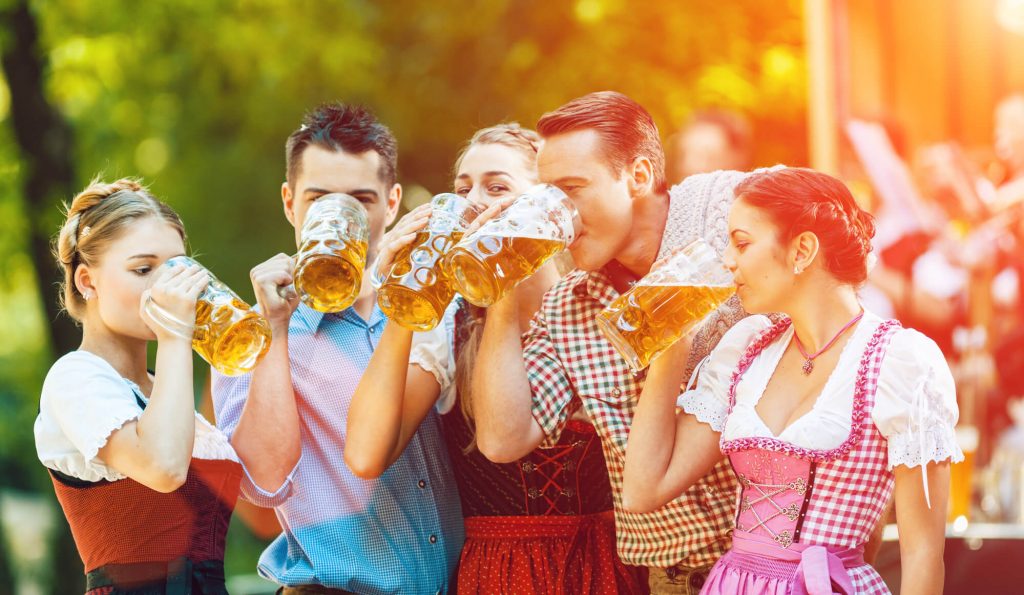 Ramp up the Oktoberfest excitement with a classic Bavarian competition – the beer stein-holding contest! This playful (and easy to pull off!) challenge, known as Masskrugstemmen, is a true test of strength and endurance.
Your guests will have to hold a full one-litre beer stein at arm's length for as long as possible. Sounds easy, right? But wait until you feel the weight of a filled stein! It will be an amusing spectacle that gets everyone cheering and, of course, it makes for some fantastic photo opportunities.
3. Play the Pretzel Toss Game
For a twist of fun and laughter, introduce this game to your Oktoberfest party. It's a simple and entertaining activity that everyone will enjoy.
The game involves tossing small pretzel-shaped rings onto the pegs of a game board. To take it up a notch, you can challenge everyone to throw an actual pretzel so that it lands on a beer bottle.
Whatever game option you choose, you'll evoke the happy spirit of a true Bavarian fair!
4. Have an Oktoberfest Trivia
Perhaps you can put your crowd's knowledge to the test? An Oktoberfest trivia session can be the perfect way to infuse your party with some playful learning!
Create a set of questions based on Oktoberfest history, German culture, beer facts, and maybe even some Bavarian geography. You can even split your guests into teams to promote bonding and teamwork and offer small prizes for the winning team to add an extra layer of excitement.
By having this Oktoberfest-oriented trivia, your party won't just be about celebrating but also understanding and appreciating its rich traditions.
5. Play Beer Pong – Oktoberfest Style
One can never go wrong with a good old game of beer pong. But let's kick it up a notch, shall we?
Instead of the usual cups, use miniature beer steins or beer mugs. And, of course, you can't forget the beverage of choice – a classic Oktoberfest beer like Märzen, Augustiner, or Spaten!
This classic party game with an Oktoberfest twist promises an exciting time. Moreover, it's an excellent icebreaker that gets everyone involved and adds irresistible energy to the party.
6. Organise a Pretzel Eating Contest
Want to make your Oktoberfest party the talk of the town? Crank up the party with a pretzel-eating contest! This game will make your guests go head-to-head in a race to consume a set number of pretzels in record time. Just make sure to keep ample water nearby to help handle the salty crunch of victory! And don't forget to keep an extra stash of pretzels ready for the enthusiastic spectators.
Trust us, this game is a guaranteed hit that will get everyone buzzing, whether they're munching down pretzels or cheering on their chosen champion.
7. Teach Your Guests Yodeling
Oktoberfest is the perfect time to dive into the whimsical world of yodelling! While it's traditionally associated with the Swiss Alps, yodelling has its place in German folk music, too! And it brings a light-hearted, cheerful spirit that fits right into an Oktoberfest celebration.
You don't need to be a professional yodeler to get everyone involved – it's all about having fun! Play some popular yodelling tunes, hand out lyric sheets, and encourage everyone to give it their best shot. Watching your dearest try their hand (or rather, their voice) at yodelling will undoubtedly lead to fits of laughter and a good time. Who knows, maybe you will uncover a hidden yodelling talent among your guests?
8. Play Oktoberfest Bingo
Add a sprinkle of suspense and a dash of competition to your party with Oktoberfest bingo! This isn't your typical bingo game, though – instead of numbers, fill your bingo cards with Oktoberfest-related images or phrases. Think pretzels, lederhosen, beer steins, Bavarian flags, and even some German words.
As each item is drawn and announced, the anticipation builds up, followed by the exhilarating moment when someone finally gets to shout Bingo! And, of course, you can't forget about a small prize for the winner, like a six-pack of German beer or a homemade pretzel necklace!
9. Make Your Own Beer Cosy
Beer cosies, also known as beer koozies, are fantastic for keeping your beer cold and your hands warm. But more than that, they can be a canvas for creativity and fun. If you and your guests love everything DIY, you can set up a station with various decorating supplies, such as glue, stickers, markers, and of course, blank beer cosies.
Encourage your guests to let their imaginations run wild as they create their own personalised beer cosy to use throughout the party. This activity isn't just fun, it also provides your guests with a unique, hand-crafted memento they can take home.
10. Create Your Own Bavarian Flag
hat's an Oktoberfest party without some hearty Bavarian representation? Adding this activity will not only add a festive vibe but also bring a creative and interactive element to your event.
The Bavarian flag is a symbol of pride and tradition, making it the perfect craft for your Oktoberfest party. So why not set up a DIY station stocked with blue and white craft materials? Your guests can create their own unique Bavarian flags, allowing their creativity to shine!
11. Play the Beer Label Guessing Game
Beer is undoubtedly the star of Oktoberfest. But how well do your guests know their brews? Find out by testing their knowledge with this fun beer-label guessing game!
Before the party, collect a variety of beer bottles and cover their labels. Number each bottle and prepare a corresponding answer sheet for your own reference. Then, your guests must try each beer and guess the brand or type based on the taste.
For non-drinkers or younger guests, you can adapt this game using root beer or other non-alcoholic beverages. This game is a fun way to engage your guests, spark conversation, and maybe even introduce them to a new favourite beer!
12. Have a Sauerkraut Tasting
No Oktoberfest party would be complete without one of Germany's most iconic foods – Sauerkraut. So how about making this dish the star of your party? Give your guests a chance to explore how unique and delicious the different versions of this unique dish can be.
Provide little tasting spoons and ask your guests to rate each variety for taste, texture, and overall enjoyment. You might be surprised at the range of opinions and the fun that can come with trying new things!
13. Craft a Tirolerhüte – A Traditional German Hat
At your epic party, you can also pay homage to German tradition by crafting a Tirolerhüte – the traditional German Alpine hat!
Set a crafting station with anything from green felt, scissors and glue to feathers, beads and faux flowers, and watch how your guests fashion their own German headgear.
Later, ask your guests to don their self-crafted Tirolerhüte, and don't forget to take a picture!
14. Dance Polka
When it comes to Oktoberfest, it's not all about beer and pretzels. It's also about energetic and lively dances, like Polka! This fast-paced, fun dance originated in Bohemia but has become a staple at Oktoberfest celebrations worldwide.
Whether your guests are experienced dancers or have two left feet, trying Polka dancing will inject a dose of high-spirited fun into your party.
Play some traditional Polka music and lead the way by demonstrating the basic steps. Even if some guests prefer to watch from the sidelines, they'll still enjoy the lively atmosphere and the spectacle of their friends trying out this traditional dance.
We guarantee that by the end of the night, your Oktoberfest celebration will be filled with a new-found love for Polka dancing.
15. Have an Oktoberfest Karaoke
Karaoke is a fantastic way to get everyone involved in the fun, especially when you add a German twist to it. So create a playlist of famous Oktoberfest tunes, German pop songs, and traditional folk music, and sing your heart out!
16. Prepare Oktoberfest Party Decorations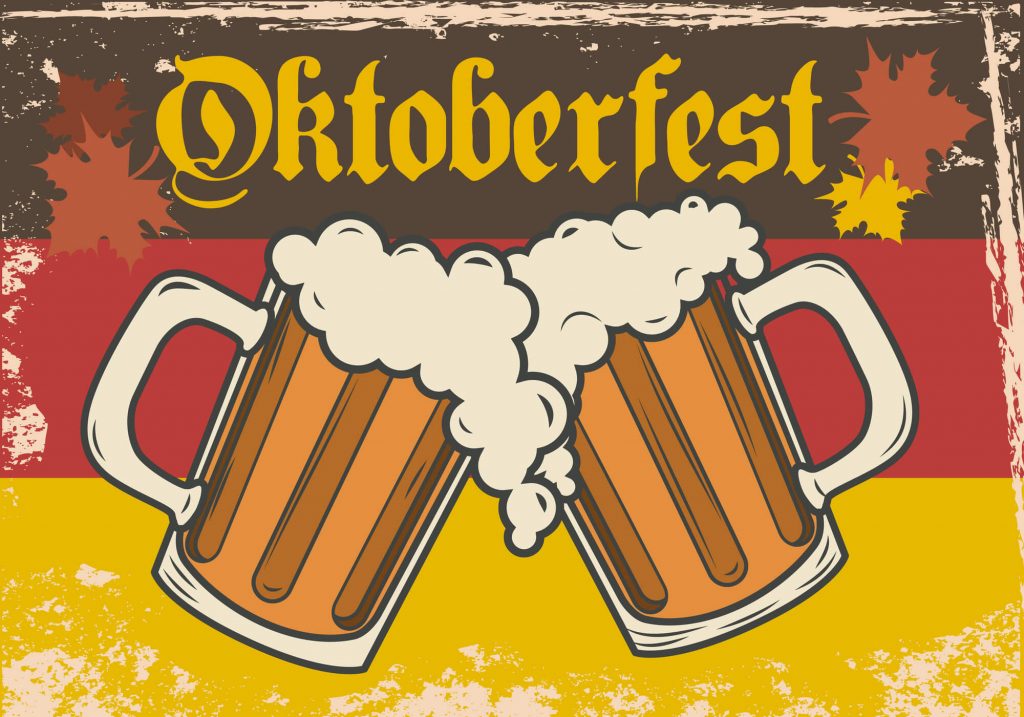 Imagine how your guests' faces light up as they walk into your well-decorated Oktoberfest bash. Pretty rewarding, isn't it? That's why you make sure to properly decorate the party space with the right Oktoberfest decorations!
Bavarian flags, along with white chequered patterns, should be a mainstay of your decorating theme. Of course, you also shouldn't forget about the iconic Oktoberfest symbols! Add some images of beer steins, pretzels, lederhosen, and Bavarian hats. Beer bottle centrepieces can add a charming touch to your tables, while German-themed photo backdrops and props will provide plenty of fun photo opportunities.
Lighting also plays a crucial role in setting the right atmosphere. You can use string lights, lanterns and candles to create a warm and welcoming ambience.
🍻 Oktoberfest Theme Party Ideas
Adding a unique theme can elevate the fun and make your celebration stand out. After all, a great party theme not only sets the tone for the event but also excites your guests even before they arrive! Here are top-of-the-top Oktoberfest theme party ideas that you can try to make your celebration one for the books.
17. Traditional Bavarian Oktoberfest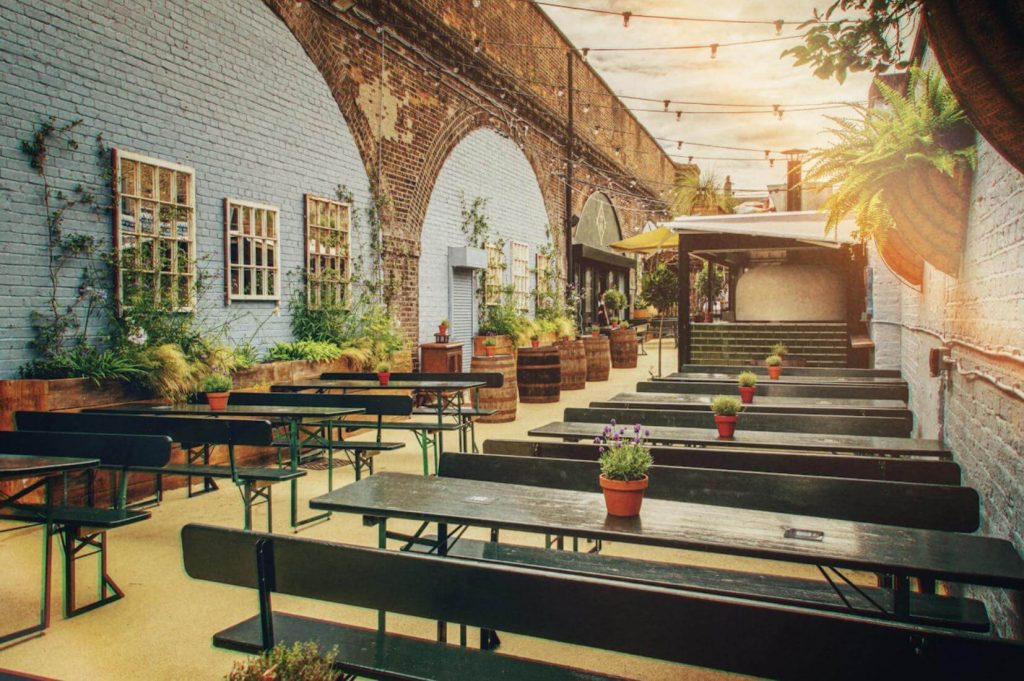 Transport your guests to Bavaria by recreating the traditional Bavarian Oktoberfest! Decorate the party space with some classic Oktoberfest decorations, serve a traditional Oktoberfest menu and fill the air with catchy Bavarian tunes. And let's not forget the attire! Encourage guests to don lederhosen or dirndls to truly get into the spirit!
18. Beer Garden Party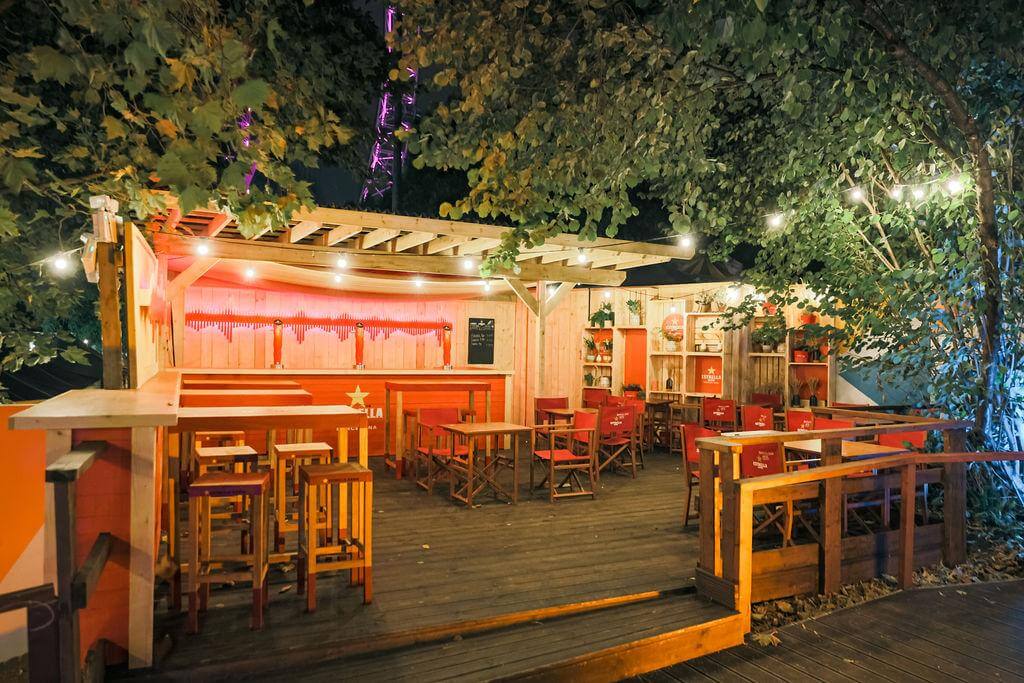 A beer garden party presents the perfect blend of outdoor delight and traditional Bavarian festivities.
Deck out your space with rustic benches, long wooden tables, and soft lighting to capture that enchanting beer garden ambience. Treat guests to a flavorful Oktoberfest spread with Bavarian pretzels, sausages, and mugs of hearty German beer.
To really set the scene, stream traditional Bavarian folk music and encourage guests to dress in lederhosen or dirndls.
Want to find the perfect setting for your Oktoberfest celebration? Visit Tagvenue and explore a diverse selection of beer garden venues suited to any festive vision.
19. German Cooking Class
Why not turn your Oktoberfest party into a captivating journey through Bavarian cuisine? A DIY German cooking class could be just the thing to elevate your celebration and engage your guests.
Start with iconic and easy Oktoberfest staples like potato salad, sauerkraut or pork schnitzel and watch how the party turns into a delicious affair! Guten Appetit!
20. Oktoberfest Picnic
A picnic that is all about German food and a great atmosphere will definitely get everyone in a good mood!
Fill your picnic basket with Oktoberfest essentials and German beer that can be enjoyed under the open sky. And then take your crowd to a picturesque spot in a sunny park, a serene forest clearing, a charming garden or even your own backyard. Spread out a comfortable blanket, set up your Bavarian feast, and enjoy the food and conversation amidst nature's beauty.
🍻 Bonus – Simply Delicious Oktoberfest Food Ideas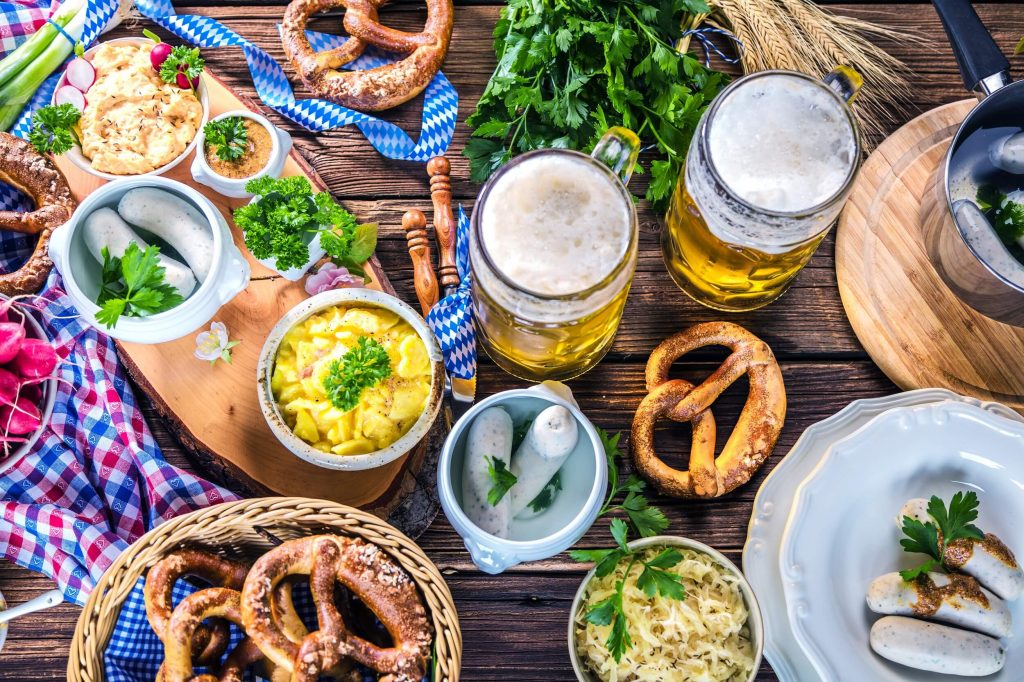 And now, for the culinary enthusiasts and food lovers among us, we've cooked up a special treat! Dive into the traditional Oktoberfest treats, which have to make an appearance on your table if you want to host a true Bavarian celebration!
21. Pretzels (Brezeln)
No Oktoberfest gathering can miss the distinct crunch and chewy delight of a traditional German pretzel. Twisty and warm, with a generous dusting of coarse sea salt, they're the ultimate partner for your favourite beer, a symbol of hospitality that's sure to spark joy at your party.
22. Sausages (Würste)
Offering a symphony of flavours, German sausages are a cornerstone of the Oktoberfest menu. From the smoky, spice-laden Bratwurst to the delicate, veal-based Weisswurst served with a tangy mustard sauce, these rich, juicy wonders promise a taste of Munich's vibrant food scene.
23. Sauerkraut
A masterpiece of simplicity, sauerkraut brings a bright, tangy counterpoint to the rich Oktoberfest meats. This fermented cabbage provides a satisfying crunch and an exciting flavour burst that's sure to delight your guests.
24. Pork Knuckles (Schweinshaxe)
These pork knuckles, roasted until the skin turns delectably crispy and the meat becomes fall-off-the-bone tender, are a hearty addition that will make your Oktoberfest meal truly authentic.
25. Wiener Schnitzel
A delicacy hailing from our Austrian neighbours, the Wiener Schnitzel is a hit at any Oktoberfest event. The thin, breaded, and pan-fried veal cutlet offers a satisfying crunch on the outside while remaining tender and juicy on the inside, creating a crowd-pleasing dish everyone will love.
26. Sauerbraten
A culinary delight with a history dating back centuries, Sauerbraten is a slow-cooked pot roast, usually made from beef, marinated in a mixture of wine, vinegar, and aromatic spices before being slow-cooked to perfection. The resulting dish, tender and deeply flavoured, nestled in a rich and savoury gravy, is a heartwarming highlight on the Oktoberfest menu.
27. Beer Cheese Soup
This creamy soup pairs the smooth, malty notes of beer with the rich, tangy flavours of aged cheese, rounded off with a touch of garlic and mustard, for an unforgettable gastronomic experience.
28. Potato Pancakes (Kartoffelpuffer)
For a taste of hearty German comfort food, turn to Kartoffelpuffer. These crispy, golden brown potato pancakes served with sweet applesauce or sour cream are a versatile side that brings a taste of home-cooked happiness to your party.
29. German Potato Salad
Swap out your regular salad with this tangy and warm salad. This medley of tender boiled potatoes, crispy bacon, and caramelised onions tossed in a sweet and tangy vinegar-based dressing will definitely win over your guests.
30. Apple Strudel (Apfelstrudel)
The Apfelstrudel, with its layers of flaky pastry, makes for a sweet ending to your Oktoberfest feast. Served warm with a dusting of powdered sugar and a dollop of whipped cream, it will definitely bring everyone comfort.
31. Obatzda
This traditional Bavarian cheese spread is a beautiful medley of ripe Camembert, cream cheese, and butter, blended together with a generous splash of beer and seasoned with a unique blend of spices. The result is a bold, piquant spread that's simultaneously creamy, tangy, and a little bit spicy. Paired with a freshly baked pretzel or hearty rye bread, it will add a real Bavarian feel to your festivities.
32. Lebkuchenherzen
These delightful heart-shaped gingerbread cookies are a staple at German festivities. Each cookie is lovingly prepared with honey, spices, and a touch of candied fruit, creating a rich, sweet, and slightly spicy flavour profile that is unmistakably Oktoberfest. What's more, these charming cookies are often decorated with intricate icing designs and affectionate phrases, making them not just a dessert but a keepsake.
🍻 Zum Abschluss (To Wrap Things Up)
There you have it – a wealth of exciting Oktoberfest party ideas to help you plan an unforgettable event. From traditional Bavarian themes to mouthwatering menu items, your Oktoberfest celebration can be as authentic as you want it to be. Just remember that the key to a successful party is in the details, so immerse your guests in the rich culture, hearty flavours, and spirited fun of this German tradition.
And as you embark on this party-planning adventure, we're here to make the journey easier and even more enjoyable with our comprehensive party-planning checklist! It's filled with practical tips and detailed steps to ensure nothing slips through the cracks.
And if you're still searching for the perfect place to host your Oktoberfest party, don't forget to explore our ultimate checklist for choosing a venue. With these resources, you'll be well on your way to hosting an Oktoberfest celebration. Prost!
FAQ
What are some Oktoberfest traditions?
Oktoberfest boasts a variety of vibrant traditions that revolve around trying traditional Bavarian cuisine and beverages. People drink beers from six major breweries: Augustiner, Hacker-Pschor Löwenbräu, Paulaner, Spaten and Hofbräuhaus, which are based in Munich, and eat delicious food like Würstl (sausages), pretzels, and Hendl (roast chicken). Beyond food and drink, attendees often wear traditional Bavarian clothing: Lederhosen for men and Dirndls for women. Another highlight is the traditional Bavarian music played by bands, parades, folk dancing, and traditional riflemen displays.

When is Oktoberfest celebrated? 
Oktoberfest starts in late September and runs until the first weekend in October. It typically lasts between 16 to 18 days. This timeframe was chosen historically due to its generally pleasant weather, ideal for an outdoor gathering and celebration. The exact dates can vary slightly from year to year, depending on how the calendar falls, but it always includes the first Sunday of October.

When to host an Oktoberfest party?
If you want to host an Oktoberfest party, it would be most authentic to align it with the official Oktoberfest dates in Munich. But if you can't, that's totally okay!  The spirit of Oktoberfest can be captured and celebrated at any time throughout the autumn season. As long as you have the key elements – traditional Bavarian food and drink, German music, and perhaps even some lederhosen and dirndls, you'll be able to create a successful Oktoberfest celebration regardless of the exact date. No matter which party date you choose, make sure to have plenty of time to plan everything. Ideally, you should do it around three months in advance.
How early should I plan an Oktoberfest party?
Planning an Oktoberfest party can be a sizable task, depending on the scope of your celebration. For a large-scale party with all the trimmings like traditional food and drink, music, and maybe even costumes, a two to three-month lead time would be advisable. This will allow you to organise the necessary resources, send out invitations, and let your guests prepare their traditional attire. For smaller gatherings, a month in advance should be sufficient.

Is it worth having an Oktoberfest-themed party? 
Absolutely! Having an Oktoberfest-themed party can be a brilliant way to bring together friends and family for a unique, fun-filled experience. The blend of traditional food and drink, music, and the opportunity to don fancy dress, provides a festive atmosphere that is difficult to replicate with other themes. Moreover, Oktoberfest parties can be easily scaled according to your budget and guest list, making it a versatile option for many different kinds of hosts. So whether you're a die-hard Oktoberfest enthusiast or just looking for an excuse to throw a party with a twist, an Oktoberfest-themed gathering can certainly be a memorable event!