Even if you have hired a wedding planner, they certainly can't take care of everything for you. You'll need to ensure everything is set for the big day personally. Bear in mind that it can be an extremely exciting time, especially when it's only a few days or a week to your wedding day.
It's easy to forget two or more things due to the excitement. It's also wise to ensure everything on your list checks out, even if you have been planning for the past one year or so. Being organized will make the day smooth, and you'll be able to enjoy the whole process.
So, here are five essential things you should definitely check before your wedding day.
1. Try on your wedding dress
You certainly tried your attire on when you were buying or renting it. But a simple dress rehearsal a few days before your day is advisable. It's just a matter of double-checking that everything is perfect.
Try the dress on along with the shoes and accessories. Remember to remove your jewellery and makeup just to avoid damaging the dress while trying it on. Make sure you understand all the tricky details, such as a detachable skirt, sleeves, corset back, etc.
Be sure to get help from the person who will be helping you get ready on the morning of your big day. Once you're confident that the attire is okay, pack it away safely. If you're missing anything or you want to add something, this is the ideal time to make arrangements for it.
2. Check in with your venue and vendors
You should always have all the contact details of everyone you involved in the organisation process. Call or email your venue and your vendors to ensure they have everything they need.
For example, you need to make sure your vendor has collected bourbon barrels from the distillery if you want to use them as tables. It's also wise to reach out to them to communicate unplanned changes, if any. The last thing any members of your team want to be baffled by unplanned changes.
This is also the ideal time to consult your vendors about any last-minute details, such as weather-related issues and entree selections. Professional vendors will also communicate to you in advance if they have unexpected issues that are likely to affect their commitment or service delivery. Check in with the venue as well to make sure they are set up and ready for the day.
3. Make sure the marriage license is all sorted
Make sure you have a marriage license if you need one before getting married. Or make an appointment with the city office if that is where you must go to finalise your wedding. Know all the set requirements to avoid unexpected complications.
Also, beware of the minimum waiting period between the time you get the license and the day of your wedding. This can be anything from 24 hours to a week, depending on the laws. Many countries also have marriage licenses with expiry dates on them, so once you pick them up; they can only last for 60 or 90 days.
Remember to check the marriage laws in your country to make sure you've met all the requirements.
4. Ensure your planner has everything
If you have hired a planner, they can save you the hustle of managing all your vendors. Also, on your big day, your wedding planner will be in charge of everything. So, you want to ensure they have whatever they need to make the day run smoothly.
Make sure they have a list of everything they will need for the wedding. Go through the list with them on the day before the wedding. Provide them with as much information as possible on your parents, guests, drivers, and other relevant parties.
5. Make sure everyone is on the same page
You also need to go through the wedding timeline with everyone just to ensure they understand the programme. There must be an estimated timeline for picking up guests, and you also need to ensure everyone knows when the ceremony starts.
However, there's no perfect planning. It's possible that the schedule will not be observed perfectly, and things might run late or even early. Ensuring everyone understands your wedding timeline will minimize confusion and keep things moving smoothly on your big day.
Sharing everything regarding your wedding with a group of people is pretty helpful. Ideally, it's a sort of safety net for you. If you miss anything amid all the chaos, you're sure that there are people out there to keep things right on track.
Some final thoughts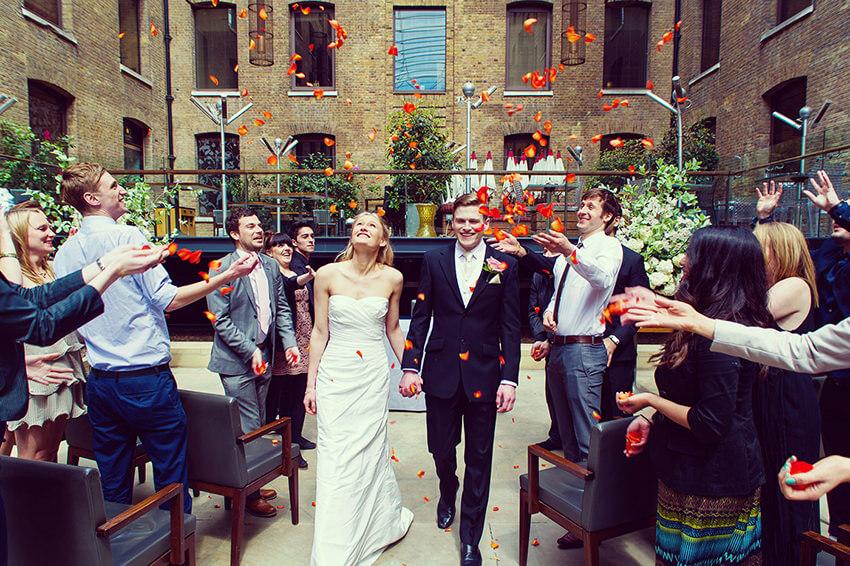 Your wedding day might be the one day in your life when you truly want to get things to work the way you want them to. But this requires plenty of preparation and meetings to get all the involved parties on the same page.
But even after all the preparation, you need to conduct a final run-through before the wedding. This provides you the opportunity to update your team on any changes, ensure your planner has all they need and go through the timeline with your bridal party.
Guest post courtesy of Honeyfund, a free honeymoon registry.
---
---
---
You might also like